Pico de Gallo Recipe
This post may include affiliate links. As an Amazon Associate I earn from qualifying purchases.
Pico de gallo is a fresh version of salsa (also known as salsa Fresca) that takes only minutes to prep. With fresh tomatoes, onions, and cilantro in every bite, you can bet it's bursting with flavor and perfect for any fiesta.
Enjoy your fresh Pico de Gallo with Baja fish tacos, cheese quesadillas, or baked chicken taquitos; and atop Mexican quinoa, Mexican lasagna, and loaded nachos.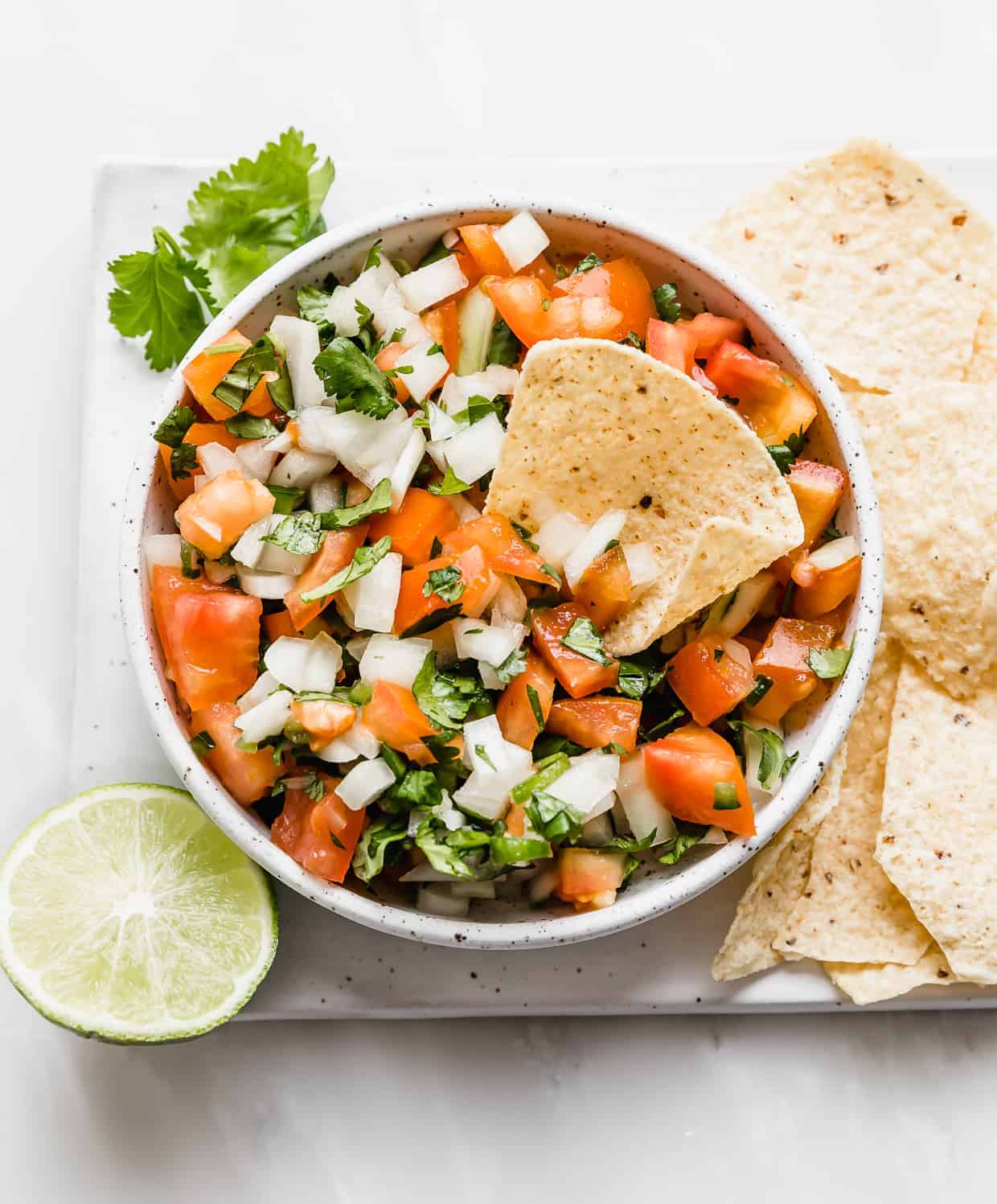 Why Make This Recipe
This pico de gallo recipe is simple and easy. It's a perfect appetizer or dip for when you don't want to put in more effort than it's worth. No slaving away over a hot stove or waiting hours for flavors to develop (although you could). But just a simple chop, dice, and mix are the only skillset you'll need.
What's really great about homemade pico de gallo is how it's incredibly versatile. For example, you can adjust the heat ratio and make it milder or spicier depending on preference. You can also adjust the flavors by adding more or less of any ingredient.
It's a lot of fun making this recipe, and you can really have a unique tasting dip every time with minor changes every time you make it. For example, I personally enjoy a higher tomato to onion ratio and will add in more diced tomatoes to meet my own preferences.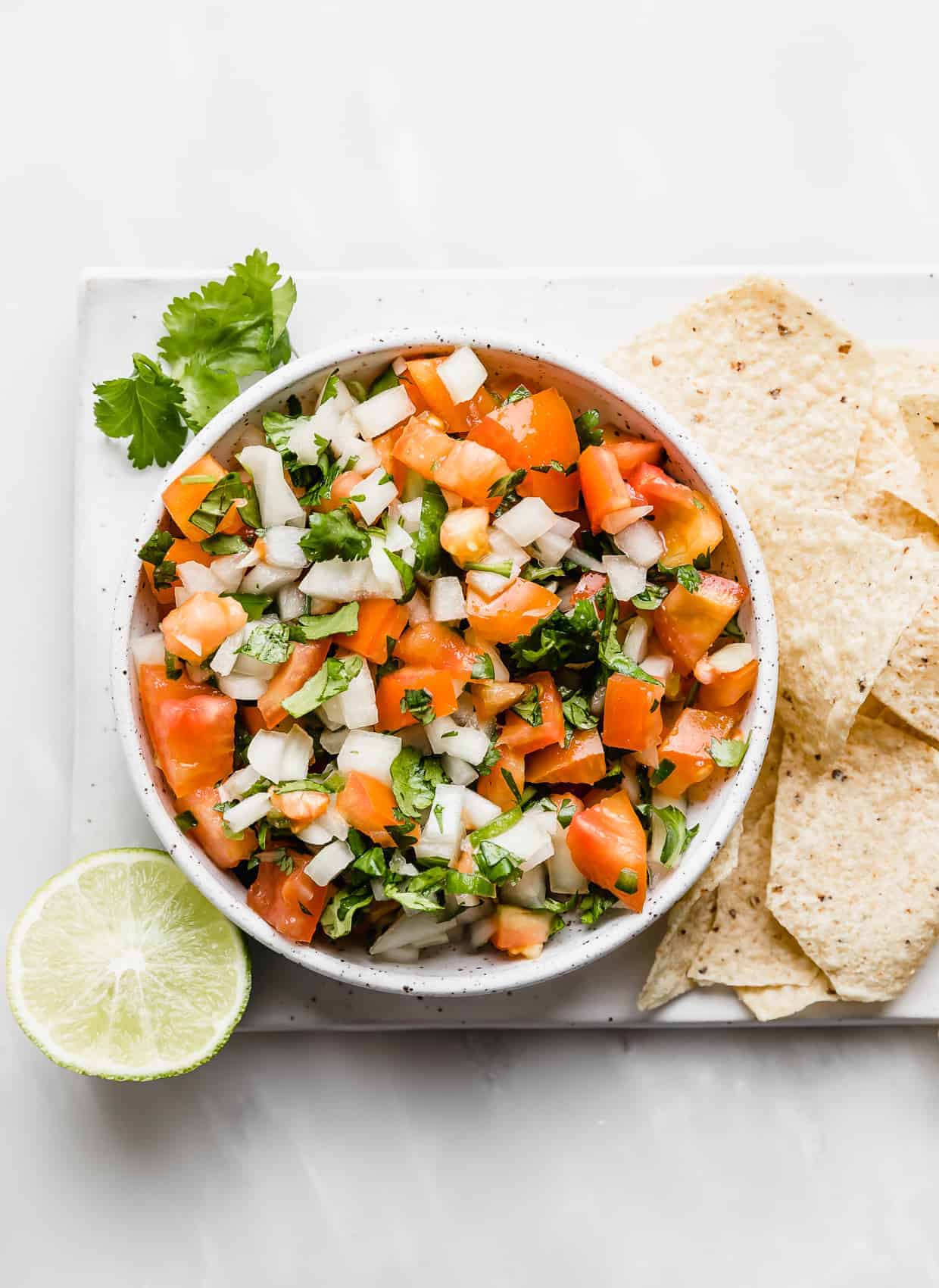 Ingredients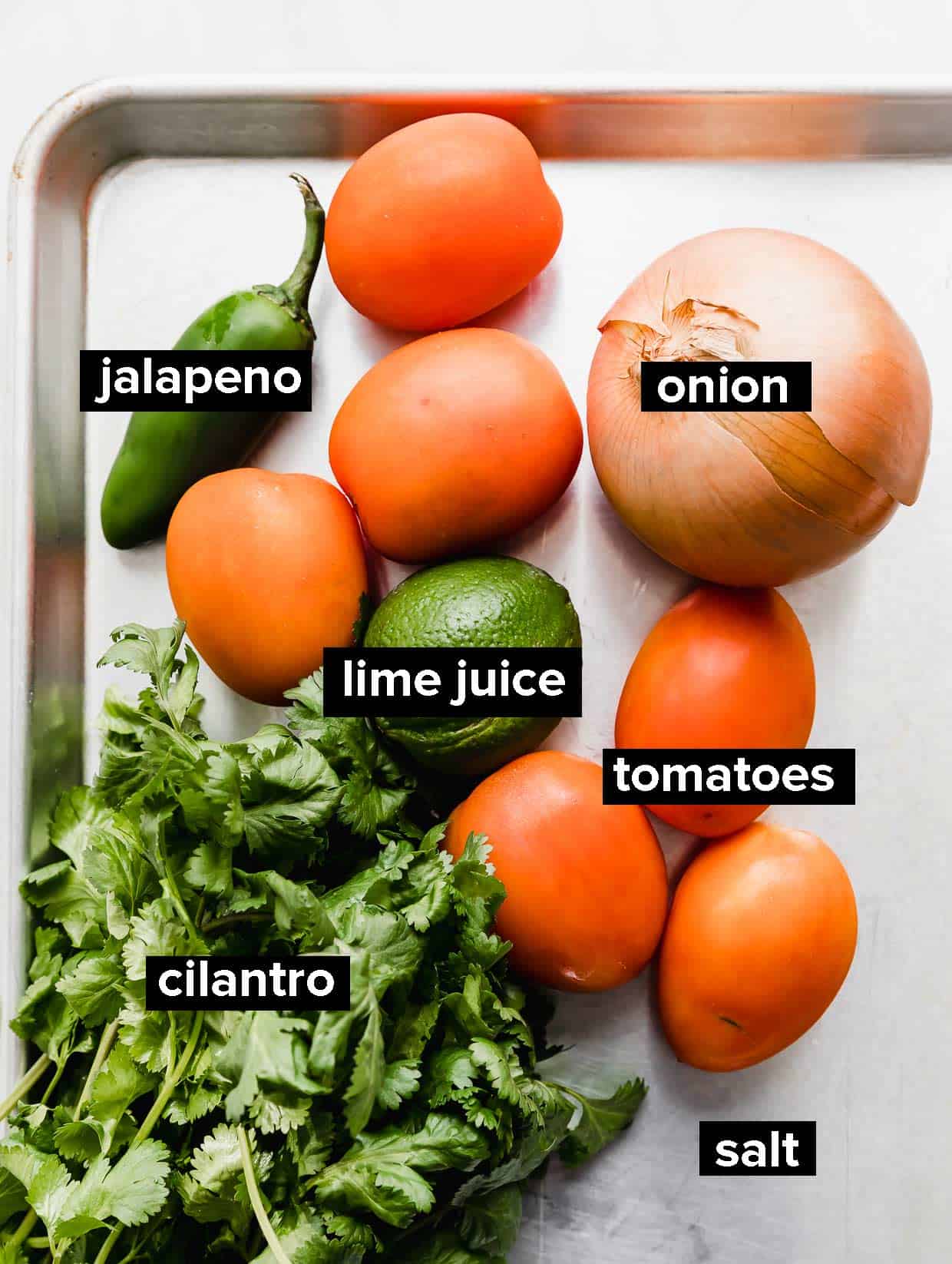 Onion: We need a small diced yellow onion to help give our salsa a nice crunch and aroma.
Tomatoes: Adding in bright colors, juicy goodness, and fresh taste are diced Roma tomatoes. You can use softer or firmer tomatoes depending on what you have on hand.
Cilantro: We need chopped cilantro to go into the mix as it will help to create a spicy flavor.
Jalapeno: We only need a small diced jalapeno, but this will adjust the spiciness of the dish. Leave the seeds and membranes in for a spicier mix, or remove for less heat.
Lime juice: Lime juice helps to pull all of the flavors together and gives it a tangy burst of flavor that works great with everything. You can adjust to preference after the salsa has been mixed and taste-tested.
Salt: This is a flavor enhancer and will help to bring out all of the flavors in the salsa and make it taste incredible. You can also adjust the amount of salt to your personal preference.
Step-By-Step Instructions
In a medium sized bowl, add the diced tomatoes and onion. You want a close ratio of tomatoes and onion but you can adjust for more or less of one if preferred.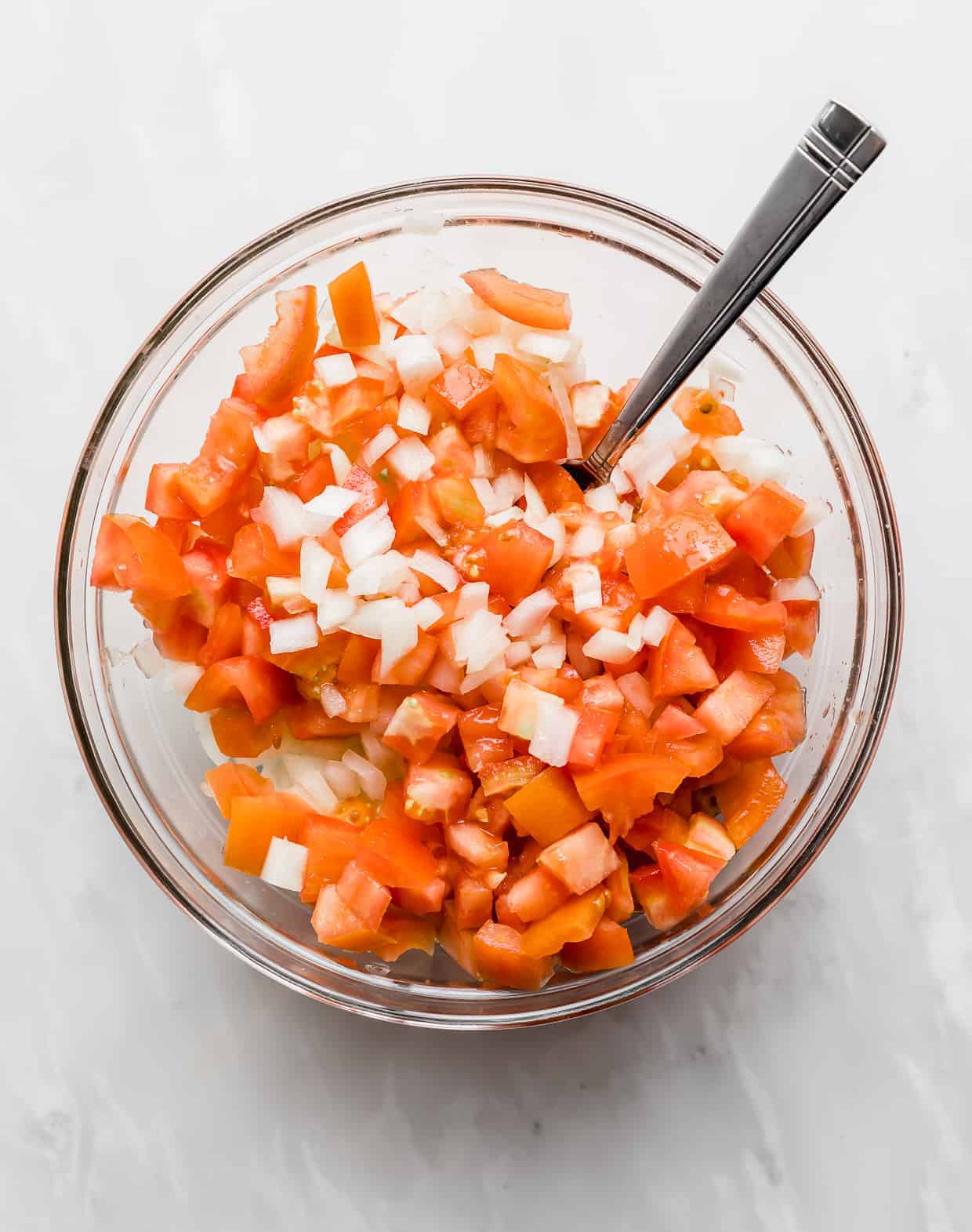 Add in the finely diced jalapeño, cilantro, and lime juice. Toss to combine.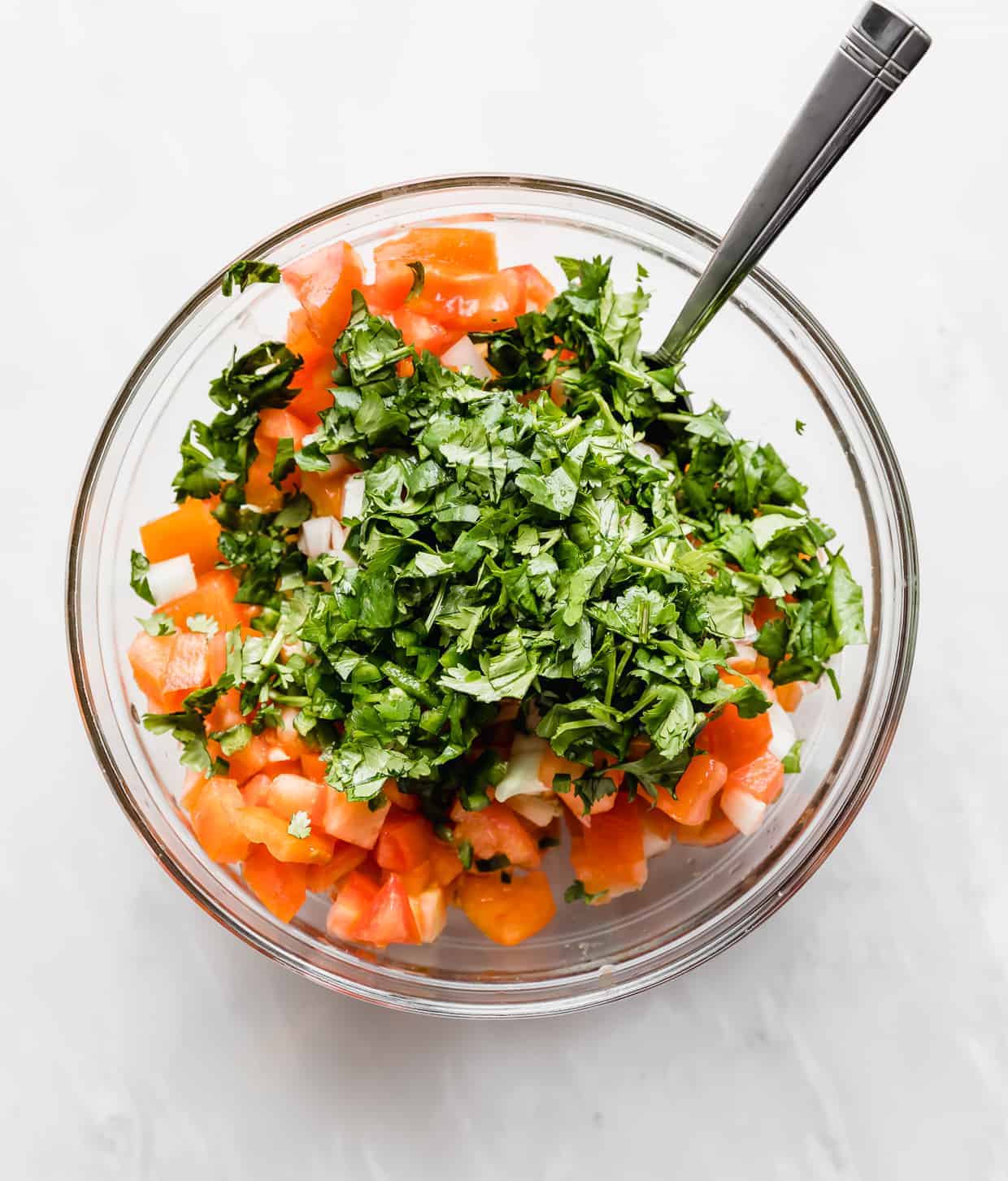 Season the mixture with salt. Taste and adjust salt and lime juice as needed.
Keep stored in an airtight container in the fridge for up to 1 week.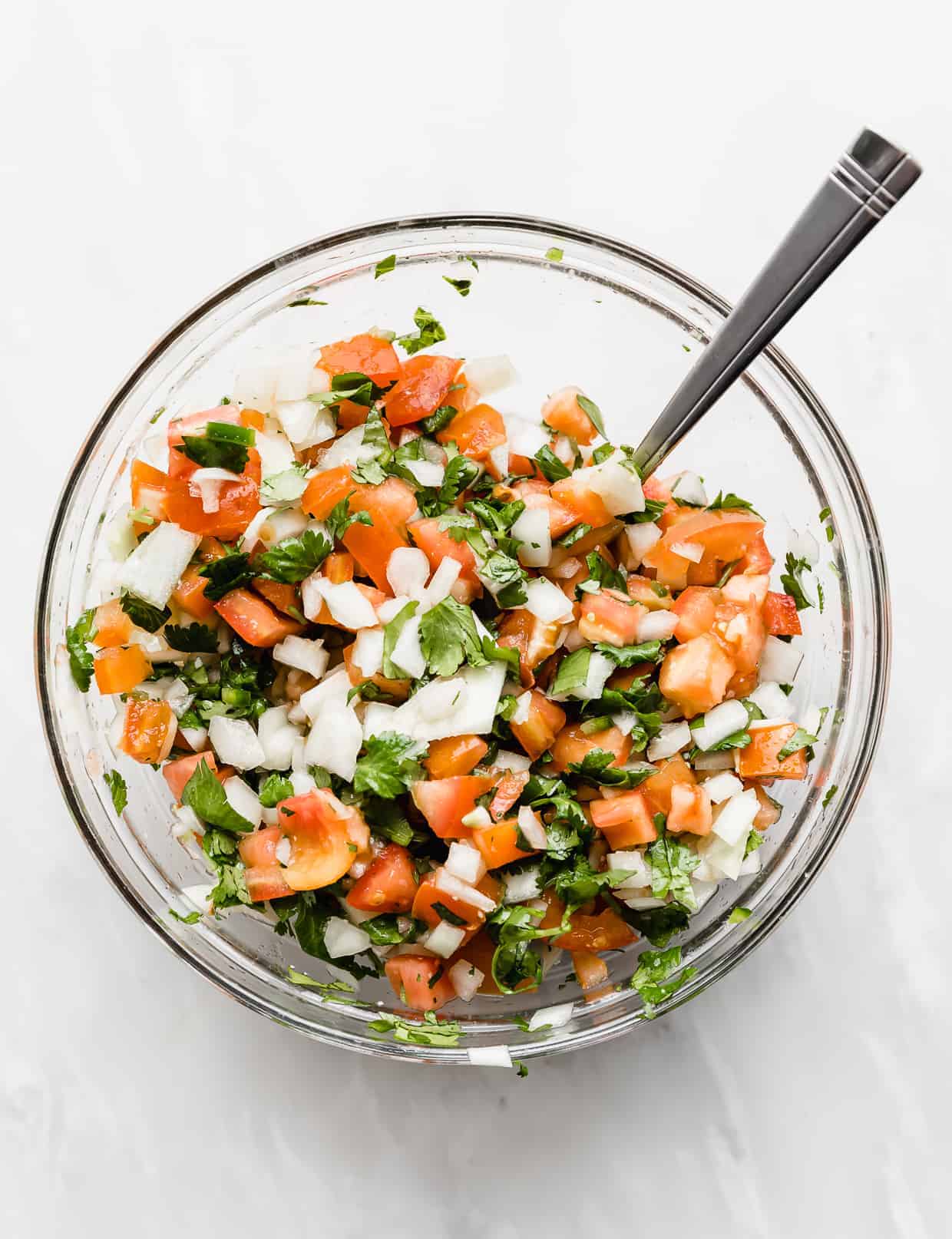 FAQs and Tips for Fresh Pico De Gallo
Is pico de gallo healthy?
Yes, this dish could be considered very healthy. The mixture is of fresh herbs and vegetables. To keep it as healthy of a dish as possible opt for better-for-you options to serve it with such as baked tortilla chips instead of fried, or low salt options. Simple changes like that can really help to keep everything healthy without much-added effort.
Can pico de gallo be frozen?
While it technically could be frozen, I do not recommend it. The mixture once thawed will be a soggy mess. Tomatoes and onions don't do well in the freezer unless they are being cooked after thawing. Once you pull the mix from the freezer you'll notice the tomatoes and onions becoming translucent and soft, which is offputting compared to how this dish should look and feel. For this reason, fridge storage is best.
Can pico de gallo be made ahead of time?
Yes, you can make and prep your pico up to a few days in advance if you keep it stored within the fridge in an airtight container. The longer you allow the mix to sit, the longer the flavors can develop so you may even find that it tastes better a few hours after being made compared to right afterward.
How to use pico de gallo
Serve it up with your favorite tortilla chips, in (or on) a burrito. Mix with avocado for simple guacamole. Mix it into rice, scrambled eggs, or even top some fish tacos with it. There are so many uses for pico de gallo that I'm sure you shouldn't have an issue finding new creative ways to use it up.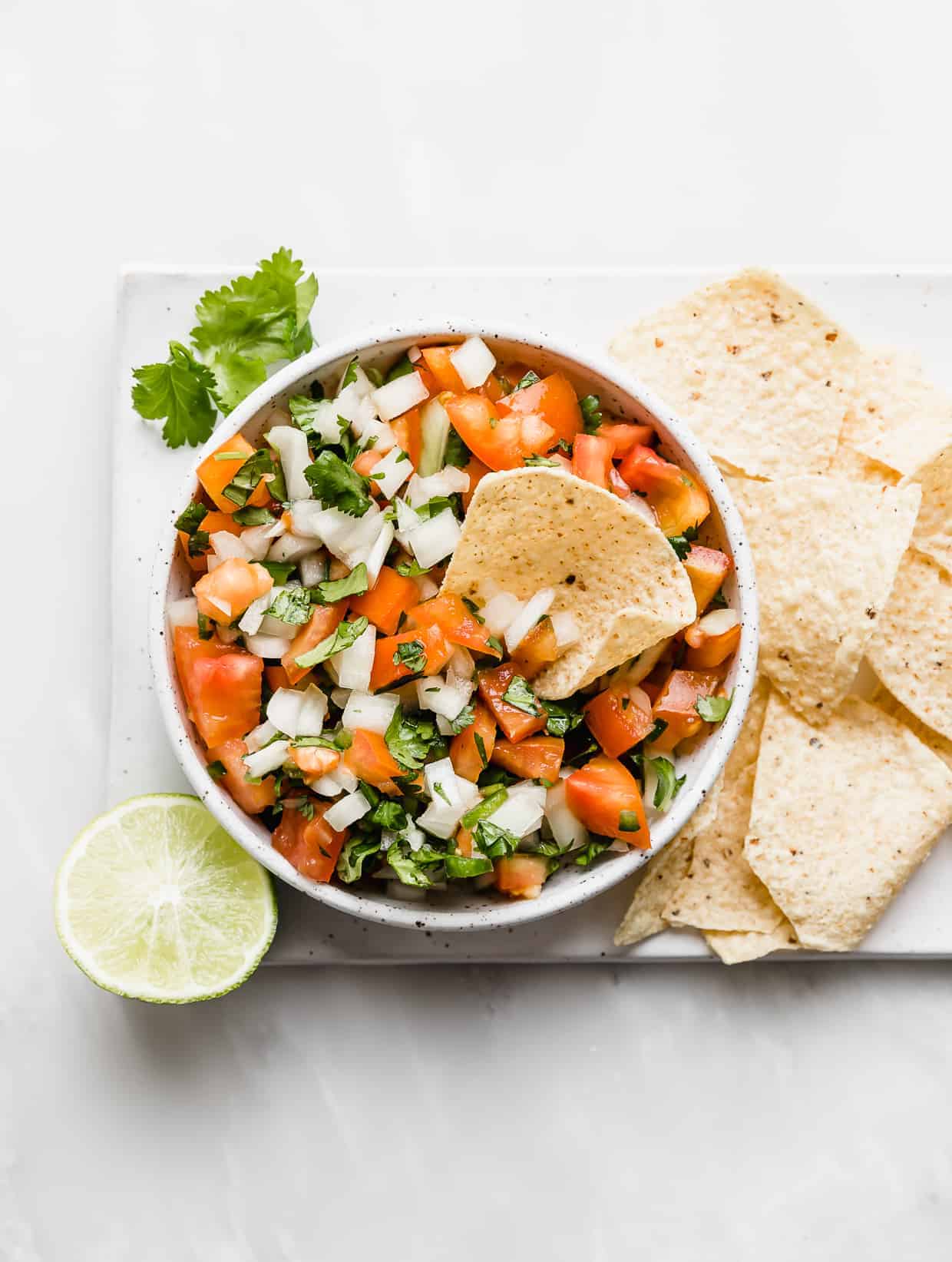 Recipes to Enjoy With Pico de Gallo
Did you make this recipe? I'd love to hear about it! Click here to leave a rating and review.
Pico de Gallo Recipe
This easy Pico de Gallo Recipe is made with the perfect ratios of onion, tomato, cilantro, and lime. We add just a small amount of jalapeno (don't worry, it doesn't make it spicy) for some flavor. Enjoy this fresh Pico de Gallo on tacos or as a chip dip!
Ingredients
1

small

yellow onion

-

diced

5-6

Roma tomatoes

-

diced, they can be slightly firm if you'd like

3/4

cup

cilantro

-

chopped

1

small

jalapeno

-

seeded, membranes removed, and finely diced (if you want a spicy pico de gallo keep the membranes and seeds)

1

tablespoon

lime juice

kosher salt

-

to taste
Instructions
Add the onion and tomatoes to a medium sized bowl. You want fairly close amounts of onion and tomatoes. I usually prefer less onion in my pico so if i have more tomatoes, I'm totally fine with that!

Add the finely diced jalapeno to the tomatoes and onion. 

Add in the cilantro and lime juice. Toss until everything is combined. Season with salt. 

Store in the fridge (tightly covered) until ready to use. Will last 5-7 days when stored properly.
Notes
For spicy pico de Gallo, don't remove the membranes and seeds from the jalapeño. 
The tomatoes can be ripe or on the slightly firm side, doesn't matter!
As mentioned above, I don't love an overloaded onion pico so I like to use a small onion. 
Key to good pico is to taste and season as you go. If you want more lime juice, add more lime juice. 
Did you make this recipe?
Leave a star rating and review on the blog post letting me know how you liked this recipe! Take a picture and tag @saltandbaker on Instagram and Facebook so I can see what you're making!