CPK California Club Pizza
This post may include affiliate links. As an Amazon Associate I earn from qualifying purchases.
This CPK California Club Pizza is made with my homemade pizza dough crust, and baked with bacon, cooked chopped chicken and cheese then served fresh with sliced tomatoes, lettuce tossed in mayo and sliced avocados. Your taste buds will thank you for this delicious and fresh pizza!
My kids love pizza, and I'm always eager to make sure there are some fresh vegetables on there for them. It's not always easy getting your kids to eat vegetables, but I've found that making food I know they like, such as pizza and pasta (don't all kids love those? ha), and adding in extra vegetables, helps them see the importance of healthy ingredients.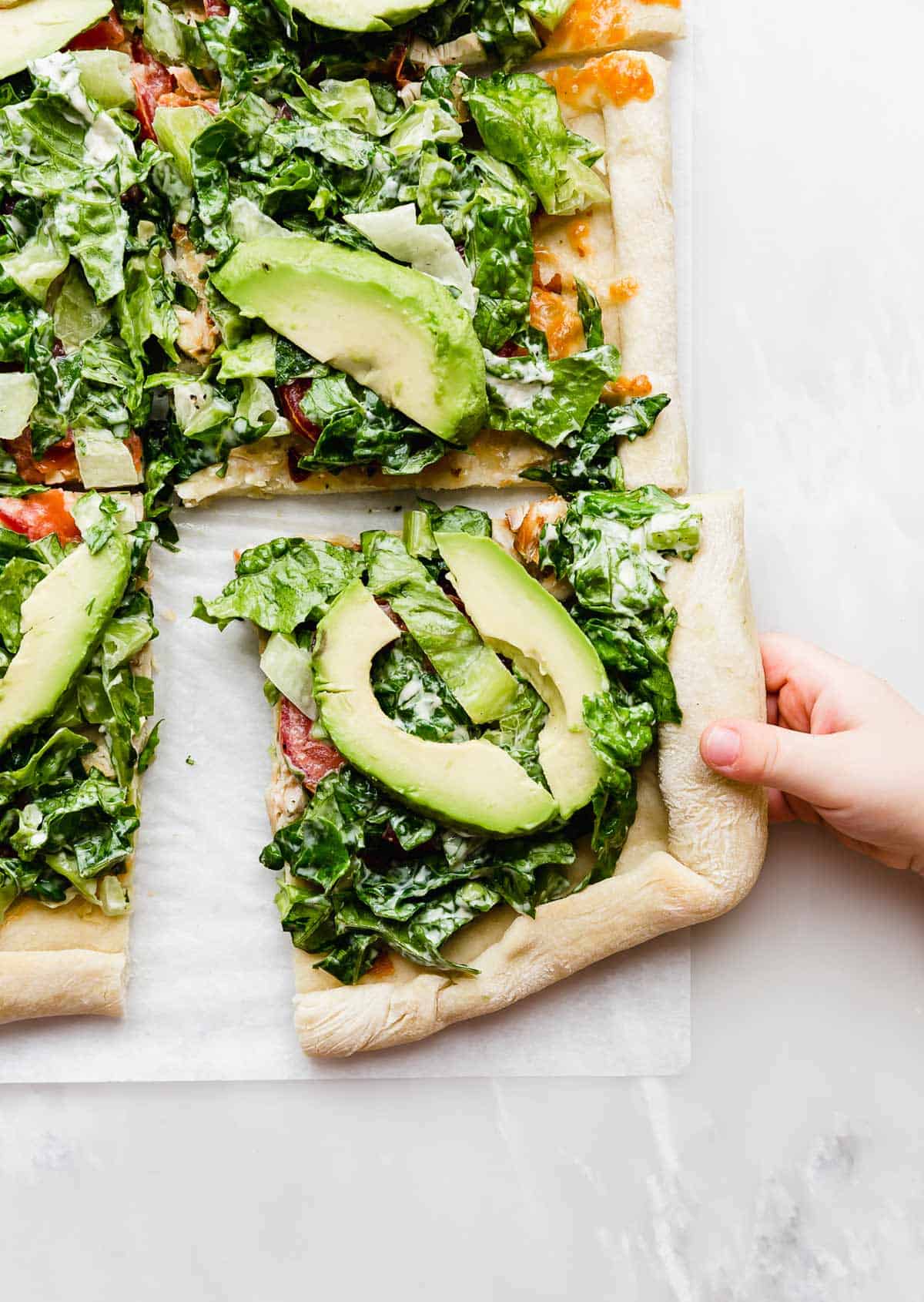 Why This Recipe Works
Fresh CPK salad pizza. Have you ever eaten the California Pizza Kitchen club pizza? Wow that's quite a mouthful! But it is AMAZING! Now you can make this delicious recipe at home.
Topped with club sandwich toppings. This homemade California club pizza is baked with olive oil drizzle, cheese, cooked chicken pieces and cooked bacon pieces. THEN just before serving, you top it with fresh tomatoes, a lettuce/mayo mixture and then some fresh avocado slices. It's so light and refreshing.
Pizza and salad. Not only do you get the delicious pizza element with the protein-packed chicken and bacon on top, but then your have all the elements of a fresh salad! It's pizza and salad all in one.
Ingredient Notes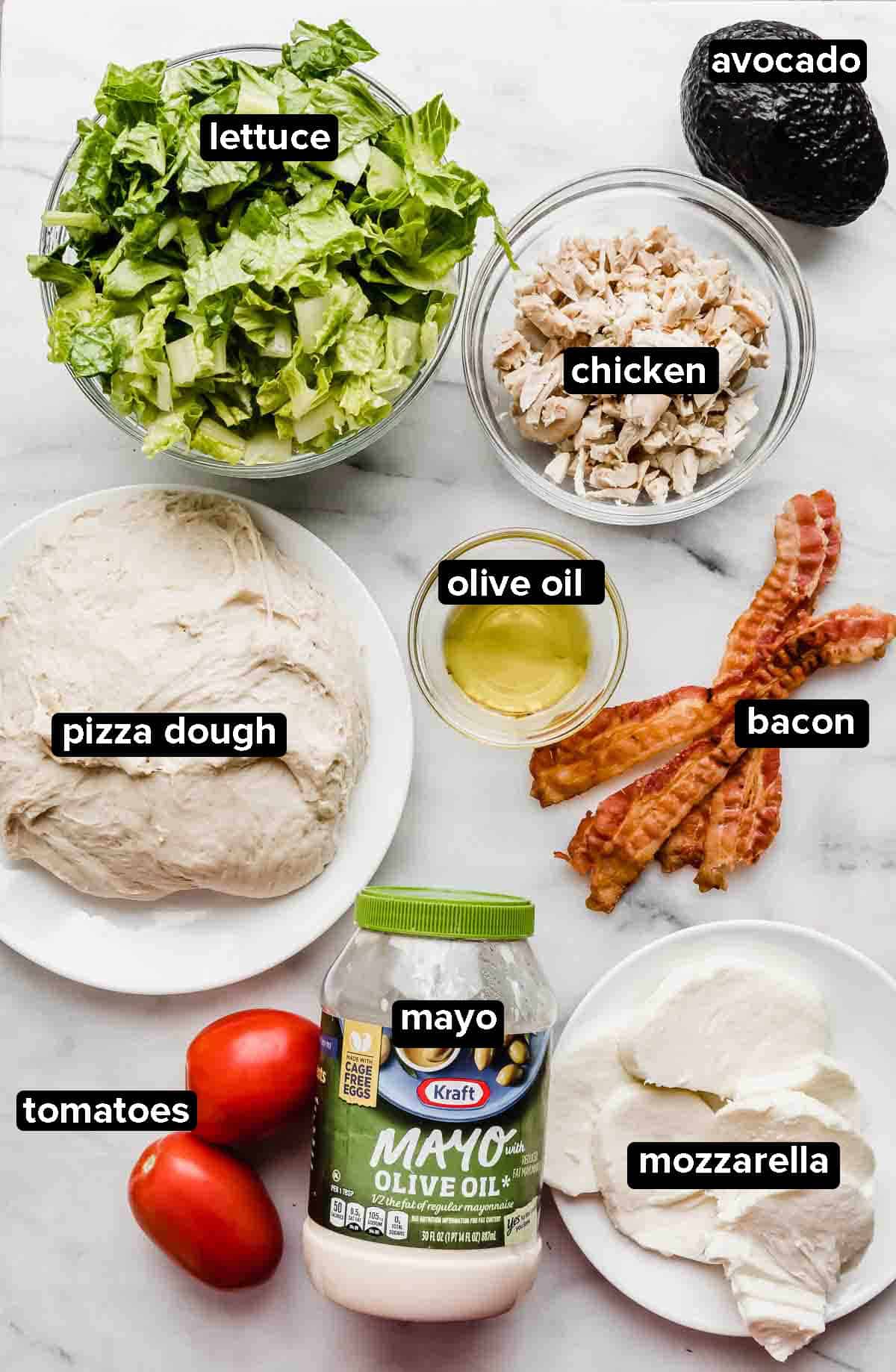 Pizza Dough: You'll need 1/2 batch of my pizza dough recipe. This will make 1 CPK pizza recipe. If you use the full batch of my homemade pizza dough, you can get 2 pizzas. Use a baking sheet or pizza stone – I prefer to use a baking sheet because you get more servings and it can be easier to maneuver and deal with than a pizza stone
Olive Oil: California pizza kitchen california club pizza doesn't have any sauce. Instead, we spread olive oil on top of the crust and top with cheese.
Chicken: You'll need cooked chicken. Feel free to use chicken breast and cook it then cube it. Or you can use canned shredded chicken or rotisserie chicken.
Mozzarella Cheese: You can use a combination of cheeses on the CPK california club pizza if you'd like. You can use fresh mozzarella cheese or a mix of mozzarella, cheddar cheese, or parmesan cheese to create more flavor.
Romaine Lettuce: If you think you'll have leftover pizza, make sure you have some lettuce to hold out (that hasn't been tossed in mayo) to use on top of the pizza for your leftover night. A lettuce knife is a safe and easy way to cut lettuce.
Mayo: We'll toss the lettuce in mayo with a little salt and pepper to get that creamy club texture and flavor classic to this pizza dish.
Avocado: Store leftover avocado in a separate container with the pit so it doesn't brown as fast. Use an avocado slicer to make cutting and slicing an avocado a breeze.
Step-by-Step Instructions
Roll out the pizza dough. Preheat the oven to 450ºF. Spray a baking sheet with nonstick cooking spray OR line with parchment paper. Roll the pizza dough out onto the baking sheet until it fills the pan.
Brush with olive oil and top with cheese. Drizzle a tablespoon or two of olive oil on top of the rolled out pizza dough. Use a pastry brush to spread it around the entire pizza. Evenly spread the mozzarella cheese over top.
Top with chicken and bacon. Top with the shredded chicken or cubed chicken and the bacon pieces.
Bake the CPK California club pizza. Bake for 15-20 minutes or until the crust is golden brown.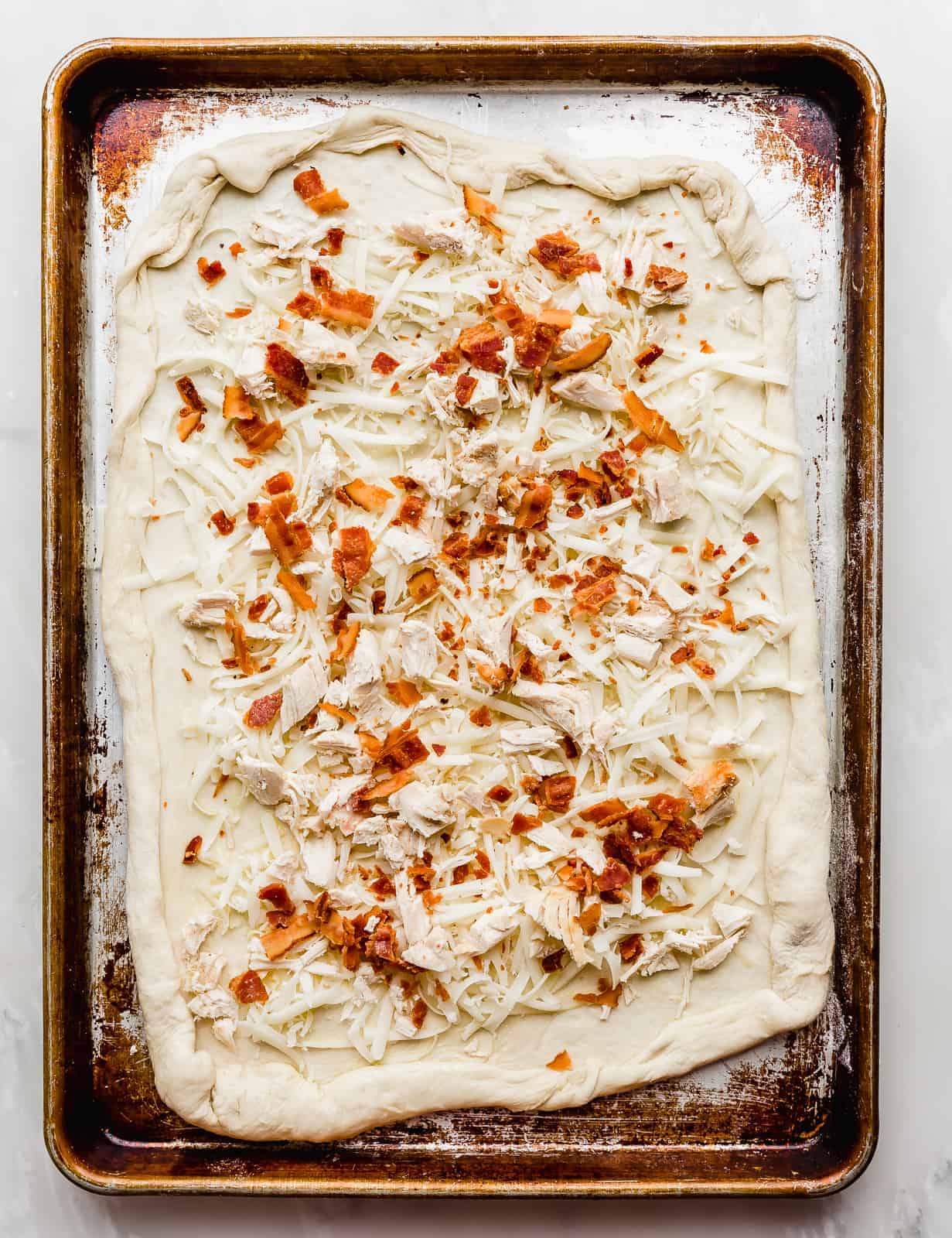 Prepare the shredded lettuce. Wash and cut the lettuce and add to a medium bowl. Stir in 4 tablespoons mayo and season with salt and black pepper. Toss to coat the lettuce in the mayo.
Add the club pizza toppings. Add the sliced tomatoes on top of the crust, top with the lettuce mixture then top with chopped avocados. Slice and serve. Enjoy!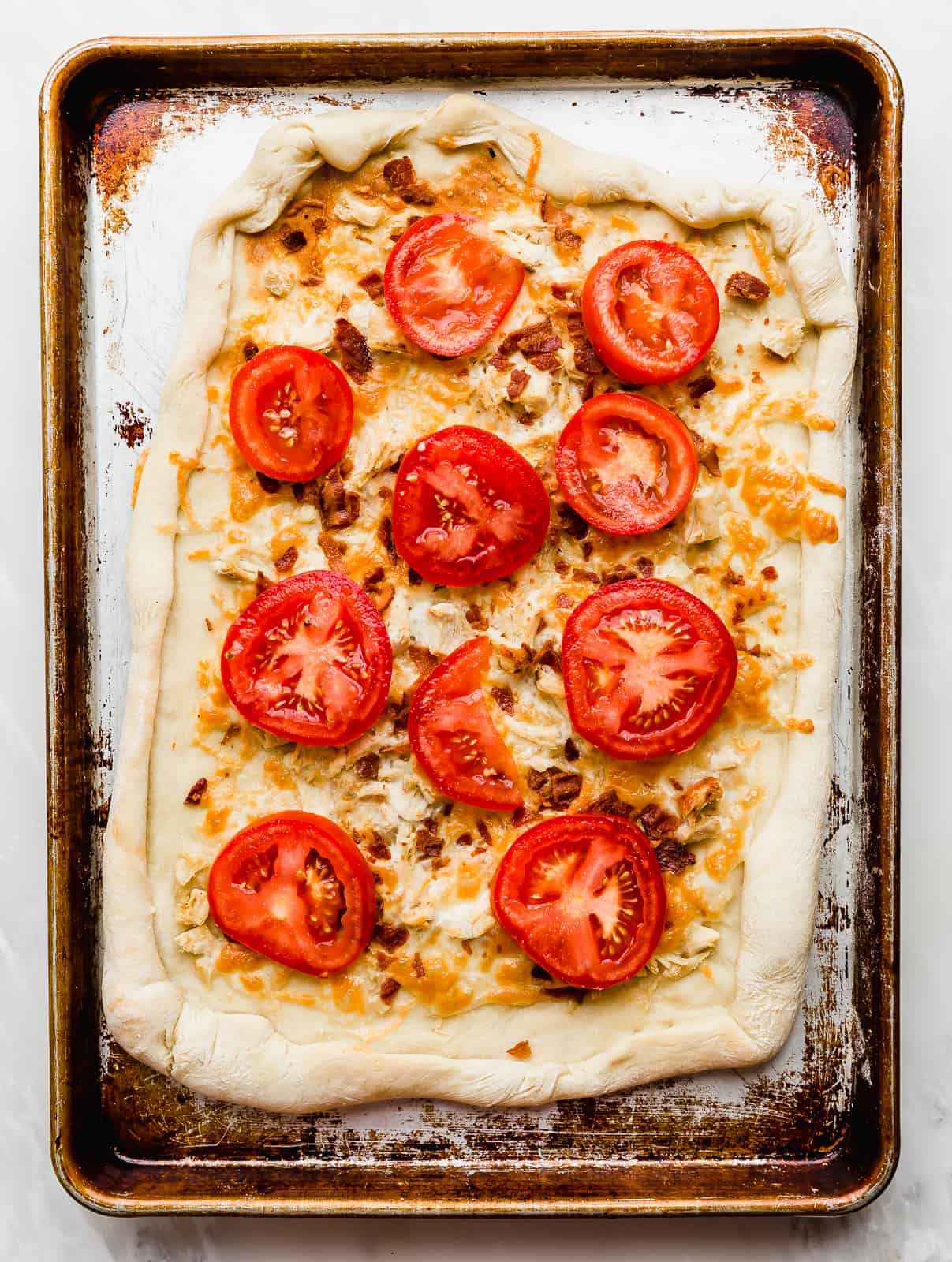 Recipe Tips
If using a pizza stone for the CPK california club pizza you'll want to half the amount of lettuce and mayo you use as most pizza stones are smaller than baking sheets.
And, if using a pizza stone, you'll need to place the pizza stone in the oven as it is preheating (or you risk it breaking). Roll out the pizza dough on the parchment paper, then carefully transfer the pizza on the parchment paper into the oven and place on the pizza stone.
I like rolling out the pizza dough on an oiled surface so as to not dry out the dough, but you can roll it out on a floured surface if you'd prefer.
To make a pizza crust on the edges, you can either roll the dough over or kinda pinch the the edges into a crust shape.
Be sure the lettuce is completely dry before tossing it in the mayo. Using a salad spinner can help with this! You can use arugula instead of romaine if you'd like. Arugula has a distinctive flavor with a sharp, almost peppery-like kick.
Check out my post about how to cook bacon in the oven for a hassle-free way to cooking bacon. Or you can use the pre-cooked bacon that you just microwave. Then cut into pieces. If you don't want to use bacon, I recommend using some cooked Italian sausage.
You can also top the copycat CPK california club pizza with some fresh slices of red onions.
For a vegetarian club pizza, remove the bacon and chicken.
Make Ahead, Storing, and Freezing
You can make the pizza dough ahead of time and store it to use later. See my Pizza Dough Recipe for storing and freezing dough instructions.
For leftovers, store the pizza without the lettuce on top since it will get soggy. Make more of the lettuce/mayo mixture so it's fresh each time you eat it.
Store the tomatoes, avocado and lettuce (without mayo) in separate containers and reheat the pizza in the oven or microwave before adding the toppings.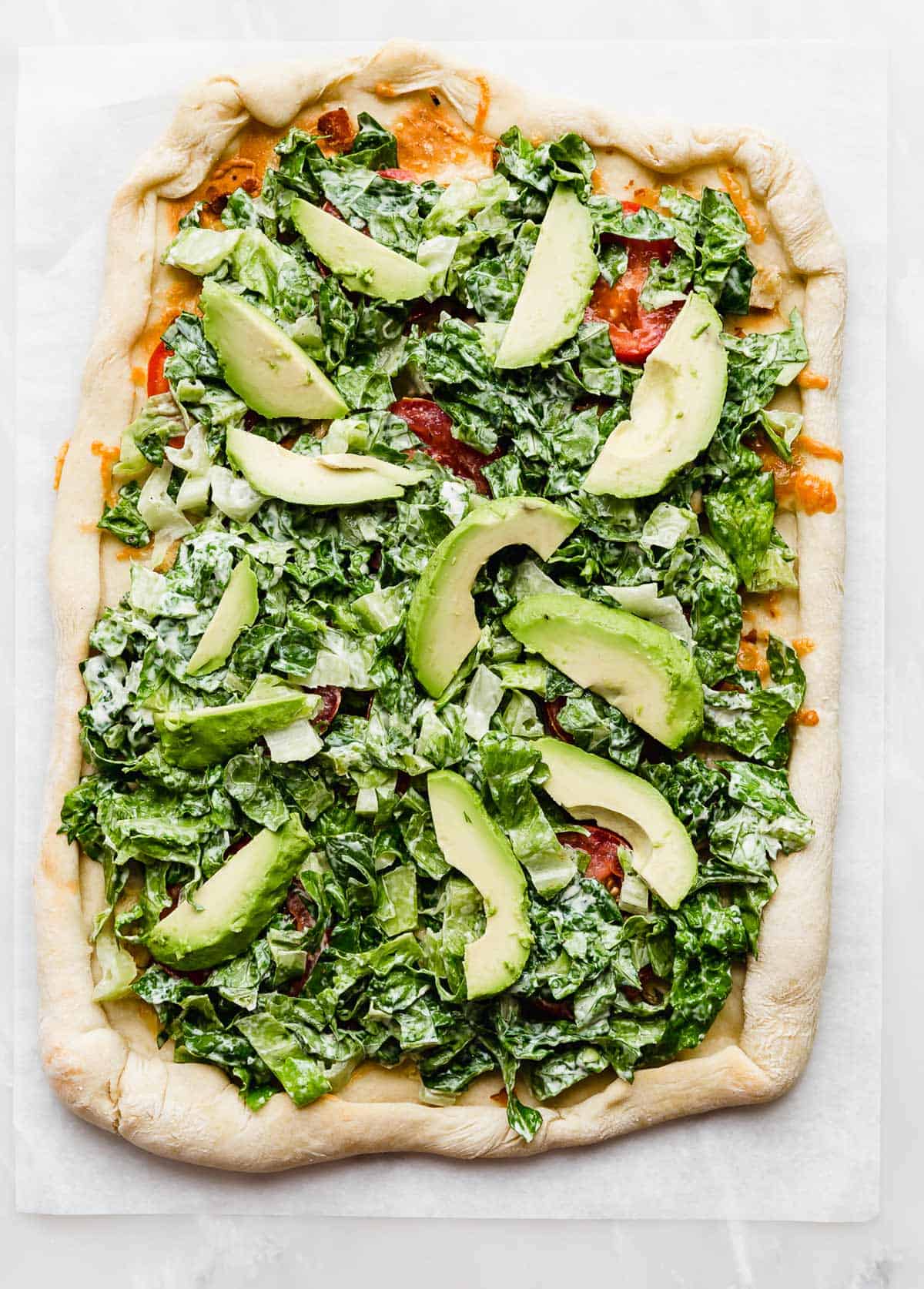 Recipe FAQs
Is CPK club pizza thick or thin crust?
The one at the restaurant is thin crust, but you can make the crust thickness to your liking. 
Do you bake club pizza first?
For this pizza, you'll bake the crust with the olive oil, cheese, cooked chicken and cooked bacon crumbles. After the pizza is baked, you'll add the fresh tomatoes, avocado and lettuce on top.
Is club pizza made with fresh ingredients?
Yes! It's one of my favorite things about this pizza. All the vegetables in this recipe are fresh and raw, added on top after the pizza is baked.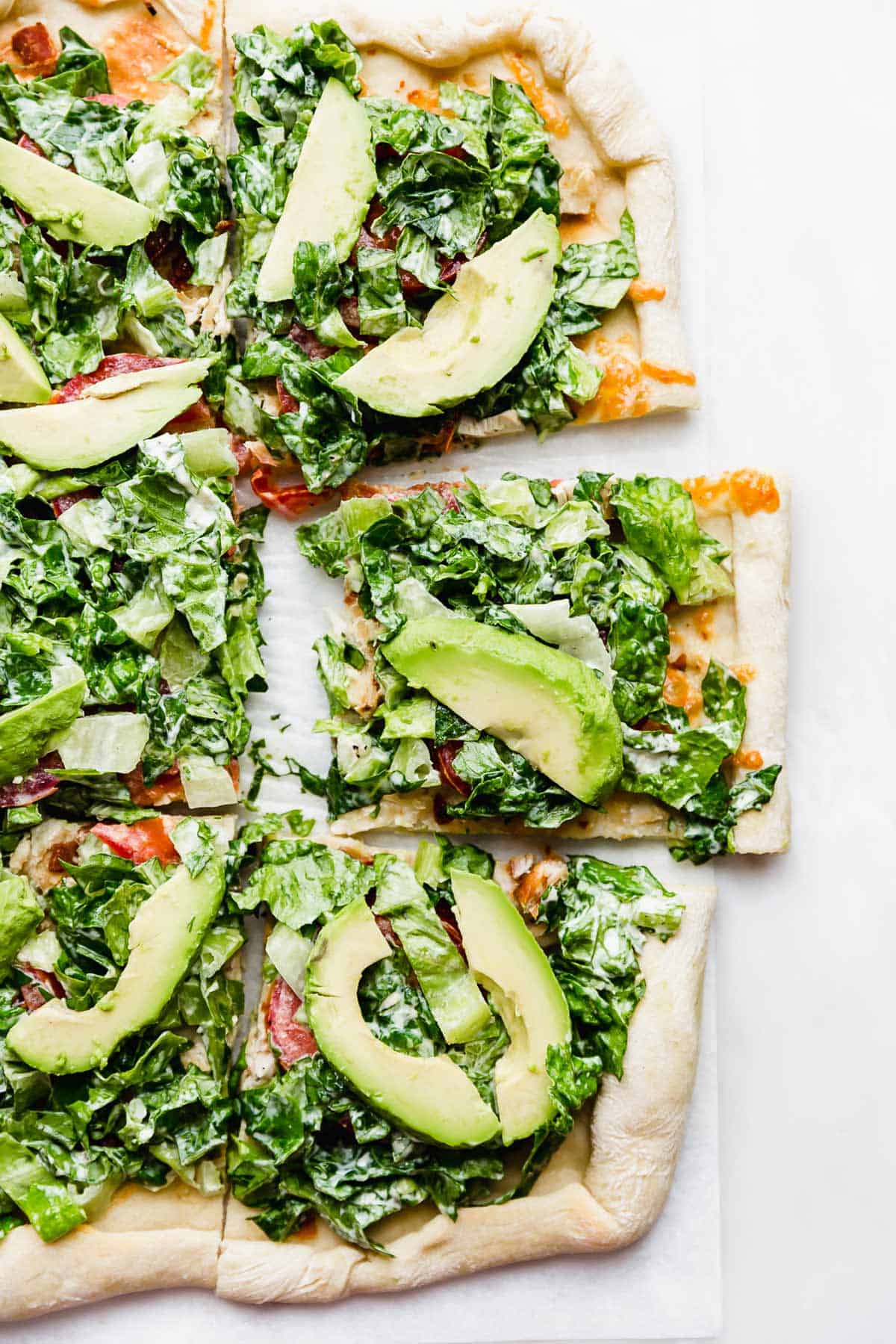 More Favorite Pizza Recipes
CPK California Club Pizza
Delicious pizza dough topped with chicken, bacon, cheese, tomatoes, a lettuce and mayo mixture, and sliced avocados. This pizza is filling and refreshing!
Ingredients
1/2

batch of my

pizza dough recipe

2

tablespoons

olive oil

-

divided

1

boneless skinless chicken breast

-

cooked and cubed, or can also use rotisserie chicken (about 1 1/2 cups)

3

cups

mozzarella cheese

-

shredded

5

slices

bacon

-

cooked and crumbled

2

tomatoes

-

sliced

4

cups

romaine lettuce

-

shredded

4

tablespoons

mayo

1

large

avocado

-

sliced

salt and pepper

-

to taste
Instructions
reheat oven to 450°F. Drizzle a tablespoon of olive oil over a baking sheet or nonstick cooking spray. Set aside.

Roll the pizza dough out on a floured surface until it's the size of your baking sheet. (Or you can use a pizza stone). If using a pizza stone chances are it's slightly smaller than a baking sheet so you'll want to half the amount of lettuce and mayo you use).

Drizzle a tablespoon or two of olive oil over the crust, use a pastry brush to spread it around. 

Spread the mozzarella cheese evenly over the crust. Spread the cubed chicken and bacon evenly over the cheese. Bake for 15-20 minutes or until the crust is golden brown and toppings are bubbly. 

While the pizza is cooking, in a medium bowl add the shredded lettuce. Stir the mayo into the lettuce and season with salt and pepper. 

 Remove the pizza from the oven. Layer the sliced tomatoes on the crust. Next, add the lettuce mixture to the pizza and finally top it with the chopped avocados. 

Slice and serve immediately. 
Notes
Nutritional information does not include the crust. 
Did you make this recipe?
Leave a star rating and review on the blog post letting me know how you liked this recipe! Take a picture and tag @saltandbaker on Instagram and Facebook so I can see what you're making!