How to Cook Bacon in the Oven
This post may include affiliate links. As an Amazon Associate I earn from qualifying purchases.
Knowing how to cook bacon in the oven is going to be your favorite new trick, bacon lovers! This mess-free way of cooking bacon ensures perfect crispy bacon without the hassle.
Pair this delicious oven bacon with my Cheesy Scrambled Eggs or Homemade Buttermilk Waffles!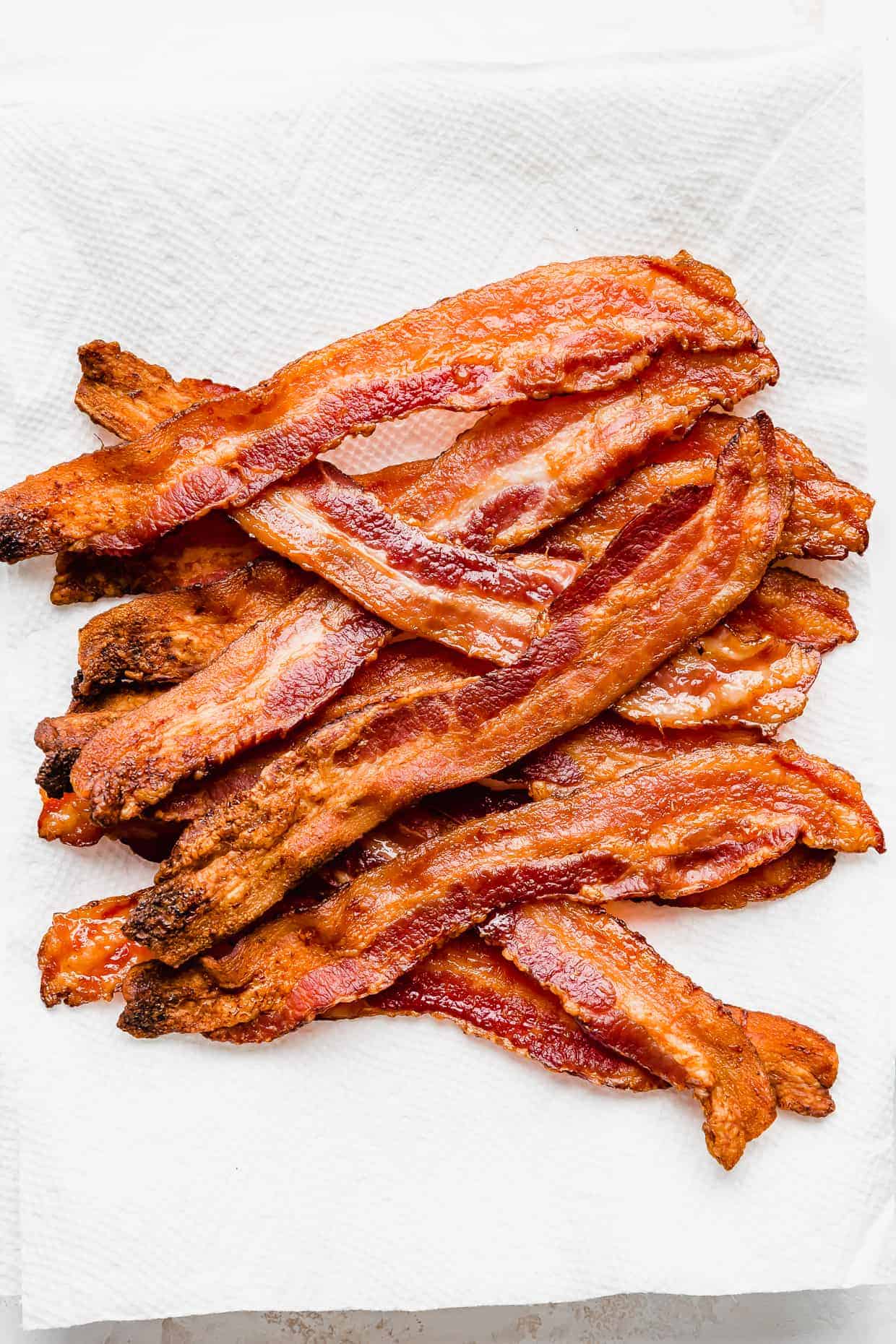 Why This Recipe Works
Using the oven method = less mess. Cooking bacon in the oven is the best way to cook bacon because it isn't as messy! By lining a baking sheet, you will have easy cleanup!
No need to babysit the bacon! Instead of standing by the stove top babysitting the bacon, simply pop the bacon in the oven, set the timer and continue with your day as the bacon cooks.
Easiest way to cook lots of bacon at once. This is an easy method to cook big batches of oven-cooked bacon that are all ready at once!
Crispy on both sides. The tip for getting your bacon crispy on both sides while baking in the oven — and without turning the bacon midway through — is by using an oven-safe wire rack. This lifts the bacon off of the baking sheet so the underside can cook as well. It's the only way I cook bacon!
Ingredient Notes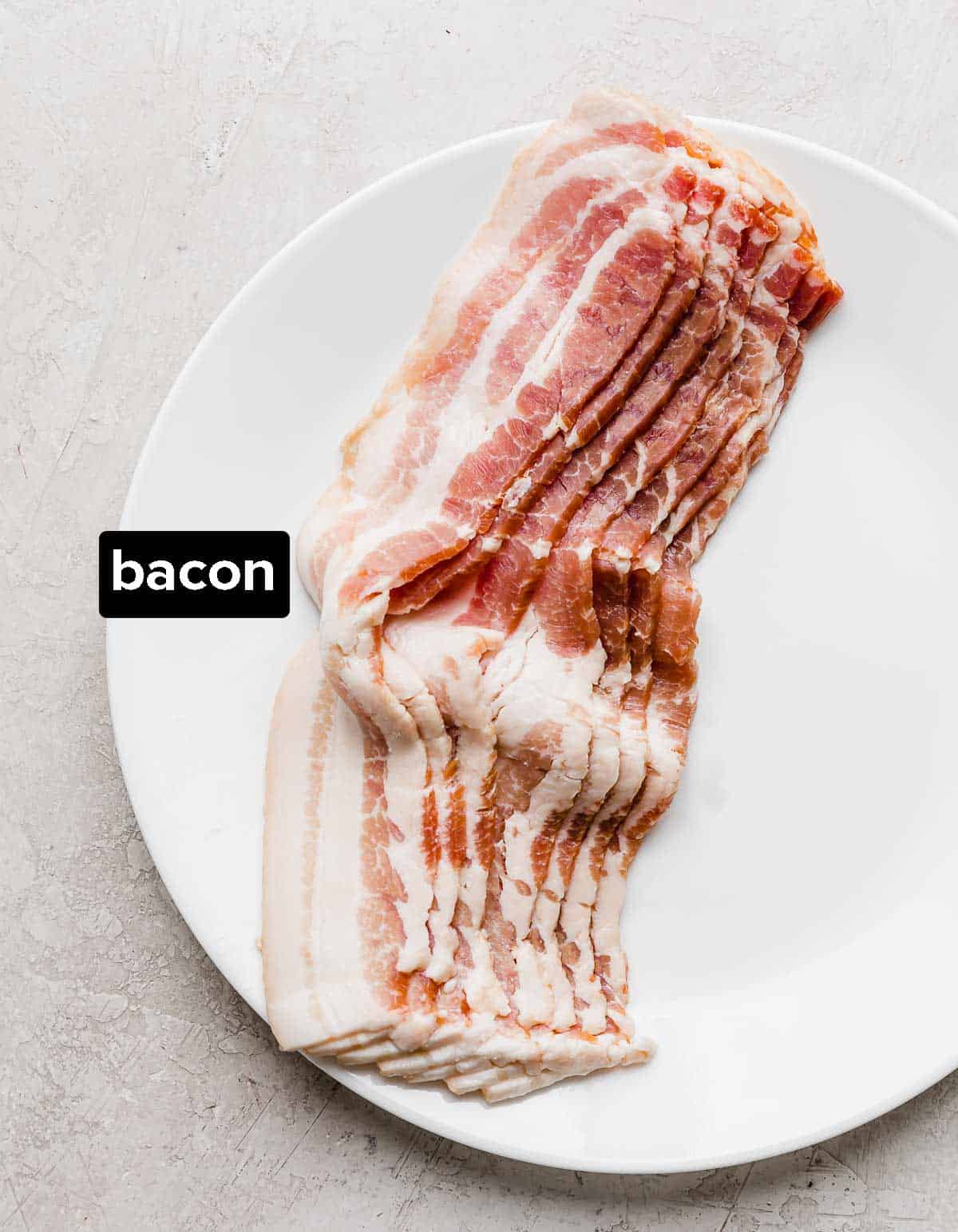 Bacon: This recipe is for raw strips of bacon, not the precooked microwave bacon. If using ultra thick cut bacon strips, you'll need to bake for longer. 
Step-by-Step Instructions
Prepare the baking sheet. Preheat your oven temperature to 400ºF and place the oven rack in the middle. Line a large rimmed baking sheet with aluminum foil and place an oven safe wire rack on top. Spray generously with nonstick cooking spray.
Add the bacon. Place bacon strips on the oven-safe cooling rack, lined up next to each other.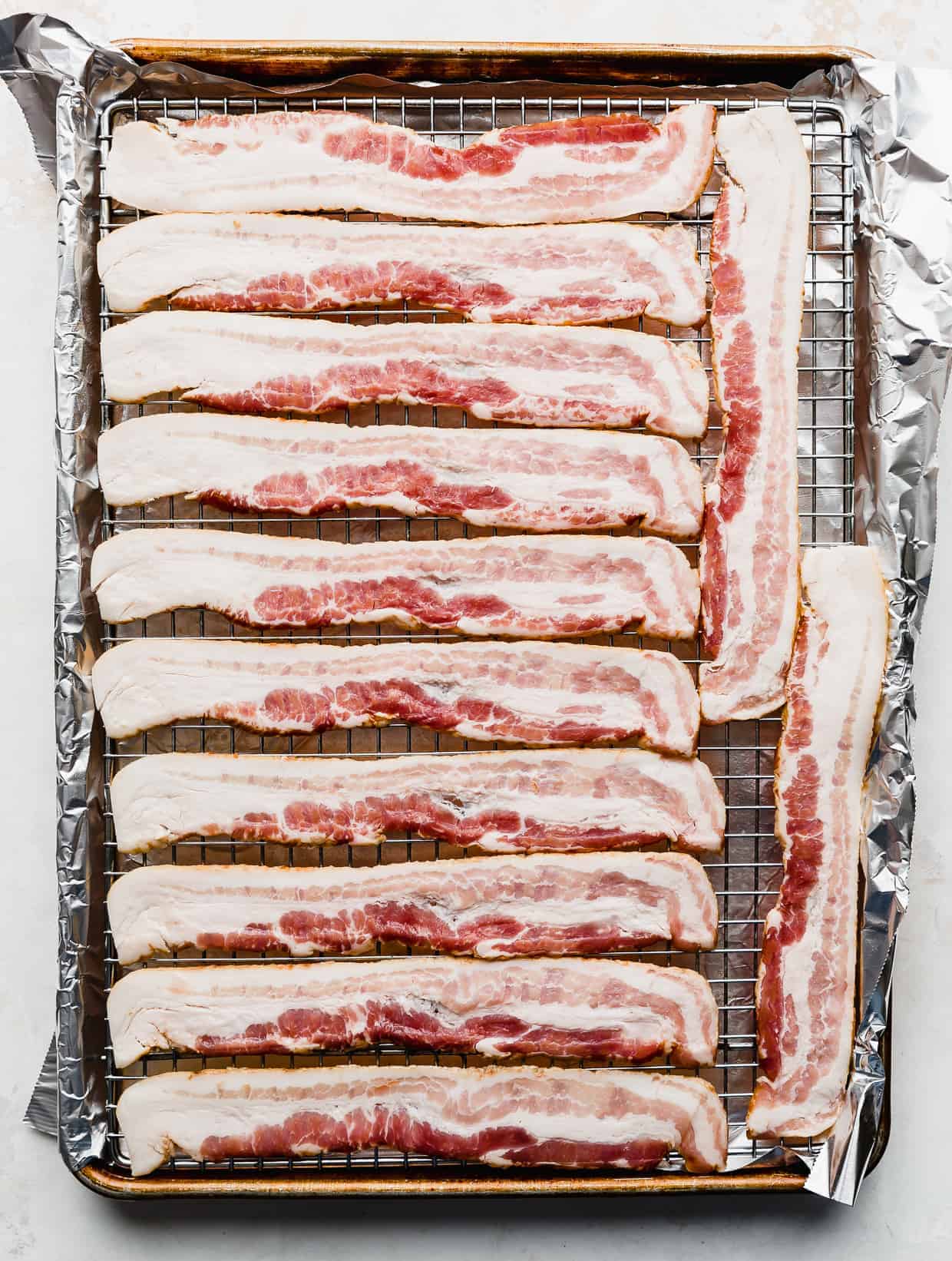 Bake. Place the bacon in the preheated oven and bake for 25-30 minutes or until the bacon reaches your desired level of crispiness. Remove and transfer to a plate lined with paper towels. Enjoy!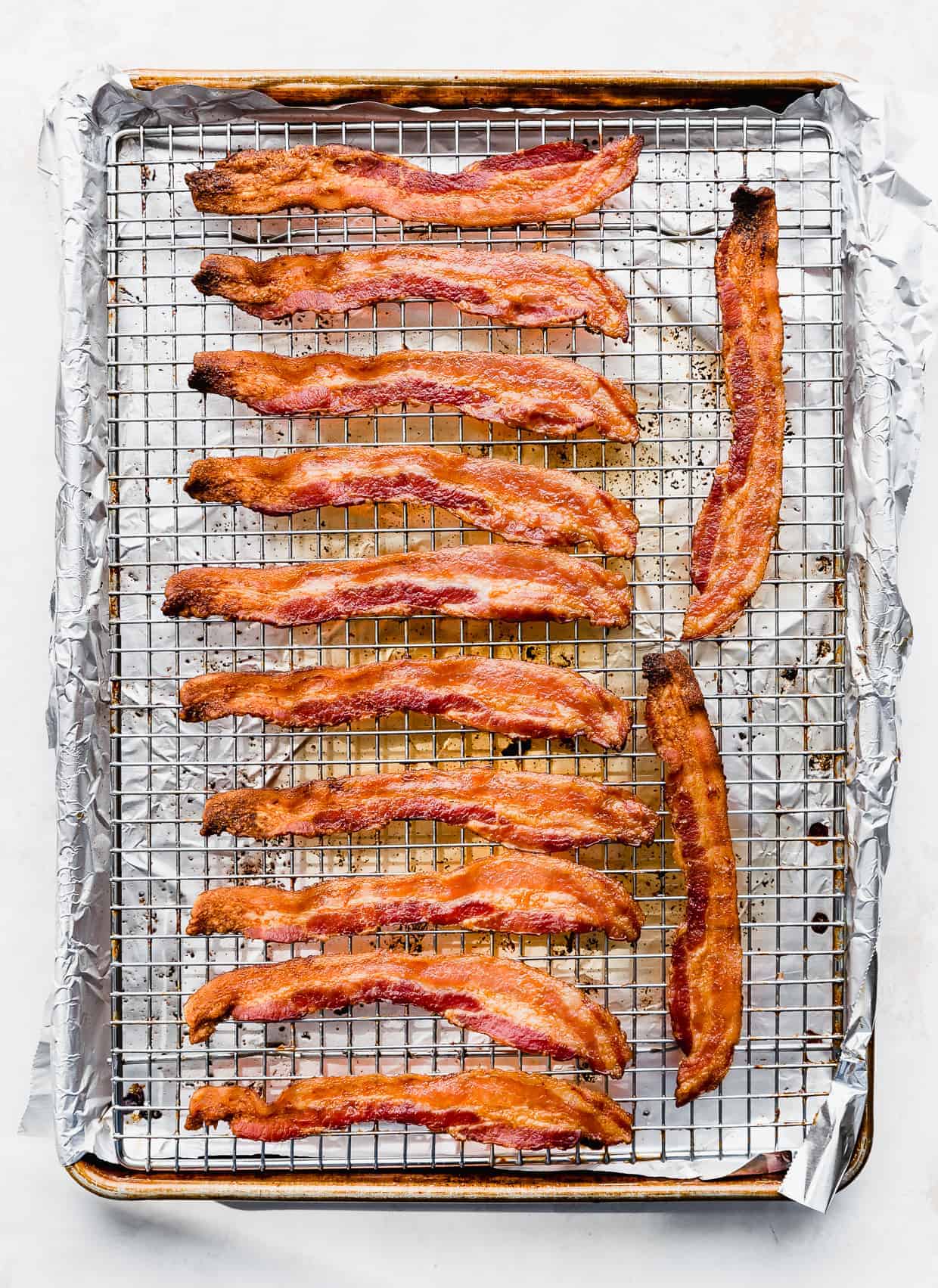 Recipe Tips
Depending on your oven and the size of the bacon you are cooking, the cooking time may differ.
I used regular cut bacon. The thickness of your bacon will affect the cook time as well. If using a thick-cut bacon you will need to bake for longer. Watch it as you go, but I'm guessing it'll need a solid 5-10 additional minutes. Thick bacon is THICK!
If you don't have an oven-safe baking rack, you can just put the bacon directly on the foil and turn it halfway through the bake time.
Be sure to spray your rack with non-stick spray before placing the bacon on it — without it you'll have a harder time getting the bacon off. And place the bacon in a single layer, not stacked.
Save your bacon fat in a jar in your fridge to use in cooking eggs, searing meat and making popcorn, like in my delicious maple bacon popcorn recipe!
Make Ahead, Storing, and Freezing
Store any leftover bacon in the fridge in an airtight container for up to 1 week.
To freeze, store the cooked bacon in a freezer safe bag and freeze for up to 3 months. Remove and let thaw. Then reheat in the oven or microwave before eating.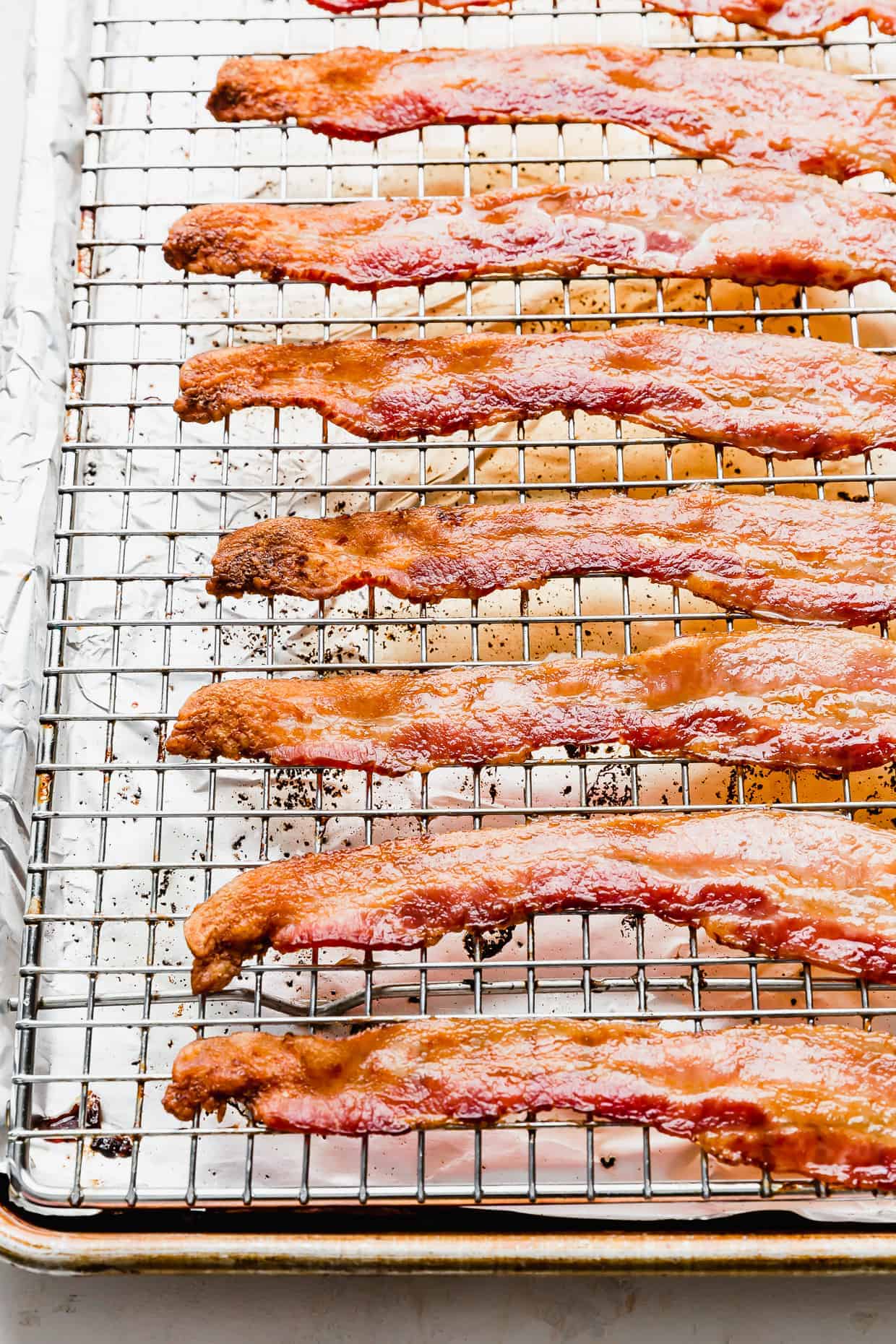 Recipe FAQs
Can you use parchment paper in the oven?
Yes! I think the foil will work better with cooking the bacon, but if you don't have foil, parchment paper can go in the oven. 
Is it better to cook bacon in the oven?
In my opinion, definitely! It's cleaner and requires less attention on your part. Plus, if you want to cook a lot of bacon, it's much easier to line a full baking sheet with bacon than to use a smaller pan on the stove and cook only a few slices of bacon at a time. The greatest thing is you can pop the bacon in the oven without having to babysit it on the stove, creating more family time!
What about cooking frozen bacon in the oven?
The time and temperature for this recipe is for thawed bacon. If you are using frozen bacon, you'll at least need to have them be thawed enough so you can break the bacon strips apart to lie them flat on the baking sheet. If using frozen bacon, I would put the pan in the oven as it finishes preheating to help the bacon thaw a bit before baking.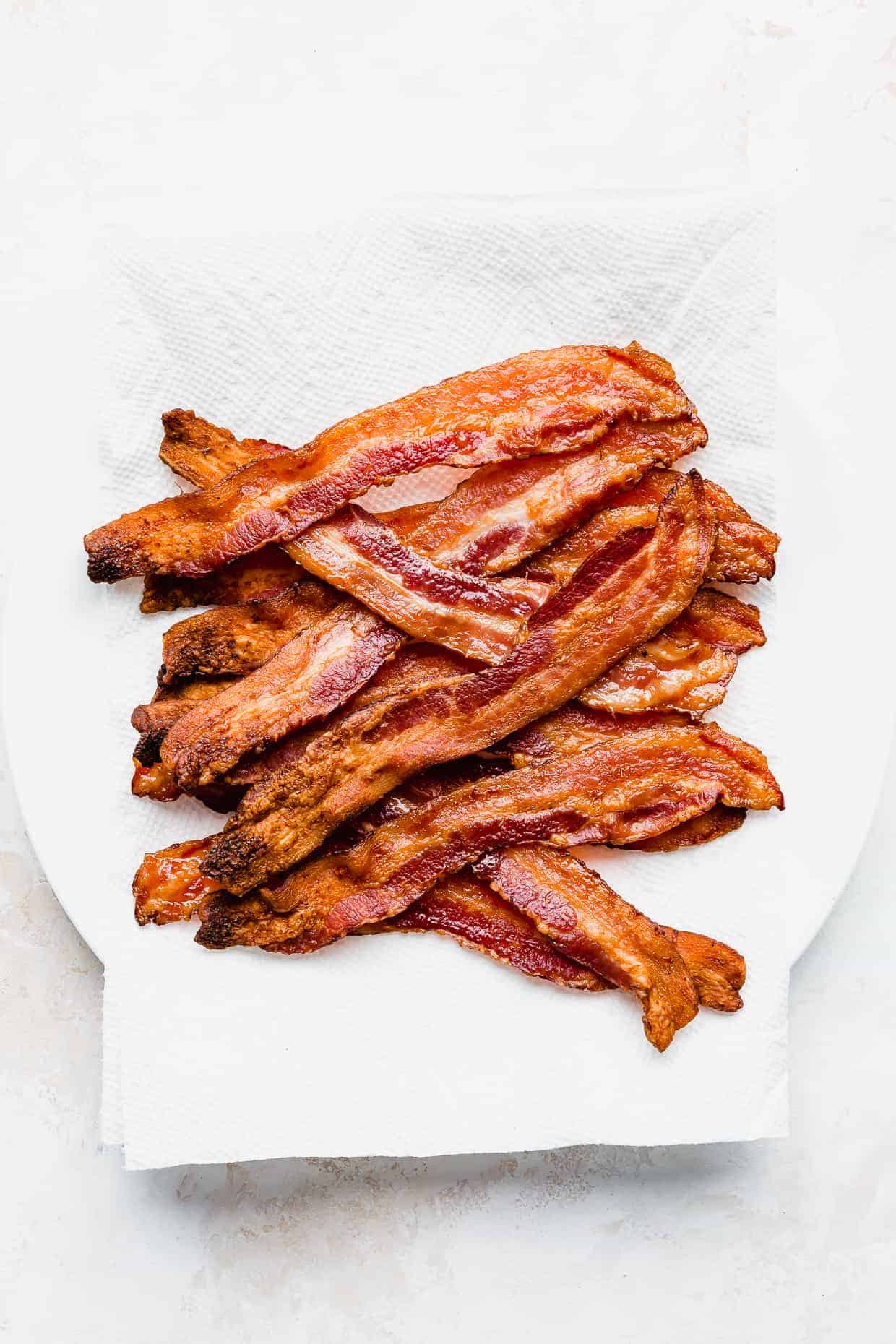 More Recipes Using Bacon
How to Cook Bacon in the Oven
Cooking bacon in the oven is the easiest and cleanest way to approach making perfectly crisp bacon. The bacon turns out amazing and clean up is a breeze!
Ingredients
12

slices

bacon

-

regular cut

maple syrup

-

optional, for serving
Instructions
Line baking sheet with foil. Place oven safe rack in the baking sheet and spray the rack generously with nonstick cooking spray. 

Line bacon on the rack. Bake in preheated oven for 25-30 minutes. Or until your desired crispness. 

Remove from oven and transfer bacon to a paper towel lined plate. 

If you enjoy this recipe, I would be so grateful if you come back to leave a rating and review. Thank you!
Notes
If using a thick cut bacon you will need to bake for longer. Watch it as you go, but I'm guessing it'll need a solid 5-10 additional minutes. Thick bacon is THICK!
Cooked bacon can store in fridge for 1 week. 
Can freeze cooked bacon for 3 months. 
Nutritional facts are based per serving (12 servings). Nutritional information may differ depending on the thickness and type of bacon used. 
Did you make this recipe?
Leave a star rating and review on the blog post letting me know how you liked this recipe! Take a picture and tag @saltandbaker on Instagram and Facebook so I can see what you're making!