Acini di Pepe Salad
This post may include affiliate links. As an Amazon Associate I earn from qualifying purchases.
Acini di Pepe Pasta (also known as frog eye salad) is made with acini di pepe noodles, a deliciously sweet custard sauce, crushed pineapple, mandarin oranges, and mini marshmallows all smoothly mixed together with some whipped topping!
I love a good side dish that can also pass as a "salad" and a "dessert!" Take my Pomegranate Jello Salad, Cookie Salad and Grape Salad recipes for example — they are mostly sweet, but made with lots of fruit so we call it a salad! That's a win-win in my book.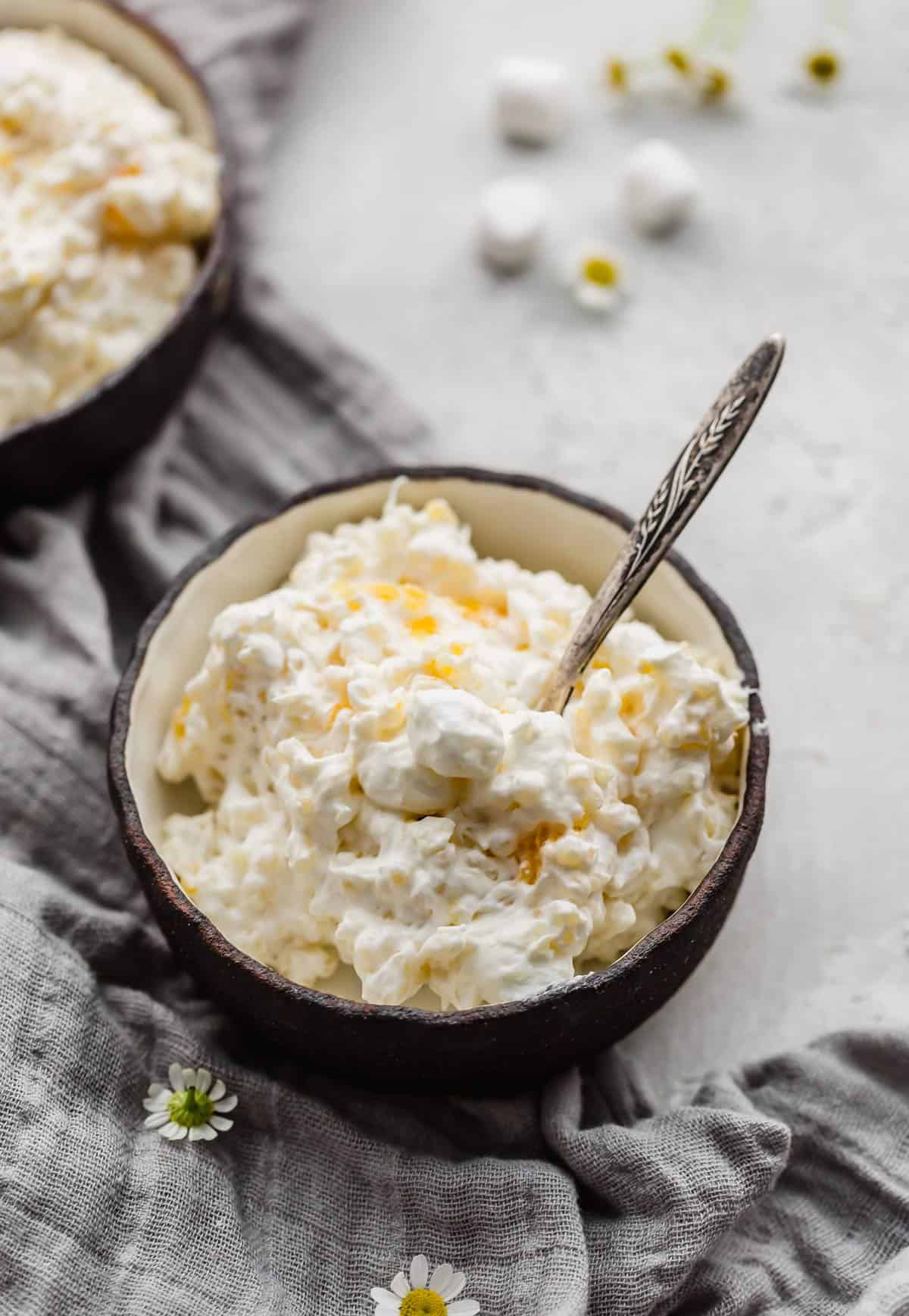 Why This Recipe Works
Great texture. You guys know I'm all about the texture, and this delicious frog eye salad has it in spades! The fun acini di Pepe noodles, paired with the gooey marshmallows, juicy mandarin oranges, and smooth whipped cream are all amazing together!
Can be served as a side or a dessert. I love a sweet pasta salad that doubles as a side and a dessert! This frog eye salad is often served as a side salad (yes, salad!) at potlucks, parties, or for a family gathering. But its sweet flavor makes it taste like a dessert!  
Easy frog eye salad. This family favorite dish is easy to make! All you have to do is cook the tiny pasta balls and make the delicious pineapple custard for the sauce, then add the mix-ins! Don't let the creepy name scare you from making it! It's a delicious recipe! 
Ingredient Notes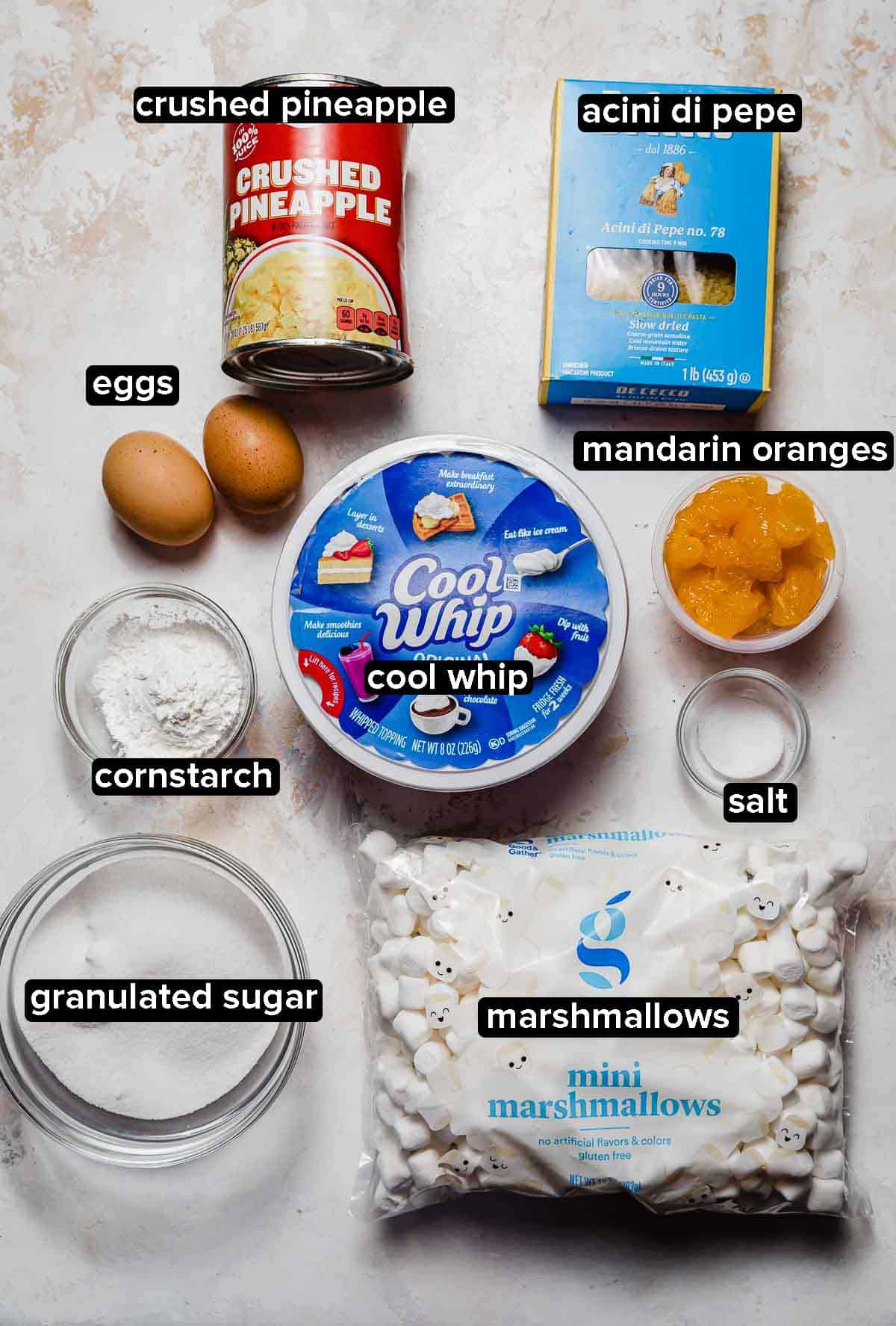 Acini di Pepe Pasta: Also known as frog eye pasta, these noodles are like tiny little dots. 
Crushed Pineapple: When draining the crush pineapple, save the juice! We need it for the sauce. Also, give them pineapple a gently squeeze to help release a bit more juice while draining it or else the mixture will be too wet. 
Mandarin Oranges: When you drain the juice from the mandarin slices can, be sue to save it! We'll use that to help make the delicious custard sauce. 
Frozen Whipped Topping: Be sure to have the frozen whipped topping (aka Cool Whip) thawed prior to mixing it into the frog eye salad. 
Mini Marshmallows: You'll definitely want mini marshmallows! This will not work with large or regular-sized marshmallows. 
Granulated Sugar: The delicious custard-like sauce is sweetened with sugar.
Eggs: There are eggs in this pasta salad, but they are cooked. The egg custard gives the pasta a thick and creamy texture. 
Step-by-Step Instructions
Cook the acini di Pepe. Cook 1 cup + 2 T acini di Pepe pasta according to the package directions on the box. Cook until al dente. Once cooked, run under cold water in a fine mesh strainer. Place the pasta in a large bowl and set aside. 
Make the sauce. To a small saucepan add the reserved pineapple juice, reserved mandarin orange juice, 1 cup granulated sugar, 2 large eggs, 1/2 tsp salt and 3 T cornstarch. Using a whisk, stir constantly while cooking over medium heat until thick. 
Chill the pasta. Pour the sauce from the pan into the bowl with the pasta. Chill in the fridge until cold. 
Add mix-ins. Once the pasta and sauce is cold (and just prior to serving), add the drained crushed pineapple, drained mandarin oranges, 1 1/2 cups mini marshmallows and the whipped topping. Gently stir until combined. Serve cold. Enjoy!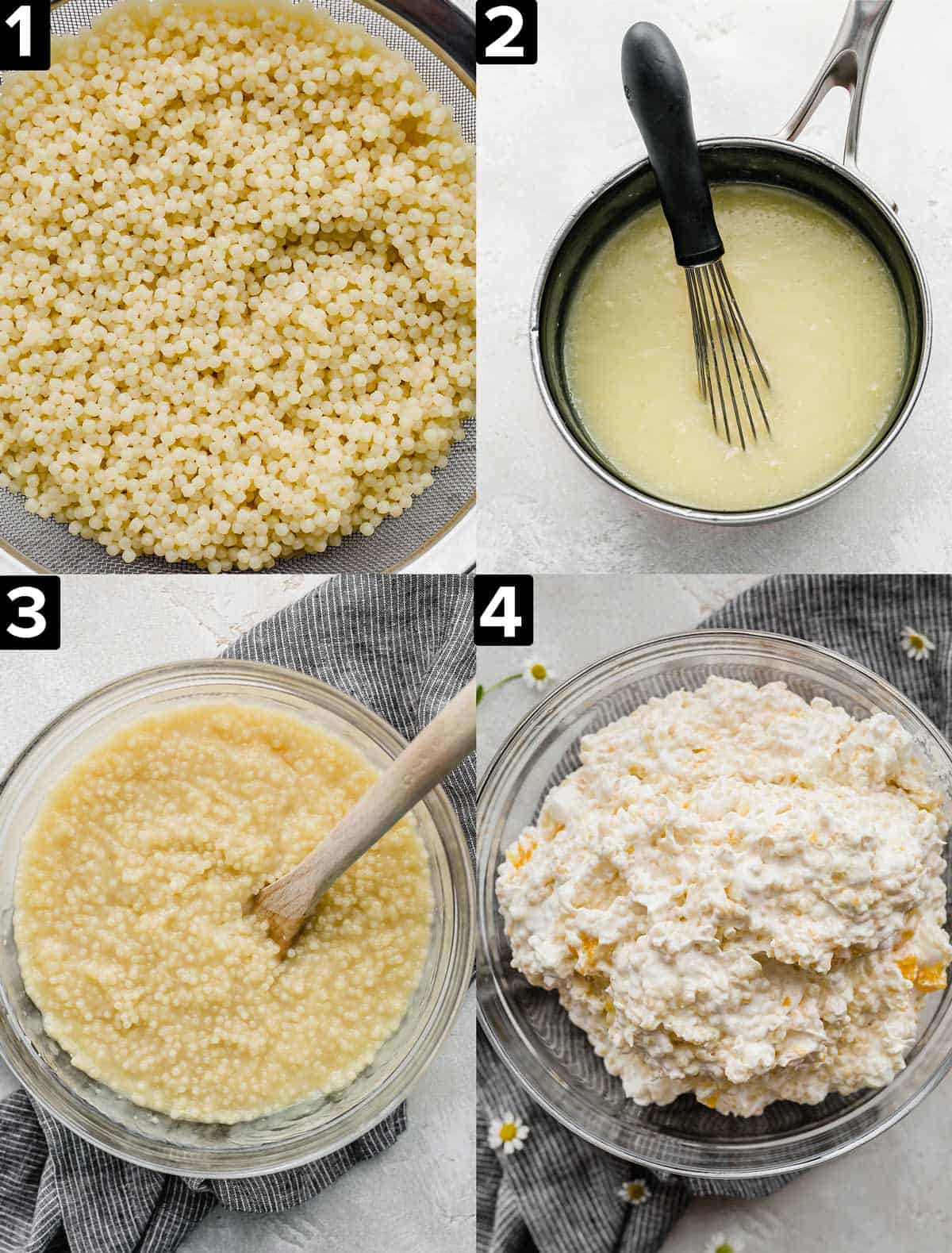 Recipe Tips
When draining the pasta, place it in a fine mesh strainer, this will make your life much easier! The tiny noodles are too small for a colander.
Be sure to save the liquid from the cans of mandarin oranges and crushed pineapple. The juices create a great fruity flavor paired with the egg mixture to create the most amazing custard (without any pudding mixture).
For the sauce, use a whisk to keep things nice and smooth and to avoid any clumping from the cornstarch or the eggs.
Feel free to add more of the pineapple and mandarin oranges to this acini di pepe fruit salad! I was trying to keep the ratios pretty balanced, but if you want heavy on the fruit, go for it!
When draining the pineapple, gently squeeze the pineapple so more juices are released. You don't need to wring it out, just a bit of a press will make things less liquidy.
A fun variation is to use the pastel-colored mini marshmallows instead of the plain white ones!
Make Ahead, Storing, and Freezing
This frog eye salad recipe will keep in the fridge for 3 days. So you can make it ahead of time, but I wouldn't let it sit for too long.
And, if you want to make it ahead of time, the best bet would be to cook the pasta, make the sauce, and then let the sauce and the pasta chill for 24 ish hours before your event. Then you can add the fruit, marshmallows and whipped topping just prior to serving.
Store any leftovers in an airtight container in the fridge for cup to 3 days.
I don't recommend freezing this frog eye salad due to the pasta and the whipped topping.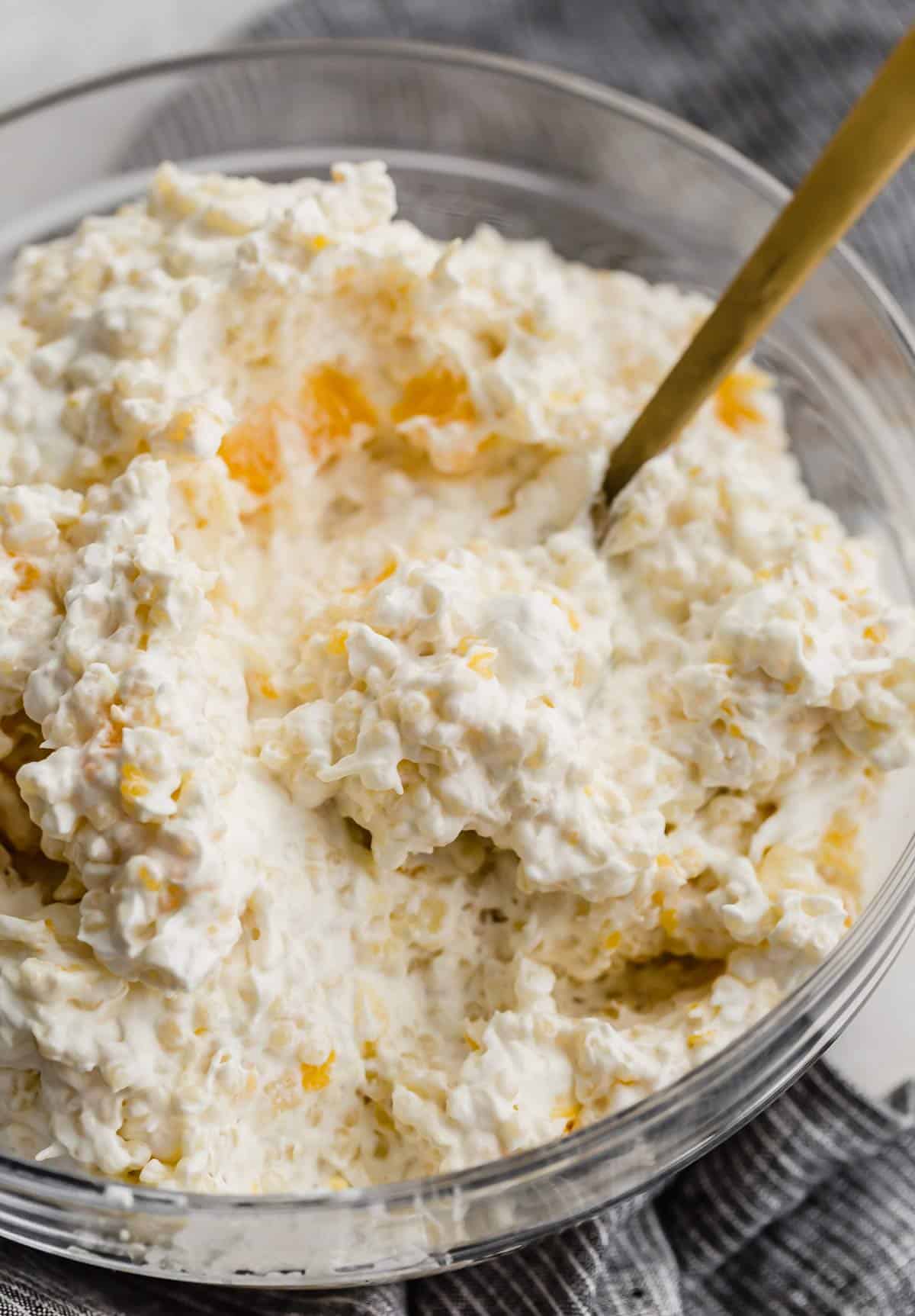 Recipe FAQs
What does acini di pepe mean?
Acini di pepe translated to peppercorns in English.  
What if I don't have acini di pepe?
While this frog eye salad won't be the same without the iconic frog eye pasta, you can use orzo if you can't find acini di pepe. Orzo is like rice in noodle form. It's quite a bit bigger than the acini di pepe, so the will be completely different. But that would probably be your closest substitute. 
Why is it called frog eye salad? 
The acini di pepe pasta has been nicknamed frog eye pasta since the small pasta are these little dots that look like tiny little frog eyes.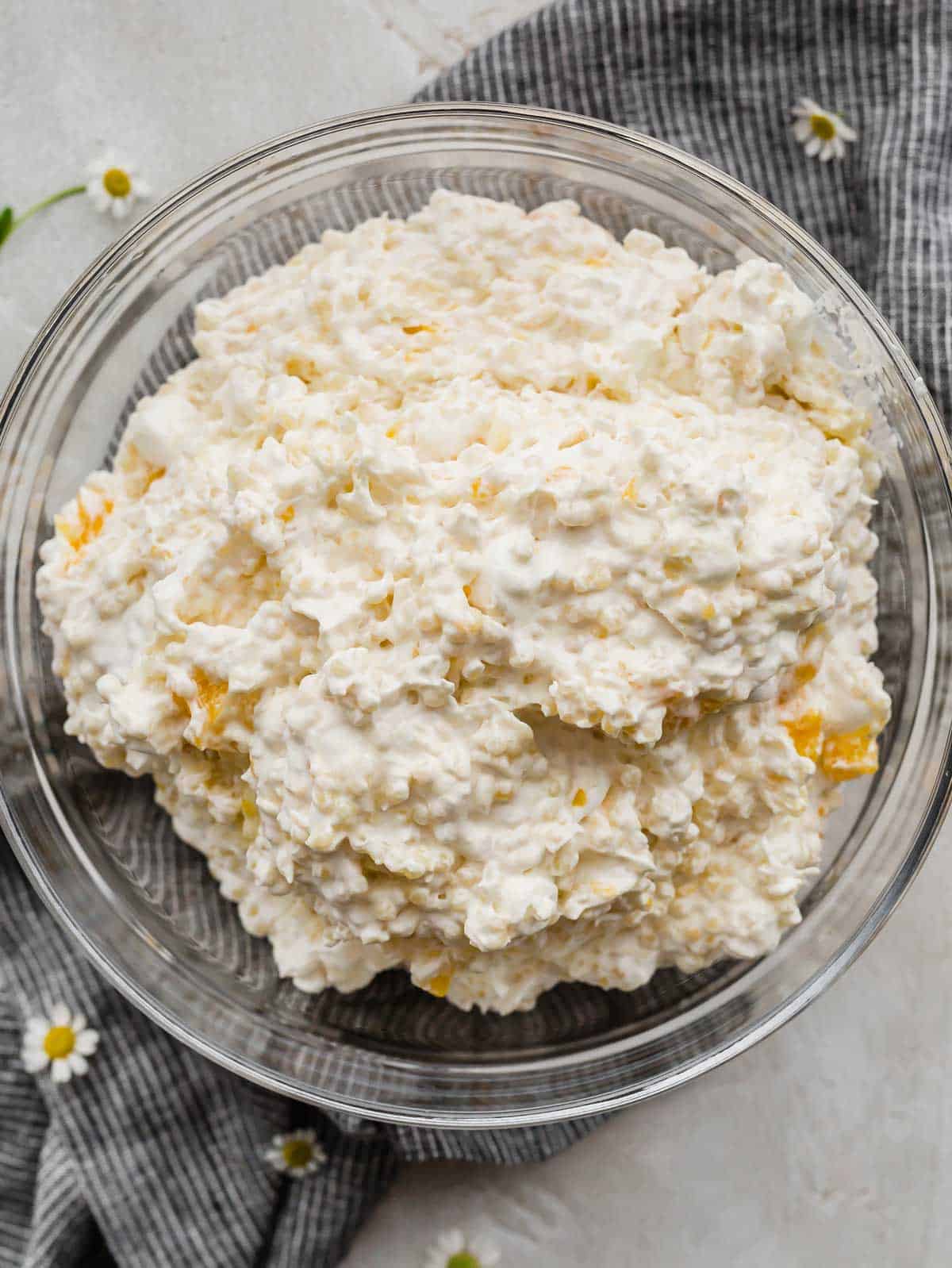 More Side Dishes
Acini di Pepe Salad
Not your typical "pasta salad," this side dish has marshmallows, whipped topping, and various fruits. I guess the fruit makes it healthy-ish. 🙂
Ingredients
1

cup + 2 tablespoons

acini di pepe pasta

20

oz

can crushed pineapple

-

drained and juice reserved *see notes

1

11 oz

can mandarin oranges

-

drained and juice reserved

8

oz

container frozen whipped topping

-

thawed

1 1/2

cups

mini marshmallows

1

cup

granulated sugar

2

large

eggs

1/2

teaspoon

salt

3

tablespoons

cornstarch
Instructions
Cook the acini di pepe in salted boiling water until al dente. Run under cold water. Drain. Place the pasta in a large bowl. 

In a saucepan stir the reserved pineapple juice, reserved mandarin oranges juice, sugar, eggs, salt, and cornstarch. Turn the heat to medium and cook until thick, stirring constantly. Remove from heat. Pour over the cooked pasta and refrigerate until chilled. 

Once cold, (and just before serving) stir in the crushed pineapple and oranges, whipped topping, and marshmallows. Serve cold. 
Notes
*when draining the pineapple, gently squeeze it so more liquid comes out. You just don't want the pineapple super, super wet or else the finished dish will be wetter, which is is a bad combo with the whipped topping.
Do not freeze this dish.  
Did you make this recipe?
Leave a star rating and review on the blog post letting me know how you liked this recipe! Take a picture and tag @saltandbaker on Instagram and Facebook so I can see what you're making!