Pomegranate Jell-O
This Pomegranate Jell-O will be your new go-to Jell-O salad. The flavor and texture is like nothing you've had before!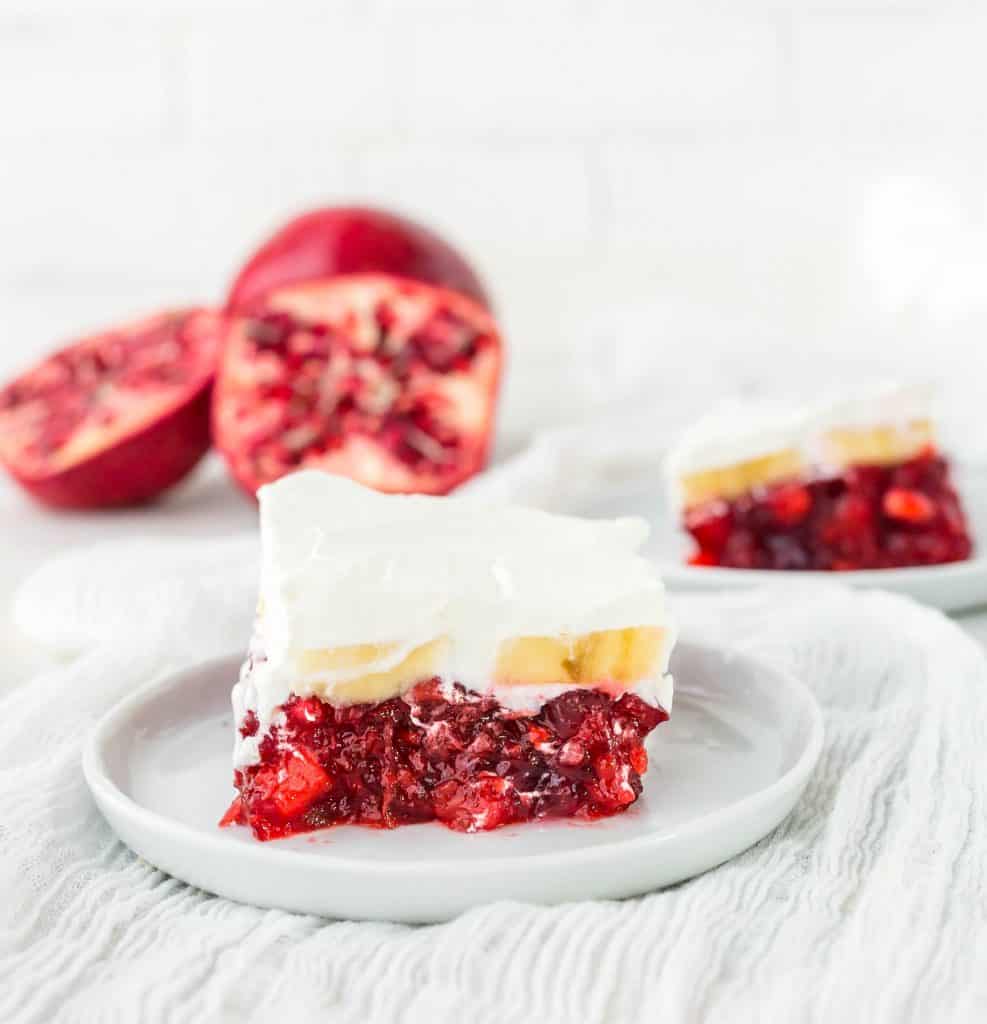 This Pomegrante Jell-O is packed with raspberry pie filling, crushed pineapple, and of course, pomegranates. And if that wasn't enough fruit to pack into one Jell-O salad, I added sliced bananas and some sweetened fresh whipped cream to garnish the top.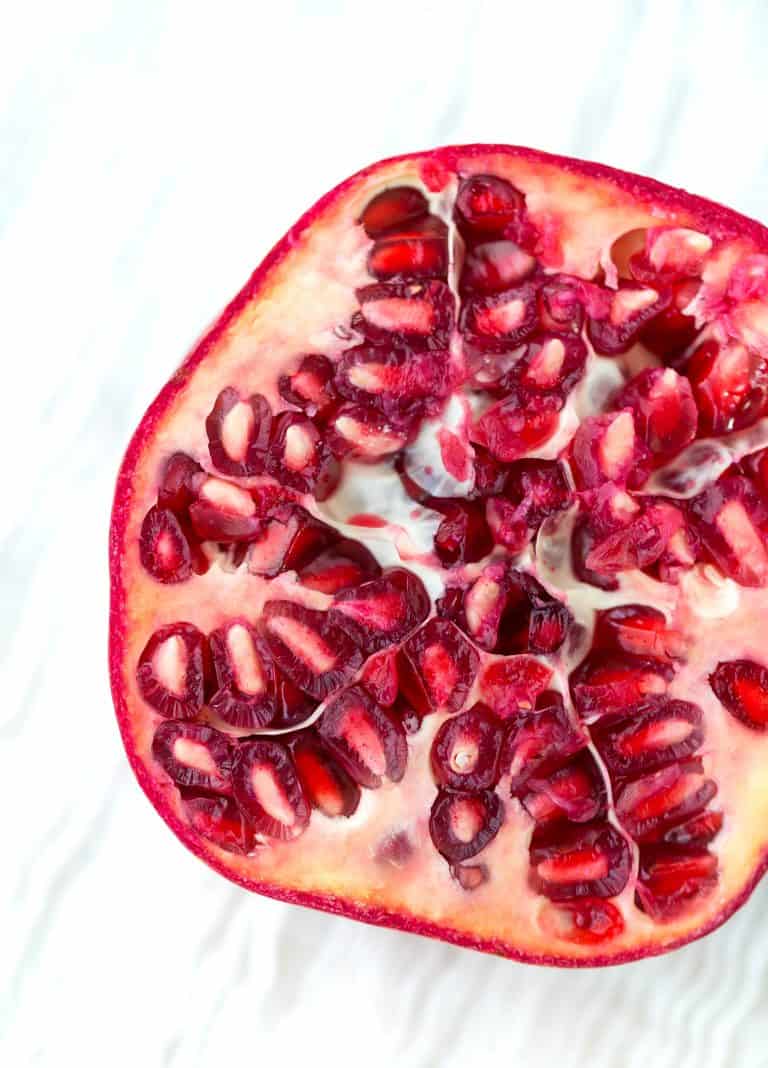 This is coming a bit late, but Merry Christmas to all of you! I hope you were able to spend the day with family and friends. My small family and I traveled to Idaho to be with our extended families. We had so much fun talking, watching movies, and eating food! With New Years two days away, I'm finalizing my list of goals and New Years resolutions. Funny things is, my resolutions don't change much from year to year. I must be really bad at following through with my goals if I feel like I need to repeat them year after year.. ha! What are some of your New Years Resolutions? And I'm curious to know how your 2017 was? Let me know in the comments, or shoot me an email!
My family has a Christmas Eve dinner tradition. My mother makes the exact same foods each year for this dinner. It's something myself and my siblings look forward to each year. I didn't have time to post the recipes for the Christmas dinner, but I will do it next year. I promise! You can hold me to it. This delicious Pomegranate Jell-O has made an appearance at my families annual Christmas dinner for over 10 years. We love it, and everyone who tastes it loves it too! It's practically dessert, but we eat it as an appetizer. Dessert first, dinner second, right?!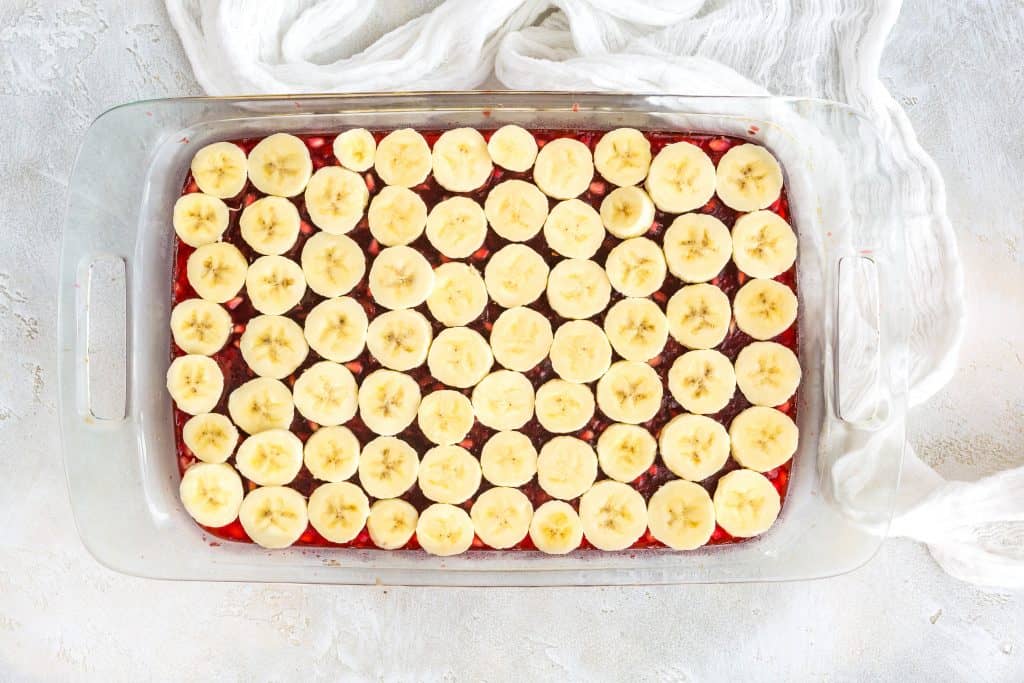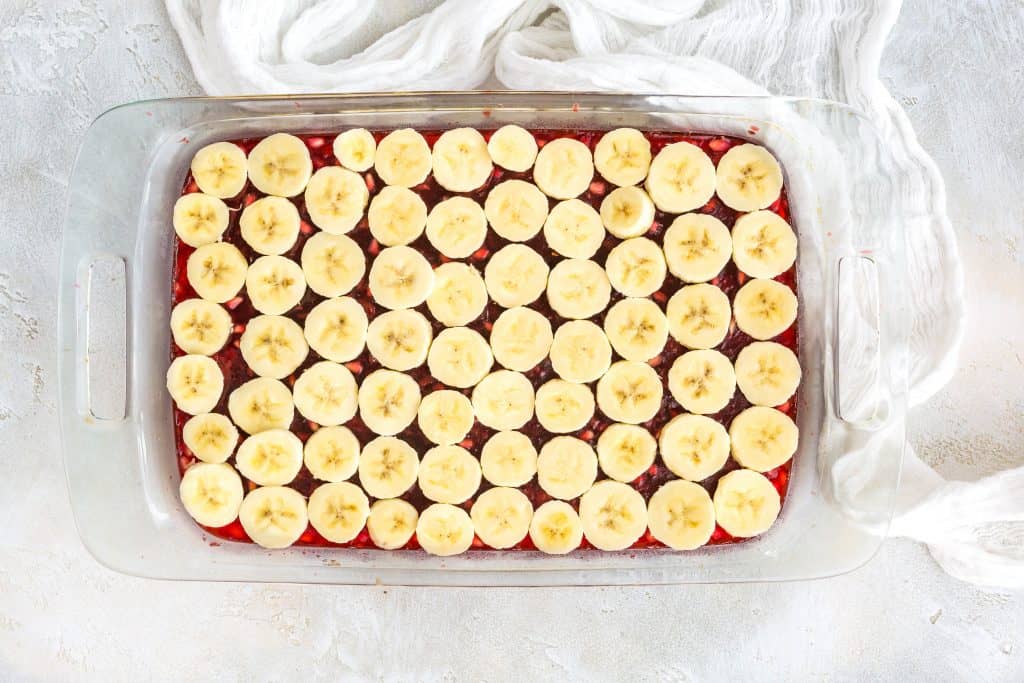 You'll be amazed at how easy this Christmas Pomegranate Jell-O is to make. The hardest task you'll face will be extracting the pomegranate arils (seeds) from the pomegranate. Once you've successfully removed the arils, you're ready to go!
How to make Christmas Pomegranate Jell-O:
Add boiling water to jell-o powder.
Add in crushed pineapple, raspberry pie filling, and pomegranates.
Pour jell-o mixture in a pan. Refrigerate.
Garnish with sliced bananas and fresh whipped cream.
You can make this dish the night before and then add the sliced bananas and fresh whipped cream right before serving. I hope you enjoy this classic Jell-O salad as much as my family does!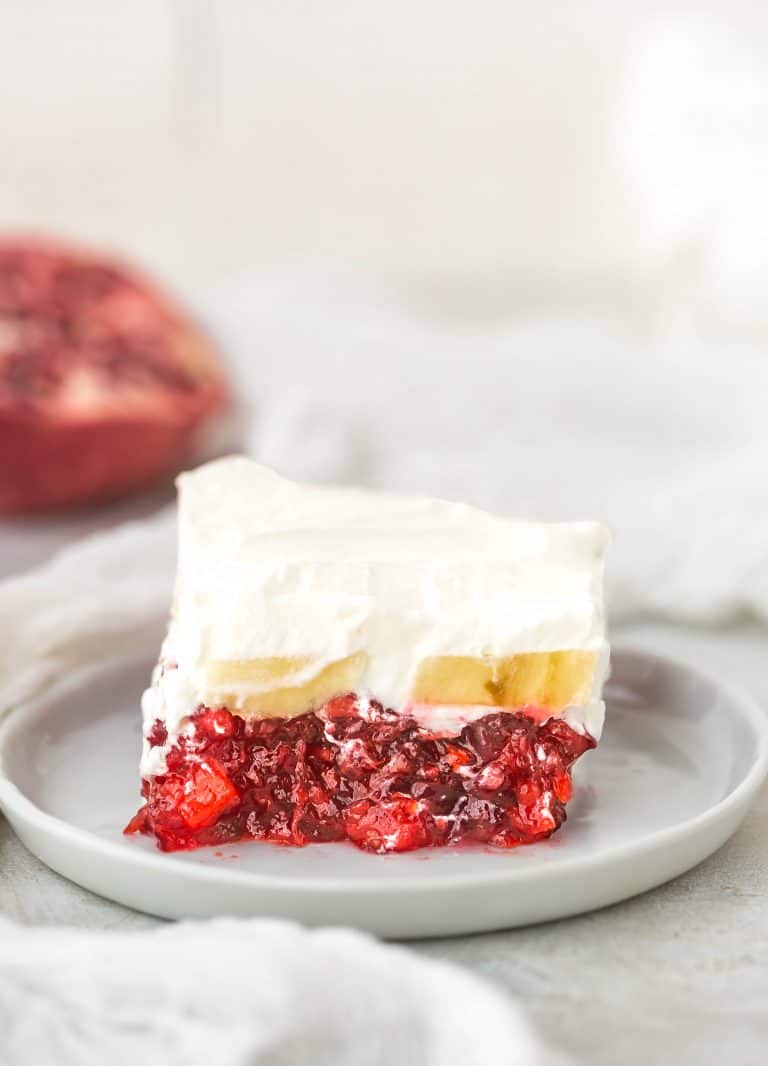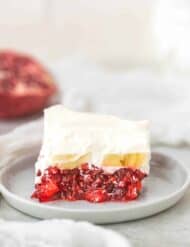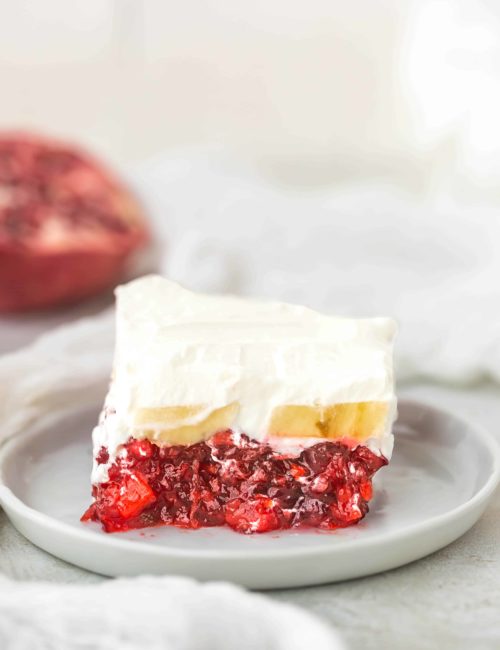 Christmas Pomegranate Jell-O
Ingredients
6

oz

raspberry Jell-O

2

cups

boiling water

20

oz

can of crushed pineapple

21

oz

can of raspberry pie filling and topping, I use Duncan Hines

1

pomegranate, seeded

3-4

bananas
Whipped topping
2 1/4

cups

heavy whipping cream

1

cup

powdered sugar

1/2

tsp

vanilla extract
Instructions
Jell-O
In a medium bowl combine the Jell-O powder and 2 cups of boiling water. Mix until the Jell-O is dissolved (about 2-3 minutes).

Add the can of raspberry pie filling and topping to the Jell-O. Mix until the pie filling is dissolved (or no longer clumpy). Once dissolved, empty the can of crushed pineapple (including the juice) into the Jell-O mixture.

Add the pomegranate fruits to the Jell-O. Pour the Jell-O mixture into a 9x13" pan. Place in the refrigerator to set. About 3-4 hours.

Once Jell-O is set, remove from the fridge. Slice bananas (about 1/2" thick) and distribute evenly over top the Jell-O. Make the whipped topping:
Whipped Topping
In the bowl of a stand mixer fitted with the whisk attachment, or using a hand mixer, add the heavy whipping cream, powdered sugar, and vanilla. Beat until stiff peaks form.

Spread the whipped topping mixture over the sliced bananas. Serve immediately, or place back in the fridge to keep cold until ready to serve.
Do you love this Pomegranate Jell-O? I suggest you try these recipes:
Pumpkin Pancakes with Cinnamon Brown Butter Pecan Syrup