Pesto Chicken Parmesan
This post may include affiliate links. As an Amazon Associate I earn from qualifying purchases.
Pesto Chicken Parmesan combines the best of both worlds – the classic Italian flavors of chicken parmesan with the aromatic flair of basil pesto. Create this easy dinner recipe that is bursting with flavor and oozing with cheesy goodness in just 30 minutes!
Looking for more dinner inspiration? If you are a fan of Italian chicken recipes, try my delicious Roman Chicken, Chicken Caprese Sandwich, Creamy Tuscan Chicken and my Italian Grilled Chicken recipes. Each are easy to make and bursting with flavor!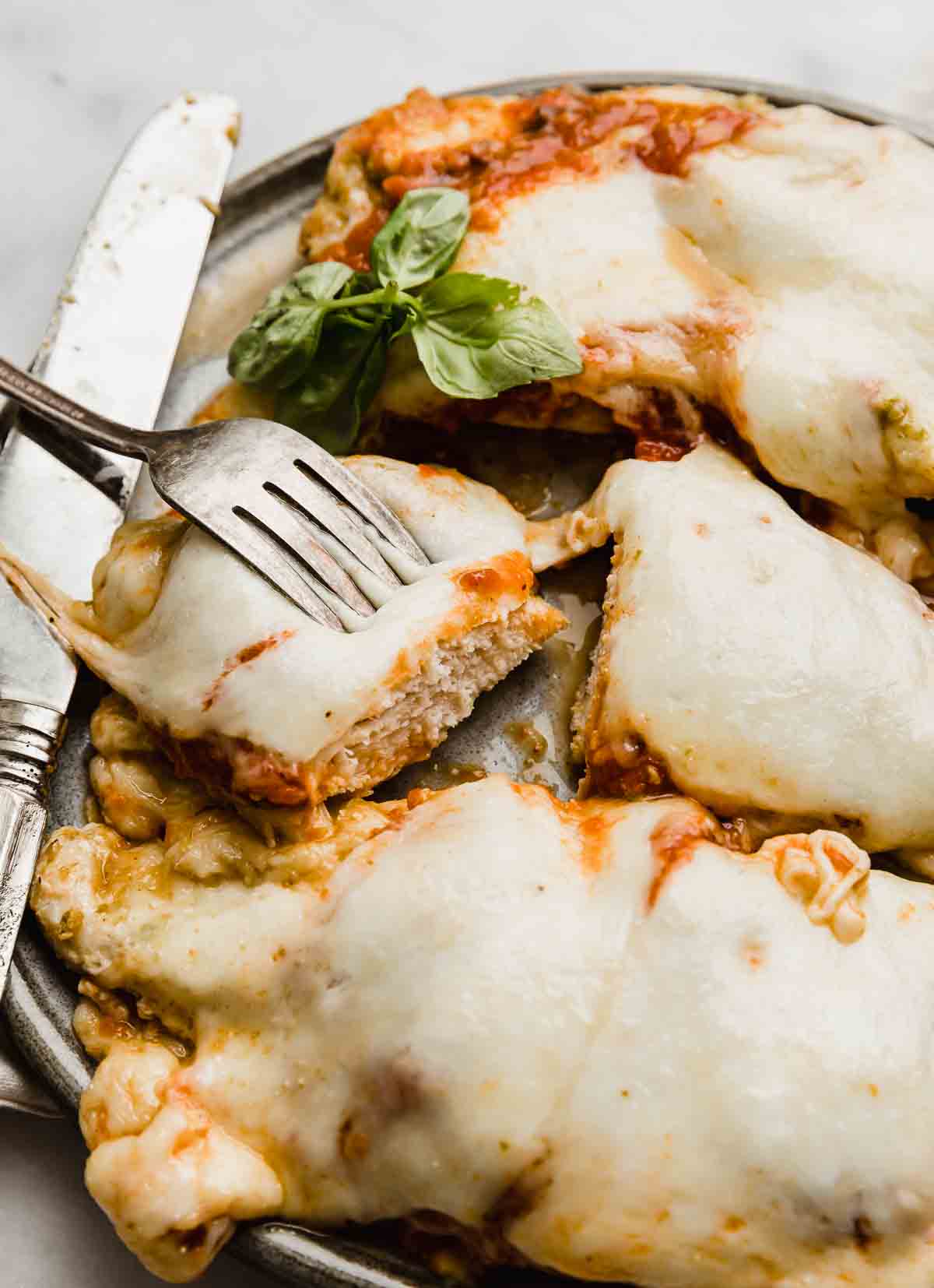 Why This Recipe Works
Perfectly tender chicken. Our technique of pounding the chicken breasts to an even thickness ensures each bite is tender, juicy, and consistently cooked.
Pesto chicken parmesan with fresh mozzarella. Fresh mozzarella slices are a family favorite to achieve that irresistible gooey texture that transforms every forkful into a cheesy delight.
30 minute meal. Cook up dinner in no time on a busy weeknight with this easy pesto chicken parmesan.
Uses staple ingredients. You get the flavors of a fancy Italian restaurant without the need for fancy ingredients!
Ingredient Notes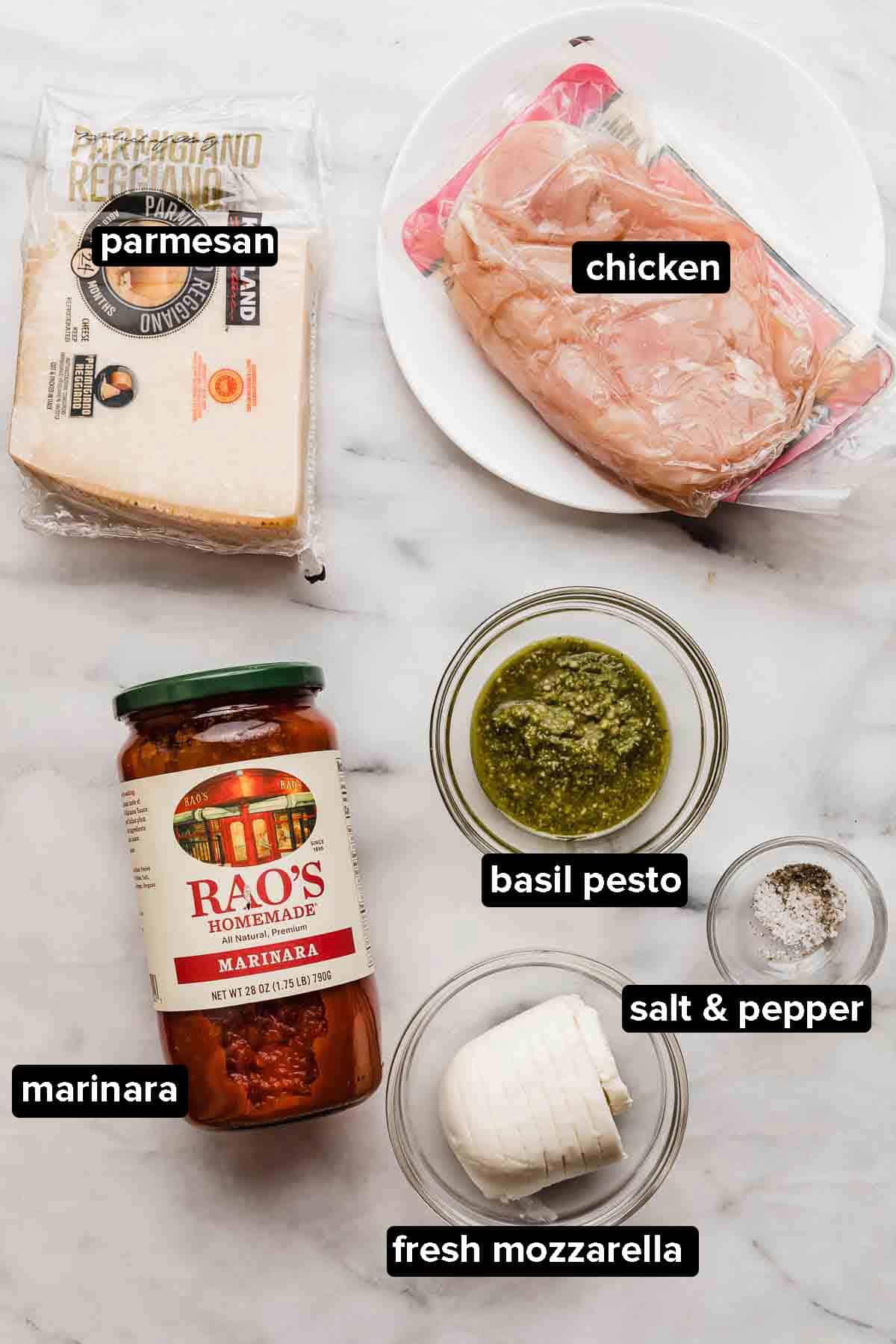 Chicken Breasts: Use boneless skinless chicken breasts. The chicken breasts should be fully thawed and pounded thin so they are an even thickness. You can butterfly the chicken breasts if you would prefer. That means you would just slice the chicken breast in half thickness-wise.
Basil Pesto: Feel free to use store-bought pesto. Or you can make homemade pesto using my easy Blender Pesto recipe.
Marinara Sauce: Use your favorite brand!
Fresh Mozzarella Cheese: I highly recommend using the slices of FRESH mozzarella because it melts so well and adds delicious moisture to the baked pesto chicken parmesan.
Parmesan Cheese: Adding the parmesan cheese later in the bake time will make sure the cheese doesn't burn on top.
Step-by-Step Instructions
Season chicken. Preheat oven to 400ºF. Season the chicken breasts with a little salt and black pepper, then add to a baking dish sprayed with nonstick cooking spray.
Top chicken with pesto and sauce. Spread the pesto sauce on top of each chicken breast on both sides, then spoon the marinara sauce overtop.
Add the cheese. Top the chicken with slices of fresh mozzarella.
Bake. Cover the baking dish with aluminum foil and bake for 30 minutes. Remove the foil and sprinkle the top with parmesan cheese. Continue baking for 5-10 minutes or until the cheese is melted, golden brown, and the chicken is fully cooked (chicken should reach an internal temperature fo 165ºF.)
Remove and serve. Remove the baked chicken pesto parmesan from the oven and serve by itself, over a bed of pasta or rice, with cheesy garlic bread, or sandwiched between ciabatta bread for a delicious pesto parmesan chicken sandwich. Enjoy!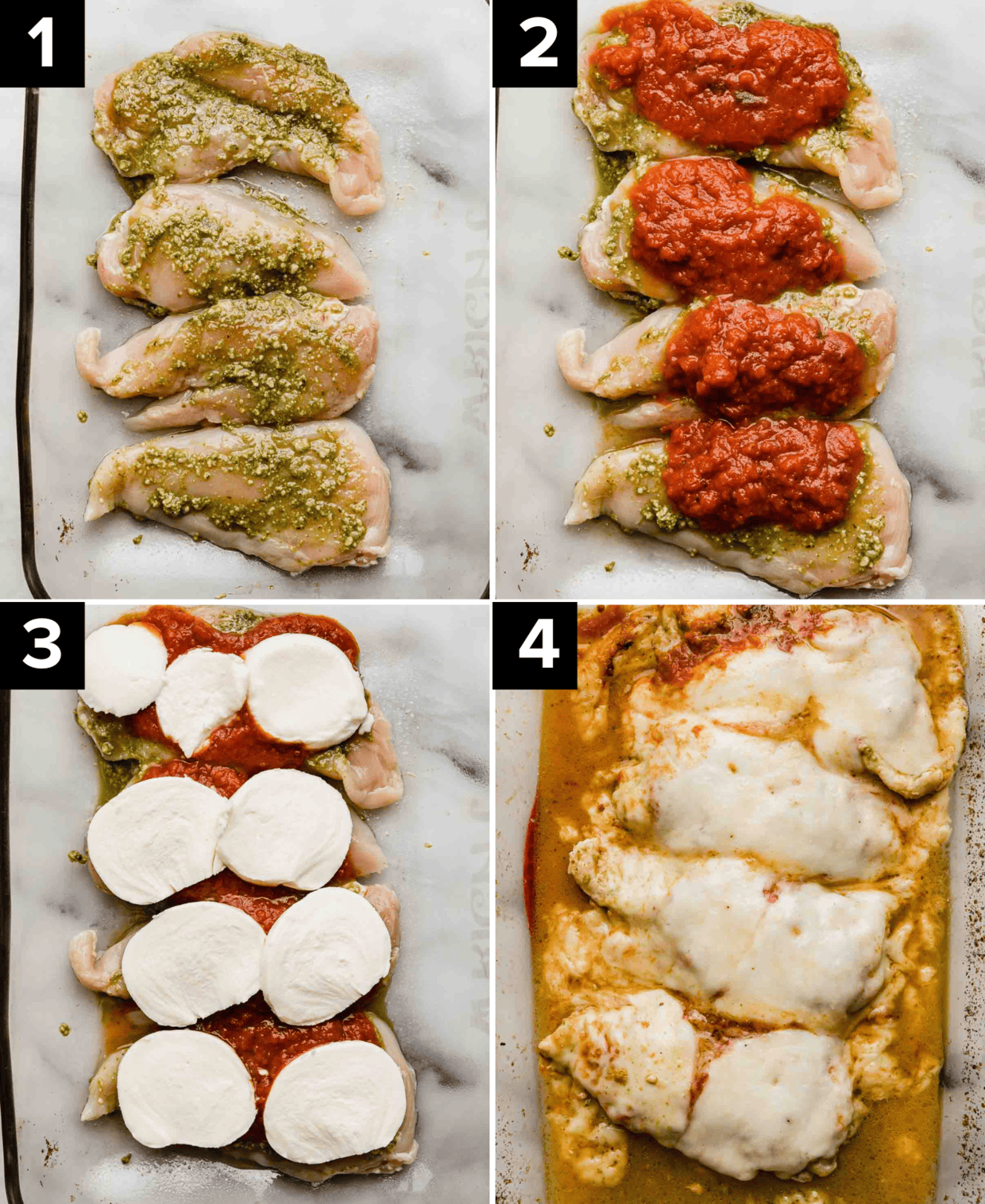 Recipe Tips
For even cooking, flatten your chicken breasts to an even thickness or butterfly them for quicker baking.
Opt for your favorite store-bought pesto or whip up our easy Blender Pesto for that fresh, homemade touch.
Embrace the fresh mozzarella slices! I know it's easy to use the shredded mozzarella from the packs, but fresh mozzarella slices melt like a dream and make for unparalleled creamy sauce.
Cooking time may vary based on the sizes of your chicken breasts.
Not a fan of basil pesto? Try my Kale Pesto Recipe.
Whether solo, atop pasta or rice, sandwiched in ciabatta bread, or served with garlic bread, this pesto chicken parmesan recipe is the perfect dish for dinner!
Make Ahead, Storing, and Freezing
Refrigerate leftovers in an airtight container for up to 3 days. Reheat in the oven to get that warm melty cheesiness and the fresh chicken flavor.
You can fresh pesto chicken parmesan if you'd like — or if you have extras. Let the chicken cool completely then store in a freezer-safe container. Freeze for up to 2 months. Remove and transfer to an oven-safe container.
Cover with aluminum foil and bake from frozen until the chicken is heated through and the cheese is melty.
Recipe FAQs
Can I use store-bought pesto?
Absolutely! You can use store-bought pesto to save time, or if you prefer a homemade touch, follow our easy Blender Pesto Recipe for an aromatic twist.
How do I know when the chicken is cooked?
The internal temperature of the chicken should reach 165ºF (75ºC) to ensure it's fully cooked. You can use an instant read meat thermometer to accurately gauge doneness, placing it in the thickest part of the chicken. 
Can I bread the chicken?
Sure thing! Dip the chicken in beaten eggs, then dip in Italian-seasoned bread crumbs (panko breadcrumbs). Then place in the baking dish and bake until almost cooked through (this will give you crispy chicken that doesn't go soggy by absorbing the sauce into the panko mixture). Then top with the pesto so as to not remove the breading, the marinara, mozzarella slices and return to the oven until the cheese is almost melted. Top with the parmesan cheese and bake for 1-2 minutes until melted. 
Why is my chicken parmesan tough?
Thinning out the chicken breasts by pounding them out will help make for more tender chicken. However, if you've over baked the chicken, the juicy chicken will go tough, regardless of your care in preparing them. 
Is this pesto chicken parmesan gluten free?
Yes it is! The original recipe is NOT breaded. This makes it the perfect gluten free chicken parmesan recipe.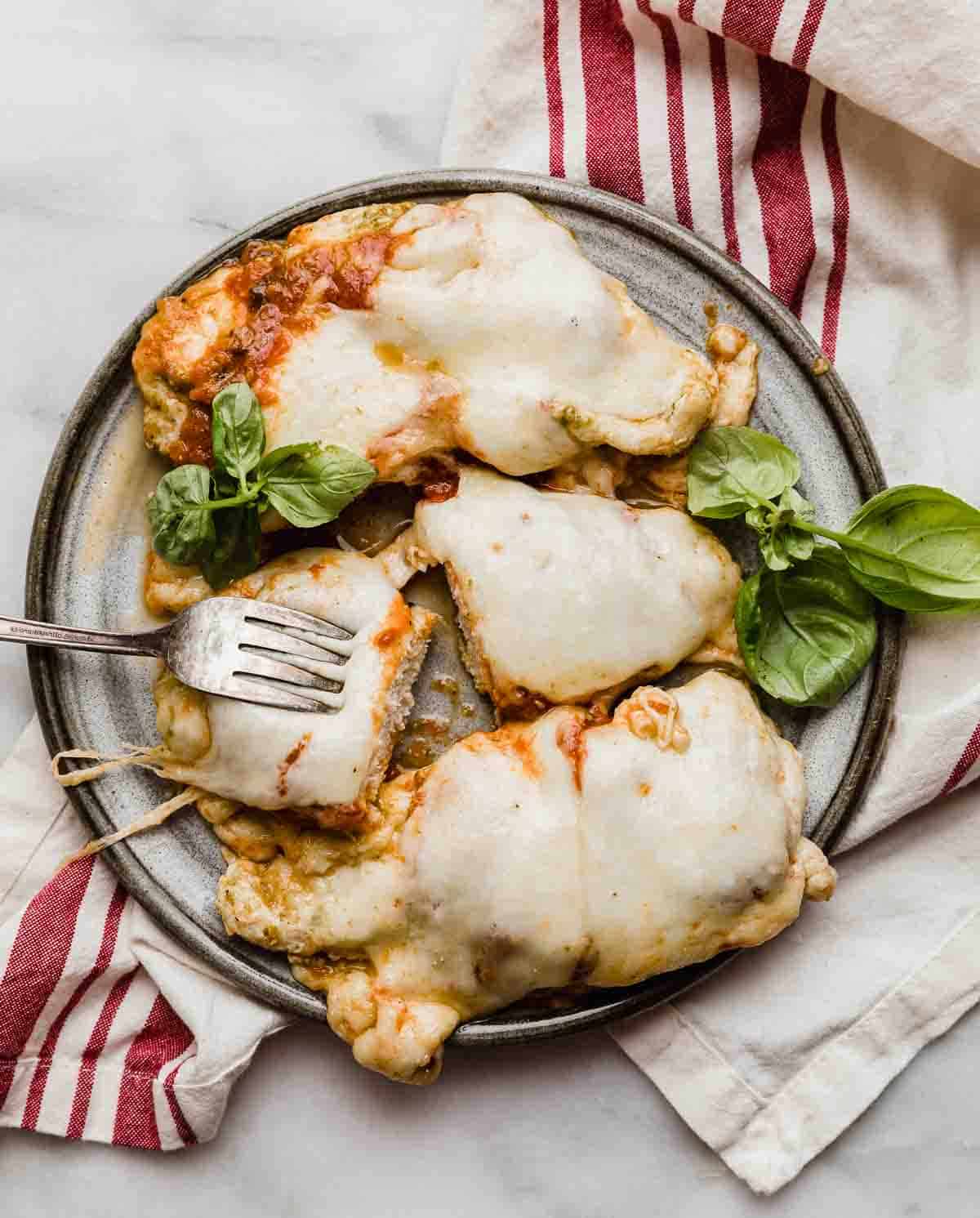 More Pesto Recipes
Pesto Chicken Parmesan
Pesto chicken Parmesan is a delicious variation of the classic Italian dish, Chicken Parmesan. It combines the flavors of basil pesto, tender chicken breast, marinara sauce, and melted cheese to create a mouthwatering and satisfying (30-minute) meal!
Ingredients
1

lb

boneless skinless chicken breasts

-

pounded thin, or butterflied

kosher salt

-

to taste

black pepper

-

freshly cracked, to taste

1/3

cup

basil pesto

3/4

cup

marinara sauce

8

oz

fresh mozzarella cheese

-

sliced

1/2

cup

parmesan cheese

-

freshly grated
Instructions
Preheat the oven to 400°F. Spray an 9×13" pan with nonstick cooking spray. 

Season the chicken with salt and pepper then add the chicken to the baking dish. Spread the basil pesto over the chicken, covering all sides. 

Spoon the marinara over the chicken. Top the chicken with the fresh mozzarella. Cover the dish with foil and bake for 20 minutes, then remove the foil and sprinkle the parmesan cheese overtop. Continue baking for 5-10 minutes or until the cheese is melted and the chicken is cooked through. (baking time will vary based on the size and thickness of the chicken breasts). 

Remove from the oven and serve while warm.
Notes
Store leftovers in an airtight container in the fridge for 4-5 days. 
Did you make this recipe?
Leave a star rating and review on the blog post letting me know how you liked this recipe! Take a picture and tag @saltandbaker on Instagram and Facebook so I can see what you're making!