6-Inch Cake Recipes
This post may include affiliate links. As an Amazon Associate I earn from qualifying purchases.
6 inch cake recipes are perfect for small gatherings or birthdays! Grab your 6-inch cake pans and let's run through some of these delicious small cakes that are perfect for any special occasion!
Mini cake recipes are easy to adapt from 8-inch cake recipes or cupcake recipes! Below, I'll walk you through how to make those adjustments so you can have the perfect cake in the perfect size!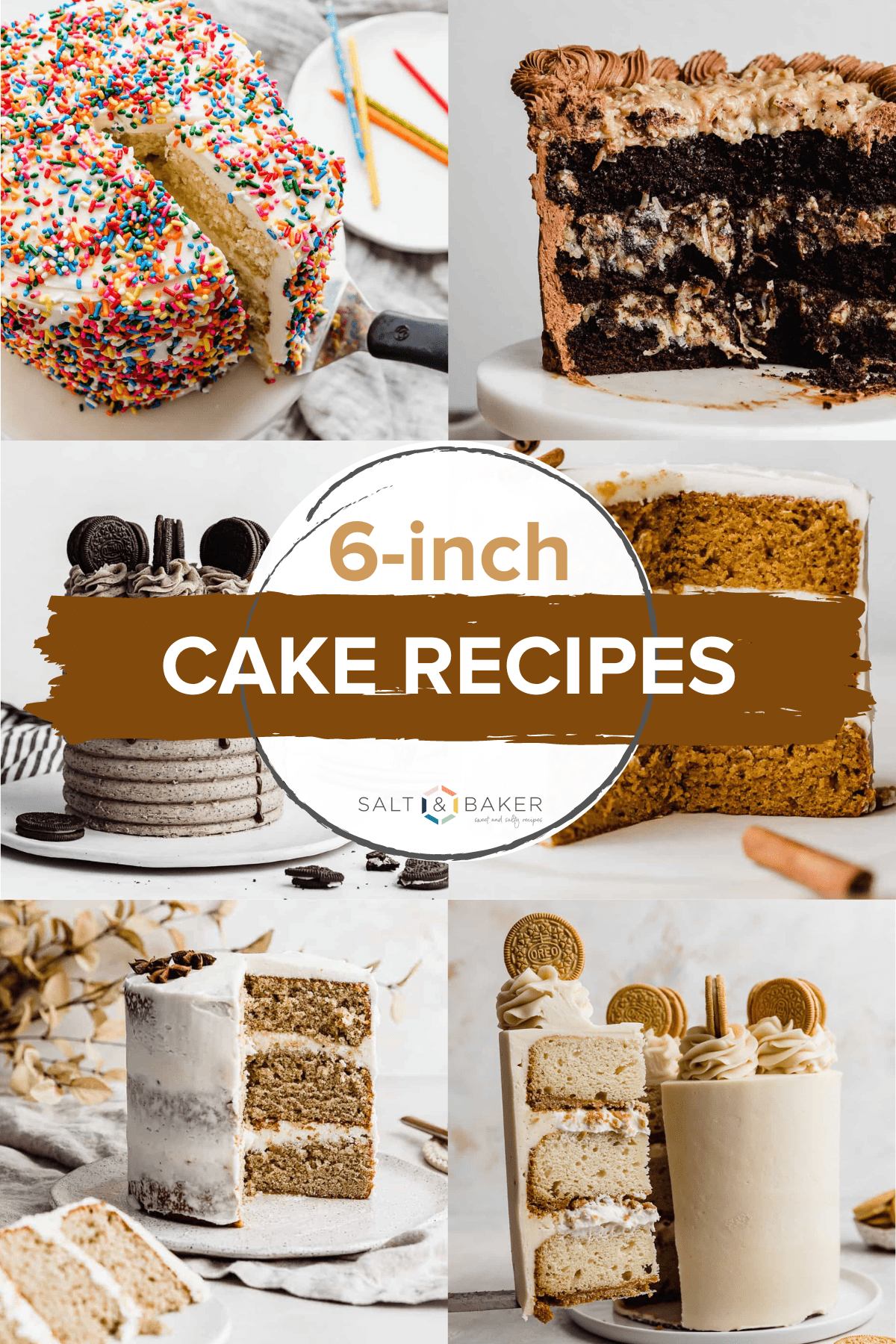 You will love the combination of coconut and Oreo in this amazing 6-inch coconut Oreo cake! The cookies and cream cheese frosting is smooth and delicious!
German chocolate cake is one of my all-time favorites! I make it every year for my birthday. The rich coconut pecan frosting is gooey and delicious paired with the moist chocolate cake layers! The cocoa powder in this recipe is bloomed (adding hot water to cocoa powder) which gives it a richer chocolate flavor! You can serve it with just the pecan frosting or you can make my delicious Chocolate Buttercream Frosting as well!
This spice cake is deliciously moist and perfectly spiced. It's the moist amazing cake to enjoy any time of year, but I love it in the fall!
This golden Oreo cake is made with a golden Oreo crust on the bottom of each cake layer. It has the most perfect vanilla flavor and a yummy Golden Oreo frosting!
This pumpkin layer cake has deliciously moist pumpkin cake layers with a smooth and creamy cream cheese frosting! It's the perfect fall cake!
There are so many fun ways to use this smash cake! This small vanilla cake can be covered in sprinkles, frosted with colored frosting, and more! This cake is perfect for any birthday celebration and a fan favorite birthday cake for first birthdays since it's a smaller cake! We love seeing the kiddos dig through this cake with their little hands!
If you're a big lover of 7 Layer Bars then you will love this 6-inch 7 layer bar cake! It has the perfect amount of flavors you love in a magic bars recipe: butterscotch frosting, coconut chocolate chip cake, and a graham cracker crust!
This citrus cake from Sally's Baking Addiction has a tangy citrusy flavor that is beautiful in a cake!
Dessert for Two makes the perfect size dessert for a small celebration! You will love this perfect mini tres leches cake! It's got the most amazing three milk sauce and is dusted with cinnamon.
Cake By Courtney has this amazing white chocolate peppermint cake that is one of my favorite small cake recipes for the holidays! 
Turning Cupcakes into Cake
If you have a cupcake recipe that makes about 3-4 cups of batter, give or take a little bit, then you can turn that into a 6-inch layer cake!
So that's any cupcake recipe that will make about 12-14 cupcakes. The cupcake batter will divide pretty evenly into three 6 inch pans. You can also use the cupcake batter for a two-layered 6-inch cake. If you use three cake pans each cake will more of a thin layer than if you baked them in two pans.
When it comes to the bake time, a good guide is 17-21 minutes of baking time at 350ºF. This will depend on if you are baking 3 cake layers at once or just 2, as well as the individual batter and how think or thin it is. Just keep an eye on the cake layers at around the 16 minute mark in order to get the perfect bake!
Turning 8-Inch Layer Cakes into Mini Cakes
Remember how I mentioned that cupcake batter typically yields 3-4 cups? And that 6-inch cakes need that much batter?
Well, a standard 8-inch cake recipe will yield 6-8 cups batter. Now, that's easy math! Just make a half batch of any 8-inch layered cake recipe and you can make that into a 6-inch cake instead!
How to Grease Cake Pans
The best way to grease you cake pans to ensure you don't have any sticking is to spray each pan well with nonstick cooking spray, place a circular piece of parchment paper on the bottom of the cake pan and then spray the parchment paper.
This will make sure you don't have any sticking — which is important especially in 6-inch cake pans since they are smaller.
Storing and Freezing Cakes
Storing and freezing cakes is not only possible, but super useful! It's the perfect way to make cakes and frosting ahead of time.
In my How to Store and Freeze Cakes guide, I'll cover everything from freezing cake layers, to buttercream and even freezing fully decorated cakes!
Did you make ones of these recipes? I'd love to hear about it! Leave a star rating and review on the recipe post by scrolling below the recipe card.
Stay up-to-date by following us on Instagram, TikTok, YouTube, Facebook, and Pinterest.