Ramen Noodle Salad
This post may include affiliate links. As an Amazon Associate I earn from qualifying purchases.
This Ramen Noodle Salad is a delightful blend of thinly sliced cabbage, crunchy ramen noodles, sunflower seeds, celery, green onions, and slivered almonds, all brought together with a delicious Asian-inspired dressing featuring sesame oil and rice vinegar. It's a perfect harmony of textures and flavors, making it a refreshingly great side dish for any occasion.
Sometimes it's easy to get bored of salads, which is why I love sharing fun new salad recipes! If you love this ramen noodle salad, then you'll love my Asian Broccoli Slaw which I recently shared. Another favorite of mine is my Kale Salad with Balsamic Dressing which has sliced peaches in it! Since peaches are now in season, I'll for sure be making that one soon.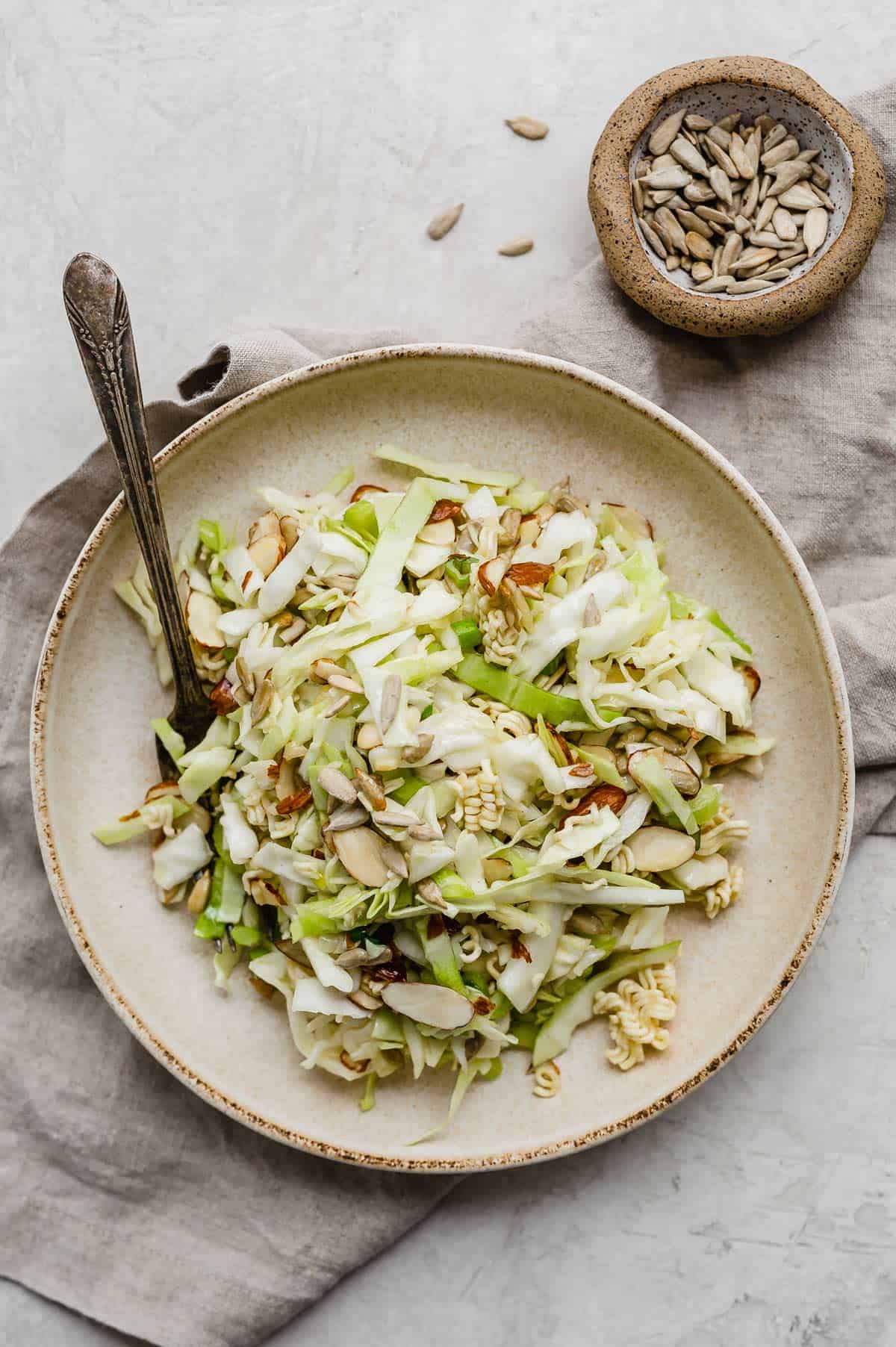 Why This Recipe Works
Best potluck salad recipe. I'm really excited about this ramen noodle salad recipe because it's one my aunt would make all the time. (Think baby showers, wedding showers, missionaries coming home … basically any family gatherings). I'm pretty sure this was her signature dish. It's perfect for your next potluck.
Best textures. You know I love good textures! And this crunchy ramen noodle salad is aplenty with the best textures: The thinly sliced cabbage provides a crisp and refreshing crunch, while the crushed crunchy ramen noodles add a unique and delightful texture. The addition of sunflower seeds, celery, green onions, and slivered almonds just push it to the next level.
Easy salad recipe. Simply mix the dressing and toss the salad ingredients and you have an easy side dish ready to go!
Ingredient Notes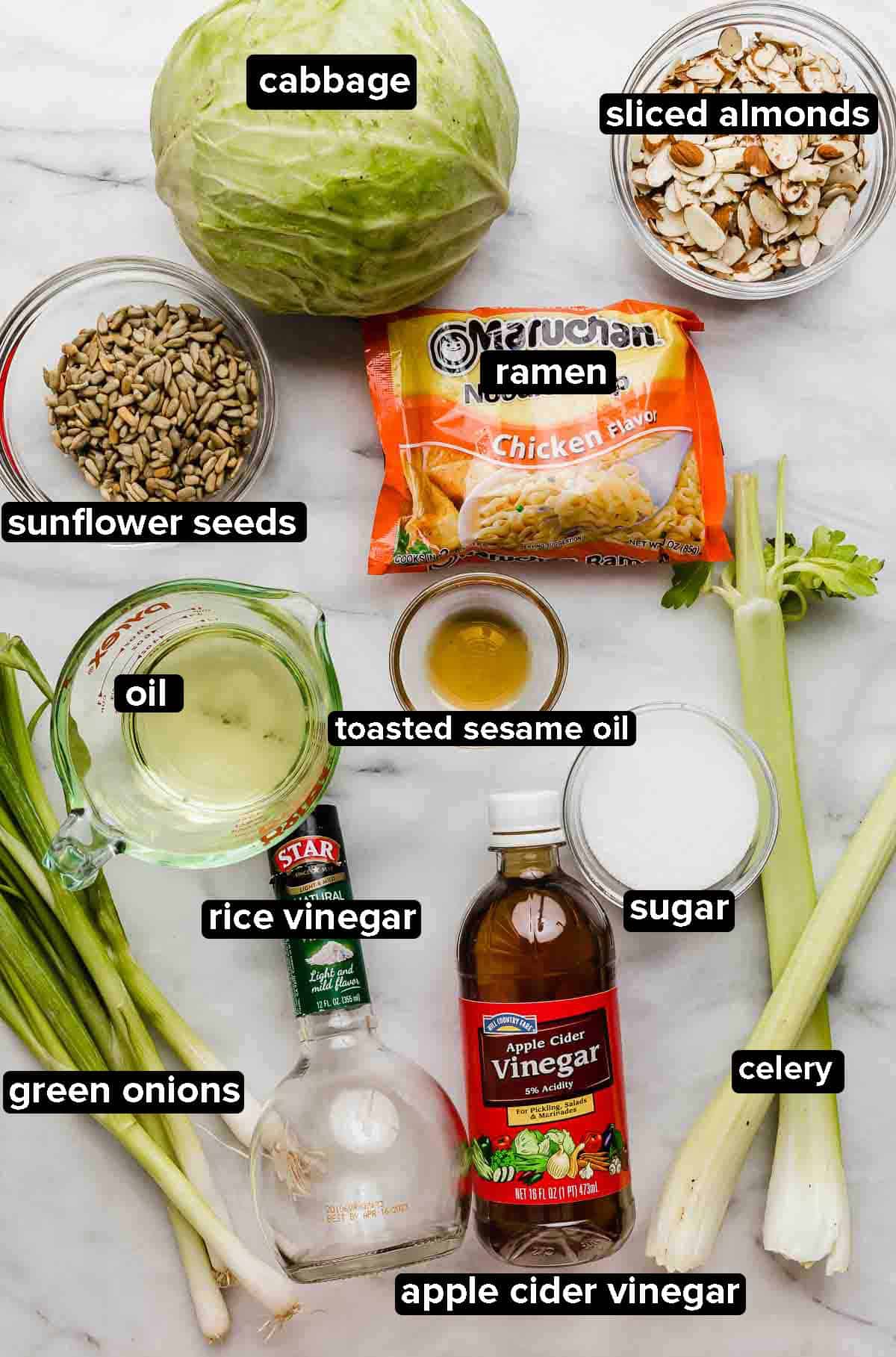 Green Cabbage: Make sure it's shredded or cut into thin strips. Tip: by cutting the cabbage into smaller pieces it makes it easier to eat. Feel free to use a combination of cabbage and red cabbage for a pop of color if you'd like.
Green Onions: I like to cut up pretty far to the darker green part of the onions.
Celery: Thinly sliced so there aren't big chunks.
Almonds: Sliced or slivered almonds.
Sunflower Seeds: Removed from the hard outer shell. (That was a given right? If not, I spelled it out just to be sure!)
Ramen Noodle Packet: You will use the dry ramen for the ramen noodle salad and the flavoring packet for the asian salad dressing.
Oil: If you have peanut oil, use that. If not you can use vegetable oil, olive oil, or avocado oil.
Vinegars: The combination of apple cider vinegar and rice vinegar make the asian dressing perfect!
Toasted Sesame Oil: If you don't have toasted oil that's fine, you can use regular sesame oil for this Asian ramen salad recipe.
Step-by-Step Instructions
Make the Asian salad dressing. Add 1/2 cup peanut oil, 3 tablespoons rice vinegar, 2 1/2 tablespoons apple cider vinegar, 1/4 cup granulated sugar, the ramen seasoning packet, and 1 tsp sesame oil to a small bowl. Whisk vigorously until smooth.
Combine salad ingredients. Add the thinly cut cabbage, sliced green onions, sliced celery, sliced almonds, sunflower seeds and crushed crunchy noodles to a large bowl. Toss to combine.
Top with the Asian salad dressing. Drizzle the cabbage salad dressing on top and toss to combine. Serve!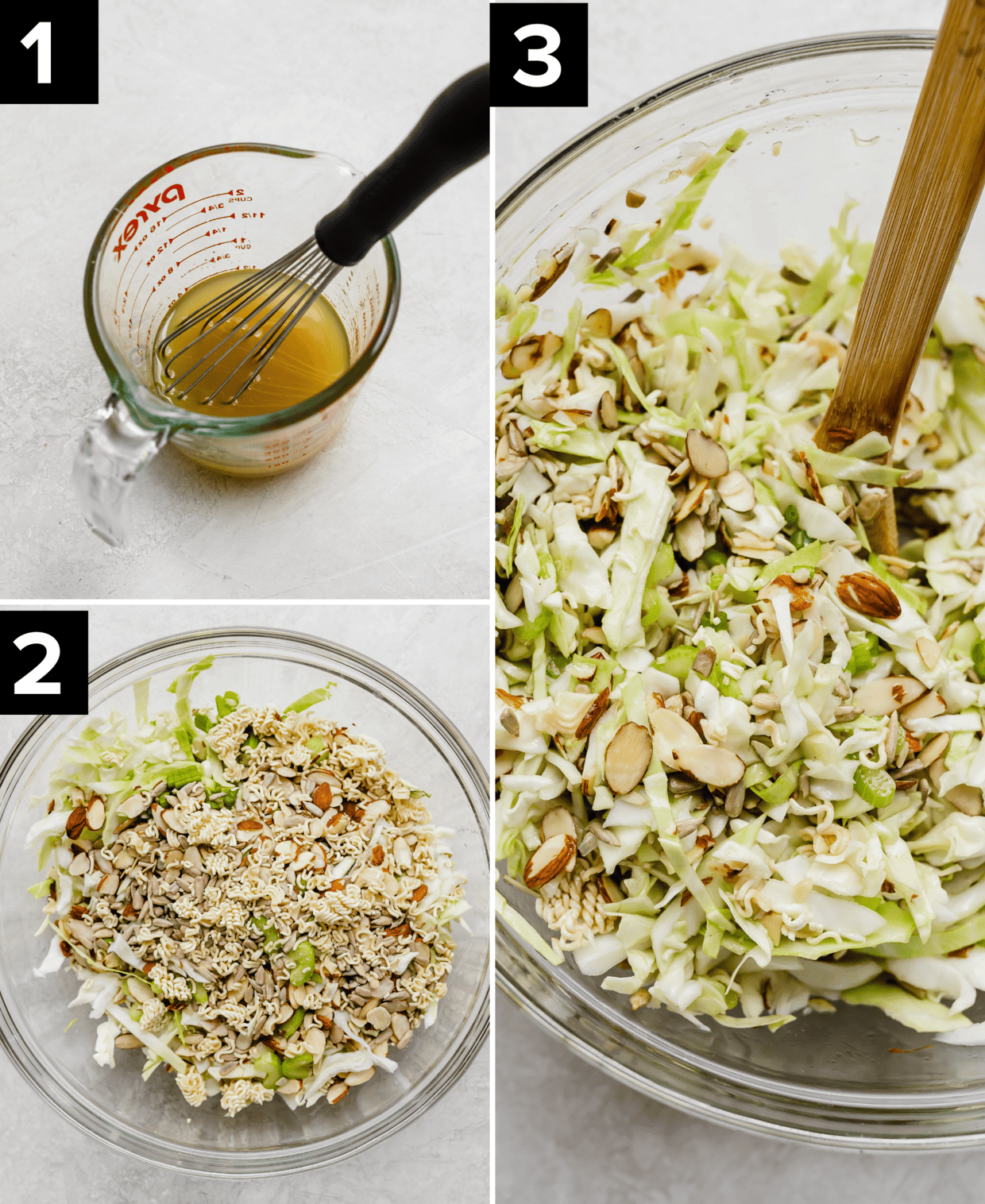 Recipe Tips
Use a large bowl as this ramen noodle cabbage salad makes a lot!
Adjust the dressing to taste: The dressing's flavor can be adjusted to suit your preferences. If you prefer a tangy dressing, you can add a touch more rice vinegar. For a slightly sweeter profile, you can add a bit more sugar or honey. Feel free to experiment and find the right balance of flavors that you enjoy the most.
Add protein for a complete meal: While this salad is delicious on its own, you can make it into a main course dish by adding some protein. Grilled chicken, cooked shrimp, or tofu are great options that complement the flavors of the salad and make it more substantial.
Chill the salad for optimal taste: Allowing the prepared salad to chill in the refrigerator for at least 30 minutes before serving can enhance the flavors and meld the ingredients together. It also makes the salad even more refreshing, especially on a warm day — just be sure to hold the ramen until just prior to serving it or else the noodles will go soft.
Make Ahead, Storing, and Freezing
Best served the same day it's made. You can store leftover salad in the fridge for 1 day but just know the salad loses some of its crunchiness.
You can make the dressing ahead of time or the night before. Store the dressing covered in the refrigerator for 3 days or so. Before pouring it over the cabbage salad, give it a final whisk to make sure the ingredients are evenly combined.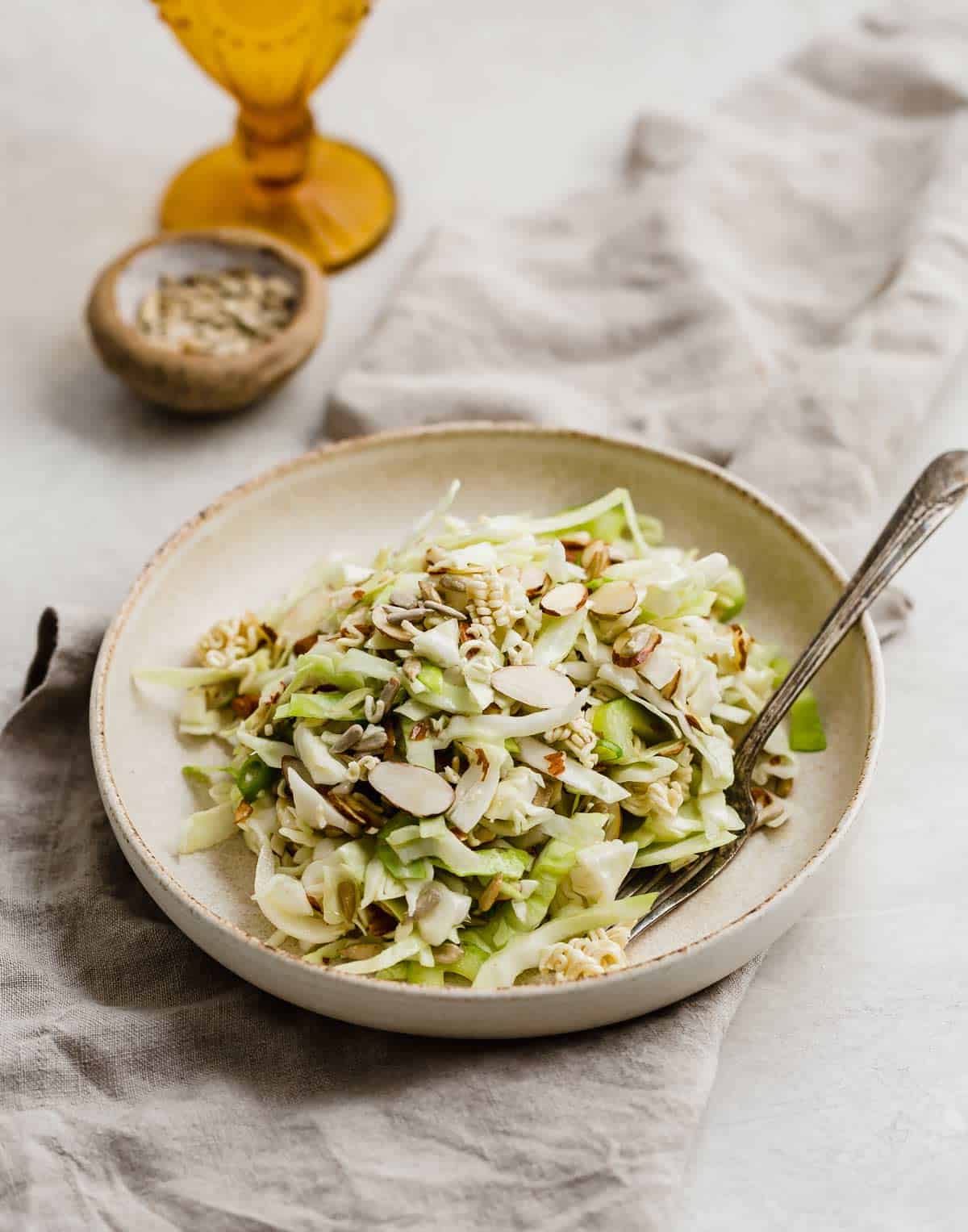 Recipe FAQs
Can I add shredded chicken to salad? 
YES! This is a great way to make it hearty and more of a full blown meal.Feel free to add grilled chicken, shredded chicken or rotisserie chicken. 
Can I use pre-packaged coleslaw mix instead of slicing cabbage myself?
Absolutely! If you're looking to save time or prefer the convenience, using pre-packaged coleslaw mix, which typically contains shredded cabbage and sometimes carrots, is a great option. Just ensure it's fresh and hasn't been dressed with any other sauces or dressings.
How do I prevent the ramen noodles from getting soggy?
To keep the crushed ramen noodles crunchy, avoid dressing the salad too far in advance or mixing the crushed noodles with the rest of the ingredients until just before serving. The crunchy texture of the noodles adds an essential element to the salad, and this step ensures they maintain their crispness.
Can I add other vegetables or ingredients to the salad?
Yes, you can customize the salad to your taste by adding other vegetables or ingredients you enjoy. Some popular additions include shredded carrots, red bell peppers, mandarin oranges, edamame, snap peas, or diced cucumbers. Just be mindful of the flavors and textures to ensure they complement the overall Asian-inspired theme of the salad.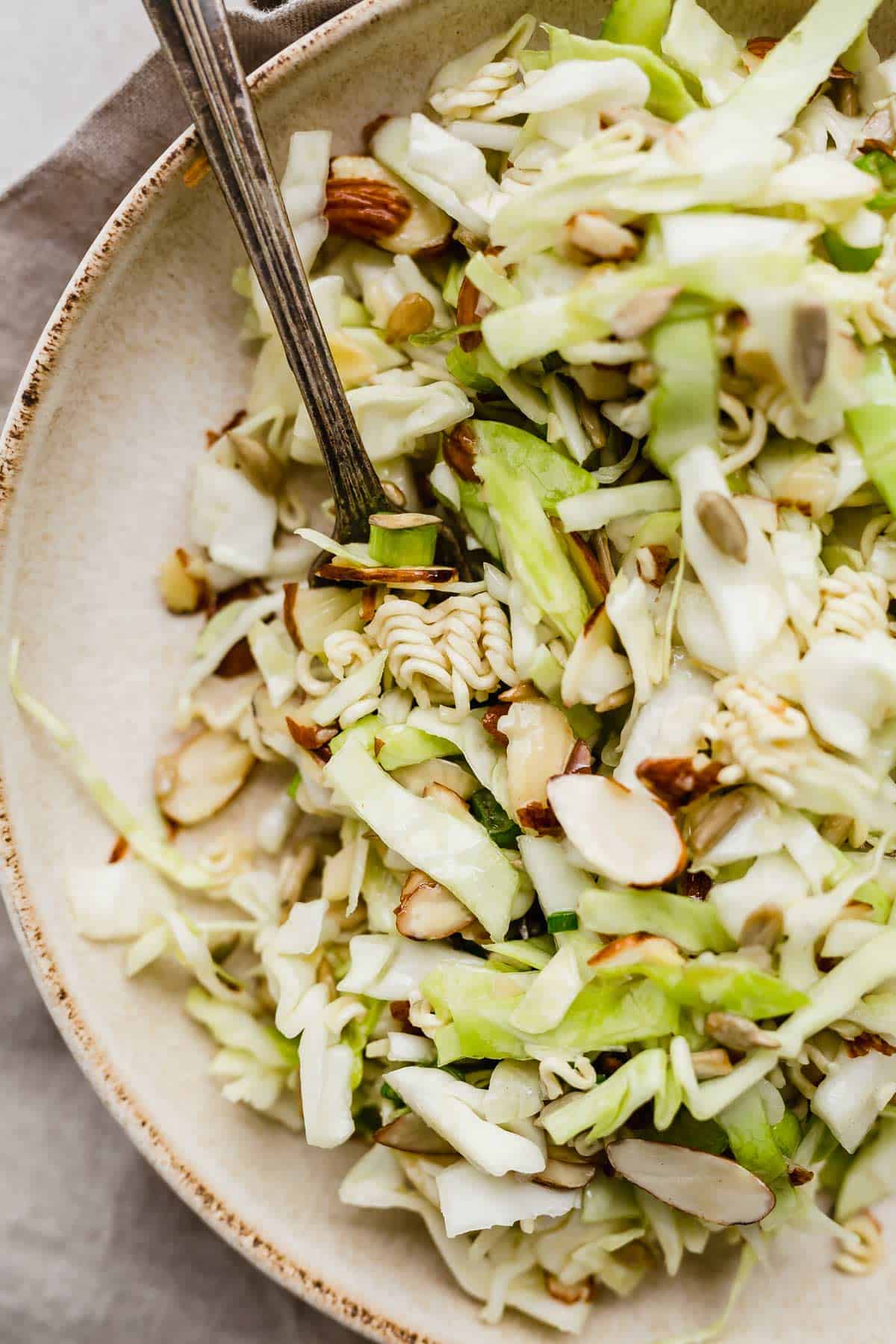 Ramen Noodle Salad
This cabbage salad is a great salad to serve year round. It's made with shredded cabbage, almonds, crunchy ramen noodles, and sunflower seeds.
Ingredients
1

small

head of cabbage

-

shredded (cut into thin strips)

4

green onions

-

sliced

2

celery stalks

-

thinly sliced

3

cups

sliced almonds

1/2

cup

sunflower seeds

-

removed from the shell

1

pkg

chicken flavored ramen noodles

-

dry and broken
Dressing
1/2

cup

peanut oil

-

or vegetable oil

3

tablespoons

rice vinegar

2 1/2

tablespoons

apple cider vinegar

1/4

cup

granulated sugar

1

flavor packet from the ramen noodles

1

teaspoon

toasted sesame oil
Instructions
Make the dressing: Whisk the peanut oil, vinegars, sugar, ramen noodle flavor packet, and sesame oil in a small bowl or liquid measuring cup. 

Toss the cabbage, onions, celery, almonds, sunflower seeds, and ramen noodles in a large bowl. 

Drizzle the dressing overtop, toss again. Serve cold.
Notes
Recipe source: from my Aunt Lorraine.
Did you make this recipe?
Leave a star rating and review on the blog post letting me know how you liked this recipe! Take a picture and tag @saltandbaker on Instagram and Facebook so I can see what you're making!