Oreo Ice Cream Cake
This post may include affiliate links. As an Amazon Associate I earn from qualifying purchases.
This Oreo Ice Cream Cake has 5 delicious layers: crushed Oreos, cookies 'n cream ice cream, hot fudge, whipped topping, and topped with even more Oreo! This cake is the perfect sweet treat to serve for hot summer days!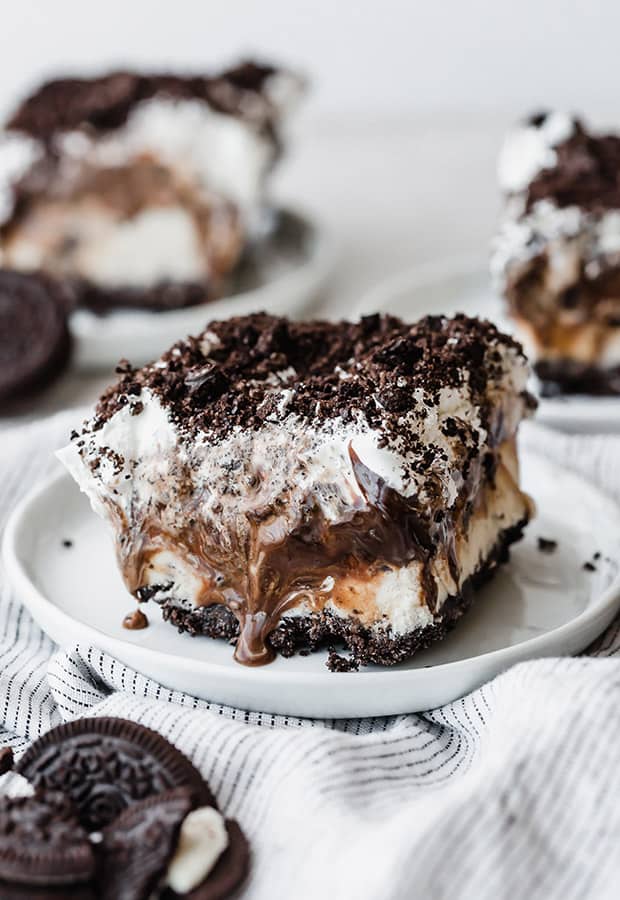 It's getting warmer these days, and to combat the heat I had to make a frozen dessert recipe.
Last year I made no churn Oreo ice cream, and homemade vanilla ice cream. I recently posted these cookies and cream popsicles, no-bake Oreo dessert, and this Oreo milkshake! Another great summer treat for those of you who love Oreos! Make sure you check them out, they're easy and crazy good!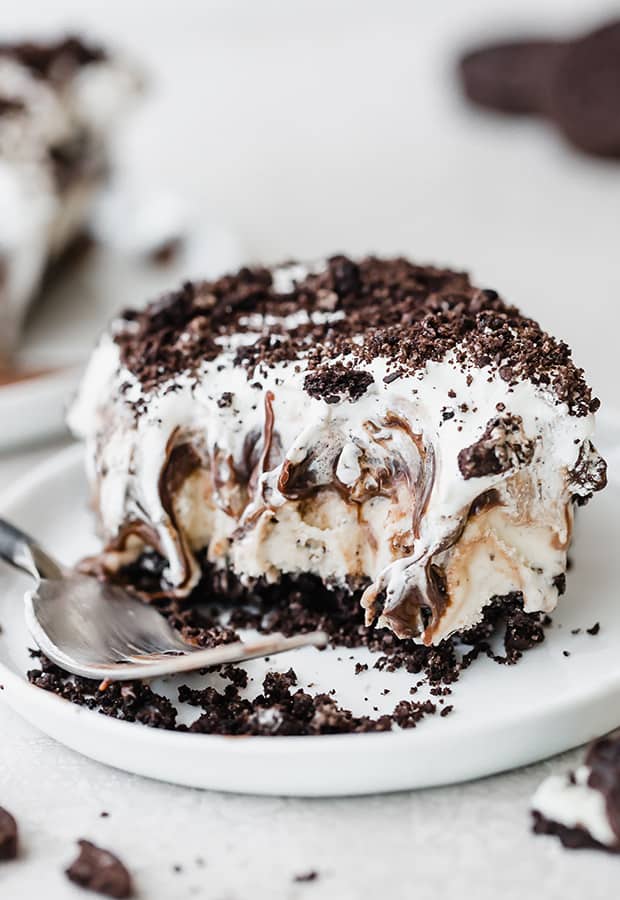 Ingredients
For this dessert you need only 4 ingredients.
Oreos. You'll need approximately 1 box of regular Oreos, crushed.
Cookies 'n Cream ice cream. You'll need 1.75 quarts of ice cream.
Hot fudge. A whole 24 oz… it's so good!
Frozen whipped topping, aka, Cool Whip.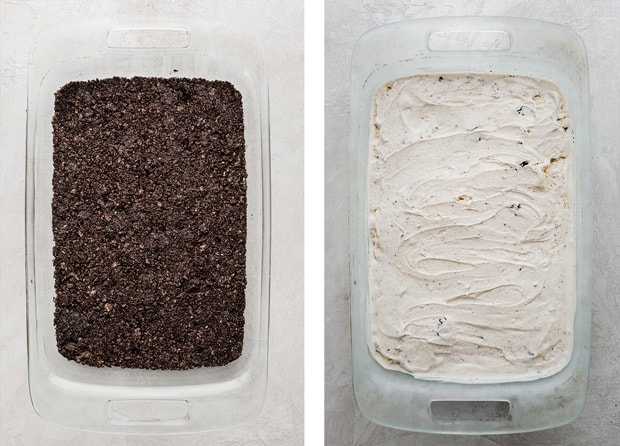 How to make Oreo Ice Cream Cake
Begin by crushing the Oreos into a fine crumb. You do not need to remove the cream from the Oreo center. We are crushing the full Oreo.
Mix all but 2/3 cup of the Oreos with some melted butter. The 2/3 cup crushed Oreos will be reserved for the top of the ice cream cake.
Press the Oreo butter mixture into a 13×9 inch baking dish.
Next, spread the softened cookies 'n cream ice cream overtop of the crushed Oreos and then place in the freezer for 2-3 hours or until firm.
Pro tip: make sure the ice cream has softened. If it's partially frozen you'll find it really difficult to spread it into the pan. I find it easiest to scoop the ice cream into a large bowl. This tends to speed up the thawing/softening process.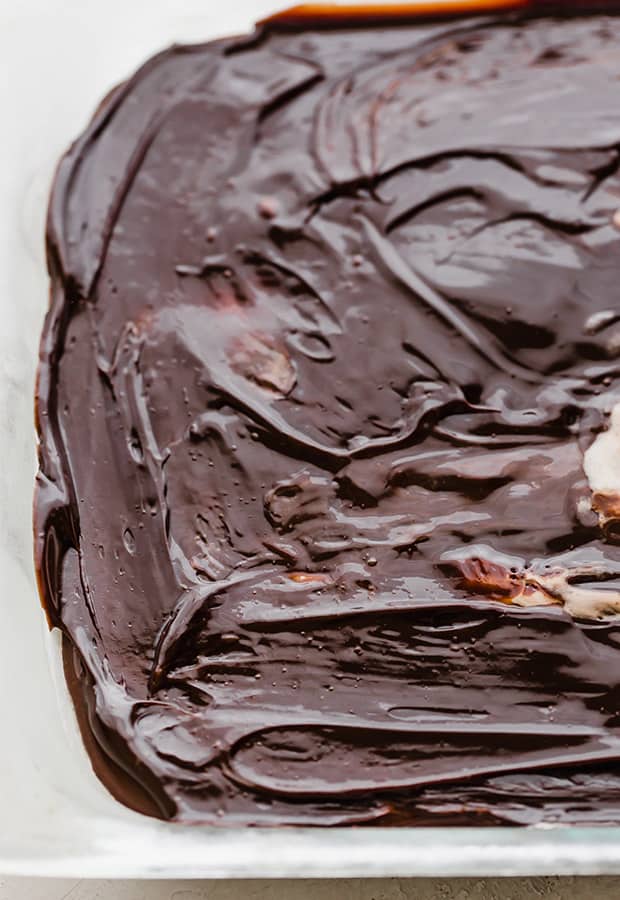 The next step is to add the warm hot fudge overtop of the ice cream. Heat up the fudge in the microwave until warm.
Pour the fudge over the ice cream and spread it until it's in a smooth even layer. The ice cream will melt a little bit due to the warm fudge which is fine. Everything will be frozen eventually. Place the dish back into the freezer for 1 hour.
Once frozen, spread the frozen whipped topping over the fudge and finish it off with the remaining crushed Oreos.
Lastly, place it in the freezer for 3-4 hours or overnight.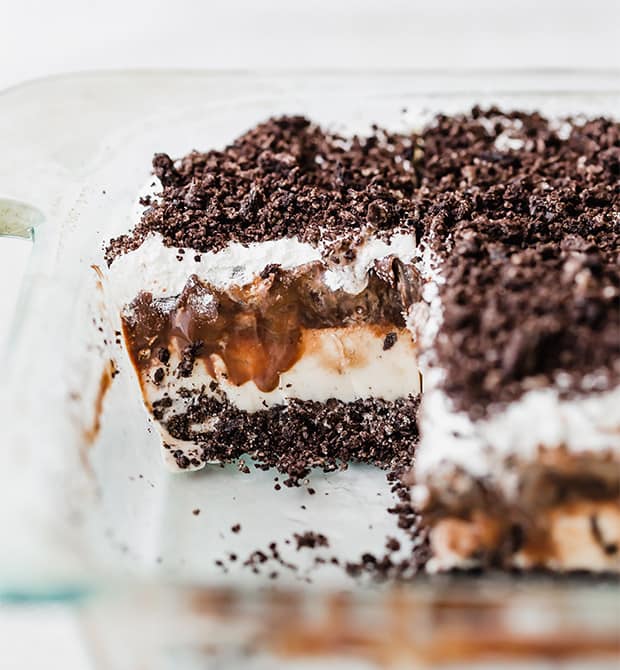 Should you make Cookies and Cream Ice Cream Cake a day in advance?
Yes, it's helpful if you make this dessert one day in advance, mainly because it will hold its' shape much better if given the full 4 hours of freezer time after its' been fully assembled.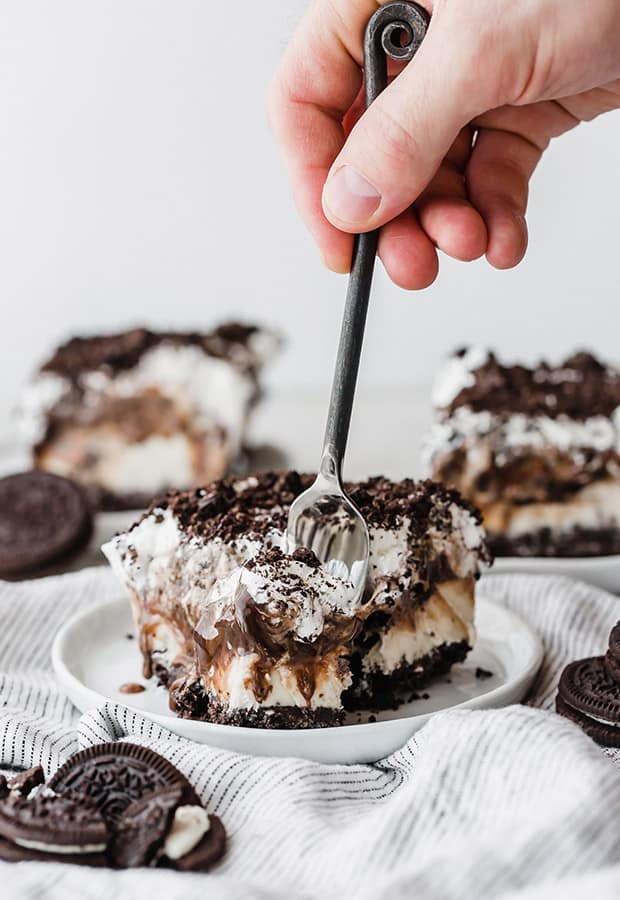 Oreo Ice Cream Cake BONUS TIP!
I'm spilling a big secret for this cake… IF you happen to have leftovers of this ice cream cake, add a large slice of the cake and a splash of milk to a blender. Blend for 15-20 seconds or until you achieve a thick milkshake consistency.
You just made the most amazing Oreo milkshake.
More Delicious Recipes
Oreo Ice Cream Cake
Layers of crushed Oreo, cookies and cream ice cream, hot fudge, and whipped cream make this a perfect dessert for hot summer days!
Ingredients
39

Oreo cookies -

crushed

4

tablespoons

unsalted butter

-

melted

1.75

quarts

Cookies 'n Cream ice cream

-

softened

24

oz

jar of hot fudge

-

warm

8

oz

whipped topping

-

thawed
Instructions
In a medium size bowl add all but 2/3 cup of the crushed oreos. Stir in the melted butter.

Transfer the oreo and butter mixture to a 13×9" casserole dish, press into the pan.


Spread the softened ice cream over the crust and freeze for 2-3 hours.


Remove from the freezer and drizzle the warm fudge over the ice cream. Freeze 1 hour.


Add whipped topping over the fudge and spread into an even layer. Sprinkle remaining crushed Oreos overtop.


Freeze for 3-4 hours or overnight.


Serve!

Notes
*This recipe will feed a lot of people! It's rich, so you don't need a huge slice. 
Did you make this recipe?
snap a photo and tag @saltandbaker in your posts and stories so I can see what you're making!