Broccoli Smoothie
This post may include affiliate links. As an Amazon Associate I earn from qualifying purchases.
I'm bringing you a Broccoli Smoothie that tastes delicious! This green smoothie is loaded with broccoli, spinach, and an array of colorful fruits. Just wait, you'll be hooked!
And because smoothies are always a good idea make sure you try our celery smoothie, banana peach smoothie, pineapple spinach smoothie, and strawberry pineapple smoothie.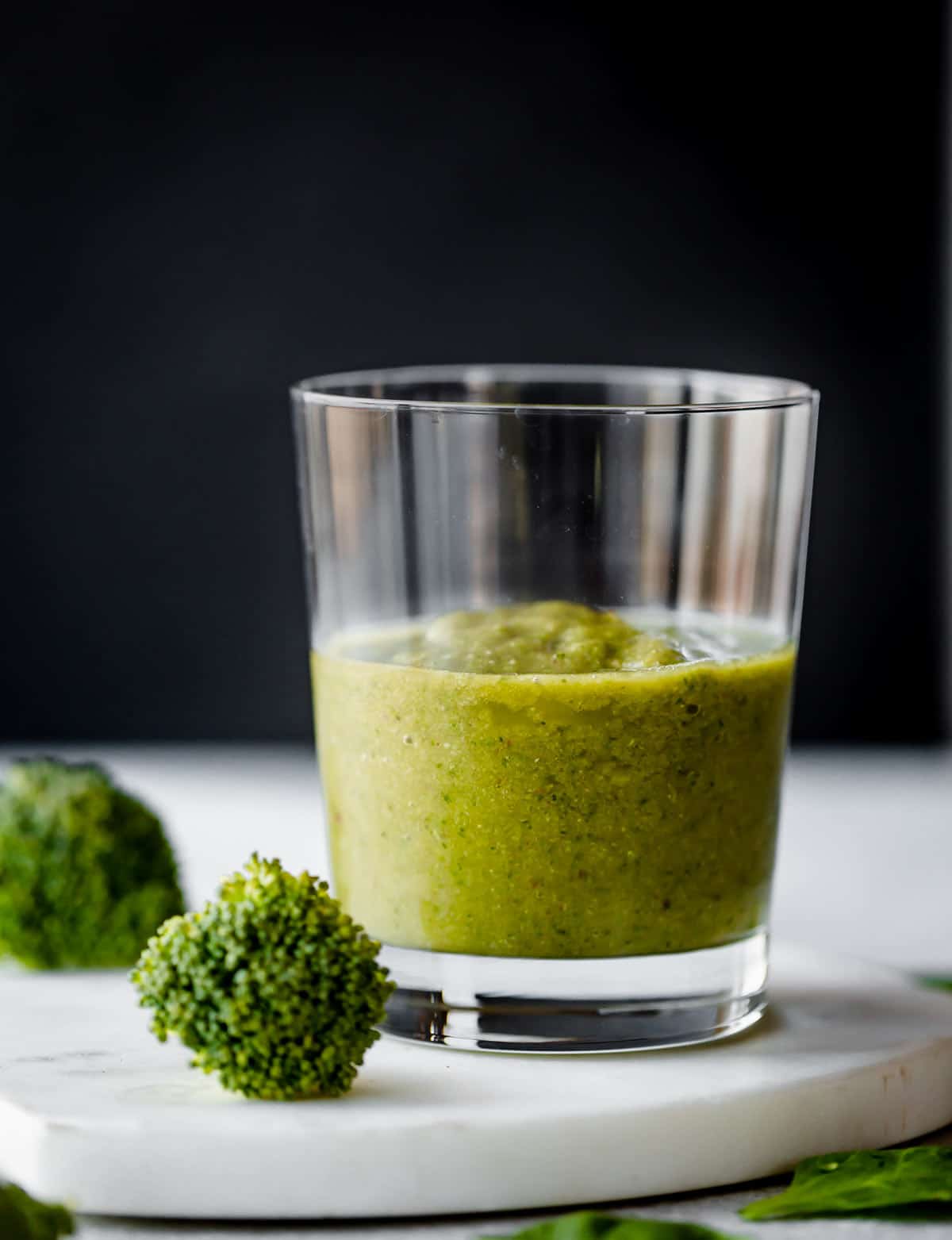 I see you rolling your eyes and I know what you're thinking, "I can't believe she put broccoli in a smoothie." I'm here to put those skeptical thoughts to rest, broccoli in a smoothie works. If you don't believe me, it even made it into the top 15 most popular recipes!
Good news: you can't taste the broccoli.
Bad news: your children will like this smoothie and as a result they will want to drink all of it, leaving you with very little for yourself. So plan accordingly 🙂
There are a few things you should know before chucking a full handful of broccoli into your blender though, and we're going to cover that right here.
Ingredients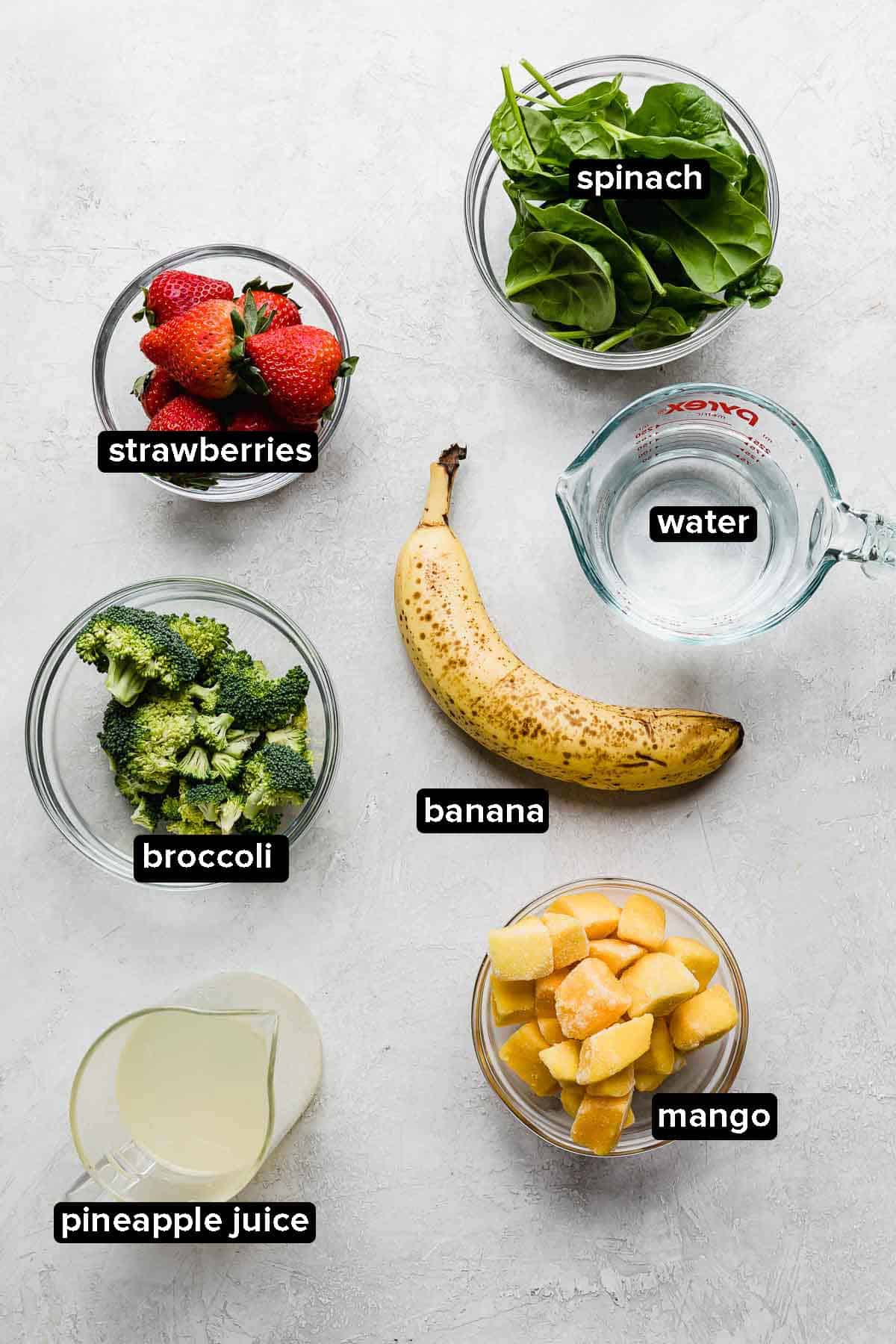 But first, we need some additional fruits and veggies to pair with the broccoli. Broccoli isn't my favorite vegetable so I'm looking to fully mask the broccoli flavor. Quite frankly, I don't want to taste ANY broccoli in my green smoothie. You need the following ingredients to make this smoothie:
Broccoli – I use raw broccoli. You can use left over broccoli, steamed broccoli or even frozen.
Mango – I use frozen mango chunks but fresh ripe mangos will work here too.
Frozen banana
Strawberries – fresh or frozen.
Fresh spinach – I love spinach in my smoothies! The goal is to pack in a lot of healthy greens.
Pineapple juice – this plays a role in masking some of that broccoli flavor; plus pineapple juice is just really really good.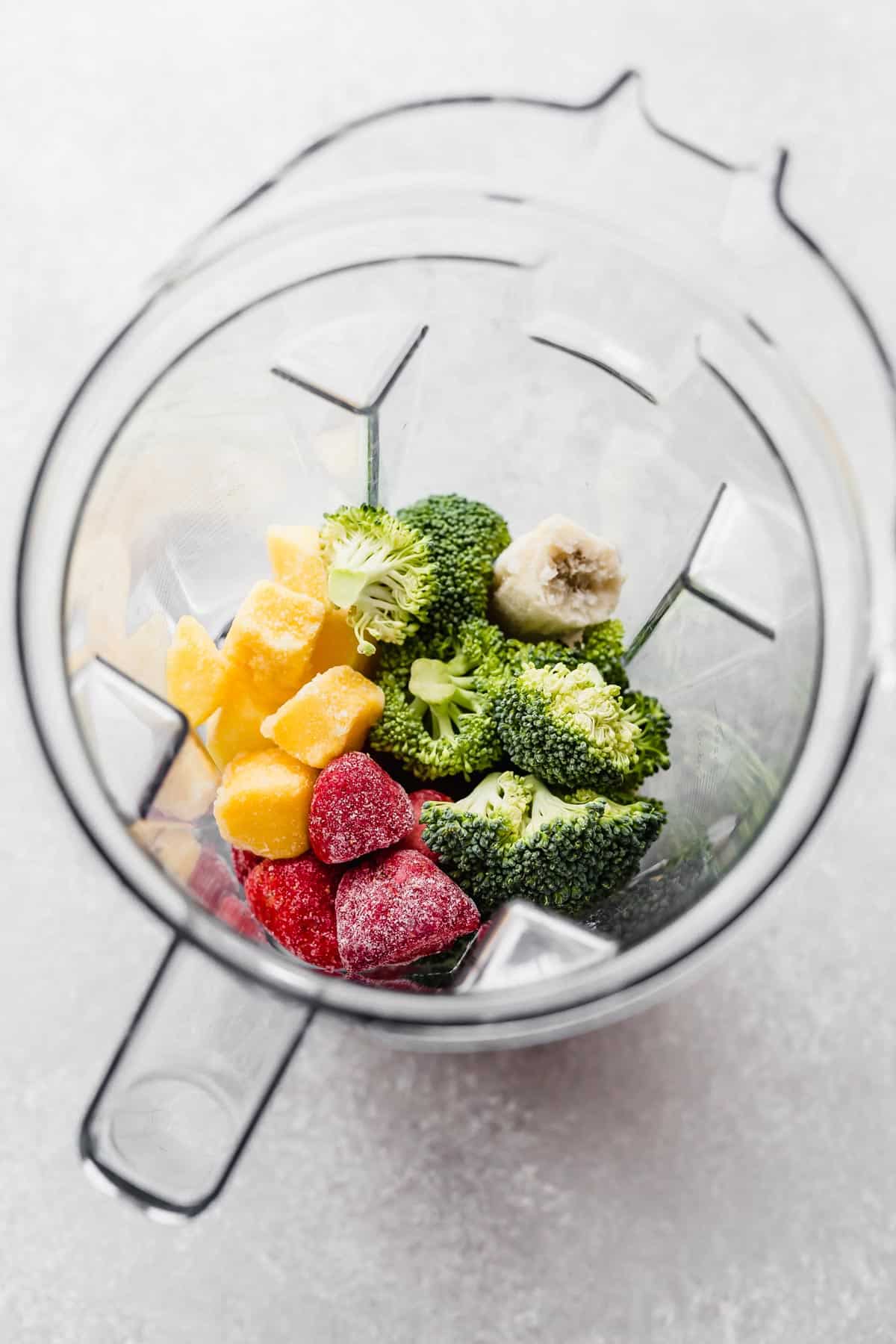 How to make a Broccoli Smoothie
Combine all of the ingredients in a high powered blender and blend until smooth.
Yup. That's it.
Pro tip: You can add more broccoli, spinach, or liquid to your liking. Taste as you go is key. I found that 3/4 cup of broccoli still tasted good; the broccoli flavor was still masked, however the texture of the broccoli was more pronounced as I increased the amount of broccoli in the smoothie.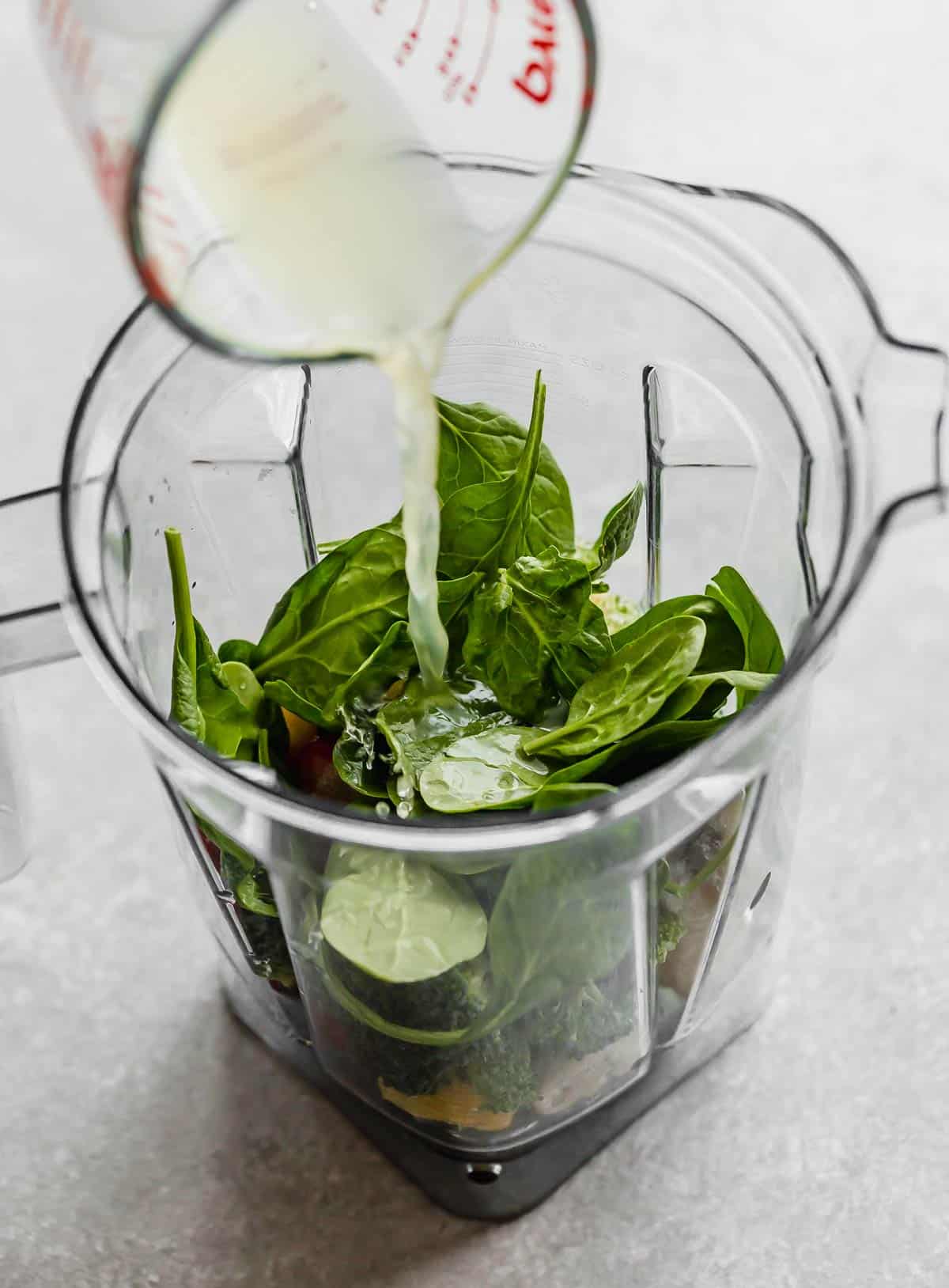 Alternatives to Broccoli
So you really dislike broccoli, that's fine! Omit the broccoli and add spinach in its place.
Feel free to substitute and adjust the fruits used as well. I've added a scoop of protein powder to this broccoli smoothie and it tasted great.
Give this broccoli smoothie a try and have fun experimenting with it! You'll be shocked at how tasty, healthy, and satisfying it is!
Tools used to make this broccoli smoothie
Vitamix – nothing compares to this powerful blender! I love ours, and it has lasted us a long time.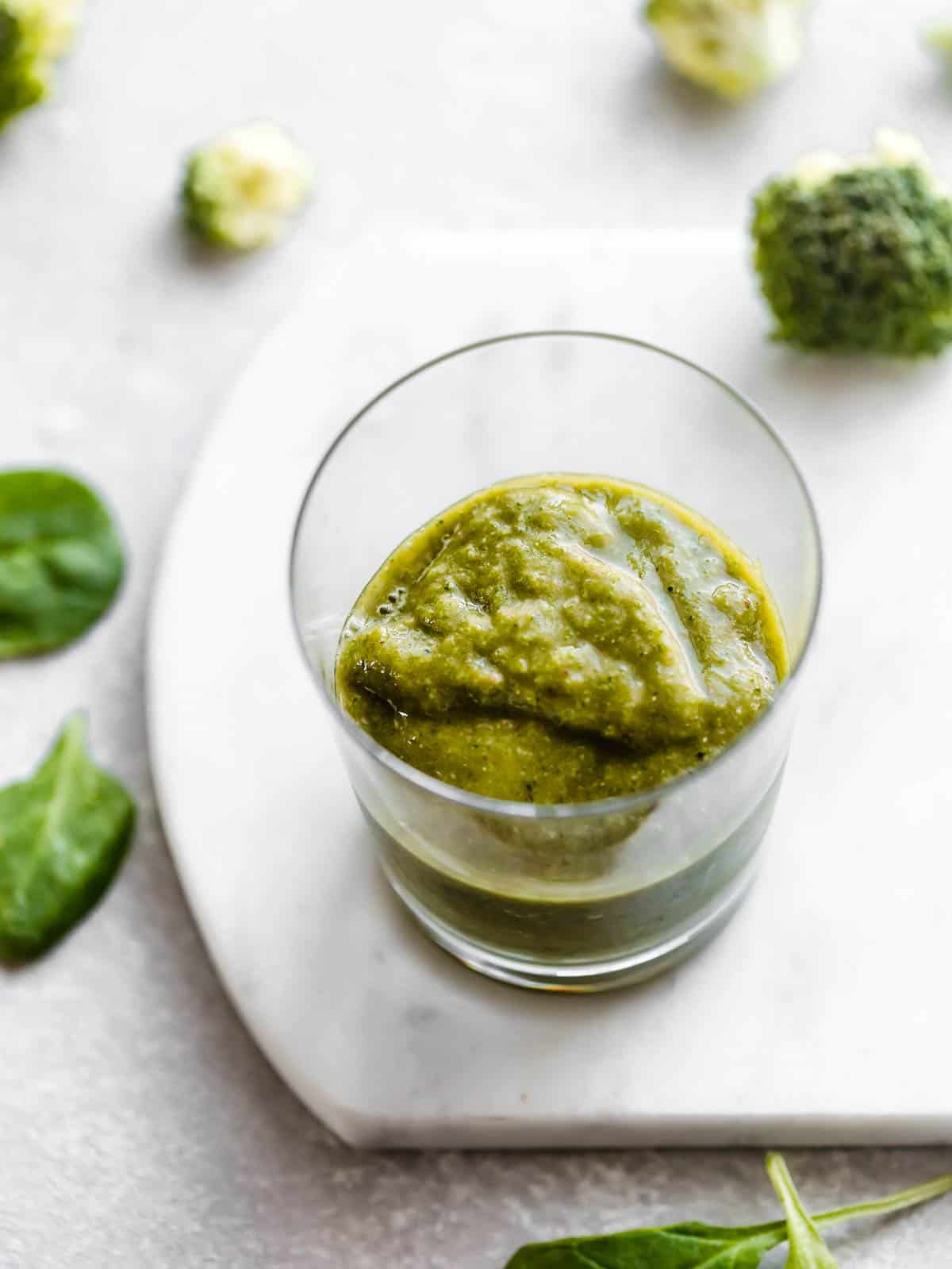 If you love this Broccoli Smoothie, check out these recipes:
Broccoli Smoothie
Broccoli in a smoothie, yes, it's delicious! And you're going to be hooked! This smoothie is loaded with broccoli, spinach, mango, banana, strawberries, and pineapple juice.
Ingredients
1/2

cup

broccoli

-

raw

1

banana

-

peeled and frozen

1

cup

frozen mango chunks

3/4

cup

strawberries

-

fresh or frozen

1/2

cup

spinach

1

cup

pineapple juice

3/4

cup

water
Instructions
Combine all of the ingredients in a high powered blender.
Notes
You can add up to 3/4 cup of broccoli if you'd like. The more you add the more prominent the broccoli texture becomes. Best to add more as you go. 
You can add protein powder too if you want! 
Did you make this recipe?
Leave a star rating and review on the blog post letting me know how you liked this recipe! Take a picture and tag @saltandbaker on Instagram and Facebook so I can see what you're making!