Green Protein Smoothie
This post may include affiliate links. As an Amazon Associate I earn from qualifying purchases.
If you haven't gotten on the healthy green smoothie bandwagon, I suggest you grab a ticket and hop on board because this smoothie will blow your mind. This green protein smoothie is so delicious. It has lots of spinach and protein and no added sugar!
For more healthy recipes be sure to make our celery smoothie, broccoli smoothie, and banana peach smoothie!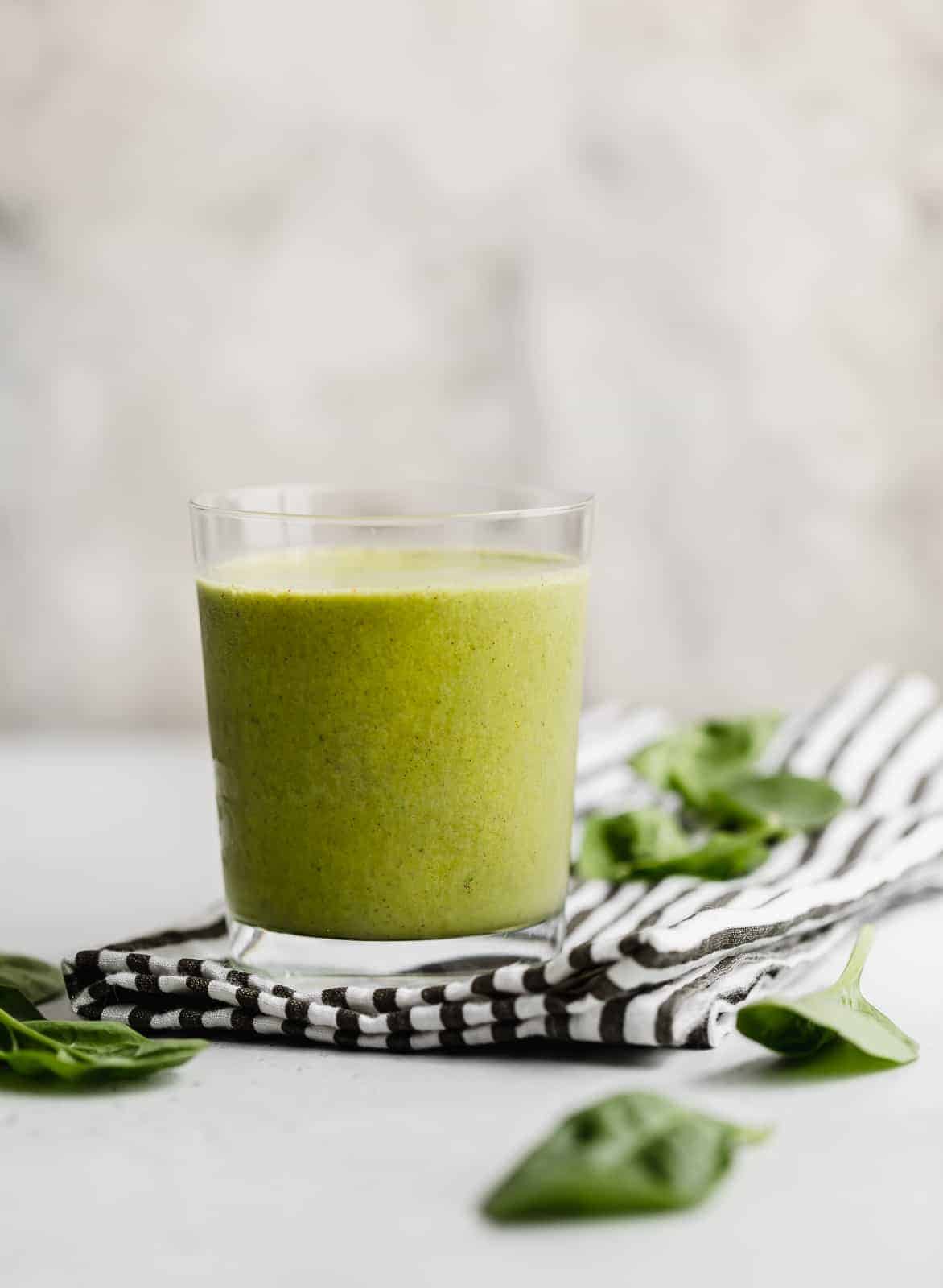 Zero Added Sugar
I used to think green smoothies had to be these vegetable blends with no flavor at all. I'm sure smoothies like that exist, but this is not one of them! This smoothie is packed with healthy, nutrient-rich spinach but the flavor also packs a punch. Not only is this green protein smoothie good for your body, it is so delicious!
I'll prove it. My kids LOVE this smoothie. I make it for them at least once a week. It's perfect because they feel like they are getting a shake and yet I know I'm feeding them a low-calorie green smoothie with zero added sugar. Did you get that? Zero added sugar.
Plus, if you use a soy protein, this recipe is also a great vegan green smoothie. If you are vegan, just make sure you select a vegan protein powder option. Whey protein isn't vegan-friendly, so be sure to double check.
Ingredients Needed
Spinach — I like to pack in the spinach! More spinach, more of that good mineral- and vitamin-rich ingredient we love.
Almond milk — I like to use unsweetened almond milk, but if you want the regular, go for it!
Almond butter — This gives us extra healthy protein and really brings out that almond flavor.
Frozen banana — I love frozen bananas in smoothies! It adds a great subtle flavor and creates an ice cream-like texture to your smoothies.
Protein powder (vanilla) — Any brand of protein powder will work. But, if you are vegan, gluten or lactose intolerant, be sure to grab a protein powder that works for you! Oh, and I haven't tried this recipe with chocolate protein powder, so no promises there ha 🙂
Ground cinnamon — You might think this is a weird add to a smoothie, but the touch of cinnamon in the smoothie adds a flavor complexity that is amazing!
Ice cubes — Add ice cubes to get your desired consistency. Fun fact, ice cubes will actually reduce the amount of frothiness from the protein powder.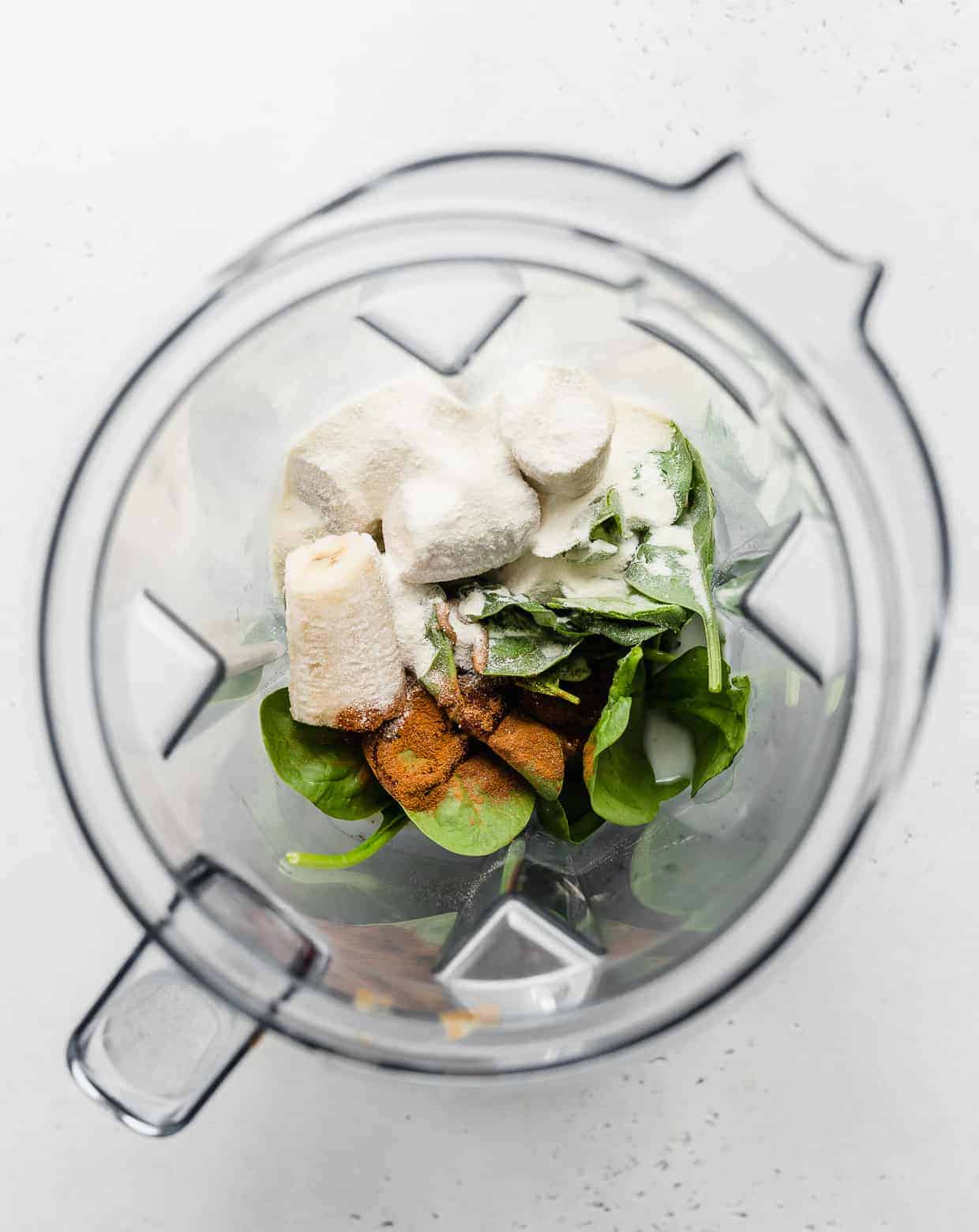 How to Make A Healthy Green Smoothie
There's a fairly basic structure to follow in creating a delicious green smoothie. I'll break down the basics here. By following these basic elements, you can create your own green smoothie recipe, too!
Pick a green vegetable base for your smoothie. We are using spinach, but you can adapt this recipe to add your own spin. If you love kale, add some kale in — or you can swap out the spinach for kale.
Once you have your green base, add a frozen fruit. (You can use fresh fruit, but then you'll want to add ice to create a frozen smoothie texture instead of a juice.) I like to add frozen bananas. Try it! You'll love it.
Pick your liquid. You can choose water, milk, plant-based milk products, and more! I use almond milk.

Add any other desired ingredients: Options include honey, cinnamon, protein powder, flax seeds, oats, etc. I always add cinnamon because I love the subtle flavor it adds.
Add some ice cubes before blending. The ice cubes help reduce the amount of frothiness from the protein powder.
Place all of the ingredients in a high-power blender and blend until smooth.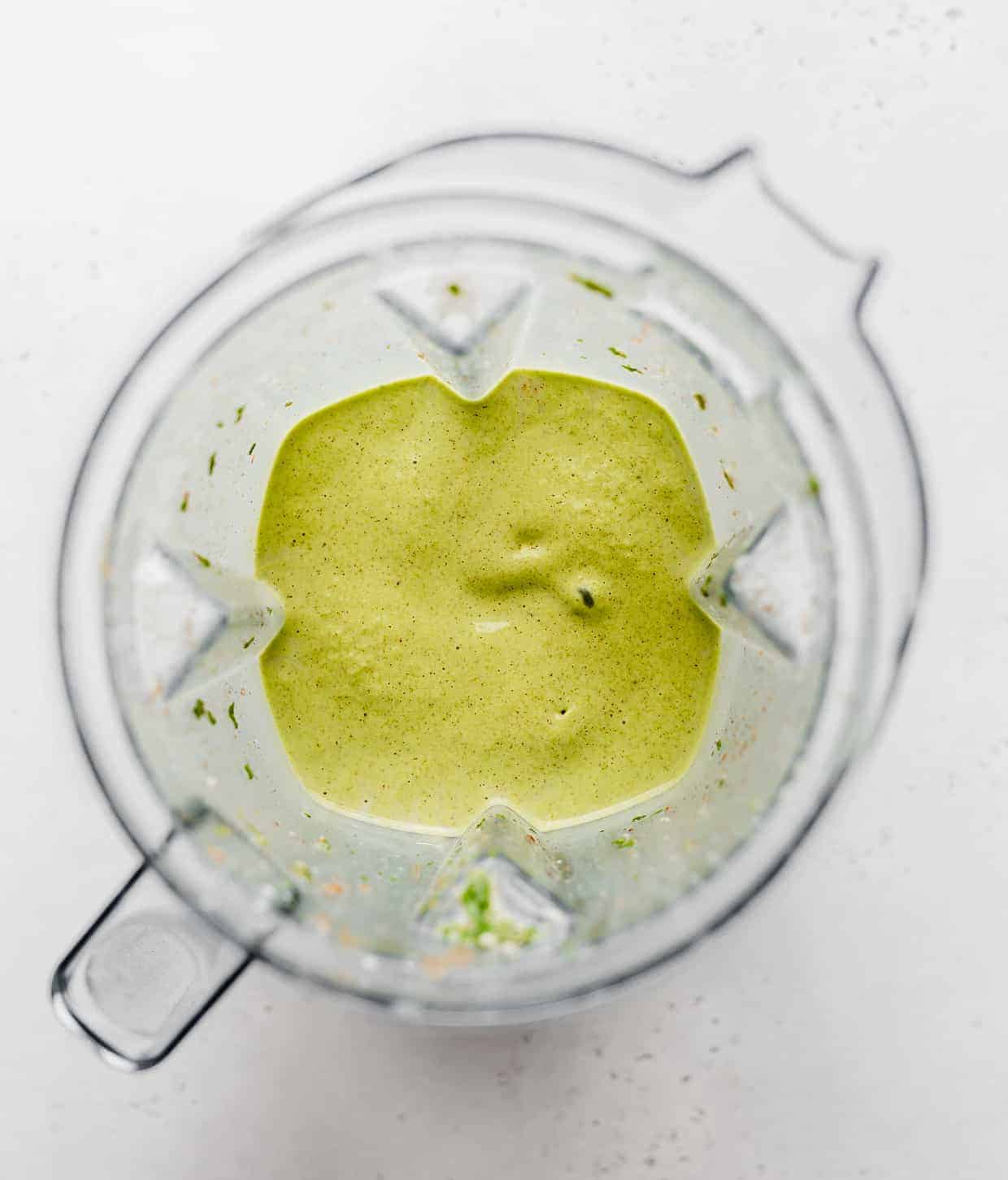 FAQ and Recipe Tips
Can I use kale instead of spinach in my green smoothie

— Yes! Of course! You can add kale to the spinach or you can swap the spinach out for kale. As long as you have the leafy green base, you are good.

What if I don't have almond milk?

— If you don't have almond milk, you can use the same measurement of water and add some whole almonds to the smoothie.

Can I use a different plant-based milk for the green smoothie?

— Definitely! You can use soy milk, oat milk, cashew milk, etc. Just remember, whatever other plant-based milk you choose, the smoothie will take on a bit of that flavor. With the almond butter in the smoothie, you'll want to pick a milk option that will pair well with that. I, personally, probably wouldn't use cashew milk.

Can green smoothies make you sick?

— Just like anything in life, it's important to find balance. If you aren't used to eating a lot of fiber-rich foods, then I probably wouldn't suggest cutting everything out and only having green smoothies — I'd never recommend that anyway, there are too many good foods to enjoy! Since green smoothies are high in fiber, if you have too many in a short amount of time, you may have an upset stomach and diarrhea.

Are green smoothies good for weight loss?

— Green smoothies should only be one part of the solution to a healthy lifestyle. In

Time Magazine

, Ryan Andrews, author of "A Guide to Plant-Based Eating," said that adding smoothies into your menu "could fit as one of those weight-loss behaviors, along with eating a balanced diet, getting plenty of physical activity, ensuring adequate sleep, building social connections and practicing stress management. But it's not the only part of the puzzle."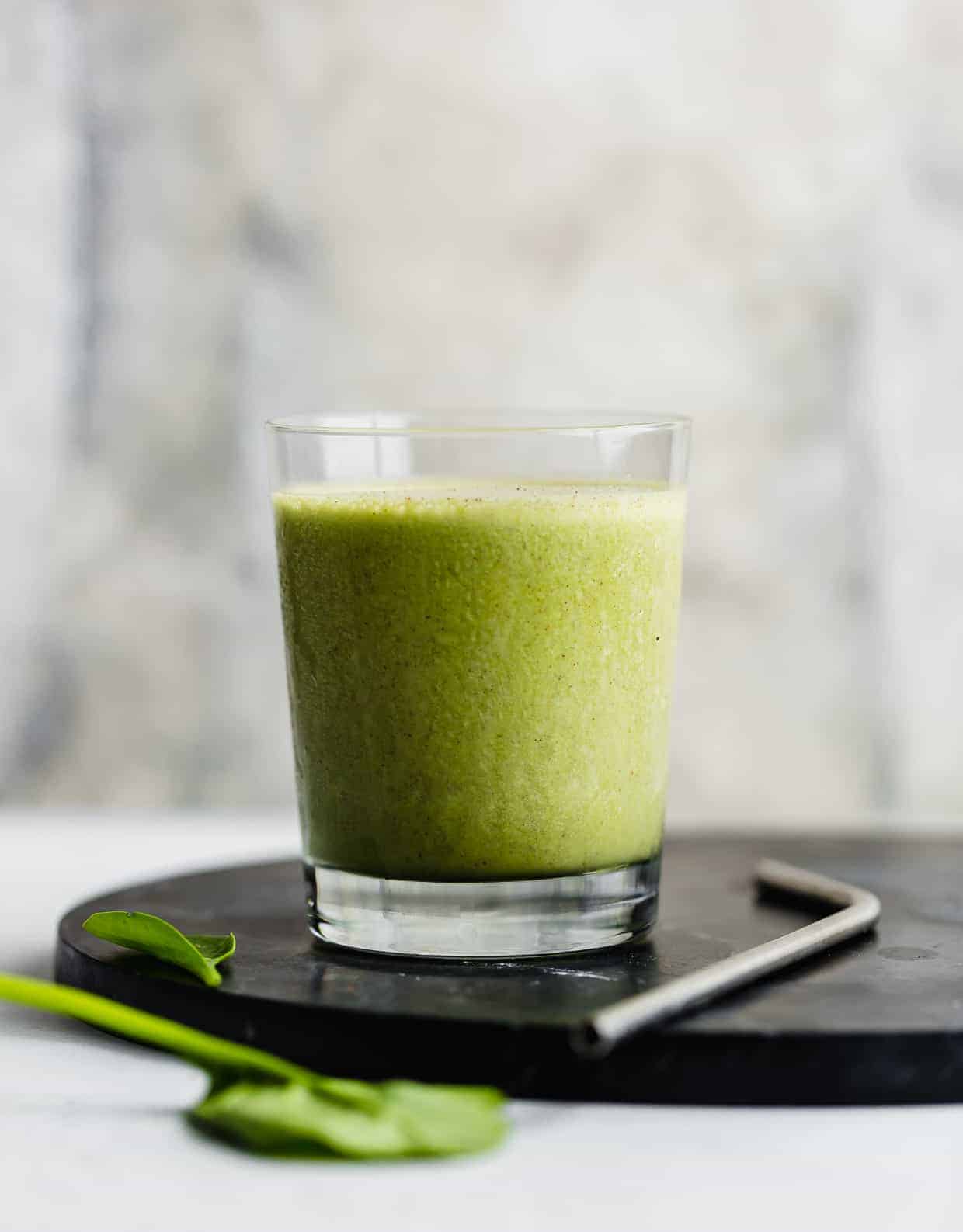 More Healthy, Feel Good Recipes:
Green Smoothie Recipe
A green protein smoothie loaded healthy ingredients. This drink fills you up and keeps you full!
Ingredients
1

cup

baby spinach

-

packed

1

cup

almond milk

2

tablespoons

almond butter

1

banana

-

frozen

1/3

cup

protein powder

-

vanilla flavored

1/2

teaspoon

ground cinnamon

1

cup

ice cubes
Instructions
Place all of the ingredients in a high-power blender and blend until smooth.
Notes
Can use kale (remove the bulky stems) in place of the spinach.
Add half of an avocado for extra healthy fats.
If you don't have almond butter you can omit it. 
Add a few tablespoons of plain Greek yogurt for added probiotics and protein, if desired.
If you don't have almond milk you can sub water. And/or you can sub water and add a handful of raw almonds. 
Did you make this recipe?
snap a photo and tag @saltandbaker in your posts and stories so I can see what you're making!