Ice Cream Cake Roll
This post may include affiliate links. As an Amazon Associate I earn from qualifying purchases.
A drool worthy dessert! This Ice Cream Cake Roll is easy to make and loved by everyone!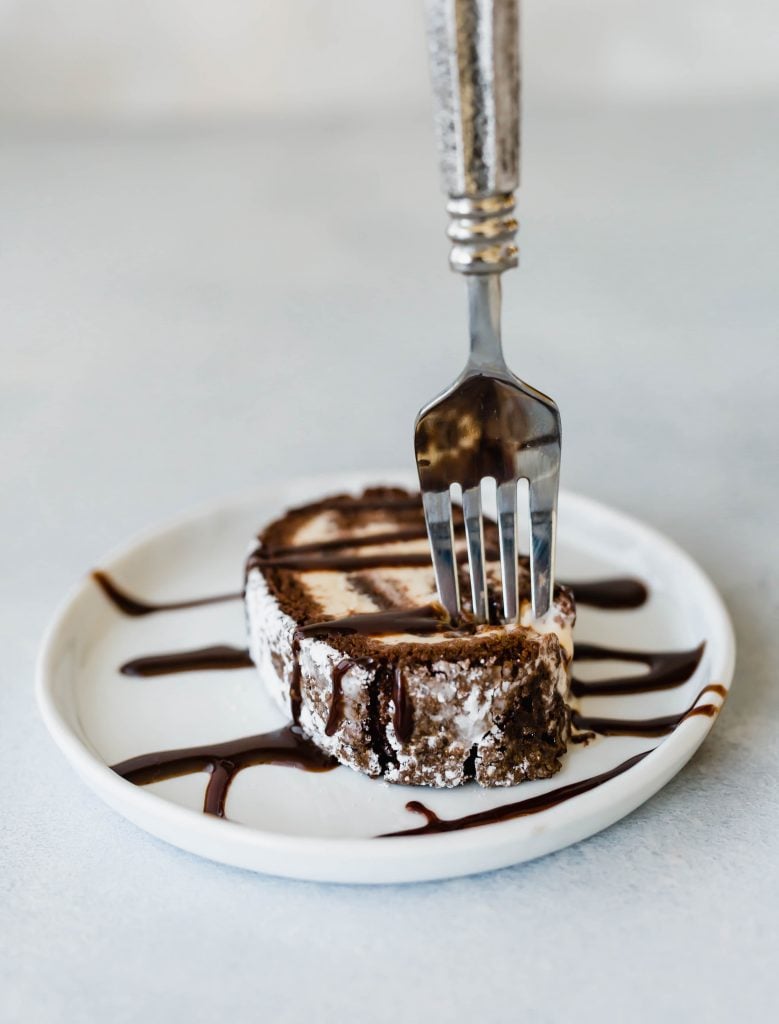 Ice Cream Cake Roll. Sounds daunting right!? NO. It's so easy to make!
This is the dessert my family eats EVERY December when we have Christmas dinner. My mother would make this ice cream cake roll, and she always made a big deal about how hard it was. I think the only "hard" part about making this ice cream cake roll, is rolling it up without it cracking.
When I made this cake for the first time I couldn't believe how easy it was!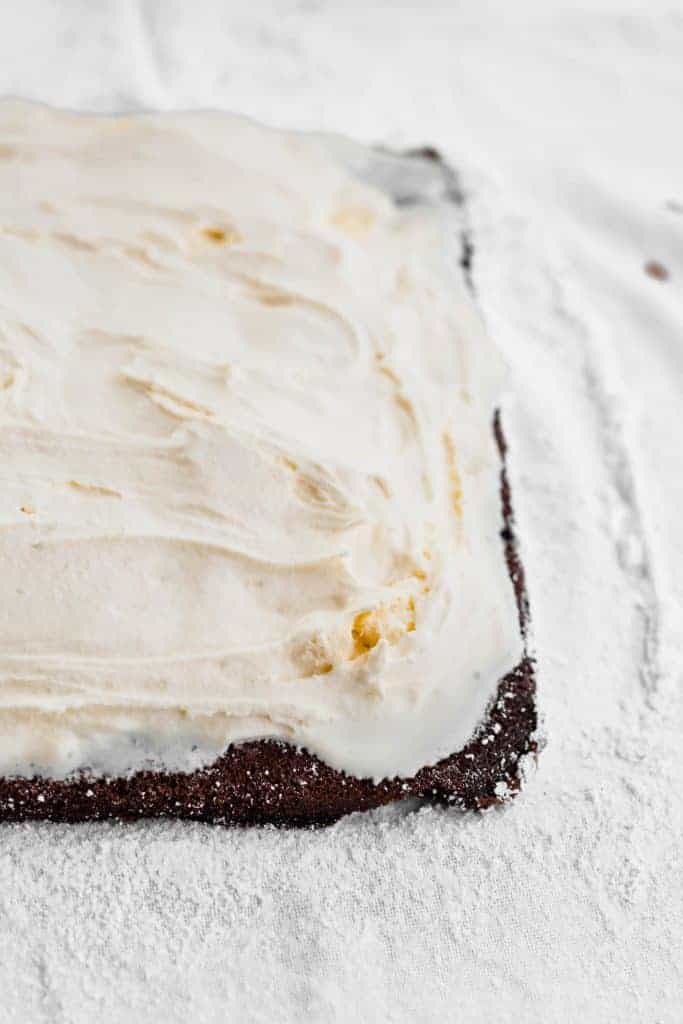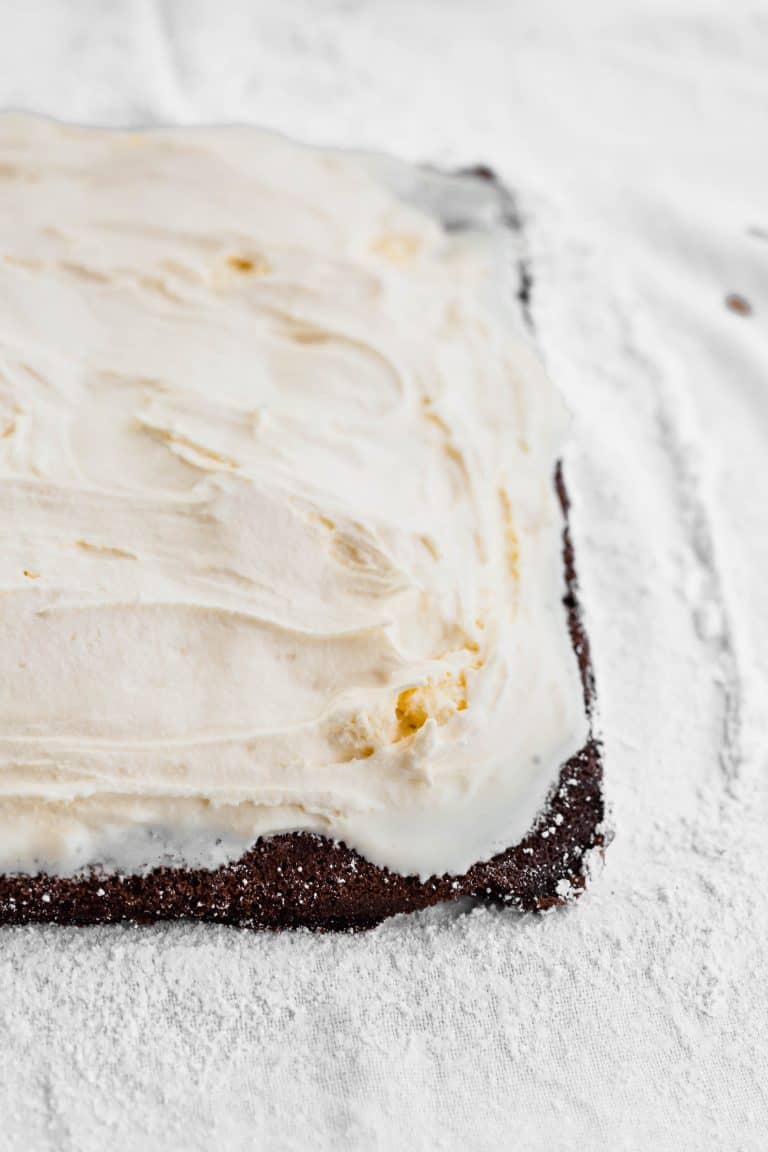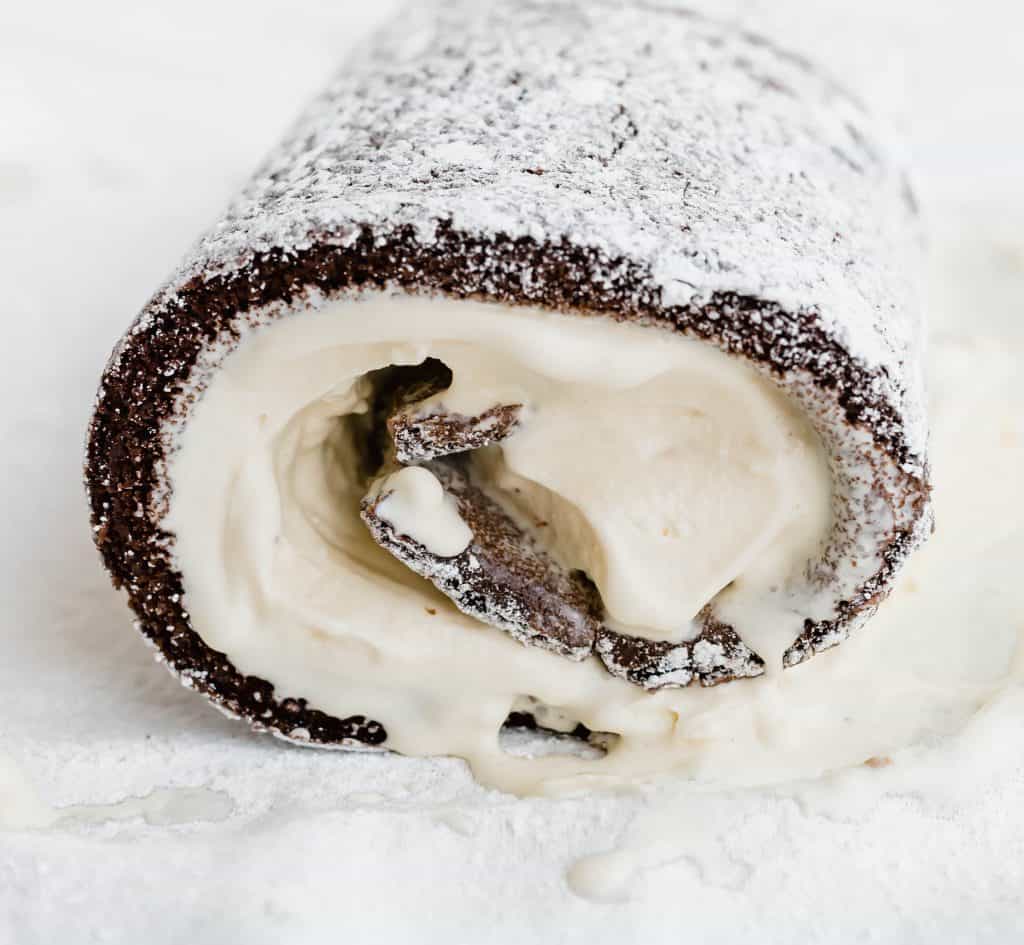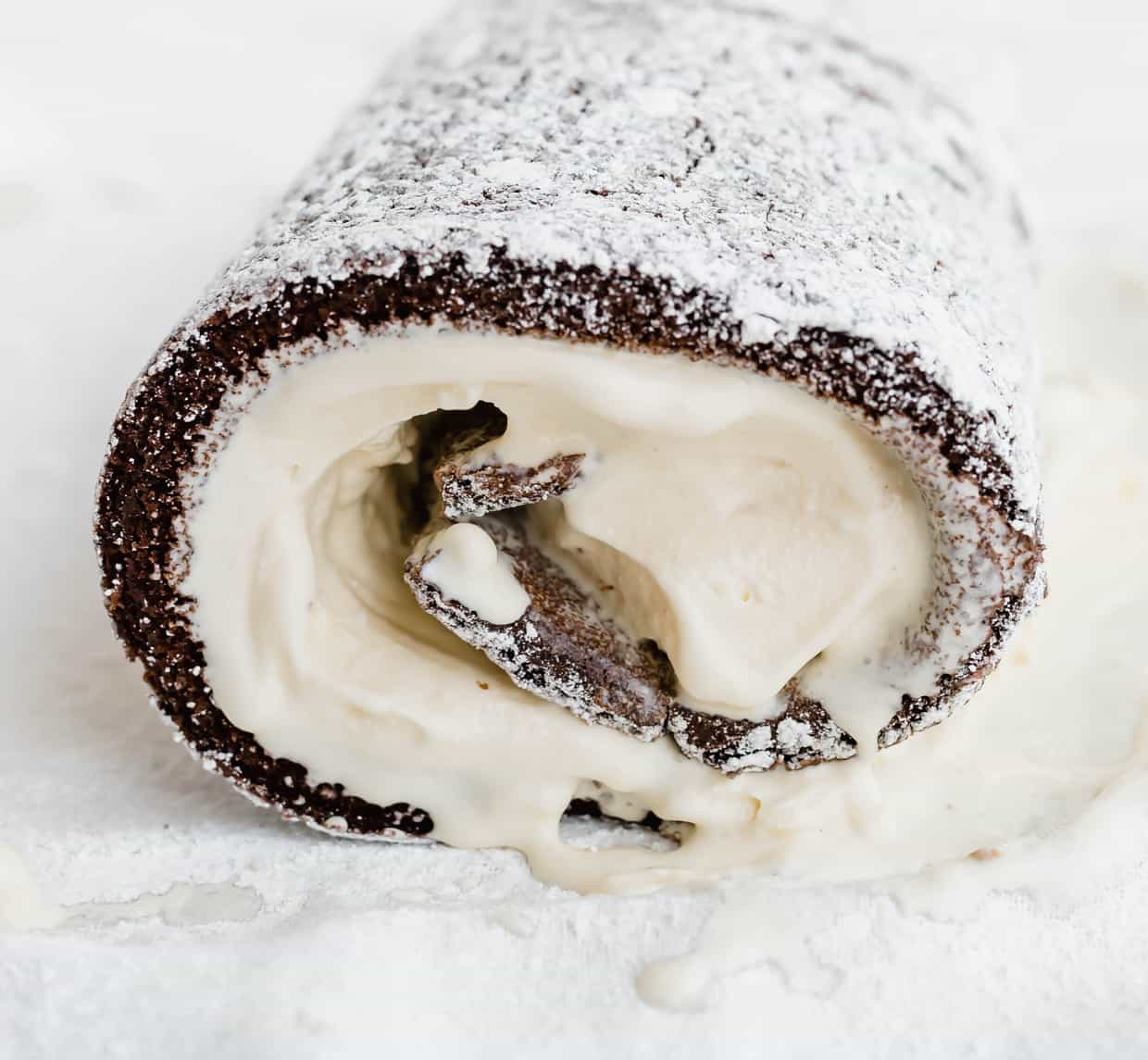 How to make Ice Cream Cake Roll
Once the cake is out of the oven, place a thin kitchen towel on a flat work surface.
Sift 2/3-3/4 cup of powdered sugar on to the towel. You don't need to cover the ENTIRE towel. But it needs to cover enough space to fit the cake.  Don't be shy with the powdered sugar. If you think 3/4 cup isn't enough, add more. The powdered sugar prevents the cake from sticking to the towel. Be generous.
Turn the cake onto the powdered sugar lined towel. GENTLY roll the cake and towel together. Rolling the cake while warm creates "muscle memory" if you will, for the cake.
Once the cake has cooled, unroll the cake and add the softened ice cream. My homemade creamy vanilla ice cream tastes amazing in this cake roll! I pull my ice cream out of the freezer 15 minutes or so before I plan on spreading it over the cake. You want the ice cream to be workable.
Gently spread the ice cream over the cake until you have achieved an even layer covering the cake. Just remember, if you add a lot of ice cream, you won't get much of a swirl effect. I've made this cake multiple times, once with  A LOT of ice cream and then with 16 oz of ice cream (which is pictured here). Both tasted great! So do whatever floats your boat.
Roll the cake and ice cream up. Cover with aluminum foil and immediately place in the freezer for 4-6 hours or until firm.
Serve with hot fudge, powdered sugar, or crushed candy canes.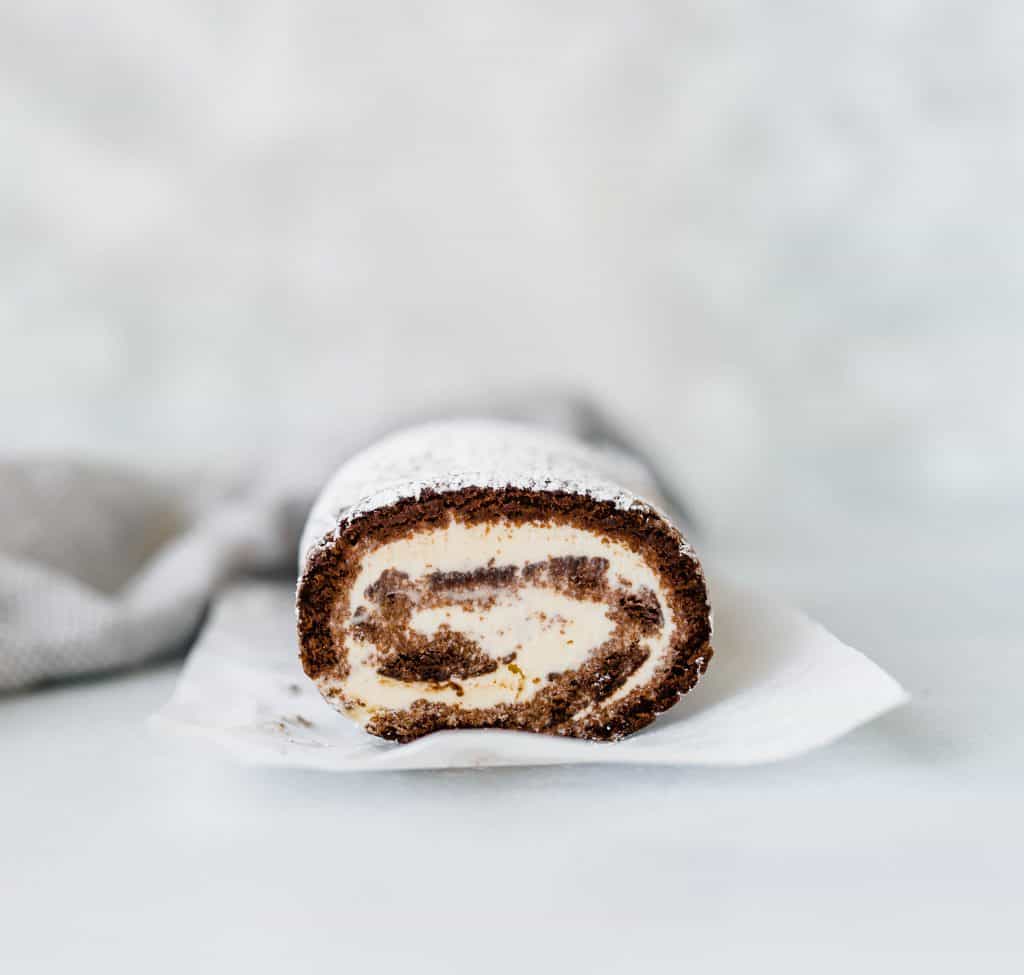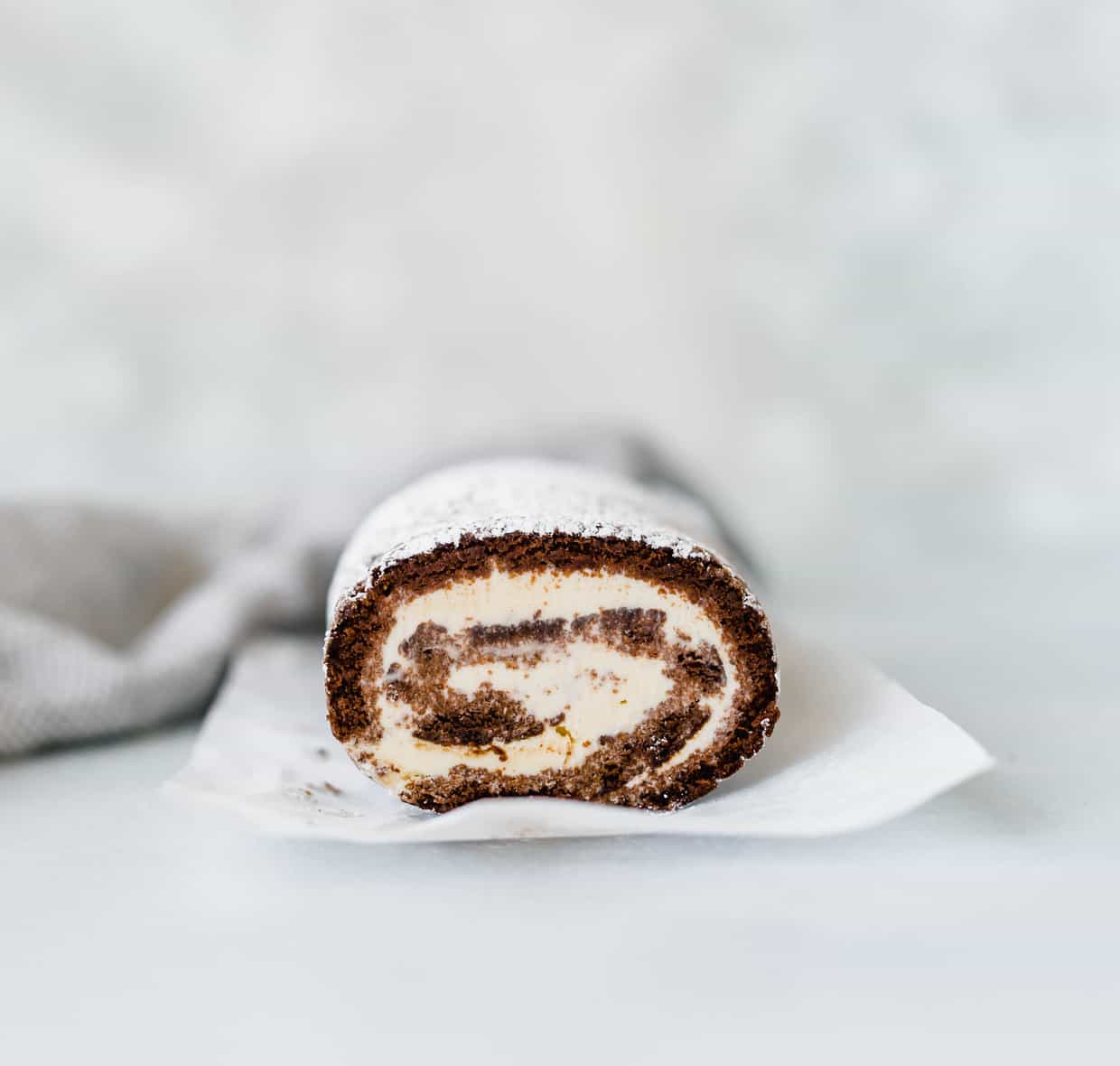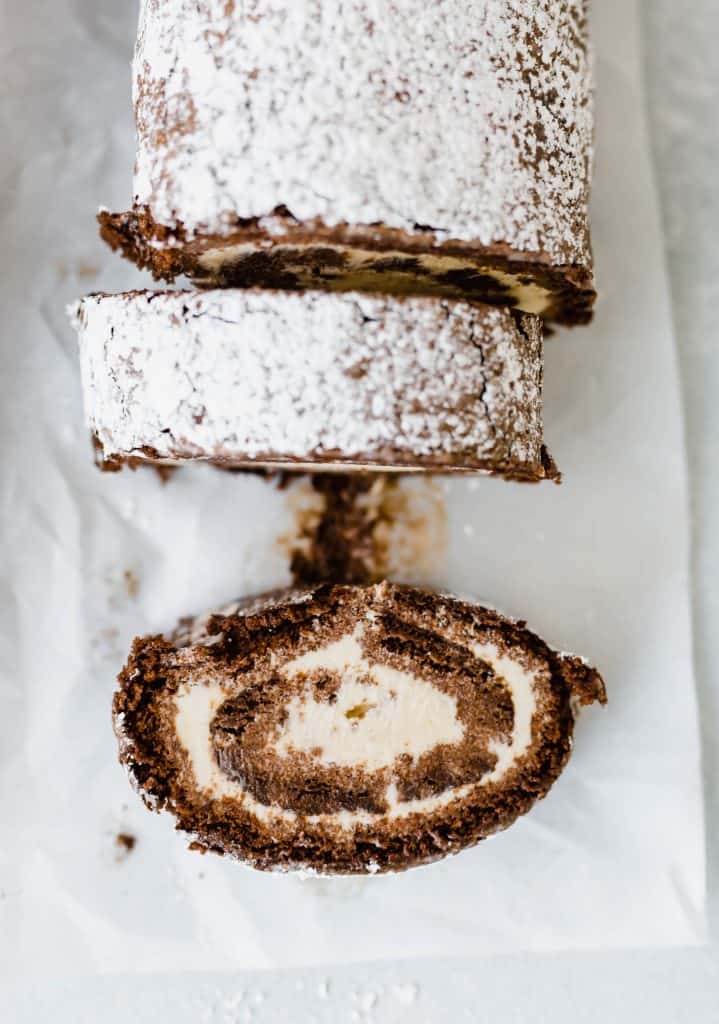 To make things fun, I'll switch out the vanilla ice cream for something more festive, such as peppermint ice cream if we're eating this around Christmas and New Years.
Or if it's for my birthday dessert I'll add cookies 'n cream ice cream. This dessert is very customizable, so have fun with it!!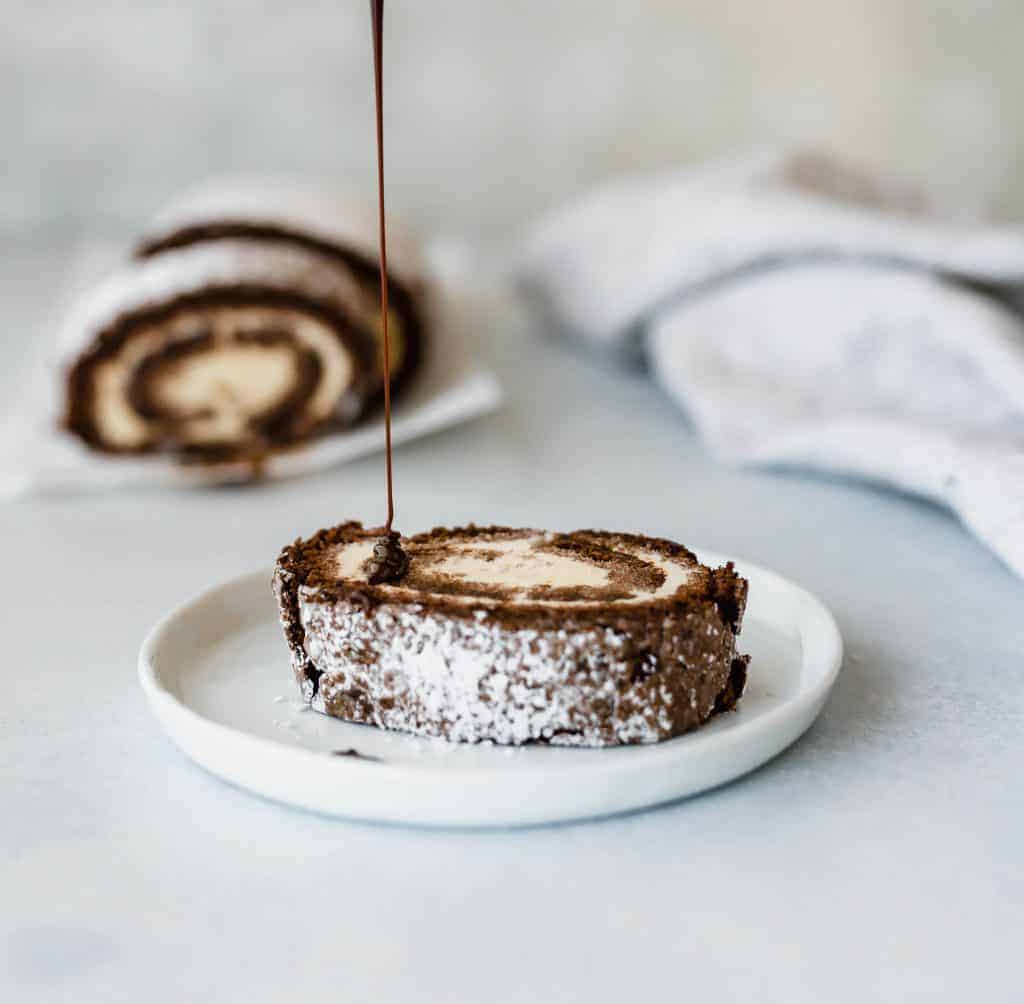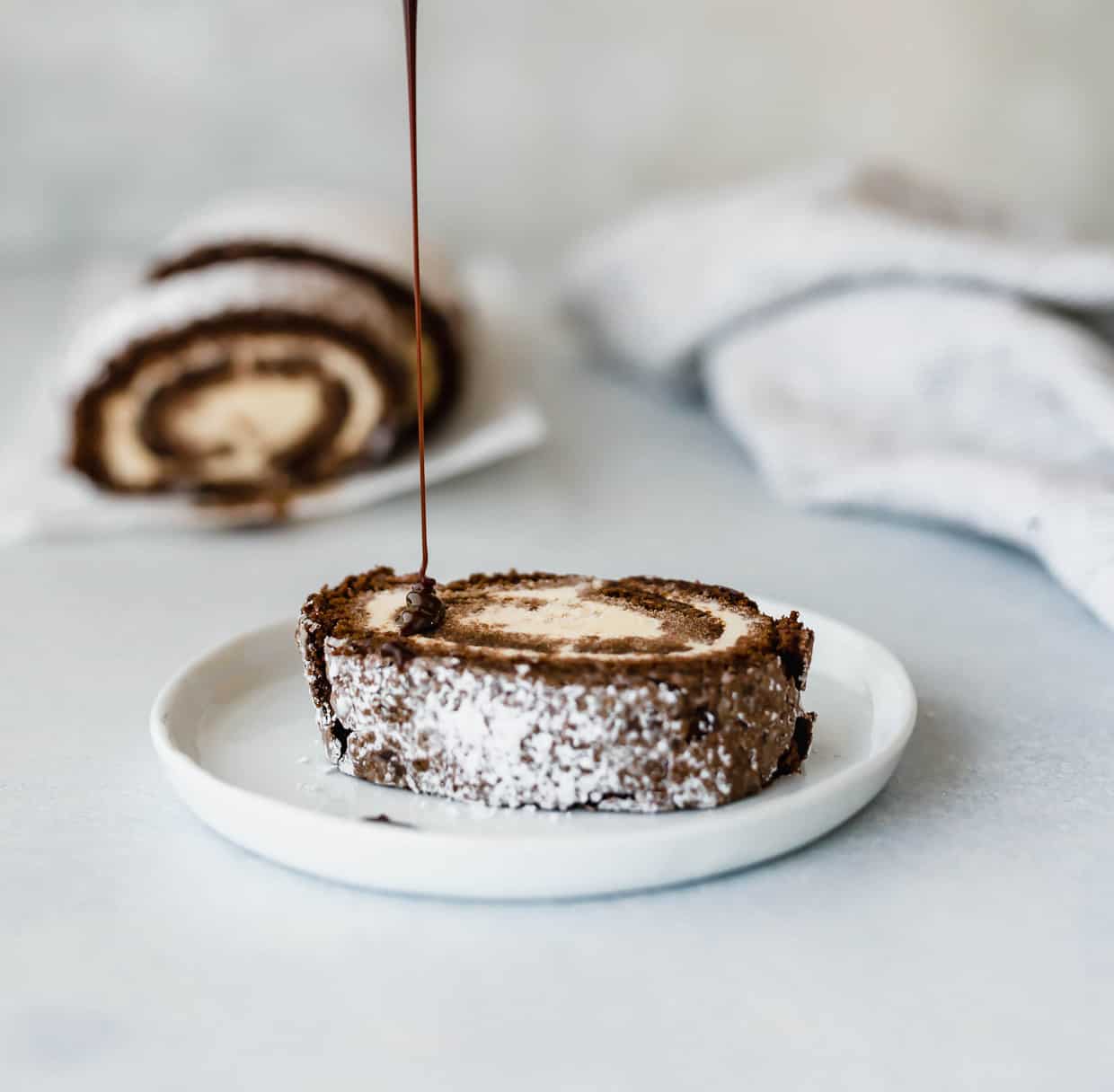 If you love this Ice Cream Cake Roll recipe, try these: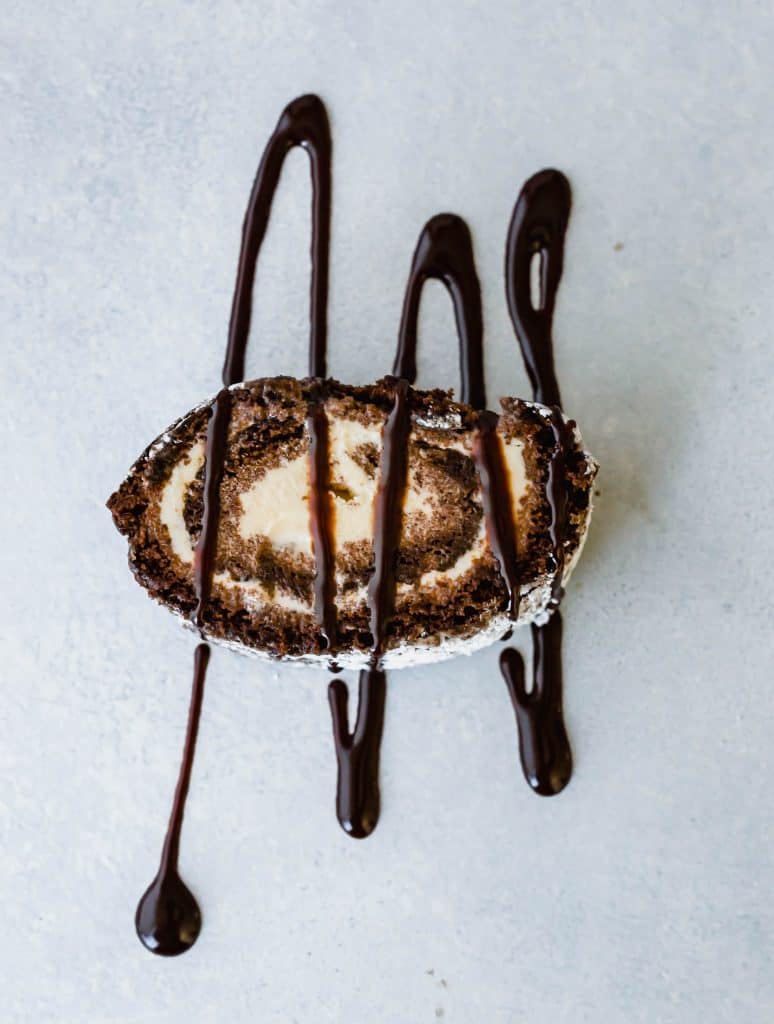 Ice Cream Cake Roll
Don't let this ice cream cake scare you, it's surprisingly easy to make and tastes amazing!
Ingredients
3

eggs

1

cup

granulated sugar

1/3

cup

cocoa powder

2/3

cup

all-purpose flour

1/4

tsp

baking soda

1/4

tsp

salt

1/3

cup

hot water

1

tsp

vanilla extract

2/3

cup

powdered sugar, for dusting

1/2

gallon

ice cream (whatever flavor you'd like)

-

*you'll use only 1/2 of the container!
Instructions
Preheat oven to 350°F. Spray or grease a jellyroll pan (helps keep the parchment in place), then line the jellyroll pan with parchment paper and grease or spray the parchment as well. Set aside.

In the bowl of your electric mixer (fitted with the whisk attachment), beat the eggs for 2 minutes on high speed until fluffy and pale in color. Gradually add the granulated sugar. Beat 2 more minutes on medium speed. Scrape down the sides of the bowl as needed.

Add the cocoa powder, flour, baking soda, salt, hot water, and vanilla extract. Mix on low speed for about 1 minute or until just combined. Pour batter into the jellyroll pan and use a spatula to spread the batter into an even layer. Bake for 18-20 minutes, or until a toothpick entered in the center comes out clean. Be careful not to overbake the cake.

While the cake is baking spread a thin dishtowel onto a flat surface. Generously dust the towel with powdered sugar. Remove cake from oven then turn the cake onto the prepared towel. Peel off the parchment paper. 

Starting with the narrow end, immediately roll the cake and towel together. Let the cake sit until cool.

Once cool, unroll cake and spread the softened ice cream over the surface of the cake. I use about 1/2 of a half gallon of ice cream. You don't want to add too much ice cream, otherwise it will just seep out when rolling it up.

Re-roll cake without the towel. (See notes). Cover with aluminum foil or plastic wrap and place in the freezer. Let it freeze for 4-6 hours, but preferably overnight. 

Remove from freezer, dust the cake roll with powdered sugar. Slice, and serve with hot fudge and any other toppings you'd like!
Notes
Notes:
Don't be alarmed if the cake roll cracks a little, this recipe is prone to it. It's inevitable!
To cover any cracks simply sprinkle a generous amount of powdered sugar overtop to cover it! 
Did you make this recipe?
Leave a star rating and review on the blog post letting me know how you liked this recipe! Take a picture and tag @saltandbaker on Instagram and Facebook so I can see what you're making!