Fettuccine Alfredo
This post may include affiliate links. As an Amazon Associate I earn from qualifying purchases.
This Fettuccine Alfredo Recipe has the most delicious, creamy, and flavorful sauce. The sauce is filled with parmesan, cream, and cream cheese to complete this classic Italian pasta dish that's easy to make and even easier to enjoy.
Looking for more creamy pasta recipes? Try my Pepper Jack Mac and Cheese, Creamy Lemon Chicken Pasta, and my Ricotta Pesto Pasta. Each are creamy, cheesy and delicious!
Why This Recipe Works
Creamy Fettuccine Alfredo recipe. If you've been using store-bought alfredo sauce, you are missing out! This cream cheese fettuccine alfredo sauce recipe makes a deliciously creamy sauce.
Best seasoning for Fettuccine Alfredo. Using a combination of salt, pepper, garlic, and Italian seasoning, we get the best Fettuccine Alfredo flavor!
Cheesy alfredo sauce. Using a combination of cream cheese and parmesan cheese, we get an ultra cheesy Alfredo sauce!
Easy recipe. With a few simple ingredients and just 20 minutes, you can have this easy fettuccine Alfredo Recipe on the table.
Ingredient Notes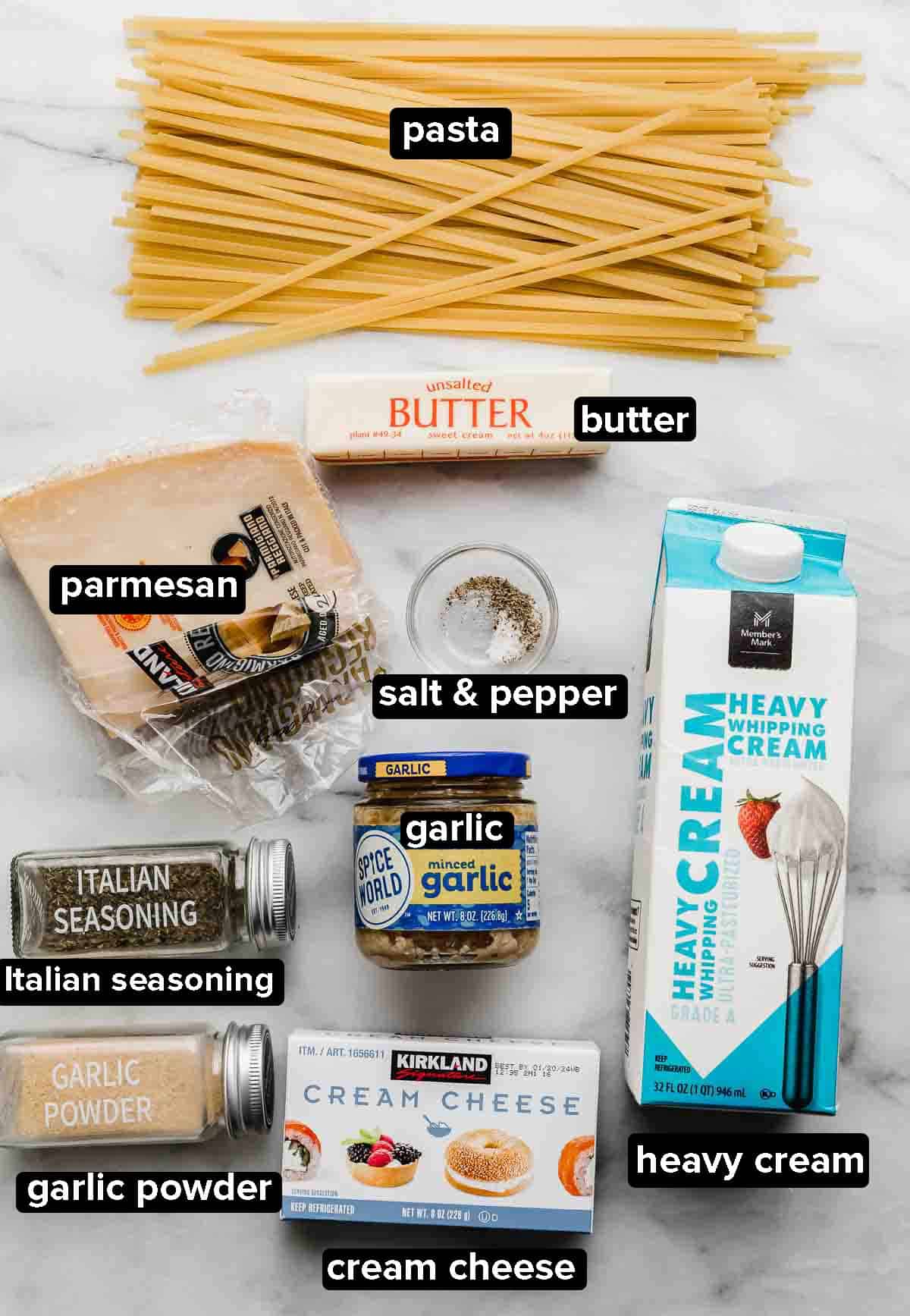 Fettuccine Pasta: Naturally, you'll need fettuccine noodles to make it a "true" fettuccine recipe, but you're welcome to use your favorite pasta or noodle variety. I found that 12 oz of pasta was the perfect amount.
Butter: I used unsalted butter. You can use salted butter if you'd prefer. I would probably omit the 1/4 tsp salt in the sauce. Then once everything is made, you can add additional salt if needed.
Heavy Cream: If you want a light fettuccine sauce, use milk or half and half. For ultra creamy, use heavy whipping cream.
Cream Cheese: Again, for a lighter fettuccine sauce recipe, you can use fat free cream cheese. Just note that it may affect the creaminess of the sauce. Full fat cream cheese makes this an ultra creamy fettuccine sauce.
Minced Garlic: If you don't have minced garlic or fresh garlic, substitute by adding a little more garlic powder.
Italian Seasoning: The garlic, Italian seasoning and salt and pepper are the best seasoning for Fettuccine Alfredo! It is the perfect flavor combination.
Parmesan Cheese: Wouldn't be alfredo pasta without parmesan cheese! You can also substitute some asiago, Romano, or parmigiano reggiano for a sharper taste.
Step-by-Step Instructions
Cook pasta. Bring a large pot of salted water to boil over medium-high heat. Once boiling, add the pasta and cook according to the package instructions until al dente. Once cooked, drain the pasta.
Make the cream cheese fettuccine sauce. While the noodles are cooking, add 1/2 cup butter, 2 cups heavy cream and 4 oz cream cheese to a saucepan or large skillet over medium heat. Whisk together until fully melted.
Add the seasoning for fettuccine alfredo. Add the minced garlic, 3/4 tsp garlic powder, 1 tsp Italian seasoning, 1/4 tsp salt, and 1/4 tsp freshly ground black pepper. Mix to combine.
Add the parmesan cheese. Add in 1 cup parmesan cheese and mix until melted and combined. Bring to a simmer on low heat. Cook for 3-5 minutes until the sauce starts to thicken. Remove from heat.
Combine noodles and sauce. Use tongs to toss the cooked and drained fettuccine noodles with the homemade alfredo sauce in a large bowl. Garnish with fresh parsley. Enjoy!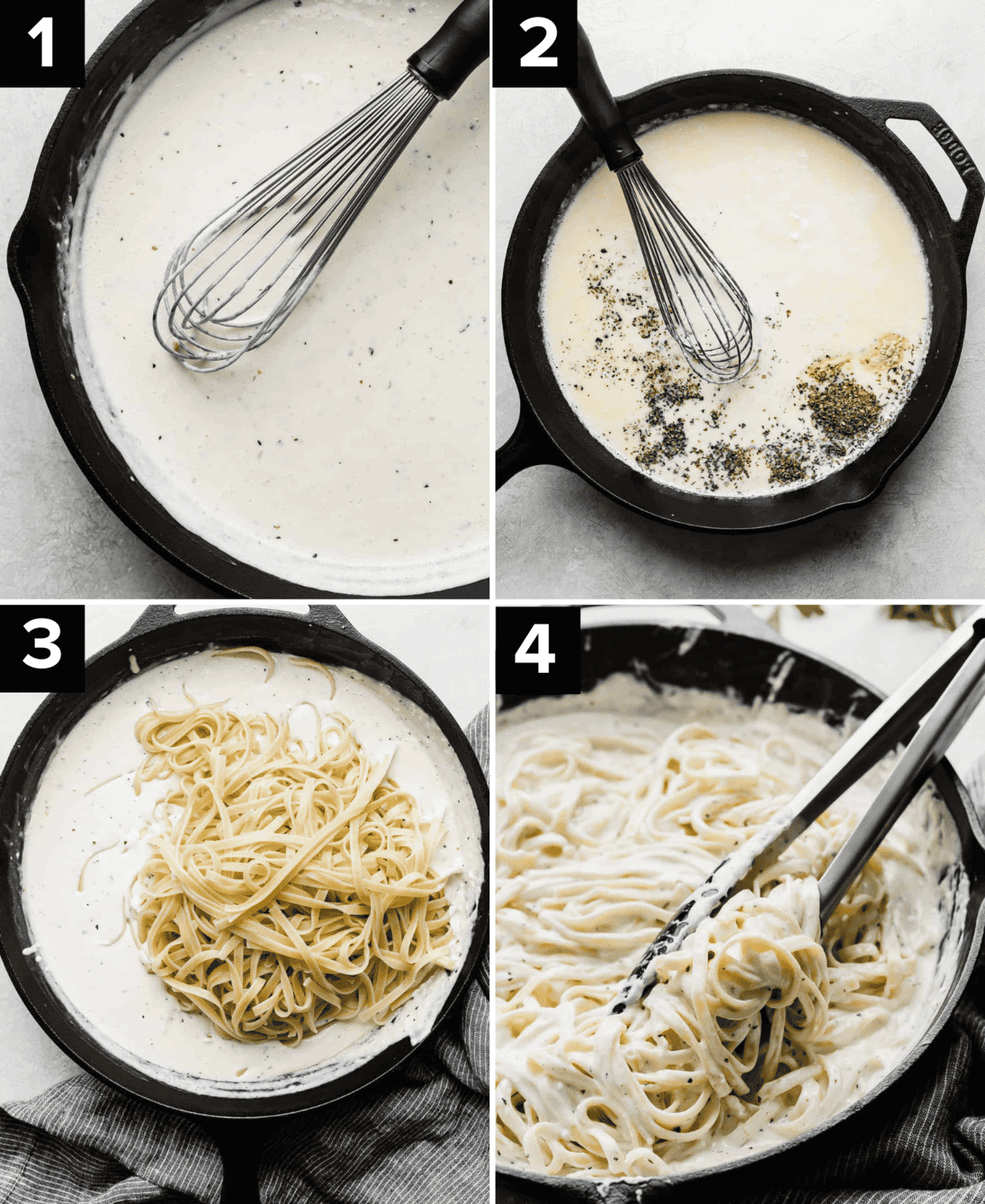 Recipe Tips
You can use this alfredo sauce in more ways than just with pasta! Use it on a pizza crust for a chicken alfredo pizza. Or use it as a dipping sauce for pretzels or chips.
Be sure you don't cook the sauce over too high of heat. The cheese can separate or curdle with too high of heat.
Add 2 cups of diced, cooked chicken, rotisserie chicken, or grilled chicken breast for a chicken fettuccine alfredo. You can also use shrimp if you're looking for a creamy, shrimp scampi-type pasta dish.
To lighten up the sauce, I like to add 1 cup heavy cream and 1 cup of half and half. Naturally, if you use all heavy cream, you'll have a creamier and richer alfredo sauce.
You can use just milk for an even lighter sauce. Add 1-2 tablespoons flour to help thicken the sauce a bit.
Reserve a little pasta water from cooking the noodles in case you want to add some to the pasta once everything is tossed. This will help to loosen up the sauce a bit.
Be sure to use freshly grated parmesan cheese. The crumbled kind is more processed and will affect the taste and texture.
A fun variation for this would be to make my homemade ravioli noodles, fill them with cheese, then use this alfredo sauce and shredded or grilled chicken for a delicious homemade chicken ravioli alfredo!
Make Ahead, Storing, and Freezing
Make Ahead: You can prepare the Alfredo sauce ahead of time and refrigerate it separately. When ready to serve, gently reheat the sauce on the stovetop, stirring frequently, and toss with freshly cooked fettuccine.
Storing: Leftover Fettuccine Alfredo can be stored in an airtight container in the refrigerator for up to 3 days.
Freezing: I don't freeze this alfredo sauce because it is made with dairy which can separate and go funny when frozen and thawed.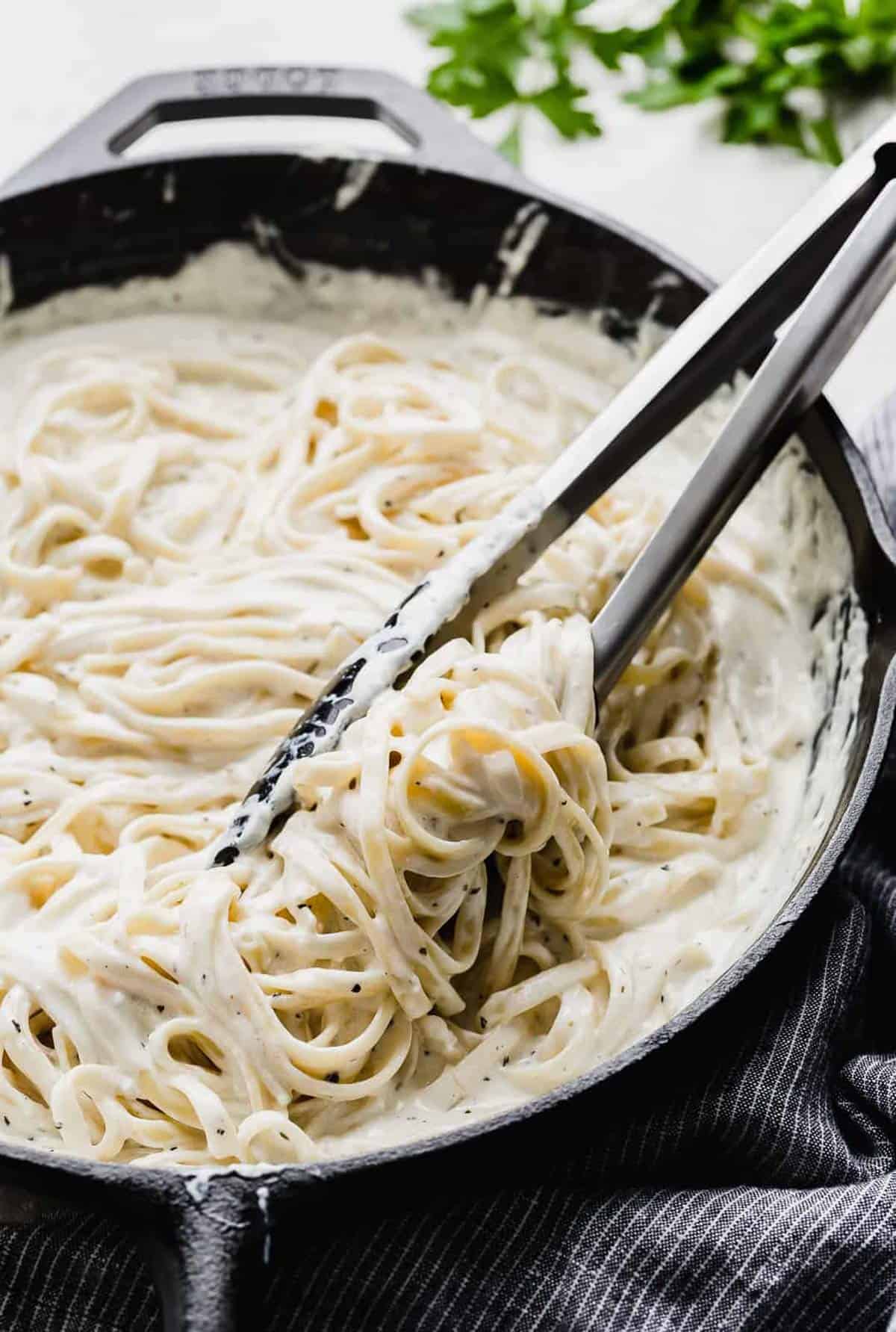 Recipe FAQs
Where does Alfredo sauce come from?
Guys, I did a little reading up on the history of fettuccine alfredo, and it's kinda a sweet story! An Italian chef, named Alfredo, made a simple pasta dish with white sauce and parmesan cheese for his pregnant wife who couldn't keep much food down. She ate it so often that Alfredo added it to his restaurant menu. Two American actors visited the restaurant and ordered the pasta dish and loved it so much that they asked for the recipe and mailed Alfredo a special engraved silverware and a photo of them at the restaurant. Reporters documented the exchange and that sent many more people to Alfredo's restaurant to try his famous dish! That's how it became such a popular recipe in America. That's obviously the watered-down version, and you can read more about this fun fact at HuffPost.com. I think it's fun (and important) to know some of the history behind the recipes we make and I hope you enjoy it too.
Can you make alfredo sauce with milk?
You can. Just keep in mind the sauce won't be as thick. To thicken the sauce, you can add 1-2 teaspoons of flour. 
Is alfredo sauce gluten free?
Yes. If you don't add the flour (noted above). Note: You'll have to use gluten free pasta as well. 
Is fettuccine alfredo healthy?
There are sure to be healthier versions of fettuccine alfredo out there. But I love this one because the flavor is amazing and the creaminess is just out of this world! The heavy cream and cream cheese can be swapped out for healthier options (milk instead of cream, fat free or less fat cream cheese options). But just remember the consistency will change, and most likely the flavor will too.
Can you freeze alfredo sauce?
I probably wouldn't. Dairy products don't freeze well, since they experience separation once they are thawed. 
How can I prevent the sauce from curdling? 
Keep the heat low and avoid boiling the sauce; gradual heating will help prevent curdling.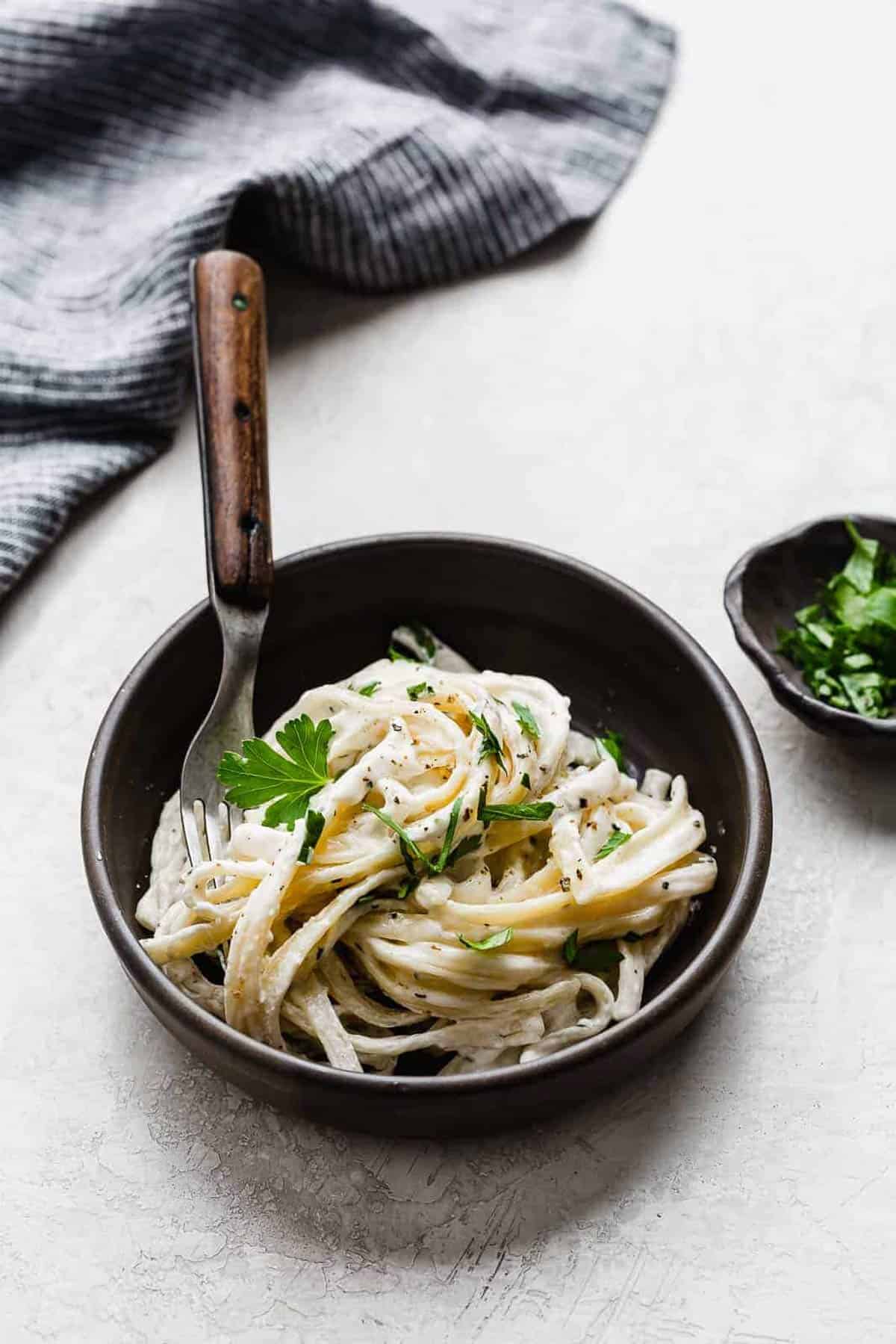 More Easy Pasta Recipes
Fettuccine Alfredo
This creamy alfredo sauce makes for the perfect dinner. It takes just 20 minutes to make and it's delicious!
Ingredients
Alfredo Sauce
1/2

cup

butter

2

cups

heavy cream

-

(can use half & half for a lighter sauce)

4

oz

cream cheese

1

garlic clove

-

minced

3/4

teaspoon

garlic powder

1

teaspoon

Italian seasoning

1/4

teaspoon

salt

1/4

teaspoon

freshly ground black pepper

1

cup

parmesan cheese

-

freshly grated (can also substitute some asiago or Romano for a sharper taste)
Instructions
Bring a large pot of water to boil. Salt generously. Add the pasta and cook according to package directions until al dente. Drain the pasta.

While the pasta is cooking make the alfredo sauce: In a saucepan over medium heat whisk the butter, cream, and cream cheese until melted.

Whisk in the minced garlic, garlic powder, Italian seasoning, salt and pepper. Whisk until smooth. 

Whisk in the parmesan cheese.

Bring to a low simmer and cook for 3-5 minutes or until the sauce starts to thicken. 

Remove from the heat and toss with the cooked fettuccine noodles. Garnish with fresh parsley. Enjoy!
Notes
Don't cook over too high of heat, the cheese can separate. 
Chicken Fettuccine Alfredo: Add 2 cups diced, cooked chicken or rotisserie chicken for a chicken fettuccini alfredo. Could also add shrimp or crab! 
Lightened up alfredo sauce: To lighten it up I like to add 1 cup heavy cream and 1 cup of half and half. Naturally, if you use all heavy cream, you'll have a creamier and richer alfredo sauce.
Did you make this recipe?
Leave a star rating and review on the blog post letting me know how you liked this recipe! Take a picture and tag @saltandbaker on Instagram and Facebook so I can see what you're making!