Magic Shell
This post may include affiliate links. As an Amazon Associate I earn from qualifying purchases.
This two-ingredient Magic Shell recipe is the perfect way to effortlessly elevate your desserts! Pour on top of cold ice cream, cake rolls, cheesecake, and more!
This easy magic shell recipe is beautiful (and delicious!) on my Ice Cream Cake Roll, drizzled on Ice Cream Nachos and Fried Ice Cream, or served with plain Vanilla Ice Cream with all your favorite ice cream sundae toppings!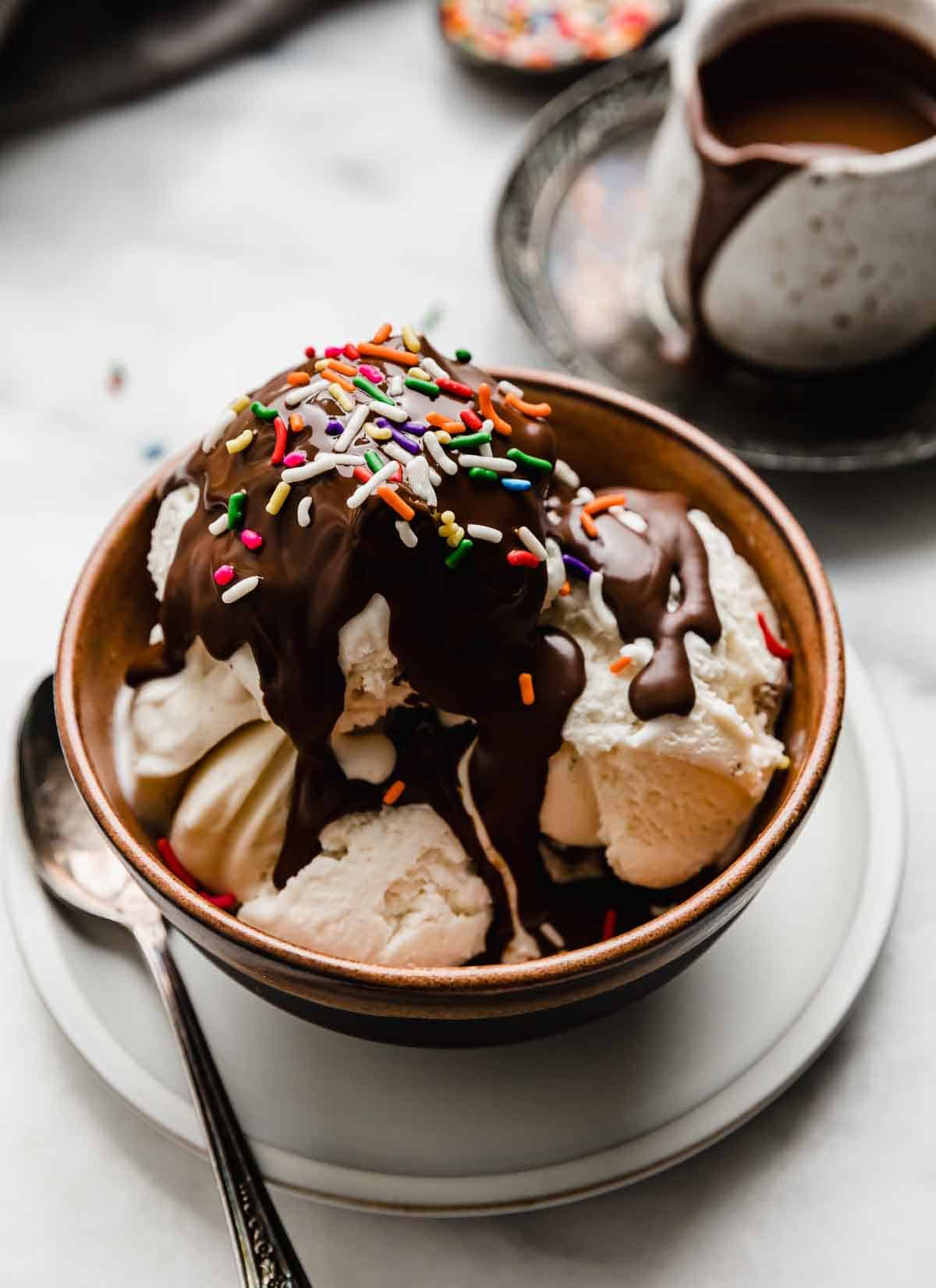 Why This Recipe Works
Smooth magic shell recipe. Say goodbye to clumpy, store-bought magic shells! This easy magic shell recipe creates a silky smooth texture that pours like a dream! The homemade version is so much better than the store-bought product.
Two ingredient magic shell. All you need is high quality chocolate and coconut oil for this easy recipe.
Magic shell in minutes. With just mere minutes, you can have a homemade magic shell that works beautifully to top your favorite desserts!
Ingredient Notes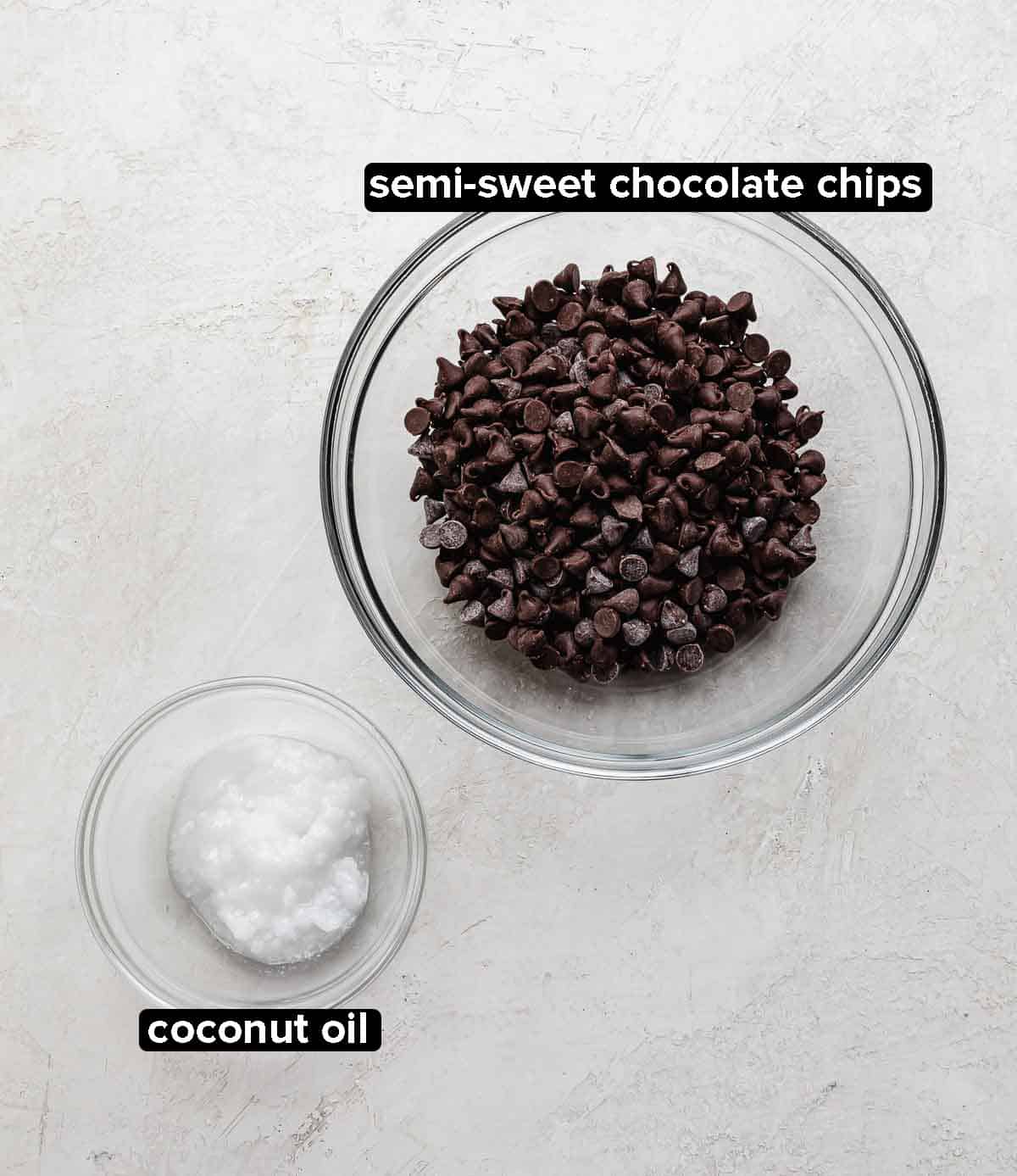 Step-by-Step Instructions
Melt magic shell ingredients. Add 2 cups semi sweet chocolate chips and 1/4 cup coconut oil to a microwave-safe bowl. Microwave on half power for 1 minute then stir. Continue in increments until fully melted.
Let sit. Let the magic shell sit for 5-10 minutes until room temperature. Pour on top of ice cream and serve with your favorite ice cream toppings.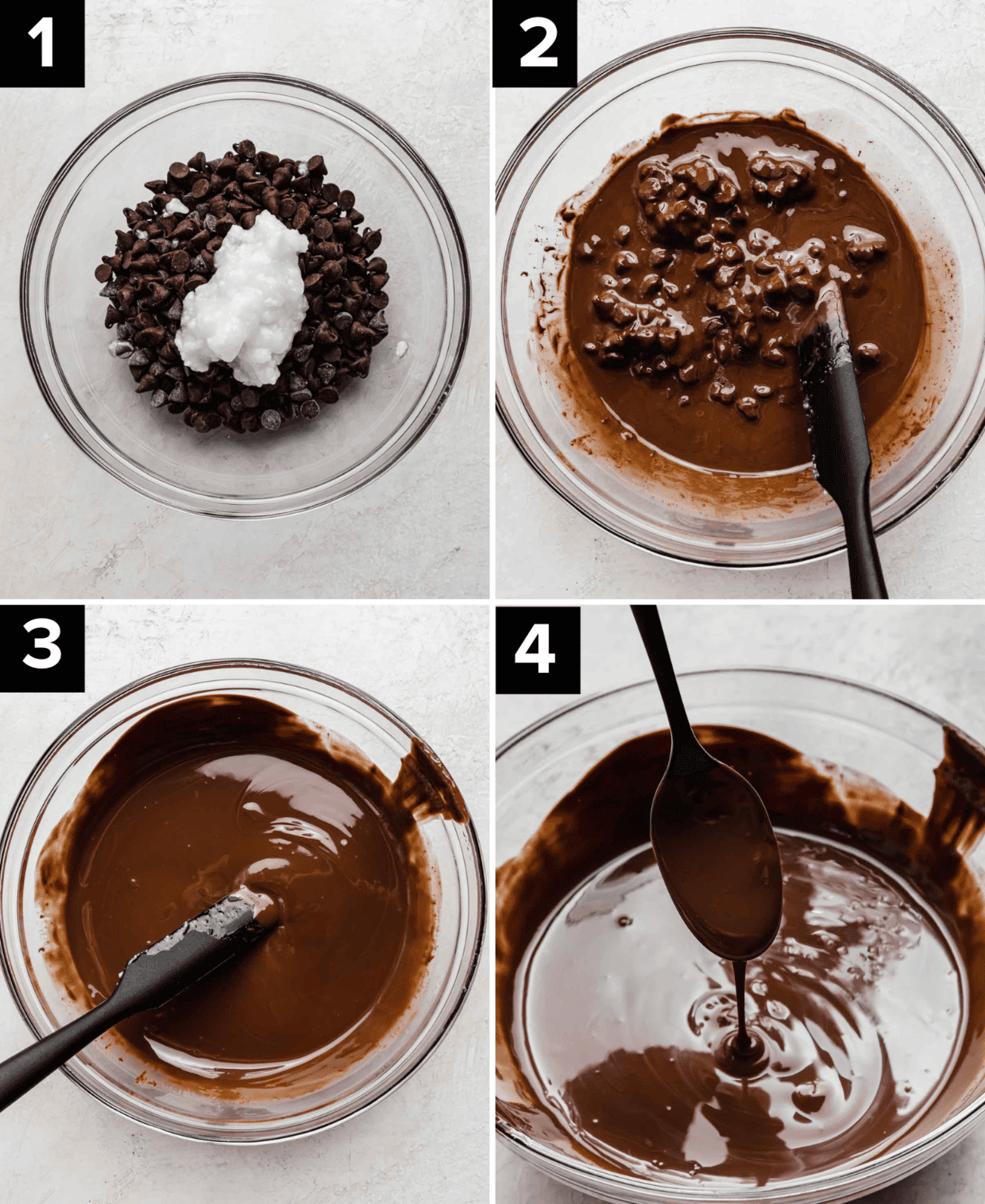 Recipe Tips
Use a microwave-safe bowl and melt the ingredients on half power to prevent scorching the chocolate. Stir at regular intervals for even melting.
Make sure the bowl you are using is dry. Any lingering water can affect the texture of the chocolate magic shell and can make it seize up.
Let the magic chocolate shell cool to room temperature before pouring it over your dessert. This ensures a beautiful shell effect.
This will make about 1 1/2 cups liquid magic shell.
Make Ahead, Storing, and Freezing
You can make homemade chocolate magic shell ahead of time and store it in an airtight container at room temperature for up to a month. Reheat it in the microwave when needed.
Store any leftover Magic Shell in an airtight container at room temperature, and reheat in the microwave for a few seconds when you're ready to use it again.
Avoid freezing Magic Shell as it can alter the texture. Instead, store the magic shell topping at room temperature or in the refrigerator if your kitchen is warm.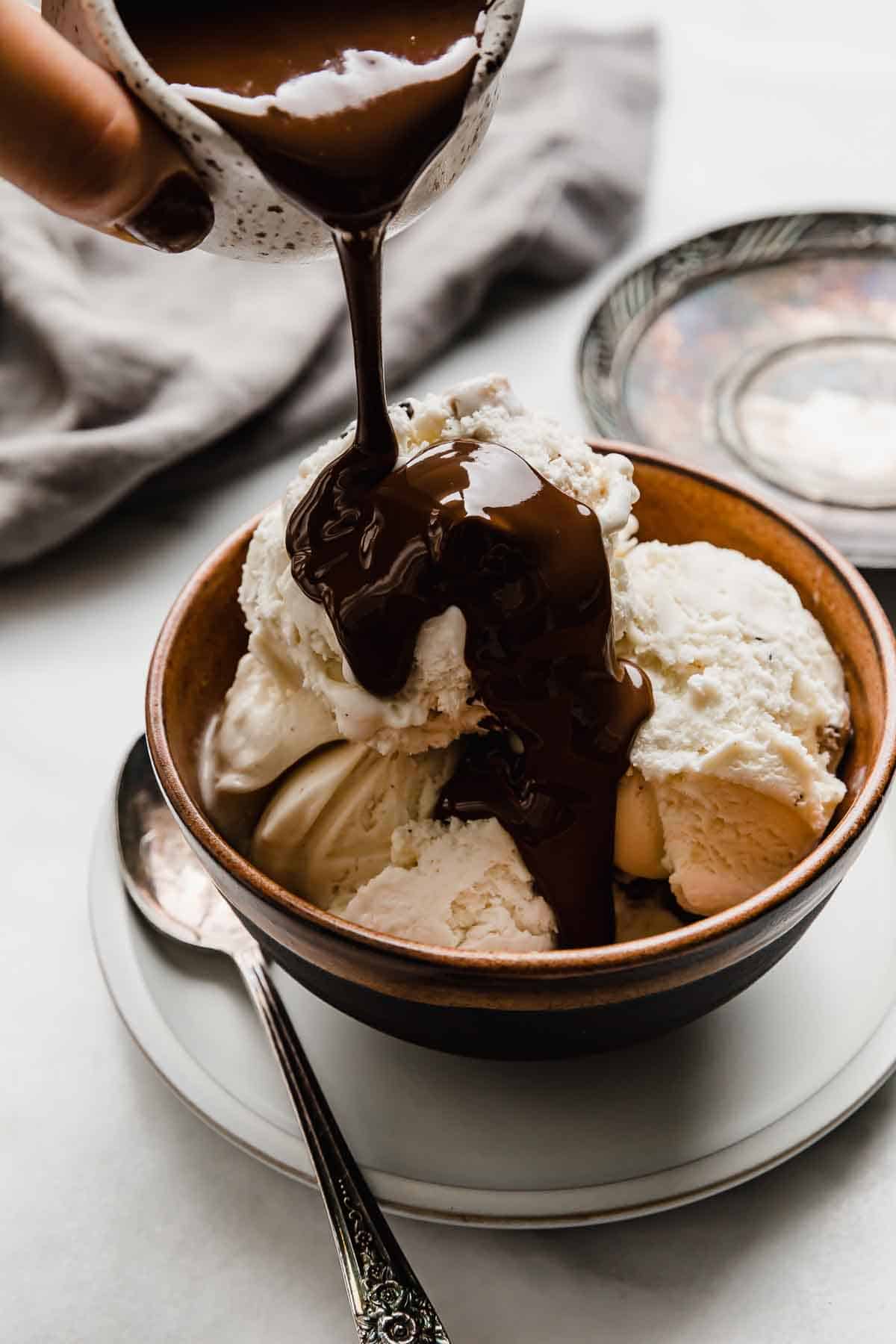 Recipe FAQs
What is a magic shell?
Magic shell is liquid chocolate that sets into a smooth and beautiful hard shell. It's the perfect hard chocolate shell for cake rolls and frozen desserts. 
Can I use a different type of chocolate?
Yes, you can experiment with milk chocolate, dark chocolate, or white chocolate to achieve different flavors and textures.
How long does the Magic Shell stay liquid once poured over ice cream?
It hardens quickly, usually within a minute, creating that classic "magic" shell chocolate topping on your favorite cold treats.
Can I substitute the coconut oil?
Yes, you can use other neutral oils like vegetable or canola oil if you prefer.
Why is my Magic Shell grainy or lumpy?
Overheating or excessive stirring can cause the chocolate to seize. Make sure to melt it gently and avoid over mixing.
Can I add flavorings to Magic Shell?
Absolutely! Experiment with extracts to create unique flavor variations for your desserts.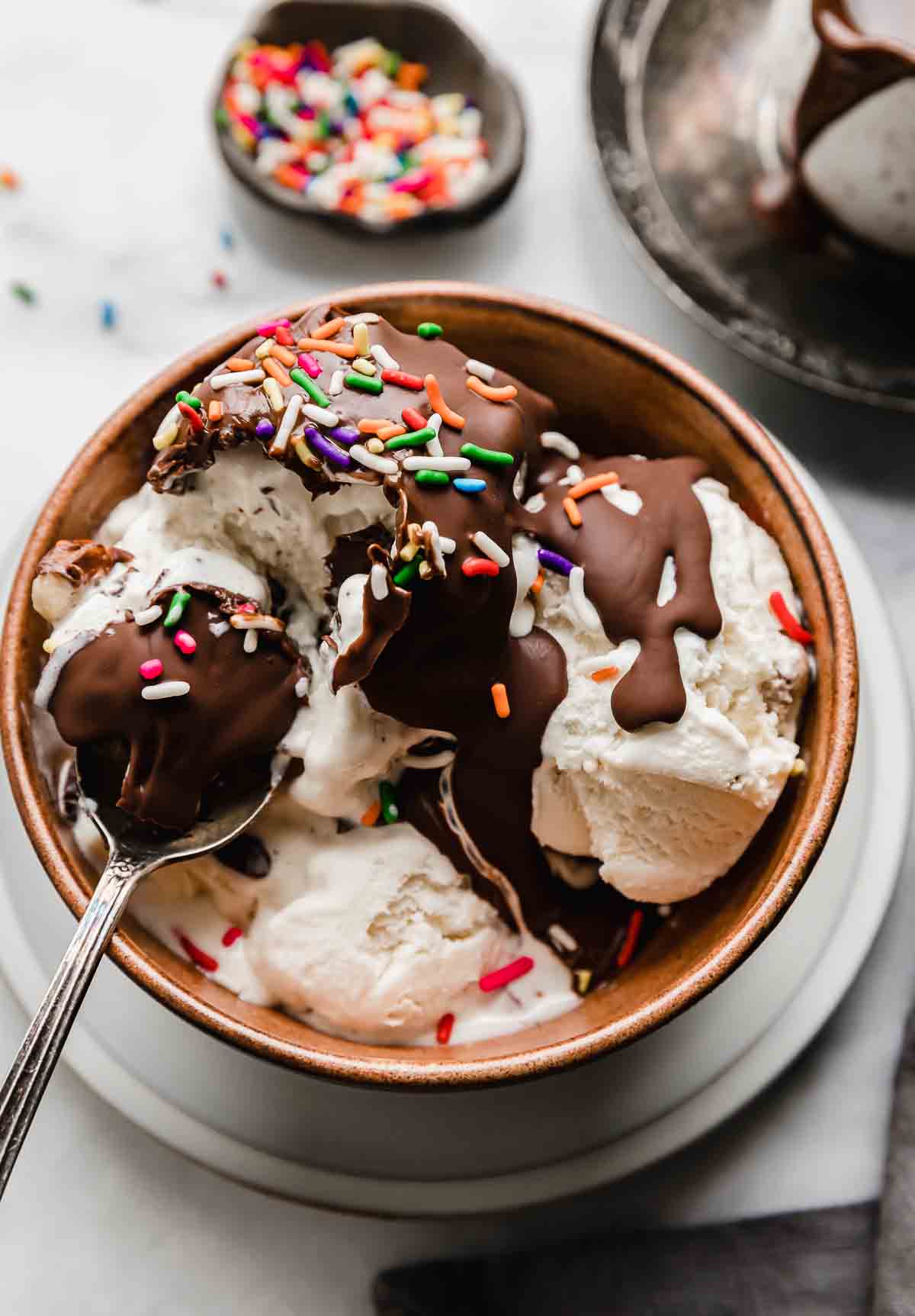 More Recipes to top with Magic Shell
Magic Shell
Two ingredient magic shell is the perfect topping for ice cream, cake rolls, cheesecake, or any frozen dessert.
Instructions
Place chocolate chips and coconut oil in a microwave safe bowl. Microwave on half power for 1 minute. Stir. Continue microwaving and stirring until fully melted.

Once melted, let the chocolate mixture sit at room temperature for 5-10 minutes or until the mixture is no longer warm and is room temperature.

Pour overtop dessert of your choice.
Did you make this recipe?
Leave a star rating and review on the blog post letting me know how you liked this recipe! Take a picture and tag @saltandbaker on Instagram and Facebook so I can see what you're making!