Chocolate Peanut Butter Protein Bars
This post may include affiliate links. As an Amazon Associate I earn from qualifying purchases.
These homemade Chocolate Peanut Butter Protein Bars are a healthy and nutritious way to increase your protein intake while incorporating healthy fats and natural sweetness. They are a healthy snack on-the-go and freeze beautifully!
I've been so excited to share this protein bars recipe because making homemade protein balls is one of our favorite healthy treats! Some of my favorites are German Chocolate Cake Protein Balls, Almond Joy Protein Balls, and Chocolate Peanut Butter Protein Balls.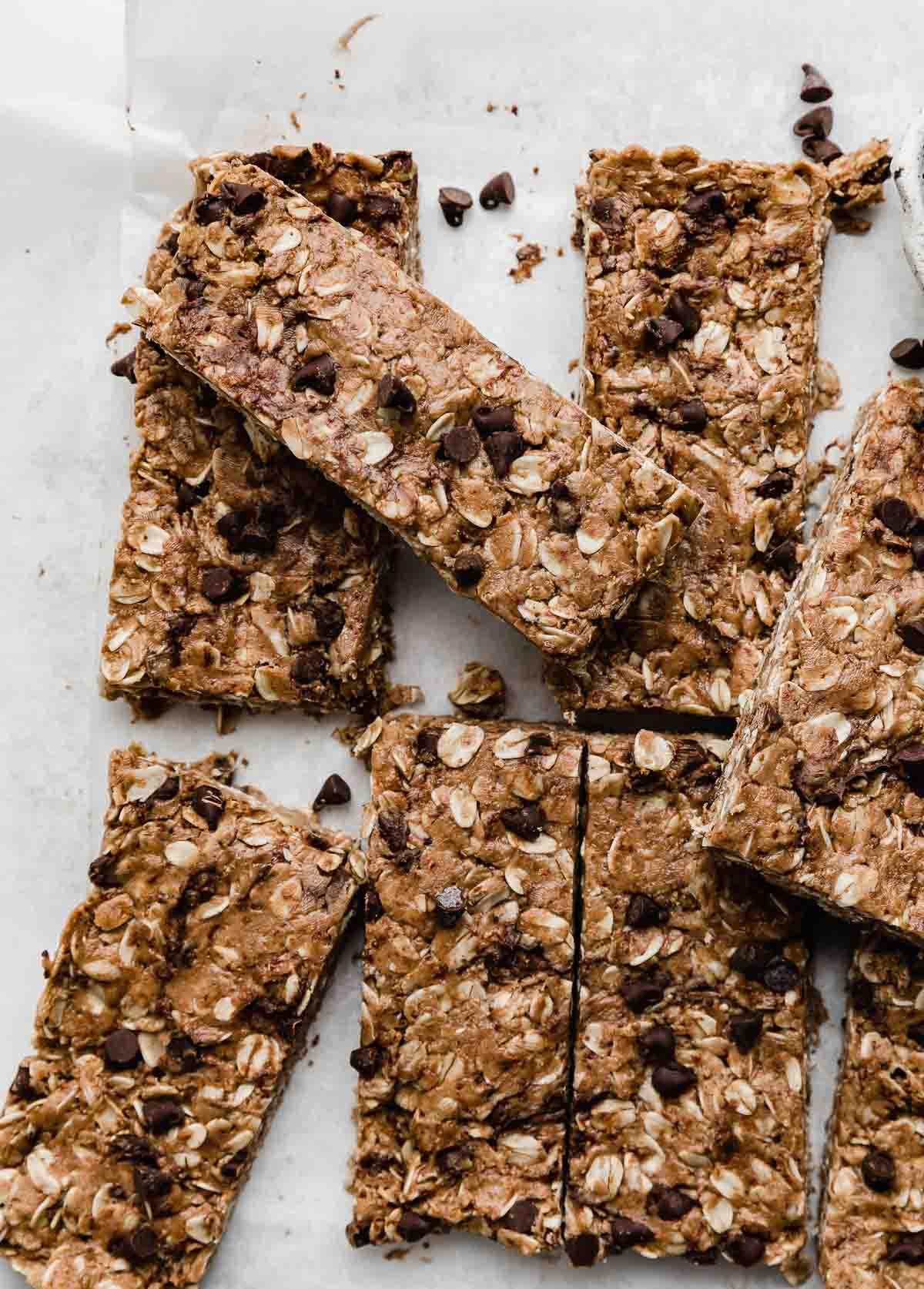 Why This Recipe Works
Delicious AND nutritious! These chocolate peanut butter protein bars are the best combination of protein, healthy fats and good flavor. Plus they are a no bake protein bars recipe — so easy!
So many uses. You can enjoy one of these protein bars as a post-workout recovery, a midday energy boost, or as a healthy alternative to granola bars in your kids' lunches.
Wholesome ingredients. Using simple ingredients like ground flax seed, protein powder, coconut oil, honey, and oats, we get a great combination of wholesome ingredients while not compromising on flavor.
Best homemade protein bars. You are going to LOVE this protein bar recipe and come back to it again and again. Easy to make, perfect to plop in the freezer and enjoy whenever. Now that you can make your own protein bars, goodbye to store-bought protein bars!
Ingredient Notes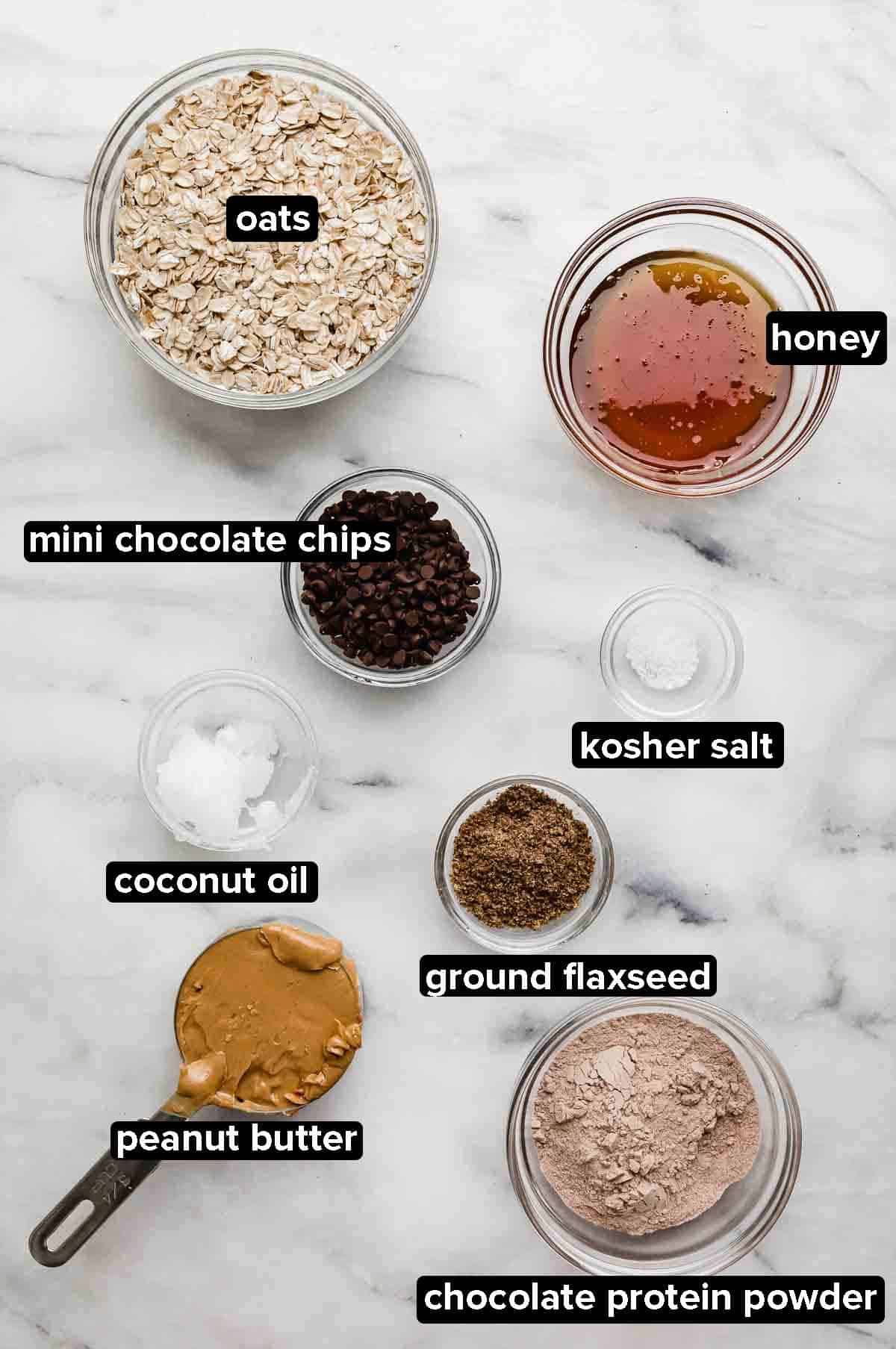 Creamy Peanut Butter: There's something so delicious about peanut butter protein bars! Creamy peanut butter provides extra protein, helps the mixture stick together, and creates a smooth consistency. If you have a peanut allergy, use almond butter instead.  
Honey: You can use maple syrup or agave, but note that it may affect the texture, flavor, and how the mixture binds together.
Coconut Oil: This provides healthy fats, added moisture, and a nice subtle flavor.
Old Fashioned Rolled Oats: The rolled oats have a great texture that will help bind the chocolate protein bars together.
Chocolate Protein Powder: Feel free to use your favorite chocolate protein powder! 
Ground Flax Seed: This adds another wholesome ingredient and bulks up the protein bars to be even more nutritious thanks to the healthy omega-3s!
Step-by-Step Instructions
Heat wet ingredients. Add 3/4 cup creamy peanut butter, 1/3 cup honey, and 2 tablespoons coconut oil to a large bowl (microwave-safe bowl!). Heat for 30-seconds and stir. Continue heating in 30-second increments, stirring well after each, until the mixture is fully melted and smooth.
Add dry ingredients. To the bowl, add 2 cups old fashioned rolled oats, 1/2 cup chocolate protein powder, 2 tablespoons ground flaxseed meal, and 1/4 tsp kosher salt. Mix until combined.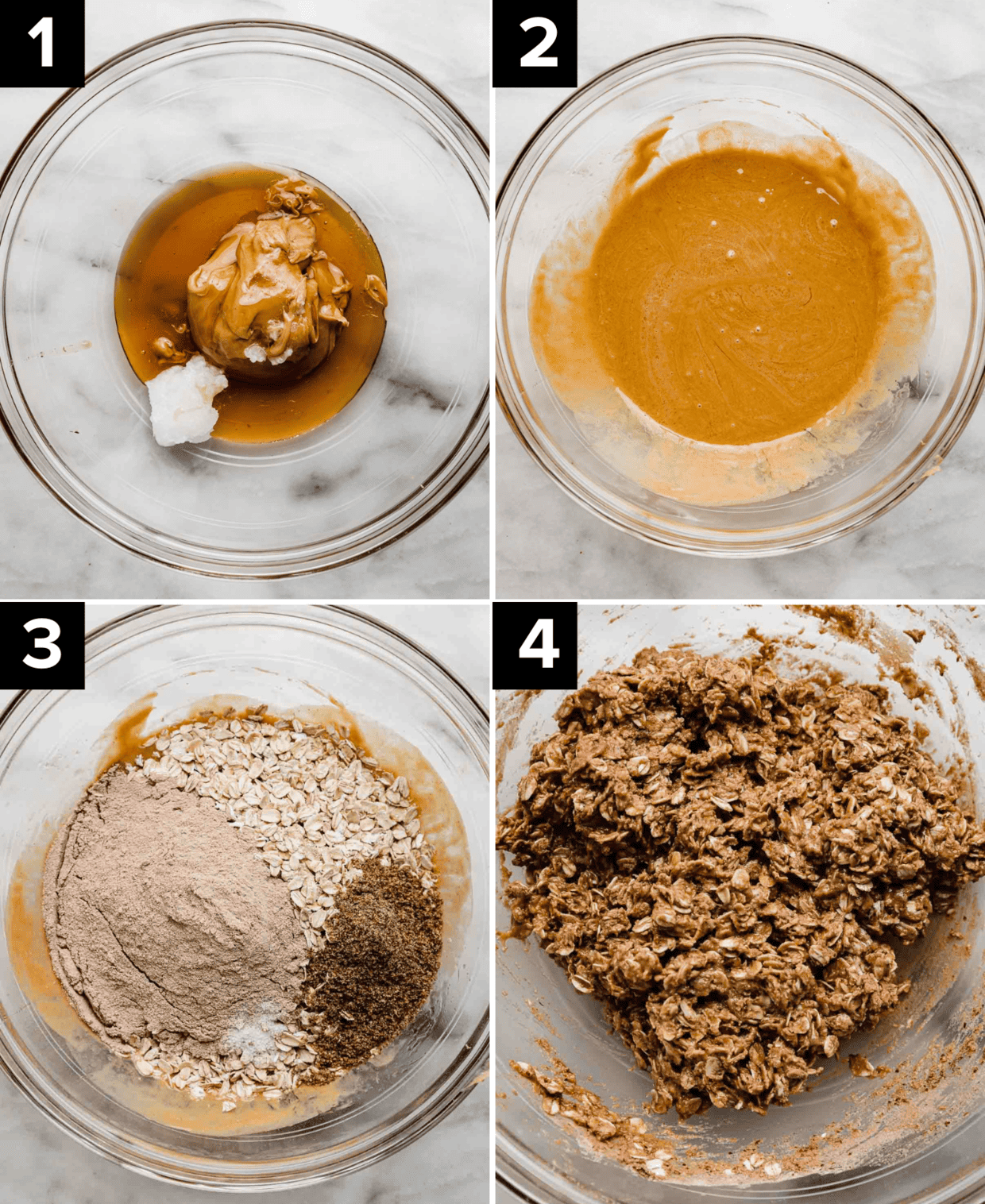 Stir in chocolate chips. Add 1/3 cup mini chocolate chips to the bowl and mix to combine.
Press into pan. Line an 8×8-inch pan with parchment paper, leaving an overhand on the sides so you can easily remove it. Press the chocolate peanut butter protein bars mixture into the bottom of the pan.
Chill. Chill the chocolate peanut butter protein bars for at least 1 hour. Remove them from the pan using the parchment paper. Place on a cutting board and cut into bars. Enjoy!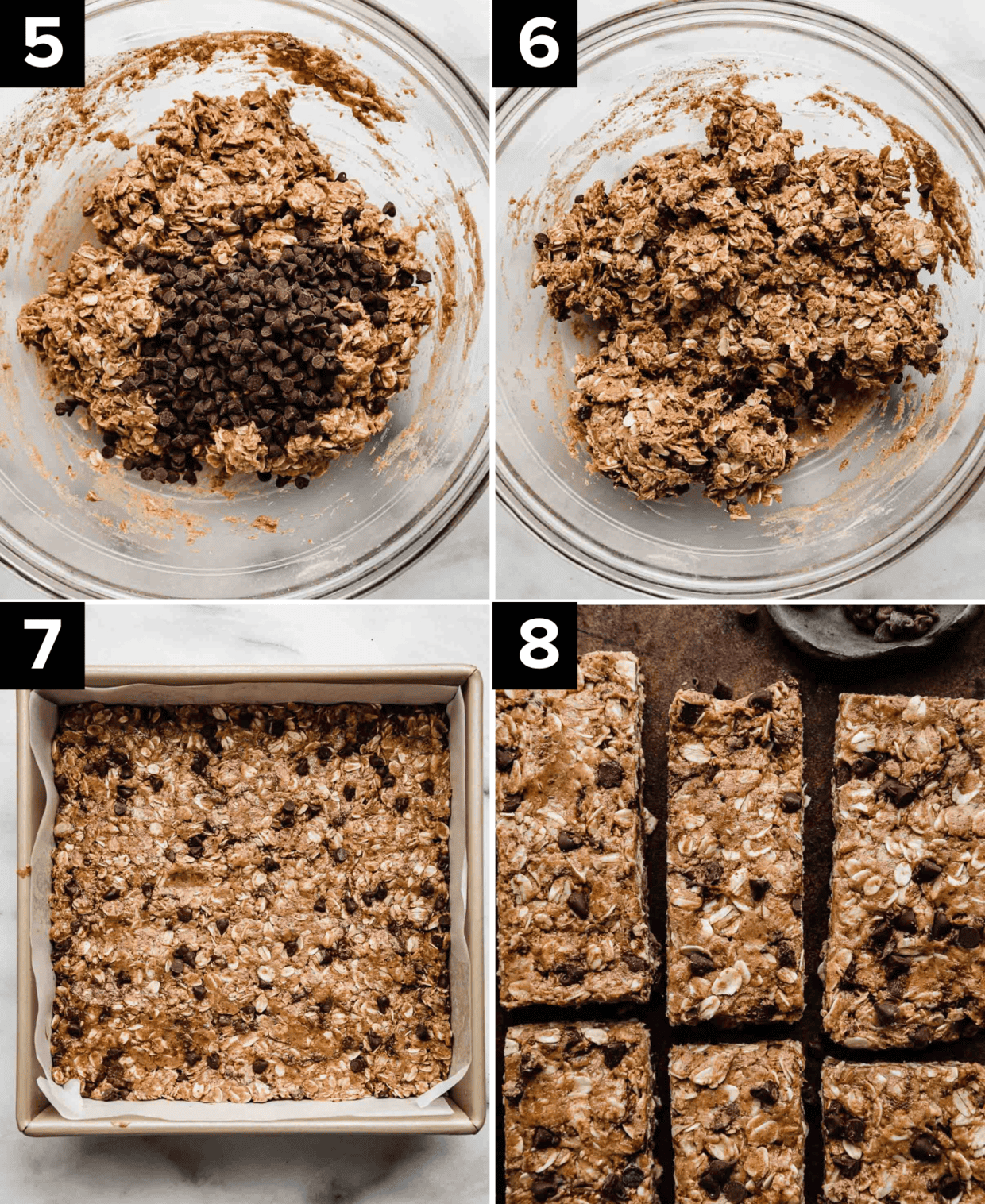 Recipe Tips
Creamy peanut butter blends more smoothly into the mixture, providing a consistent texture. If using natural peanut butter, just be sure to mix it REALLY well to incorporate all those oils that settle at the top.
30-second intervals when microwaving the honey, peanut butter and coconut oil will prevent overheating and ensure even melting.
I like to freeze the mini chocolate chips prior to adding them to the dough to slow down the melting process.
You can also chill the mixture in the fridge prior to adding the chocolate chips for the same effect.
Lining the pan with parchment papers prevents sticking and makes it easier to remove the entire sheet, ensuring crisp cuts.
The chill time will help the chocolate peanut butter protein bars to set properly and make cutting much easier.
You can cut the mixture into squares or bars — make them whatever size you want/need.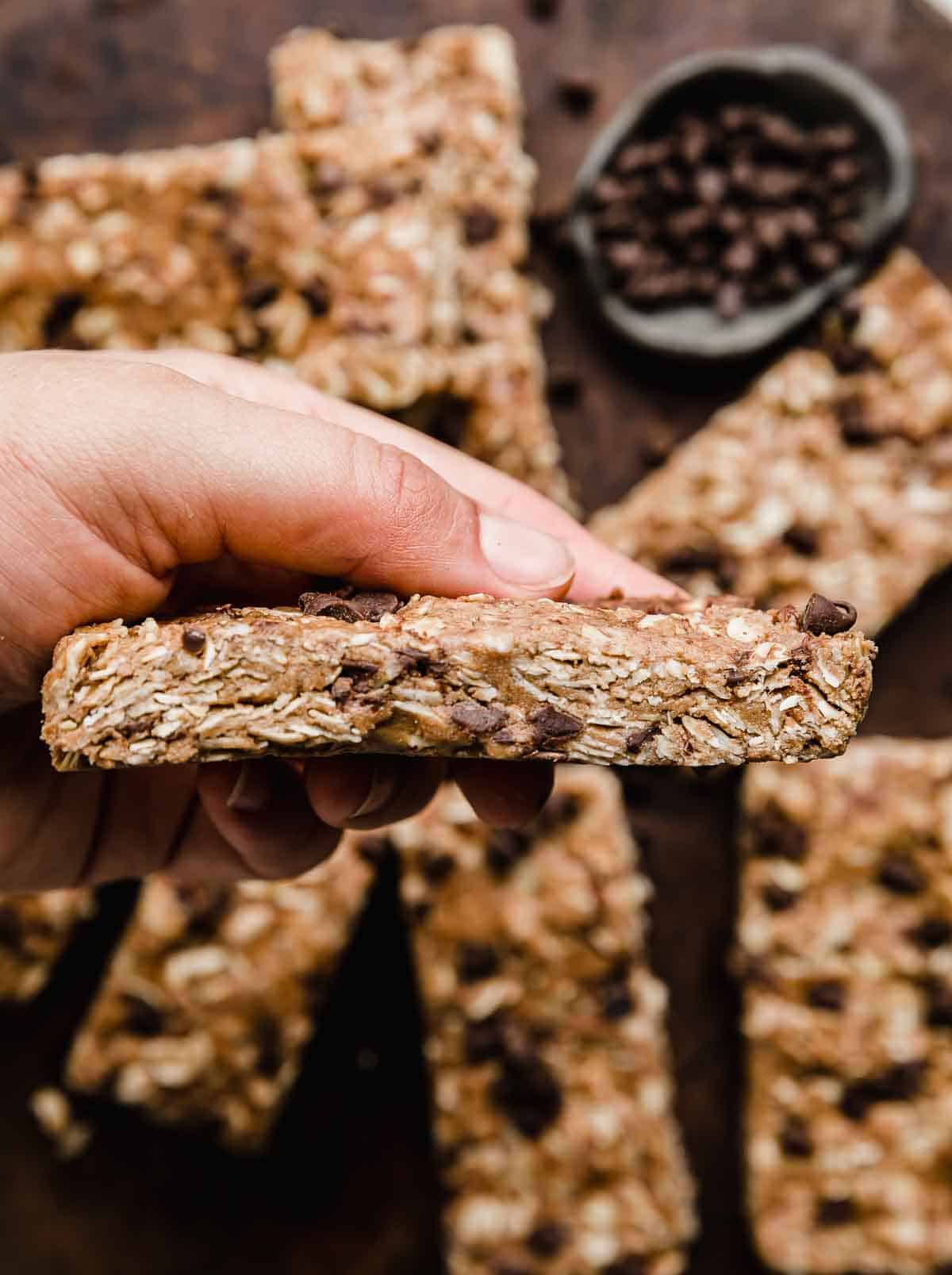 Make Ahead, Storing, and Freezing
You can prepare these bars ahead of time by following the instructions until step 4. After pressing the mixture into the pan, cover it with plastic wrap or another layer of parchment paper and store it in the refrigerator for up to 2 days before cutting and serving.
You can also make the protein bars ahead of time and freeze them to enjoy later. See freezing instructions below.
Store the bars, wrapped or in an airtight container, in the fridge for up to 10 days.
To freeze protein bars, wrap in plastic wrap and store in a freezer-safe bag or container and freeze for up to 3 months. Thaw in the refrigerator or at room temperature.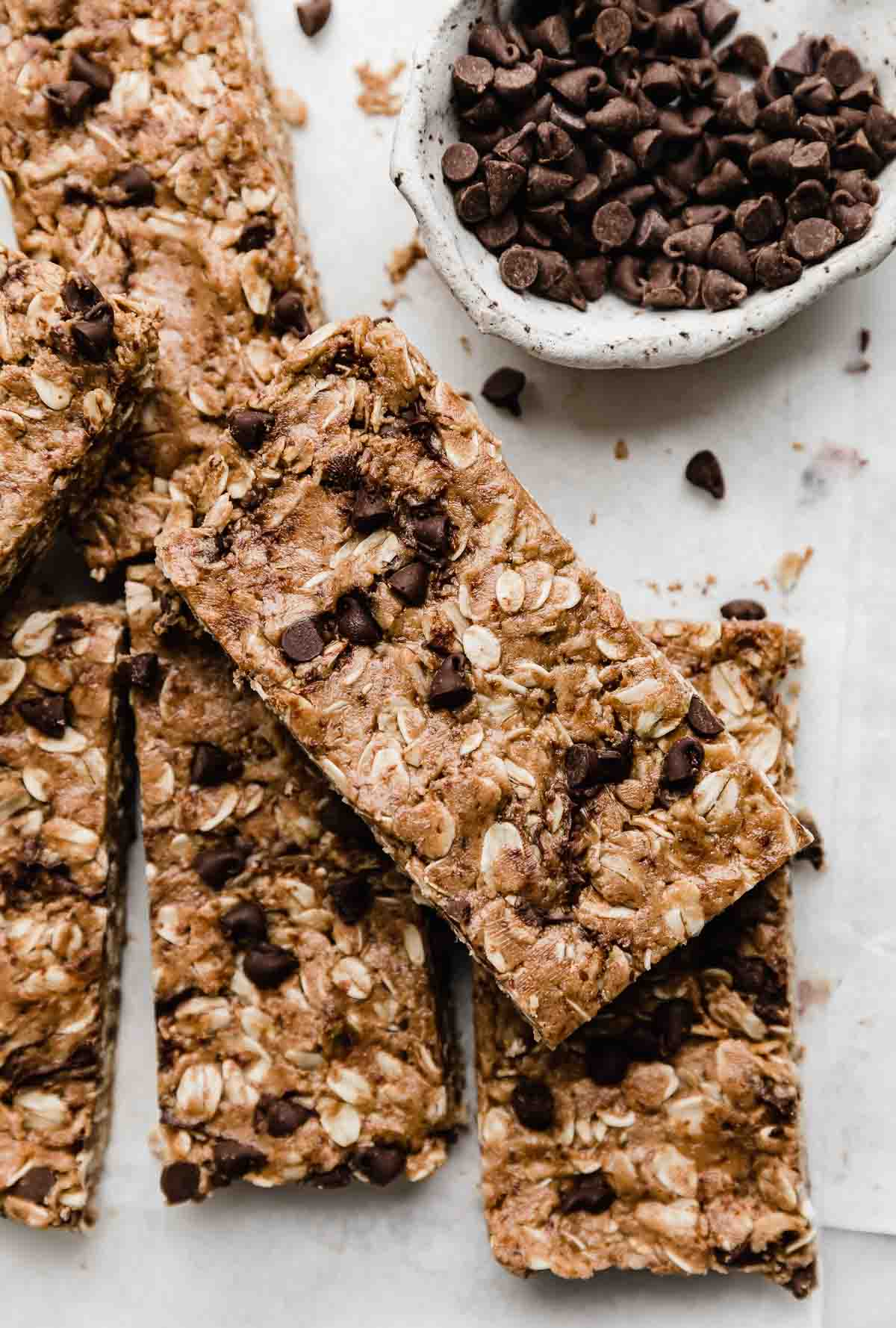 Recipe FAQs
Can I use crunchy peanut butter instead of creamy?
While creamy peanut butter provides a smoother texture, you can use crunchy peanut butter if you prefer a bit of crunch in the bars.
Can I substitute the honey with another sweetener?
Yes, you can use alternatives like maple syrup or agave nectar, but note that they might alter the flavor slightly.
Is the chocolate protein powder necessary?
The chocolate protein powder contributes to both flavor and protein content. You can use vanilla protein powder if desired, but it will affect the chocolate flavor. If you don't want protein in the bars, you can add a bit of cocoa powder for some chocolate flavor.  
Can I add nuts or dried fruits to the mixture?
Absolutely! Feel free to customize the recipe by adding chopped nuts, dried fruits, or other mix-ins to suit your preferences. Note that the more dry ingredients you add, the drier the consistency of your protein bars will be.
Can I use quick oats instead of rolled oats?
Yes you can. I like using rolled oats because it provides a more robust texture. Quick oats are much smaller so your chocolate peanut butter protein bars will look different and have a different texture.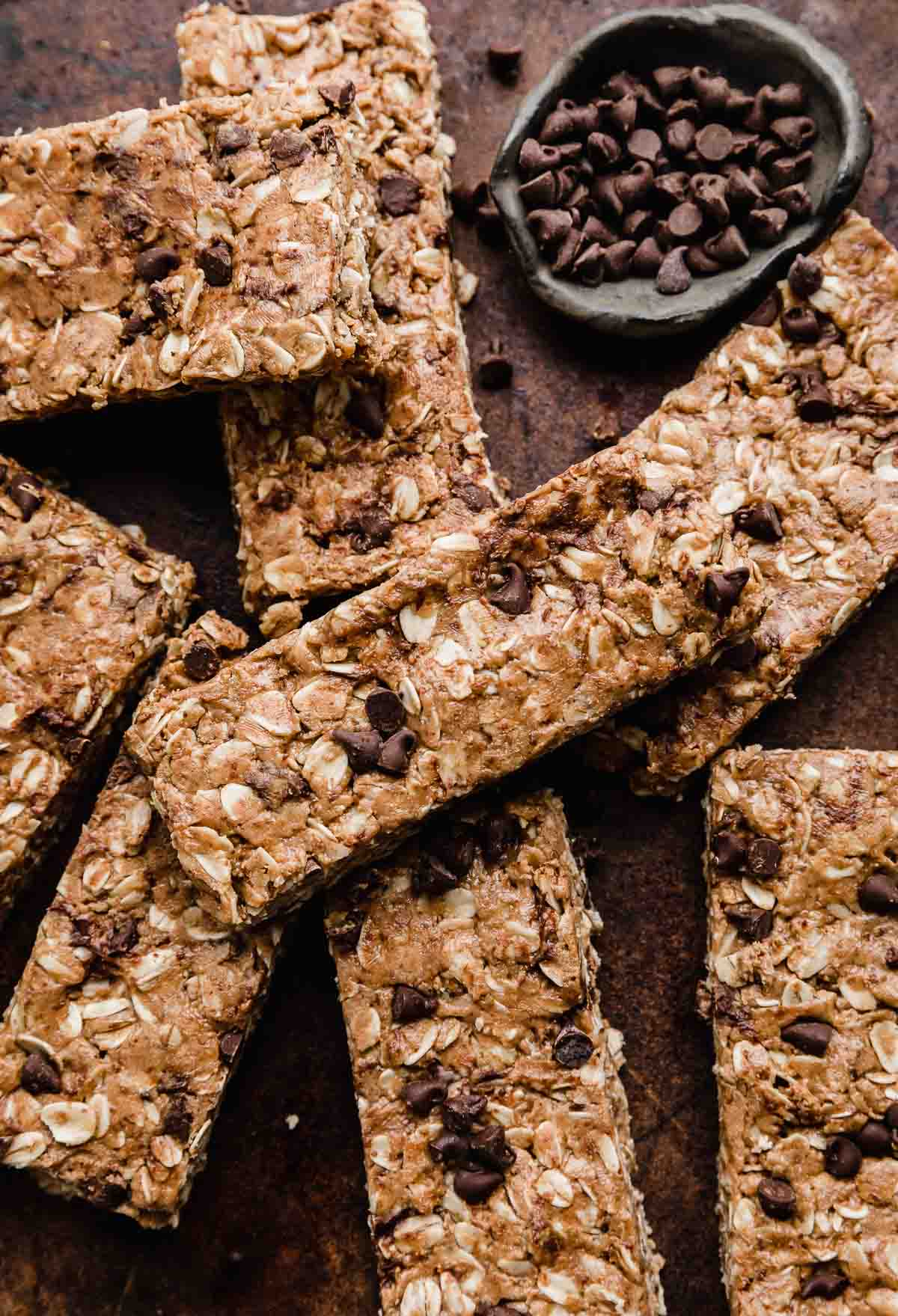 More Recipes with Protein
Chocolate Peanut Butter Protein Bars
Homemade Chocolate Peanut Butter Protein Bars are a delicious and nutritious treat packed with protein, healthy fats, and natural sweetness. They are an excellent option for those looking to increase their protein intake, whether for post-workout recovery or as a satisfying snack on-the-go.
Instructions
Line an 8×8" pan with parchment paper, leaving an overhang on the sides to allow for easy removal. 

Place the peanut butter, honey, and coconut oil in a large microwave safe bowl. Heat in 30 second increments, stirring well after each, until the mixture is melted and smooth. 

Add the oats, chocolate protein powder, flaxseed meal, and kosher salt to the peanut butter mixture. Stir to combine.

Stir in the chocolate chips. If you don't want the chocolate chips to melt right away, chill the oat mixture in the refrigerator for a few minutes prior to stirring in the chocolate chips. 

Press the mixture into the bottom of the prepared pan, doing your best to keep it even. 

Refrigerate for 1 hour or until firm. 

Using the edges of the parchment, remove the bars from the pan. Place on a cutting board and cut to your desired size. You can cut them into larger bars, or smaller squares.
Notes
I like to put the mini chocolate chips in the freezer prior to stirring them into the dough, this doesn't prevent them from fully melting, but it does slow it down a bit! 
Store the bars in the refrigerator, wrapped, or in an airtight container. Will last for 10 days. Can also store in the freezer for longer. 
Did you make this recipe?
Leave a star rating and review on the blog post letting me know how you liked this recipe! Take a picture and tag @saltandbaker on Instagram and Facebook so I can see what you're making!