Oat Milk Chia Pudding
This post may include affiliate links. As an Amazon Associate I earn from qualifying purchases.
Oat Milk Chia Pudding is an easy overnight breakfast (or dessert) that is perfect for make ahead breakfasts and breakfasts on the go! With just 4 ingredients and 5 minutes, this overnight chia pudding is easy, healthy, and delicious! 
Looking for another chia recipe? Try my Blood Orange Chia Pudding or Coconut Chia Pudding recipes! For more on-the-go breakfasts, be sure to try my High Protein Overnight Oats and Baked Oatmeal Bites! You can also grab one of my Oatmeal Raisin Granola Bars as you head out the door!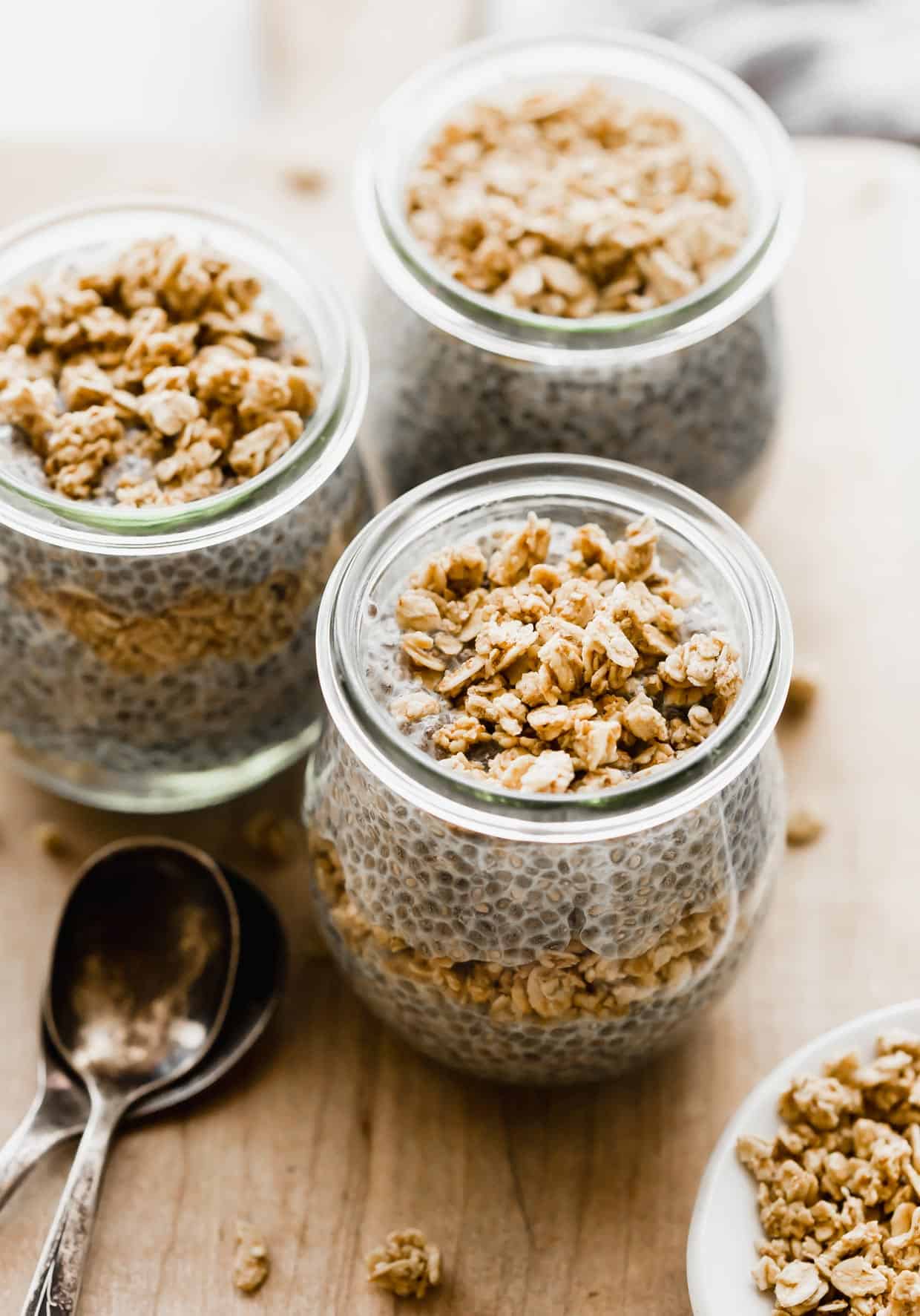 Why This Recipe Works
Easy healthy breakfast or dessert. Oat milk chia pudding is a great healthy breakfast of dessert recipe. Add on some fresh fruit or chocolate shavings and you're set! Chia seeds are a fantastic source of omega-3 fatty acids which are an essential fat that your body cannot make on its own! So, we need them in our diet. Chia seeds are a great source for that! They are also high in protein, fiber and zinc! This recipe is great for specific diets such as paleo, gluten free, Whole30, and dairy free! You can also make this a sugar free chia pudding by simply omitting the honey.
Great to-go option. Chia seed pudding with oat milk is a great option if you have busy mornings and need something healthy and quick!
Easily customizable. This oat milk chia pudding recipe is a basic building block you can customize. Add whatever fruits on top, granola, flax seed, chocolate shavings, etc.
Ingredient Notes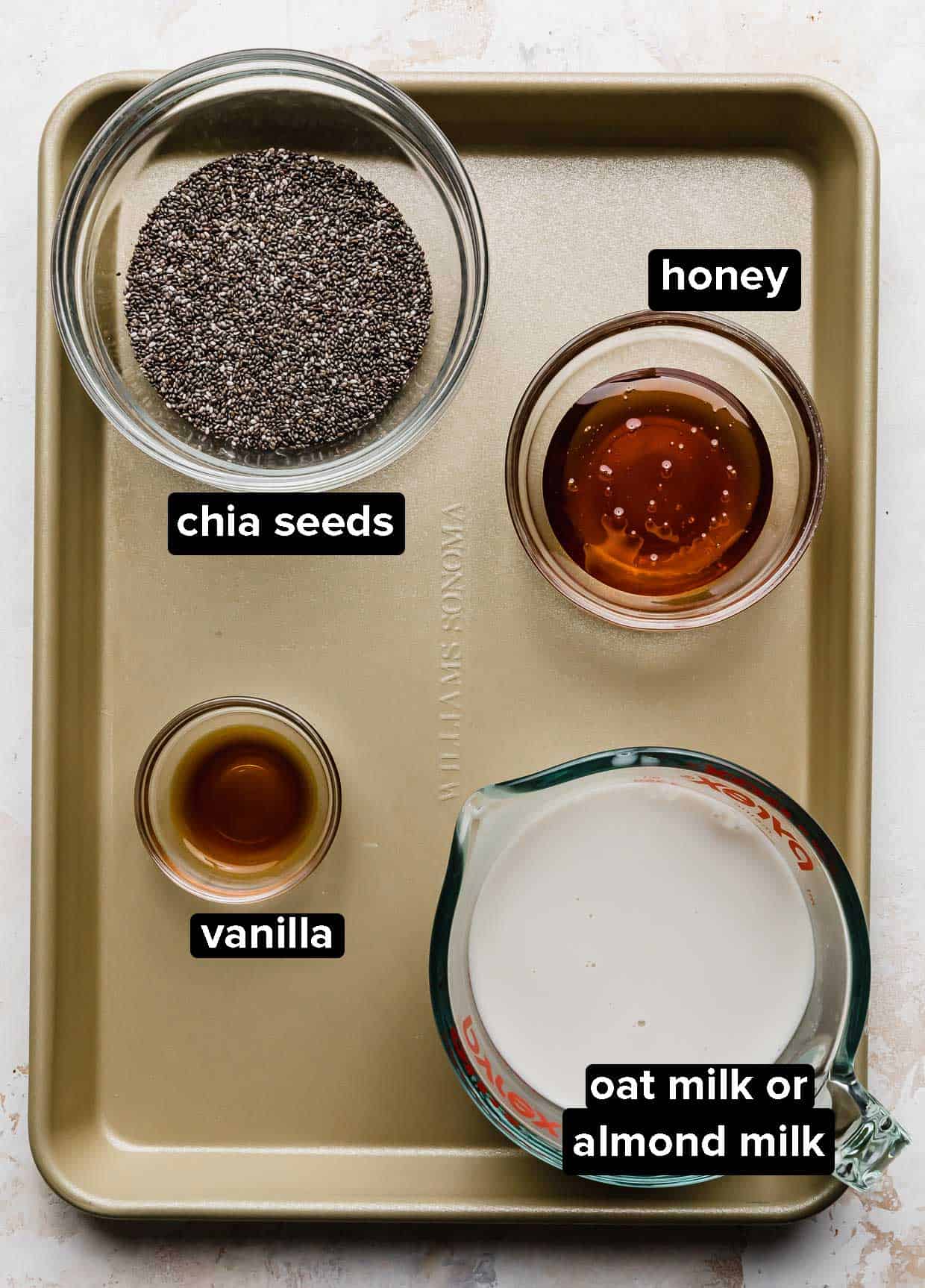 Chia Seeds: These are seeds from a flowering plant in the mint family. 
Oat Milk: Feel free to use almond milk or cashew milk, whichever you prefer or have on hand. I like making chia pudding with oat milk because it brings in a nice, subtle oat flavor. 
Honey: You can use whatever sweetener you'd like. I like honey because I think it gives not only a healthy bit of sweetness but the additional honey flavor. Feel free to try agave, stevia, or syrup. 
Vanilla Extract: The vanilla gives a depth of flavor. Even if you opt for a chocolate milk, I would recommend using vanilla extract because it helps enhance the flavor (similar to adding vanilla in desserts). 
Step-by-Step Instructions
Make the milk mixture. In alarge glass jar, whisk the oat milk (or almond milk), honey, and vanilla extract.
Add the chia seeds. Add the chia seeds to the jar and mix thoroughly and right away.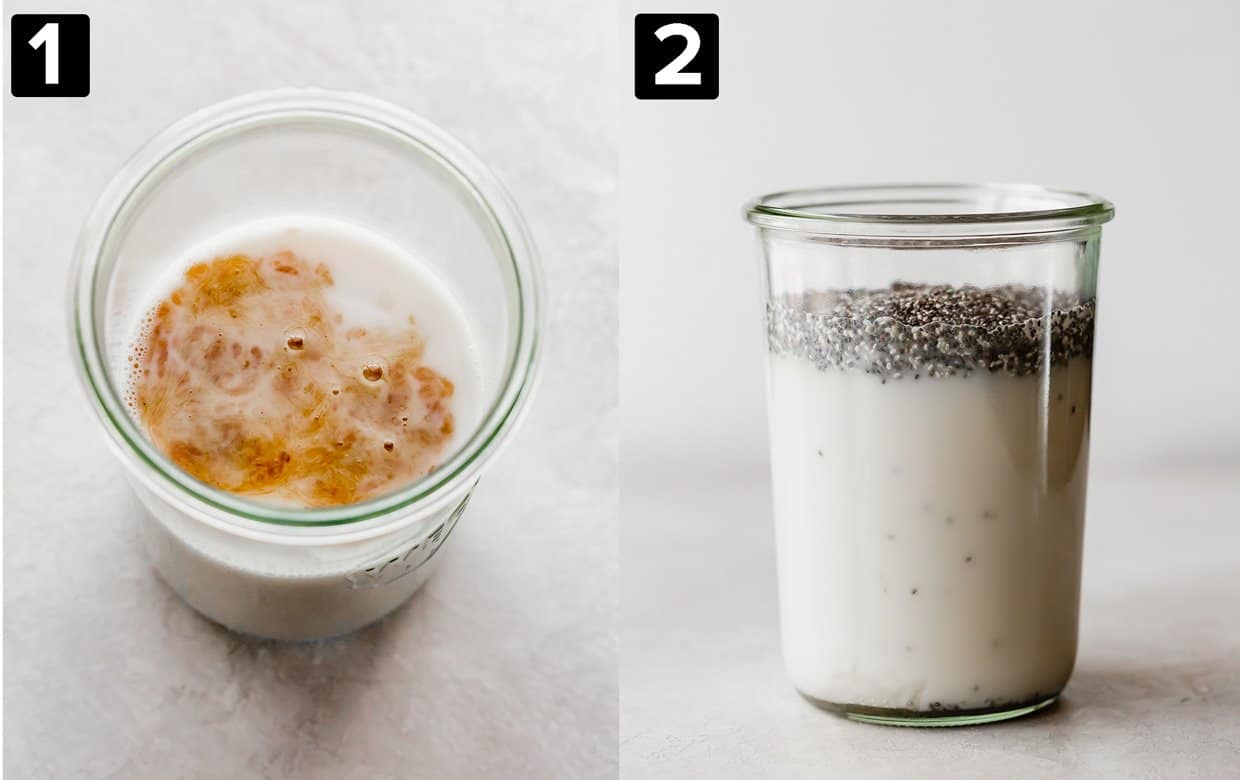 Cover and chill. Cover the glass jar and place the chia pudding in the refrigerator for 6 hours or overnight.
Serve with desired toppings. When ready to eat, remove the glass jar from the fridge, portion out the pudding and then top with granola, compote, fresh fruit, and/or additional sweetener.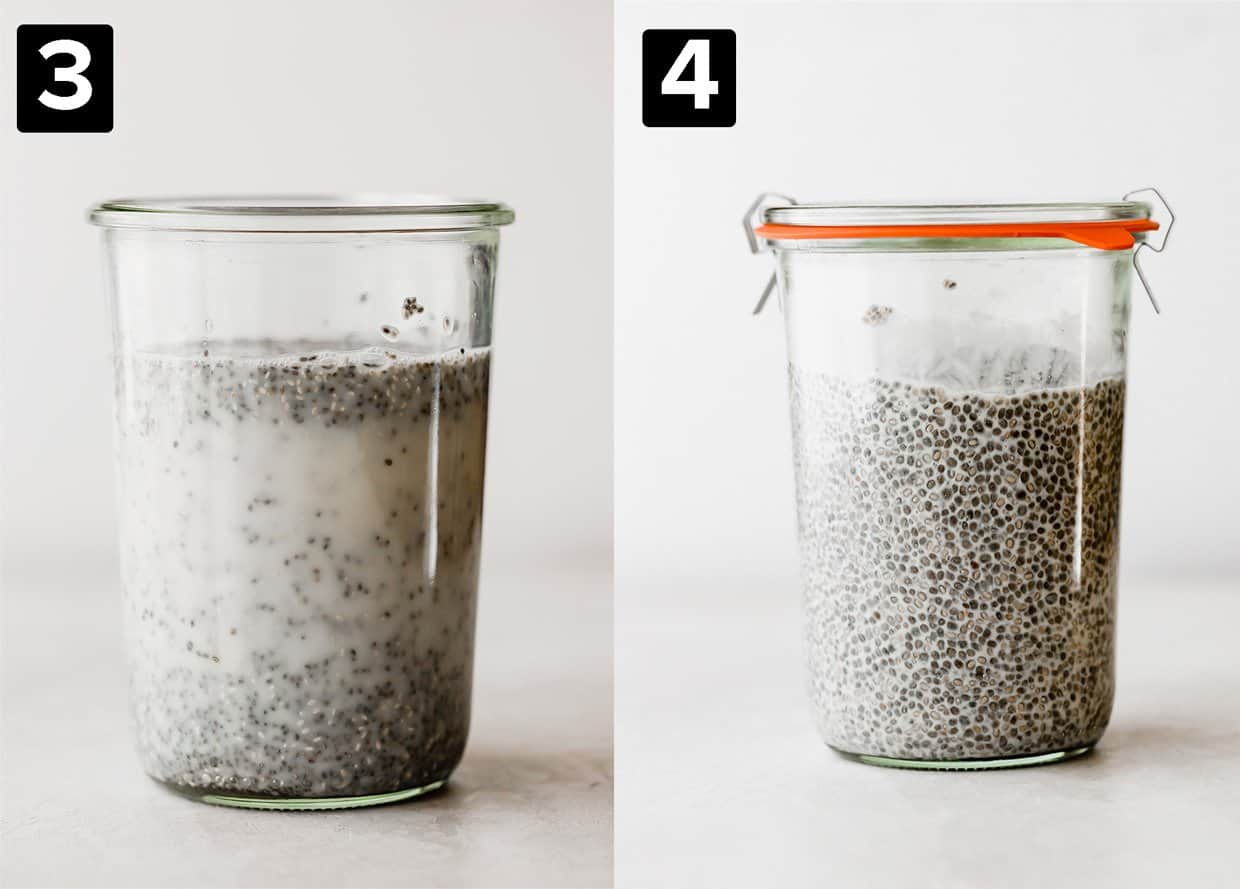 Recipe Tips
Mixing thoroughly prevents the chia seeds from getting super clumpy. I made them once and only mixed the seeds half-heartedly; come the next morning it took a good minute or two of me mixing the pudding to get it into a nice even consistency. To avoid any bumps in the process, mix the chia seeds into the liquid ingredients thoroughly, or until the seeds are evenly dispersed.
Mix in the honey before adding the chia seeds to avoid clumps of honey from the chia seeds clumping around it.
Topping Combinations:
Peanut butter and strawberries
Peanut butter and chocolate chips
Almond butter and blueberries
Almond butter and coconut shavings
Diced mango and kiwi
Mixed berry
Mixed berry and cinnamon
Strawberry and banana
Add 2 tablespoons chocolate protein powder or cocoa powder + a dollop of peanut butter
Chocolate chia pudding with fresh raspberries
Chia seeds are a great thickener substitute. Instead of cornstarch, you can use chia seeds. Chia pudding can also be used as an egg substitute as it helps bind things together.
Black and white chia seeds are essentially only different in color. You can use either.
Make Ahead, Storing, and Freezing
This is a make ahead recipe! Since the chia pudding needs time to set and thicken, you'll want to make this the night before you want to serve it. You can also make a bigger batch for the entire family and store it in the fridge and enjoy throughout the week!
Store in an airtight container in the fridge for 4-5 days.
Freeze in individual jars or airtight containers. These small glass jars with lids work well. This will make it easier to thaw as needed. Freeze for 2-3 weeks. Remove and let thaw in the fridge overnight. You can use fresh or frozen toppings.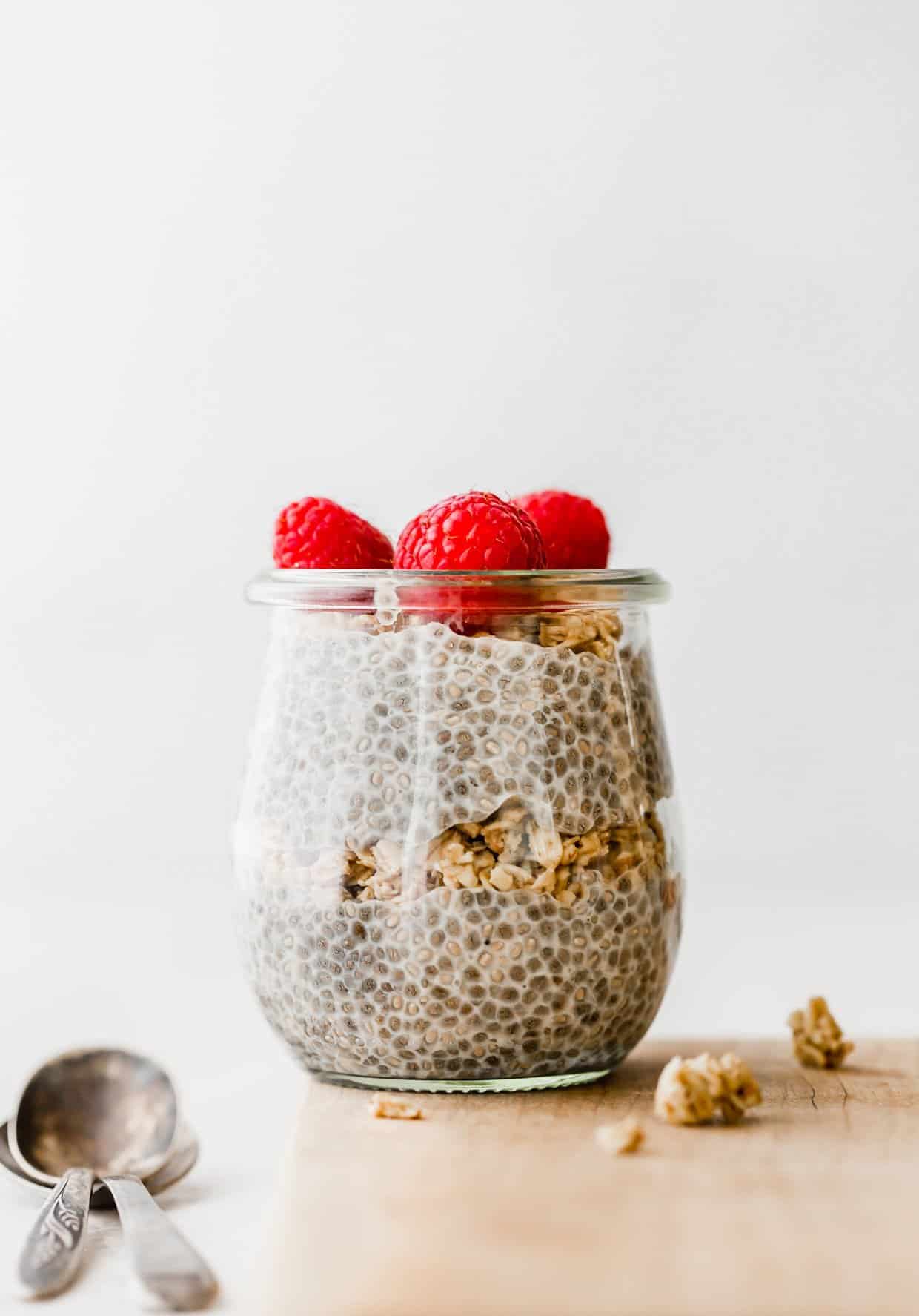 Recipe FAQs
Why isn't my chia pudding thick?
If your pudding hasn't thickened, then the ratio of chia seeds to liquid isn't right. Add a bit more chia seeds and let it sit longer. Another tip is to wait and give your chia pudding time to thicken! It's best to do overnight chia pudding so it can thicken fully.  
What are chia seeds?
They are edible seeds from a plant in the mint family. They are high in protein, fiber, calcium, zinc, vitamin K, vitamin B6 and are one of the greatest sources of omega-3 fatty acids. 
Is chia pudding good for you?
Chia seeds are really nutritional and healthy. What you add to the chia pudding, such as refined sugars, will obviously change whether the dish is as healthy as it could be. Regardless, chia seeds are very good for you! They absorb 10 times their weight in liquid, so they can help with hydration and can help keep you full longer. 
Can I use almond milk or soy milk?
Yes you can! Feel free to swap out the milk for your preferred option. You can use cashew milk, soy milk, almond milk, cow's milk, etc.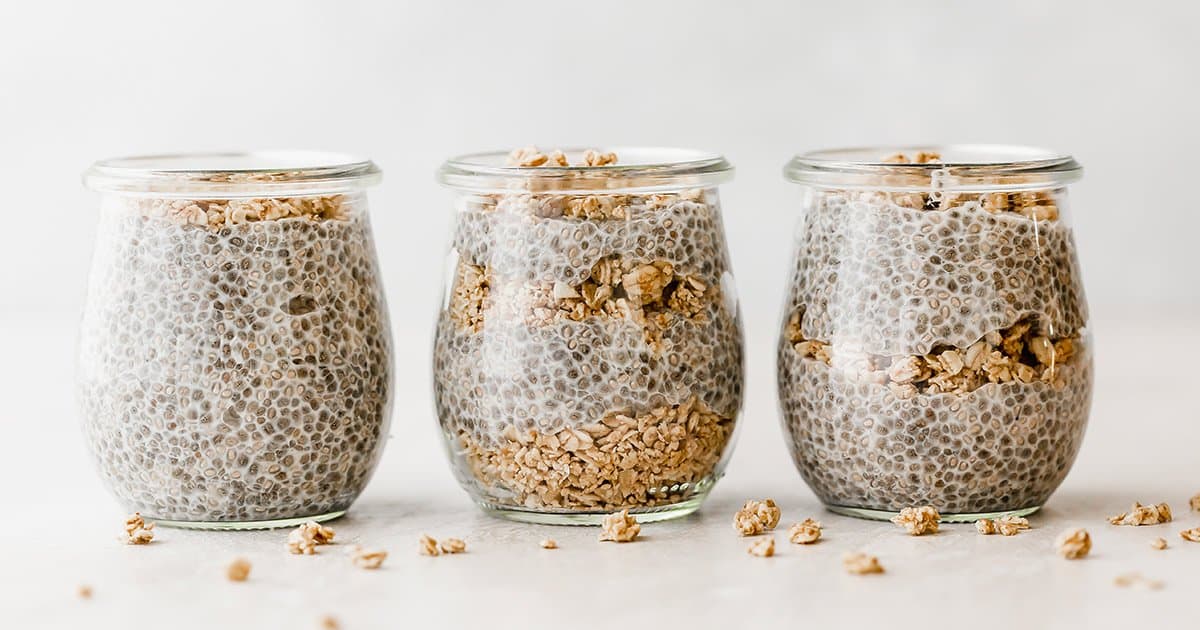 Oat Milk Chia Pudding
Oat Milk Chia Pudding is easy to make, healthy, and delicious! This pudding is prepped the night before so that it's ready to go come morning.
Ingredients
1

cup

oat milk

-

or almond milk

1/4

cup

chia seeds

3

teaspoons

honey

1/4

teaspoon

vanilla extract
Instructions
In a medium sized bowl whisk the oat milk, honey, and extract.

Thoroughly mix in the chia seeds and stir until evenly combined.


Cover and refrigerate for 6 hours or overnight.


Remove from the fridge, stir. Serve with fruit, granola, compote, and additional honey if desired.

Notes
When you add the chia seeds to the almond milk, make sure you stir them in well! If not, they'll clump. Mix in the honey before adding the chia seeds to avoid clumps.
Store in an airtight container in the fridge for 4-5 days.

 
Did you make this recipe?
Leave a star rating and review on the blog post letting me know how you liked this recipe! Take a picture and tag @saltandbaker on Instagram and Facebook so I can see what you're making!