Coconut Chia Pudding
This post may include affiliate links. As an Amazon Associate I earn from qualifying purchases.
Coconut Chia Pudding uses just 4 ingredients — coconut milk, honey, vanilla, and chia seeds! The result is a thick and creamy chia pudding that is brimming with coconut flavor and healthy ingredients.
I've become a big fan of chia pudding recipes, probably because it's an easy and delicious way to incorporate this powerhouse food into my diet. Plus, it has the perfect texture that makes this healthy breakfast taste like dessert! For more chia recipes, try my Oat Milk Chia Pudding or my Blood Orange Chia Pudding.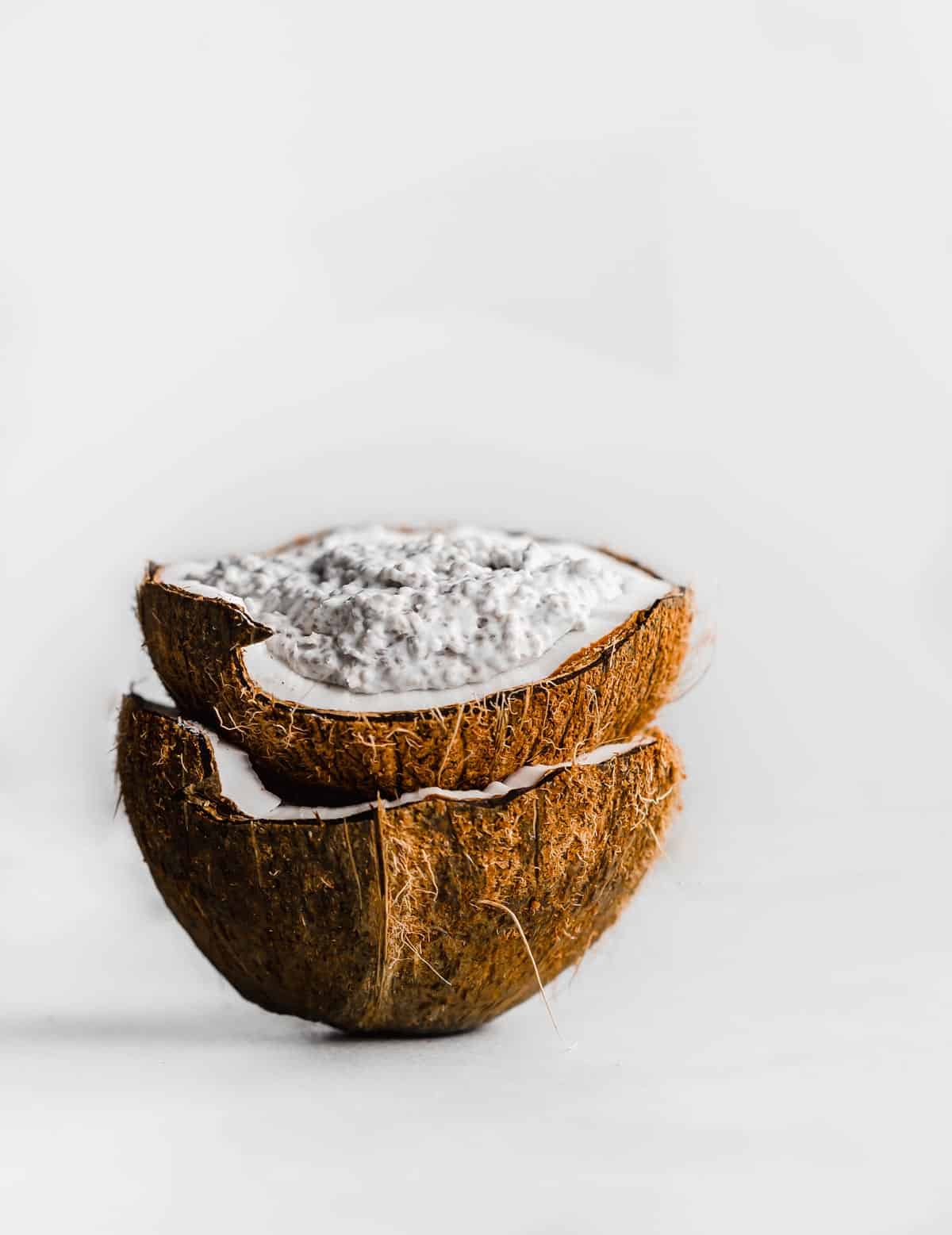 Why This Recipe Works
4 ingredient chia seed pudding. With just 4 simple ingredients, this easy recipe is ready to go in a matter of minutes!
Chia pudding with canned coconut milk. Making chia pudding with coconut milk is a great way to add flavor to the chia – and it uses a full can of coconut milk so you don't have awkward leftovers 🙂 
Pudding-like texture. We use 1/3 cup of chia seeds so the pudding has a firmer consistency — making it a smooth and creamy coconut chia pudding! 
Ingredient Notes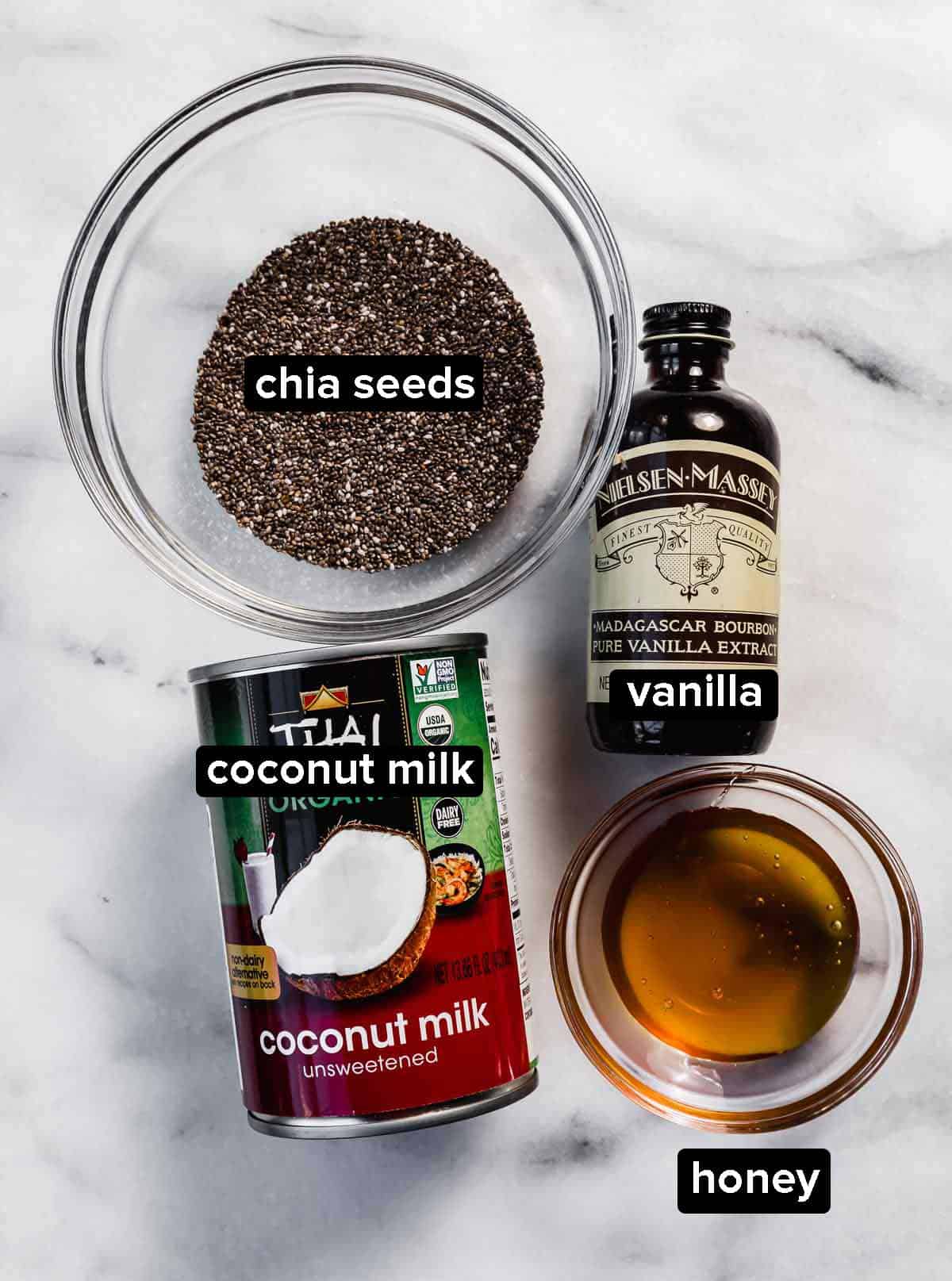 Coconut Milk: For this coconut milk chia pudding, I use the Thai Kitchen Organic Coconut Milk brand. You can make coconut cream chia pudding, but note that coconut cream is scoop-able and not fully liquid like coconut milk. 
Chia Seeds: You can use white chia seeds or black chia seeds — or a mix. 
Vanilla Extract: The vanilla gives the overnight coconut chia pudding a depth of flavor. 
Honey: We want just a hint of honey to sweeten it up. To make this a vegan chia pudding, use maple syrup instead of honey or your sweetener of choice.
Step-by-Step Instructions
Combine coconut milk, honey and vanilla. Add one 13.5 oz can of coconut milk to a medium sized bowl. Whisk until smooth. Add 1 1/2 T honey and 1 tsp vanilla extract. Stir to combine.
Add the chia seeds. Add 1/3 cup chia seeds to the bowl and whisk until evenly combined. 
Chill then serve. Cover the bowl and chill the coconut chia seed pudding in the fridge overnight (for best results) or for at least a couple of hours. Remove and stir. Serve with fresh fruit, fresh berries, extra honey drizzled on top or shredded coconut. Enjoy!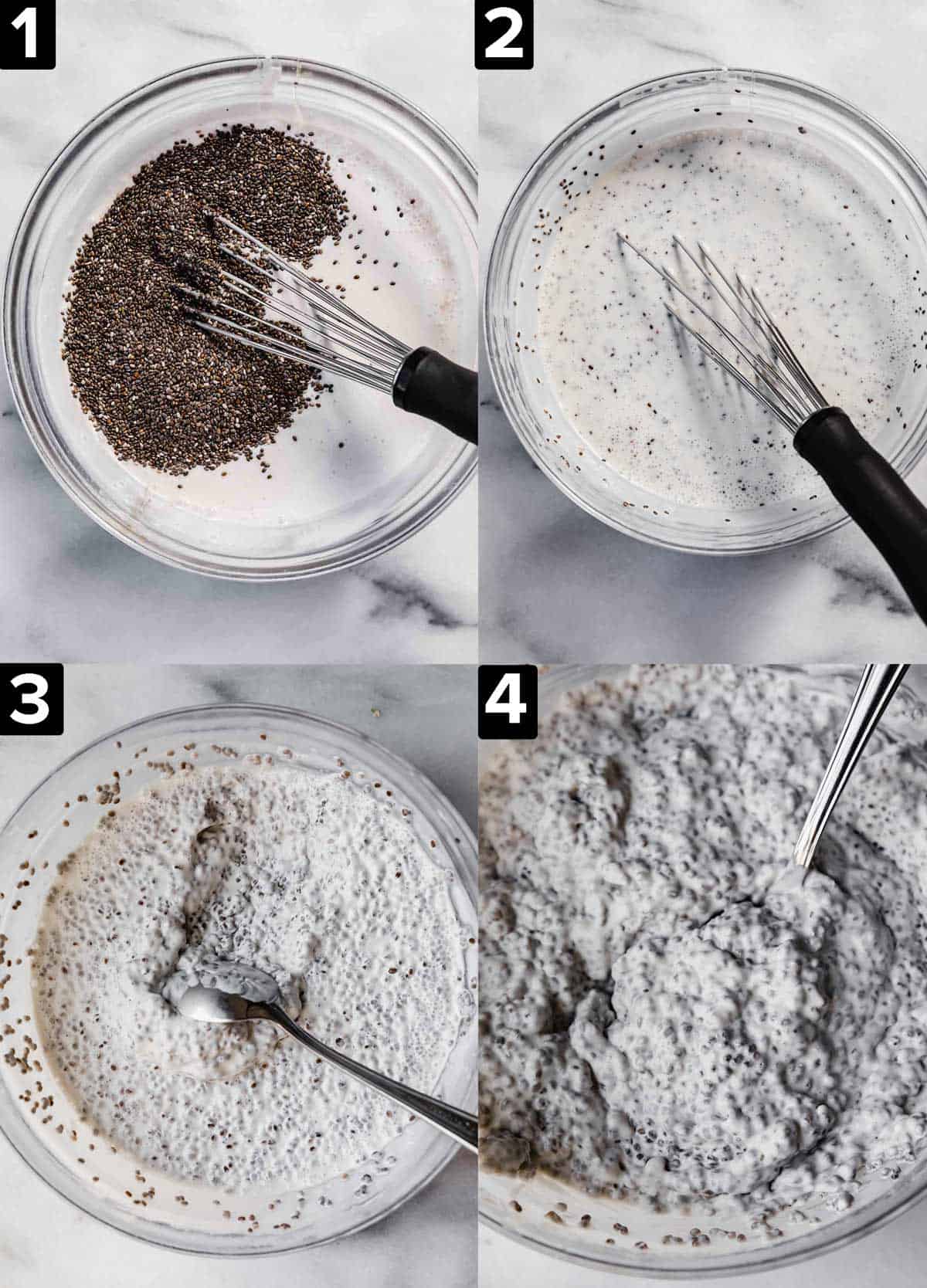 Recipe Tips
To make this coconut chia pudding recipe vegan, replace the honey with 1 1/2 tablespoons maple syrup.
Using 1/3 cup of chia seeds offers a thicker pudding texture — in my opinion, it's the best texture! If you'd like it less firm, only add 1/4 cup of chia seeds.
As a note, coconut milk is high in fat and calories. If you want to reduce that, you can use light coconut milk or opt out and use almond milk which is low in fat and calories.
If you want the coconut flavor, but not the high fat/high calories, then I would use regular milk or a non-dairy milk option like soy or almond milk + some coconut extract.
For an ultra creamy option, use full fat coconut milk or coconut cream.
I like to give the chia coconut pudding a good stir about and hour or so after putting it in the fridge. This will help break up any clumps that are forming.
You can top this with whatever you choose. You could top with shredded coconut, toasted coconut, nuts, granola, mini chocolate chips, or an extra drizzle of honey. If you're a big chocolate lover, you can add 2 tsp of cocoa powder to the mixture for a delicious coconut chocolate chia pudding!
Make Ahead, Storing, and Freezing
This overnight coconut chia pudding is a make ahead recipe! It needs a good 8 hours to chill in the fridge to give the chia seeds enough time to absorb the liquid.
Store the coconut chia pudding in an airtight container or mason jar in the fridge. The chia pudding is good for up to 5 days.
I love it fresh because it's thick and smooth. If you freeze it, the nature of the milk will separate and the consistency will change.
Recipe FAQs
Are chia seeds good for you?
Yes! There are amazing health benefits of chia seeds. 1 ounce serving of chia seeds contains 5 grams of omega-3's. Omega-3's are great for brain health. Plus, one serving of chia seeds provides a third of your daily fiber. Sooooo… be careful 😂They are also high in calcium!
What coconut milk should I use for chia pudding? 
I use the Thai Kitchen Organic Coconut Milk, but you can use whatever brand is available at your local grocery store. 
Can you make chia pudding with coconut water?
Yes you can. It won't be as creamy. You really can use your liquid of choice because chia seeds will absorb any kind of liquid, turning into a gel-like consistency.  
Can I use coconut cream instead?
Yes you can. But coconut cream is thick. So you can scoop it out of the can. That means there isn't much liquid to it. I would add at least a 1/4 of water to make sure there is enough liquid for the chia to absorb.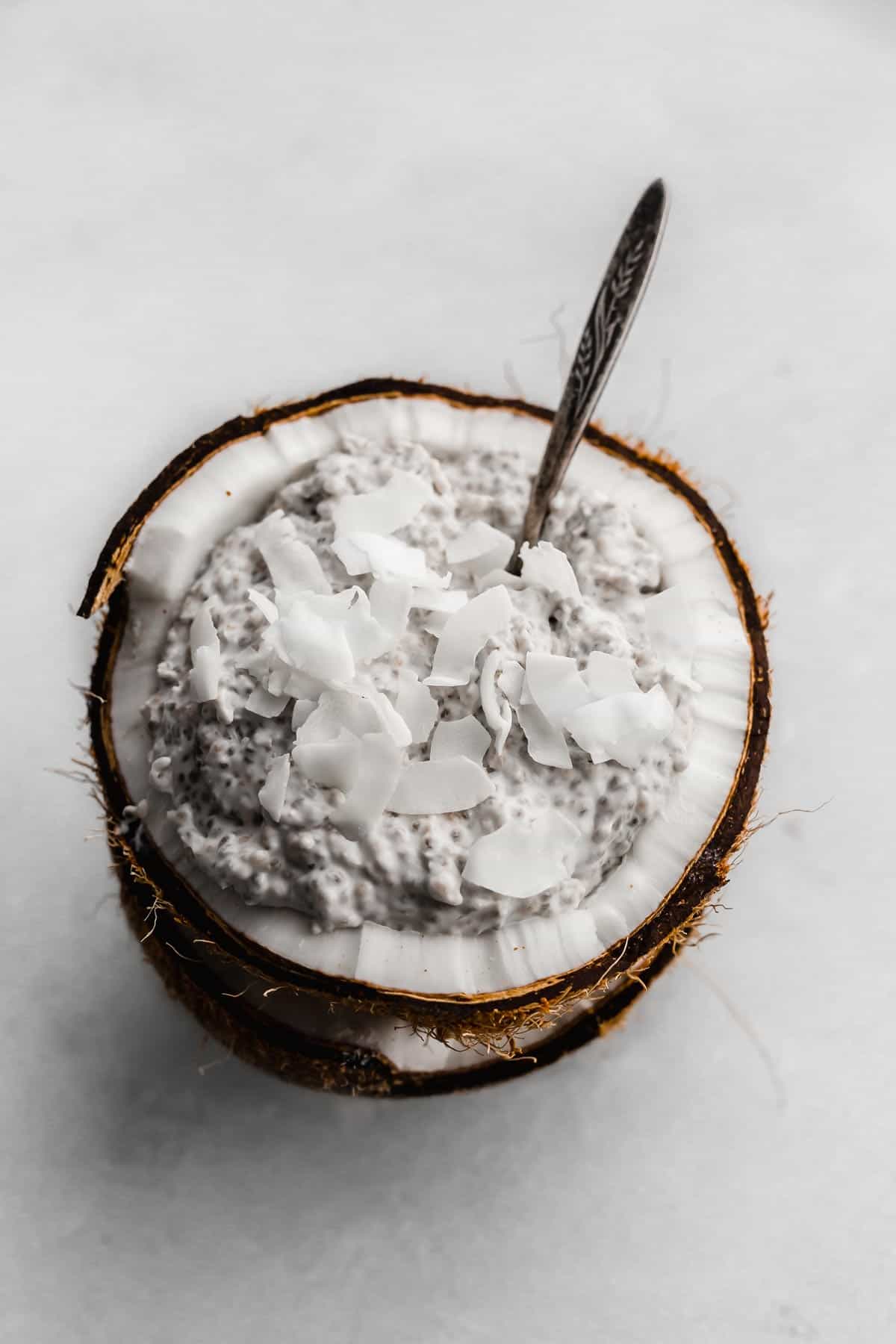 More Healthy Breakfast Recipes
Coconut Chia Pudding
Healthy and delicious overnight coconut chia pudding is easy to make and tastes amazing!
Ingredients
1

13.5 oz can

coconut milk

1/3

cup

chia seeds*

1 1/2

tablespoons

honey

1

teaspoon

vanilla extract

fresh or frozen fruit for topping
Instructions
In a medium size bowl add the coconut milk. Whisk until it becomes smooth.

Add the honey and vanilla to the bowl.

Whisk in the chia seeds. Whisk until everything is evenly combined.

Cover, and place in the fridge. It's best to refrigerate overnight or for 8 hours, so that the chia seeds have time to absorb the liquid.

Remove from the fridge and place in serving containers.

Top with fresh fruit, additional honey, nuts, or shredded coconut before serving. Be creative!
Notes
*1/3 cup offers a more firm consistency. If you'd like the pudding to be more "pudding" and less firm, only add 1/4 cup of chia seeds. 
**You can top this with whatever you choose. 
Recipe Source: Salt & Baker
Did you make this recipe?
Leave a star rating and review on the blog post letting me know how you liked this recipe! Take a picture and tag @saltandbaker on Instagram and Facebook so I can see what you're making!