Overnight Coconut Chia Pudding
This post may include affiliate links. As an Amazon Associate I earn from qualifying purchases.
This Overnight Coconut Chia Pudding is easy to assemble, healthy, and downright delicious! For those looking to get back on track with healthy eating, this is a great place to start!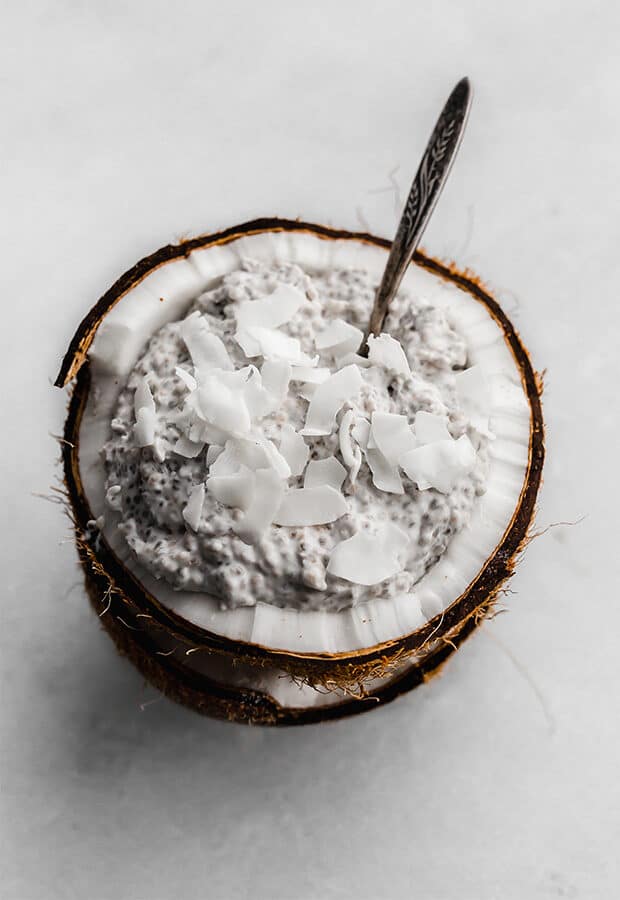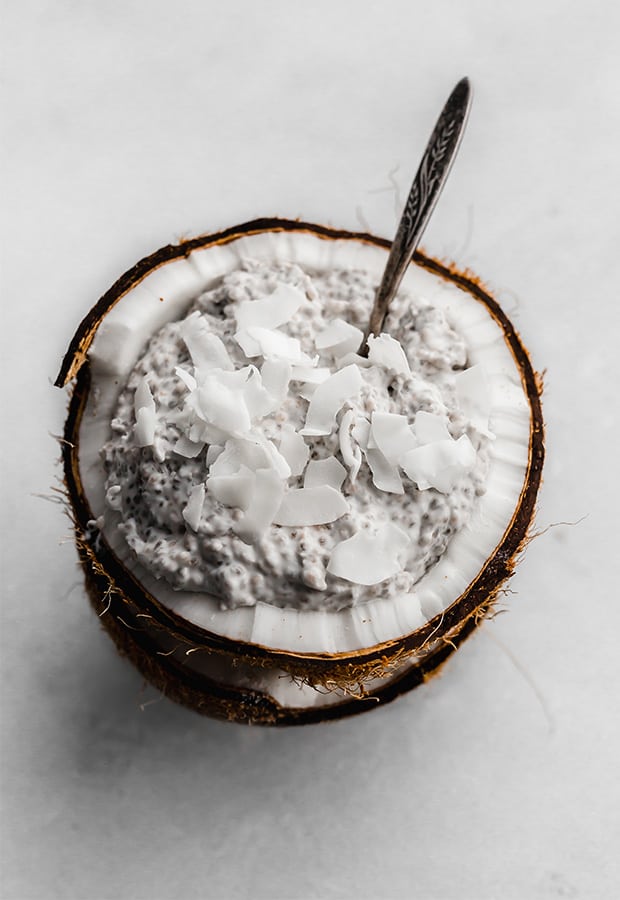 If you haven't had chia seeds, you're missing out! Not only do they offer great health benefits, more on that below, but they provide amazing texture!
I've become a big fan of chia pudding recipes, probably because it's an easy and delicious way to incorporate chia seeds into one's diet.
You guys know how much I love texture in foods. So chia seeds are a natural "Whitney food." I love the texture of them so much!
Aside from this coconut chia pudding recipe, I like to make my basic chia pudding or my blood orange chia pudding. Each of these recipes are quick, healthy, and portable. This is one of those, on-the-go, eat in the car on the way to work kind of foods…. preferably in a parked car, not actually eating while driving!! (Throwing that out there just to be safe).
Ingredients
With just 4 simple ingredients you could have this pudding ready to go in a matter of minutes! Here's what you'll need:
Coconut milk – use a full can of coconut milk. I purchase the Thai Kitchen Organic Coconut Milk brand.
Chia seeds – you should be able to purchase these at any grocery store, but I like to buy them at Costco. So much cheaper!
Vanilla extract – for flavor.
Honey – we want just a hint of it to sweeten it up.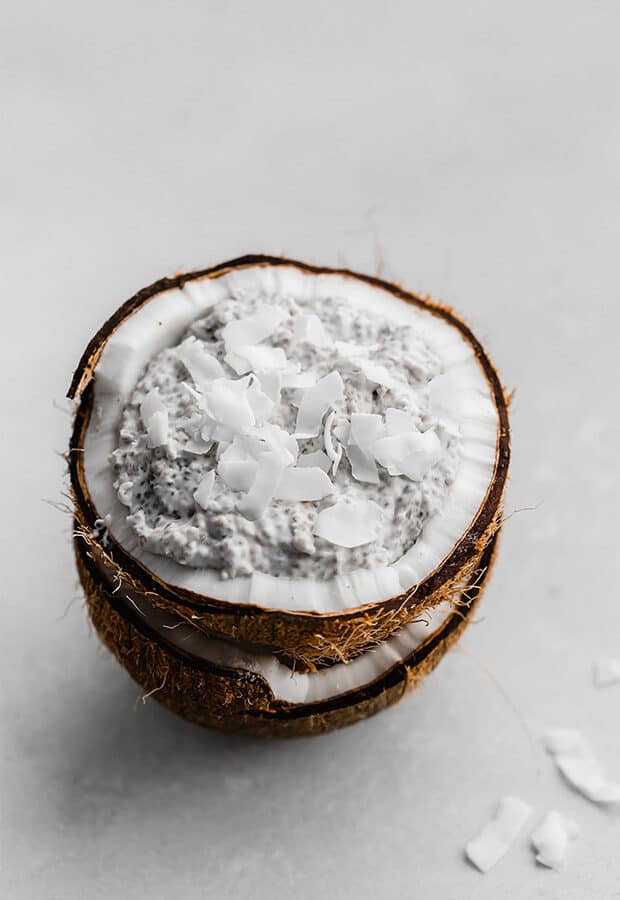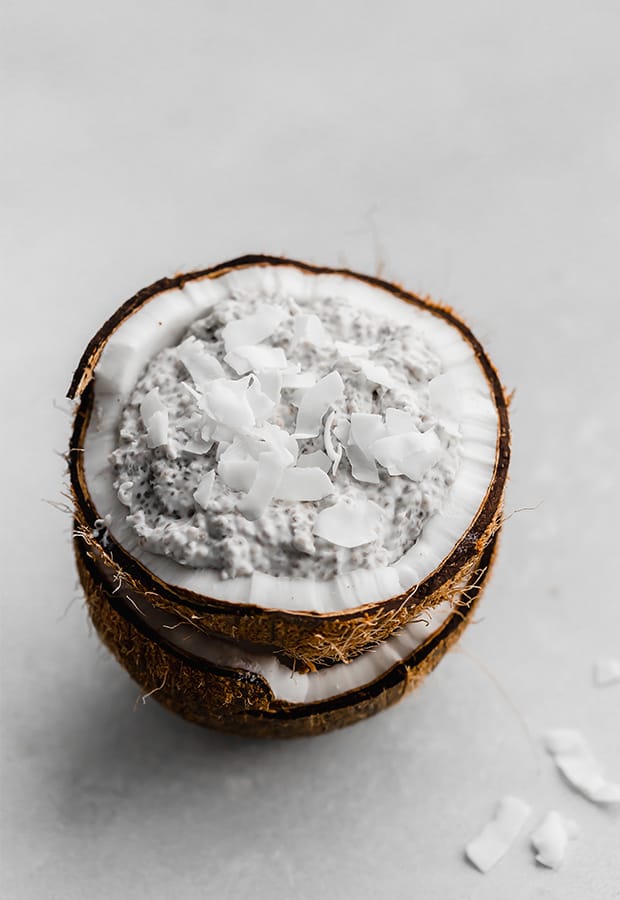 How to make Coconut Chia Pudding
Whisk the coconut milk. In a medium size bowl add the canned coconut milk. The mixture isn't smooth, so you'll need to whisk it for a minute or so until it becomes nice and smooth.
Add the honey, vanilla, and chia seeds. Whisk until all of the ingredients are combined.
Refrigerate. Cover the bowl and place it in the refrigerator to chill overnight or for 8 hours. The chia seeds need time to absorb the liquid.
Serve and garnish. Remove the pudding from the fridge and portion into individual servings. Garnish with fresh fruit, raspberries, blueberries, toasted coconut, or nuts if you desire.
Make it Vegan
To make this coconut chia pudding vegan, replace the honey with maple syrup. Ta-da! I give you, vegan coconut chia pudding.
1 ounce serving of chia seeds contains 5 grams of omega-3's. Omega-3's are great for brain health.
One serving of chia seeds provides a third of your daily fiber. Sooooo… be careful 😂
You don't have to grind chia seeds, like you do flaxseed.
Chia seeds are high in calcium!
In summary, chia seeds are pretty great and I should be incorporating them into my diet more often.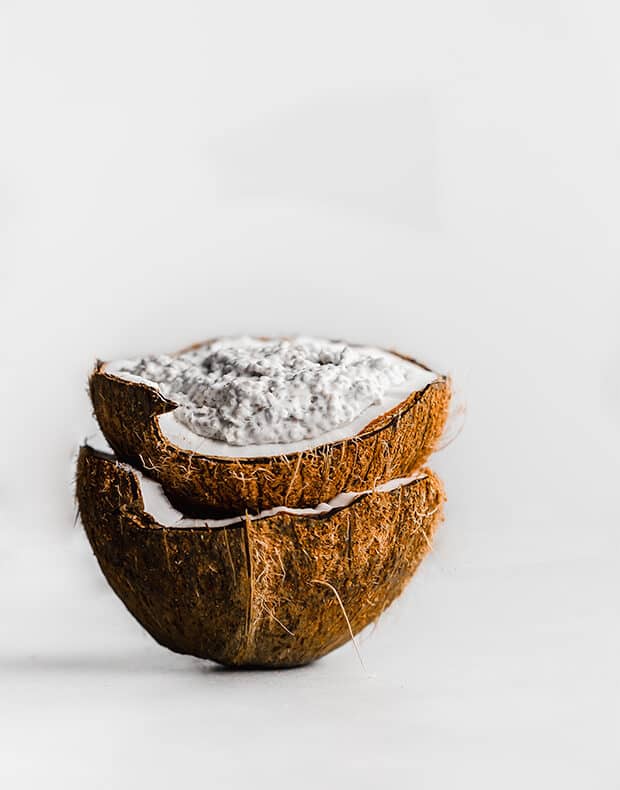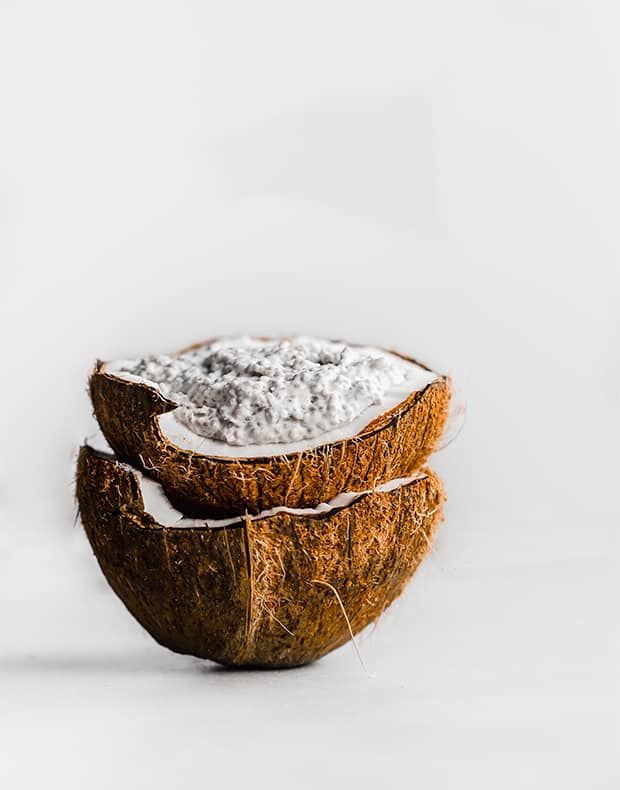 See! Chia seeds are good. Go buy a bag of them stat! Here's a link to the kind I use.
Love this Overnight Coconut Chia Pudding recipe? Here are more breakfast recipes:
Will you do me a favor? If you make this recipe, or any recipe on Salt & Baker, can you come back and leave a review? I would love that so much! Your comments help other readers who are making the recipes too.
Do you use Instagram? (You can follow me here). If so, tag @saltandbaker in your post and stories so I can see what you're making in your home. 💛
Overnight Coconut Chia Pudding
Healthy and delicious overnight coconut chia pudding is easy to make and tastes amazing!
Ingredients
1

13.5 oz can

coconut milk

1/3

cup

chia seeds*

1 1/2

tablespoons

honey

1

teaspoon

vanilla extract

fresh or frozen fruit for topping
Instructions
In a medium size bowl add the coconut milk. Whisk until it becomes smooth.

Add the honey and vanilla to the bowl.

Whisk in the chia seeds. Whisk until everything is evenly combined.

Cover, and place in the fridge. It's best to refrigerate overnight or for 8 hours, so that the chia seeds have time to absorb the liquid.

Remove from the fridge and place in serving containers.

Top with fresh fruit, additional honey, nuts, or shredded coconut before serving. Be creative!
Notes
*1/3 cup offers a more firm consistency. If you'd like the pudding to be more "pudding" and less firm, only add 1/4 cup of chia seeds. 
**You can top this with whatever you choose. You could top with shredded coconut, nuts, an extra drizzle of honey. Be creative!
Recipe Source: Salt & Baker
Did you make this recipe?
Leave a star rating and review on the blog post letting me know how you liked this recipe! Take a picture and tag @saltandbaker on Instagram and Facebook so I can see what you're making!
This post was first published January 2, 2018 and was updated February 17, 2020 with new photos and more precise instructions.