Blood Orange Chia Pudding
This post may include affiliate links. As an Amazon Associate I earn from qualifying purchases.
This Blood Orange Chia Pudding is the perfect healthy breakfast or snack made with blood oranges, honey, chia, and almond milk. It has an irresistible pink color and is perfect for brunches, lunches, desserts or even Valentine's Day!
This citrus chia pudding is gluten free, paleo, and dairy free. To make this a vegan chia pudding eliminate the honey for maple syrup or agave. You'll also love my Oat Milk Chia Pudding and my Overnight Coconut Chia Pudding recipes!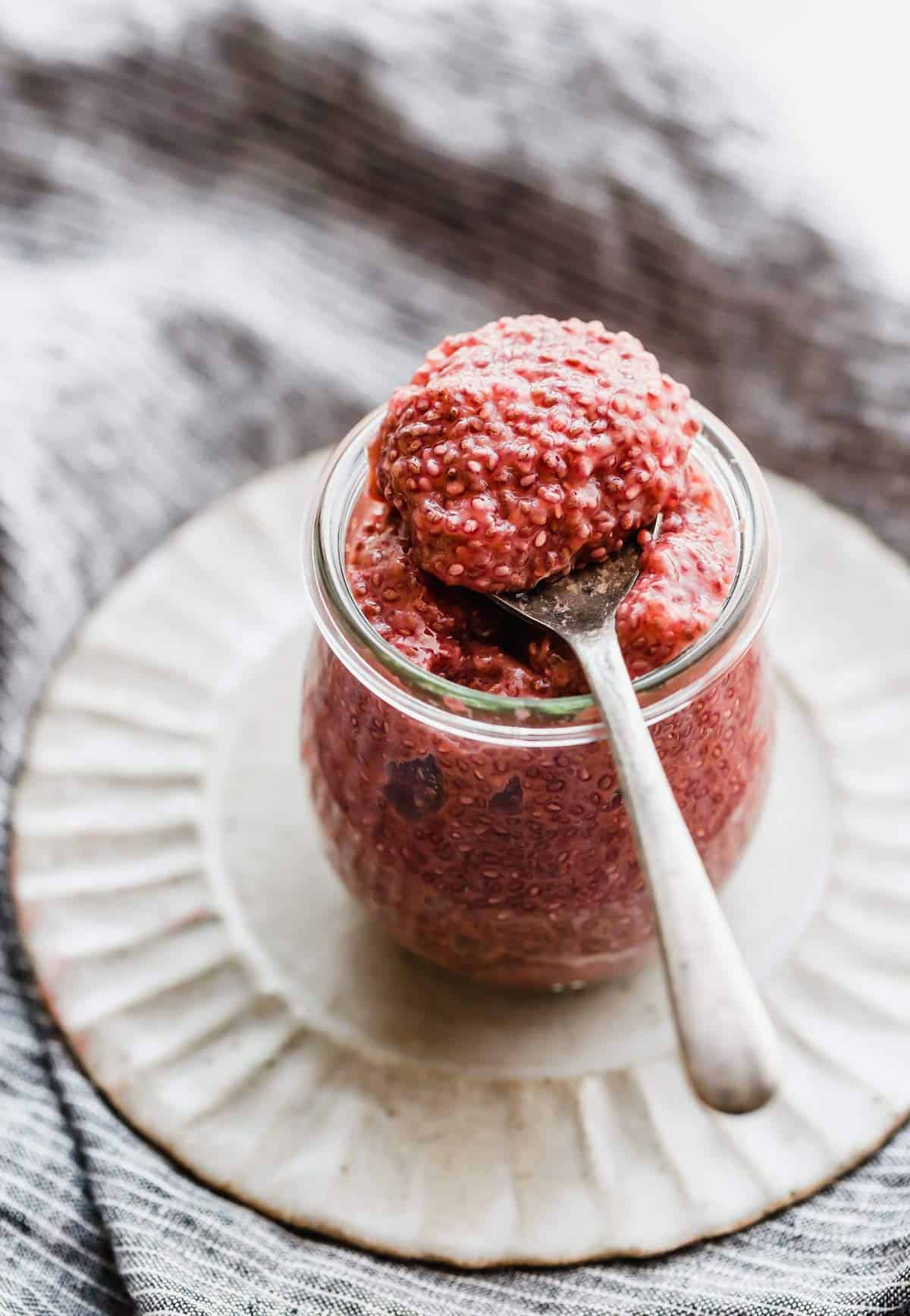 Why This Recipe Works
Overnight chia pudding. Make this chia seed pudding ahead of time and store it overnight for a quick breakfast. 
Citrus chia pudding. This blood orange chia pudding is the perfect citrus take on chia pudding! Not only is the color amazing, but the flavor is too. It's the perfect breakfast, snack or dessert. 
Ingredient Notes
Blood Oranges: Blood oranges are usually in season between February and March. They are typically described to have undertones of a raspberry or cranberry flavor. 
Almond Milk: You can use whatever milk you'd like. Some options are cow's milk (1%, 2% or whole), soy milk, coconut milk, etc. 
Honey: You can use whatever sweetener you'd prefer. I use honey, but you can use agave or maple syrup. Maple has a pretty prominent flavor so keep that in mind. 
Chia Seeds: Remember that the chia seeds expand as they absorb liquid. So even though 1/3 cup doesn't seem like much, it will expand! 
Step-by-Step Instructions
Make the blood orange mixture. To a blender add 3 peeled fresh blood oranges, 1/3 cup almond milk, 1 T honey (or alternative sweetener), and 1/4 tsp vanilla extract. Blend until smooth.
Remove the pulp. Pour the mixture through a fine mesh strainer and discard the pulp.
Add the chia seeds. Combine 1/3 cup chia seeds and the blood orange mixture in a medium bowl. Stir to combine. Place in small bowls a mason jar. Cover and chill in the fridge for 4-6 hours or overnight.
Serve! Remove from the fridge and stir. Top with fruit, orange slices, extra honey, granola, and more! Enjoy.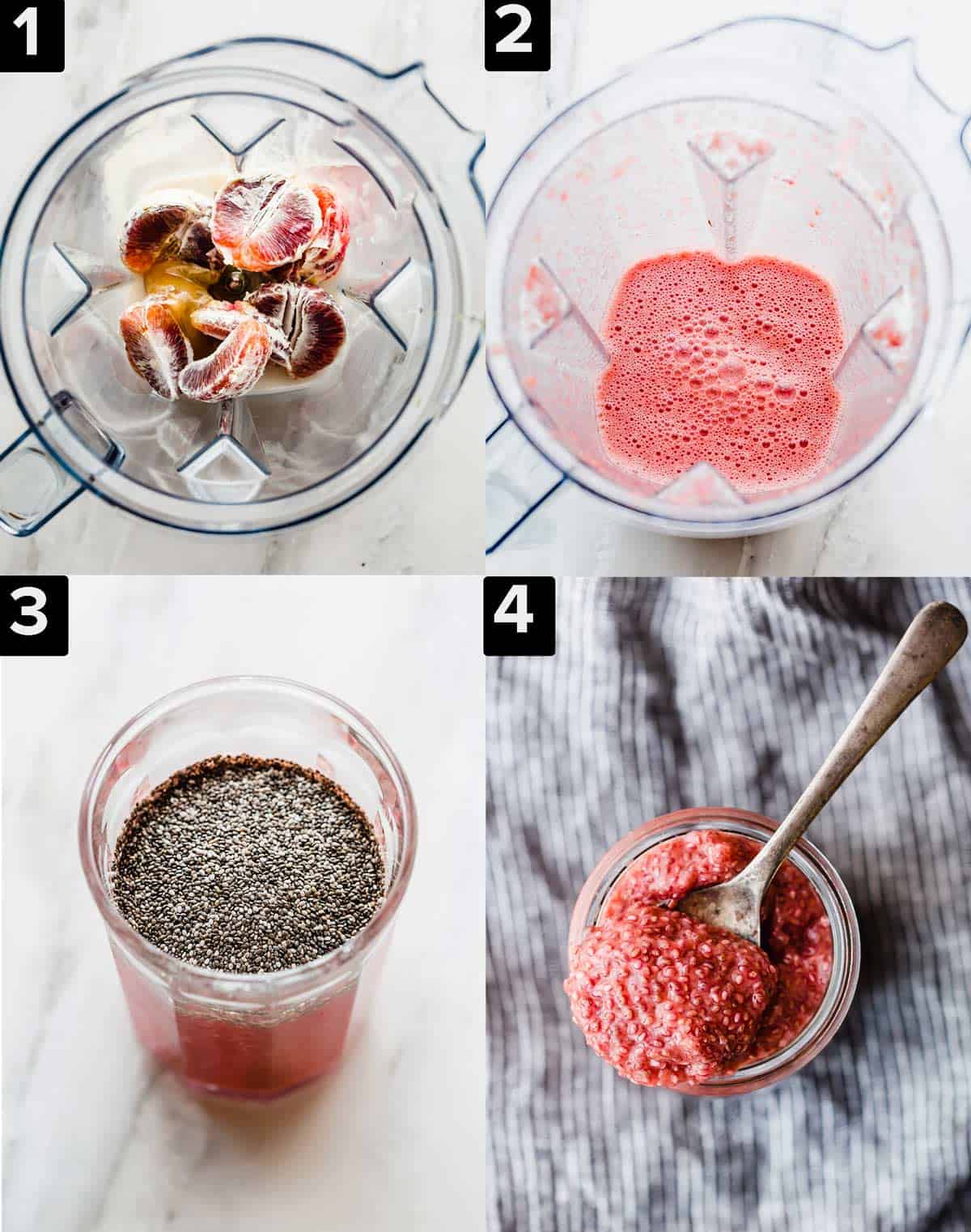 Recipe Tips
Thoroughly mix the chia seeds into the blood orange liquid. I sometimes give the chia mixture a good stir a few hours later just to keep things from clumping.
To make this recipe vegan, eliminate the honey and replace the sweetener with maple syrup or agave.
Add a hint of cinnamon to nutmeg for a flavor variety.
Top this blood orange chia pudding with peeled and diced pieces of blood oranges, flax seeds, almond slivers (or other chopped nuts), fresh berries, chocolate pieces, etc. The options are endless!
Make a delicious blood orange simple syrup to drizzle on top for an extra burst of flavor and sweetness! Simply juice some blood or andes and add 1/2 cup blood orange juice and 1/2 cup sugar to a small saucepan. Whisking constantly, bring to a low boil then remove from the heat and let cool.
To make blood orange chia pudding parfaits, simply layer some of the thickened chia pudding in a cup, add blood orange segments and granola, then add additional chia pudding on top. Top with additional toppings if desired.
Make Ahead, Storing, and Freezing
You need to make chia pudding ahead of time because it needs to chill in the fridge for 4-6 hours or overnight to thicken.
Store the chia pudding covered or uncovered in the fridge for 2-3 days.
I've never frozen chia pudding! I feel like it would go all weird once frozen and thawed. Make it fresh, friends!
Recipe FAQs
Is chia pudding filling?
I think it is! These chia seeds soak up over 10x their weight in liquid. This makes them filling and delicious. 
What milk should I use for chia pudding?
You can use whatever milk you prefer! Use regular dairy milk, soy milk, cashew milk, goat milk, almond milk, etc. It doesn't matter what milk you use! 
How long until chia pudding is ready?
Chia pudding will take a minimum of 4 hours to thicken, but it really depends on how accurate your measuring is with the liquid and the chia. It can sometimes take longer — plus it depends on how thick you want it!
Is chia pudding healthy?
Yes! Chia pudding is filled with great stuff your body needs. This includes fiber, protein, delicious omega-3s and necessary antioxidants! 
Can I use regular oranges?
Yes you can. You won't get the blood orange color or flavor, but it will still be a delicious orange chia pudding!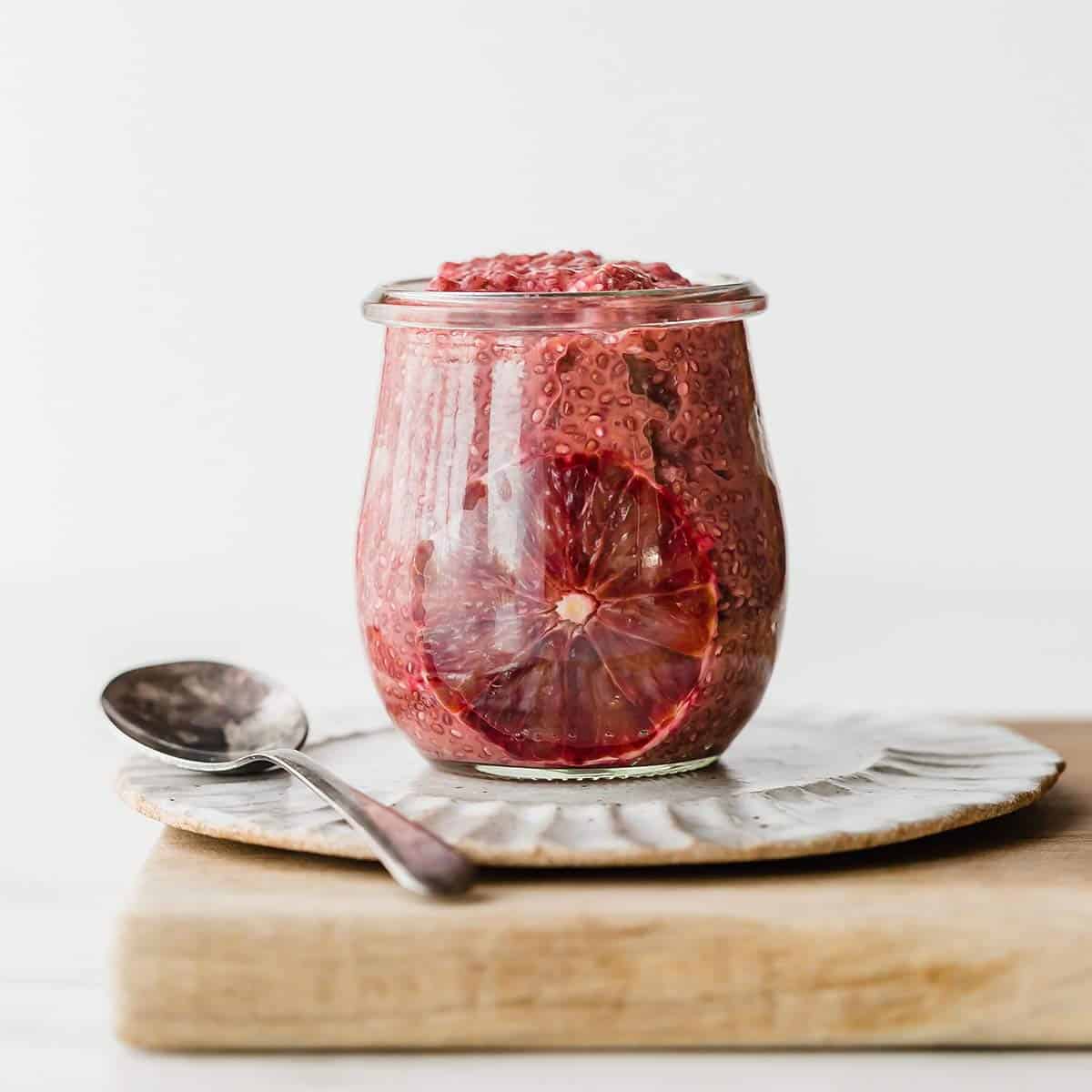 More Healthy Breakfast Recipes
Blood Orange Chia Pudding
This blood orange chia pudding is a delicious and healthy breakfast option. You can make it the night for and store it in the fridge for multiple days!
Ingredients
3

blood oranges

-

peeled

1/3

cup

almond milk

1

tablespoon

honey

-

or more for added sweetness

1/4

teaspoon

vanilla extract

1/3

cup

chia seeds
Instructions
In a blender, combine the peeled blood oranges, almond milk, honey, and vanilla. Blend until smooth.

In a medium size bowl, pour the liquid through a fine mesh strainer. Discard the pulp that was accumulated in the strainer.


Add the chia seeds to the strained liquid and stir to combine. Cover with plastic wrap or a lid and refrigerate for 4-6 hours or overnight.


Remove from the fridge and stir.


Top with granola, fresh fruit, or additional honey.

Did you make this recipe?
Leave a star rating and review on the blog post letting me know how you liked this recipe! Take a picture and tag @saltandbaker on Instagram and Facebook so I can see what you're making!