Strawberry Kiwi Lemonade
This post may include affiliate links. As an Amazon Associate I earn from qualifying purchases.
Quench your thirst with a fruit packed Strawberry Kiwi Lemonade! This drink is sweet, tart, and oh so refreshing! It's perfect for those warm, hot summer days.
Looking for more refreshing drink recipes? Try our blue raspberry lemonade and virgin strawberry daiquiri.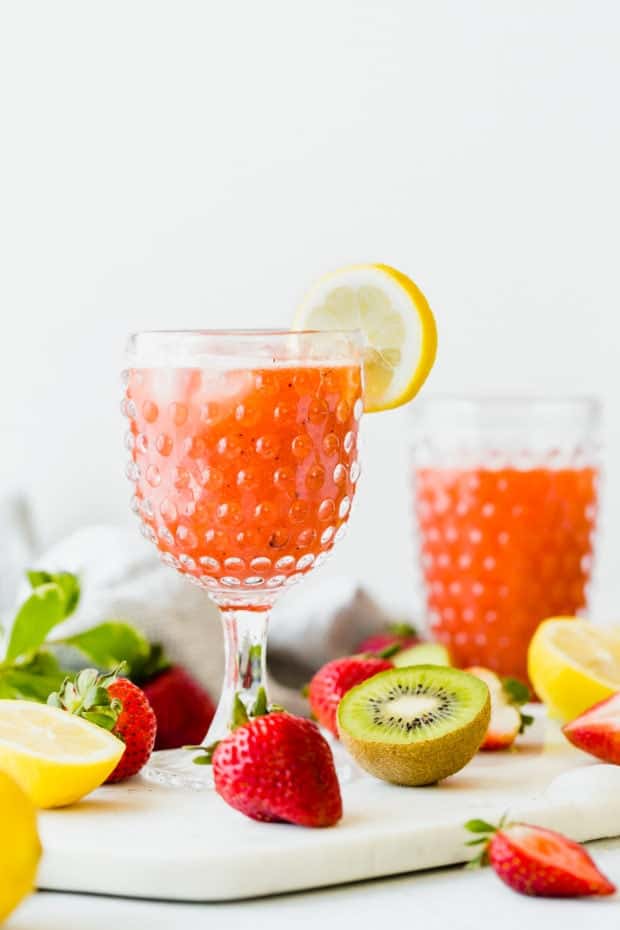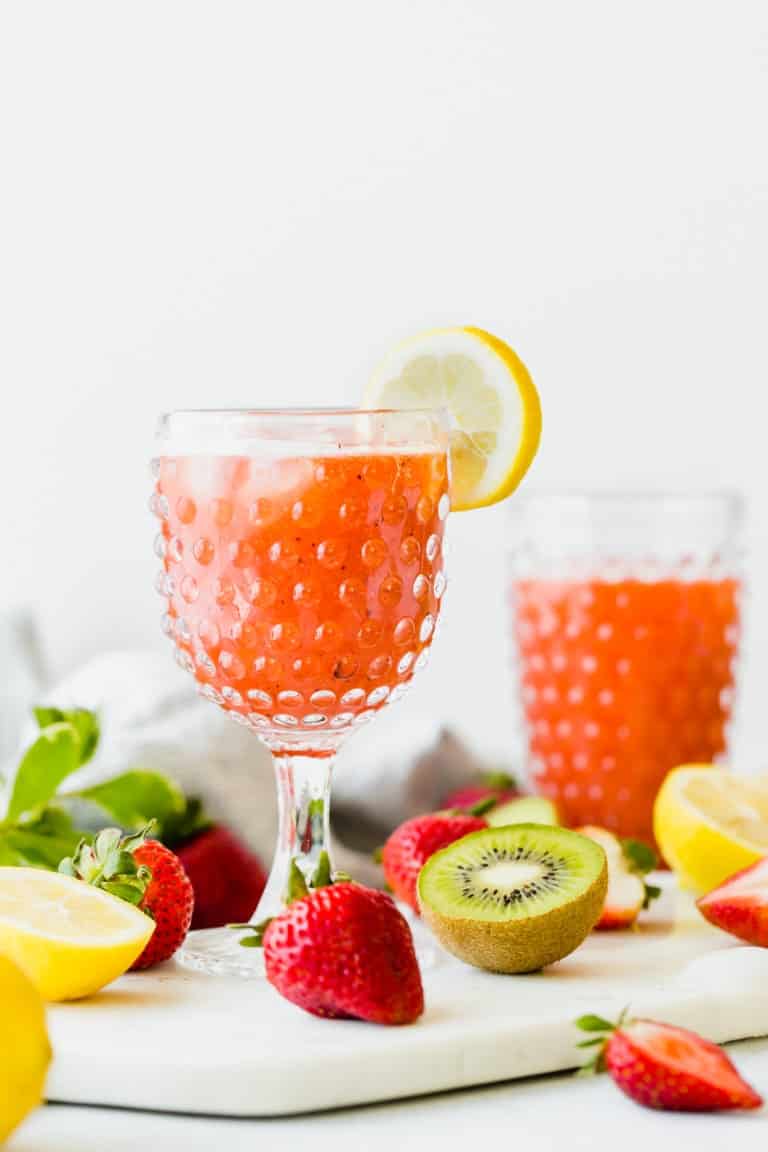 There's no denying summer is here! Technically the month of May is still a "spring" month, but when the temperatures reach 80°F and they stay there for days on end… it's summer!
I have the perfect homemade lemonade recipe to help you combat the summer heat, Strawberry Kiwi Lemonade. To begin, make a sugar syrup.
What is Sugar Syrup
Sugar syrup is also referred to as "simple syrup." It's a liquified form of sugar that has the sugar completely dissolved. Sugar syrup is used for sweetening cold drinks such as lemonades, cocktails, iced coffee, and iced tea. A simple syrup is commonly equal parts sugar and water a 1:1 ratio. Often times you'll see sugar syrups that are a 2:1 ratio.
How to make Sugar Syrup
Sugar syrup is made by simply boiling water and sugar. Place the water and sugar in a saucepan and put it over medium heat to dissolve the sugar. Simmer the mixture for about 10 minutes or until the sugar has dissolved. Once the sugar is dissolved remove from heat and let cool.
If you don't use the entire batch of simple syrup, you can store it in the fridge for an extended period of time. Place in a glass container, cover, and refrigerate for several weeks.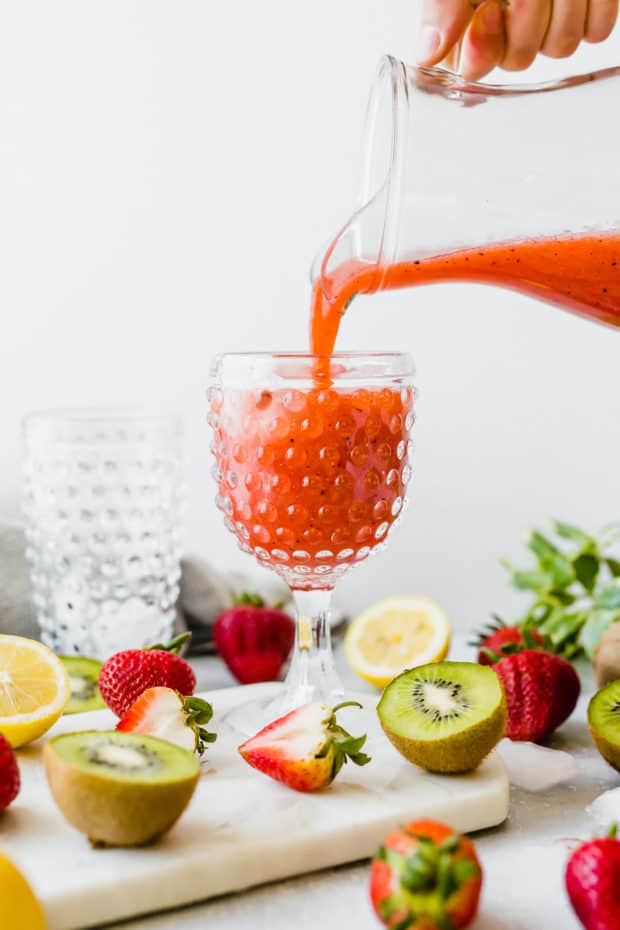 By using a simple syrup to sweeten your homemade lemonade you'll avoid having a gritty beverage.
Making Strawberry Kiwi Lemonade
For this lemonade recipe I used fresh lemon juice. YUM! Simply grab a handful of lemons and juice them.
Tips to get the most juice out of lemons
Roll the lemon against the counter using your palm. This opens the individual segments inside the lemons and gets the juices flowing.
Microwave the lemons on high for 20 seconds. Doing so will get the juices flowing more easily.
Use a wooden reamer or a citrus juicer. I use this reamer and love it, while my parents own this one and it's amazing!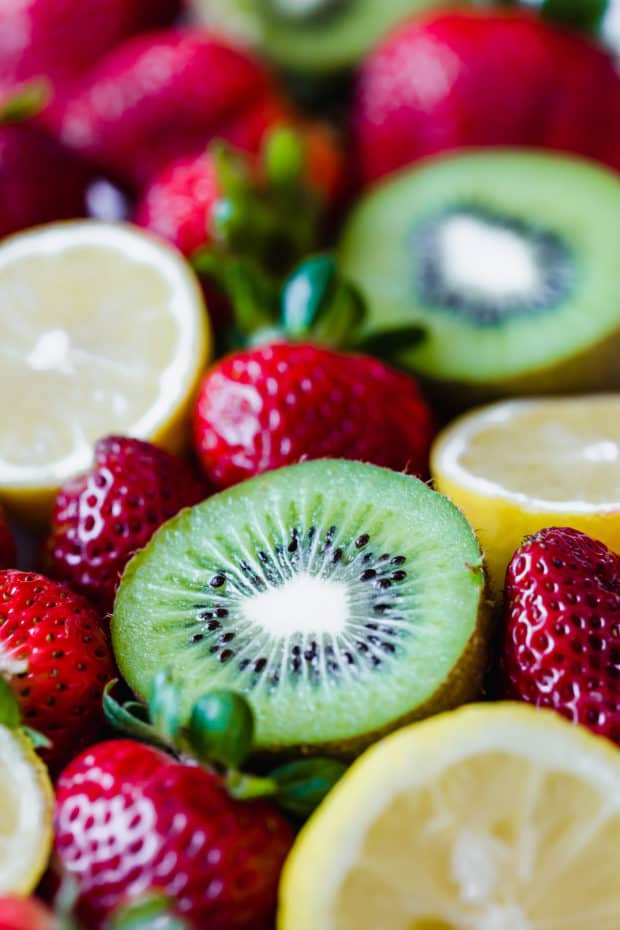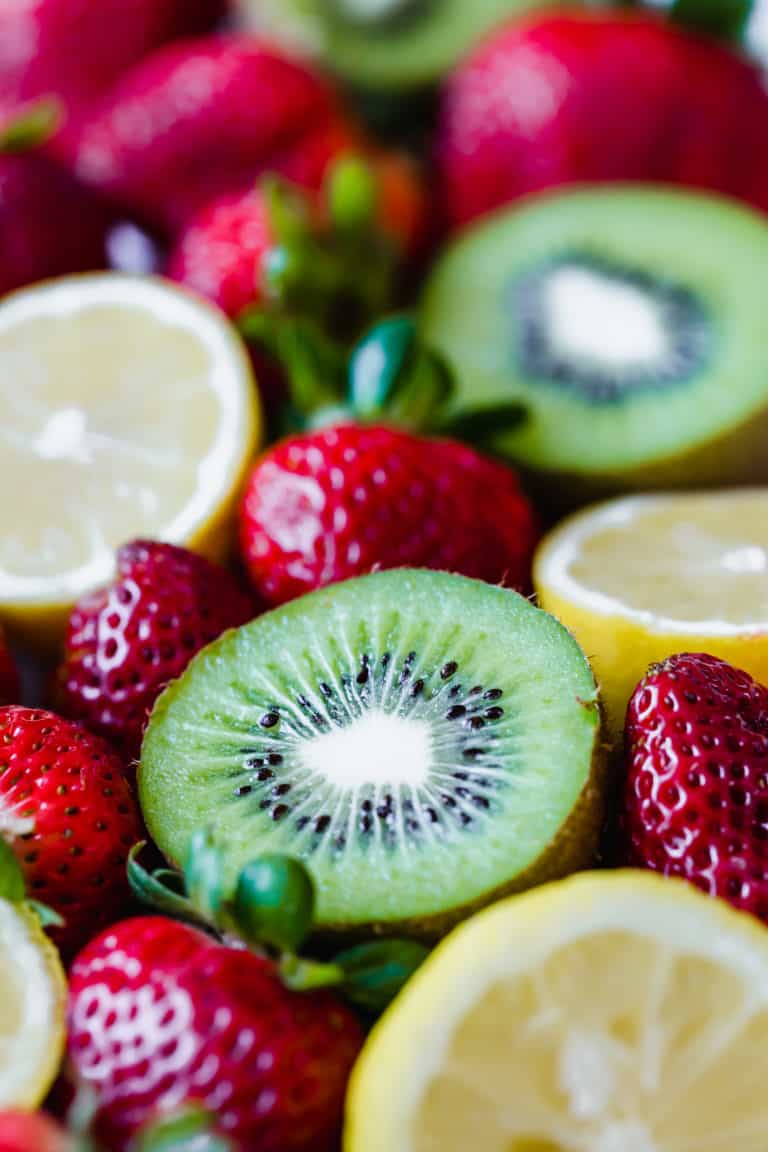 Once you have the lemons juiced, start hulling the strawberries. The hull or calyx is the green leafy part of the strawberry. You can use a pairing knife to remove the hull or a special strawberry huller.
Grab your favorite blender and add the prepped strawberries, kiwi (with skin removed), lemon juice, and the simple syrup to a blender and blend until smooth.
Now add some ice and water to the blender to make your perfectly concentrated lemonade.
How much water should you add to homemade lemonade?
The amount of water you choose to use will be different for everyone. I like a strong strawberry kiwi lemonade flavor, so I don't add as much water to my drink. I started with 1/2 cup of water and a handful of ice. I was going for a slushier homemade strawberry kiwi lemonade.
Taste test the beverage frequently! I suggest you add a little water/ice at a time so as to not water it down before you reach your desired flavor.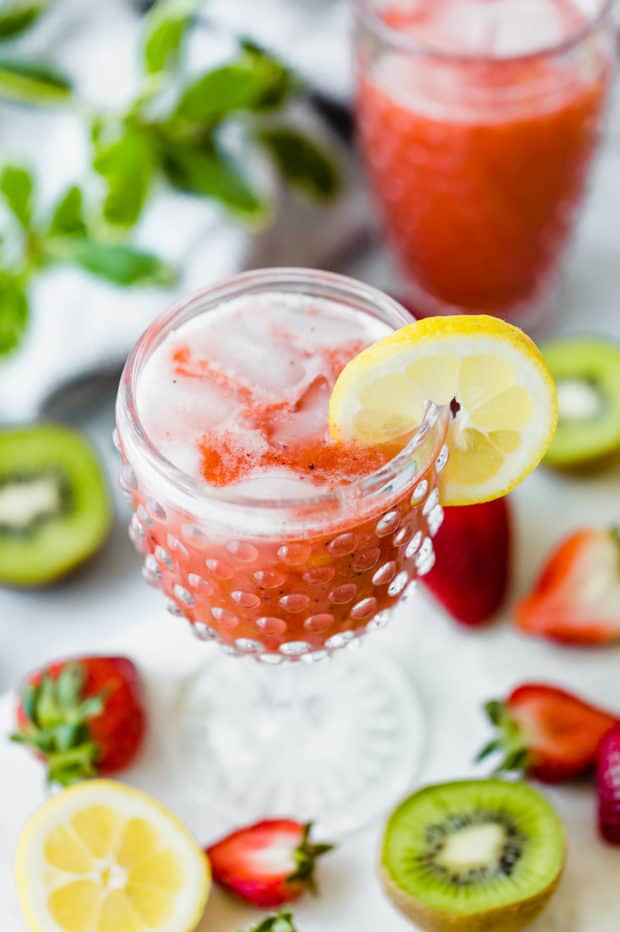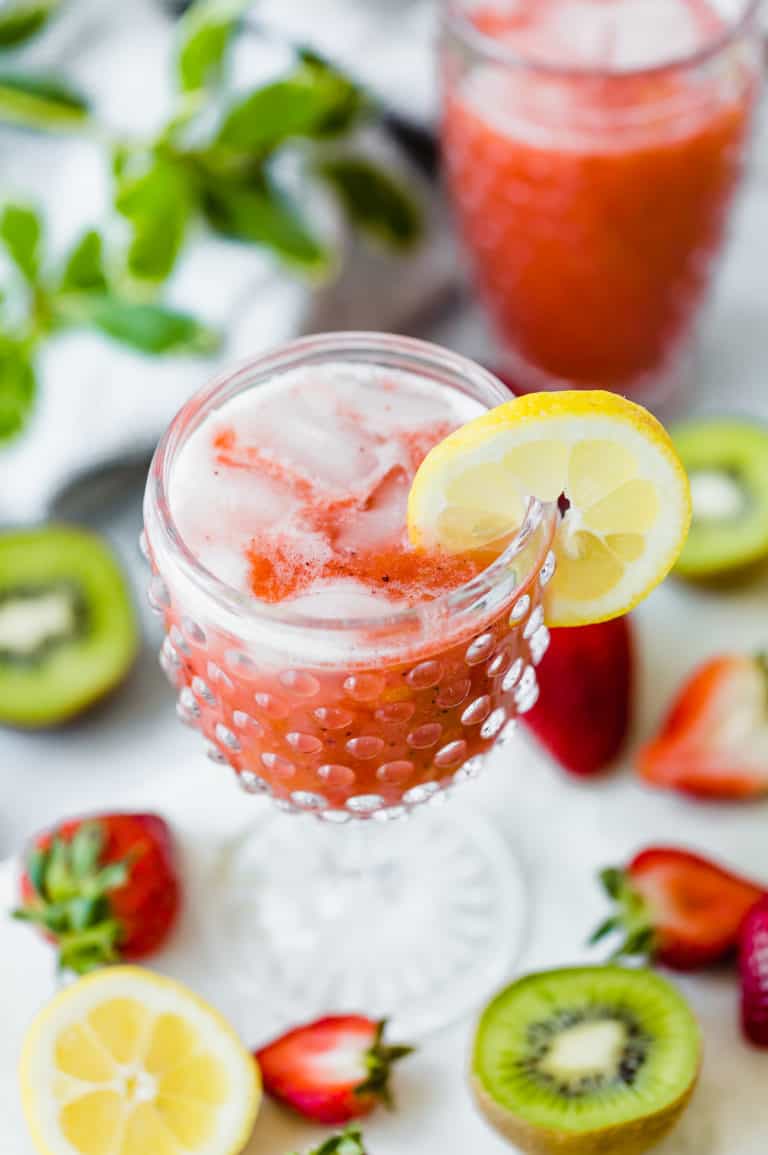 What if my lemonade isn't sweet enough?
Chances are the kiwis or strawberries you used weren't at their peak ripeness. But no worries! A pinch of sugar goes a long way!
I love a tart lemonade, but not everyone does. The great thing about this refreshing strawberry lemonade is that you can adjust the sweetness to your liking.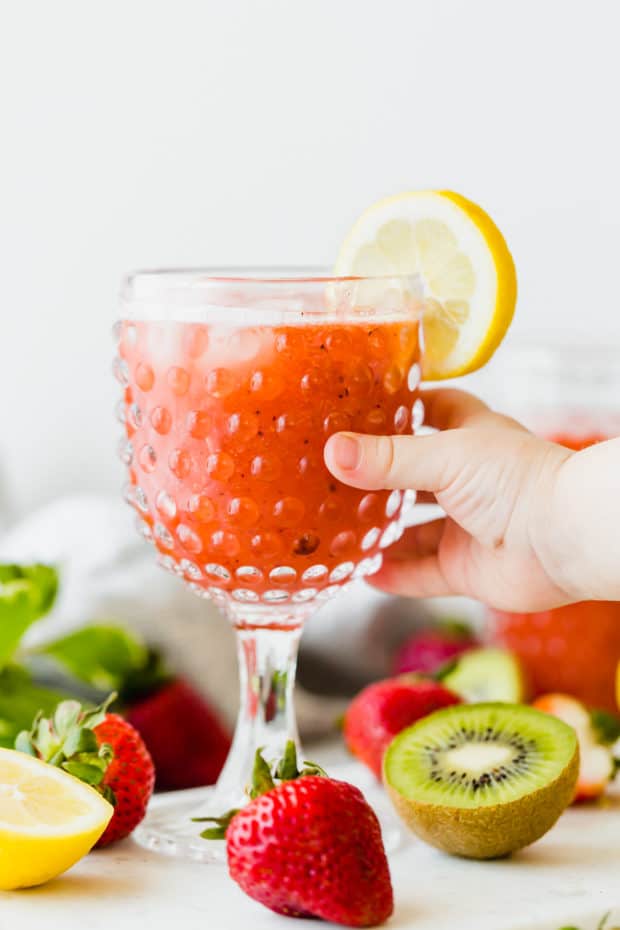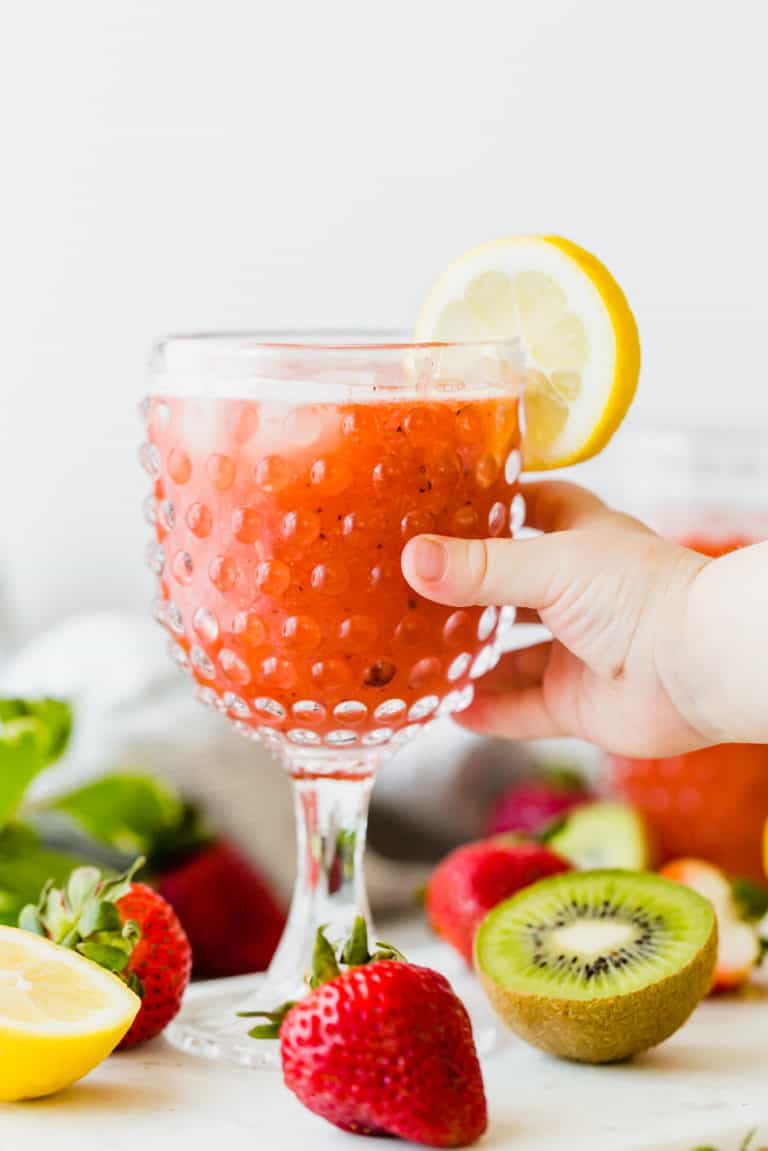 Craving more? SUBSCRIBE TO SALT & BAKER to get new recipes delivered straight to your inbox! Simply enter your email in a subscription box located on the right hand side of the blog or scroll below the recipe and sign up there!
And stay in touch on Facebook, Pinterest and Instagram for all of the latest updates.
Strawberry Kiwi Lemonade
Homemade strawberry kiwi lemonade is a great way to quench your thirst this summer!
Ingredients
1 1/4

cup

fresh lemon juice

3

cups

strawberries, hulled and chopped (about 16 oz)

5-6

kiwis, skins removed

3/4

cup

water

3/4

cup

sugar
Instructions
In a small saucepan heat the water and sugar until the sugar is dissolved. Don't boil. Let cool. (This is your "simple syrup").

In a blender add the lemon juice, strawberries, kiwis, and simple syrup. Blend until smooth.

Add enough water to make the drink taste to your liking. I like to add a little water and some ice so that it is extra cold and a tad slushy. ***

Store in the fridge until ready to drink, or serve immediately.
Notes
***Start by adding 1 cup of water. And then work your way up. Some people prefer a more tart lemonade (me)! But you don't want to add too much water and make it too watered down right from the beginning. 
NOTE: You may find that you'll want to add a spoonful of more sugar. If you have some tart kiwis or not fully ripe strawberries, you'll find that an extra spoonful of sugar is greatly welcomed. ?
Did you make this recipe?
Leave a star rating and review on the blog post letting me know how you liked this recipe! Take a picture and tag @saltandbaker on Instagram and Facebook so I can see what you're making!