Lemon Poppy Seed Scones
This post may include affiliate links. As an Amazon Associate I earn from qualifying purchases.
These Lemon Poppy Seed Scones are delicate, buttery, and full of lemony flavor and covered with an irresistible glaze! Add some poppy seeds for a slight crunch and you have the perfect treat for brunch or tea.
You are going to love these delicious lemon scones! And when you do, you can try my cookie version — my Crumbl Lemon Poppy Seed Cookies!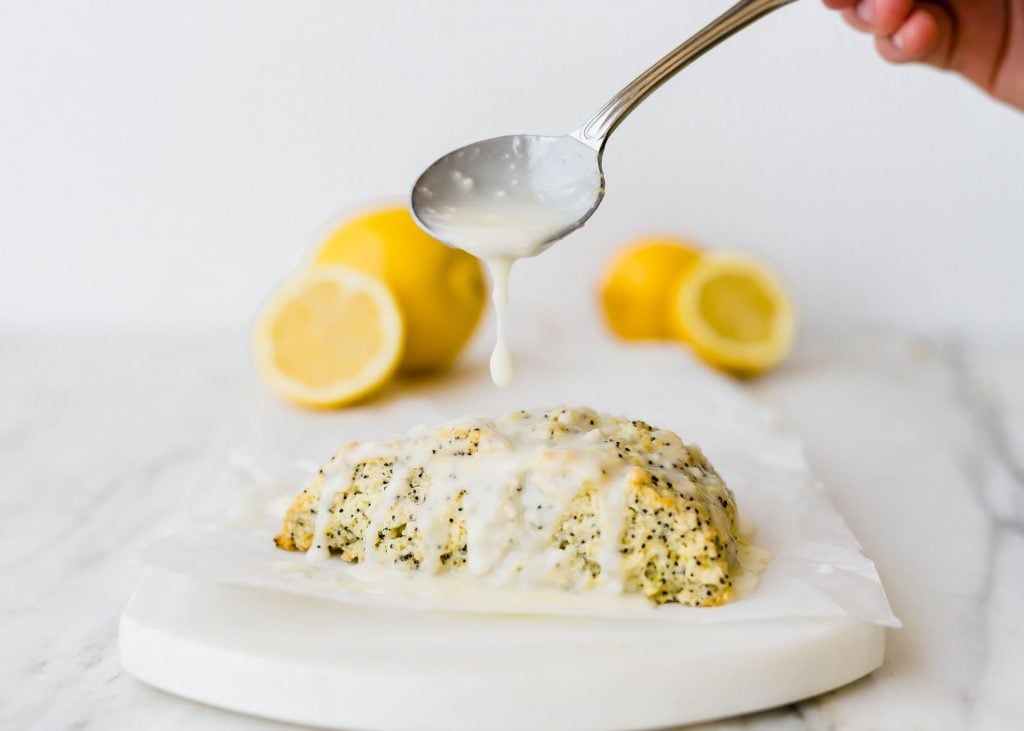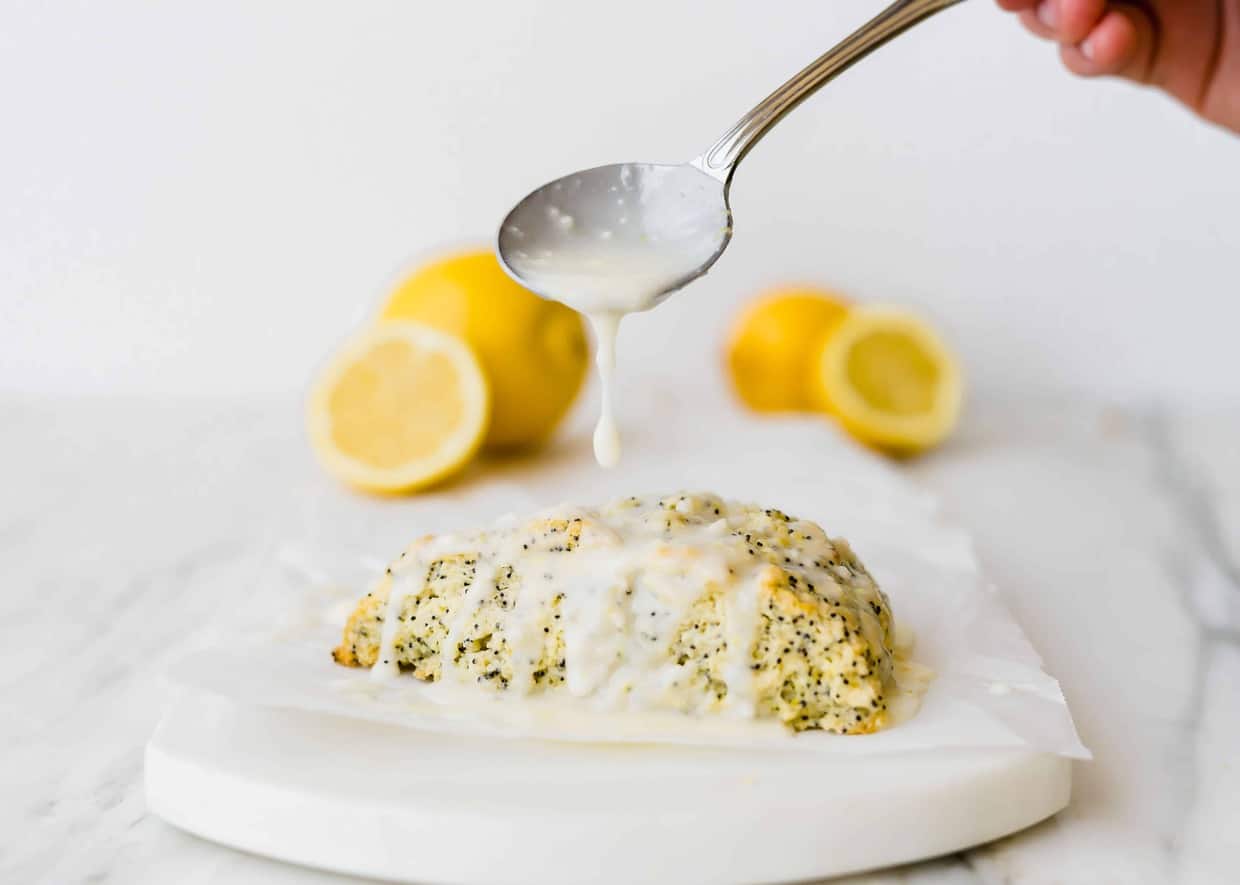 These Lemon Poppy Seed Scones are a family favorite! When I say this, it's a HUGE understatement! My son, Bronson goes wild when I tell him we're making scones.
But truthfully, we just love anything with lemon. I have several recipes you'll love such as lemon poppy seed bread and lemon poppy seed cake that is so moist and just insanely good! Or a Lemon Poppy Seed Bundt Cake (because sometimes things taste better when made in a cute pan). 😊

Are Lemon Poppy Seed Scones healthy?
That's a bit of a stretch. They have lemons and greek yogurt. Both of which are healthy-ish foods. So if you say they are healthy it makes myself and everyone else feel better about eating them. So yes, they're healthy! And good for the soul 🙂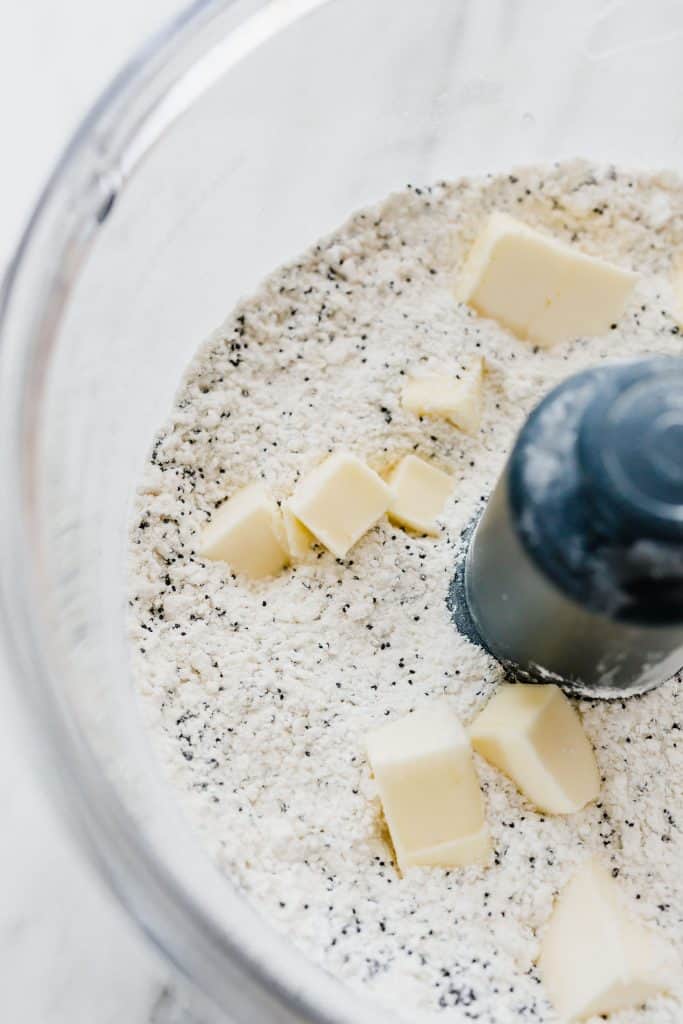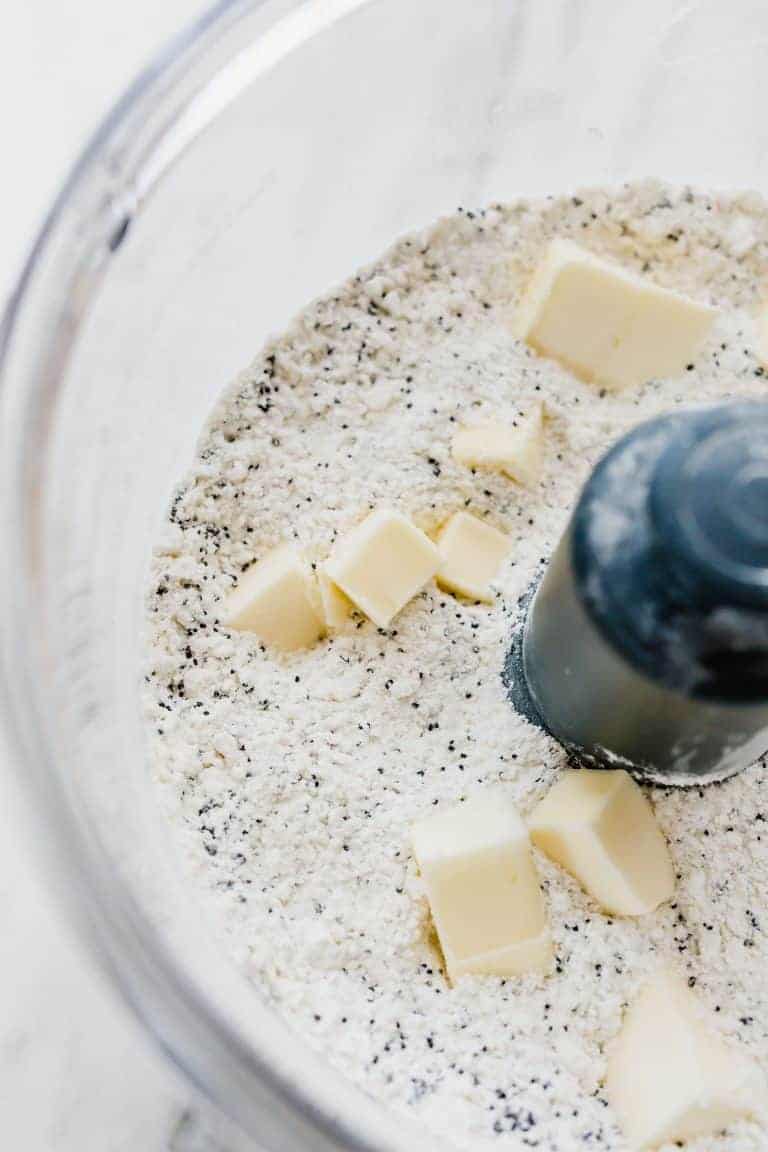 As I was making these scones, I couldn't help but think of a million scone combinations I want to try!
I've added a number of recipes to my list that I want to try: Cinnamon Chip Scones, Cranberry Orange Scones, Blueberry Lemon Poppy Seed Scones, Apple Spice Scones with Cinnamon Chips. The list goes on and on!
I'll start working on these scone recipes and report back to you as soon as they are top notch.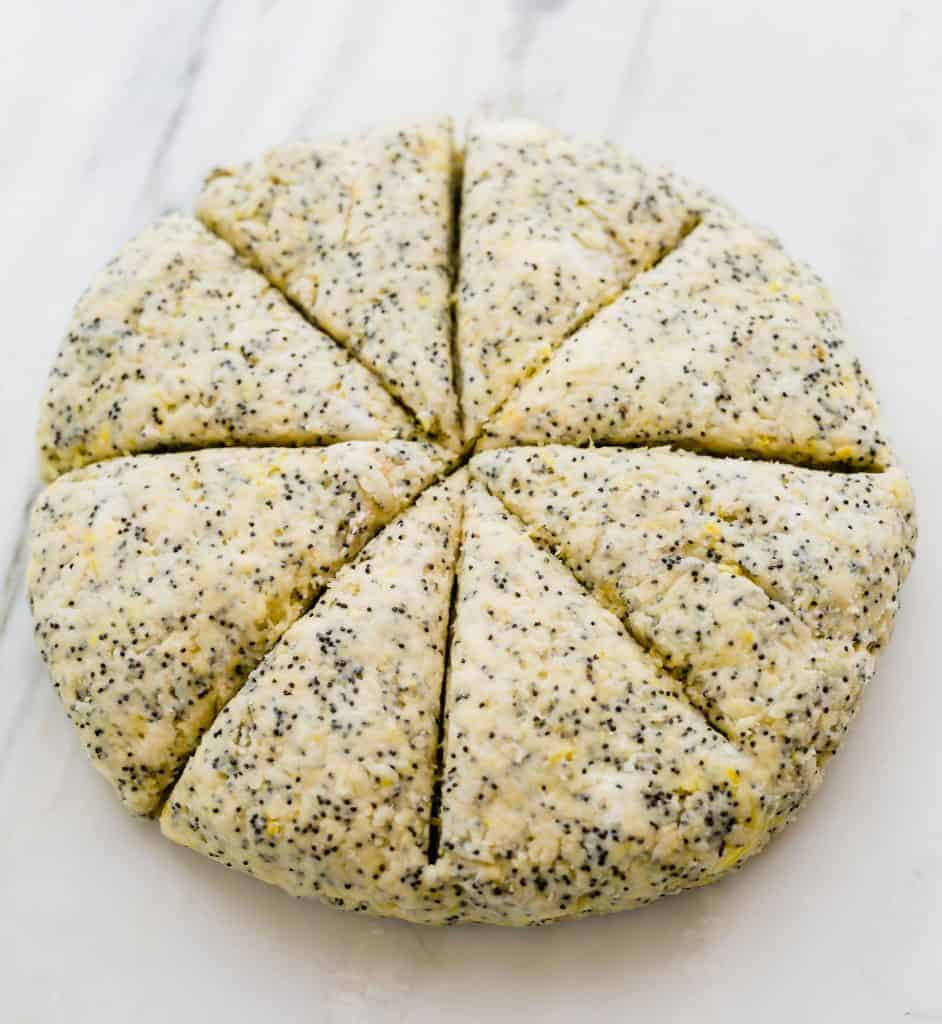 For this Lemon Poppy Seed Scone recipe, I chose to use my food processor. If you don't have a food processor, don't worry. You can use a pastry blender.
Remember, when making scones or biscuits you want to use cold butter.
In my Buttermilk Biscuits blog post I go over why cold butter is used. But in case you haven't read that, here is a recap.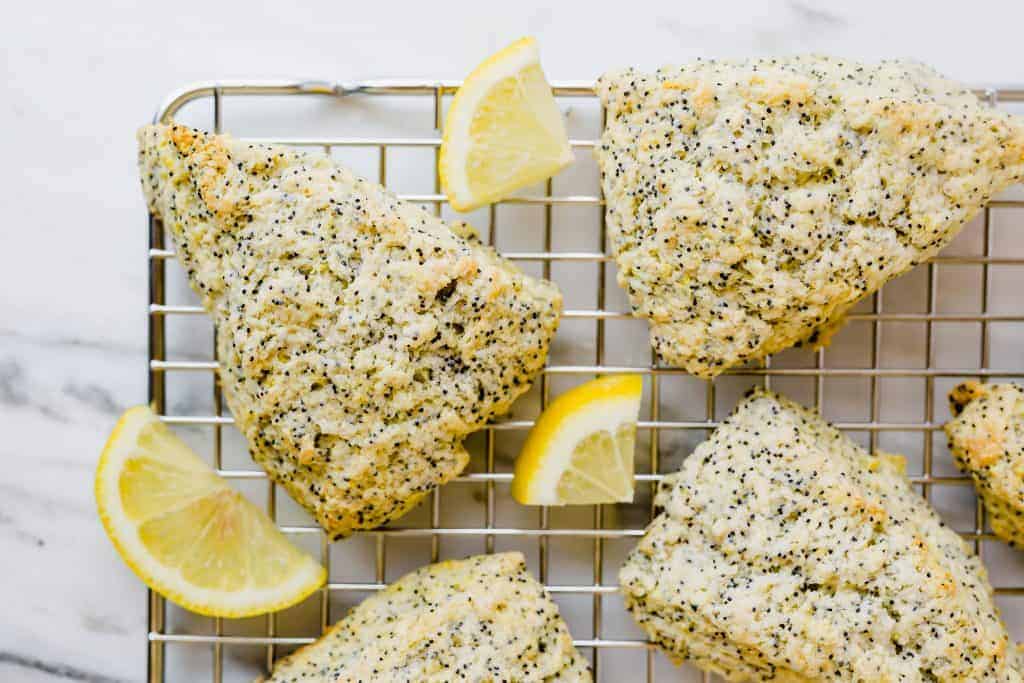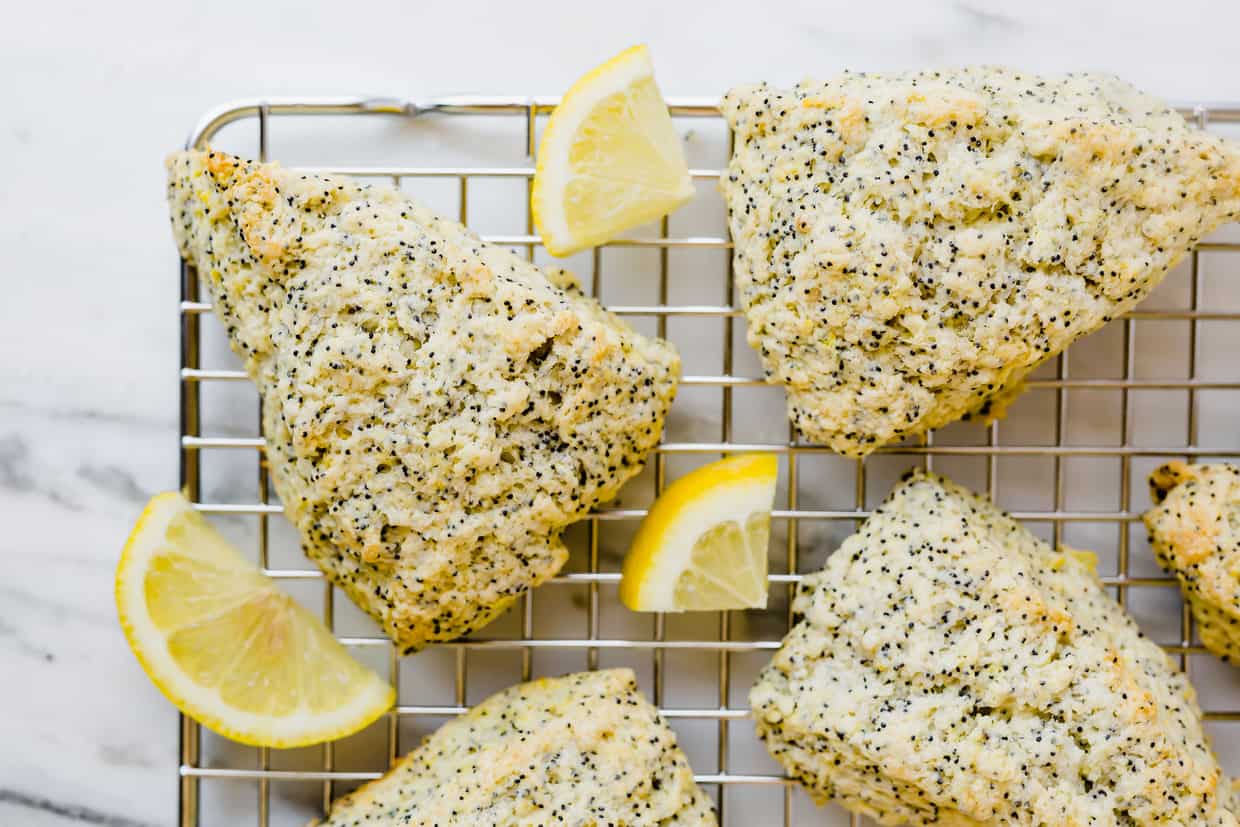 Why do you use cold butter when making scones?
Butter contains both fat and water. At normal baking temperatures, water creates steam. By laminating cold butter between layers of dough, you create pockets to contain the steam formed during heating. When little crumbles of butter melt in the scones as they cook, they release steam and thus create small pockets of air in the scone. The end results in a better rise and a flaky biscuit.
The lemon flavor is perfectly balanced in this scone. Not too overwhelming but not so subtle that you can't tell it's a lemon scone.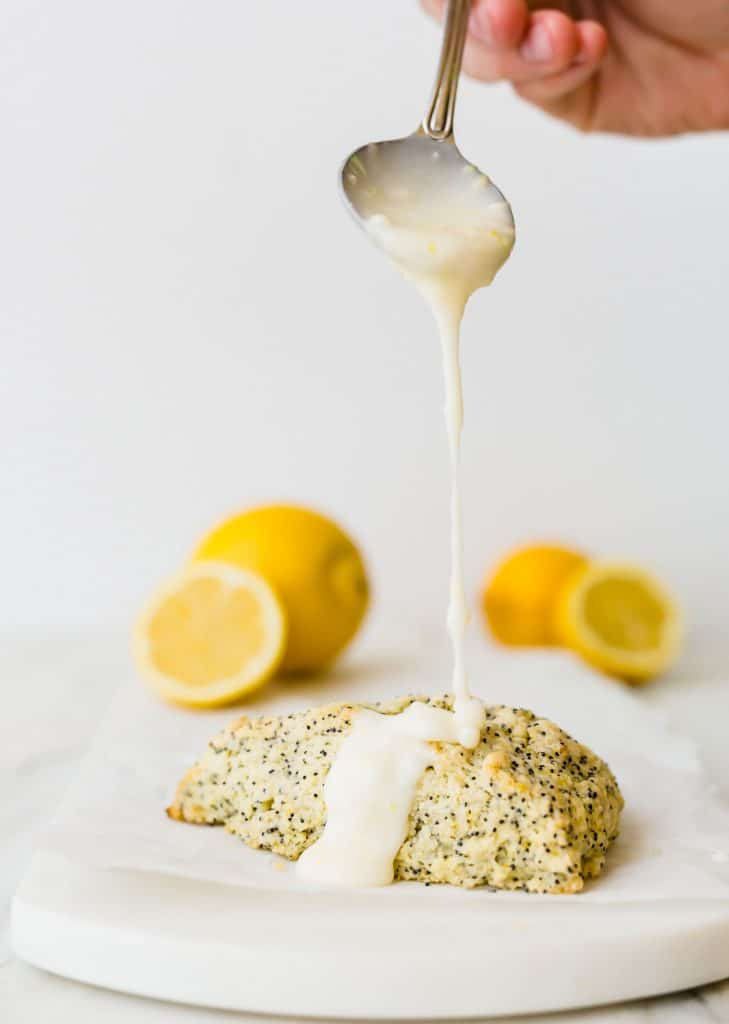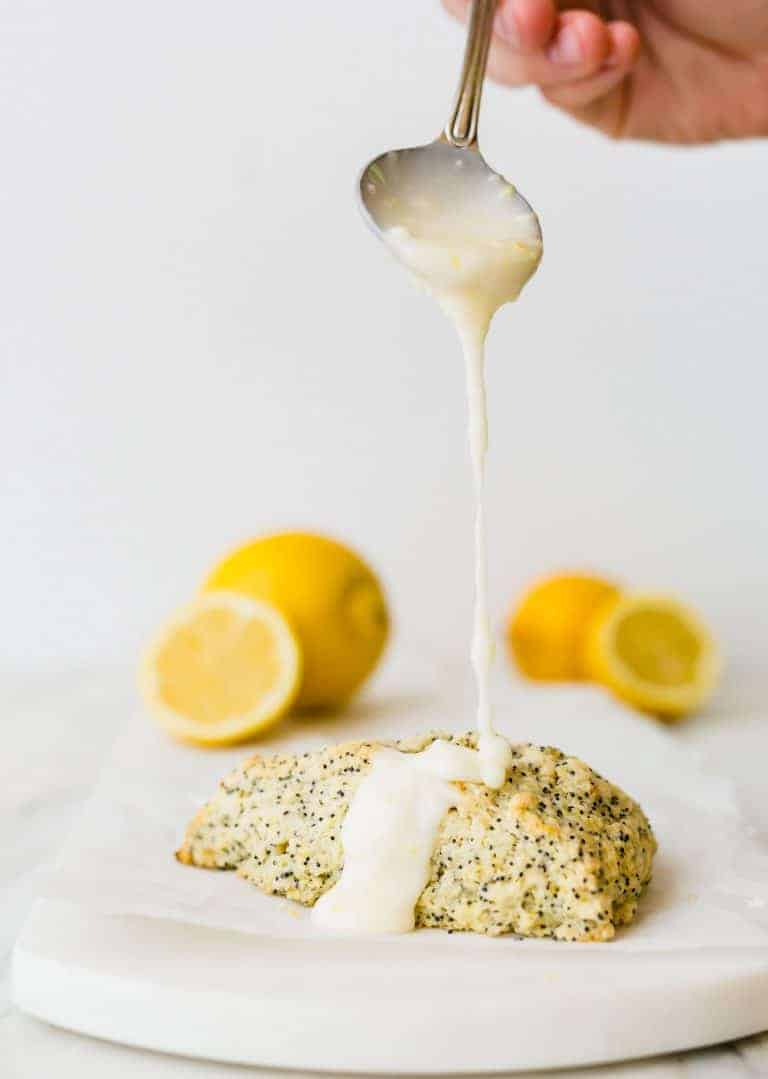 To make this scone even more desirable, I topped it with a smooth glaze.
This glaze has a pinch of lemon zest and lemon juice to bring in the lemon flavor. I recommend you glaze the scones while warm. Although this isn't necessary, I find that doing this allows the glaze to seep in just slightly and adds the perfect tenderness to the finished scone.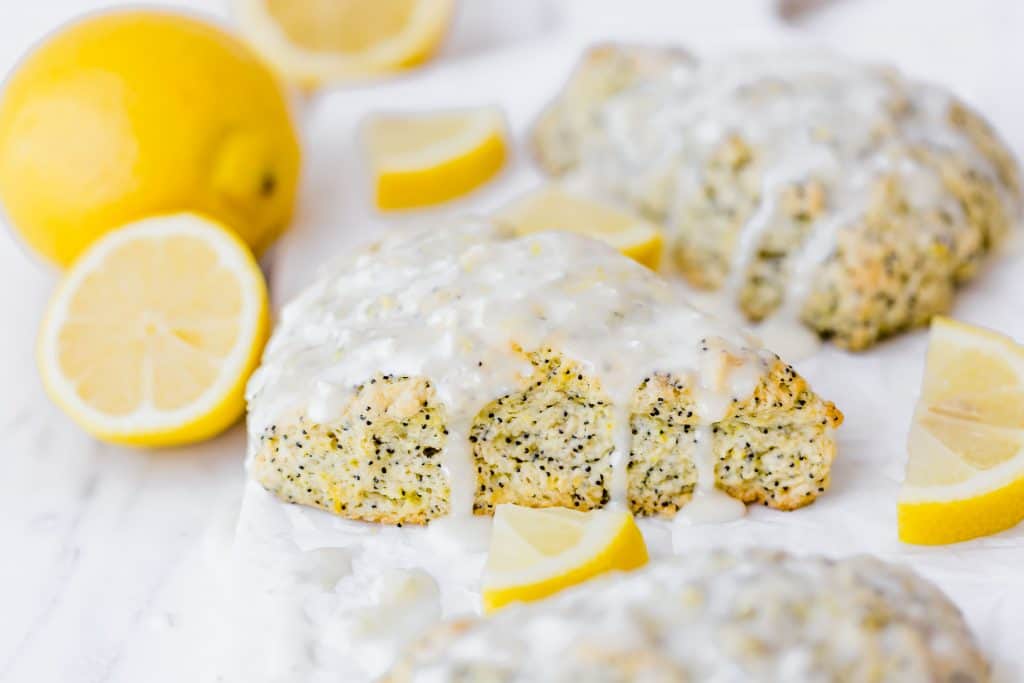 More Lemon Recipes
Lemon Poppy Seed Scones
These Lemon Poppy Seed Scones are the perfect spring and summer treat! They are loaded with the perfect lemon flavor and topped with an irresistible glaze!
Ingredients
2

cups

all purpose flour

1/3

cup

granulated sugar

3

tablespoons

poppy seeds

1

tablespoon

baking powder

1/2

teaspoon

kosher salt

6

tablespoons

cold butter, cubed

2

large eggs, lightly beaten

1/3

cup

plain greek yogurt

-

(I use Fage brand… but brand doesn't matter. Use what you have)

3

teaspoons

vanilla extract

1/4

teaspoon

almond extract

3

tablespoons

lemon zest
1

tablespoon

butter, melted
Glaze
1

cup

powdered sugar

2

tablespoons

butter, melted

3

tablespoons

fresh lemon juice

1/2

teaspoon

lemon zest
Instructions
Preheat oven to 375° F. Line a baking sheet with a silicone baking mat (parchment paper is fine too). Set aside.

In the bowl of a food processor add flour, sugar, poppy seeds, baking powder, salt. Pulse for 3 seconds just to combine the ingredients. Add the butter. Do 3-1 second pulses. You still want to have chunks of butter. So don't over do it. Alternatively, you can use a pastry blender to cut in the butter if you don't want to use a food processor. (I just like that it's fast and easy!) Empty the flour mixture into a big bowl.


Add the eggs, yogurt, vanilla, almond extract, and lemon zest to the flour mixture. Stir to combine everything. (I like to use a fork at the beginning and then resort to my hands, it's easier). The dough will be slightly sticky, but not much.


On a lightly floured surface, pat the dough into a circle that's 1 inch in height. Using a knife, cut 8 wedges. Place the wedges on the baking sheet.


Using a pastry brush, gently brush each scone with the melted butter.

Bake for 18-21 minutes or until lightly golden brown along the edges.


While they are baking, make the glaze. Combine all of the glaze ingredients in a medium size bowl and mix to combine.


Remove scones from the oven and let cool for 3 minutes on the pan, and then move to a wire rack to cool for 5 minutes. Drizzle the glaze overtop each scone. *

Let glaze set. Enjoy! Store in an airtight container for 3 days.

Notes
*I like to glaze things while warm, it lets the glaze seep in a little and tastes delicious!
Recipe adapted from Life Made Simple
Did you make this recipe?
Leave a star rating and review on the blog post letting me know how you liked this recipe! Take a picture and tag @saltandbaker on Instagram and Facebook so I can see what you're making!