Ragù alla Bolognese
This post may include affiliate links. As an Amazon Associate I earn from qualifying purchases.
This Ragù alla Bolognese incorporates my favorite elements from authentic bolognese sauce while including elements my family loves in a pasta sauce! Delicious Italian sausage is combined with a rich and flavorful red sauce that is simmered with fresh basil, nutmeg, and Italian spices, then given a creamy lift with heavy cream and fresh parmesan cheese.
If you are looking for another delicious pasta recipe, you'll definitely want to try my Shredded Beef Ragu! It's one of my new favorites! Bucatini Cacio e Pepe is another traditional Italian pasta recipe that is simple and simply delicious!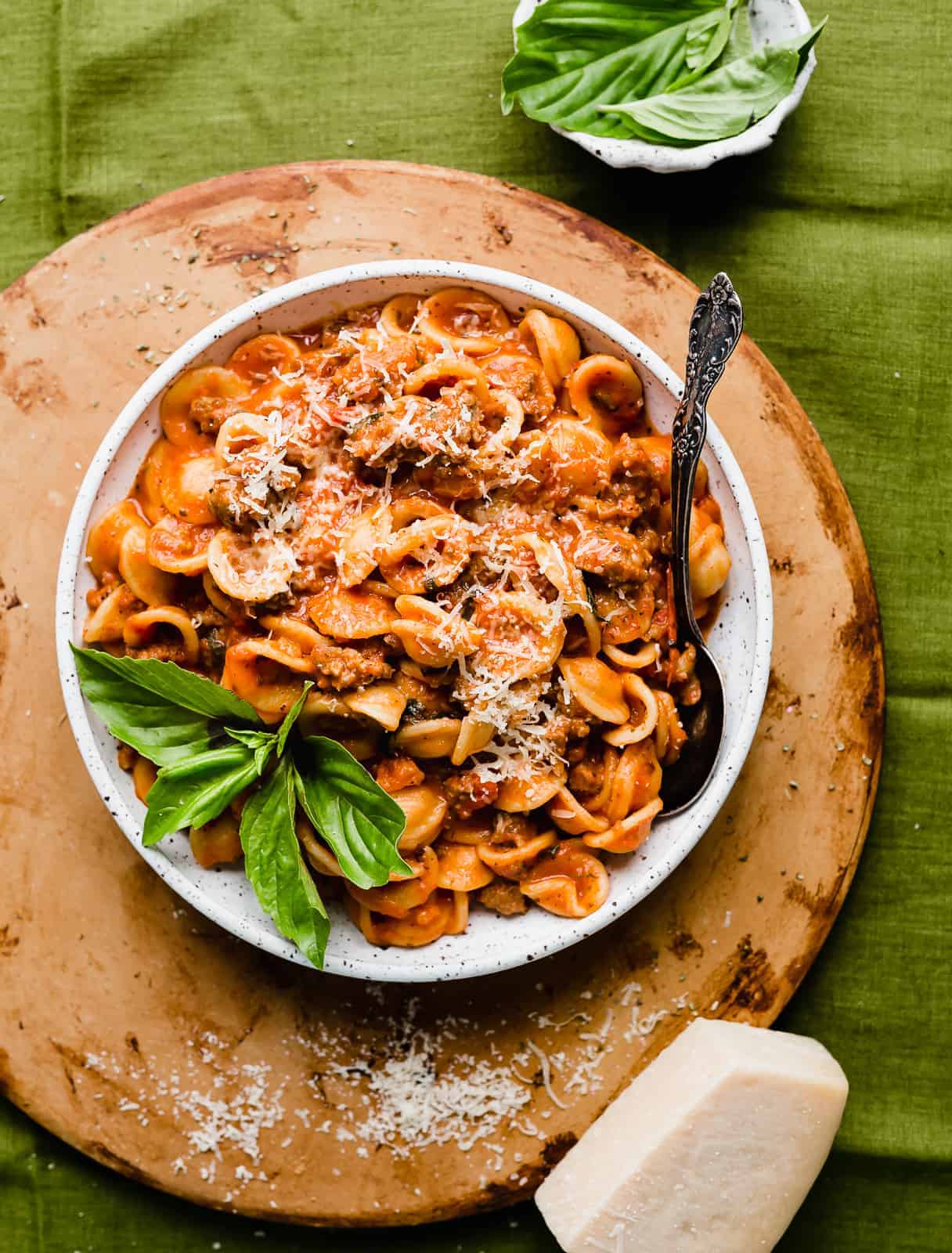 Why This Recipe Works
A delightful mix of classic and comfortable. Traditional ragu alla bolognese is a meat-based sauce that is light on the tomato. However, my kiddos love a tomato sauce! So I'm sharing my twist on the classic bolognese sauce by incorporating important elements of an authentic recipe for traditional bolognese sauce (like meat, a splash of dairy for creaminess and a hint of nutmeg) while incorporating elements my family loves too!
Thick and creamy bolognese sauce. Thanks to the crushed tomatoes, tomato pasta and heavy cream really give this thick meat sauce a lot of body and texture!
Packed with flavor. Using fresh basil and Italian sausage is the key to getting this flavor fest in your mouth!
My husband spent two years living in northern Italy, so I will tell you that it's very hard to make any Italian cuisine for him that he likes (since he always compares it with the amazingly fresh authentic food he ate on the streets of Italy — totally makes sense!).
The great news is my husband said this bolognese pasta recipe is amazing! Needless to say, that's incredibly high praise coming from our resident Italian food expert.
Ingredient Notes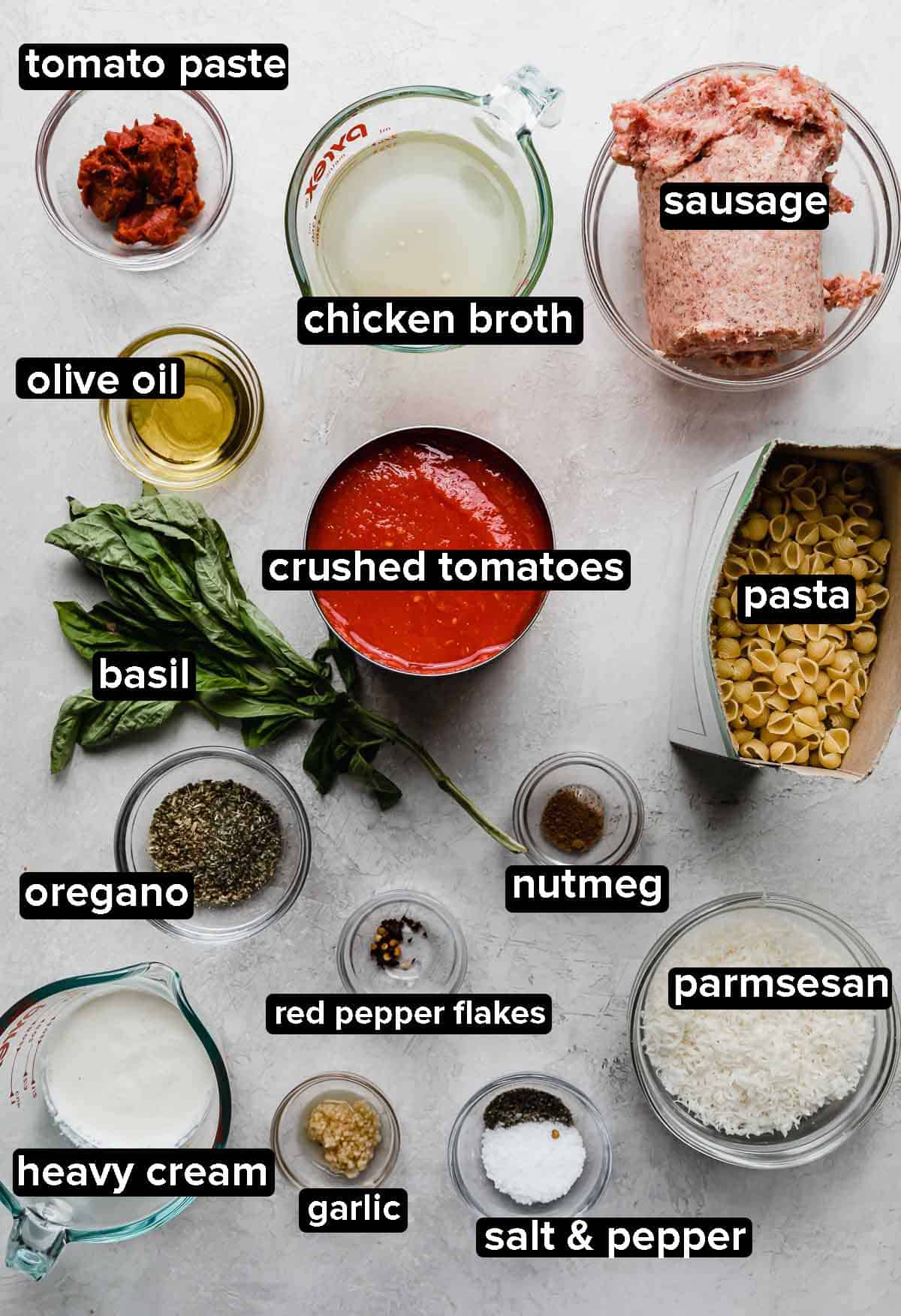 Italian Sausage: (Casings removed) I love Italian sausage in most anything because it really adds a depth of flavor that ground beef misses. However, if you want to tone down the sausage you can use 8 oz ground beef and 8 oz Italian sausage.
Chicken Broth: This adds more flavor to the pasta that we wouldn't get if we simply used water.
Crushed Tomatoes: You should find a 28 oz can of crushed tomatoes at your local grocery store. This is chunkier than plain tomato sauce but more saucy than simply using a can of diced tomatoes. This is most similar (in my opinion) to tomato passata which is used in Italy for red sauces.
Tomato Paste: This creates a thicker consistency to the sauce and a deeper tomato flavor. Thicker pasta sauce is better since it will stick to the noodles better than if your sauce is liquidy.
Pasta: Use your favorite pasta! Ragù bolognese is typically served with pasta such as tagliatelle, pappardelle or a type of egg noodle, or served with small noodles, such as small shells or orecchiette, that will hold the sauce.
Ground Nutmeg: Marcella Hazan, who is considered one of the resident experts on the ragu alla bolognese recipe, uses nutmeg in her sauce so trust me here — it's all about the nutmeg bolognese!
Fresh Basil: Fresh. Trust me on this.
Heavy Cream: Just enough to kick up the creaminess of the pasta sauce. If you don't want to use heavy cream, I would use whole milk.
Grated Parmesan Cheese: I love putting grated parmesan cheese on practically any pasta I eat. And it's especially delicious on this bolognese ragu!
Step-by-Step Instructions
Cook the meat. Add 1 T olive oil and 16 oz Italian sausage to a large skillet over medium heat. Cook the meat, breaking it apart as you go, until the meat is fully cooked. Drain excess grease.
Add the spices. Add the minced garlic, 1 T dried oregano, and 1/4 tsp crushed red pepper flakes to the pan with the ground meat. Cook for another minute.
Deglaze the pan. Add 1 cup chicken broth to deglaze the pan, scraping any brown bits from the bottom of the pan. Cook until the broth is reduced by half.
Add the tomatoes. Add 28 oz crushed tomatoes and 2 T tomato paste. Stir until combined. Add 1/2 T kosher slat and 1 tsp ground black pepper. Bring the mixture to a boil and reduce to simmer for 10 minutes.
Cook the pasta. While the sauce cooks, bring a pot of water to boil and cook the pasta according to the package directions.
Add nutmeg, basil, cream and parmesan. To the sauce add 1/4 tsp nutmeg, 1/2 cup fresh basil (chopped), 1/3 cup heavy cream, and 2/3 cup grated parmesan cheese. Stir to combine. Keep at a gentle simmer for 10 minutes.
Drain the pasta, reserving some water. Once the pasta is cooked to al dente, drain the water (reserving 1/2-3/4 cup pasta water). Add some of the pasta water to the sauce to make things more saucy if needed.
Serve! Add the drained pasta to the ragu alla bolognese and serve with toasted garlic bread, a sprinkling of fresh basil and parmigiano reggiano. Enjoy!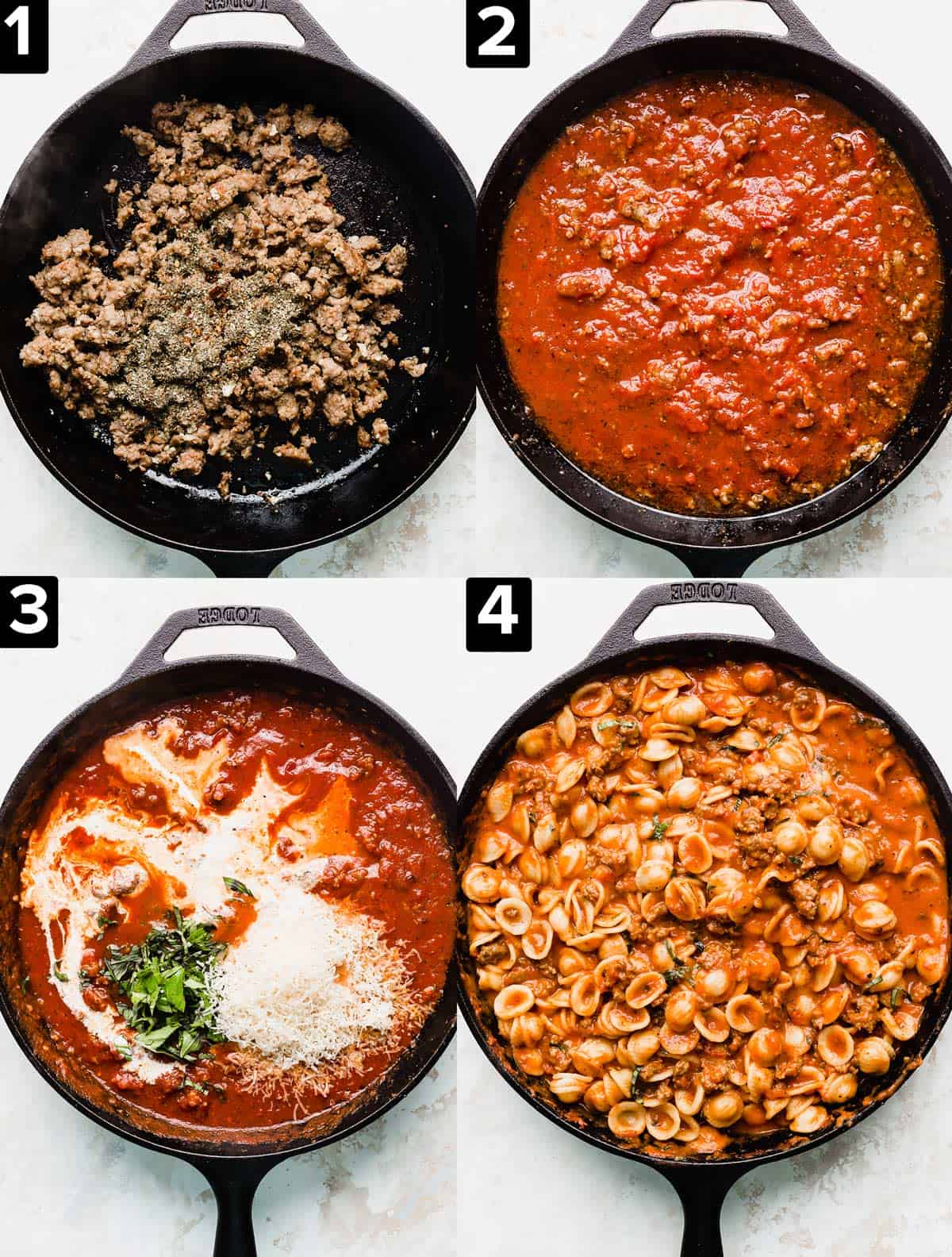 Recipe Tips
Be sure to make the pasta sauce as directed. While you can use the bottled red sauce from the store, the homemade sauce is so much better!
Save some of your pasta water to add to the finished pasta at the end (if needed for sauce consistency).
Fresh basil is much, much more flavorful than dried so I recommend that. Makes a world of difference.
If you'd like, you can use 8 oz ground beef and 8 oz Italian sausage. I wouldn't go all ground beef because you'll lose a bunch of added flavor from the sausage. Plus, a traditional recipe is heavy on the meat!
To make this recipe a bit more classic, add an Italian soffritto! This is a vegetable mixture of diced celery, onion, and carrots. Add them to the pan before the sausage and let them cook for a few minutes. Then add the sausage and continue cooking as instructed.
Want to up the flavor even more? One thing my husband taught me about the Italian trick to making the best pasta sauce is letting it simmer for hours and hours. This creates a thicker and more flavorful sauce by letting the flavors marinate for longer and the juices to concentrate together.
If you have time, let the sauce simmer on low for 30-60 minutes. However, if you're like me, you simply don't have hours and hours to simmer pasta sauce.
The good news for you is this recipe takes just 40 minutes to make and still has a deliciously rich flavor that could fool anyone into thinking you'd been simmering the sauce all day!
Make Ahead, Storing, and Freezing
You can definitely make this bolognese sauce ahead of time and store it or freeze it for later! I love making a double batch of the sauce and then freezing some for an easier meal another day.
Store the bolognese sauce in an airtight container in the fridge for 4-5 days or in a freezer safe container for up to 2 months.
Remove and let thaw in the fridge overnight. Then thaw at room temperature. Return to a pot and bring the sauce to a low simmer until completely warm. Add the cooked pasta and reserved pasta water. Enjoy!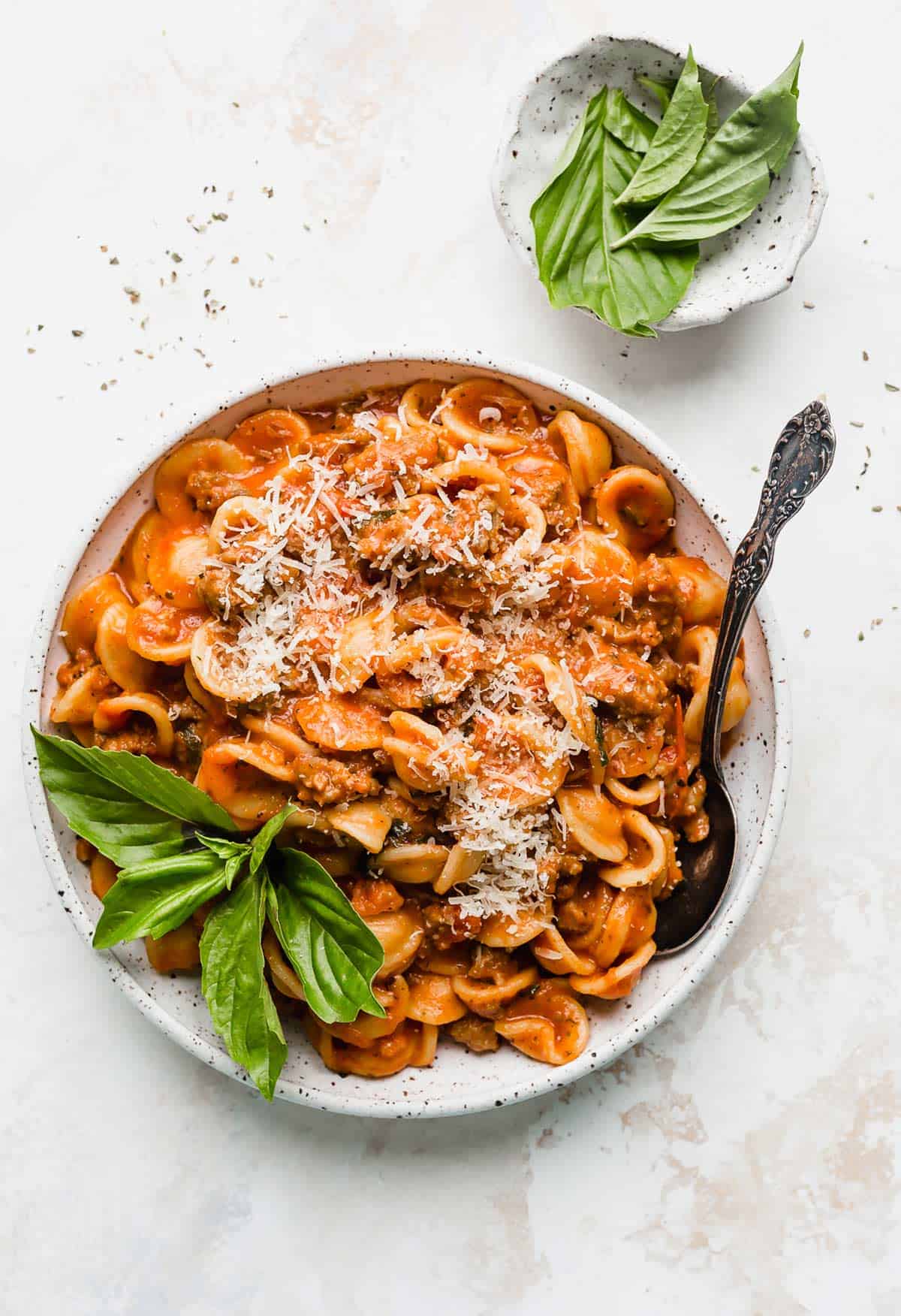 Recipe FAQs
What is bolognese sauce made of?
Traditional bolognese sauce is made with combination of meats (such as beef, pork and sometimes pancetta added for flavor). You know I'm a big sausage fan, so I opted for that as my meat of choice. As mentioned in the Recipe Tips section, you can do half beef, half sausage. The sauce is also made with a soffritto (mixture of diced celery, onions, and carrots). I wanted to make a sauce that didn't take as much time, so I didn't add a soffritto, but my sister makes this recipe with a soffritto and loves it! Add it if you'd like! The sauce also has a touch of nutmeg and some milk or heavy cream for added creaminess to the sauce. 
Where does bolognese sauce come from?
Bologna, Italy! 
Can bolognese sauce be used for lasagna?
Yes, definitely! Just layer the lasagna noodles with mozzarella cheese. Yum! This tomato-based sauce is also yummy in pasta al forno recipes. 
Which pasta do I use with bolognese sauce?
Pappardelle or tagliatelle are classic Italian pastas to use with bolognese sauce if you are looking for a long noodle. If you are wanting more of a shape, orecchiette, shell-shaped pasta, or any pasta with pockets for the sauce to gather are great! 
Can bolognese sauce be frozen? 
Yes! This is a great pasta sauce recipe to freeze. There isn't really enough dairy in the sauce to create an issue when frozen. Let the sauce cool completely and then store in a freezer safe bag or container and freeze for up to 2 months. Remove and let thaw in the fridge overnight. Then place in a pot and reheat. Do not freeze the sauce with the pasta! 
Is bolognese sauce gluten free?
I would check to make sure the tomato paste you use says it's gluten free. The tomato paste I used (the Hunts brand) didn't say gluten free on it. So be sure to check. 
Is bolognese sauce spicy?
Nope! It's as mild and delicious as can be. If you want a nice heat/kick in your Bolognese sauce you can add more crushed red pepper flakes. Or you can omit them.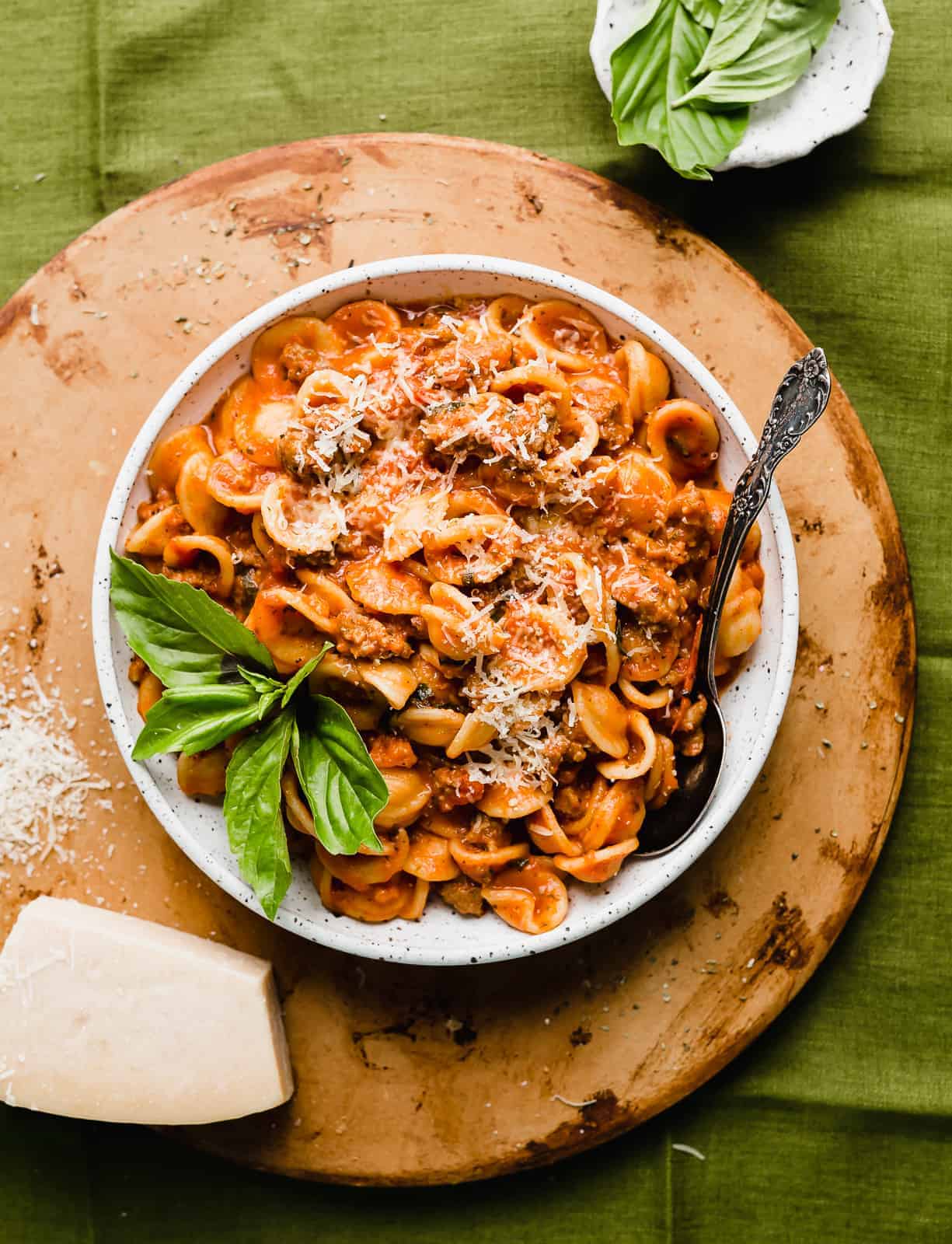 More Italian Pasta Recipes
Ragù alla Bolognese
This flavorful and easy bolognese recipe is our FAVORITE pasta dish! The sauce tastes as though it has been marinating on the stove for 12 hours. (Spoiler alert… this recipe only takes 40 minutes to make, from start to finish!)
Ingredients
1

tablespoon

olive oil

16

oz

Italian sausage

-

casings removed (see notes!)

4

garlic cloves

-

minced

1

tablespoon

dried oregano

1/4

teaspoon

crushed red pepper flakes

-

if you're really sensitive to heat and you don't want any "kick" in the sauce, reduce to 1/8 tsp

1

cup

chicken broth

28

oz

crushed tomatoes

2

tablespoons

tomato paste

1/2

tablespoon

kosher salt

1

teaspoon

freshly ground black pepper

1

lb

pasta

-

small noodle such as small shell or orecchiette

1/4

teaspoon

ground nutmeg

1/4

cup

fresh basil

-

chopped and lightly packed

1/3

cup

heavy cream

2/3

cup

grated parmesan cheese

1/2

cup

reserved pasta water

-

to make the pasta more saucy at the end
Instructions
Heat a 12 inch skillet over medium heat. Add the olive oil and Italian sausage. Cook the meat until no longer pink, crumbling it up as you go. Once cooked, drain any excess grease.

Stir in the garlic, oregano, crushed red pepper flakes and cook for 1 more minute. 

Add the chicken broth to the skillet to deglaze the pan, stir to scrape up any browned bits from the bottom. Cook until the broth has reduced by half.

Stir in the crushed tomatoes, tomato paste, salt and pepper. Bring to a boil then reduce to a simmer and simmer for 10 minutes. 

While that's simmering, cook the pasta to al dente.

After the sauce has simmered for 10 minutes stir in the nutmeg, fresh basil, cream, and parmesan. Simmer for another 10 minutes. 

Drain the pasta and reserve ½ cup of the pasta water to use at the end to make the sauce more saucy (if needs be). Add the pasta to the sauce mixing to combine. If you need the sauce to be more saucy, add a splash of reserved pasta water. 

Serve warm with a garnish of fresh basil and parmesan.
Notes
To make this a bit more classic, add an Italian soffritto (diced celery, carrots, and onion) to the pan with the olive oil and cook for a few minutes, then add the sausage. Cook fully, and follow instructions from there.
Store leftovers in an airtight container in the fridge for 5 days.
Recipe adapted from Ina Garten. 
Did you make this recipe?
Leave a star rating and review on the blog post letting me know how you liked this recipe! Take a picture and tag @saltandbaker on Instagram and Facebook so I can see what you're making!