Brown Sugar Crusted Salmon
This post may include affiliate links. As an Amazon Associate I earn from qualifying purchases.
This Brown Sugar Crusted Salmon is tender, moist, and topped with a perfectly crusted brown sugar layer. Serve it alongside vegetables and brown rice for a healthy dinner.
If you are as much of a fan of salmon as I am, then you'll also want to give my honey garlic baked salmon recipe a try as well!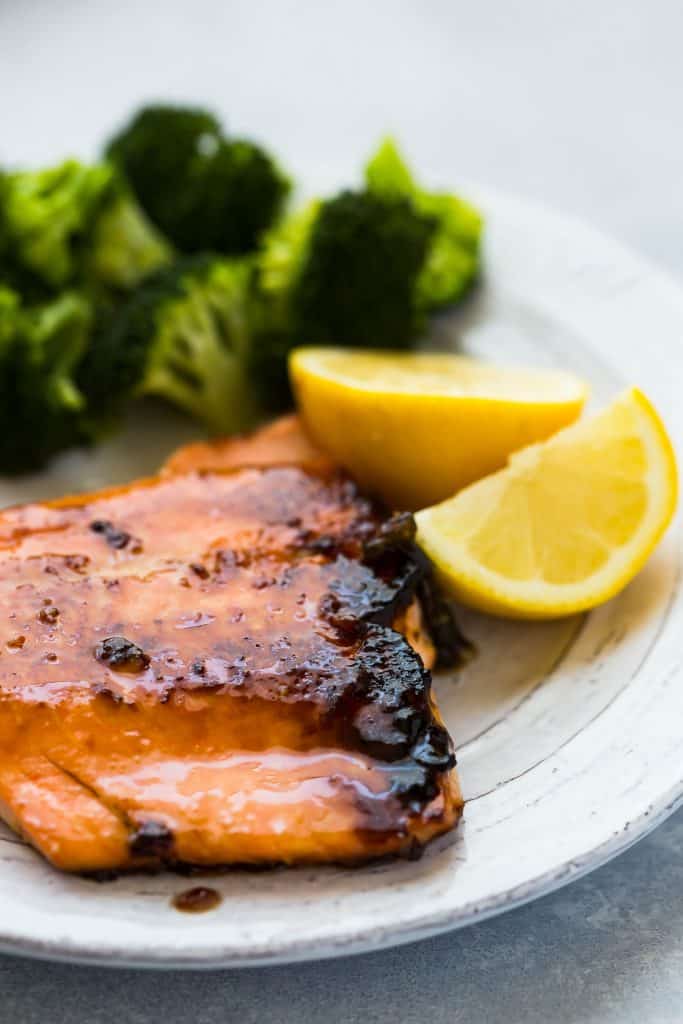 I had the pleasure of attending a meeting with Nick, owner of Alaska Seafood Select.  He mentioned that 90% of the seafood consumed in the US is imported. We send the fish to China to be processed, and then back to the U.S. Crazy!
In addition to this, farmed salmon has color added (if color wasn't added the salmon would appear grey), as well as steroids and antibiotics. Now when I go to the grocery store I'm more conscious of which fish I buy.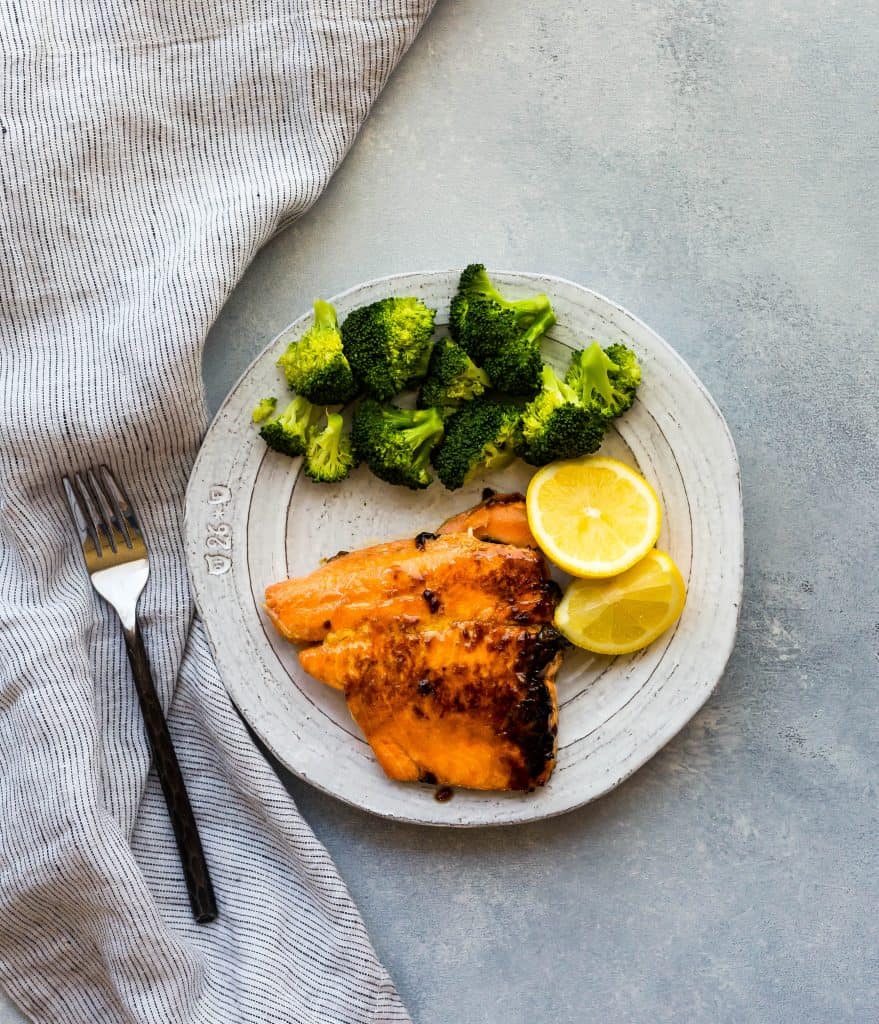 You're going to see a lot of fish on my site, especially salmon. I love a good lemon honey glazed salmon recipe.
I love fish and seafood! Not only because of the health benefits but because it tastes delicious.
My dad and his brothers have a running tradition of going to Alaska every other year. With them, they bring one of their children. When my year rolled around I was 12 years old. We spent a week fishing 8 + hours each day. We fished for halibut, silvers, and crab. If you have the opportunity to go fishing in Alaska, GO! It's so fun! Not only will you enjoy yourself and the delicious food, but the scenery is breathtaking.
I have a side story for you… my uncle, cousin Beth, my dad, and I were together fishing on the same boat one afternoon. In the distance we saw a big commercial Fishermans boat. We could see people gathering on the boat to look at a pack of whales swimming not far from their boat. Our first thought, "Cool! Let's turn off our boat motor to see if they'll come closer to us." In a matter of minutes, a HUUUUUGE humpback whale was heading for our boat. There was 30 seconds of pandemonium on our boat. Do we put our boots on? What happens if the boat flips? Rather than panic, my uncle pulled out his video camera and caught it on tape. I wish I had the footage to show you! It's definitely a moment I'll never forget. Needless to say, the whale didn't flip our boat. He just dove under it. (Not an exciting way to end my story). But I'm grateful I stayed dry that afternoon. 🙂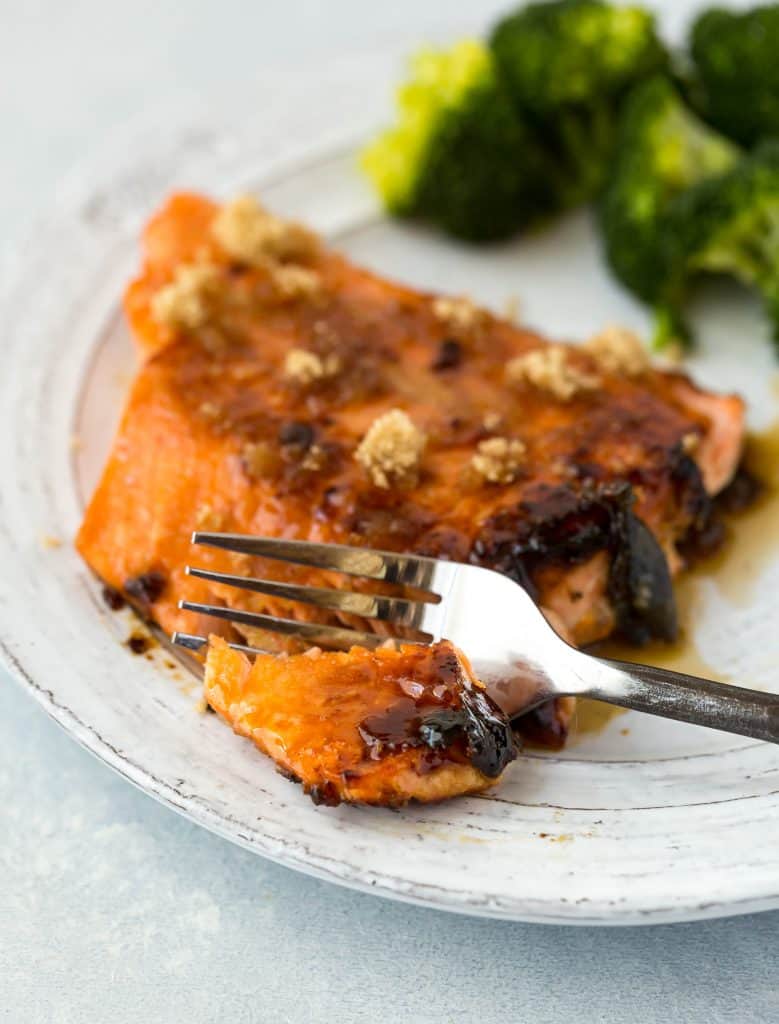 Growing up, my father made brown sugared salmon once a month. My siblings and I loved the sweetness of the brown sugar. If you have children who don't like fish, try this brown sugar crusted salmon. You might be surprised at their willingness to eat it.
My dad would include a small bowl of brown sugar on the table just in case someone needed an extra dosage of sugar.
Craving more?  SUBSCRIBE TO SALT & BAKER to get new recipes delivered straight to your inbox! Simply enter your email in a subscription box located on the right hand side of the blog or scroll below the recipe and sign up there!
And stay in touch on Facebook, Pinterest and Instagram for all of the latest updates.
Brown Sugar Crusted Salmon
This brown sugar crusted salmon is delicious! Kids and adults love it!
Ingredients
2 - 6 oz

salmon fillets

1

T

olive oil

1/4

cup

brown sugar

1/4

tsp

kosher salt
Instructions
In a small bowl combine the brown sugar and salt. (If you like more heat, or spice, feel free to add a little cayenne pepper or a pinch of red pepper flakes. I don't like much heat, so I stick with just the brown sugar).

In a skillet over medium heat, add the olive oil. Let the olive oil slowly warm up.

Take the salmon fillets, and gently pat the brown sugar mixture on top of the fish. (Don't apply it to the skin side). You'll notice that the fish absorbs the brown sugar quickly. So after you've placed the brown sugar on the fish.

Place the salmon in the skillet, skin side down. Sear for 4 minutes or so. Then flip the fish so that the brown sugar side is on the skillet. Turn the heat to medium low and cook for 4-5 minutes, or until the fish reaches an internal temperature of 145°F. Serve immediately.*
Notes
*We like to add a little extra brown sugar to the tops right before serving. 
Did you make this recipe?
snap a photo and tag @saltandbaker in your posts and stories so I can see what you're making!
You might also like: