Candied Yams
This post may include affiliate links. As an Amazon Associate I earn from qualifying purchases.
Today we're taking Candied Yams to a whole new level! These Candied Yams with apples are a traditional, yet unique, Thanksgiving side dish. These yams are topped with sliced apples and are bathed in a delicious apple and orange sauce.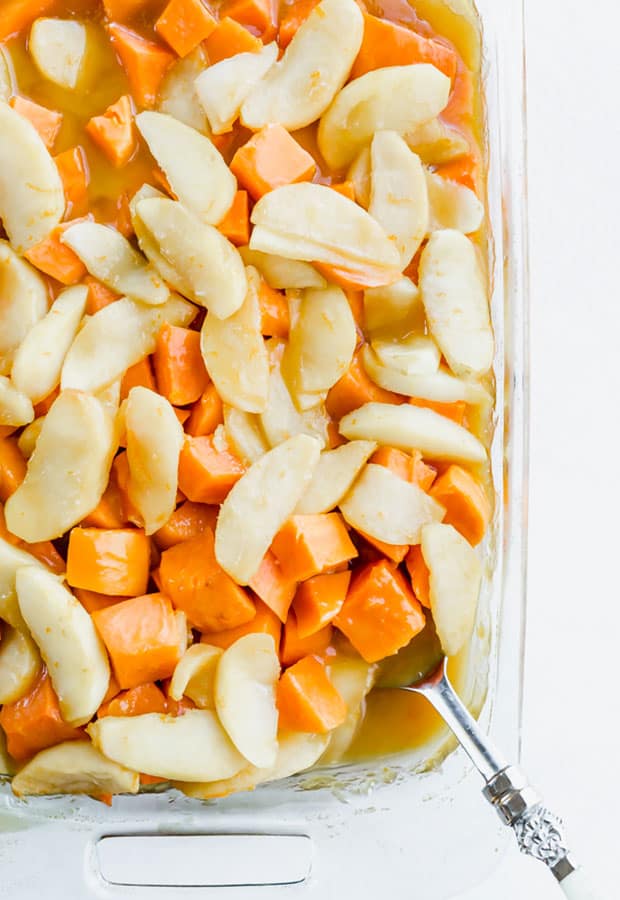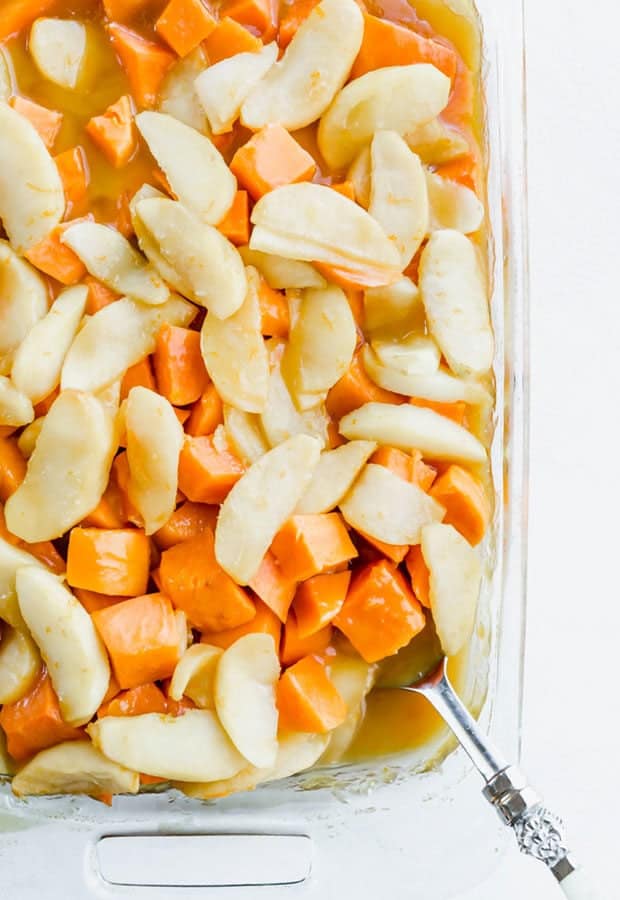 The internet is swarming with Thanksgiving candied yams recipes. There's yams with marshmallows on top (my husbands favorite), yams with brown sugar and toasted pecans (one of my favorites). But I've yet to see a yams recipe that incorporates fresh apples.
This yams recipe is my mothers. She has made this dish for Thanksgiving every year for 20+ years. When I reminisce about Thanksgiving I rarely think about the turkey we ate or the mashed potatoes that were served. For me, Thanksgiving is all about the candied yams with fresh apples. I hold this recipe dear to my heart because it's associated with so many holiday memories.
Plus it tastes SO good! Like, soooo good!
I love that this is a unique candied yams recipe. The flavors are bright but not overwhelming.
I know you're gonna love it!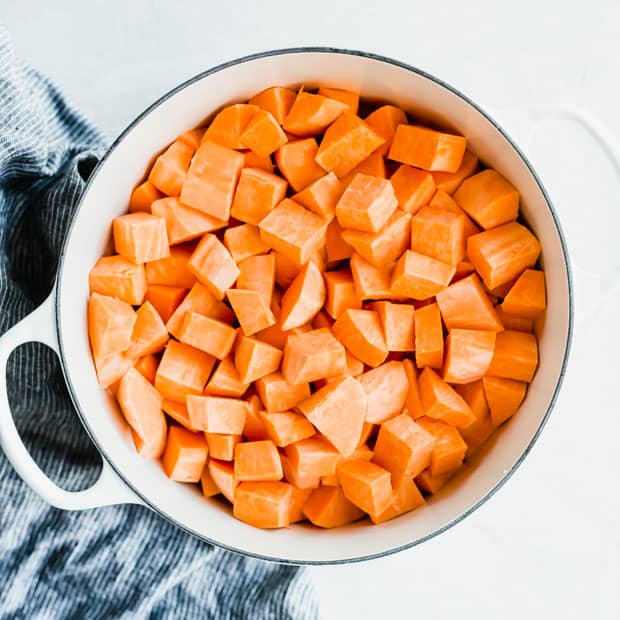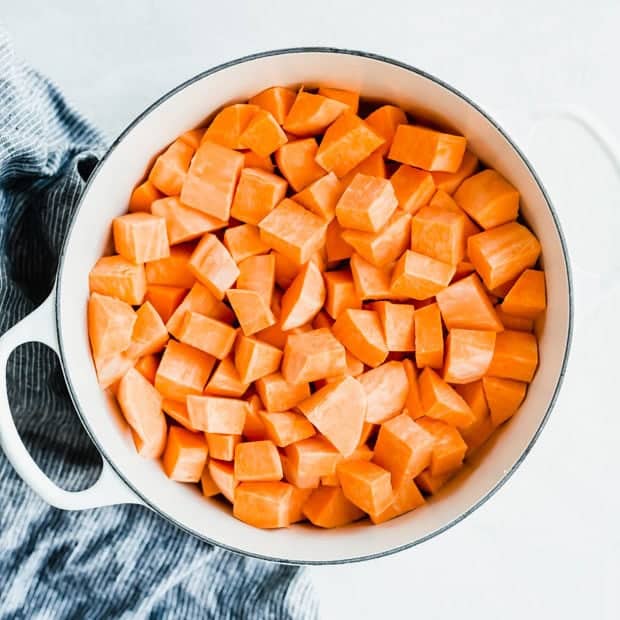 How to make Candied Yams
First you need to peel 5 large sweet potatoes. If the sweet potatoes you purchased are on the smaller size, peel and cut 6. You want enough chopped sweet potatoes to fill a 13″x9″ inch casserole dish.
Now that you've peeled the sweet potatoes, chop them into medium/bite size pieces.
Place the sweet potatoes in a large pot, fill it with water and place it over medium heat on your stove. Cook the sweet potatoes until they are fork tender. Drain the water and transfer the sweet potatoes to a buttered 13″x9″ inch dish.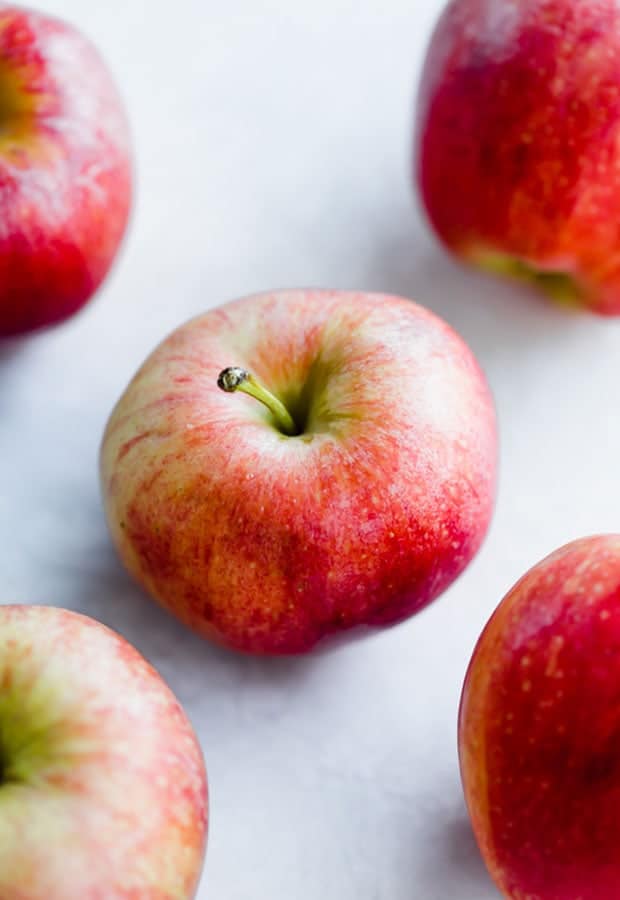 Now lets work with the apples. Peel and slice 5 or 6 apples. I went with 5. My younger sister loves the apples in this yams recipe so she would add 8 apples if it were her making this! Do what suits you?
I used an apple corer slicer device. Similar to this one here. (Affiliate link). This would be the perfect device to use (has 16 slices rather than the normal 8)! I have one that has only 8 slices so I ended up slicing them in half lengthwise to get a thinner apple slice.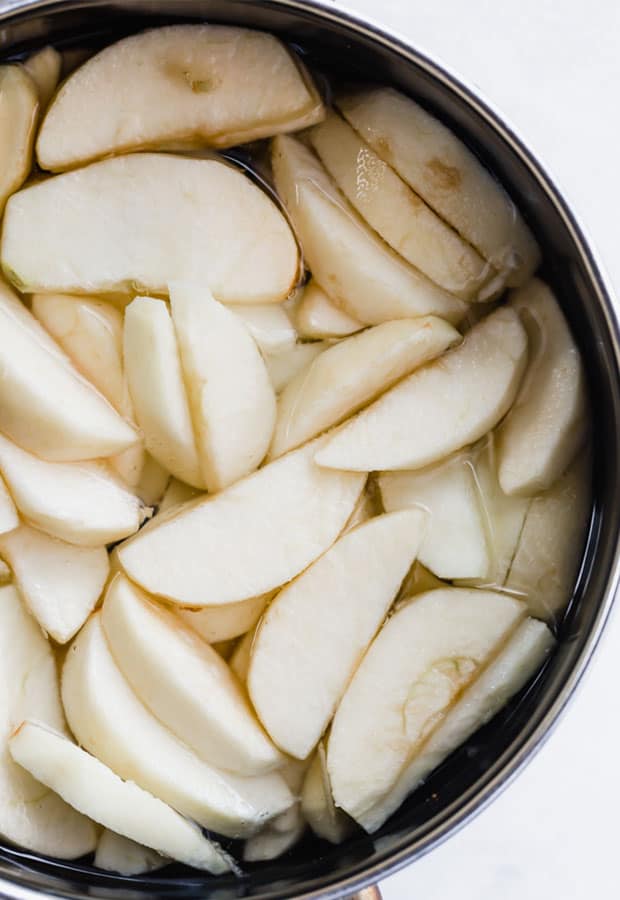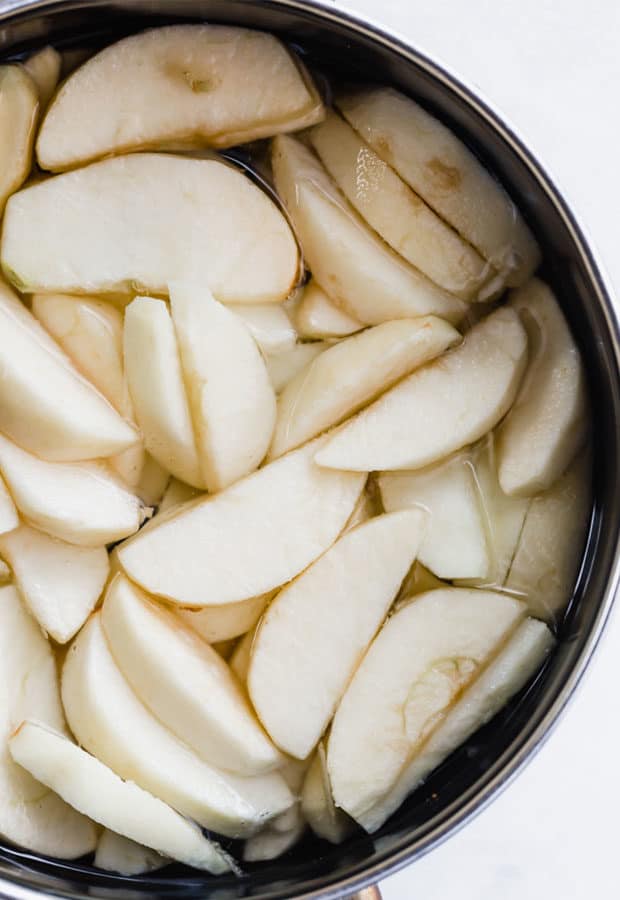 Once the apples have been prepped, place them in a medium saucepan and cook them until they are fork tender. It will take about 6 minutes or so.
Drain the water from the apples, reserving about 2 cups of the apple water!! Scatter the cooked apples overtop of the cooked yams.
Once you've done that, we make the yummy orange sauce!
The BEST Candied Yams sauce
This sauce is sooooo yummy!! We use the apple water and then bring in orange flavors to create a perfect medley for the sweet potatoes and apples. It only takes one bite of these yams to get you hooked.
Sauce ingredients:
Brown sugar and granulated sugar
Cornstarch
Orange zest
Frozen orange juice concentrate
Butter
Apple water
You'll combine all of the above ingredients in a saucepan and cook it over medium low heat until it thickens. Once you've reached a consistency that replicates syrup, pour the sauce overtop the apples and yams. Cover with foil and bake for 30-40 minutes.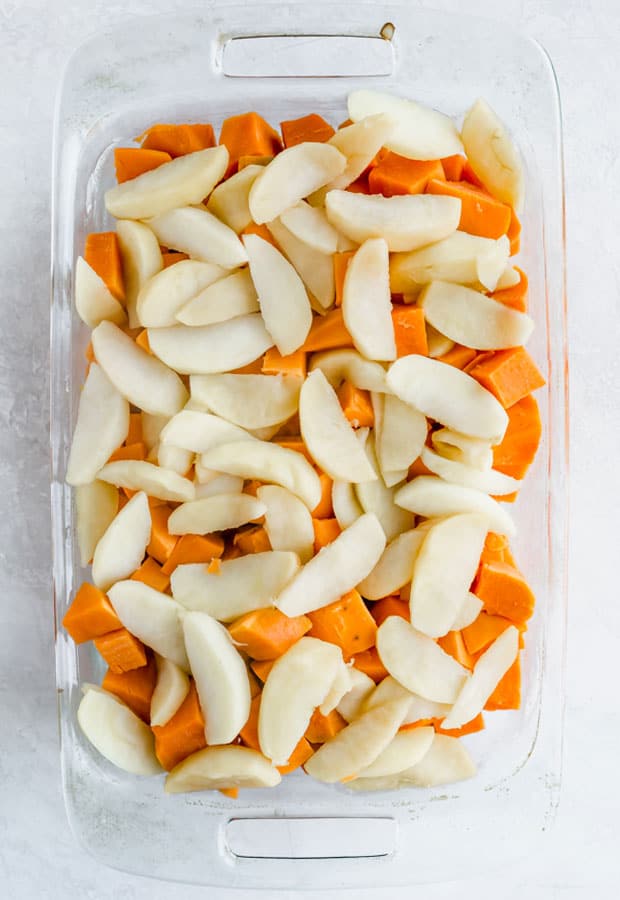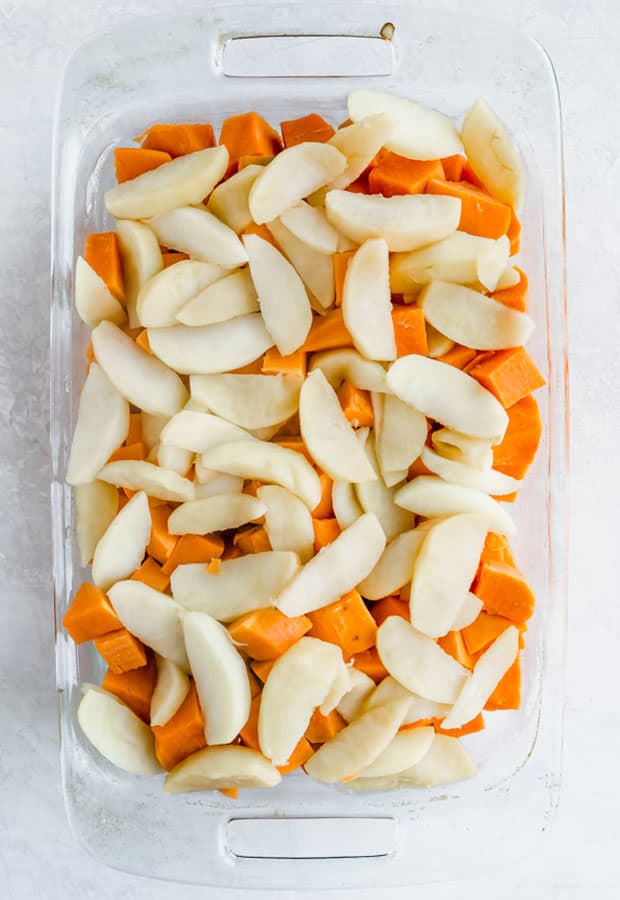 Can you make Candied Yams ahead of time?
Yes! In fact, I recommend you make this recipe a day prior to Thanksgiving! Doing so will allow the flavors to deepen and get ultra rich.
Do everything up until you need to place the yams in the oven. Pour the sauce over the yams and apples, cover with foil and place in the refrigerator. On Thanksgiving day pull it out of the fridge and place in a 350°F preheated oven and bake for 40-45 minutes or until warmed throughout.
Can you freeze this candied yams recipe?
Yes, you can. Do everything up until you'd place the foil covered baking dish in the oven. However, rather than placing the yams in the oven, you'll place it in the freezer.
I would suggest double covering the yams with aluminum foil.
I suggest freezing this for up to one month, anything longer than that, I haven't tried.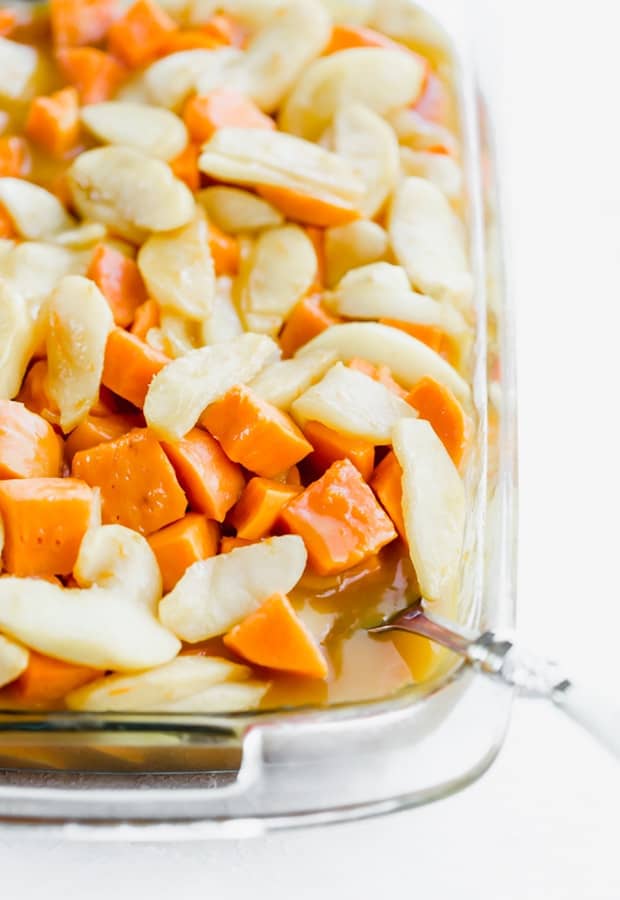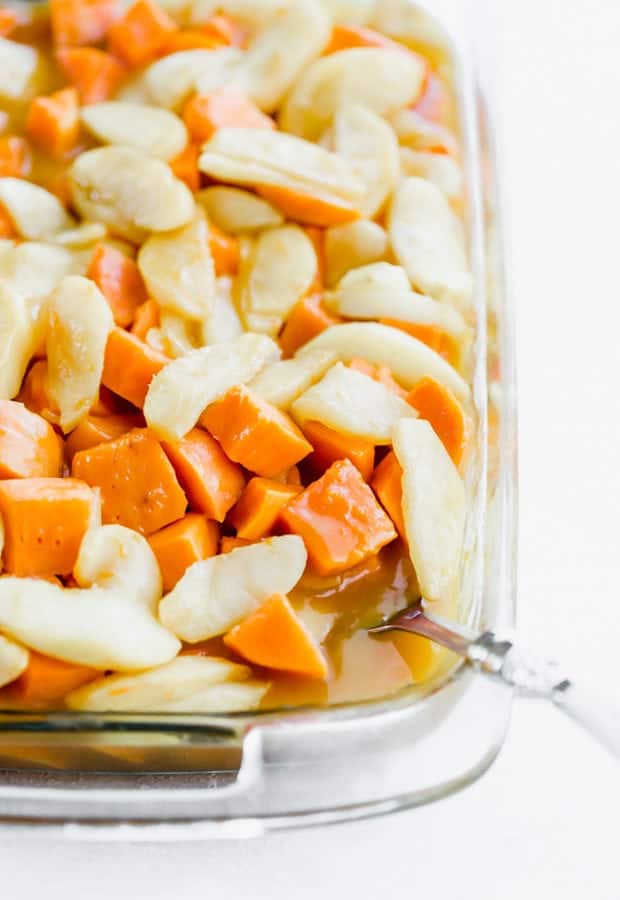 If you want some additional Thanksgiving recommendations check out these delicious recipes:
---
Craving more?  SUBSCRIBE TO SALT & BAKER to get new recipes delivered straight to your inbox!
Candied Yams
Delicious candied yams with apples bathed in an orange and apple sauce.
Ingredients
5

large sweet potatoes*

-

peeled and chopped into bite size pieces.

5

apples

-

peeled and sliced

1

cup

light brown sugar

-

packed

1

cup

granulated sugar

4 1/2

tablespoons

cornstarch

4

tablespoons

orange zest

-

(the zest of about 2-3 large oranges)

4

tablespoons

salted butter

1

cup

orange juice concentrate

1 1/2

cups

apple water
Instructions
Preheat oven to 350°F. Take butter and smear it on the bottom and the sides of a 13x9 inch pan. Set aside.

Add the chopped yams to a large pot. Fill with water. Bring to a boil and cook until the sweet potatoes are fork tender. Drain the water.


Transfer the cooked sweet potatoes to the prepared 13x9 baking dish.

In a medium sized saucepan add the apples and 4-5 cups of water. Place the saucepan over medium heat. Bring to a boil and then turn the heat to low and simmer for 5 minutes or so, or until the apples are fork tender. Drain the water from the apples, reserving 1 1/2 cups of the apple water. Scatter the cooked apples overtop the cooked yams.


Take the 1 1/2 cups of apple water and add it to a small saucepan. Add the frozen orange juice concentrate to the water. Stir to combine. Next, add the brown sugar, sugar, cornstarch, orange zest, and butter. Place the saucepan over medium low heat and cook until it thickens. **

Pour the sauce overtop the yams and apples. Cover the baking dish with aluminum foil.


Bake for 30 minutes at 350°F, or until warm and heated through.


Note: You can make this dish a day in advance. Follow the recipe up until step 6. Rather than placing the foil covered dish in the oven, place it in the refrigerator. The following day you can pull it out of the fridge and bake it for 45 minutes or until heated through. You have a longer bake time because it's coming straight from the fridge. We love to make it a day prior because the flavors deepen!
Notes
*If your sweet potatoes aren't super big, use more than 5. Once they are chopped you want enough sweet potatoes to fill a 13"x9"inch baking dish.
**Cook the sauce until it reaches a thick syrup like consistency.
Did you make this recipe?
snap a photo and tag @saltandbaker in your posts and stories so I can see what you're making!