Raspberry Sorbet
This post may include affiliate links. As an Amazon Associate I earn from qualifying purchases.
Raspberry sorbet that is creamy, refreshing, and vibrant in color and flavor! There's no mistaking this sorbet is loaded with fresh (or frozen) raspberries.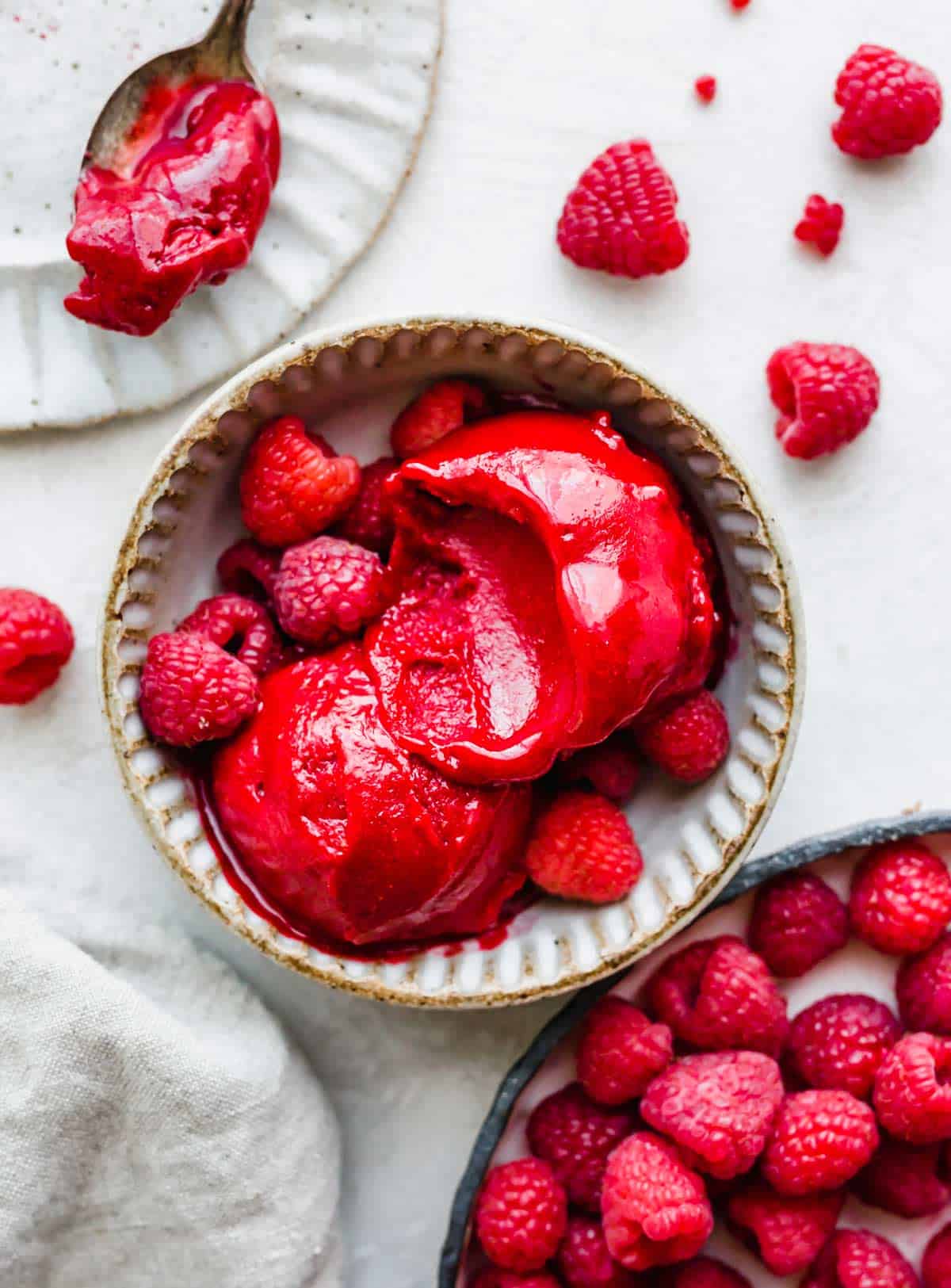 Raspberry Sorbet Recipe
YES. YES. YES!!!
This is it.
This is THE BEST raspberry sorbet ever!
I was a bit shocked by how crazy good this sorbet tasted. The flavor is OFF THE CHARTS! We're talking a rich, pure, and refreshing raspberry flavor.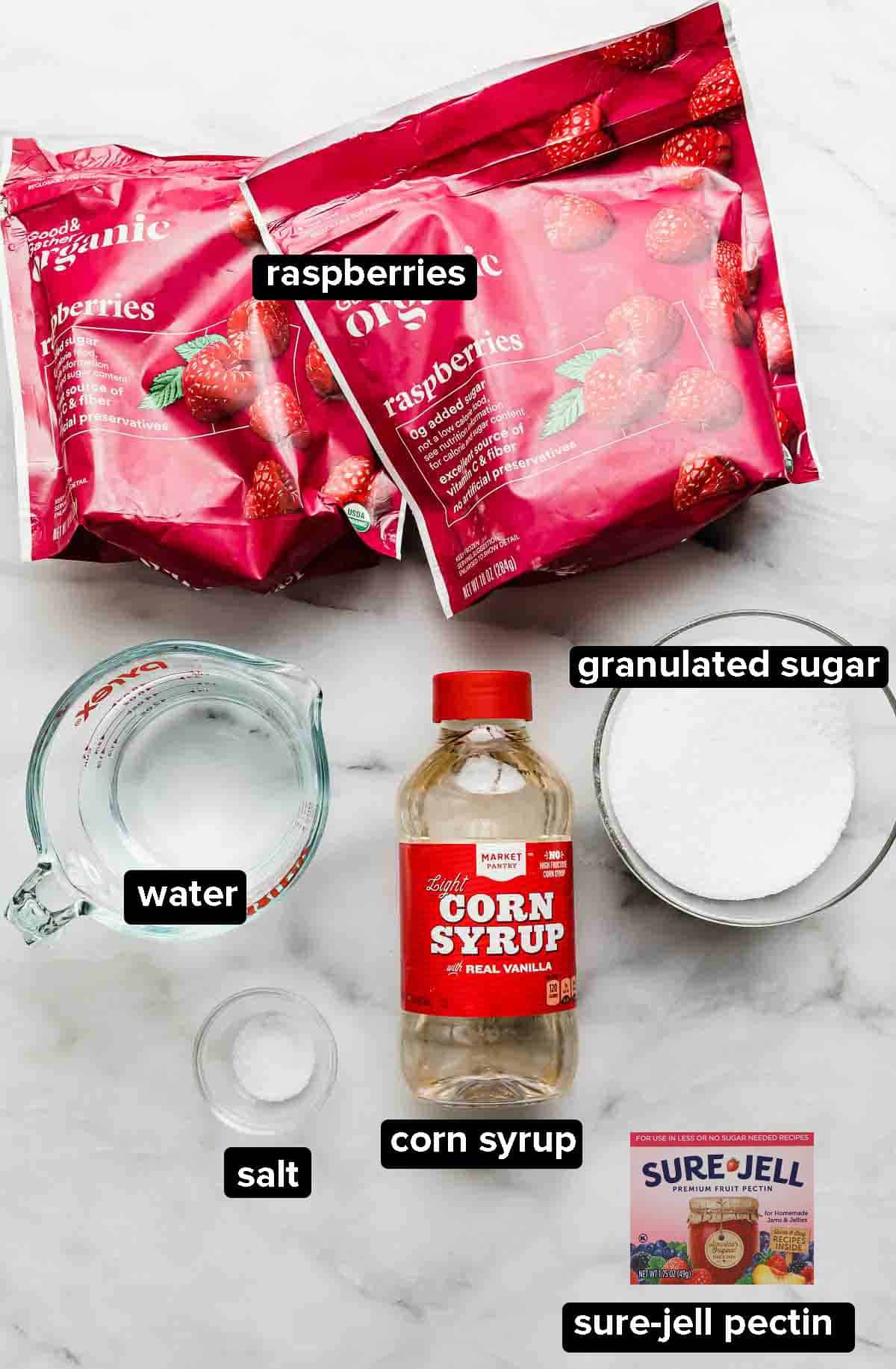 Creamy Raspberry Sorbet
We've all tasted the homemade sorbet recipe that is crystallized and quite frankly, disgusting.
I have good news and bad new.
The good news… this fruit sorbet is not crystallized, it's smooth, creamy, and rich!
The bad news… you'll want to eat the entire batch.
Sorbet that doesn't melt instantly
Have you scooped a bowl of sorbet to find that minutes later it has melted into a puddle?!
Sorbet is known for its rapid melting once it's scooped. It's the worst! I want it to keep its' shape and stay frozen.
I prefer scooping and eating my raspberry sorbet rather than drinking it, thank you very much.
To avoid the awful dilemma of sorbet melting within seconds, we add pectin (Sure-Jell). This pectin stabilizes the sorbet and slows the melting and results in a perfect raspberry sorbet! Yay!! A sorbet that doesn't melt… we're solving all kinds of problems today.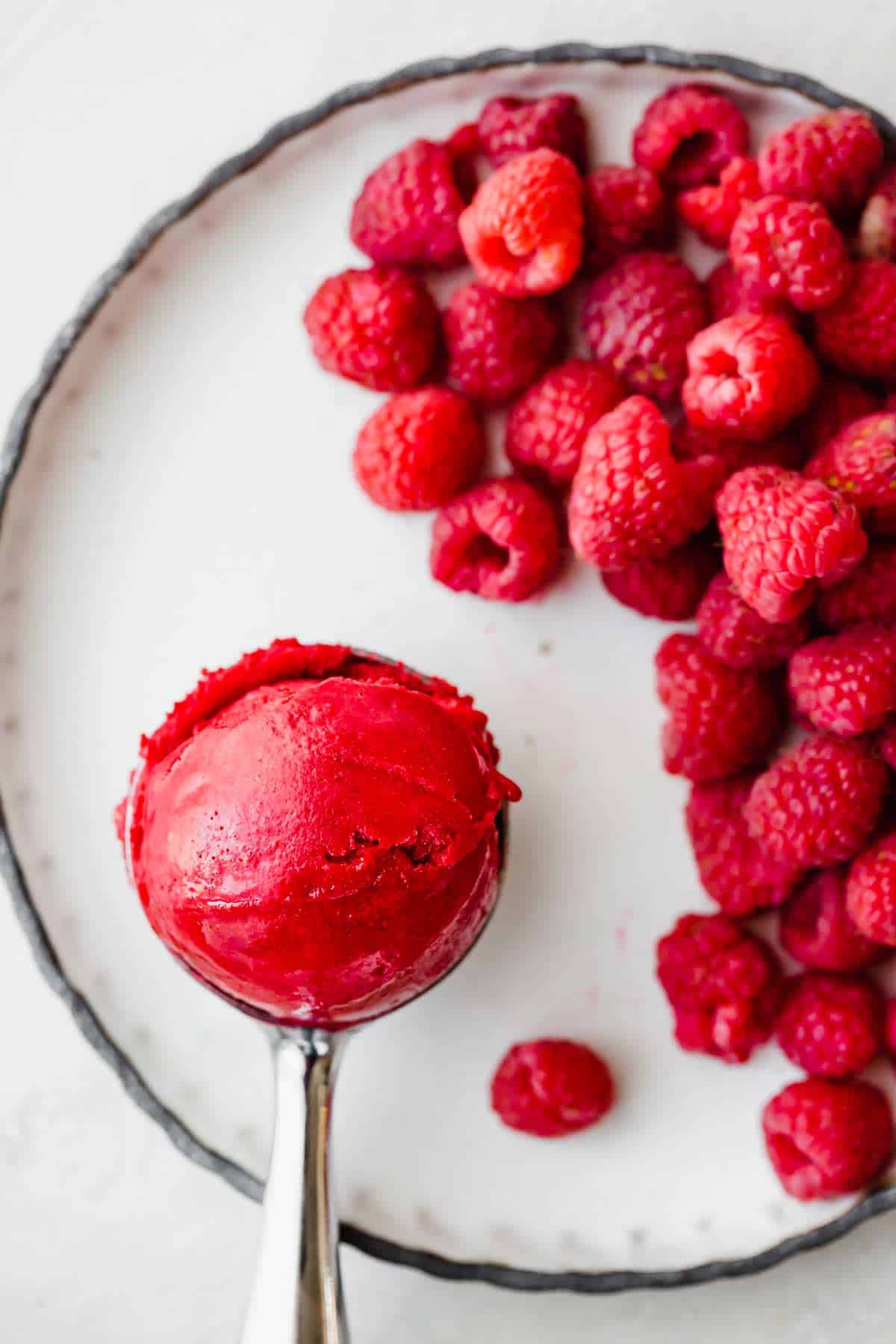 How to avoid a grainy sorbet texture
What makes sorbet grainy? Big ice crystals.
In order to avoid big ice crystals, we freeze a portion of the raspberry base as fast as possible. By doing this, the base doesn't have time to form the large crystals.
Rather, the rapid freeze causes small "seed" crystals.
When you add the frozen raspberry mixture to the refrigerated mixture it initiates a chain reaction. As they combine, more small crystals form immediately. Small crystals = smooth sorbet.
How to make Raspberry Sorbet
In a saucepan over medium heat, combine the water, Sure-Jell pectin, and a pinch of salt. Stir until the pectin is completely dissolved. This will take about 5 minutes.
Once the pectin has dissolved, remove the pan from the heat and allow it to cool for 10 minutes.
While it's cooling add the frozen raspberries, granulated sugar, and light corn syrup to a blender (or food processor). Add the water mixture to the blender too.
Blend until smooth.
Pour the raspberry mixture through a fine mesh sieve.
Divide the smooth raspberry mixture into 2 bowls. You'll need a small bowl and a medium sized bowl.

The first bowl (small) will have only 1 cup of the raspberry mixture. Cover the bowl and place it in the freezer.
Pour the remaining raspberry sauce into the second bowl (medium size), cover with plastic wrap and place it in the fridge.

Chill/freeze for 4 hours or longer.
Remove from the freezer/fridge and churn in an ice cream machine for 15-20 minutes or according to the manufacturers instructions.
Transfer the raspberry sorbet to a freezer safe container, cover, and freeze until firm about 2-3 hours.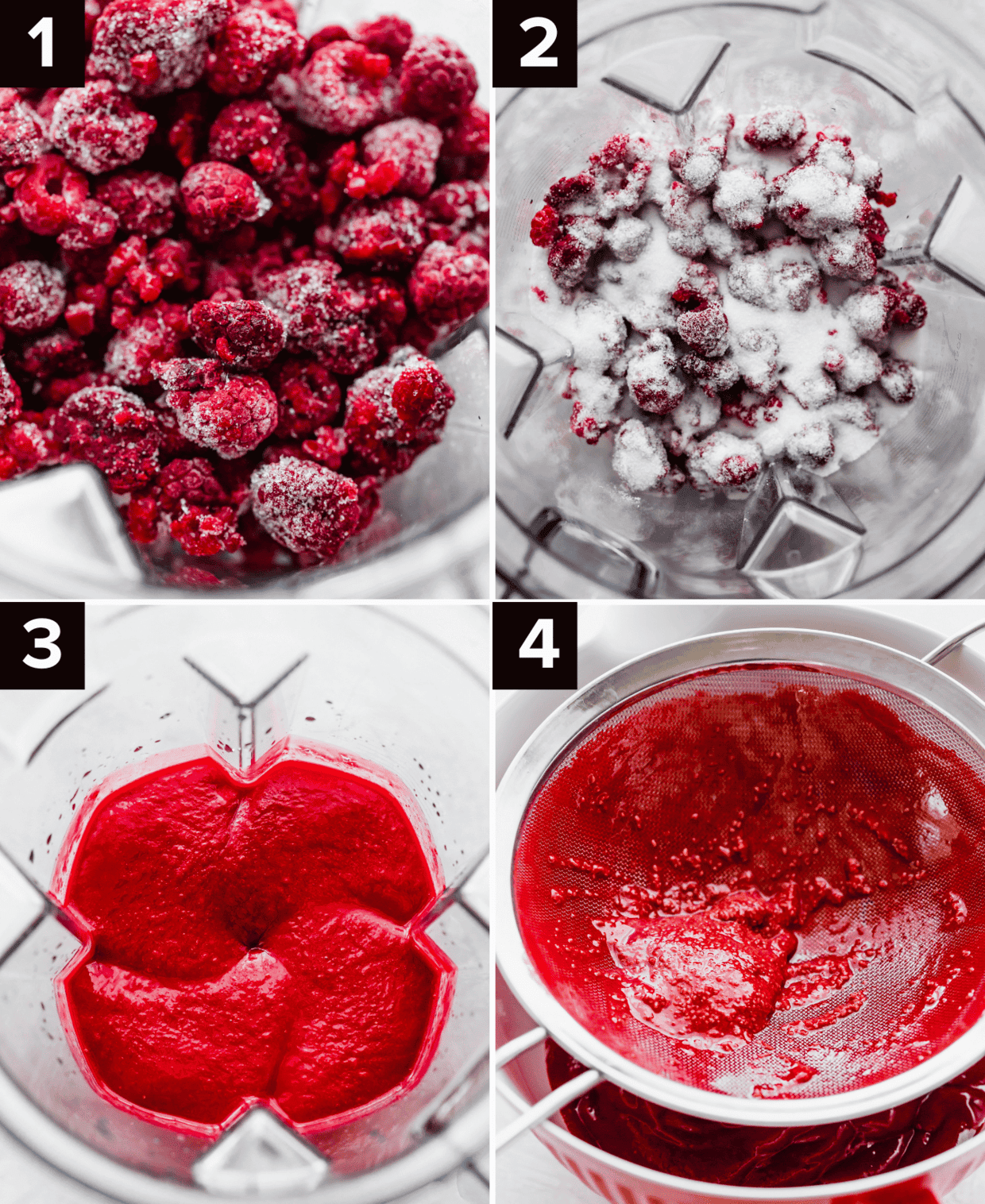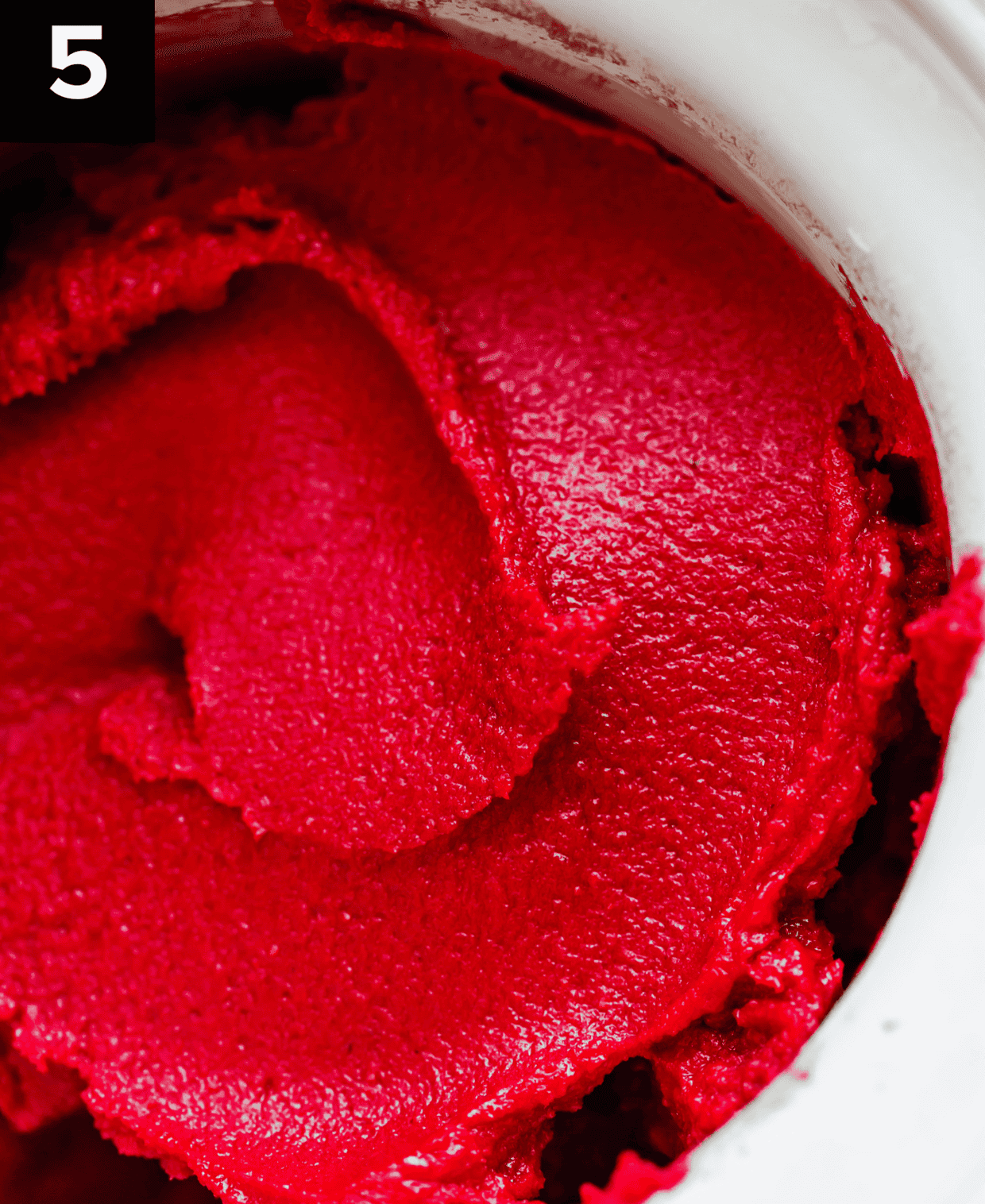 Grab an ice cream scoop and serve yourself a nice scoop of creamy raspberry sorbet!
PRO TIP: you can pour the mixture through the sieve more than once to ensure a perfectly smooth sorbet.
BONUS TIP: You can use fresh or frozen raspberries for this sorbet recipe.
Churning Raspberry Sorbet
Do you need to churn sorbet? Technically no.
However, churning sorbet makes for a creamy and smooth end result! And trust me, you'll be so glad you took the time to pull out your ice cream machine for this recipe.
But like most things in life, too much of a good thing can be bad.
Churning sorbet too long is a problem. In fact, too long of a churn time results in a loose and crumbly sorbet.
Even 30 minutes of churning sorbet is too long.
Churning the raspberry sorbet mixture until it reaches the consistency of a thick milkshake will result in a dense and beautifully flavorful sorbet.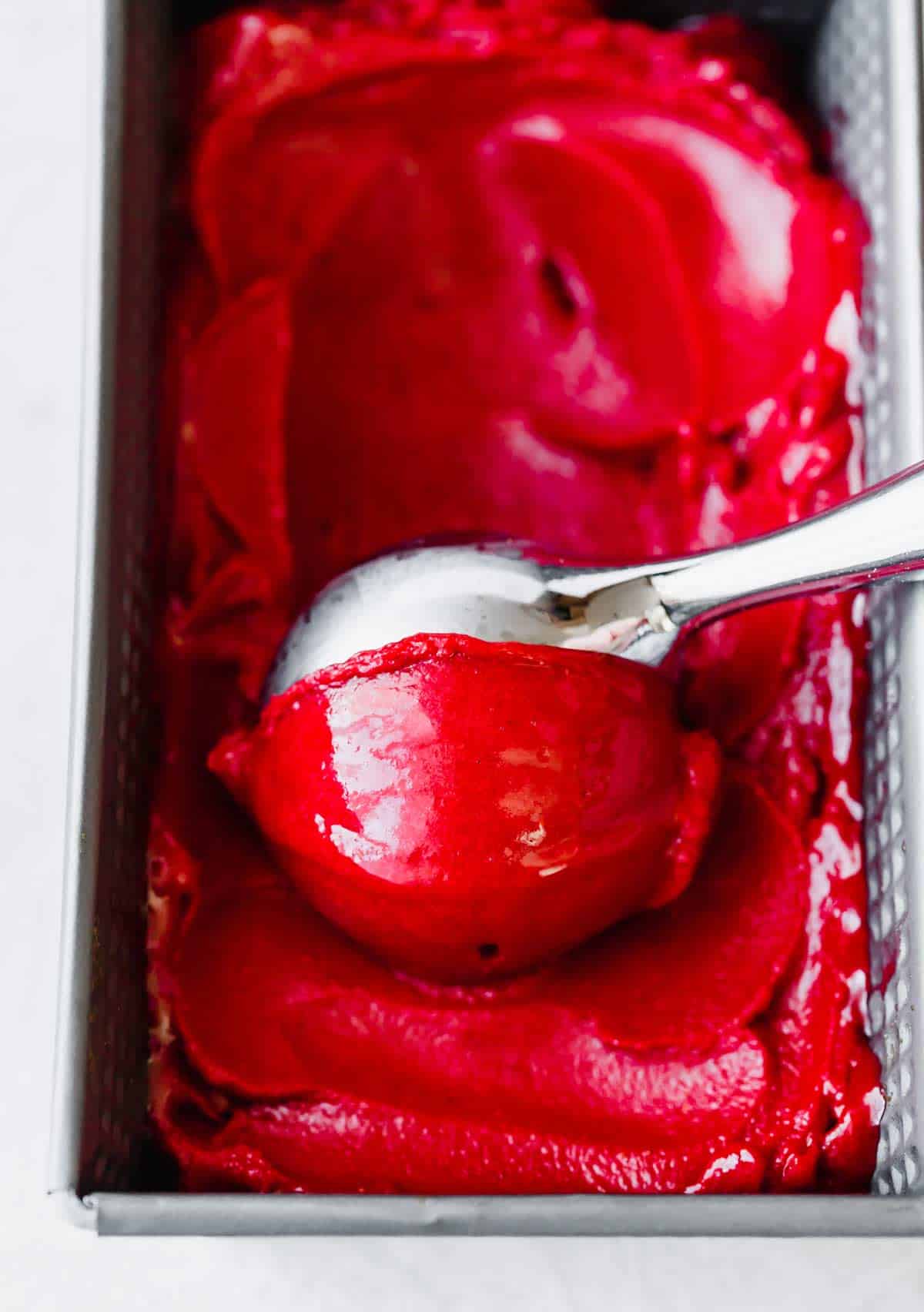 If you need to get an ice cream machine, I use this one. I like it because it's affordable and works well. The only downside being you need to freeze the bowl a day prior to making the sorbet.
If you're a forgetful person, maybe this ice cream maker is more conducive.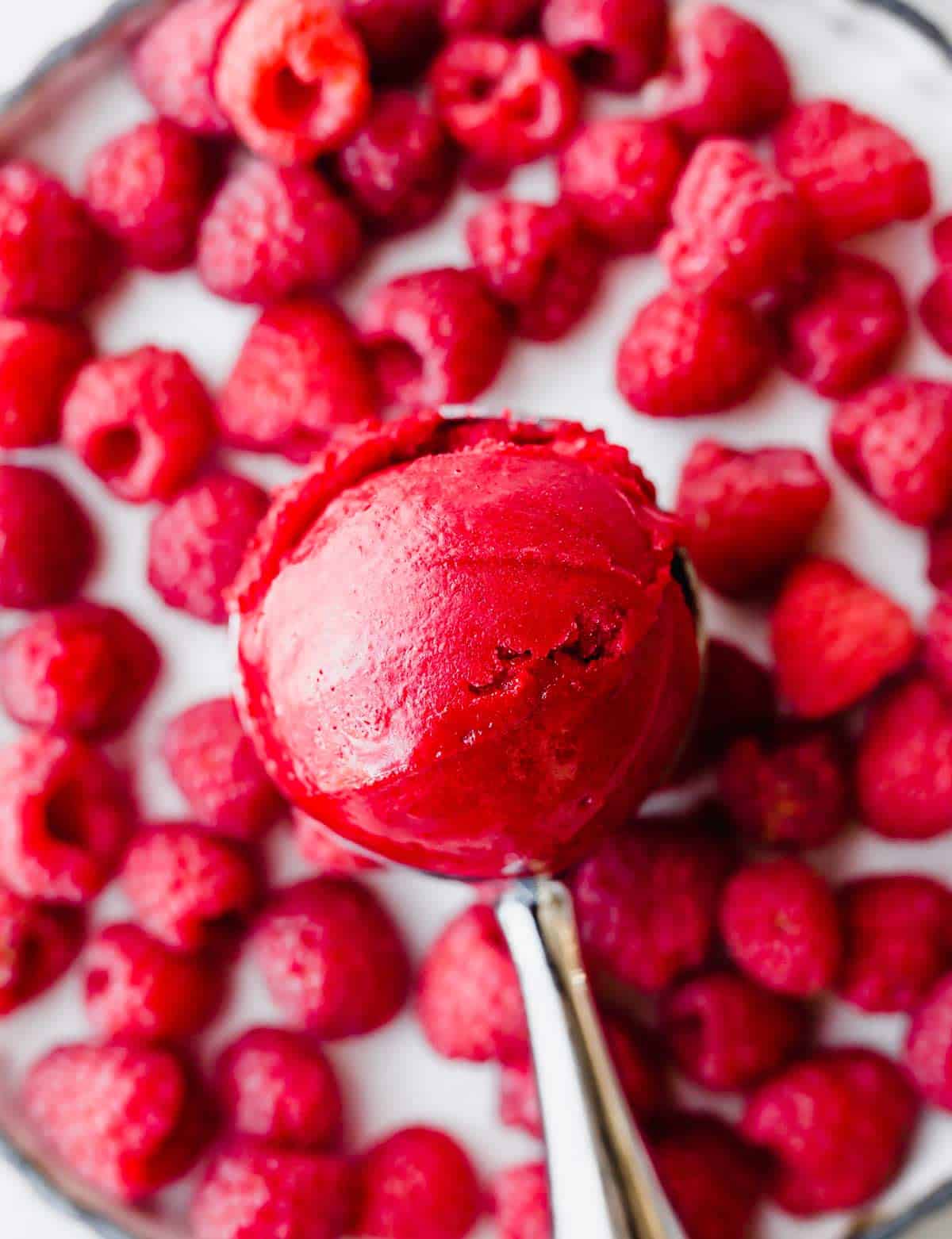 If you love this recipe try these:
Raspberry Sorbet
Rich and creamy raspberry sorbet can be made with fresh or frozen raspberries. It's the MOST delicious sorbet you'll ever eat.
Ingredients
1

cup

water

1

teaspoon

Sure-Jell for Less or No Sugar Needed Recipes

pinch

salt

4 3/4

cups

frozen raspberries*

-

about 20 oz

1/2

cup + 2 tablespoons

granulated sugar

1/4

cup

light corn syrup
Instructions
In a medium saucepan over medium heat, add the water, Sure Jell, and salt. Stir frequently, until the Sure-Jell is completely dissolved, about 4-5 minutes. Remove saucepan from heat and cool for 10 minutes.

In a blender (or food processor), process the rasberries, sugar, corn syrup and the water mixture until smooth. Strain this mixture through a fine mesh strainer. You can even strain it twice to ensure you get all of the seeds.


Divide the liquid into two bowls. One bowl will have 1 cup of the mixture and the other will have the remaining raspberry mixture. Cover both of the bowls with plastic wrap.

Place the bowl with the 1 cup of raspberry mixture in the freezer, and the larger bowl with the remaining liquid in the refrigerator. Keep each bowl in freezer/fridge for at least 4 hours.


Remove the bowls from the fridge and freezer.


Scrape the frozen raspberry mixture into the larger bowl with the chilled (refrigerator) raspberry base. Stir to combine.


Pour the raspberry mixture into an ice cream machine and churn for 15-20 minutes. Be sure to follow the manufacturer's instructions on your ice cream machine.


Transfer the churned sorbet to a freezer safe container. Cover with a lid or plastic wrap and freeze for 2-3 hour or until firm. Remove from the freezer, scoop into bowls and serve!
Notes
*You can use fresh raspberries as well, just measure the raspberries to equal 20 oz. 
Recipe adapted from America's Test Kitchen.
Did you make this recipe?
Leave a star rating and review on the blog post letting me know how you liked this recipe! Take a picture and tag @saltandbaker on Instagram and Facebook so I can see what you're making!