A Sweeter Wednesday #25
This post may include affiliate links. As an Amazon Associate I earn from qualifying purchases.
Happy Wednesday!!
If you have Disney + you need to watch the documentary, "Free Solo." It's UNREAL!! 🙀🤯 Literally was biting my nails the entire time.
John posted another SGN and I just love it so much.
Starting to think that 2 dishwashers should become the new norm in every house. We are running our dishwasher (fully packed) every single day (with only 4 of us), and I'm a bit concerned as to what it will be like if we ever have more kids. 😂
Fair warning, I'm posting a virgin mint julep recipe on Friday even though the Kentucky Derby is cancelled. The drink is way too good not to share!
I'm totally rocking the face mask at the grocery store these days. How about you? My husband is paranoid (for good reason) and reminds me before leaving the house to "grab the mask!"
Lastly, I just want to mention how grateful I am for quarantine. Being stuck at home with my family has been really really good! My husband's work schedule has been up and down, to accommodate what's happening in the world right now, which means he has been home for weeks at a time. This family time is rare for us, and I'm just so grateful to be stuck with people that drive me up-the-wall but also make me so happy.
Recent Recipes
10 Minute Pesto Tortellini Pasta Salad – easy, quick, delicious. My kids pick the sun-dried tomatoes off, which is fine because I'd do the same if I were a child.
Sheet Pan Chili Lime Salmon – tossed with a rainbow of chopped peppers. 😍
Scotcharoos – not exactly diet approved. But my goodness these treats are delicious! My mother-in-law is a pro at making these so I tried to share all of her tips and tricks throughout the blog post.
Recipe Spotlight
Bringing back a piece of my childhood with these brownies. 💕
These brownies feature a super moist and fudgy brownie base topped with a smooth and shiny ganache. Take 1 bite and you'll be hooked!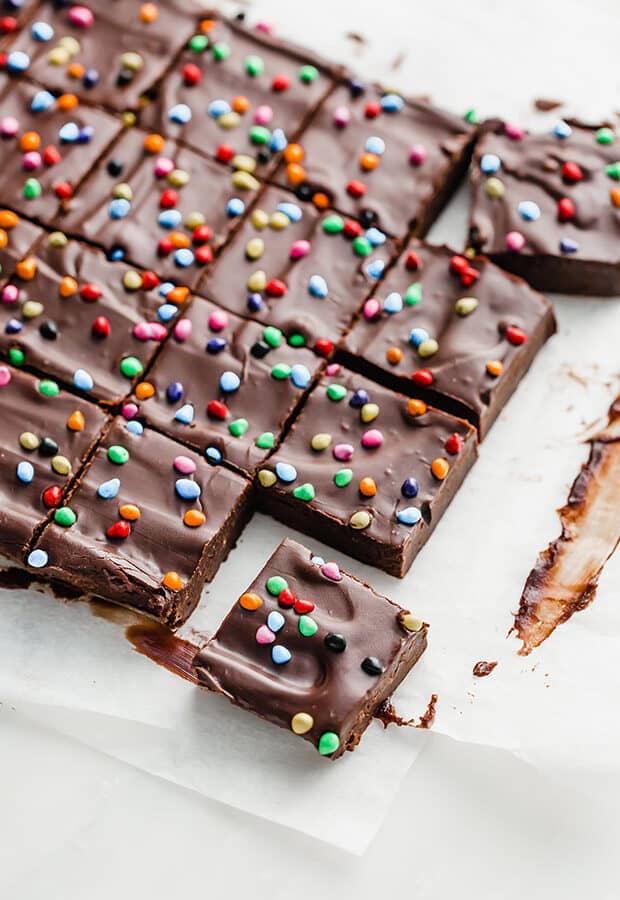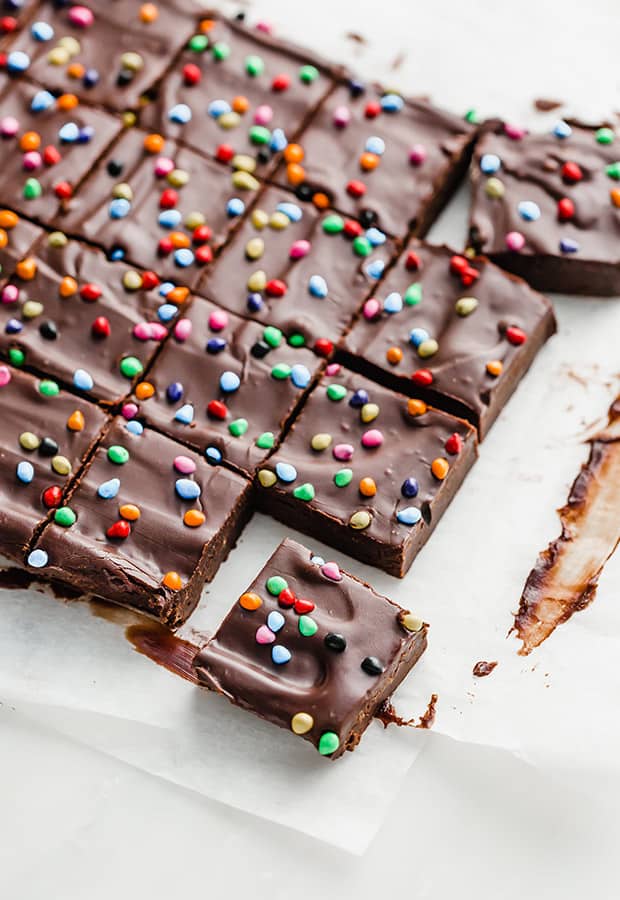 Let see what you have to say about these brownies:
"Since I didn't grow up in the US I've never heard of cosmic brownies before reading this post. But looking at your first picture I was sold – who could resist that dense brownie base with the glossy ganache?! Not me, so I went straight to the kitchen to make them. They're divine! And you are absolutely right, they are rich, veeeeery chocolatey and definitely moist. In fact, they are the first brownies I made that my husband truly loved (he's a very picky brownie eater…). So thanks to you I now have a brownie recipe in my repertoire that I will make again and again." -Jeannette
So grateful to those of you who come back to comment on the recipes you've made! Thank you, thank you. 😘
Favorite Finds
Steve Madden has 40% off site wide. This is dangerous…
Are these shoes still in style? Also seen these sneakers with stars on them all over the place, but I can't get over the fact that you buy them looking dirty. Am I missing something here? 🤔 Also cute but would I look like I'm 9 years old wearing these?
Everything you should know about storing asparagus.
Making this Pasta in Puttanesca Sauce for dinner!
I've never had Coca Cola Cake, but now I'm intrigued. 🥤
How to avoid skin irritation from wearing a face mask (in case you need this).
My kids will gobble up these turkey sloppy joes. (Adding these to our dinner menu).
Have a beautiful week,
xo Whitney