Air Fryer Waffle Fries
This post may include affiliate links. As an Amazon Associate I earn from qualifying purchases.
Waffle fries are amazing but have you ever cooked them in an Air Fryer? These Air Fryer waffle fries are so deliciously crunchy on the outside and soft on the inside. The perfect way to enjoy them.
Serve these air fryer waffle fries alongside our Wingers Sticky Fingers, Bacon Burgers, Homemade Sloppy Joes, Philly Cheesesteak Sloppy Joes, or BBQ Chicken Sandwich.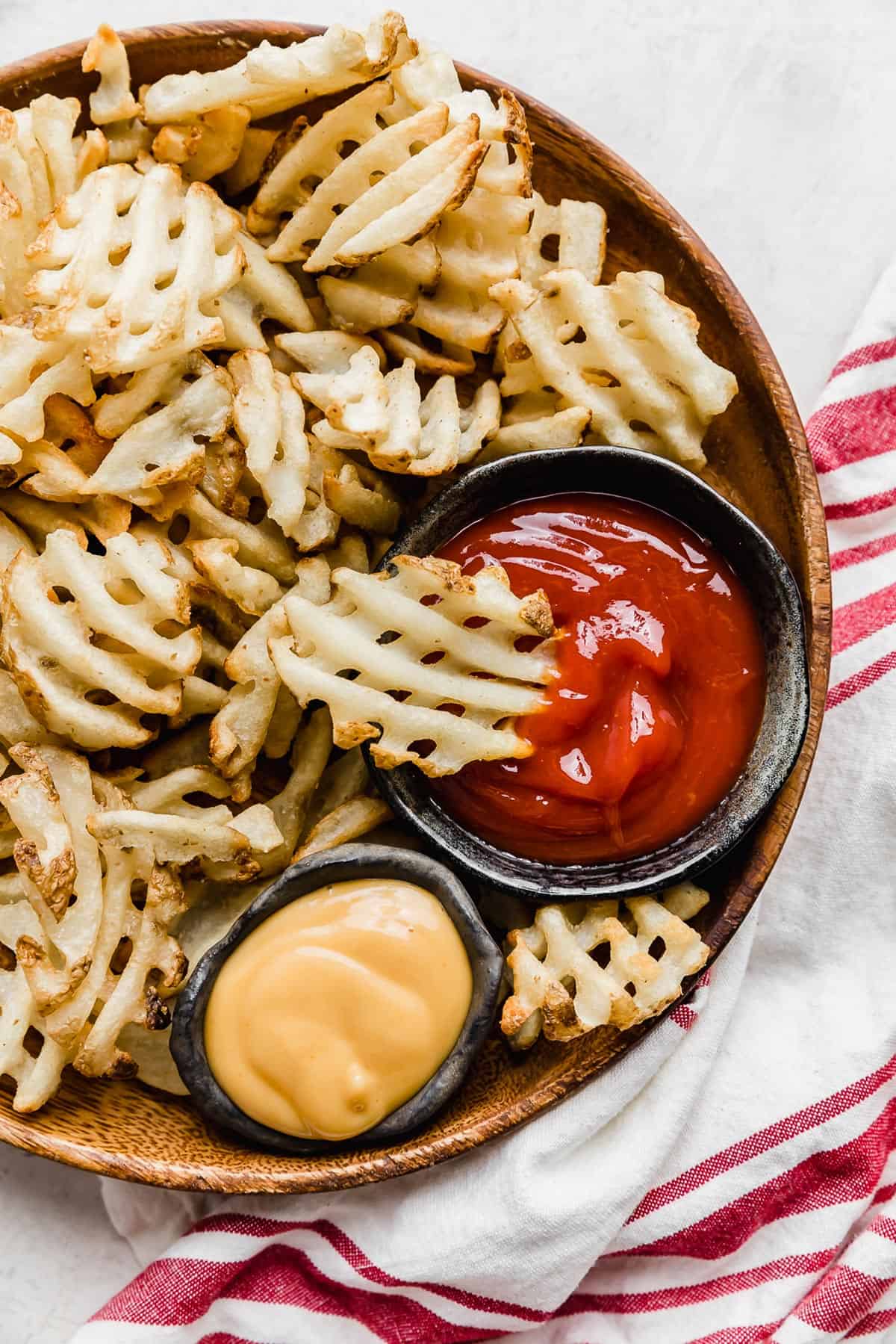 Why This Recipe Works
Fast and easy. This recipe only takes a few minutes from start to finish because we don't have to preheat a huge oven. It takes just minutes to preheat an air fryer. I have a feeling cooking waffle fries in an Air Fryer will soon become your favorite cooking method!
Less calories. Because we don't need oil to cook the waffle fries, there are much less calories and this becomes a healthier waffle fry recipe!
Versatile. You can use any variety of waffle fry so grab sweet potato, regular, seasoned, etc. depending on what you're craving.
No need to thaw. Because these fries start from frozen you don't have any real prep work besides preheating and then placing frozen waffle fries in Air Fryer baskets.
Save money. Looking to save money at Chick-Fil-A? (This is where my husband chimes in screaming, "YESSS!" 🤣) These taste just like Chick-Fil-A's waffle fries, but they're made at home!
Ingredients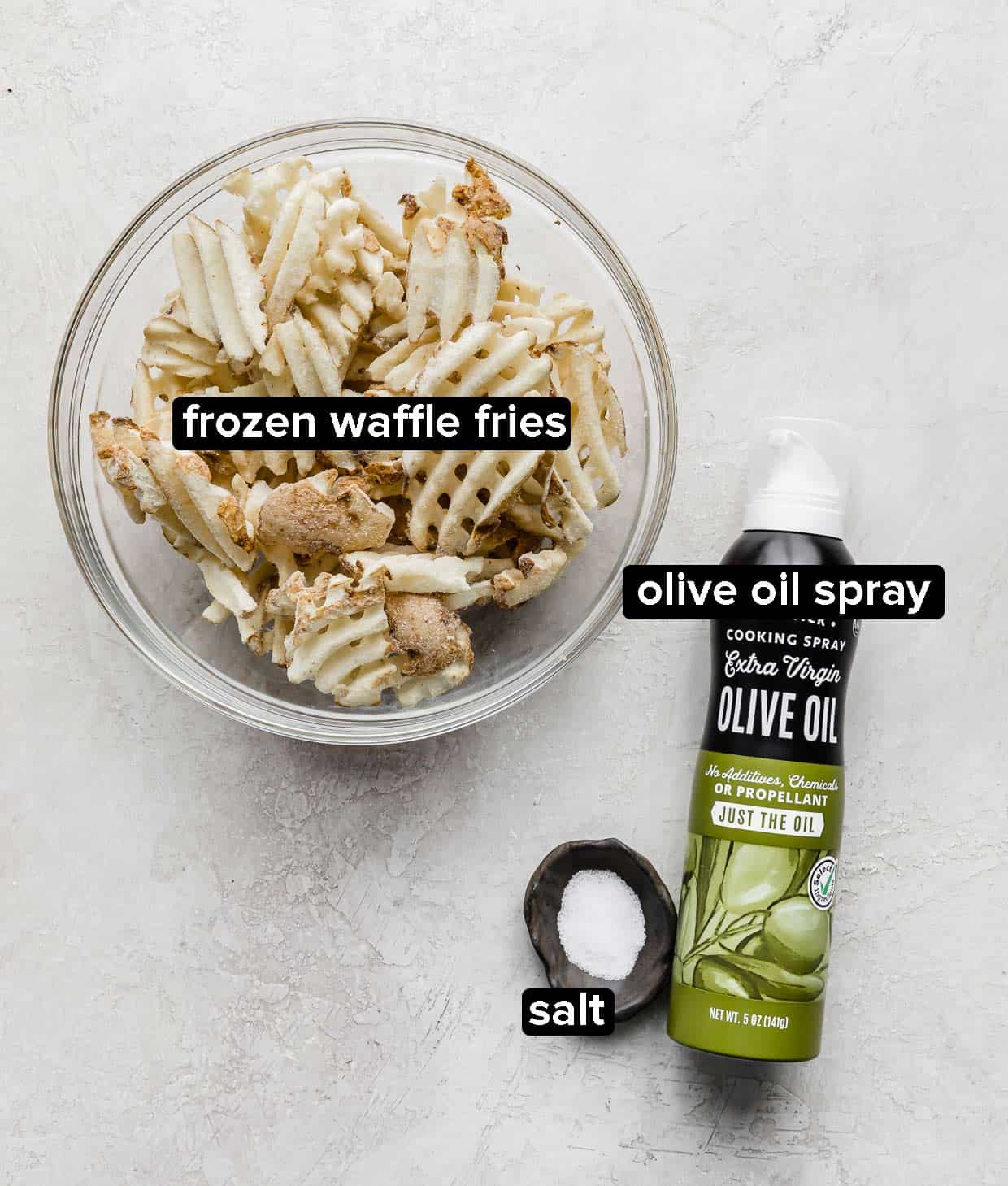 Waffle Fries: Use any brand of type of waffle fries desired. The total amount of fries that you need will depend on the size of your Air Fryer and how many servings worth of fries you wish to make.
Step-by-Step Instructions
Preheat your air fryer to 400 degrees F and place your waffle fries into a basket or tray depending on which one your Air Fryer has. (I use an oven air fryer, but this recipe works great with air fryer baskets as well!)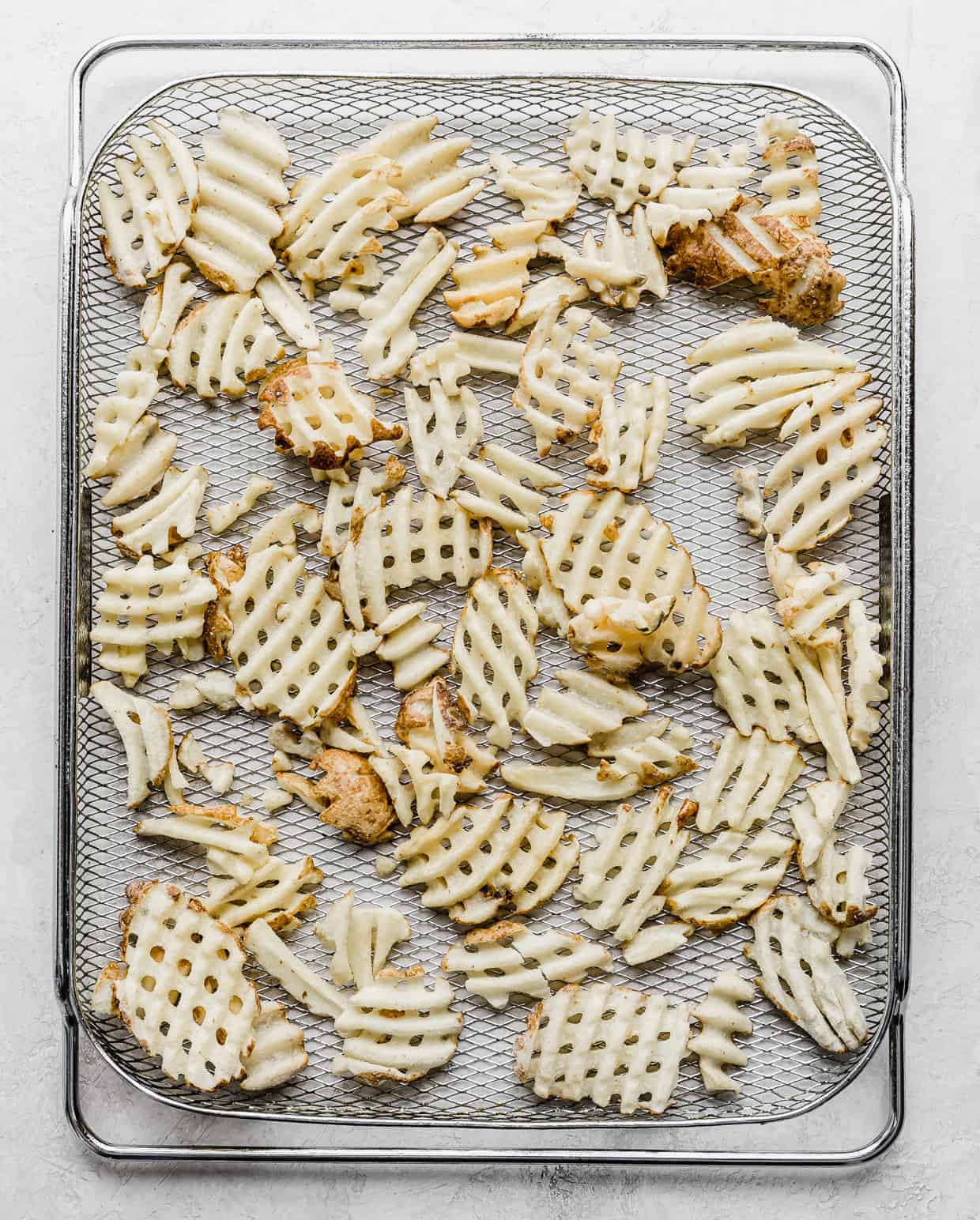 Place in the Air Fryer and cook for 10 minutes, tossing the fries around halfway through cooking to prevent sticking and to ensure a more evenly cooked fry.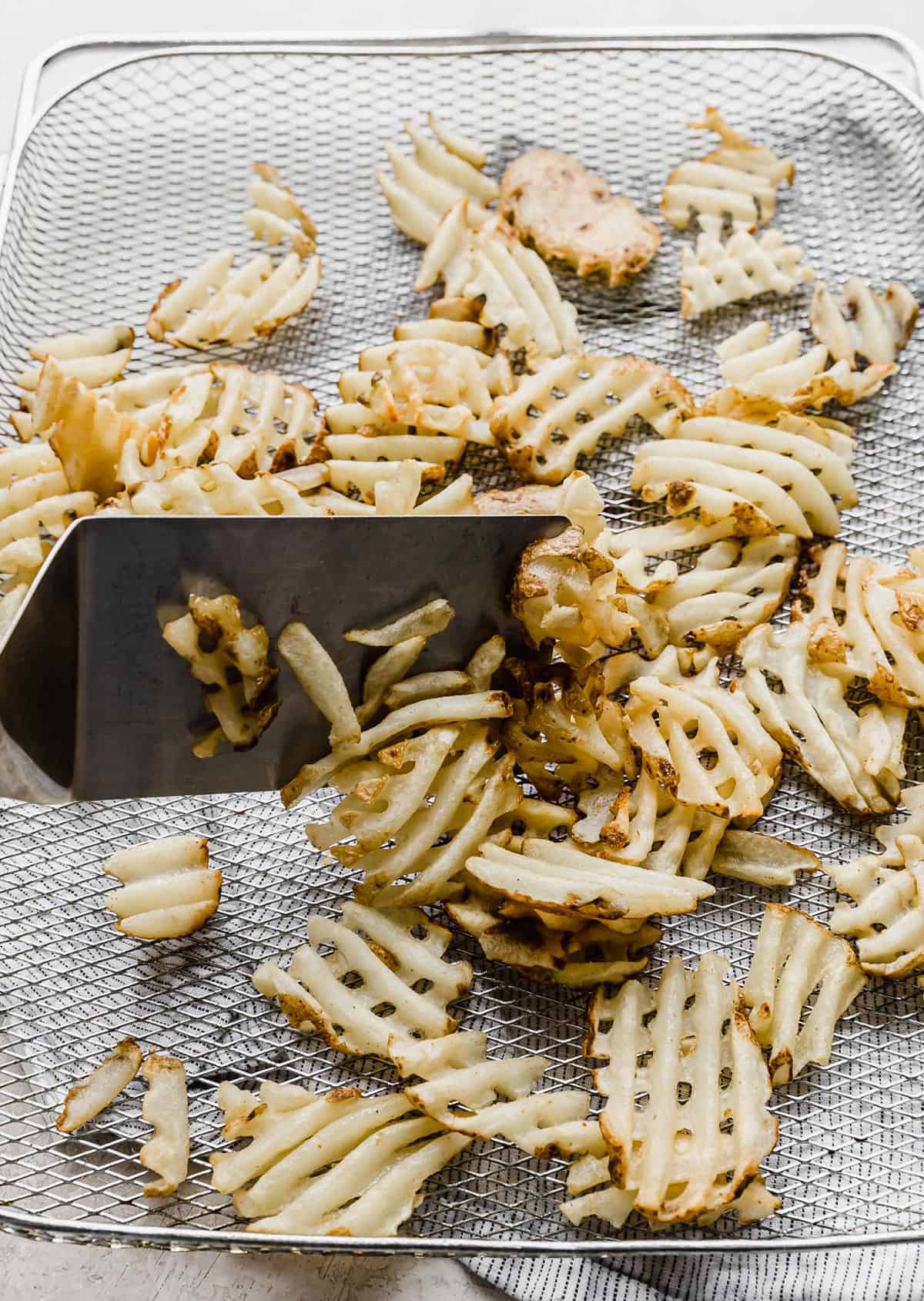 If after the 10 minutes is up and the fries still aren't cooked to your liking, you can add on another 2-3 minutes of cook time to make them crisper.
Remove the basket or tray from the Air Fryer and transfer the fries to a plate.
Season the waffle fries with salt and serve with your favorite dip!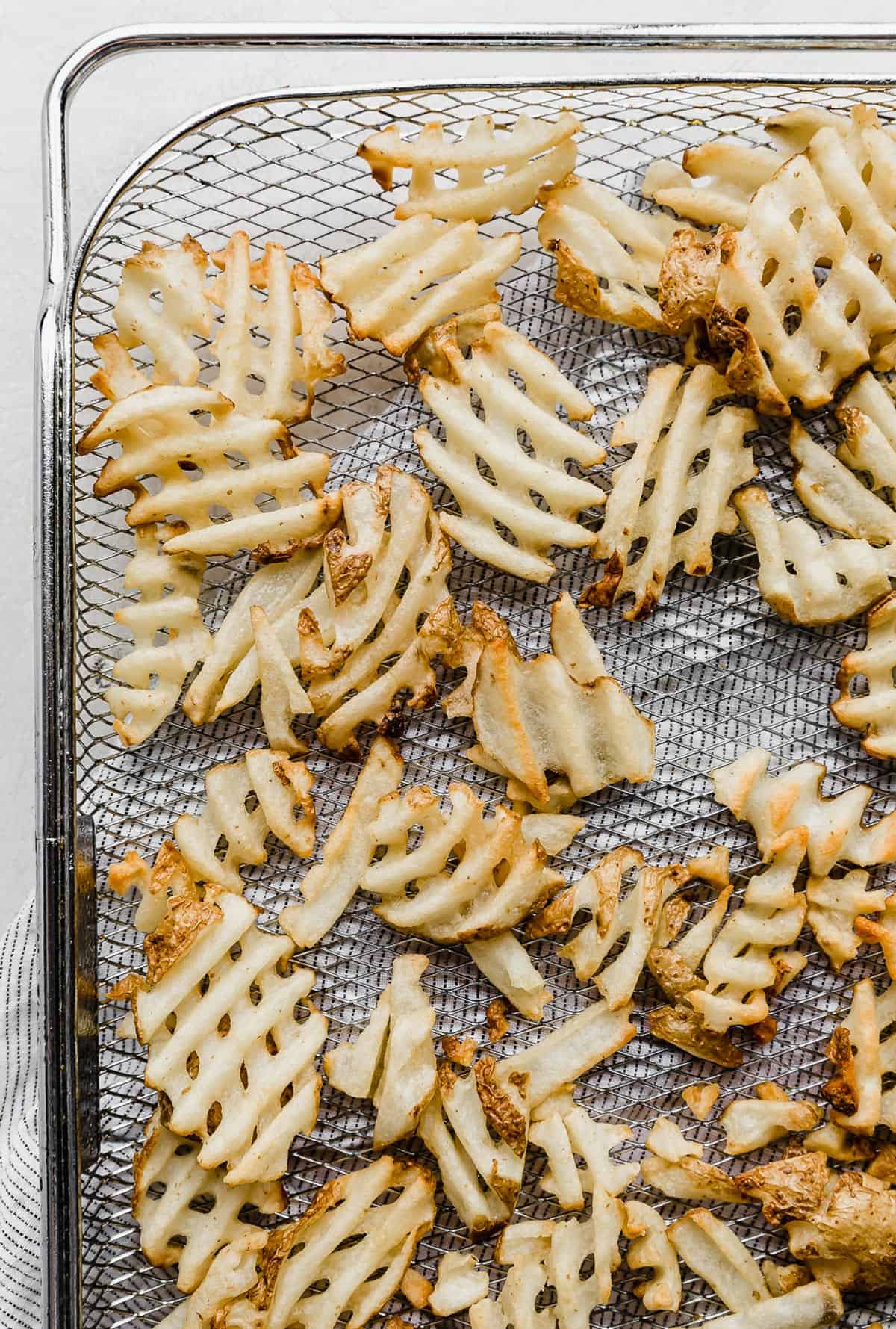 Recipe Tips
Don't overcrowd the air fryer basket.
For even crispier waffle fries spray the frozen waffle fries with olive oil spray or avocado spray prior to cooking.
If you're wondering where to buy waffle fries, you can usually find them in your grocery store's freezer section. Frozen potatoes usually have a section for different varieties of fries ranging from shoestring fries to tots, hashbrowns, and more.
Storing
Leftover cooked waffle fries can be stored in an airtight container in the fridge for up to 2 days. Reheat before eating. Note that the fries will not be as crisp when rewarmed. They taste best fresh.
Reheat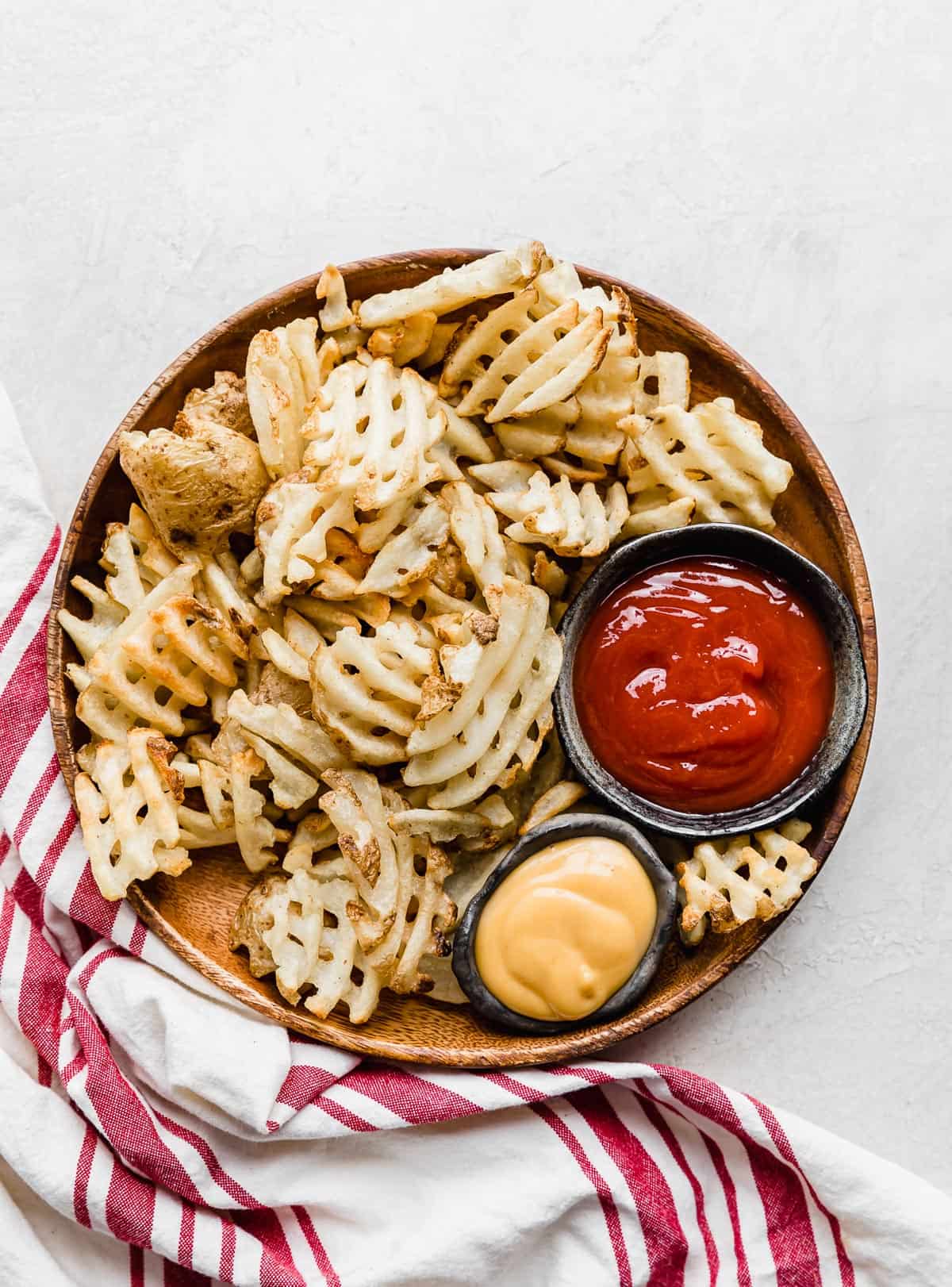 FAQs
What are waffle fries?
Waffle fries are a type of cut potato cooked and fried like any other except for its appearance. Made to look like the criss-cross patterns on a waffle, these fries are wider in size and perfect for scooping up dips like a chip.
What to dip waffle fries in
You can dip your fries in anything from fry sauce to ketchup, mustard, aiolis, and sour cream. There are so many dipping options out there, why choose just one?
Are waffle fries gluten free?
This will depend on the brand and type of waffle fry that you buy. Seasoned fries are more likely to contain gluten but you will need to check the bag for a label that says "gluten free" or confirm by reading the added ingredients that no gluten or wheat has been added. If you're in the US the bag is required to say "contains gluten" if there is any inside. A good brand for GF fries is Ore-Ida but make sure to check labels first.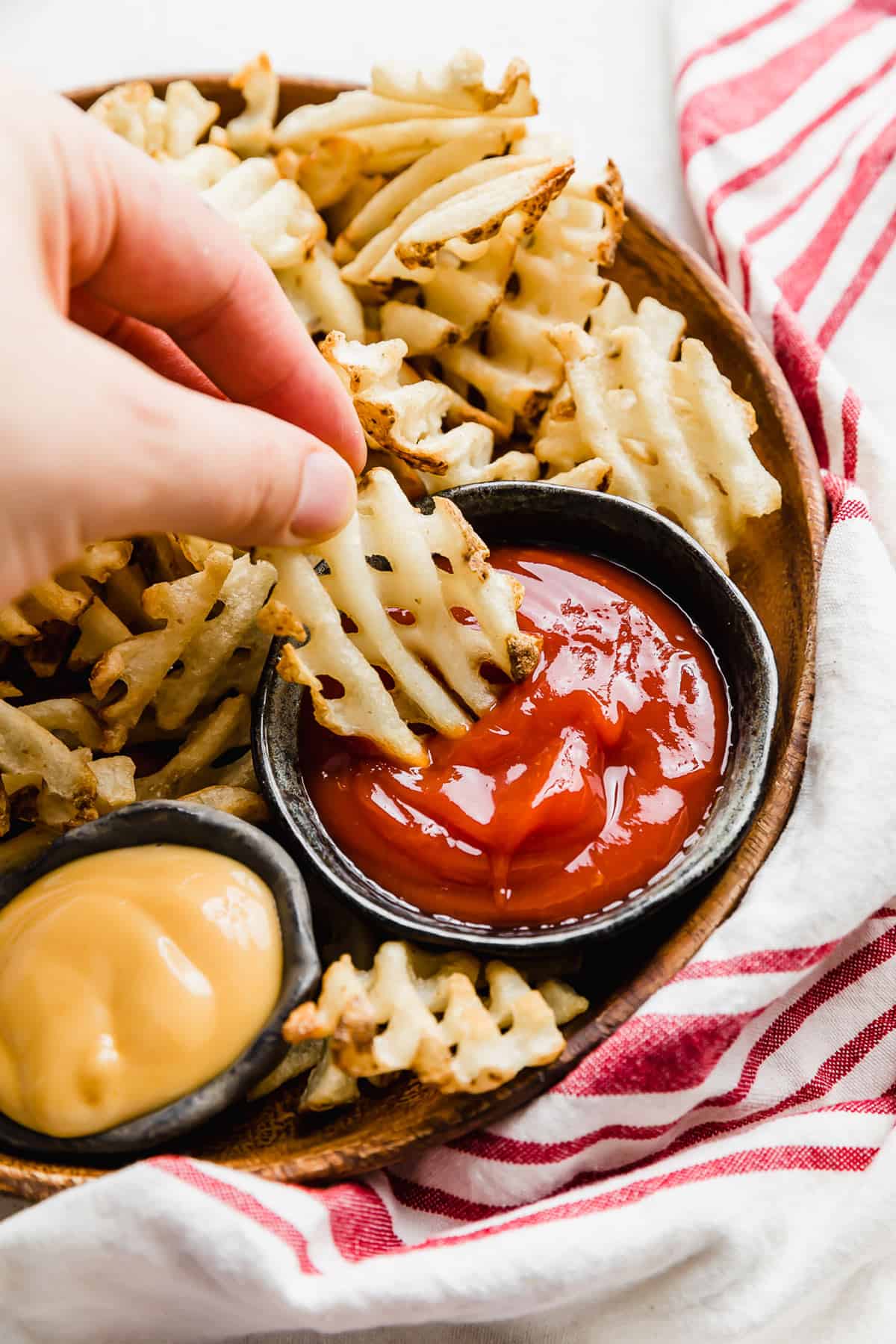 Related Recipes
Air Fryer Waffle Fries
Its easy to make waffle fries in the air fryer, just takes 3 ingredients and 10 minutes!
Ingredients
16

oz

frozen waffle fries

-

see notes

olive oil spray

salt

-

to taste
Instructions
Preheat your air fryer to 400°F. Place the waffle fries in the basket or on the tray (depending on the type of air fryer you have) and air fry for 10 minutes, tossing halfway through cooking.

If after the 10 minutes they aren't done to your liking, add an additional 2-3 minutes to the cook time.

Remove from the air fryer and transfer to a plate. Season the waffle fries with salt. Enjoy with your favorite dip! 
Notes
The amount of waffle fries you use will depend on how big your air fryer is. I can fit 16 oz in my Breville air fryer. You may fit less depending on what you use and its' size. 
Don't need to thaw the fries first.
Don't have to spray the fries, but can if you want to make them more crispy. 
Olive oil spray: can also use avocado spray or even a light coating of cooking spray.
Serving size will vary depending on how big your air fryer basket is and how many fries will fit on it.
Did you make this recipe?
Leave a star rating and review on the blog post letting me know how you liked this recipe! Take a picture and tag @saltandbaker on Instagram and Facebook so I can see what you're making!