Goat Cheese and Asparagus Spinach Pasta
This post may include affiliate links. As an Amazon Associate I earn from qualifying purchases.
Goat Cheese Pasta is one of those easy dinner recipes you'll turn to time and time again. This pasta is loaded with sautéed asparagus, mushrooms, and fresh spinach then coated in a light cream sauce. To round off the dish we sprinkle a handful of crumbled goat cheese overtop and call it a win!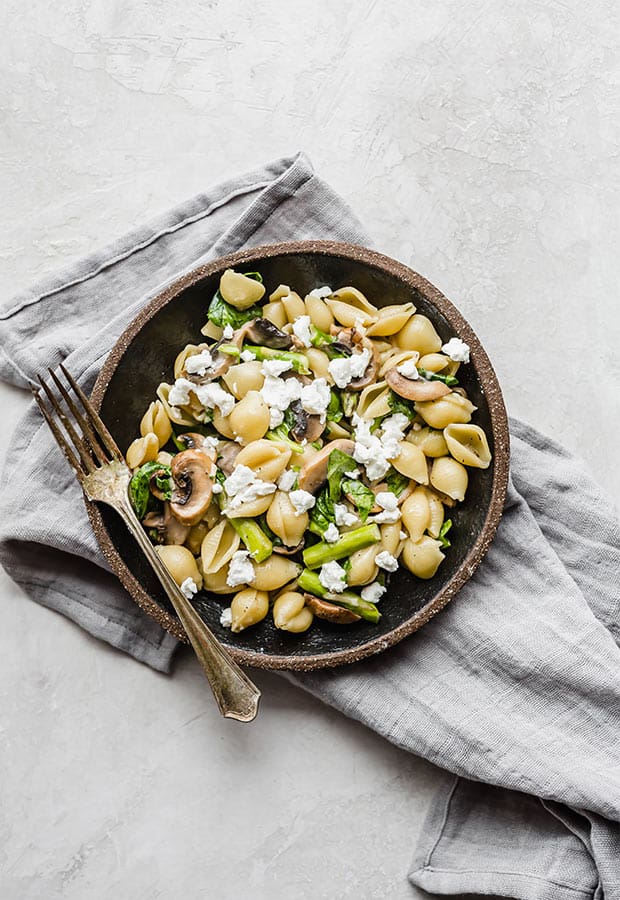 A huge win!
Truth is, I've been holding out on you. I made this recipe a few months ago and made a mental note to tweak a few things. I made those tweaks and YIKES, I'm hooked.
Like, I crave this constantly. I think it's the goat cheese and asparagus. And spinach. I love spinach. It's obvious I'm obsessed with goat cheese these days. I have a goat cheese crostini recipe that's the perfect appetizer. And now, we have the perfect goat cheese main dish!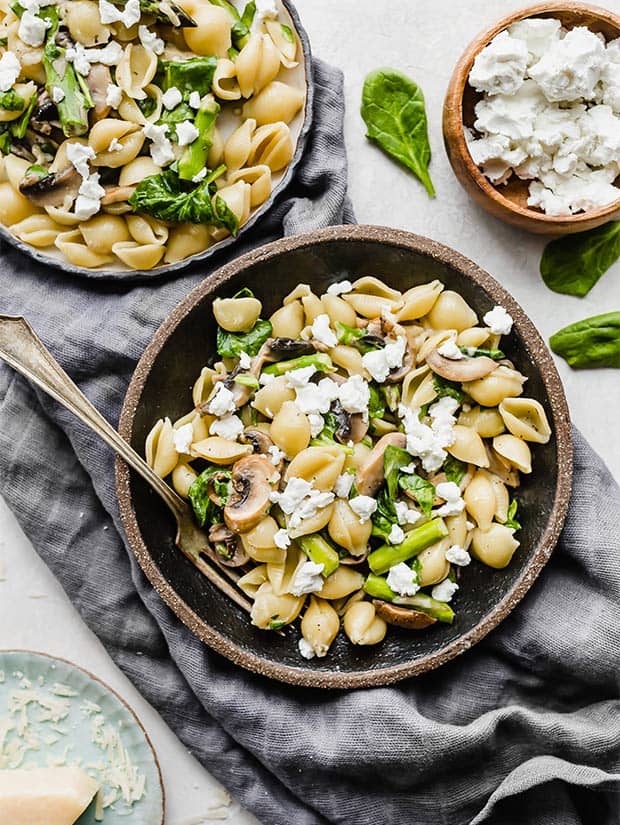 20 Minute Meals
Who doesn't love an easy and healthy dinner?! Comfort food is great and definitely necessary, but so is healthy food.
If you're like me, I'm always on the hunt for quick and easy dinner recipes. Do me a favor and add this goat cheese pasta recipe to your recipe box, as well as these easy dinner recipes: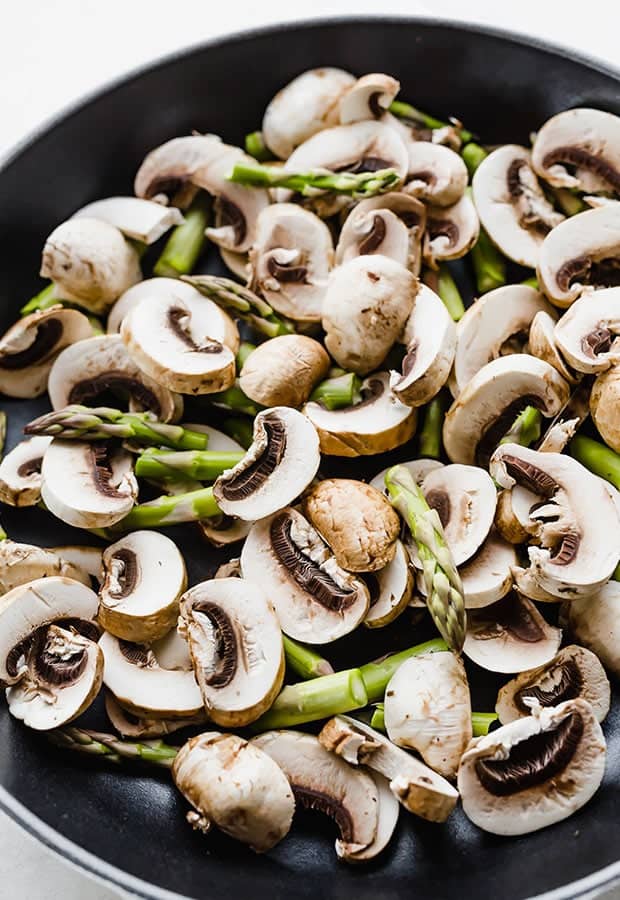 How to make Goat Cheese Pasta
Cook pasta to al dente. Pasta should be cooked to al dente, which means when you bite into the pasta it will still be a bit firm. Drain the pasta and place it in a large bowl.
Sauté the mushrooms and asparagus in melted butter. Once the mushrooms are browning and the asparagus is bright green (6-8 minutes of cooking), add the garlic and chicken broth and cook for an additional 30-60 seconds.
Next, add the heavy cream and salt and pepper to the vegetables. Stir for a minute or until the heavy cream has heated through.
Pour the cream and vegetable mixture overtop of the cooked pasta.
Next, add freshly grated parmesan cheese to the bowl and mix it well.
Lastly, add chopped spinach to the bowl and mix to combine. Adding the chopped spinach to the warm pasta helps the spinach wilt just slightly, creating the most perfectly "cooked" spinach!
Finally, dish the pasta and crumble the goat cheese overtop of each serving.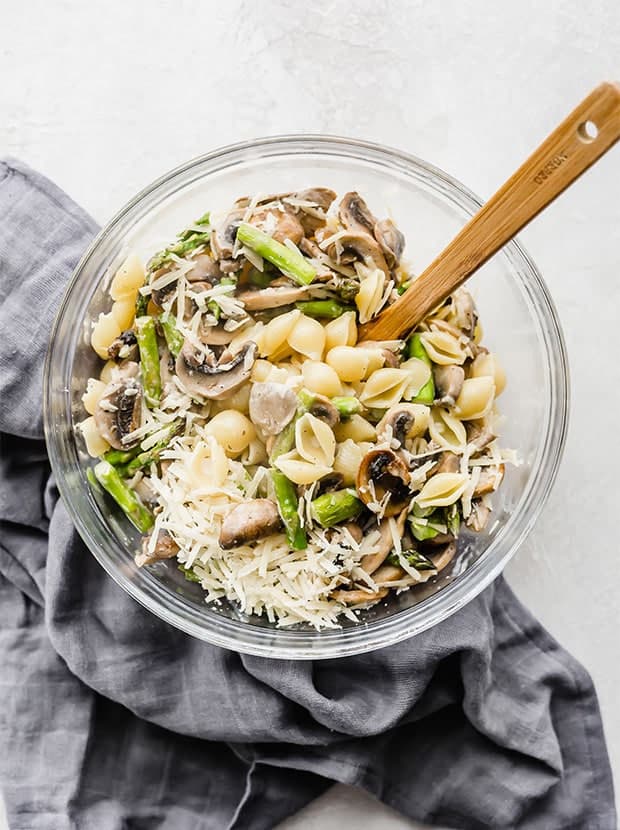 Tips for Success
You can add the goat cheese directly to the pasta if you wish. Note, if you do this, the goat cheese will get melty (which I love) and will begin to evenly coat the entire pasta dish. I've done this before, and while it's good, I prefer adding the goat cheese to the top of each dish. 
If you aren't a fan of mushrooms, omit them. You can replace the mushrooms with more asparagus.
Don't overcook the mushrooms and asparagus. We want them to be fork tender, but not mushy. 6-8 minutes cooking time is just about perfect.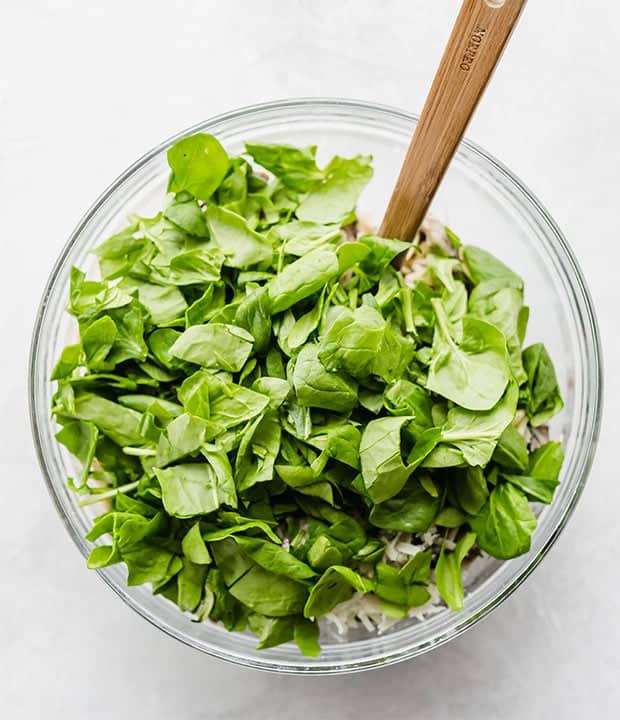 Healthy Alternatives
Some suggestions to make this dish healthier include:
Sauté the mushrooms and asparagus in olive oil rather than butter. I chose to use butter because I love eating my vegetables with a gentle serving of butter.
 Use half and half in place of the heavy cream.
Use whole wheat pasta.
Add an additional vegetable. Broccoli would be a great choice! If you choose to do this, sauté it with the asparagus and mushrooms.
If you don't like mushrooms, you don't have to add them.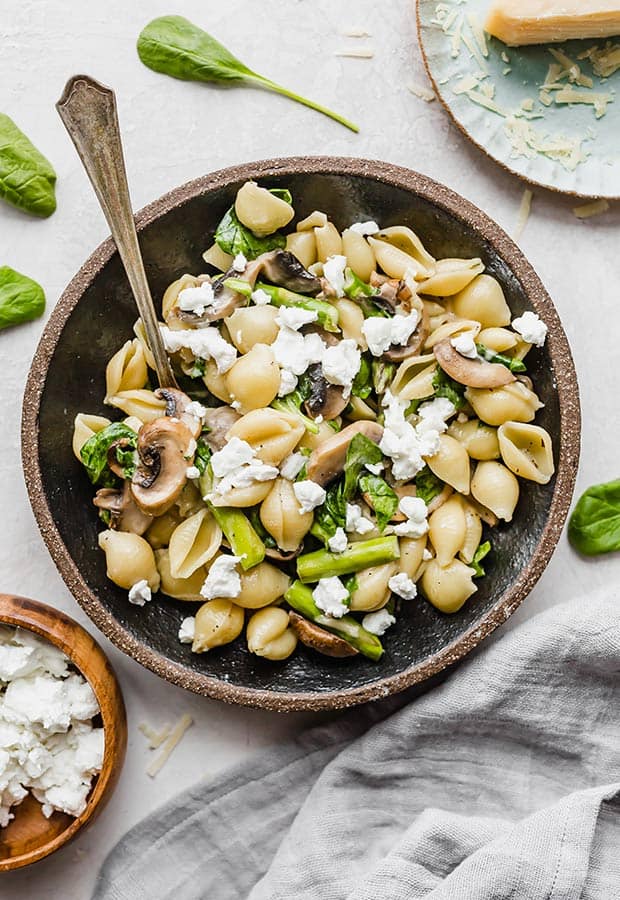 Craving more?  SUBSCRIBE TO SALT & BAKER'S NEWSLETTER to get new recipes delivered straight to your inbox!
Goat Cheese and Asparagus Spinach Pasta
A light pasta recipe with asparagus, mushrooms, and creamy goat cheese. This pasta recipe takes only 20 minutes to make.
Ingredients
12

oz

pasta

4

tablespoons

butter

8

oz

sliced mushrooms

1 1/2

cups

asparagus spears

-

chopped

1

garlic clove

-

minced

1/4

cup

chicken broth

1/3

cup

heavy cream

1/2

teaspoon

salt

1/4

teaspoon

pepper

1/3

cup

parmesan

-

grated

2

cups

spinach

-

chopped

4

oz

goat cheese

-

crumbled
Instructions
Cook the pasta according to the package directions. Drain and set aside.

In a skillet or saucepan melt the butter over medium heat. Add the mushrooms and asparagus. Cook for 6-9 minutes. The mushrooms will shrink in size and soften and asparagus will be bright green and tender. Add the garlic and chicken broth to the skillet. Stir and cook for an additional 30 seconds.


Add the heavy cream, salt, and pepper to the mushrooms. Stir to combine. And remove from heat.


In a large bowl toss the pasta with the sauce. Add the parmesan cheese to the warm pasta, stir to combine. Add the chopped spinach to the pasta and toss to incorporate. *adding the spinach while the pasta is still warm helps the spinach wilt slightly.


Crumble the cheese overtop each individual serving.

Did you make this recipe?
Leave a star rating and review on the blog post letting me know how you liked this recipe! Take a picture and tag @saltandbaker on Instagram and Facebook so I can see what you're making!