Homemade Fajita Seasoning
This post may include affiliate links. As an Amazon Associate I earn from qualifying purchases.
Using just a few simple pantry spices, you'll have this homemade fajita seasoning recipe ready to go in minutes. I use this seasoning on my sheet pan chicken fajitas. Oh my gosh, so so yummy!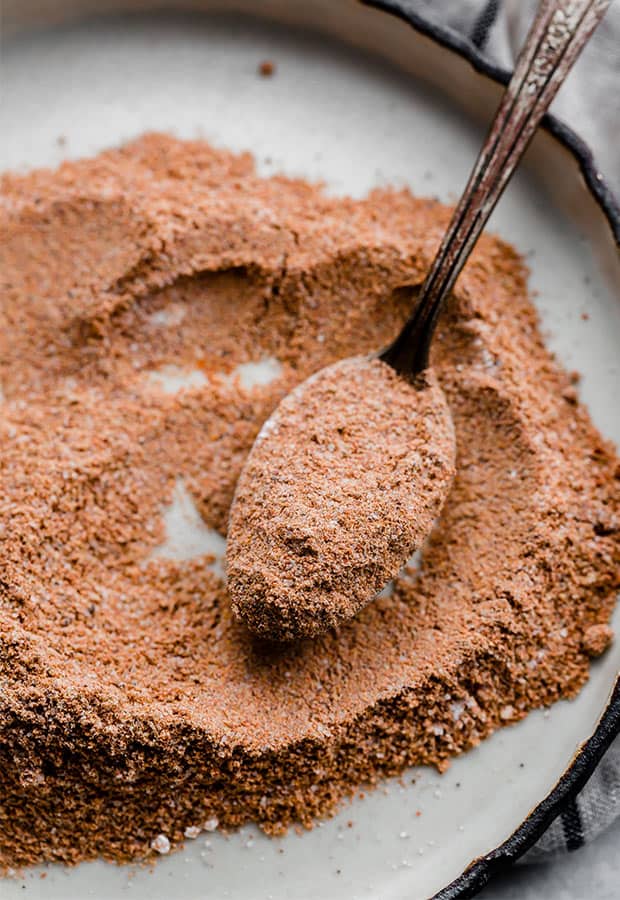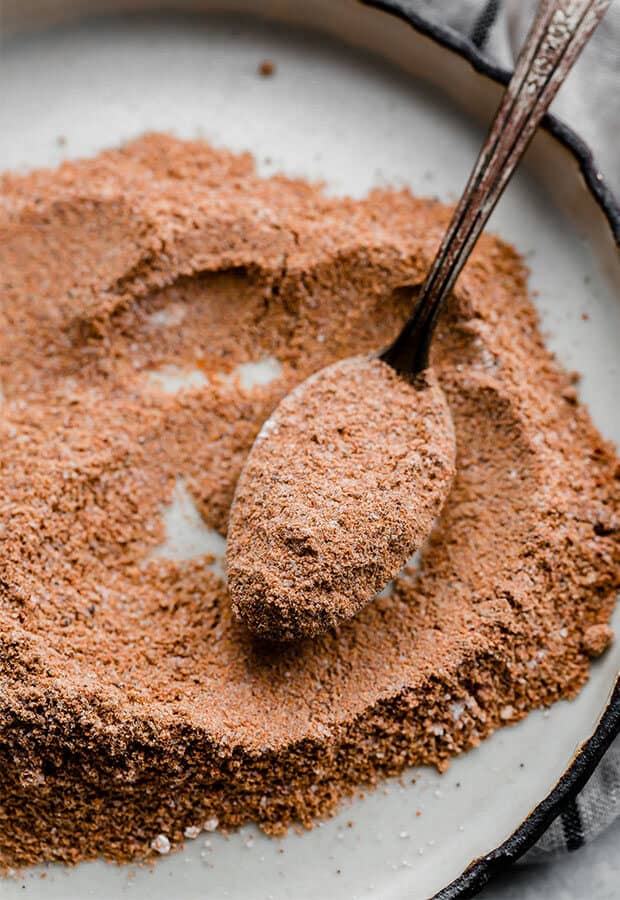 Have you made your own fajita seasoning before?
Growing up, my parents would use the store bought, pre-packaged fajita packets. There's absolutely nothing wrong with doing this! I think the fajita packets come in handy when you're in a time crunch and you don't want to pull all of the spices out of the spice cabinet.
But after making MY OWN, oh my gosh! I love it. The flavors are amazing! Sprinkle this seasoning over anything and it immediately tastes like gourmet fajitas.
No joke.
You can easily fancy up your next fajita dinner with homemade seasoning. 🙌🏼
Like mentioned above, this recipe calls for staple pantry ingredients. These are ingredients you will have in your spice cabinet like 99% of the time. (I didn't say 100% because I don't want you to blame me if you just so happen to not have one of these)!
Fajita Seasoning Ingredients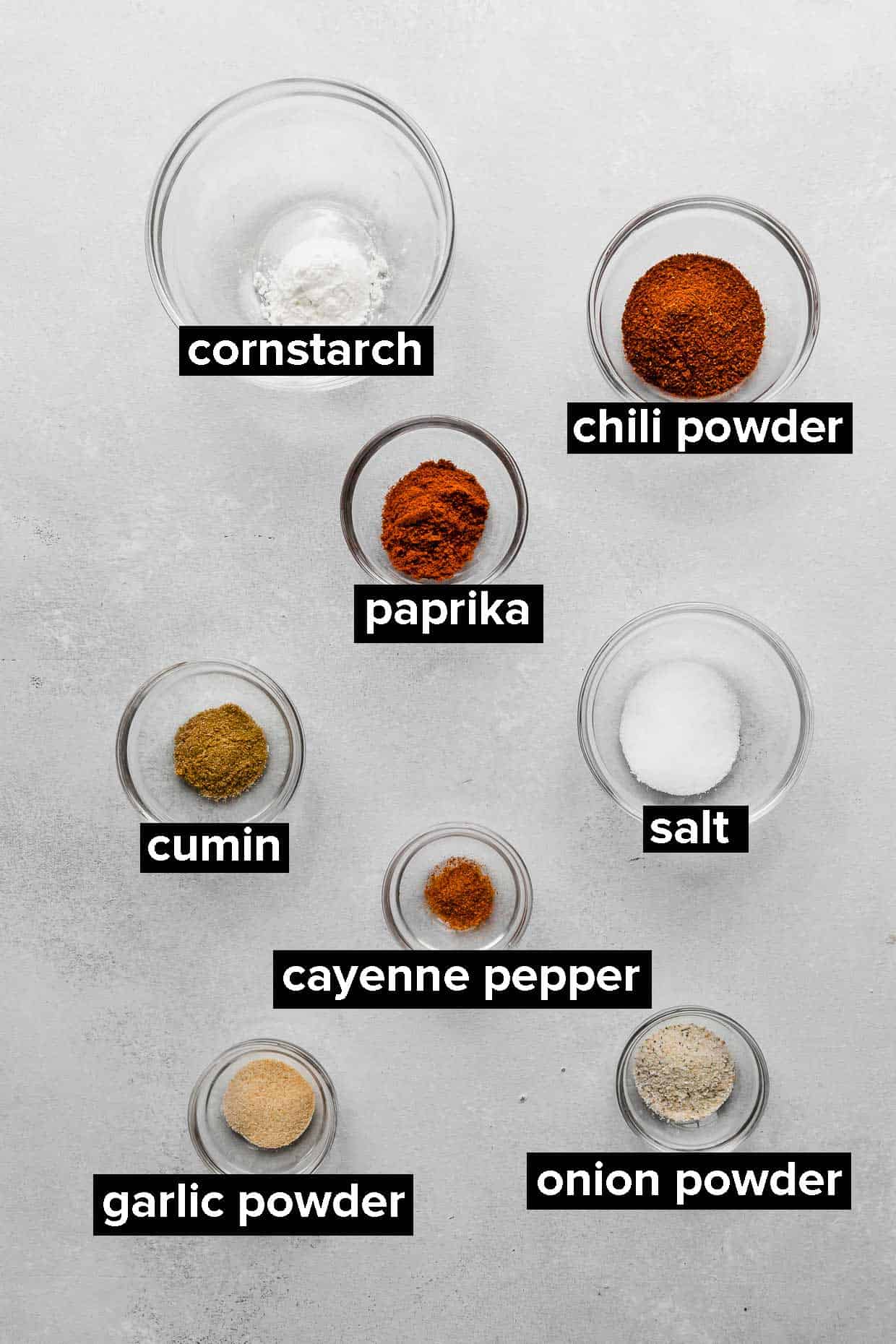 Cornstarch
Chili Powder
Cumin
Paprika
Salt
Garlic Powder
Onion Powder
Cayenne Pepper – if you like spicy fajitas add more cayenne than what's called for in the recipe. I add 1/4 tsp to mine.
Ingredients are so basic, right?! Which is great because that means you can whip this up any day of the week, add it to some meat, peppers, and onions and dinner will be on the table in no time.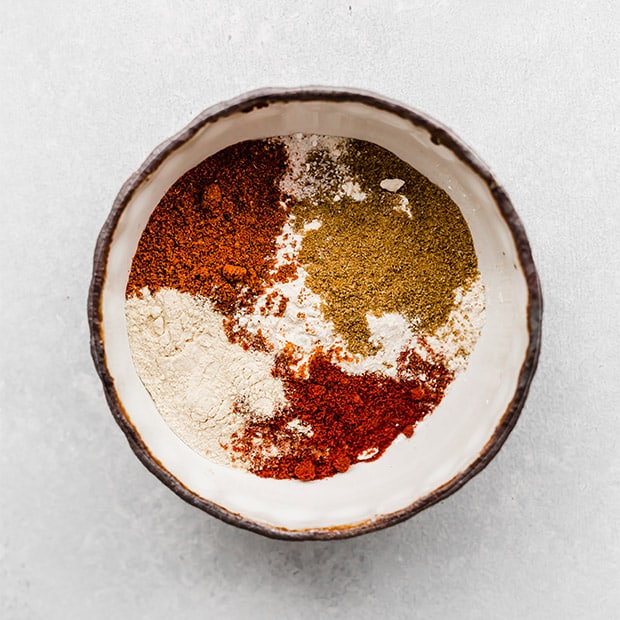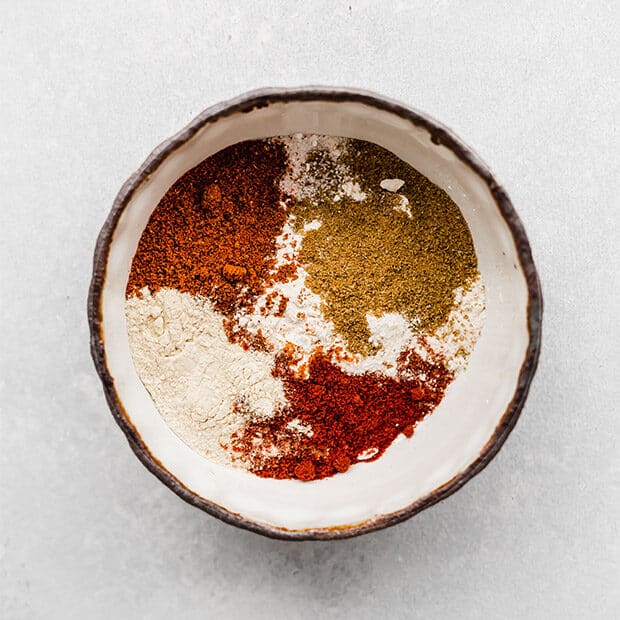 How to make fajita seasoning
You guys, it doesn't get any easier.
Add all of the spices and ingredients in a bowl and mix them together. Use a spoon, a fork, whatever you want.
And that's it!
This recipe makes about 4 1/2 tablespoons of seasoning. I use a little more than half of this recipe when making sheet pan fajitas.
Use this seasoning on chicken fajitas, shrimp fajitas, or any other kind of fajitas you can imagine.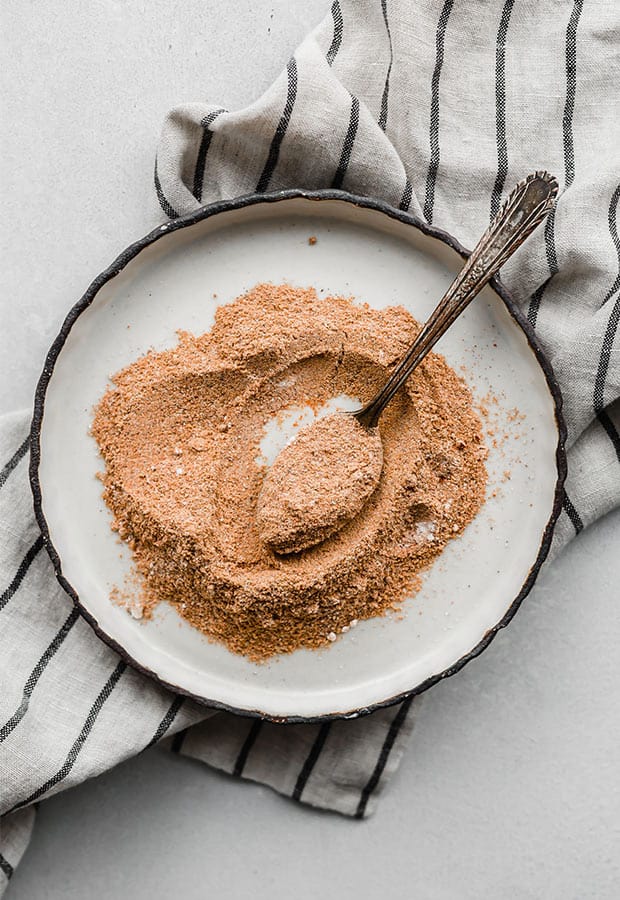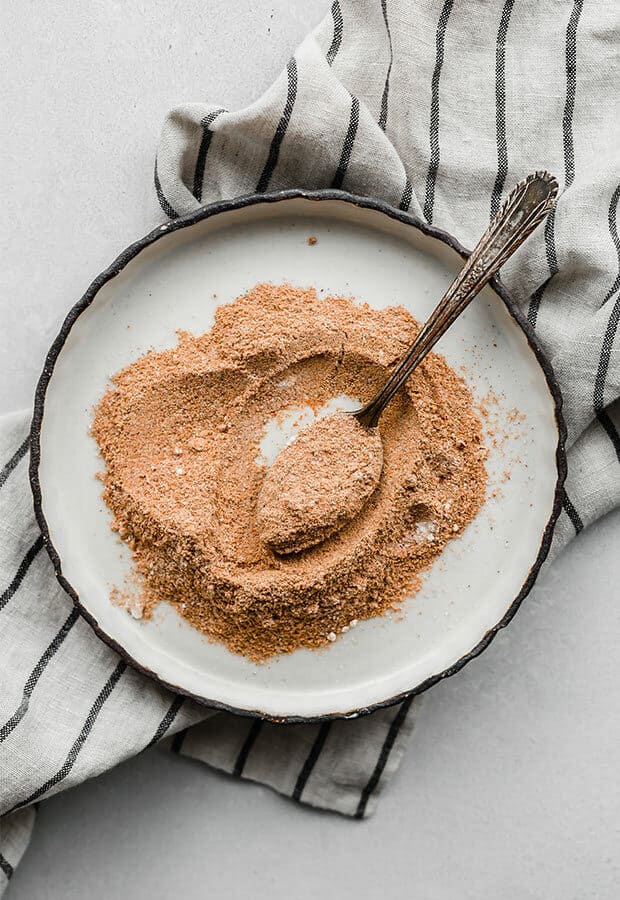 How to store the seasoning
Store in a ziplock bag or air tight container. I like to label the bag with "homemade fajita seasoning" and the date I made it. Store in a cool, dark area. AKA my spice cabinet.
Seasoning will last 4-6 months if stored properly.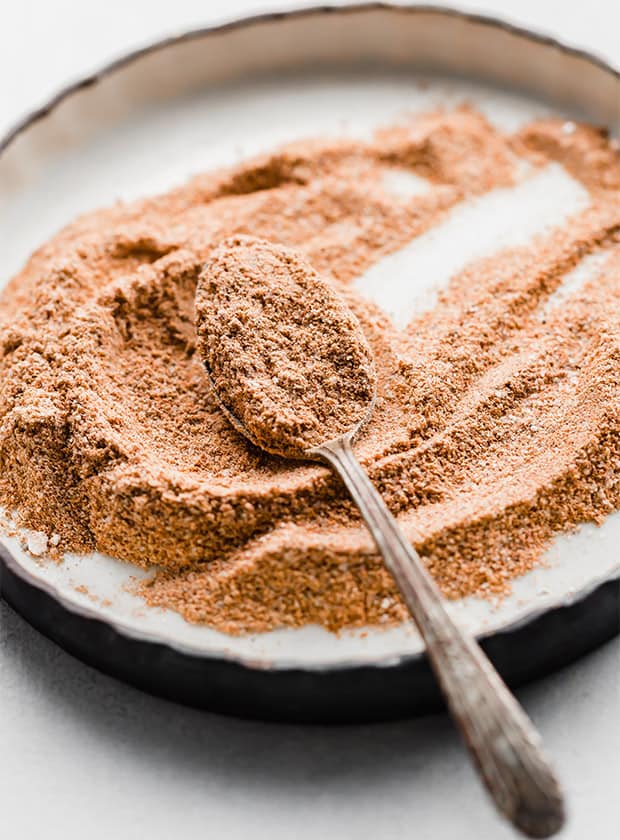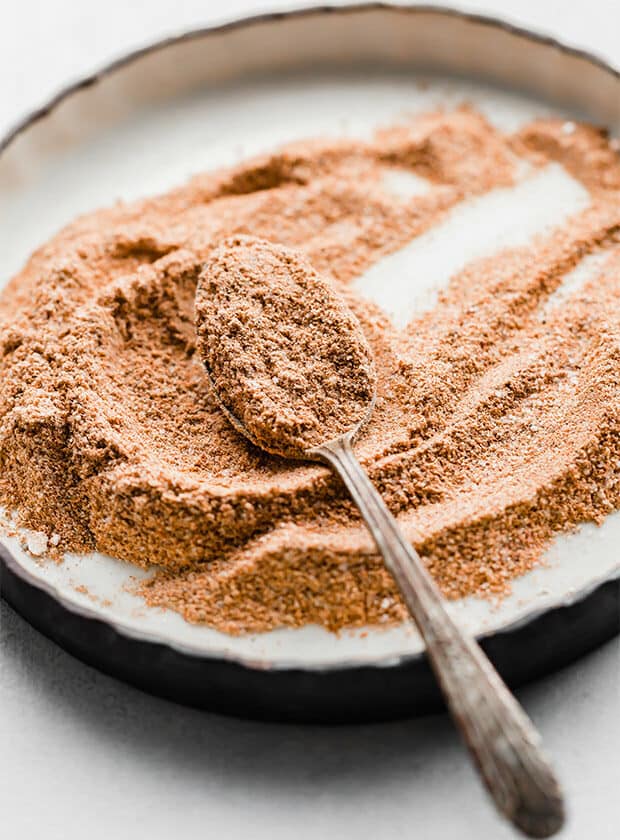 If you make this recipe, or any recipe on Salt & Baker I would love if you come back and leave a review. Your comments help other readers who are making the recipes too.
Homemade Fajita Seasoning
With just a few spices (ones you already have on hand) you'll have this homemade fajita seasoning ready to go in minutes.
Servings:
1
batch (about 4 1/2 tablespoons)
Ingredients
1/2

tablespoon

cornstarch

4

teaspoons

chili powder

1

teaspoon

cumin

2

teaspoons

paprika

2

teaspoons

salt

1

teaspoon

garlic powder

1

teaspoon

onion powder

1/4

teaspoon

cayenne pepper
Instructions
Sitr the cornstarch, chili powder, cumin, paprika, salt, garlic powder, onnion powder, and cayenne together in a bowl. Store in a ziplock bag or airtight container until ready to use.
Did you make this recipe?
snap a photo and tag @saltandbaker in your posts and stories so I can see what you're making!