Sheet Pan Chicken Fajitas
This post may include affiliate links. As an Amazon Associate I earn from qualifying purchases.
After today, Sheet Pan Chicken Fajitas will be one of your dinner menu "regulars." At least, that's my goal! Although, I don't think this recipe needs a lot of convincing on my end. The fresh produce, juicy meat, and vibrant flavors (from the homemade fajita seasoning 🙌🏼) will speak for themselves. Serve the fajitas as-is or top it with some easy Pico de Gallo and healthy guacamole for extra flair and flavor.
This happens to be one of my favorite meals. Not like my favorite meal in the past 6 months, but like the past 16 years.

My mom has never been passionate about cooking or baking. Growing up my dad would come home from work and scrounge together a meal. My favorite meal was when he'd made fajitas. They were so delicious!
This Sheet Pan Chicken Fajitas recipe is similar to what he'd make, but better. This recipe is easier to make because it's all done in the oven (whereas my father would make them in a skillet… still a great option).
The sheet-pan oven method takes a little less time and a lot less hands on time which I'm ALL FOR! We all need more sheet pan recipes in our life. Make sure you try my shrimp fajitas (made on a sheet pan, Baja fish tacos, and my chili lime salmon recipe.
A Healthy Meal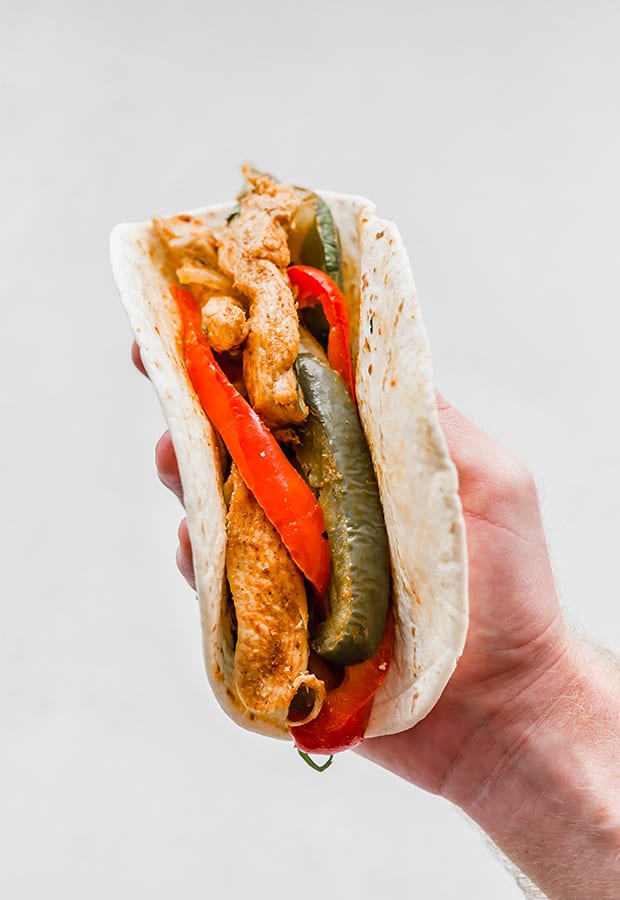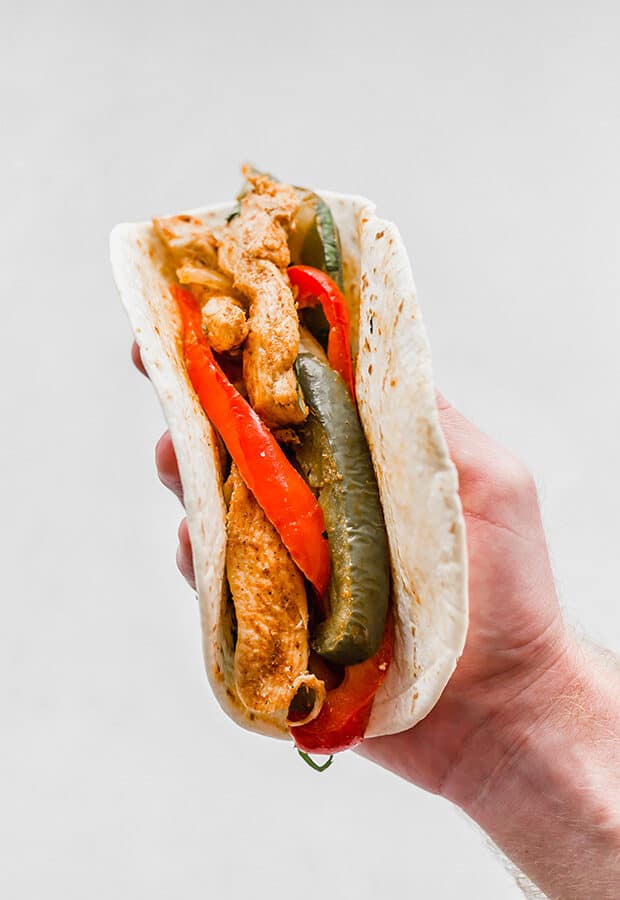 Are chicken fajitas healthy? Yes, if you make this recipe as written you'll be eating a hearty and healthy meal.
While pre-packaged fajita seasonings are convenient to use (yes, you can use them for this recipe if you'd like), I prefer my homemade fajita seasoning recipe.
But let's be real for a sec. You can definitely use a fajita packet from the grocery store. Been there, done that. It's totally fine! Don't feel like you have to make everything from scratch. Gosh, that's just waaaaay too much pressure. For simplicity reasons, use some form of fajita seasoning. Homemade or not, it'll still taste great!
I like to top my fajitas with sour cream, of which you can use a low fat sour cream or even Greek yogurt for a healthier option.
Ingredients Needed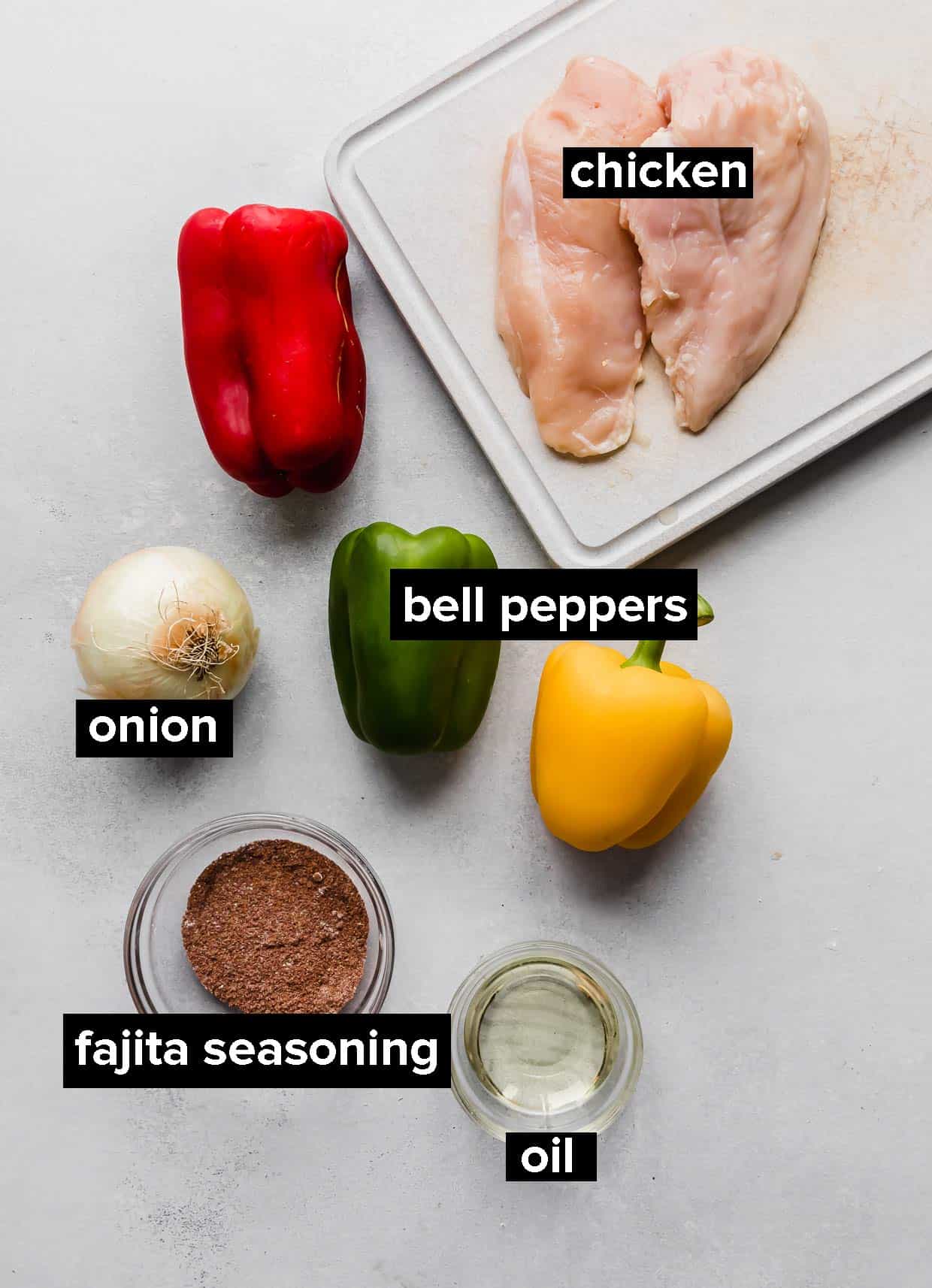 Before you dive into making these easy chicken fajitas, you'll want to make a quick batch of my homemade fajita seasoning. You'll use this to season the chicken, peppers, and onions.
To make the chicken fajitas you'll need:
Bell peppers, 3 total. I like things colorful and pretty so I chose a red, yellow, and green bell pepper. If the green is cheaper (it always is) then just buy 3 green bell peppers! No big deal.
Chicken. You'll need 1 1/2 lbs of boneless, skinless, chicken breasts. I found this was about 3 medium sized chicken breasts.
Onion. I used a yellow onion, but a sweet onion will work too.
Vegetable oil, or olive oil.
How to make Sheet Pan Chicken Fajitas
Slice the peppers, onions, and chicken.
Place everything on a baking sheet. Make sure you sprayed the sheet with cooking spray.
Sprinkle the fajita seasoning over the chicken, bell peppers, and onions. Drizzle the oil overtop. Using your hands, toss to coat so that everything is evenly covered in the seasoning.
Spread everything in an even layer, making sure the chicken isn't overlapping one another.
Roast (at 400°F) for 25-30 minutes or until chicken is cooked through (reaches an internal temp of 160°F and the veggies are tender.
Serve in a flour tortilla with toppings of your choice.
Store any leftovers in an airtight container in the fridge. Will last for 5 days.
Note, this recipe makes about 4 servings, 2 fajitas per person.
My Favorite Fajita Toppings
I love to top fajitas with a spritz of lime, dollop of sour cream, and homemade guacamole.
Feel free to get creative! Add slices of fresh tomatoes and avocado and spinach or shredded lettuce to your fajitas. You could even add some shaved carrots or cabbage for an extra crunch factor. (All healthy options).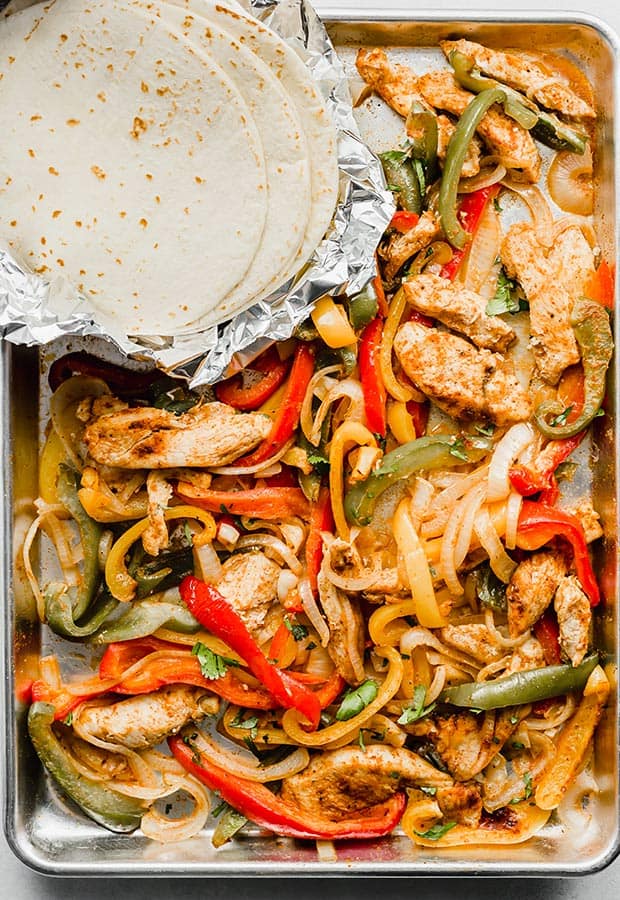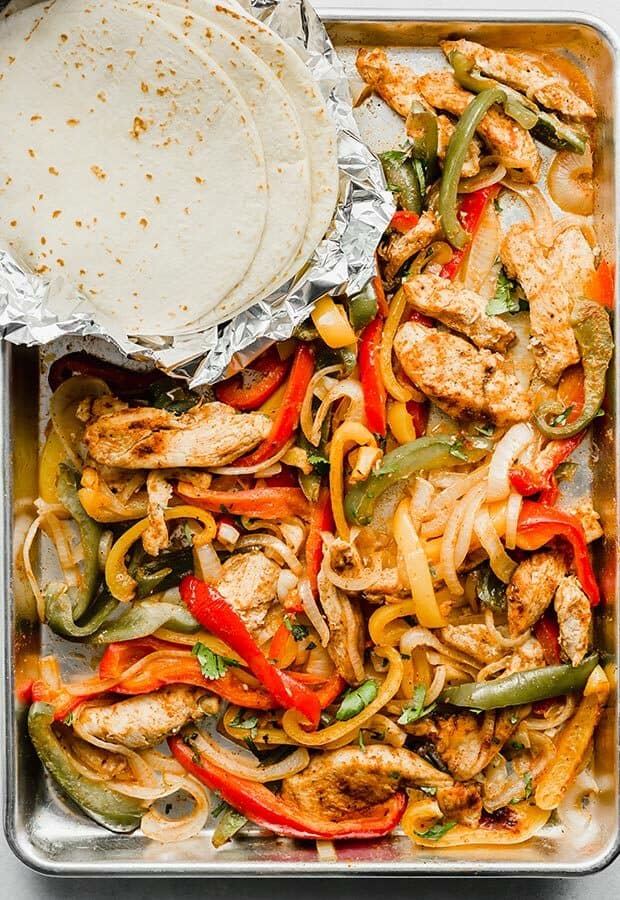 Sheet Pan Chicken Fajitas
An easy 40 minute meal that's loaded with juicy chicken, sliced pepper, and onions.
Servings:
4
servings (2 fajitas per person)
Ingredients
3

tablespoons

homemade fajita seasoning

1 1/2

lbs

boneless skinless chicken breasts

-

cut into strips

1

red bell pepper

-

sliced into strips

1

yellow bell pepper

-

sliced into strips

1

green bell pepper

-

sliced into strips

1

yellow onion

-

sliced into strips

3

tablespoons

vegetable oil

-

can use olive oil (see notes)
For serving
sour cream

flour tortillas

fresh cilantro

guacamole

cheese (Mexican cheese blend is my favorite)
Instructions
Preheat oven to 400°F. Spray a baking sheet with cooking spray. 

Place the sliced peppers, onions, and sliced chicken on the baking sheet. Sprinkle the fajita seasoning over the chicken, peppers and onions and drizzle the olive oil over the tops as well. Toss so that everything is evenly coated. Spread into an even layer (don't want chicken overlapping). 

 Roast in the oven for 25-30 minutes, tossing halfway through baking time. The veggies will be tender and chicken cooked through. Before removing from the oven cut a chicken in half (or use an instant read thermometer to make sure the chicken has reached an internal temp of 165°F). 

Remove from the oven. Serve the filling inside warm tortillas, topped with your desired toppings. 
Notes
You can use olive oil if you'd like. Olive oil doesn't have as high of a smoke point as vegetable oil, but we are only roasting the veggies and meat at 400°F which is safe enough for olive oil usage. 
Did you make this recipe?
snap a photo and tag @saltandbaker in your posts and stories so I can see what you're making!