Kung Pao Cauliflower
This post may include affiliate links. As an Amazon Associate I earn from qualifying purchases.
Kung Pao cauliflower is a meatless meal that's perfect for low carb diets, eating fresh, and easy dinners. This sheet pan meal is ready in about 30 minutes, perfect for fast dinners with little prep.
Cauliflower is a perfect veggie for so many reasons and we cook them up in creative and unique ways around here. Check out my roasted cauliflower tacos or my sweet potato cauliflower quinoa bowls recipe for some fun new ways of serving up veggie based meals.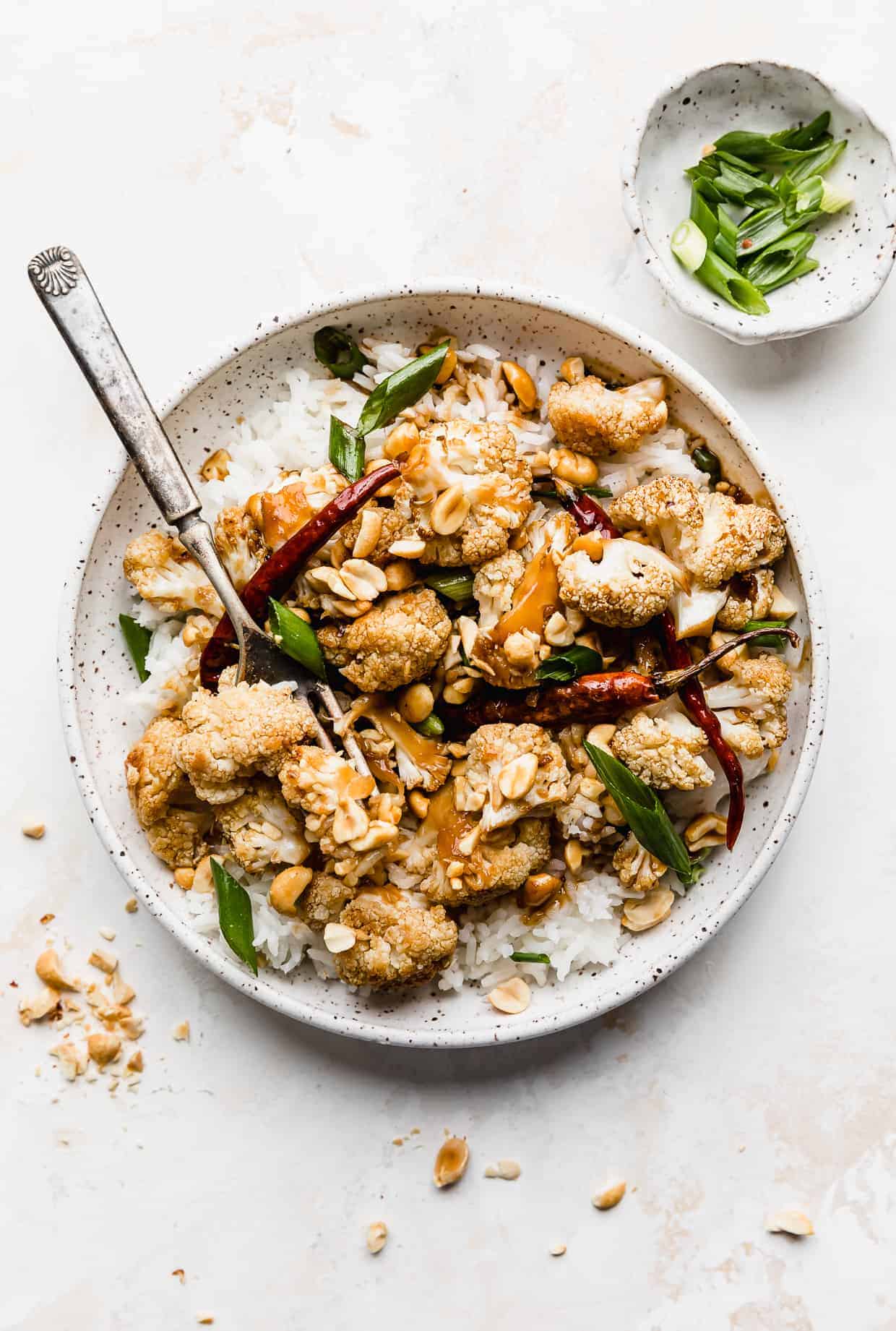 Why This Recipe Works
If you've ever had Kung Pao chicken, then it shouldn't be hard to envision Kung Pao Cauliflower as well. The same sticky sweet and spicy sauce over a tray of perfectly crisp cauliflower has you falling in love with every bite.
Roasting the cauliflower in the oven prior to adding the marinade opens up the florets to allow more surface area for the delicious marinade to stick to. This means maximum flavor in every bite.
The addition of cornstarch to the marinade allows the sauce to slowly thicken as its cooking in the oven. This slightly thickened sauce becomes the perfect liquid that gently coats the cauliflower.
Serve this Kung Pao cauliflower recipe with a side of cooked white rice and top it off with some roasted peanuts and chopped green onions and you are sure to be in for a wonderful surprise. The spicy, crunchy, tangy, and fresh tasting cauliflower pairing wonderfully with the soft rice will have you glad you skipped the takeout lines.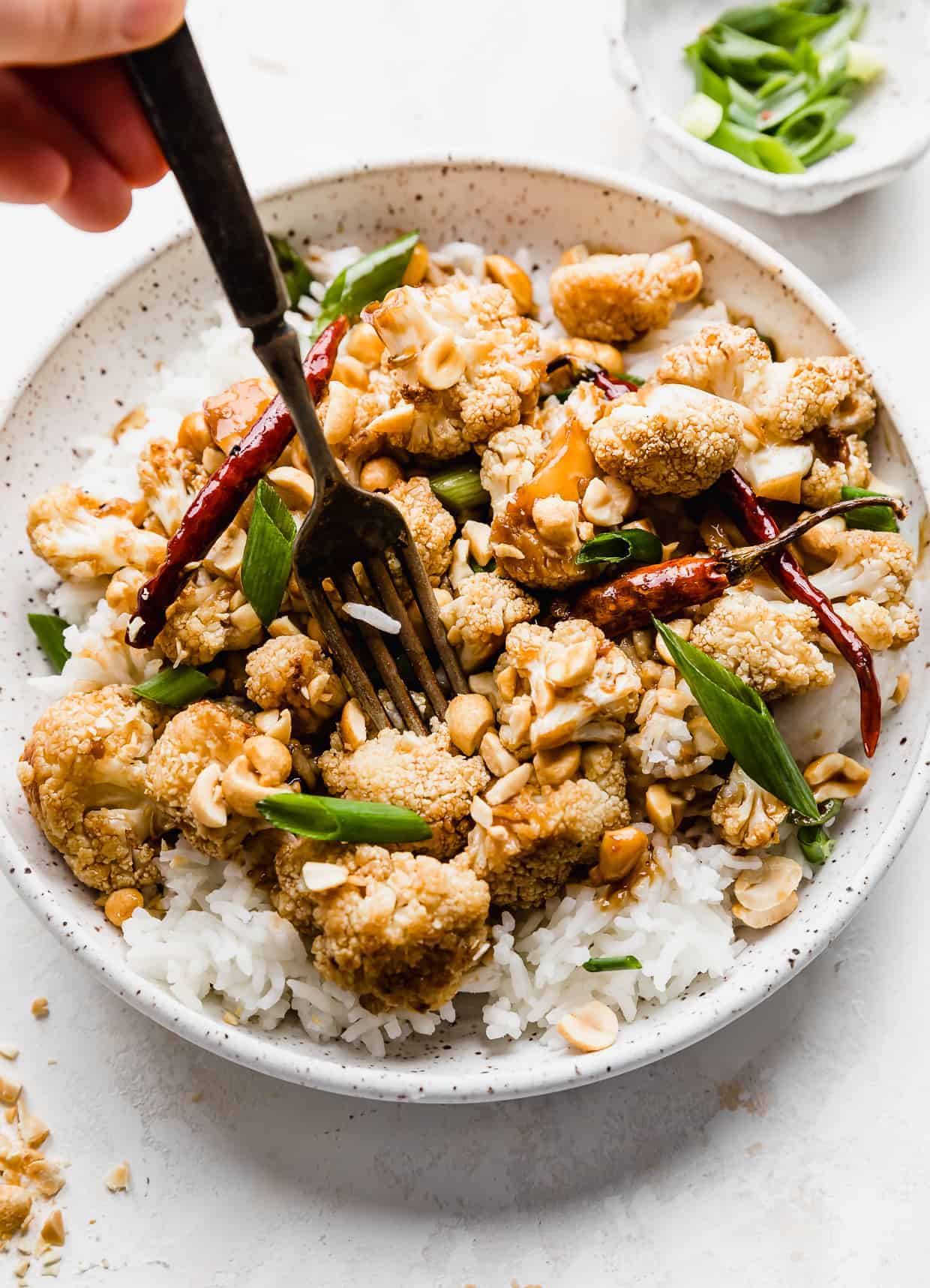 Ingredients
Cauliflower: We need 1 large head of cauliflower, or 2 small ones, but the actual amount varies based on the size of the head you buy. In general, you want about 5-6 cups of fresh chopped florets as this gives you plenty to share without making the sauce run thin trying to stretch over too many pieces.
Hoisin sauce: This thick sauce is a staple in a lot of Asian dishes as it brings some great flavors to dishes like stir fry or glazed meats. It is very fragrant and pungent sauce. This sauce combines umami with sweet, tangy, and spicy elements.
Ginger: We want to use freshly grated ginger as that will not only help to bring a little spice but also add in great aroma and flavors to our dish. Ginger is a staple in many Asian inspired dishes.
Chiles de Arbol: These are those long dried chilies you find in the Spanish cooking sections of your grocery store with the other bagged herbs and dried goods. These peppers will really help to bring the heat with our dish so if you want your Kung Pao veggies less spicy, consider using fewer chiles.
Step-By-Step Instructions
Preheat your oven to 425 degrees F. On a baking sheet, arrange the cauliflower and drizzle with olive oil. Sprinkle on some salt and pepper, toss to coat. Roast the cauliflower in the oven for 15 minutes.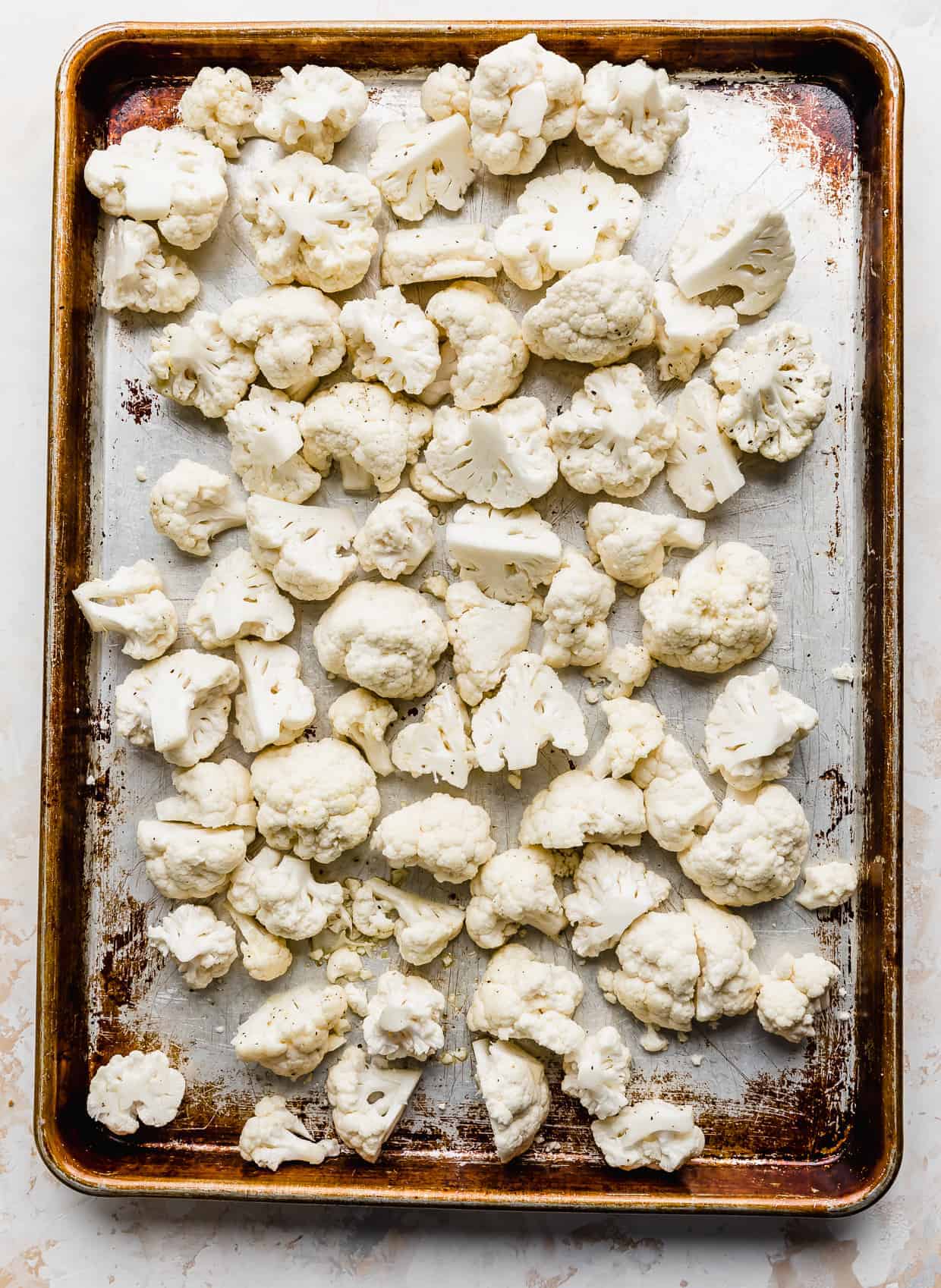 While the cauliflower is roasting, whisk together soy sauce, hoisin sauce, sherry vinegar, sesame oil, brown sugar, cornstarch, garlic, and ginger in a bowl.
Remove the cauliflower from the oven and top with the chiles. Pour your whisked sauce over the top of the cauliflower and toss again to coat.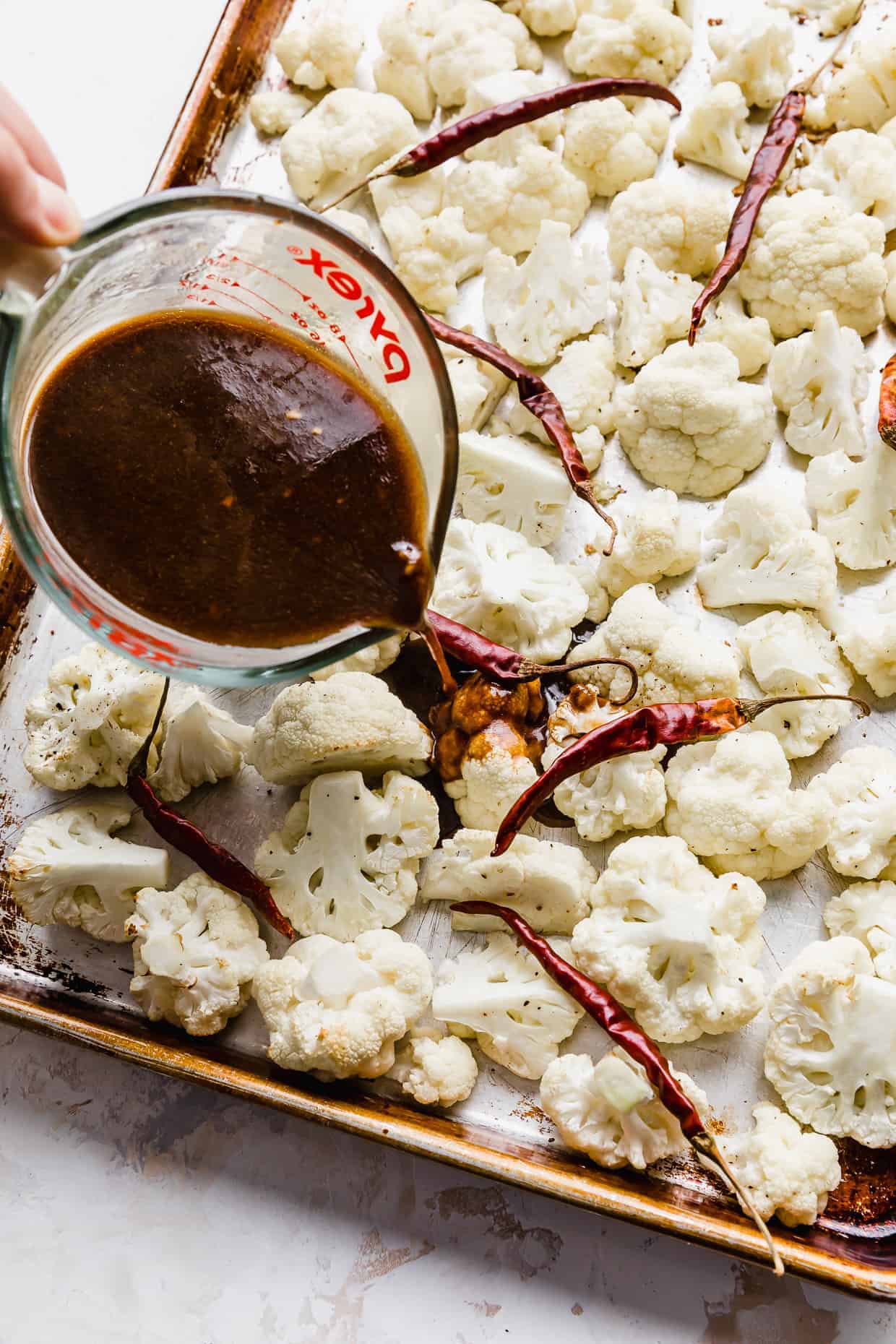 Spread the coated cauliflower into an even layer on the baking sheet and roast for another 15-20 minutes, tossing about mid way to ensure even cooking. (The sauce will thicken as the veggies bake and cool.)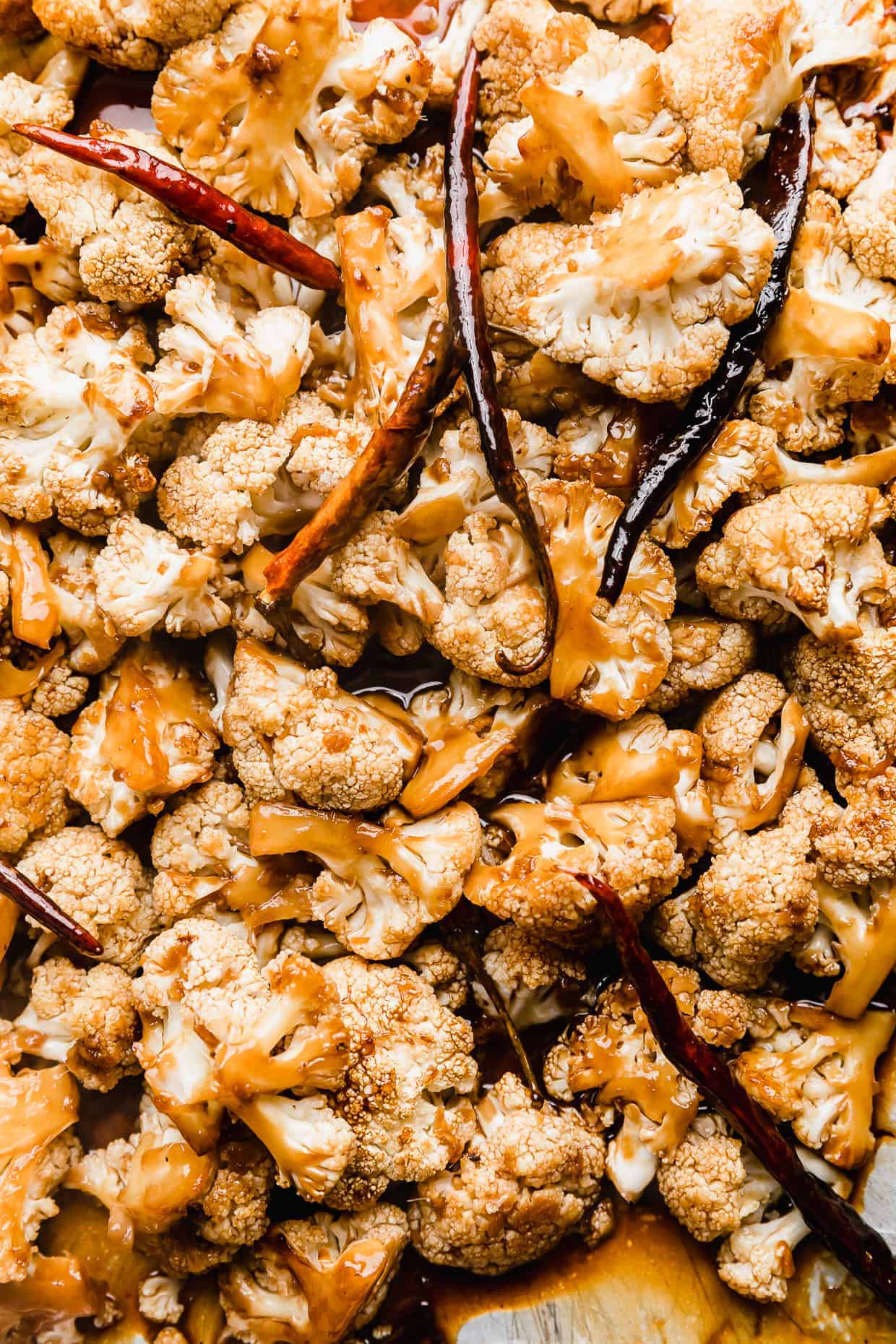 Remove from the oven and add your roasted peanuts and green onions as desired.
Serve over cooked rice.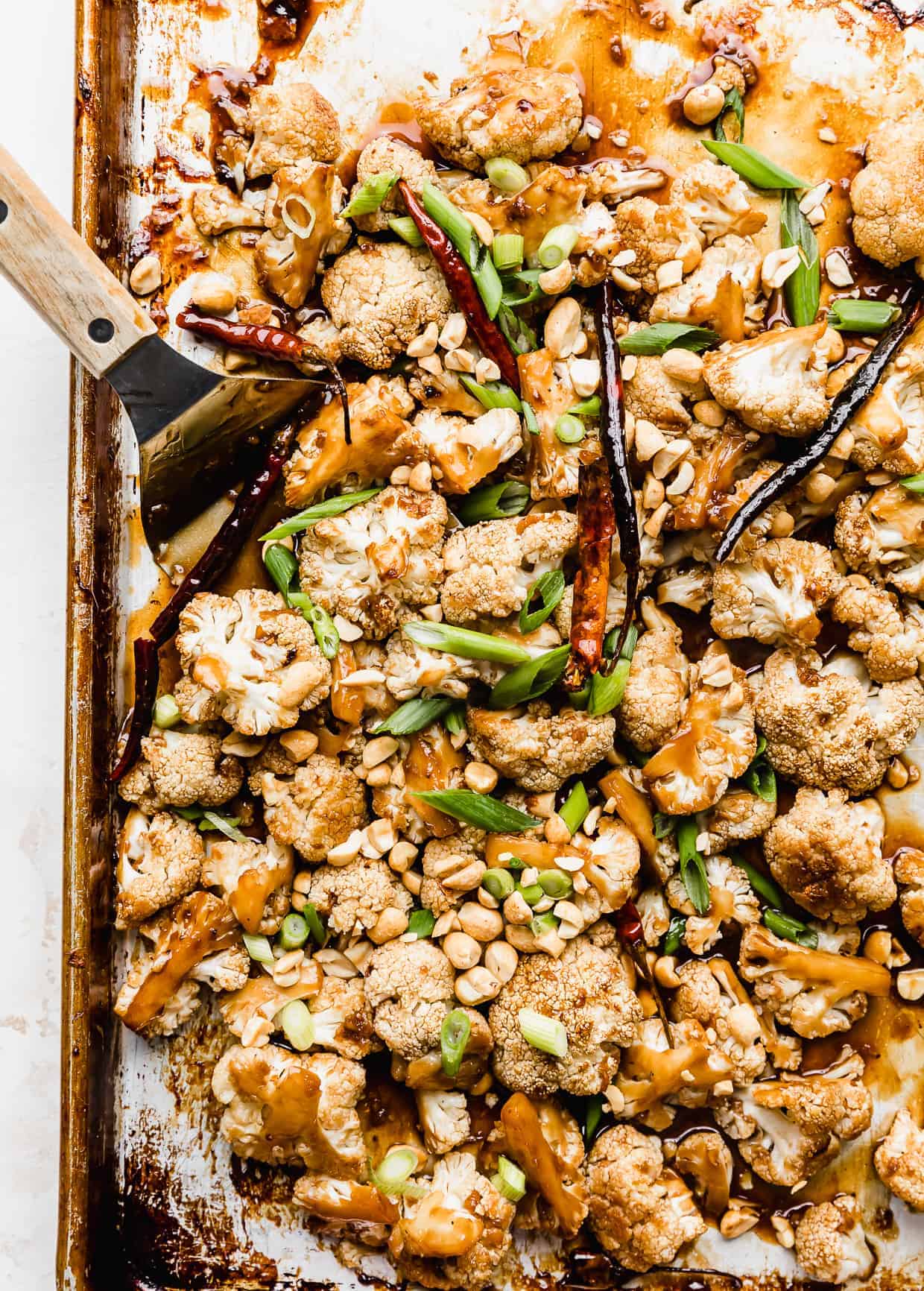 Recipe Tips
Hoisin Sauce: This dark colored sauce can be found near the barbecue sauces in most grocery stores or in the Asian cuisine section of your local grocery store.
Use fresh ginger that has been peeled and grated. I use a simple cereal spoon to grate the thin skin off of the ginger and then use the small tines on my box grater. You can also use a citrus zester to grate ginger.
For more heat, add more chiles de Arbol.
Serving Suggestions for Kung Pao Cauliflower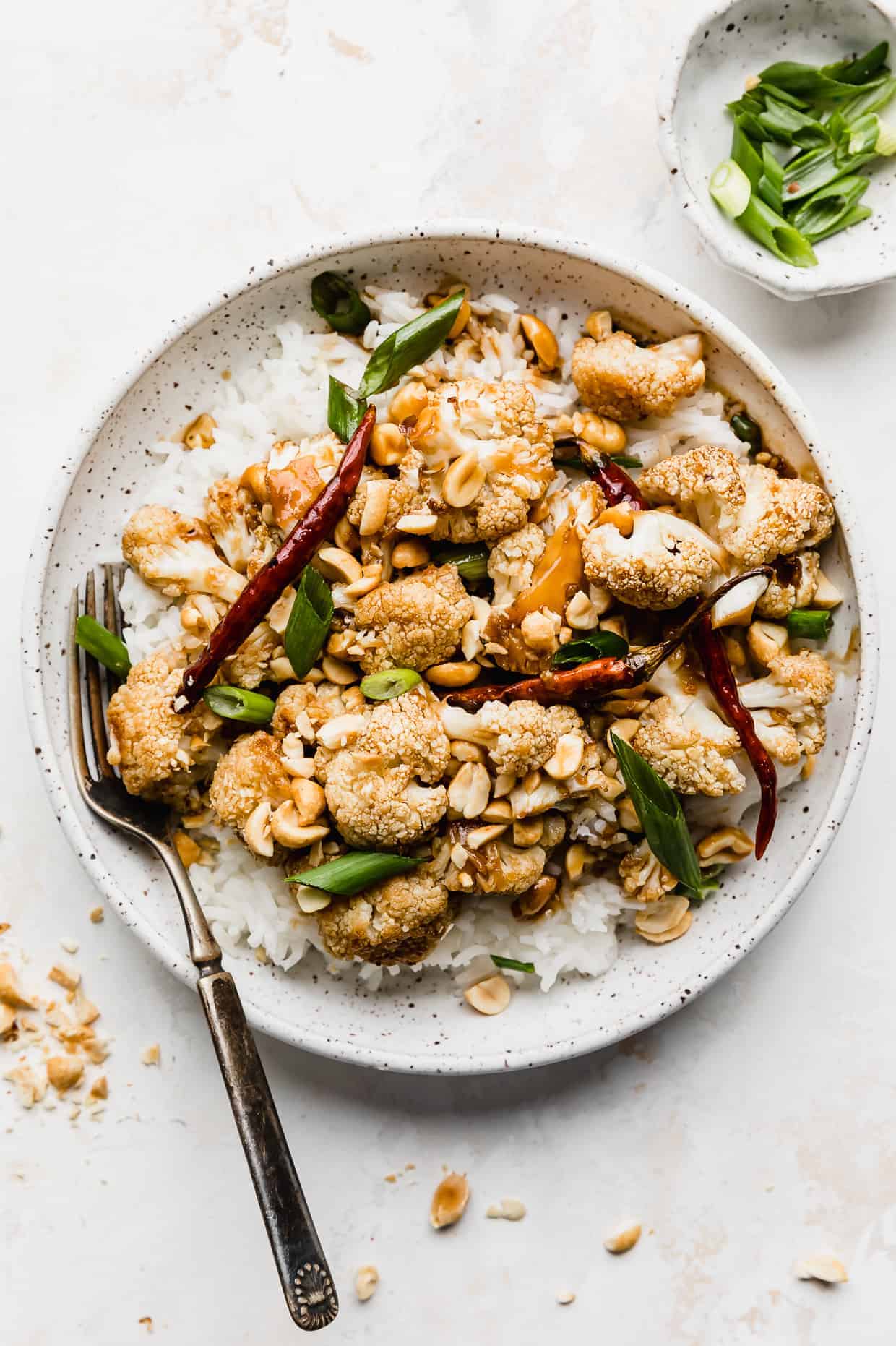 FAQs
Is Kung Pao Cauliflower Vegan?
This dish is naturally vegetarian, but it's also considered vegan based on the ingredients used. Double check ingredient labels on the hoisin sauce and other bottled ingredients, just to be safe. 
How long is Kung Pao Cauliflower good for?
If you find yourself with leftovers, you'll be glad to know that they can last in an airtight container for about 2-3 days. Reheat to eat it warm or enjoy it cold if you prefer.
Do chiles de Arbol expire?
To properly store chiles de Arbol you should store them in an airtight container in the pantry, or in the freezer. It's best to use these potent chiles within 3 to 6 months of purchasing them, however, they will last for up to 1 year.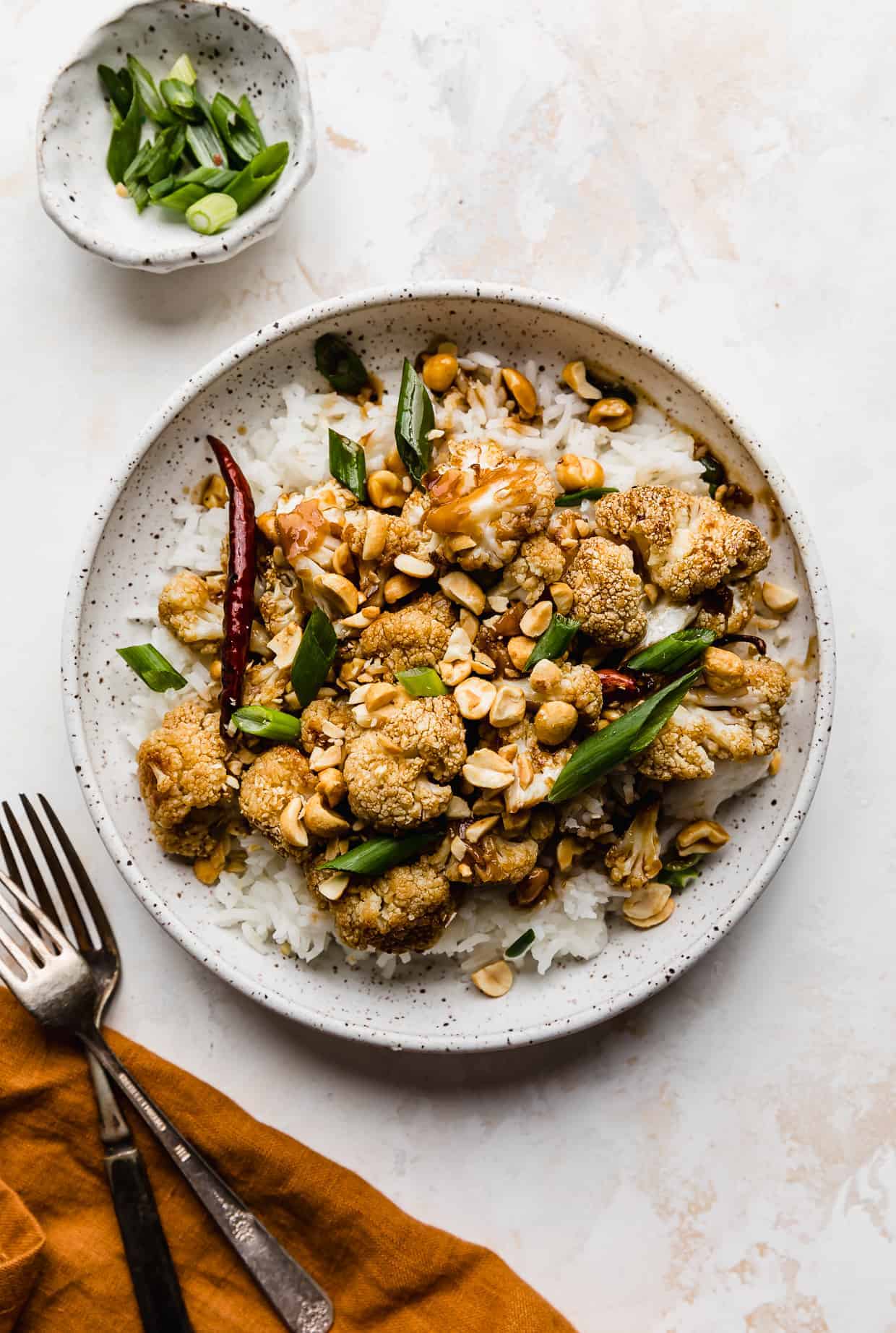 More Meatless Meal Ideas
Did you make this recipe? I'd love to hear about it! Click here to leave a rating and review, or scroll below the recipe card to do so.
Kung Pao Cauliflower
Kung Pao Cauliflower is a quick meatless dinner option that is packed with flavor! The cauliflower is bathed in a saucy soy sauce/sesame/ginger based sauce then tossed with chiles that add some subtle heat. Add roasted peanuts and green onions overtop for some crunch and you've just made one of the best meals ever! By the way, this is a sheet-pan meal, so clean up is a breeze!
Ingredients
1

large

head of cauliflower

-

cut into florets (5-6 cups worth, see notes).

2

tablespoons

olive oil

4

tablespoons

low-sodium soy sauce

4

tablespoons

hoisin sauce

4

tablespoons

sherry vinegar

3

tablespoons

toasted sesame oil

1

tablespoon

brown sugar

-

packed

4

teaspoons

cornstarch

4

garlic cloves

-

minced

1

tablespoon

freshly grated ginger

8

chiles de arbol

-

(these are the dried chiles)

2/3

cup

dry roasted peanuts

-

chopped

4

green onions

-

sliced

cooked rice

-

for serving
Instructions
Place the cauliflower florets on a baking sheet and drizzle with olive oil. Sprinkle salt and pepper overtop and toss to coat. Roast the cauliflower in the oven for 15 minutes. 

Meanwhile, in a medium sized bowl whisk the soy sauce, hoisin sauce, sherry vinegar, sesame oil, brown sugar, cornstarch, garlic, and ginger.

Remove the cauliflower from the oven. Add the chiles to the baking sheet and pour the sauce over the cauliflower. Toss to coat. Spread the cauliflower into an even layer and roast for another 15-20 minutes, tossing the cauliflower every 8 minutes or so. The sauce will thicken as it bakes and then cools. 

Remove from the oven and add the peanuts and green onions. Serve over cooked rice. 
Notes
Depending on the size of cauliflower you buy, you may need 2 small cauliflower heads. You don't want to use TOO much cauliflower because you want the sauce to cover all of the florets!
Did you make this recipe?
Leave a star rating and review on the blog post letting me know how you liked this recipe! Take a picture and tag @saltandbaker on Instagram and Facebook so I can see what you're making!