Chicken Salad Sandwich Recipe
Finally! A Chicken Salad Sandwich recipe that is loaded with flavor and perfect textures! This chicken salad features crisp red grapes, celery, salted cashews, and a blend of seasonings to elevate the flavor in this delicious sandwich!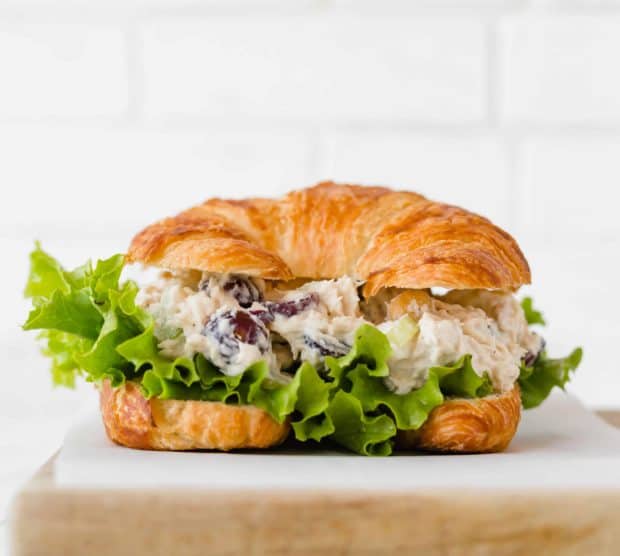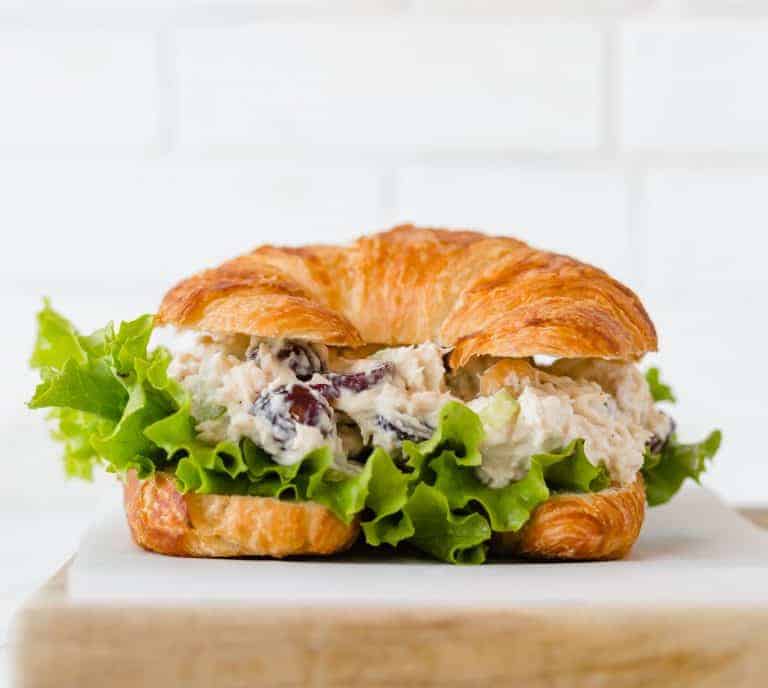 Have you subscribed to Salt & Baker yet? If not, be sure to do so! I notify you via email each time a new recipe is posted on my blog, and you can choose to receive my monthly newsletter! The newsletter recaps recipes I shared throughout the month and also highlights new recipes that will be released in coming weeks. It's a lot of fun!
I apologize for posting only once each week. Since the beginning of 2018 I've been swamped! Let me catch you up on a few life events. If you follow me on Instagram you'll know I made the dumb mistake of having family pictures taken in the snow, with a 3 year old. It was bad. My husband and I bribed my son to the moon and back. But Bronson refused to smile. I learned my lesson… as magical as snowy family pictures may seem, they ARE NOT magical with a toddler. 😂
Amongst all the craziness of family life, I forgot to share with you some good news! If you've read my about page you'll know my husband has been applying for residency positions across the country. We found out towards the beginning of January where we're going…..
Houston, TX!
We look forward to moving to Texas spring of 2019.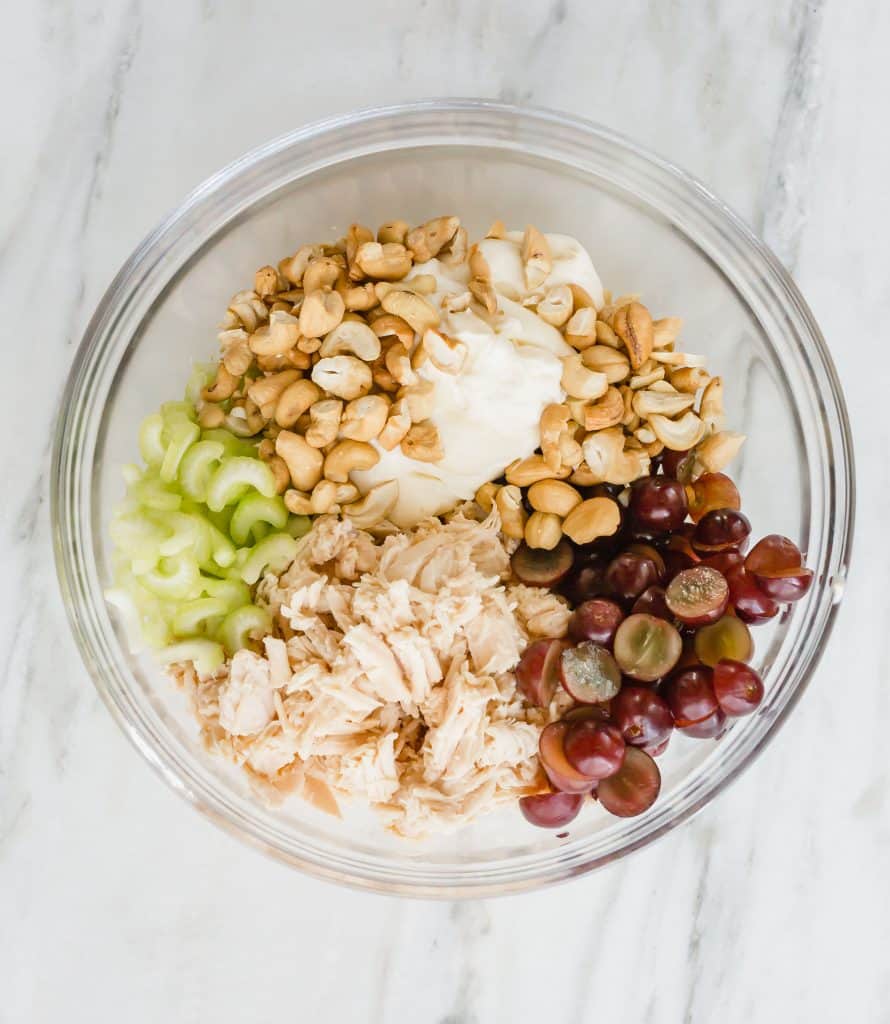 I've been warned that Houston Texas has incredibly hot and humid weather. I'm not a summer gal. At all!
In fact, when the weather turns hot (even in Utah), I find myself making Grilled Tomato, Mozzarella, and Pesto Sandwiches or these Chicken Salad Sandwiches for lunch because of the refreshing ingredients found in both sandwiches. I wouldn't be surprised if I make these easy chicken salad sandwiches on a weekly basis once we move.
There are a few things you should know about this chicken salad sandwich recipe:
You don't have to follow it exactly. If you want more grapes, add more grapes. If you want more cashews, add more cashews. You do your thing.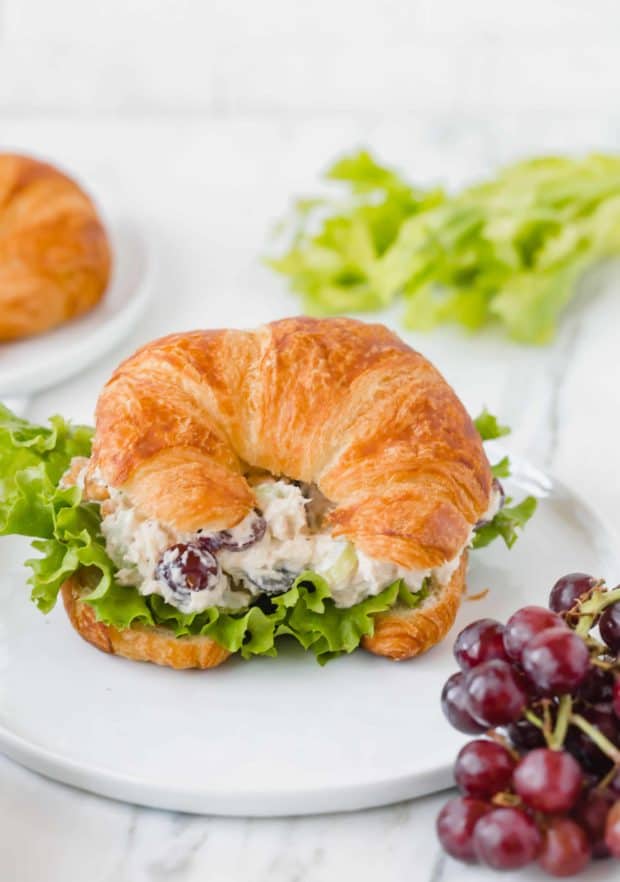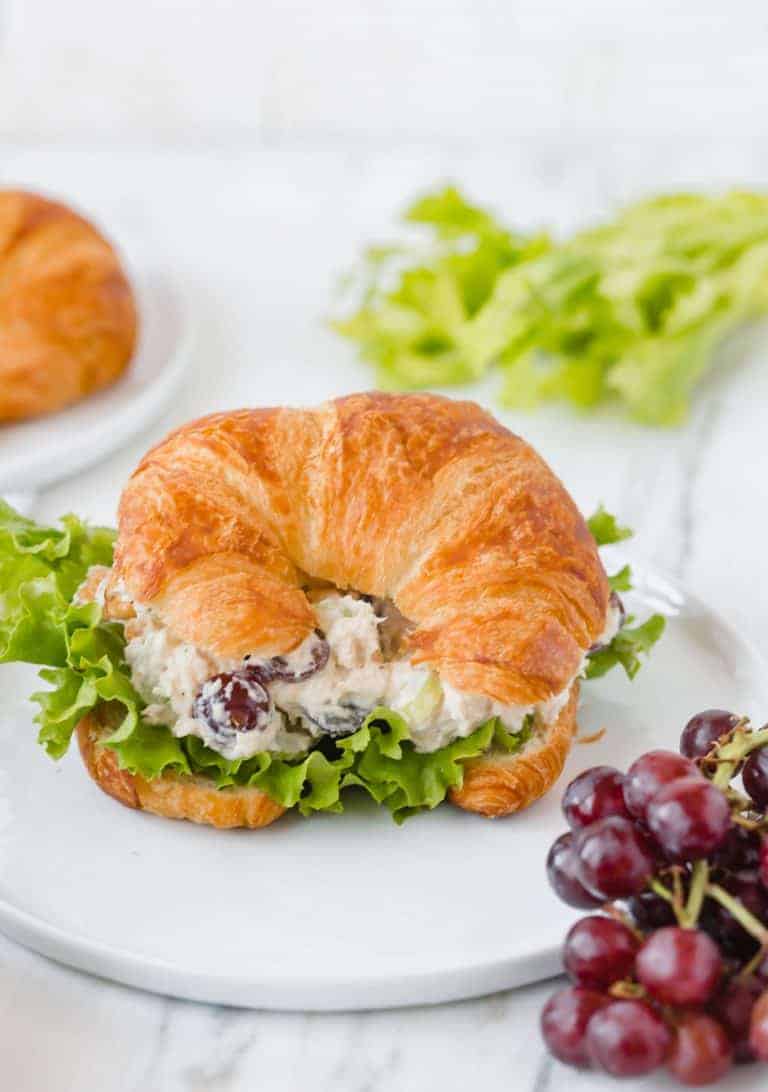 However, I suggest you add the seasonings. I love Mrs. Dash seasoning, so I always add that. To add another punch of flavor into these chicken salad sandwiches, I add some celery salt. It elevates the celery flavor, which I LOVE! Try it. I think you'll love it too!!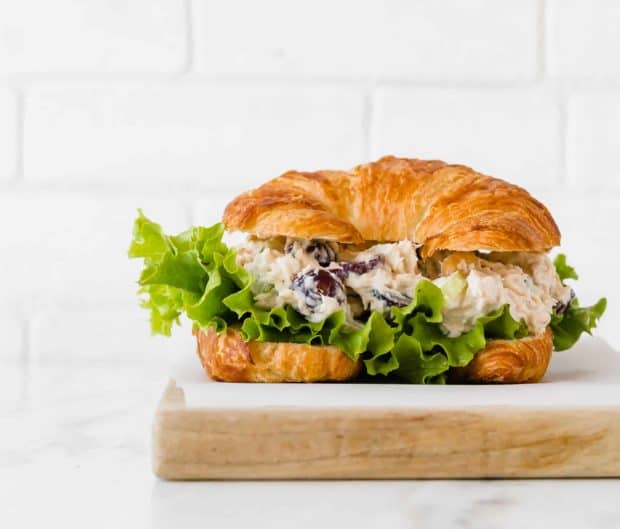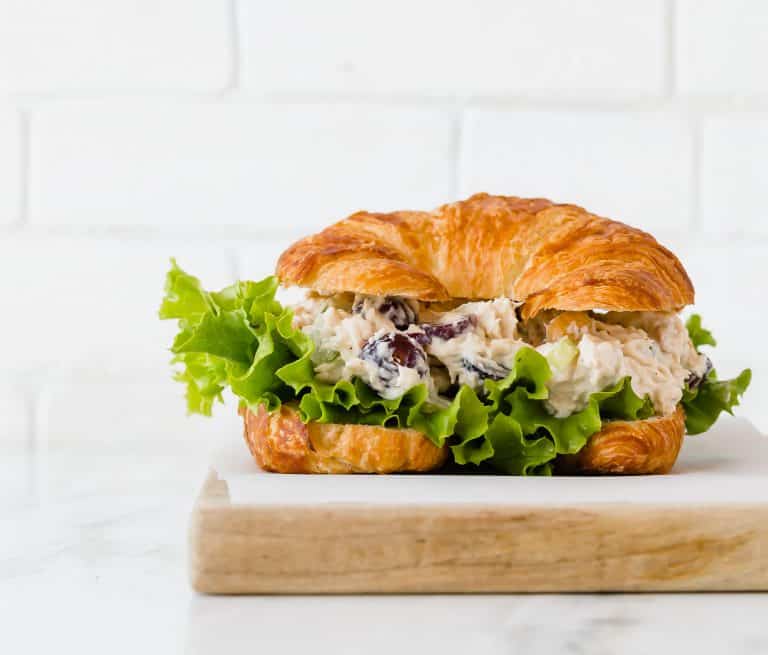 I don't always have beautiful croissants on hand so I usually add the chicken salad mixture to a roll or a regular slice of bread. It's delicious no matter what you serve it on!
Craving more? Subscribe to Salt & Baker to get new recipes and a newsletter delivered straight to your inbox! And stay in touch on Facebook, Twitter, Pinterest and Instagram for all of the latest updates.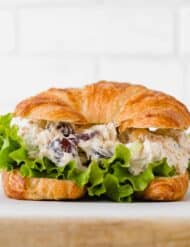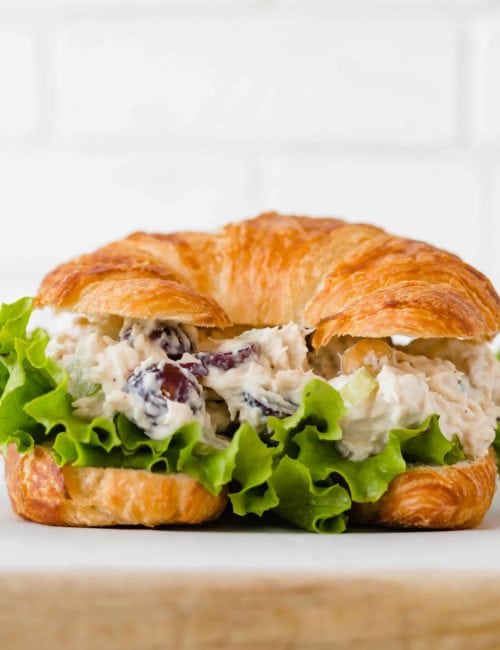 Nutrition Facts
Chicken Salad Sandwich
Amount Per Serving
Calories 618
Calories from Fat 378
% Daily Value*
Total Fat 42g 65%
Cholesterol 96mg 32%
Sodium 804mg 34%
Potassium 351mg 10%
Total Carbohydrates 35g 12%
Protein 23g 46%
* Percent Daily Values are based on a 2000 calorie diet.
Chicken Salad Sandwich
A delicious chicken salad filled with celery, grapes, and cashews.
Ingredients
3

cups

chicken, cooked and shredded

about 16 oz

1 1/8

cup

mayo

3/4

cup

celery, chopped

(I do a heaping 3/4 cup)

1 1/2

cups

grapes, cut in half

2/3

cup

cashews, roughly chopped

(I like a lot of cashews so I'll do a heaping 2/3 cup, or even 1 cup)

1/2

tablespoon

Mrs. Dash seasoning

1/2

teaspoon

celery salt

1/4

teaspoon

salt

8-10

rolls or croissants*
Instructions
In a large bowl combine the shredded chicken, mayo, celery, grapes, cashews, Mrs. Dash seasoning, celery salt, and salt. Stir to combine.

Cut rolls or croissants in half length wise, and fill each roll with the chicken salad filling. Add lettuce to the sandwich if you desire. Serve immediately.
Recipe Notes
*If using rolls, you'll get a lot more than 8 sandwiches. 
Recipe Source: Salt & Baker
Keyword:
chicken salad sandwich recipe, chicken sandwich recipe, how to make a chicken salad sandwich