Mango Sorbet
This post may include affiliate links. As an Amazon Associate I earn from qualifying purchases.
This Mango Sorbet is ultra creamy and mega dreamy! This sorbet recipe is easy to make and it's loaded with delicious mangos.

Mango Sorbet Recipe
I'm all about the sorbet recipes recently. I made the most amazing raspberry sorbet a few months ago, and I couldn't stop thinking about it!I figured I needed to make it using mangos.
As for this mango recipe, it turned out incredible! It's perfect for this time of year when the weather is warming up.
For those of you who have had your ice cream machine tucked away in the back of the cupboard, it's time to pull it out.

Ingredients needed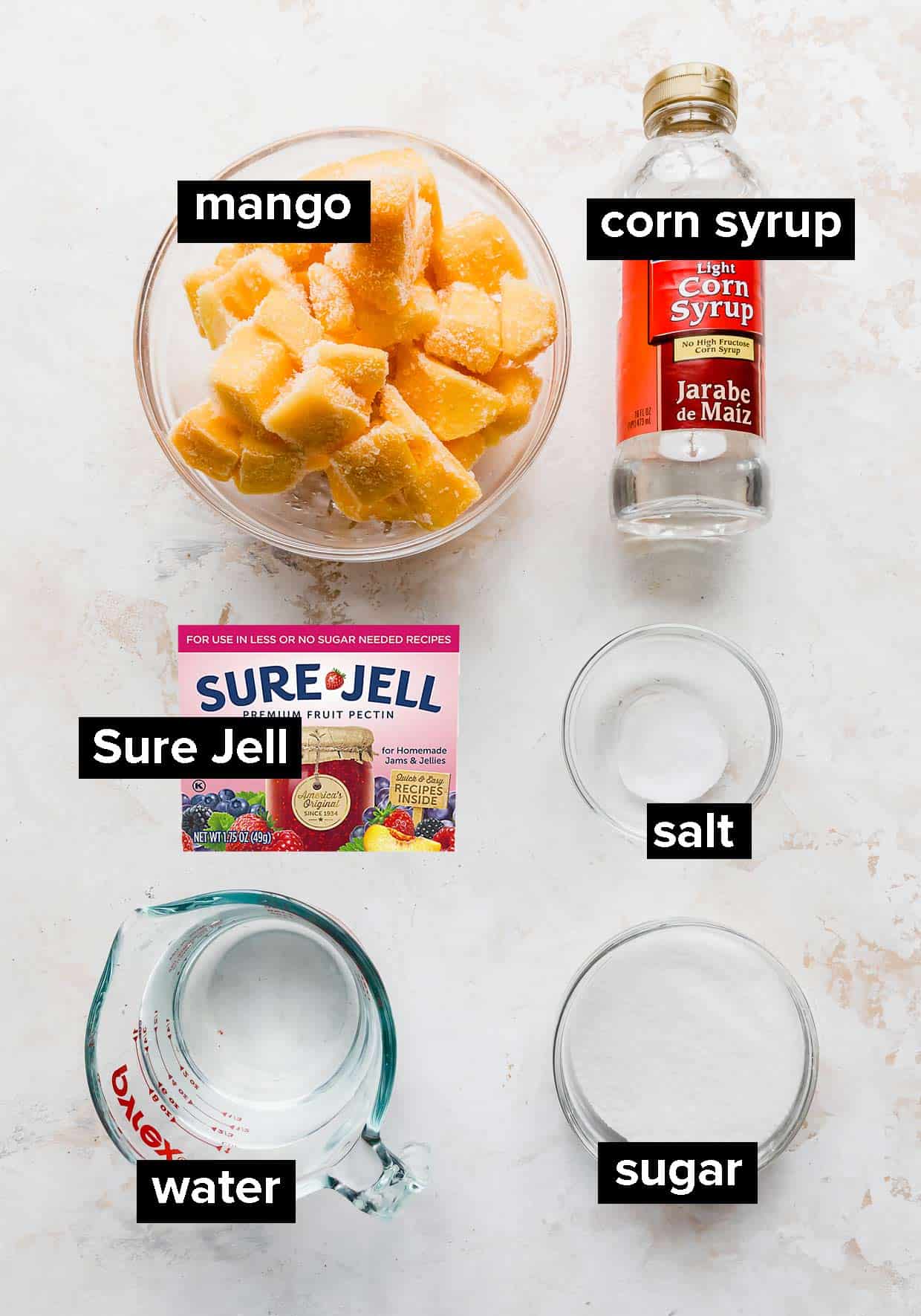 Step by step instructions
Combine water, salt, and Sure-Jell in a saucepan. Cook this mixture over medium heat (stirring constantly) until the Sure-Jell is fully dissolved.
The pectin stabilizes the homemade sorbet so that once frozen, the sorbet won't melt as quickly.
You can make this sorbet with fresh ripe mangos or frozen mangos. Either way, you need 20 oz of mango.
Add the mango, sugar, and corn syrup to a blender. For this mango sorbet I used my Vitamix. It's a powerful blender and it did the job in a matter of seconds.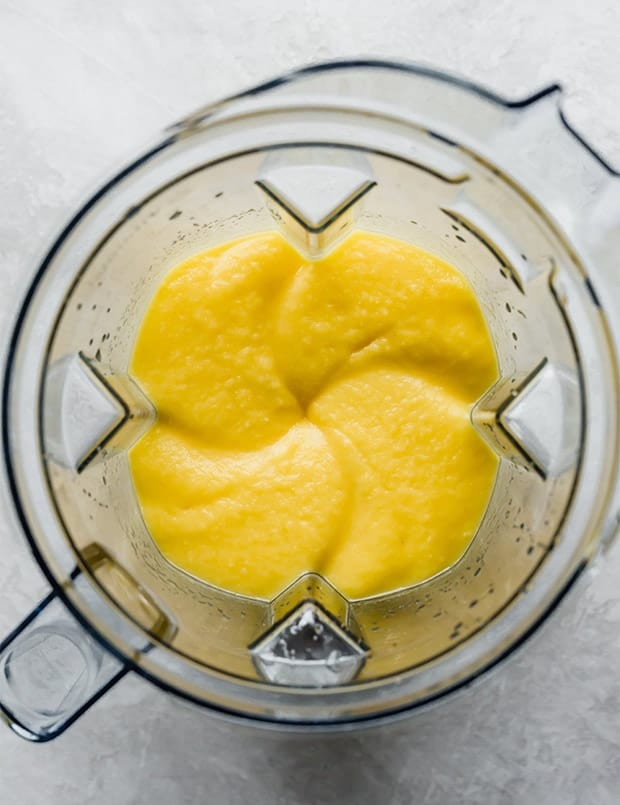 Once the mango mixture is smooth, divide the puree into two bowls.
Place 1 cup of puree in a small bowl, and place the remaining puree in a large bowl.
Freeze the small bowl of puree, and refrigerate the remaining mixture for 3-4 hours.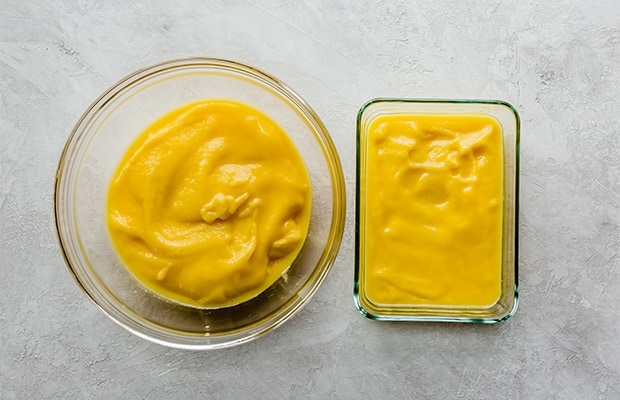 Once frozen, remove the mango puree from the freezer and scrape the frozen puree into the large bowl of refrigerated puree.
Using an ice cream machine, churn the mango ice cream until it resembles a thick milkshake, about 15 minutes.
At this point you can eat the sorbet, or you can opt to place it in a freezer safe container and freeze an additional hour or two until firm.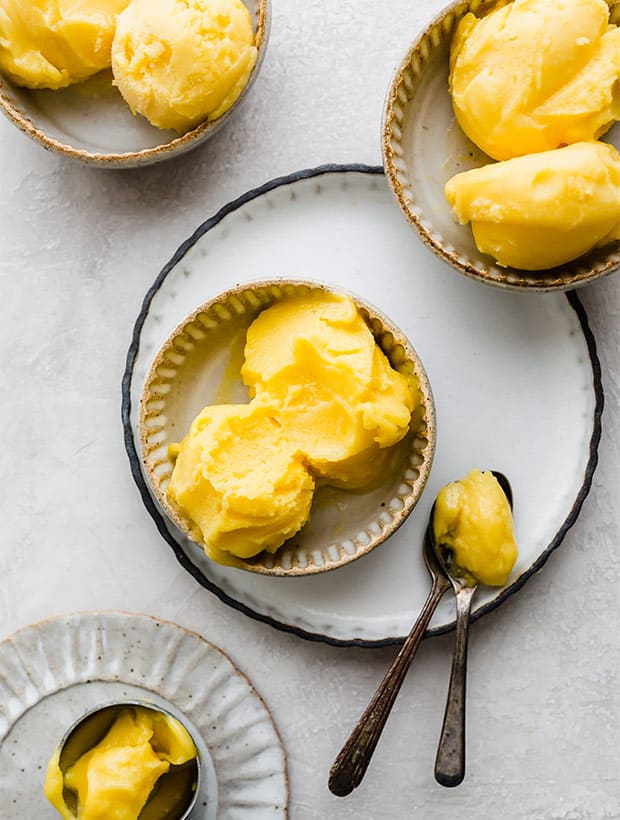 More frozen dessert recipes
Mango Sorbet
Rich and creamy mango sorbet. This sorbet is conveniently made in a blender and then churned in your ice cream machine for the ultimate creamy and smooth texture.
Ingredients
1

cup

water

1

teaspoon

Sure-Jell for Less or No Sugar Needed Recipes

pinch

salt

4

cups

frozen mango

-

20 ounces. You can use fresh mango, just make sure it weighs 20 oz.

1/2

cup + 2 Tablespoons

granulated sugar

1/4

cup

light corn syrup
Instructions
In a medium saucepan over medium heat, add the water, Sure Jell, and salt. Stir frequently, until the Sure-Jell is completely dissolved, about 4-5 minutes. Remove saucepan from heat and cool for 10 minutes.

In a blender (or food processor), process the mango, sugar, corn syrup and the water mixture until smooth. Divide the liquid into two bowls. One bowl will have 1 cup of the mixture and the other will have the remaining mango mixture. Cover both of the bowls with plastic wrap.


Place the bowl with the 1 cup of mango mixture in the freezer, and the larger bowl with the remaining liquid in the refrigerator. Keep each bowl in freezer/fridge for 3-4 hours.


Remove them from the fridge and freezer.


Scrape the frozen mango mixture into the larger bowl with the chilled (refrigerator) mango base. Stir to combine.


Pour the mango mixture into an ice cream machine and churn for 18-25 minutes or until it resembles the consistency of a thick milkshake. Be sure to follow the manufacturer's instructions on your ice cream machine.


Transfer the churned sorbet to a freezer safe container. Cover with a lid or plastic wrap and freeze for 2-3 hour or until firm. Remove from freezer, scoop, and serve!

Notes
Sorbet can be frozen for up to 5-7 days.
Did you make this recipe?
snap a photo and tag @saltandbaker in your posts and stories so I can see what you're making!
I am a participant in the Amazon Services LLC Associates Program, an affiliate advertising program designed to provide a means for us to earn fees by linking to Amazon.com and affiliated sites.