Pineapple Mango Popsicles
This post may include affiliate links. As an Amazon Associate I earn from qualifying purchases.
Pineapple Mango Popsicles are easy to make (only 2 ingredients!), they satisfy any sweet tooth, and provide instant relief from the summer heat. I should mention, they are healthy, only 61 calories per popsicle!
If you're a mango lover try our mango overnight oats and mango sorbet.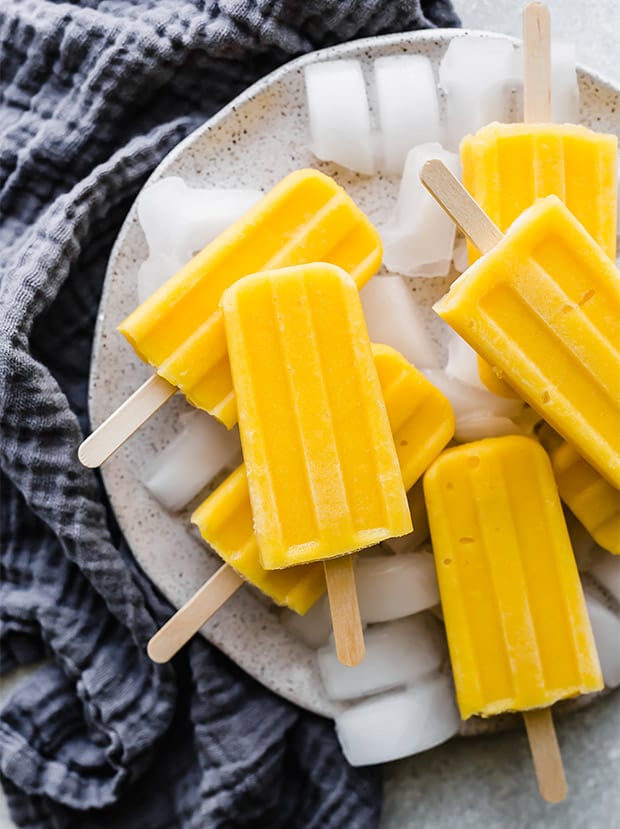 2 Ingredient Fruit Popsicles
You guessed it, you need only 2 ingredients to make these delicious summer popsicles.
Pineapple juice
Frozen mango chunks
Pro Tip: You can use frozen mango chunks OR fresh mango.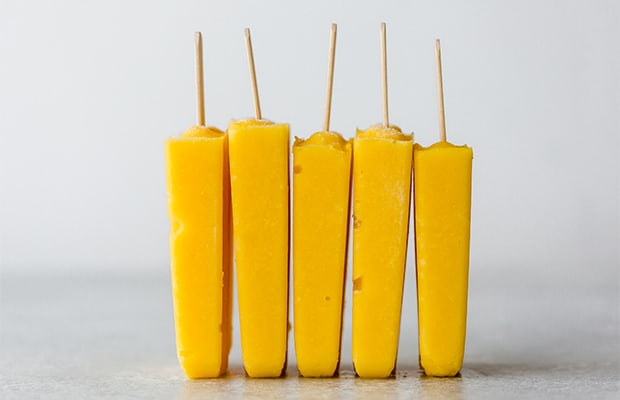 How to make Pineapple Mango Popsicles
To a high powered blender add the mango chunks and pineapple juice.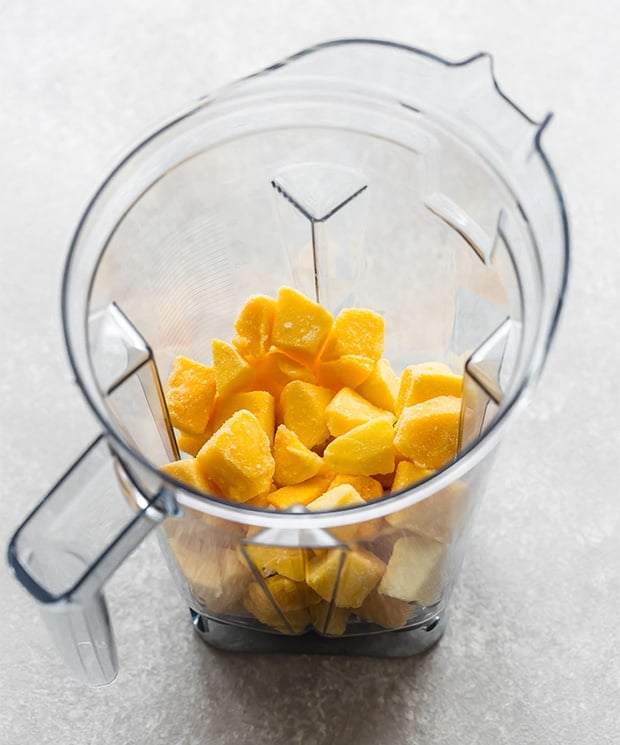 Blend until smooth.
It's important you use a high quality blender because we're using a small liquid to solid ratio. I love my Vitamix, so that's what I use.
However, it's not a bad thing to have chunks! If you want mango chunks in your popsicles that works too.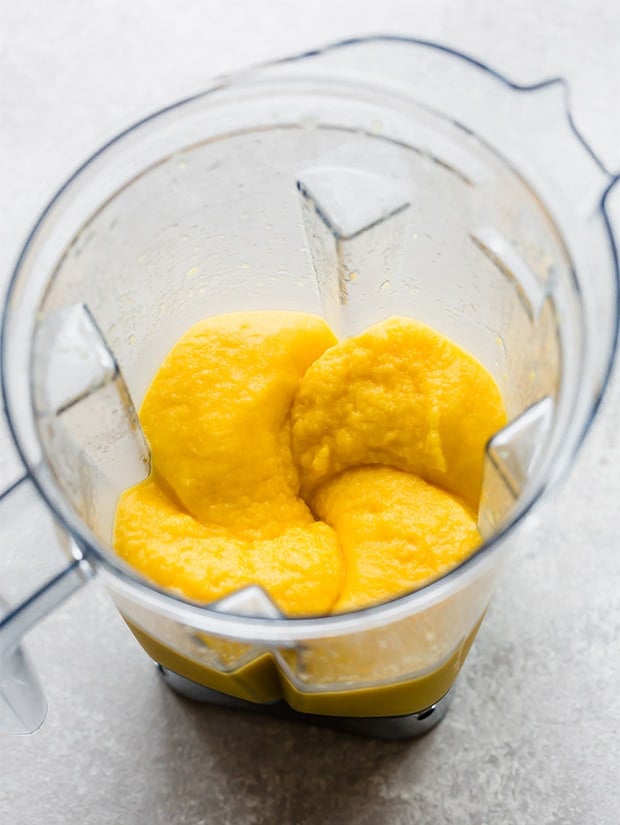 Filling the popsicle molds
This next step is a bit overkill, but this is what I did and I'm so glad I took this extra step.
I transferred the pineapple mango puree to a piping bag and filled the popsicle molds with a pastry bag. (Pictured below).
You don't have to do this! You can pour the puree into the popsicle molds directly from the blender, that works great.
However, I wanted to avoid any chances of spills and over flowing issues and this did the trick!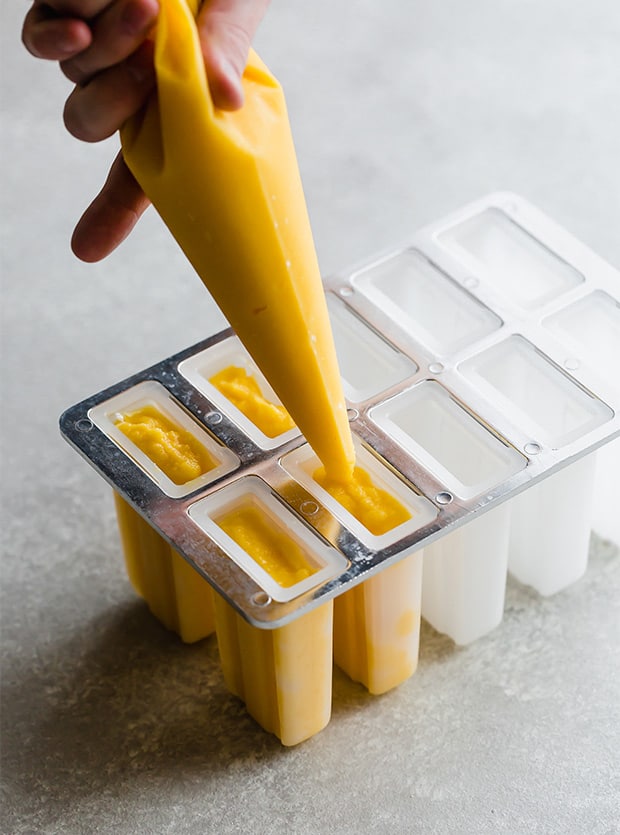 Pro tip: Do NOT fill the popsicle molds to the very top. The popsicles will expand a little when frozen.
All that's left to do is place the cover over the popsicle mold, stick the popsicles sticks into the slots, and freeze!
How long should popsicles freeze for?
If you used frozen mango chunks these popsicles won't need to freeze the full 6 hours. You can get away with 4 hours of freezer time.
If, on the other hand, you used fresh mango chunks, you'll want to freeze the pineapple mango popsicles for 6-8 hours or until fully frozen.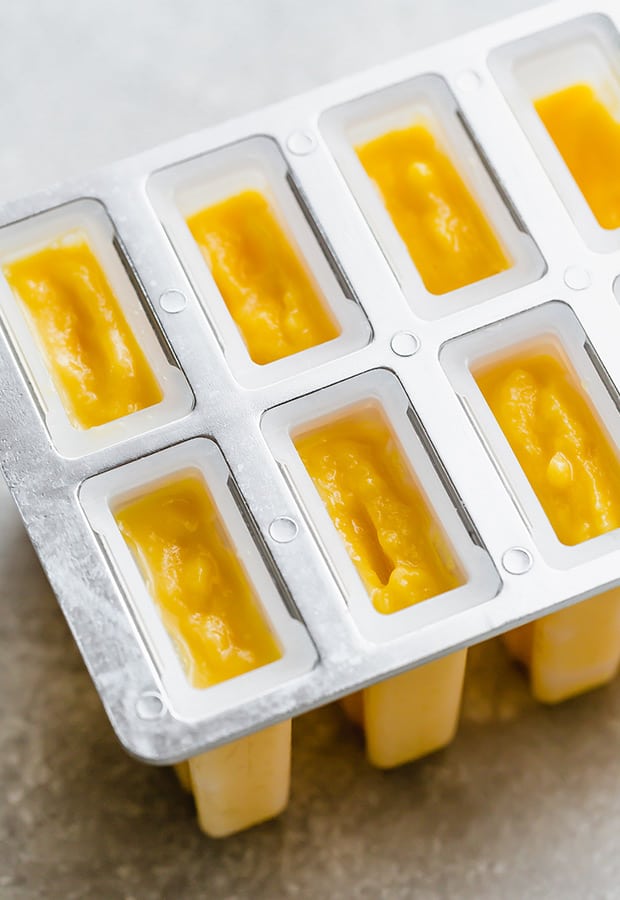 If you love these pineapple mango popsicles check out these frozen treats: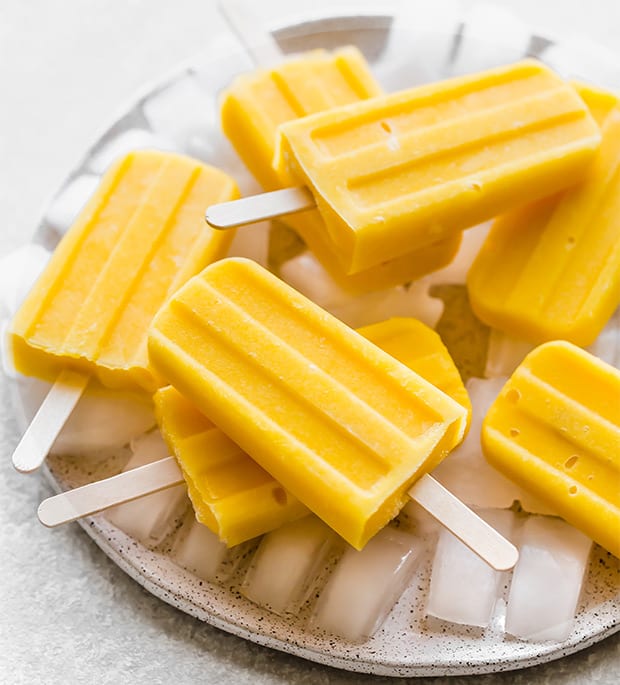 Subscribe to Salt & Baker
If you love these recipes, be sure and subscribe. You'll get new recipes delivered straight to your inbox…. you don't want to miss out!
And don't forget, if you make a recipe from my blog be sure to share it on social media. Tag @saltandbaker and #saltandbaker so I can see what you've made!
Pineapple Mango Popsicles
Two ingredient popsicles are the perfect tasty treat you can enjoy all summer long!
Instructions
Add the frozen mango chunks and pineapple juice to a high powered blender.

Divide the pineapple mango mixture evenly amongst the popsicle molds. Do not fill all the way to the top. Leave 3mm or so from the top.

Cover. Place popsicle sticks in the mold and freeze for 6 hours.

After the popsicles are fully frozen, run warm water around the exterior of the popsicle mold. This will help loosen the popsicles from the mold.
Notes
*Rather than run warm water over the popsicle mold, you can fill a casserole dish with warm water and place the popsicle mold into the warm water. Don't leave it for too long or they'll melt! 5-8 seconds will do.
Did you make this recipe?
Leave a star rating and review on the blog post letting me know how you liked this recipe! Take a picture and tag @saltandbaker on Instagram and Facebook so I can see what you're making!