Kiwi Strawberry Popsicles
This post may include affiliate links. As an Amazon Associate I earn from qualifying purchases.
Summertime calls for Kiwi Strawberry Popsicles. This is an easy 3 ingredient popsicle recipe that kids and adults will LOVE!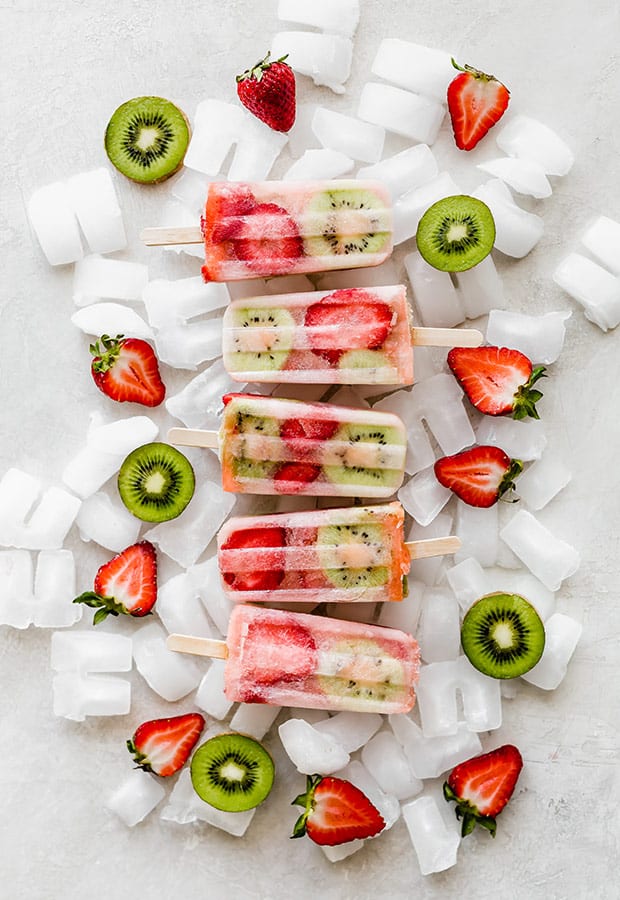 This week is popsicle week on Salt & Baker! And I'm so excited about it! I'm going to do this every summer from here on out because popsicles/ice cream are a summer staple.
Kiwi strawberry is such a delicious flavor combo. It's perfect for summer! It's a bit basic but it just works; kind of like chocolate + peanut butter (hello chocolate peanut butter no-bake cookies!!!)
But it's summer and it's RIDICULOUSLY hot outside, we just moved to Texas, so our dessert of choice is something in the frozen category! So we're eating Oreo ice cream cake and homemade vanilla ice cream like our life depends on it. 
To keep things a *tad* healthier around here, I made popsicles with some leftover strawberries. I don't know about you, but we love strawberries at our house.
I had a few laying around so that's how these popsicles came to be.
If you're like me and you're looking for delicious ways to use up fresh strawberries, I've got you covered. A few of my favorite recipes include: strawberry kiwi lemonade, strawberry mocktail, greek yogurt fruit bites, and angel food cake.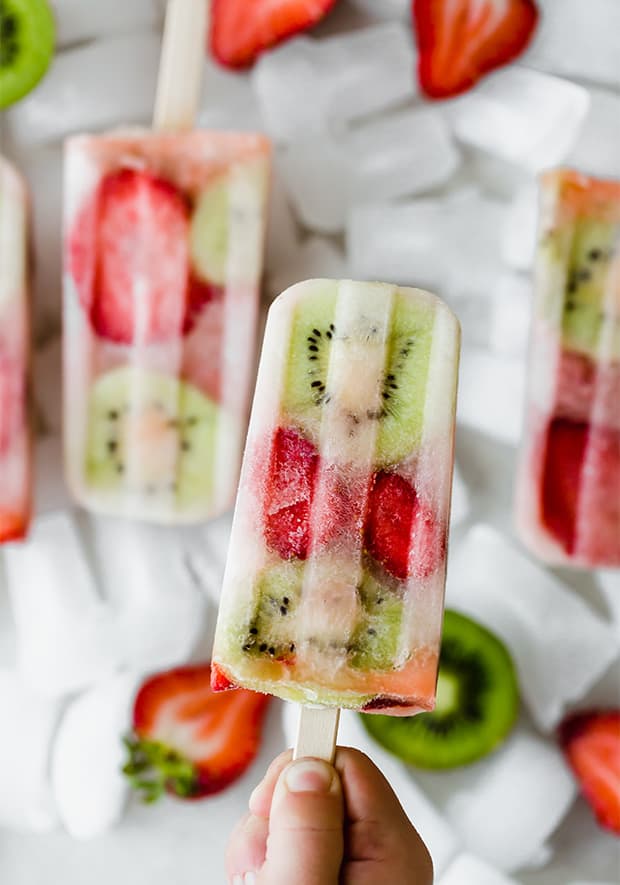 Why you'll love this fresh fruit popsicle recipe
I mentioned above that this requires only 3 simple ingredients:
Strawberries
Kiwis
7-Up (or Sprite)
With only 10 minutes of prep time, merely slicing the fruit, these popsicles will be in the freezer and ready to be eaten within a few hours.
How to make Kiwi Strawberry Popsicles
Place the sliced fruit into the popsicle molds. I filled mine full, almost to the top of the molds.
Pour the 7-Up into each popsicle mold compartment.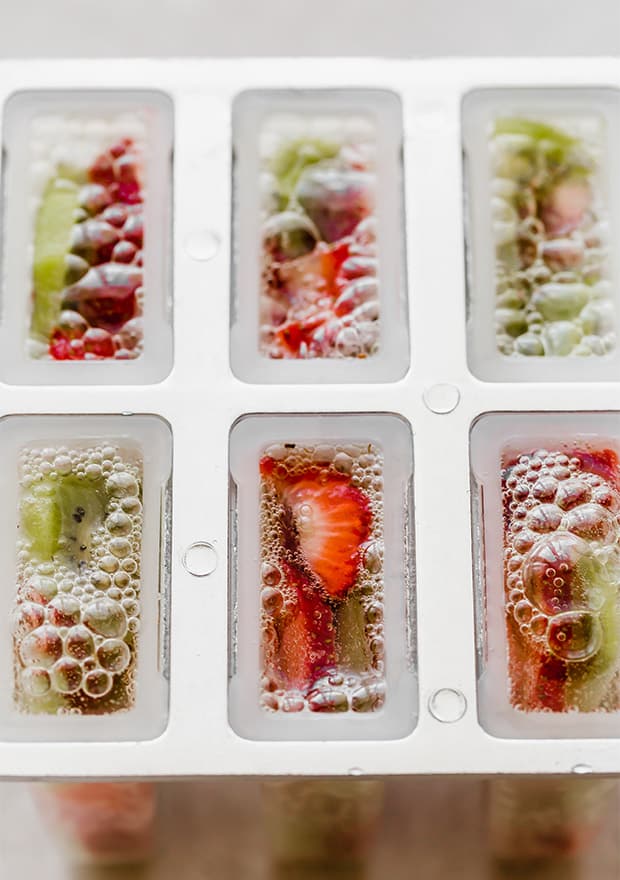 Place the cover over the mold (this part may vary depending on the popsicle mold you're using). Here is a link to the one I used (affiliate).
Place the popsicle sticks into the molds; you might have to finagle the stick amongst the fruit to get the stick in.
Freeze for 6 hours or overnight.
Pro tip: Don't overfill the molds. Keep about 2mm of space from the liquid to the top of the mold.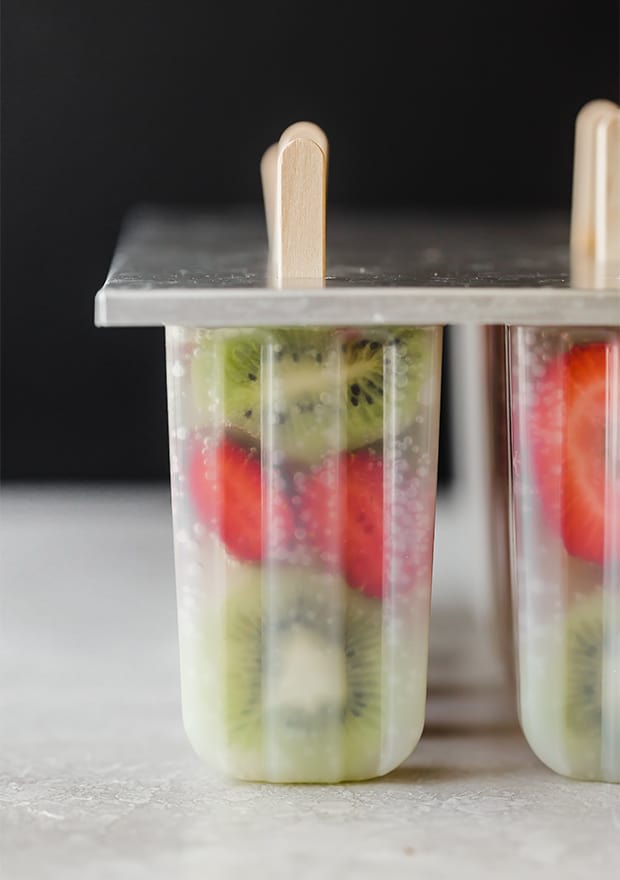 Once the popsicles are fully frozen, remove the popsicle mold from the freezer and run the bottom of the mold under some warm water. Do this for 5 seconds is all.
This step ensures the popsicles will come out of their molds easily.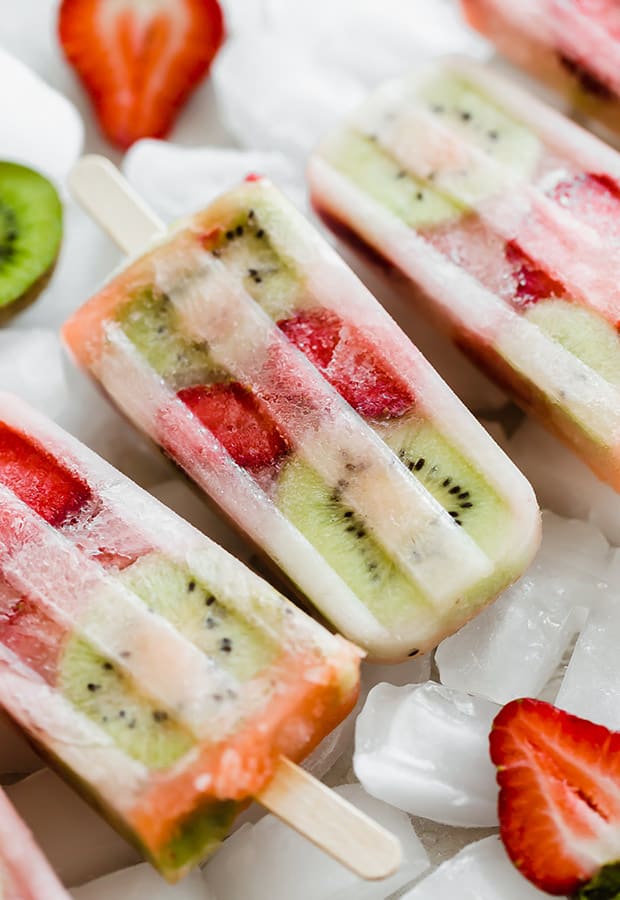 If you make this recipe or any other recipe on my blog, don't forget to come back and leave a rating and review! I love to hear from my readers.
Lastly, don't forget to subscribe to Salt & Baker. You'll receive newsletters, new recipes, and so much more! Plus, it's a party, so that's fun too.
Kiwi Strawberry Popsicles
These popsicles require only 3 simple ingredients. They're easy to make and kids love them!
Ingredients
1

cup

strawberries

-

thinly sliced

1

cup

kiwis

-

thinly sliced

1

cup

7-Up Soda
Instructions
Fill the popsciles molds with the fruit.

Pour the 7-Up into the molds until *almost* full, but not quite. Leave about 2-3mm of space from the top.

Place popsicle sticks into the popsicle mold. Freeze for 6 hours or overnight.

Gently warm water over the bottoms of the popsicle mold to help loosen the popsicles.

Remove popsicles from the molds and enjoy.
Did you make this recipe?
Leave a star rating and review on the blog post letting me know how you liked this recipe! Take a picture and tag @saltandbaker on Instagram and Facebook so I can see what you're making!