Angel Food Cake Recipe
This post may include affiliate links. As an Amazon Associate I earn from qualifying purchases.
Look no further, because I have the perfect Strawberry Shortcake Angel Food Cake recipe! This cake is sweet, pillowy soft, and fluffy as a cloud! You'll never want to buy the store bought stuff again.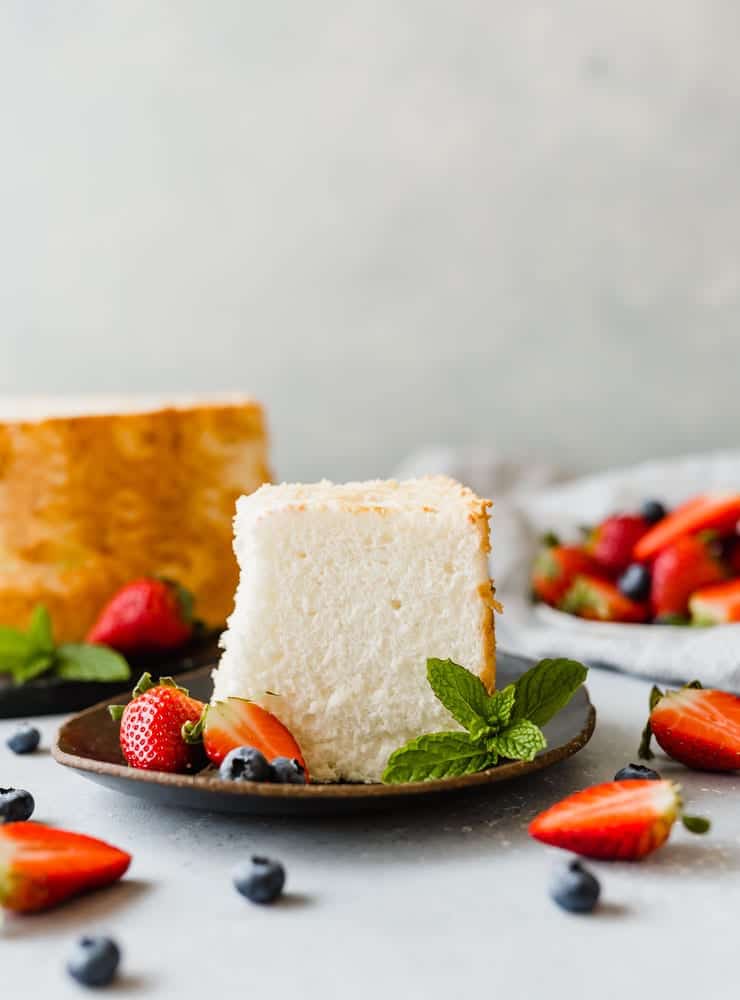 I'm ready for all the strawberries! I love angel food cake especially when it's covered in an array of fruit, namely strawberries.🍓
If you have a handful of strawberries laying around your house I suggest you make a strawberry pineapple smoothie. I have always been making virgin strawberry mojitos, strawberry kiwi lemonade, and kiwi strawberry popsicles.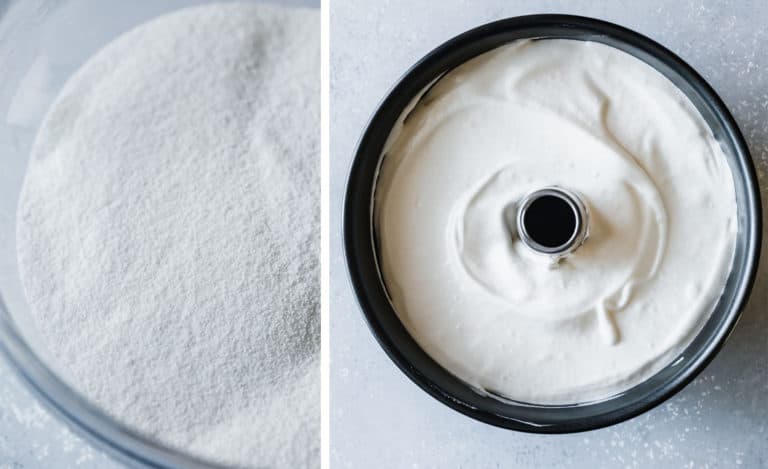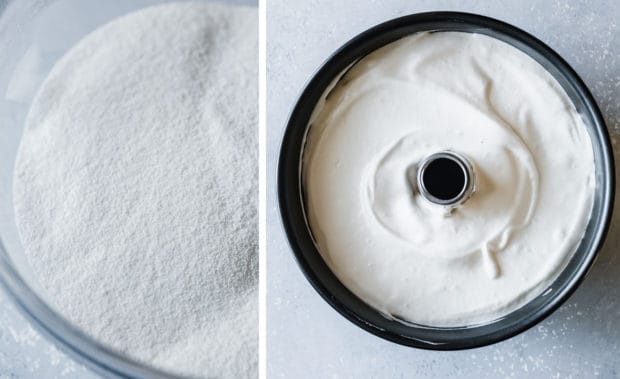 However, when I think of strawberries one of the first desserts that comes to mind is angel food cake. Rather than make a homemade angel food cake recipe, my mother would purchase the cake from a grocery store for added convenience. Growing up, all I knew was the grocery store stuff. Boy, was I missing out!!!!!!
Homemade is waaaaaay better!
When you first bite into this cake you'll think you're eating a sugar dusted cloud. This cake is velvety smooth, pillowy soft, light as a feather.
I'm running out of ways to describe the perfection of this cake….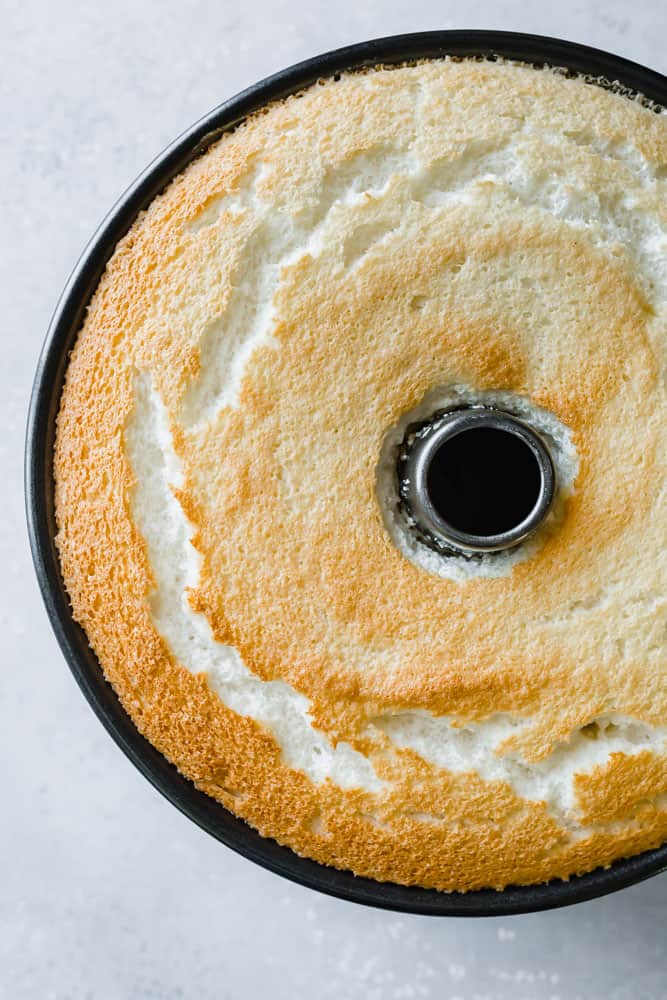 You'll just have to try it and see for yourself.
Recipe Tips
A big secret to getting the fluffy angel food cake is the egg whites.
The egg whites are mixed until medium peaks form. We add cream of tartar to the mixture to stabilize the egg whites.
Be careful not to over whip the egg whites (soft/medium peaks, not stiff). If you over whip the egg whites the dry ingredients will require extra mixing, which will result in the batter losing some of its precious volume. (Who knew cake making was so technical)!
Additionally, using a lighter flour such as cake flour, aids in the light and airy texture.
You can top your cake with freshly whipped cream, Greek yogurt cream, or easy coconut whipped cream!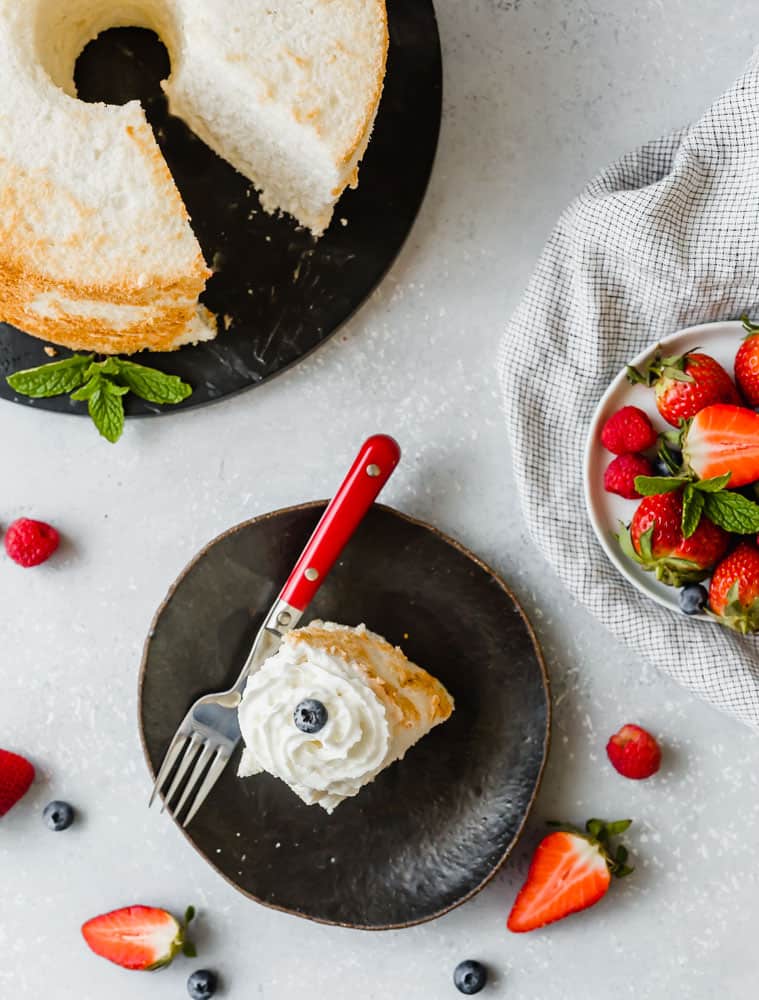 Should you grease an Angel Food Cake pan (tube pan)?
No. The ungreased sides allow the cake batter a surface to cling onto, helping the cake rise. If you grease the pan, you won't get a well risen cake.
After baking, the angel food cake is inverted for the cooling process. This prevents the cake from falling in on itself.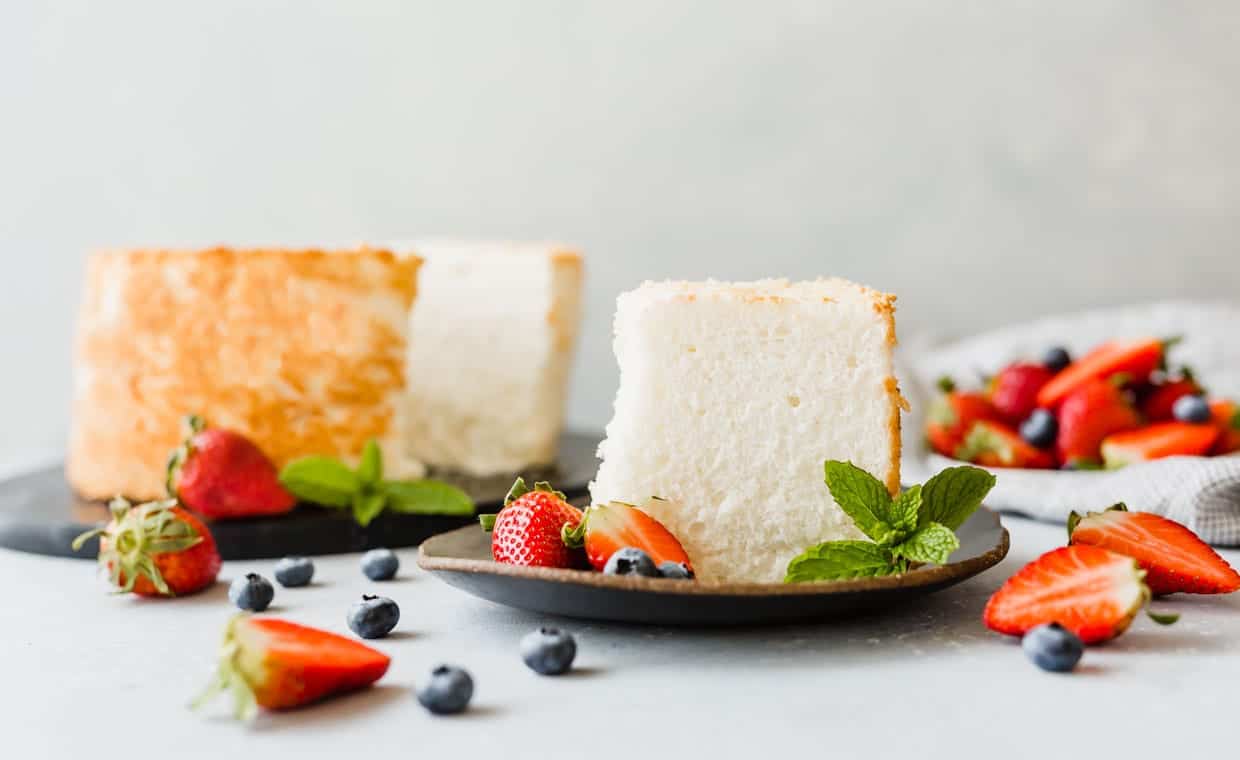 I hope you found some of this information helpful so that you're ready to conquer this recipe!
More of my favorite recipes
Angel Food Cake
Pillowy soft Angel Food Cake! This cake is perfection. Fluffy as a cloud and perfectly sweet.
Ingredients
1 3/4

cup

granulated sugar

1/4

teaspoon

salt

1

cup

cake flour, sifted

12

egg whites, room temp

1/3

cup

warm water

1

teaspoon

vanilla extract

1 1/2

teaspoon

cream of tartar
Instructions
Preheat the oven to 350°F.

In a food processor add the granulated sugar. Spin the sugar for 2 minutes until the sugar is very fine.

Sift half of the superfine sugar with the salt and cake flour. Set the other half of superfine sugar aside.

In a large bowl combine the egg whites, water, vanilla extract, and cream of tartar. Using a balloon whisk, thoroughly mix the ingredients together for 2 minutes. The egg mixer should become frothy.

Now switch to hand beaters; beat the egg mixture on medium speed, slowly adding the remaining sugar (that you set aside), until soft/medium peaks form. 

Sift enough of the flour mixture over the top of the medium peaks mixture, just until the top has been lightly dusted. Using a rubber spatula, fold the flour mixture in. Continue doing this (lightly dusting the top of the egg mixture with sifted flour mixture) and folding it in until all the flour mixture is incorporated. Don't overmix, we want to keep as much air in the eggs as we can.

Scoop the cake mixture into an ungreased tube pan. Bake for 35 minutes.

Remove the cake from the oven and cool it upside down on cooling rack for 1 hour (cake still in pan) before removing the cake from the pan. Serve with fresh fruit and whipped cream. 
Notes
Tube pan: Do NOT grease the tube pan. The batter needs the uncreased sides to "grip" onto in order for the batter to rise and bake up properly. 
Recipe Source: Adapted from Food Network
Did you make this recipe?
snap a photo and tag @saltandbaker in your posts and stories so I can see what you're making!