Old Fashioned Peach Cobbler
This post may include affiliate links. As an Amazon Associate I earn from qualifying purchases.
Old Fashioned Peach Cobbler can be made with fresh, canned or frozen peaches (I definitely recommend fresh peaches!) and is topped with a delicately moist and simply sweet cake topping made from scratch with a sprinkle of cinnamon. Serve it with a scoop of Homemade Vanilla Ice Cream!
If you are looking for more delicious peach recipes then you should try my Peach Milkshake and Peach Dessert! The peach dessert is a frequent flyer in my household! It's a definite family favorite. If you haven't made it yet, add it to your menu!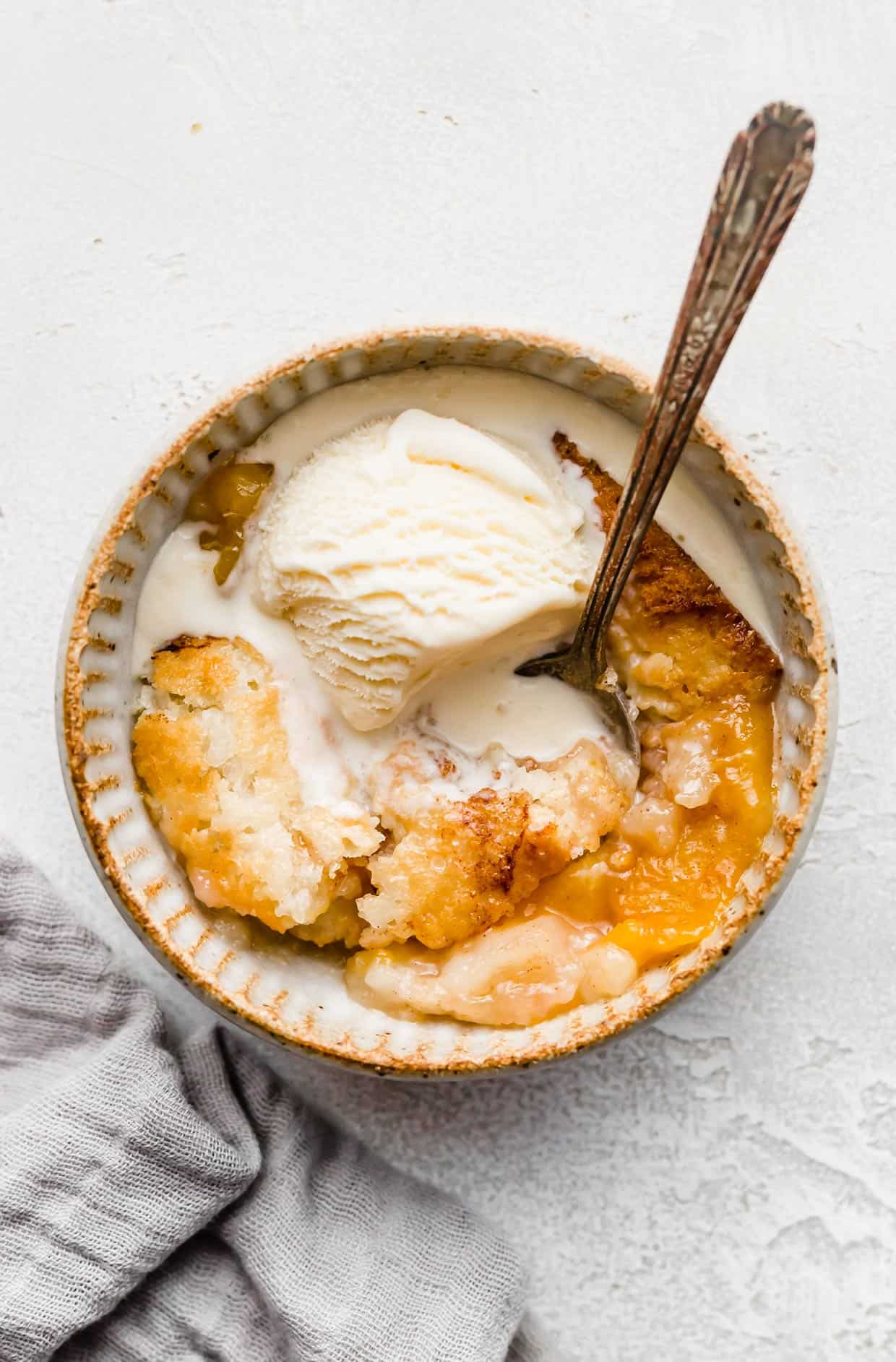 Why This Recipe Works
Use fresh, canned, or frozen peaches. This peach cobbler recipe will work with fresh peaches, canned peaches, or frozen peaches! Be sure to see my Recipe Tips and Recipe FAQs sections for tips on making peach cobbler with frozen peaches and the adjustments to make peach cobbler with canned peaches. 
Great way to use peaches! Whether you are in the midst of peach season (#bestseasonever) or you have canned peaches you need to use up, this is the best way to put those juicy peaches to use! 
Best peach cobbler recipe. This easy peach cobbler recipe is not just simple by it is simply delicious! The peach cobbler cake element is super moist and perfectly sweet, paired with the delicate fresh peaches and topped with a hint of cinnamon! 
Ingredient Notes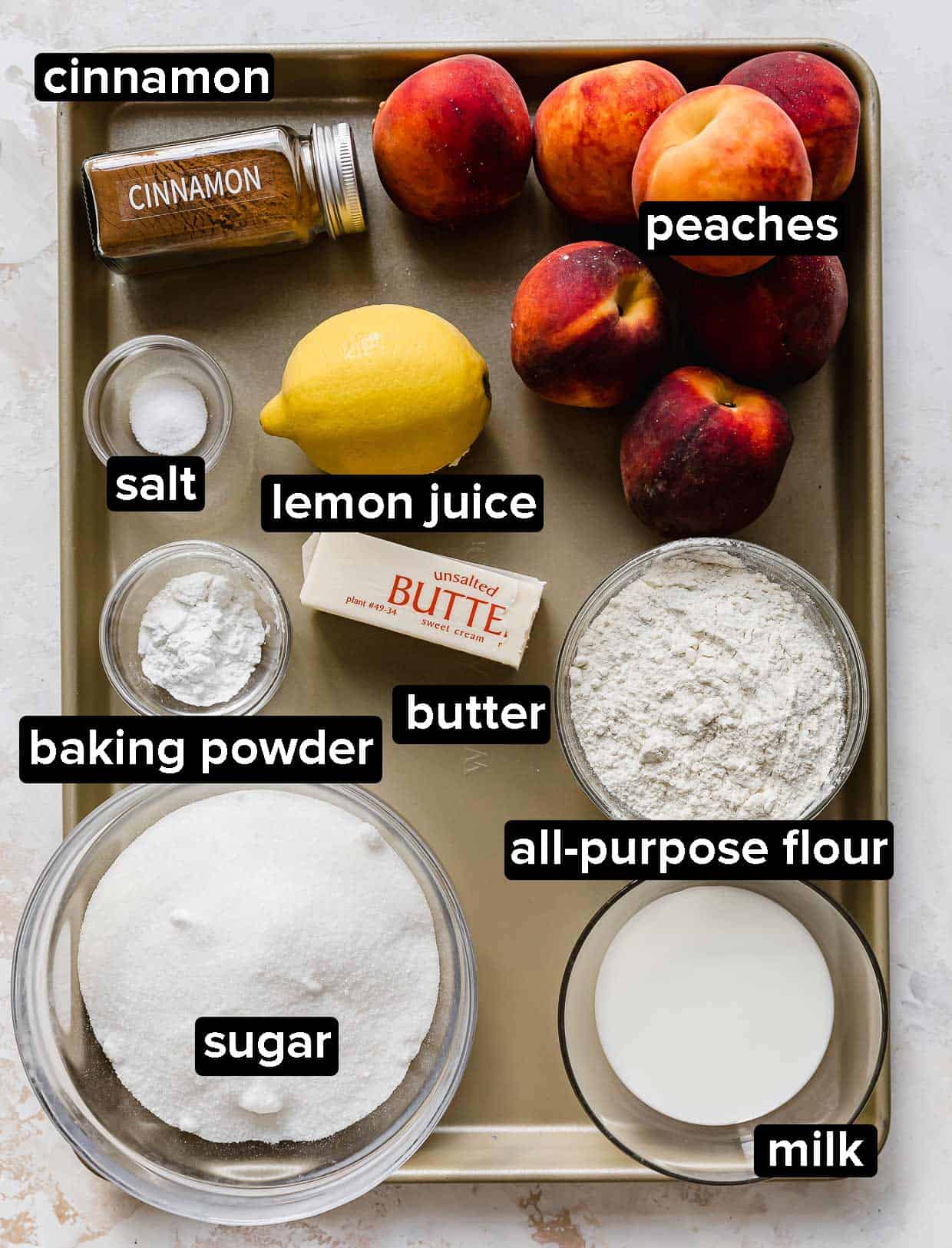 Peaches: If you are using fresh peaches, you won't need the lemon juice or the granulated sugar that is listed below. The simple syrup the peaches come in (canned or bottled) will act in place of the sugar and lemon juice. 
Sugar: The granulated sugar not only adds the sweetness to the old fashioned peach cobbler, but it also helps encourage the natural juices from the peaches to come out. 
Lemon Juice: This will help keep the fruit from browning before they can be baked. It also adds a nice acidity to the mixture to complement the sweetness. 
Flour: Just regular all-purpose flour will work great. 
Baking Powder: The peach cobbler cake topping (unlike crisps that are made with a streusel or oats topping) rises to the top due to the baking powder. So make sure your baking powder is fresh. 
Cinnamon: This cinnamon peach cobbler is complete with a dusting of cinnamon on top! 
Step-by-Step Instructions
Make the peach mixture. If you are using canned or bottled peaches, skip this step. Add the sliced and peeled peaches, lemon juice and 3/4 cup of sugar to a small sauce pan. Cook over medium heat until the sugar has dissolved. Remove from heat and set aside. 
Melt the butter. Preheat the oven to 350°F. Once preheated, add the butter to a 9×13-inch pan and place in the oven to melt. Once melted, remove. 
Make the peach cobbler cake batter. While the butter is melting in the oven, add the flour, sugar, baking powder and salt to a medium bowl. Whisk the dry ingredients until combined. Add the milk and stir until just combined.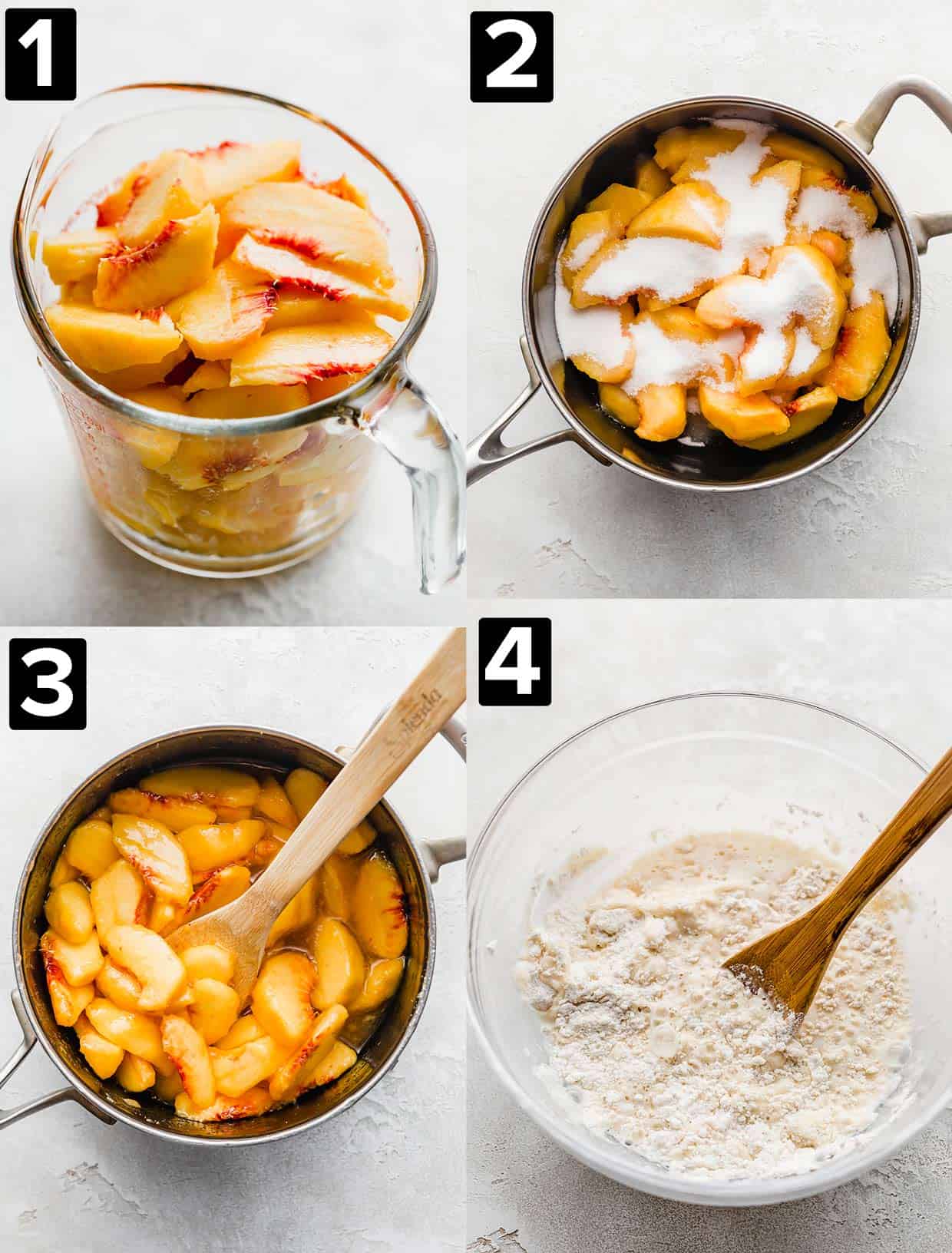 Pour batter into the pan. Pour the peach cobbler cake batter overtop of the melted butter. 
Add the peaches. Spoon the sliced peaches mixture on top of the batter. If using canned peaches, spoon them over the batter (undrained). Sprinkle with ground cinnamon.
Bake. Bake at 350°F for 38-44 minutes or until the peach cobbler is golden brown and baked through. Serve with a scoop of vanilla ice cream or whipped cream!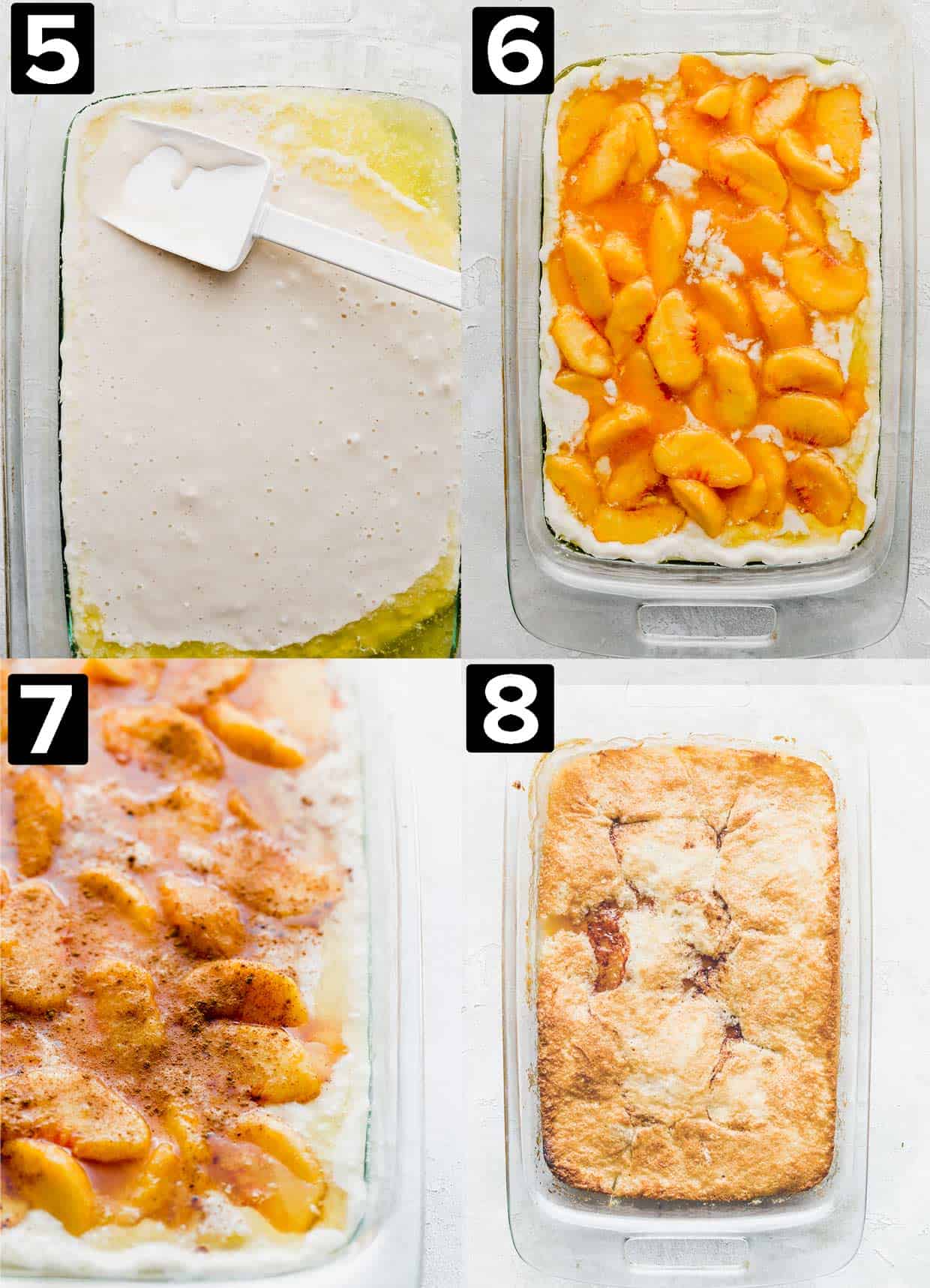 Recipe Tips
While this recipe uses fresh peaches, you can certainly substitute them for canned peaches. To do this, use 1 quart of canned peaches, undrained.
If using fresh peaches, the easiest way to peel them is to put 3-4 peaches into a boiling pot of water for about 30 seconds, then place them in an ice water bath. The peach skin should easily peel off. (Note: the skin won't just fall off on its own, you'll need to start peeling the skin off, but you should be able to pull it off easily without cutting).
You can add the cinnamon to the peaches mixture, to the batter, or sprinkle it on top before putting the cobbler in the oven. You can add a touch of nutmeg too if you're looking for a warmer spice flavor!
Technically you don't need to peel the peaches if you don't want to. The skins will soften in the oven, but I like having them peeled so that's why I peeled my peaches.
The best peaches to use are those that give a little when you gently squeeze them. You don't want them over ripe and very soft when you squeeze or else they will fall apart when baking.
This is my favorite vanilla ice cream recipe and goes so well with this old fashioned peach cobbler recipe!
Don't let the fact that you don't have peaches keep you from making this delicious cobbler recipe! You can adapt this recipe for practically any fresh fruit! Peach cobbler, berry cobbler, apple cobbler, you name it!
Make Ahead, Storing, and Freezing
Store the homemade peach cobbler in an airtight container in the fridge for 4-5 days.
To freeze, let cool completely and then double wrap in plastic wrap or store in an airtight container in the freezer for up 1 month. Remove and let thaw in the fridge overnight. Warm in the oven.
Reheat this delicious peach cobbler in the microwave or the oven until warm.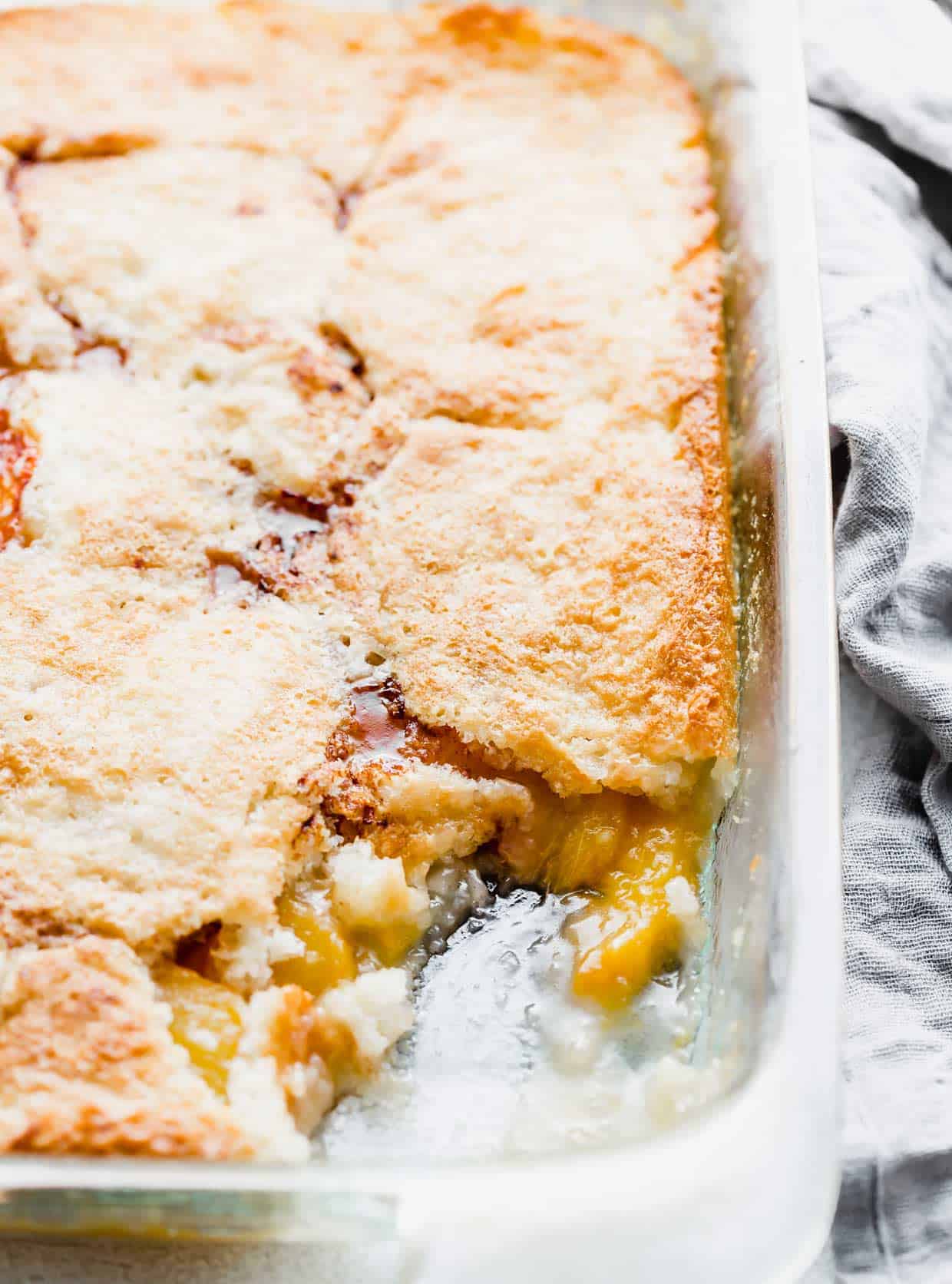 Recipe FAQs
What is peach cobbler? 
Not to be confused with a fruit crisp, cobblers are often topped with a batter, biscuit or pie crust and then filled with a sweetened fruit like peaches, berries, or apples.
Can peach cobbler be eaten cold?
Sure. I love a bowl of warm peach cobbler because the ice cream gets a little melty and it's oh so delicious! But you can definitely eat it cold. 
Can peach cobbler sit out overnight?
Yes it can. Since the peach mixture has been cooked and the cake portion is baked, it's fine to sit overnight, but I wouldn't let it sit out longer than overnight. Peach cobbler will keep longer if refrigerated. 
What's the difference between cobblers and crisps?
A cobbler is made with a fruit mixture and topped with a sweet cake topping made from a batter. Crisps are typically fruit topped with a Streusel Topping or an oat crumble topping typically made with brown sugar. 
Can I use frozen peaches to make peach cobbler?
Yes you can. I would defrost the peaches prior to baking. However, I highly recommend using fresh peaches! 
Why didn't the cake rise to the top? 
If you are having problems with the cobbler cake batter rising to the top during baking, the first thing to check is your baking powder. You'll need fresh baking powder for the peach cobbler to turn out. The peaches sink to the bottom of the pan and the baking powder in the cobbler cake batter help the cake cook and rise to the top. Without fresh baking powder, that won't work!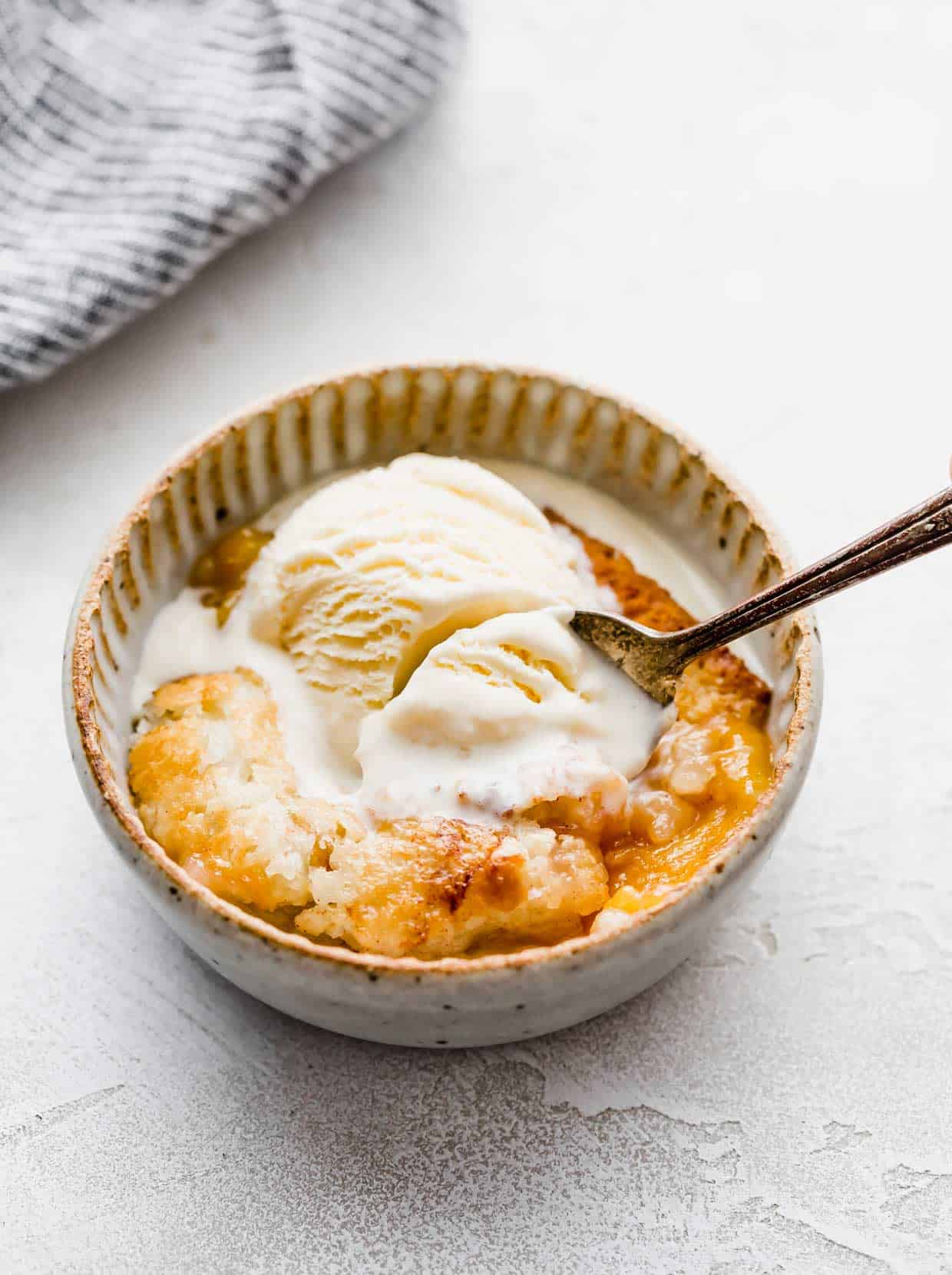 Favorite Peach Recipes
Old Fashioned Peach Cobbler
This classic old fashioned peach cobbler is the perfect summer time dessert!
Ingredients
Peach Mixture
4

cups

peaches

-

peeled and sliced

3/4

cup

granulated sugar

2

teaspoons

lemon juice
Batter
6

tablespoons

unsalted butter

1

cup

all purpose flour

1

cup

granulated sugar

3

teaspoons

baking powder

1/4

teaspoon

salt

3/4

cup

milk

ground cinnamon
Instructions
Peach Mixture
(Skip this step if using canned peaches). In a small saucepan add the sliced peaches lemon juice, and  ¾ cups of sugar. Place over medium heat for a few minutes, stirring occasionally, just until the sugar has dissolved (we want to bring out the juices of the peaches). Remove from heat and set aside. 
Batter
Preheat oven to 350°F. Place the butter in a 13×9 inch pan and place pan in the preheated oven. Once the butter has melted, remove the pan from the oven. 

In a medium sized bowl whisk the flour, 1 cup of granulated sugar, baking powder, and salt. Stir in the milk. Stir until just combined, don't overmix. Pour this mixture into the 13×9 inch pan, overtop of the butter. Gently smooth into an even layer. 

Spoon the peaches mixture over the batter. (Or if using canned peaches**, spoon that over the batter). Sprinkle the top with ground cinnamon, use as much or as little as you'd like. I used about 1/2 to 1 teaspoons worth.

Bake at 350°F for 38-44 minutes or until the top is golden brown and baked through.

Serve warm with a scoop of vanilla ice cream*, if desired.
Notes
*This is my favorite vanilla ice cream recipe. 
**If using canned peaches, use 1 quart undrained.
This peach cobbler will keep in the fridge for 4-5 days. 
Did you make this recipe?
Leave a star rating and review on the blog post letting me know how you liked this recipe! Take a picture and tag @saltandbaker on Instagram and Facebook so I can see what you're making!