Pomegranate Salad
This post may include affiliate links. As an Amazon Associate I earn from qualifying purchases.
Pomegranate Salad is the perfect winter salad recipe complete with mixed greens, sweet pomegranate seeds, candied pecans, Gorgonzola cheese, thinly sliced fresh apples, cooked quinoa, and a delicious homemade pomegranate salad dressing!
When pomegranates are in season, then this recipe comes out! I'm a sucker for a fancy salad recipe. Long over are the days when just a bag of lettuce with dressing would suffice. When you finally discover the great flavor combinations you can have with salads, there's really never going back. Some of my all-time favorites are my Strawberry Spinach Salad,Kale Salad with Balsamic Dressing, and Rocket and Pear Salad!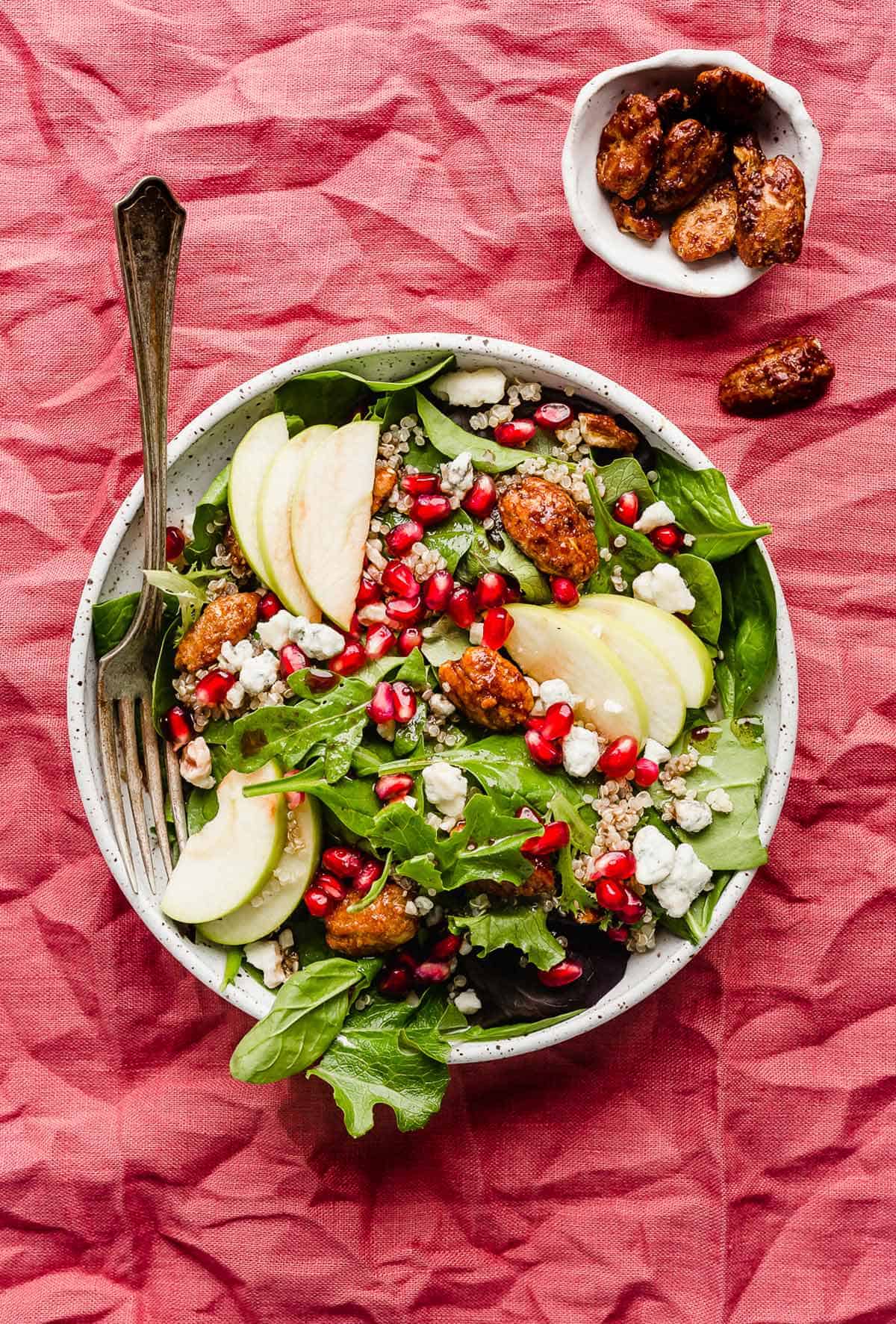 Why This Recipe Works
Delicious textures and flavors. I love this apple pomegranate salad recipe because of the different textures — the crunchy pomegranate seeds with their burst of sweet/tart juice, crunchy pecans, crisp apple slices, and the soft and rich gorgonzola cheese! And don't get me started on how well pomegranate and Gorgonzola cheese go together! Let's just say, it's a breakthrough in the flavor combination arena. 
Homemade dressing. You'll love this pomegranate salad recipe because it comes with a homemade salad dressing with pomegranate juice! 
Beautiful salad — easy recipe. Nothing beats a green salad that is not only beautiful for your holiday menu but is easy to make and comes together quickly!
Great winter salad. Since pomegranates are in season this time of year, this pomegranate seed salad is the perfect Christmas salad to make for your holiday table! 
Ingredient Notes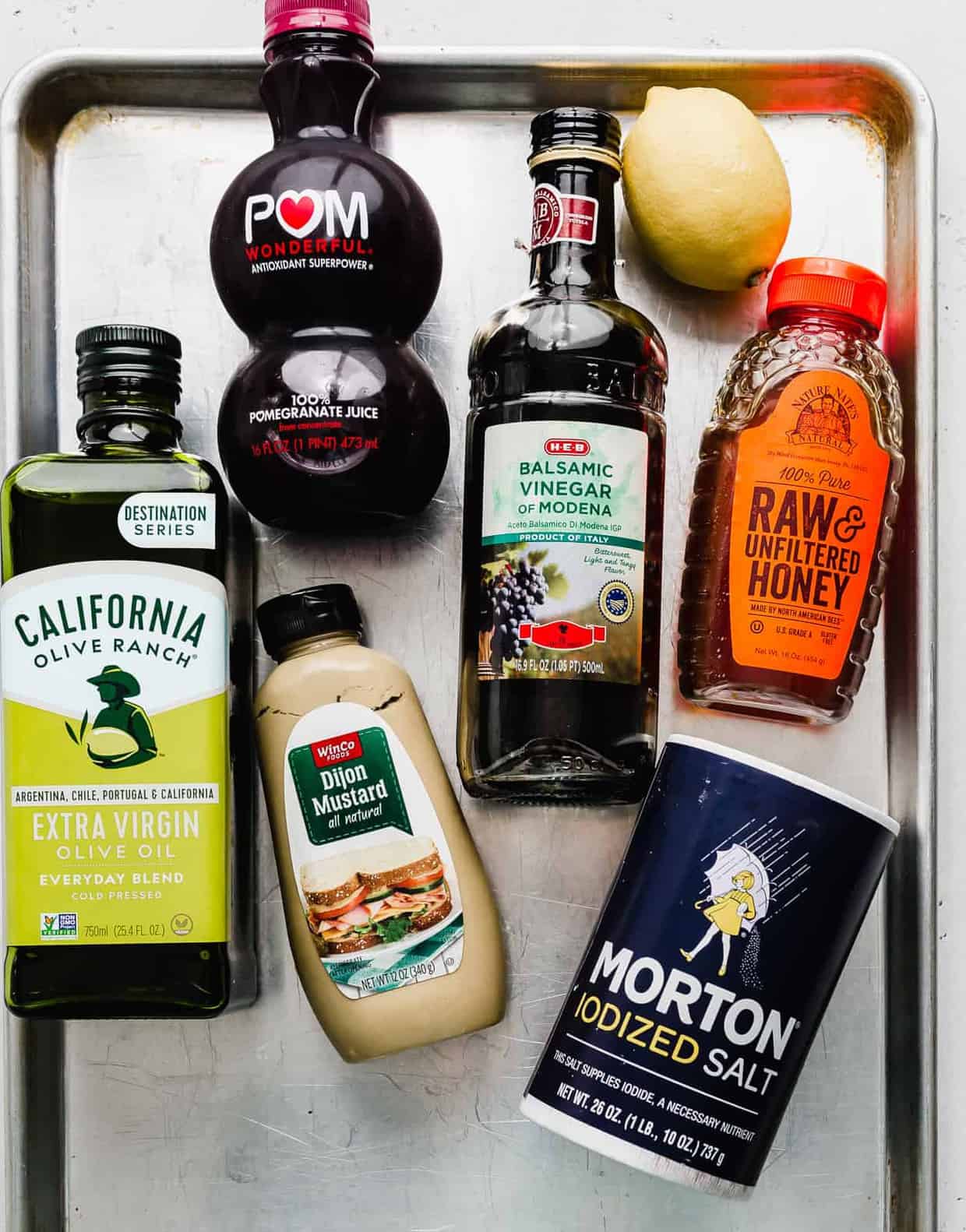 Mixed Salad Greens: Use your favorite combination of leafy greens. You can also use just baby spinach to make it a pomegranate spinach salad.
Pomegranate Arils: These are pomegranate seeds. See my Recipe FAQs section for details on how to remove pomegranate seeds. 
Pecans: You can use plain pecans or follow my candied pecans recipe to make your own candied pecans. 
Gorgonzola Cheese: Pomegranate gorgonzola salad is the perfect flavor combination. If you don't love gorgonzola though, you can sub for feta cheese (saltier) or goat cheese (softer). (pro tip: if you're looking to spice up any salad recipe, add a delicious cheese 😊)
Apples: Thinly slice the apples. Any apple gorgonzola salad recipe is high on my list — If you don't like apples though, you can use pears instead. 
Cooked Quinoa: I love adding cooked quinoa to salads as it adds not only a healthy component but added protein so the salad is more filling!
Pomegranate Juice: This is the main flavor component for the salad dressing — plus, pomegranate juice is super healthy for you so that's a huge win!
Honey: Adding a little sweetness to salad dressings is key. Using honey instead of sugar is a way healthier option.
Step-by-Step Instructions
Make the pomegranate salad dressing. Add 3/4 cup pomegranate juice, 3 T honey, 1 T lemon juice, 2 T balsamic vinegar, 1 1/2 tsp dijon mustard, and 1/2 tsp salt, to a liquid measuring cup. Whisk to combine. While slowing whisking, pour in 1/3 cup olive oil. Whisk vigorously until well combined. Store in the fridge until ready to use.
Assemble the salad. Add 8 cups mixed salad greens and 1 cup cooked quinoa to a large bowl. Drizzle some of the dressing on top (use as much as you'd like). Toss to coat the greens with dressing. Top with 1 cup pomegranate seeds, 1 cup chopped pecans (candied, praline, or otherwise), 1/2 cup gorgonzola cheese, and apple slices. Serve immediately. Enjoy!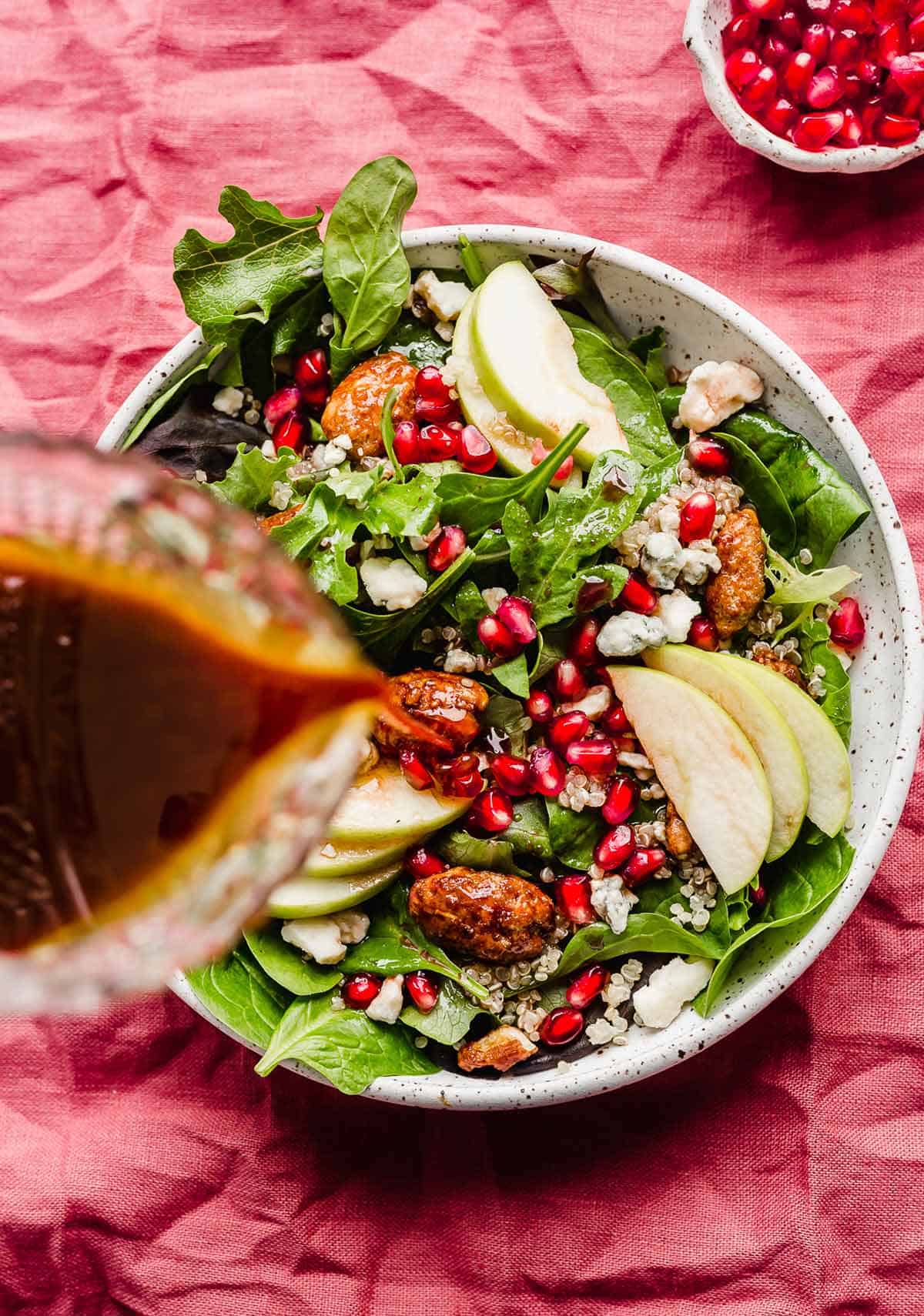 Recipe Tips
You can make this in individual portions too! Have all of the ingredients out on the table and let people make their own salad.
The salad dressing makes 1 ½ cups' worth of salad dressing.
Once the dressing has been added to the salad, serve immediately. (Salad doesn't keep well once you have added the salad dressing).
You can switch out the apples for pears if you prefer — or even with mandarin oranges or fresh oranges peeled and sliced.
If adding kale to the mixed greens, be sure to de-stem the kale. I also like to gently rub the kale leaves with a drizzle olive oil to help break down those harsh fibers. Another option is to use baby kale!
If you won't be eating the salad right away, don't add the salad dressing to the salad. You can put the toppings on and store it in the fridge and then add the salad dressing once served. Or you can store the toppings in separate containers in the fridge and assemble the salad prior to serving.
You won't use all the dressing. You'll have leftovers. But for the salad portion, you can have 4 servings if each person gets 2 cups of salad greens.
If you don't like/want to use Gorgonzola cheese, you don't have to. You can add any cheese variety that you like. I'm quite fond of the softer cheeses such as bleu, goat cheese, and feta.
If you don't want to make your own candied pecans, grocery stores carry pre-made candied pecans or praline candied pecans.
Make Ahead, Storing, and Freezing
You can totally make this pomegranate salad recipe ahead of time! Prep the fresh greens and store them in a container in the fridge. You can also prep the pomegranate arils, the pecans, essentially all the toppings! Just get them ready and store in separate containers in the fridge.
Make the pomegranate dressing ahead of time and cover and store in the fridge until ready to use. Before serving, give the dressing a good stir!
I don't recommend freezing any of the salad recipe elements. If you're wondering about the dressing, it will keep in the fridge for 1-2 months, so you can make a bunch and keep using it if you'd like — no need to freeze it.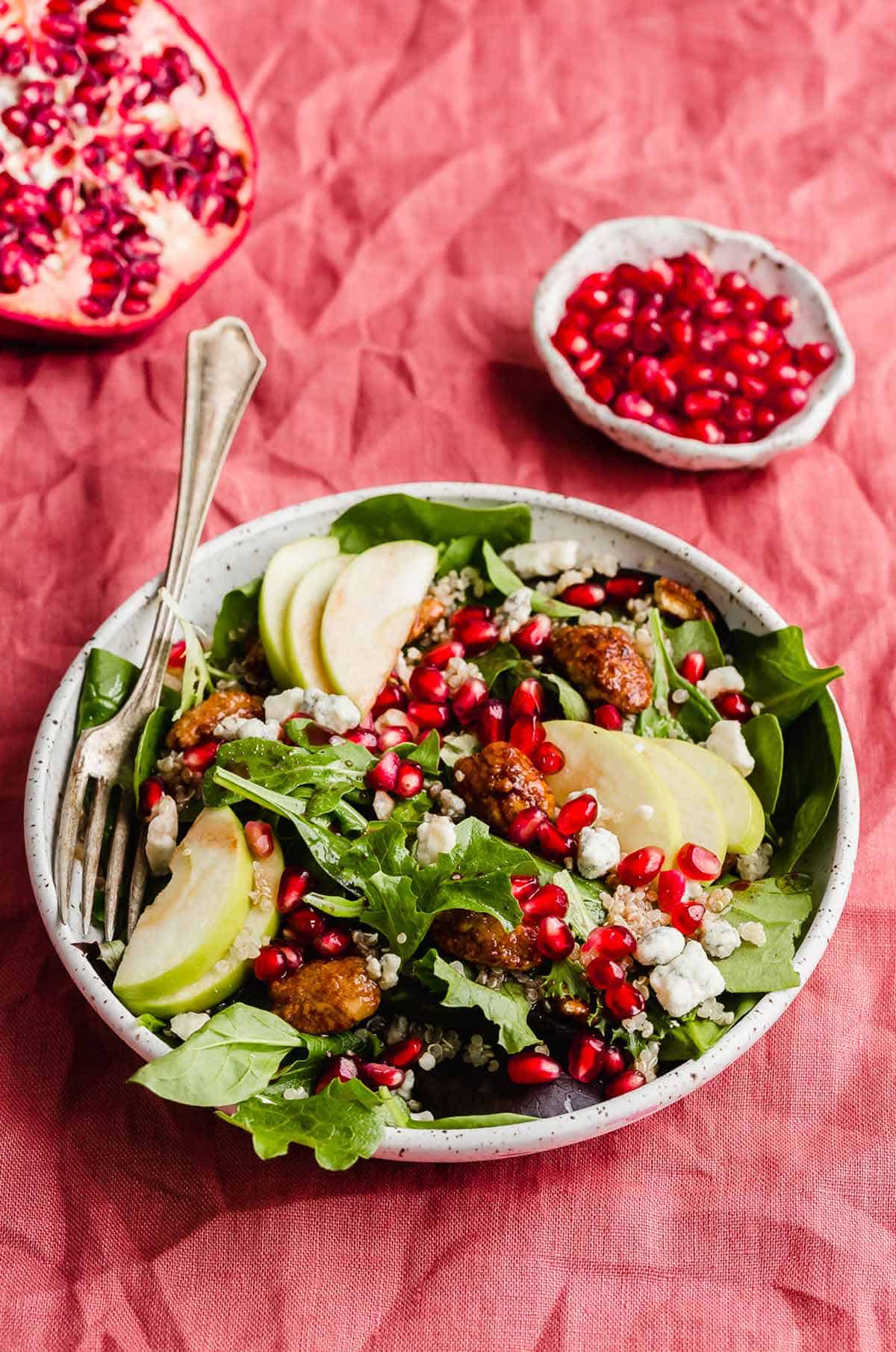 Recipe FAQs
What are pomegranate arils?
These are the pomegranate seeds inside the skin of the pomegranates. They are seeds with little pockets of pomegranate juice/flesh surrounding it.
How to deseed a pomegranate?
This can be tricky. But here's the best and easiest way to peel or deseed a pomegranate. Over a bowl (to catch any falling seeds or juice), cut the top off of the pomegranate, not cutting too into the fruit so as to not cut into the seeds. You'll see white ribbing showing sections of the seeds. Cut down the sides of the pomegranate skin along the white ribbing, not cutting into the seeds and not cutting all the way down. Fan out the sections of the pomegranate like a flower opening its petals. Remove any of the white ribbing covering the pomegranate seeds. Flip the pomegranate over with the seeds face down over the bowl. Fan out the sections so the pomegranate looks like a star. Using the back of a wooden spoon, hit the pomegranate one section at a time, allowing the seeds to fall into the bowl. Do this for each section. When done, flip the pomegranate skid over and hand pick the remaining stray pomegranates left.
How to use pomegranate in a salad?
Not only can use use the pomegranate seeds as a delicious salad topping (crunchy — with a burst of juice!) but you can also use pomegranate juice to make a pomegranate vinaigrette
Can I use something other than pomegranate seeds?
Yes you can! If you don't want to go through the trouble of doing the pomegranate arils, here are a few tips: omit and use craisins instead; you can buy just the pomegranate seeds at some grocery stores (my local Costco sells them this time of year).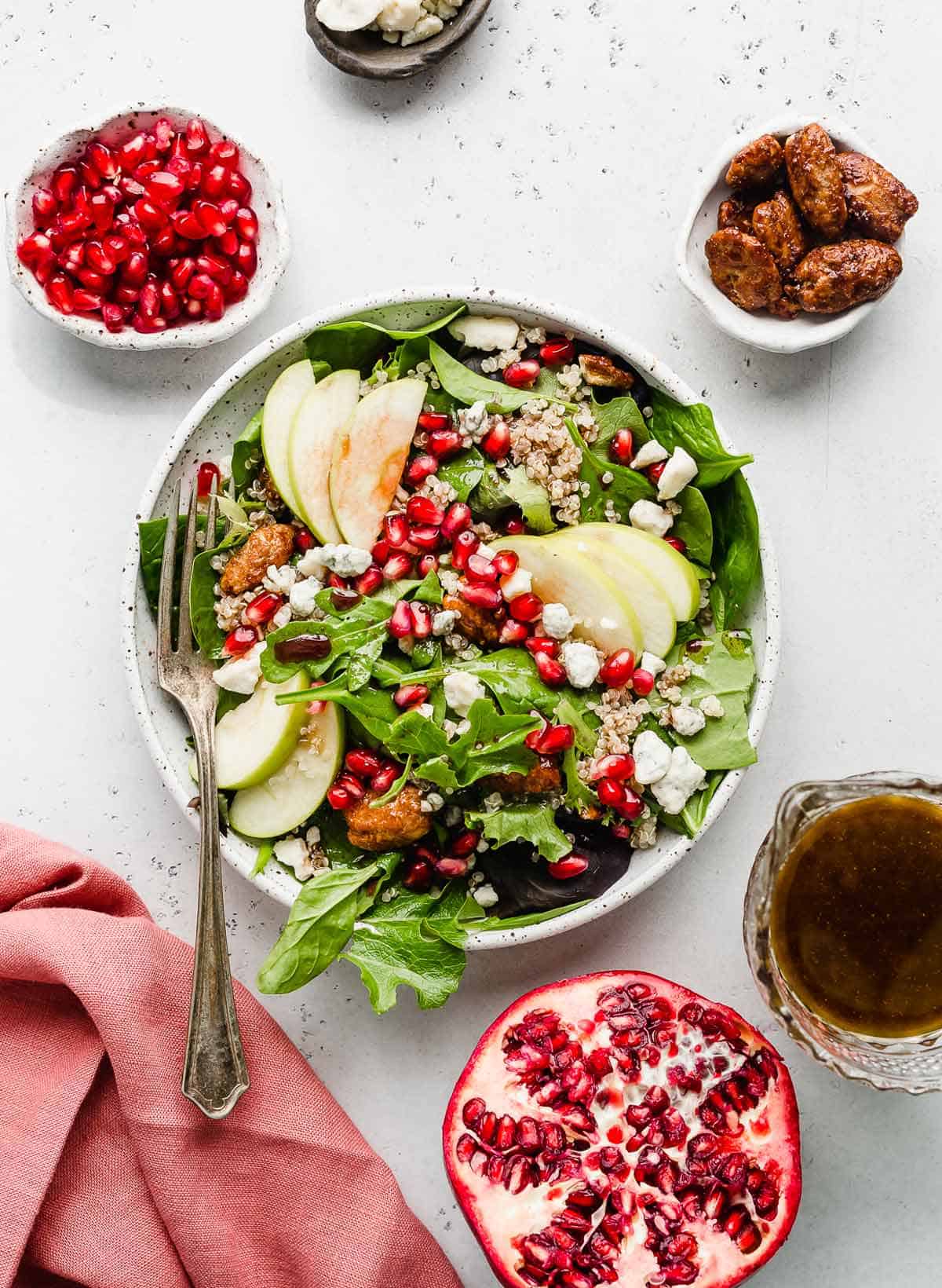 More Delicious Salad Recipes
Pomegranate Salad
This salad is amazing! First we make a pomegranate salad dressing (just wait, you'll love it)! The salad is then topped with pomegranate arils,candied pecans, gorgonzola cheese, and apples.
Ingredients
8

cups

mixed salad greens

-

can also use baby spinach, basically whatever greens you like!

1

cup

pomegranate arils

1

cup

pecans

-

candied pecans or toasted (I used Costco's "praline pecans" and those are delicious in this salad)

1/2

cup

gorgonzola cheese

-

crumbled

2

small

apples

-

thinly sliced

1

cup

cooked quinoa
Pomegranate Dressing
3/4

cup

pomegranate juice

3

tablespoons

honey

1

tablespoon

lemon juice

2

tablespoons

balsamic vinegar

1 1/2

teaspoons

Dijon mustard

1/2

teaspoon

salt

1/3

cup

olive oil
Instructions
In a large liquid measuring cup whisk the pomegranate juice, honey, lemon juice, vinegar, and Dijon mustard and salt. While whisking, slowly pour the olive oil in. Whisk vigorously until emulsified and combined. Cover and store in the fridge until ready to use. Before serving, give the dressing a good stir!

To a large bowl add the salad greens (note: you can make this in individual portions too! Have all of the ingredients out on the table and let people make their own salad).

Drizzle some salad dressing overtop and toss to coat. (Use as much or as little as you like). Top with pomegranate arils, pecans, gorgonzola cheese, quinoa, and apples. Serve immediately. (Salad doesn't keep well once you have added the salad dressing). 
Notes
Store salad elements separately for best results. 
Did you make this recipe?
Leave a star rating and review on the blog post letting me know how you liked this recipe! Take a picture and tag @saltandbaker on Instagram and Facebook so I can see what you're making!