Slow Cooker Lasagna
This post may include affiliate links. As an Amazon Associate I earn from qualifying purchases.
If you're looking for a delicious and simple dinner recipe that won't heat up the entire house look no further than this slow cooker lasagna.
This slow cooker lasagna recipe is like the cliff-notes version of lasagna. Growing up, if my family ever had lasagna, it was the Stouffer's frozen lasagna — which is delicious, don't get me wrong. But there's just something about homemade lasagna that just warms the soul. In order to bypass the time-consumption that comes with homemade lasagna: slow cooker. It's a favorite in our house and once you try it, I'm sure it'll be a favorite in yours too! And if you prefer to make yours in the oven I have an amazing Skillet Lasagna recipe for you to try as well.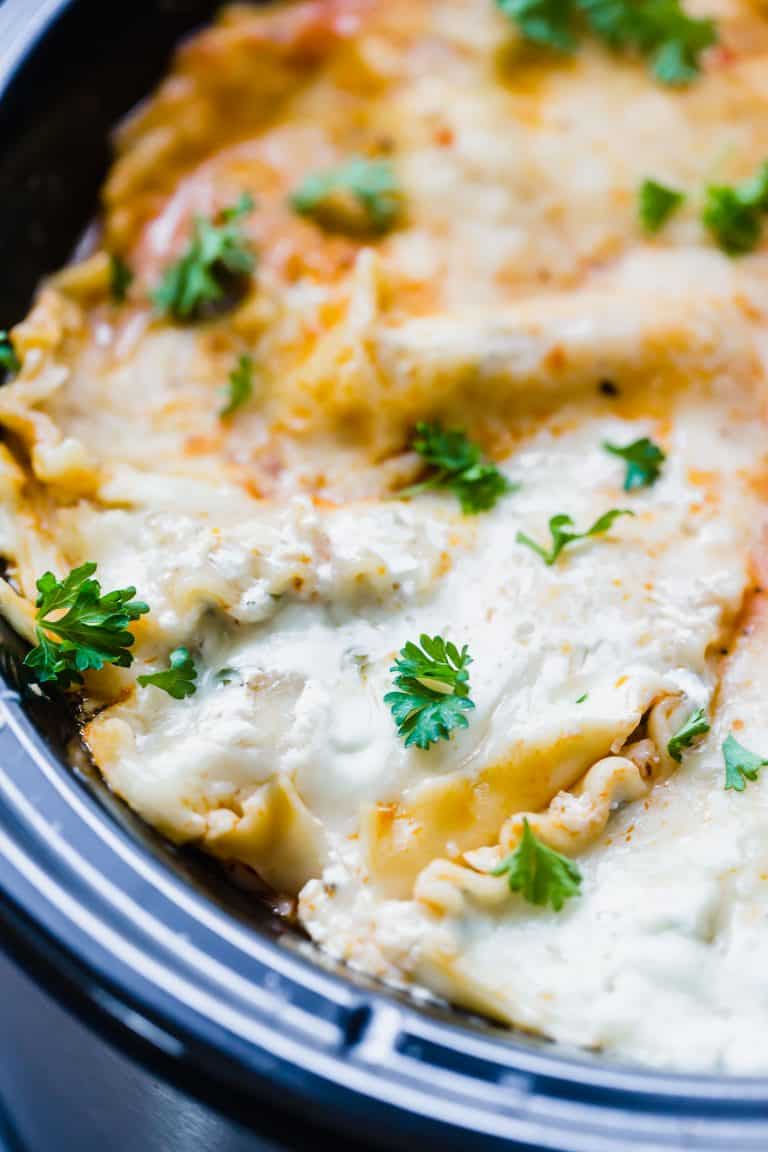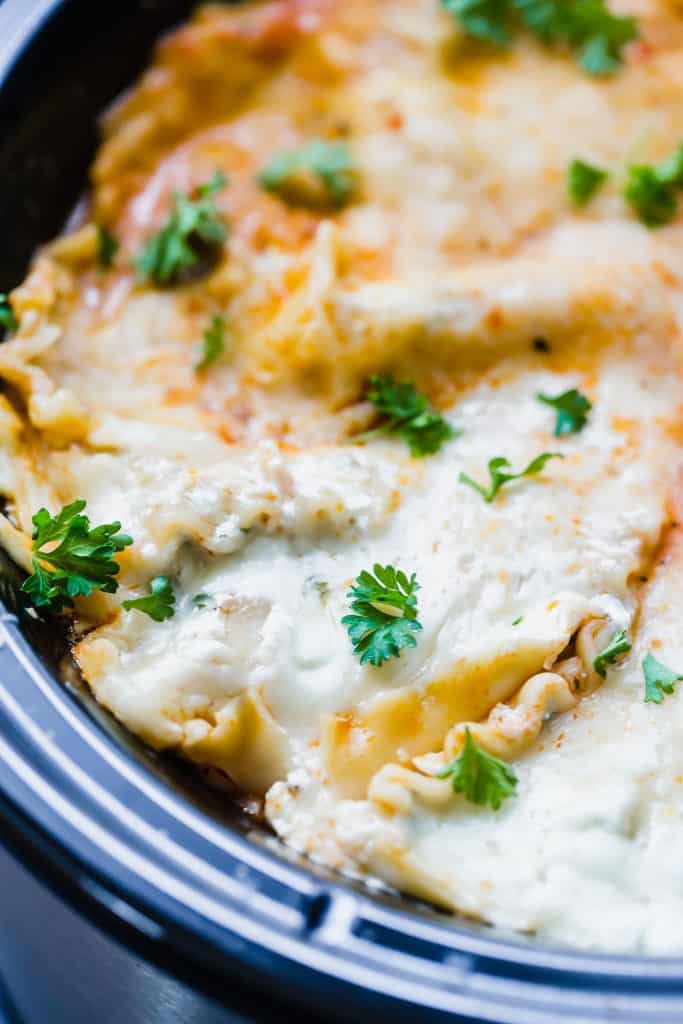 A Cheesy Comfort Food
While crockpot lasagna may not be a staple in every home, lasagna is a dish often served around the world. Everybody makes it differently but the common core ingredients remain the same. Long lasagna noodles, sauce, cheese, and meat or veggies all pair together to create a unique dish that's as filling as it is delicious.
While everyone might swear that their family recipe is the best, I'd like to toss my hat in the ring and say that this easy slow cooker lasagna recipe truly is the best of the best. The flavors are out of this world and because they simmer together for hours in the crockpot, they really have time to fully develop!
The seasoned Italian sausage and marinara sauce, the layers of buttery lasagna noodles, the ricotta and parsley combination, and the blend of mozzarella, parmesan, and Romano cheeses is absolute PERFECTION! Of course, I like to keep my slow cooker lasagna real simple by using uncooked noodles. (They cook through without becoming mushy!)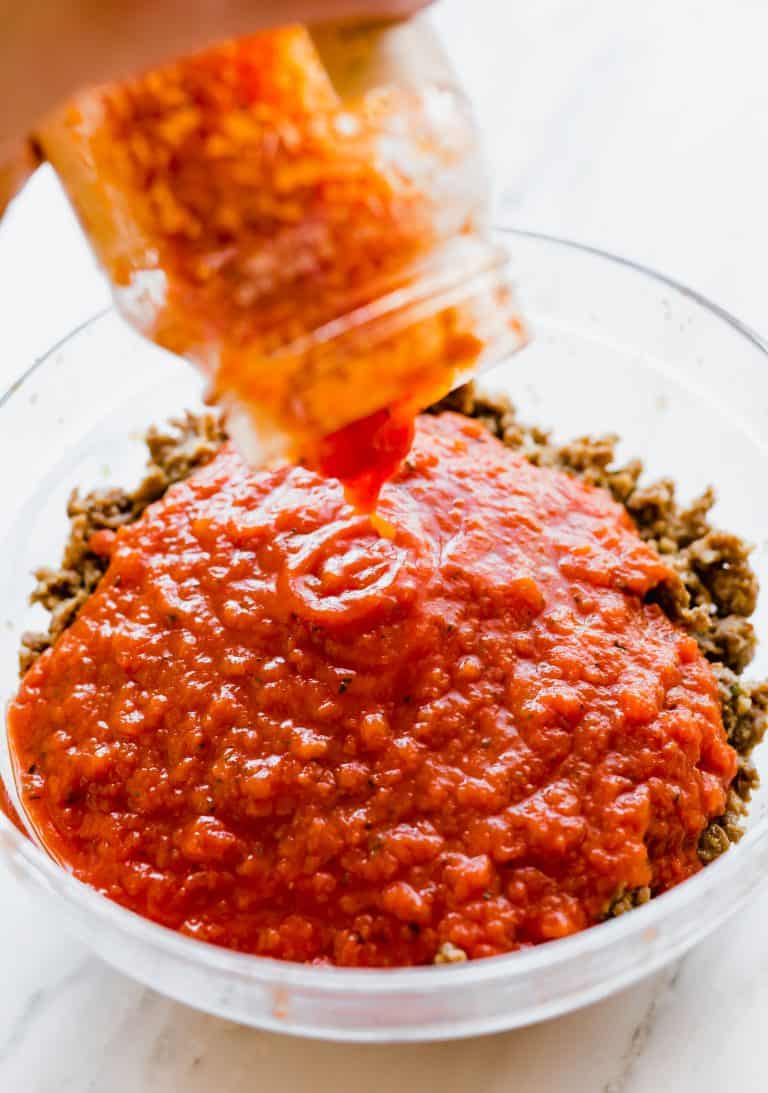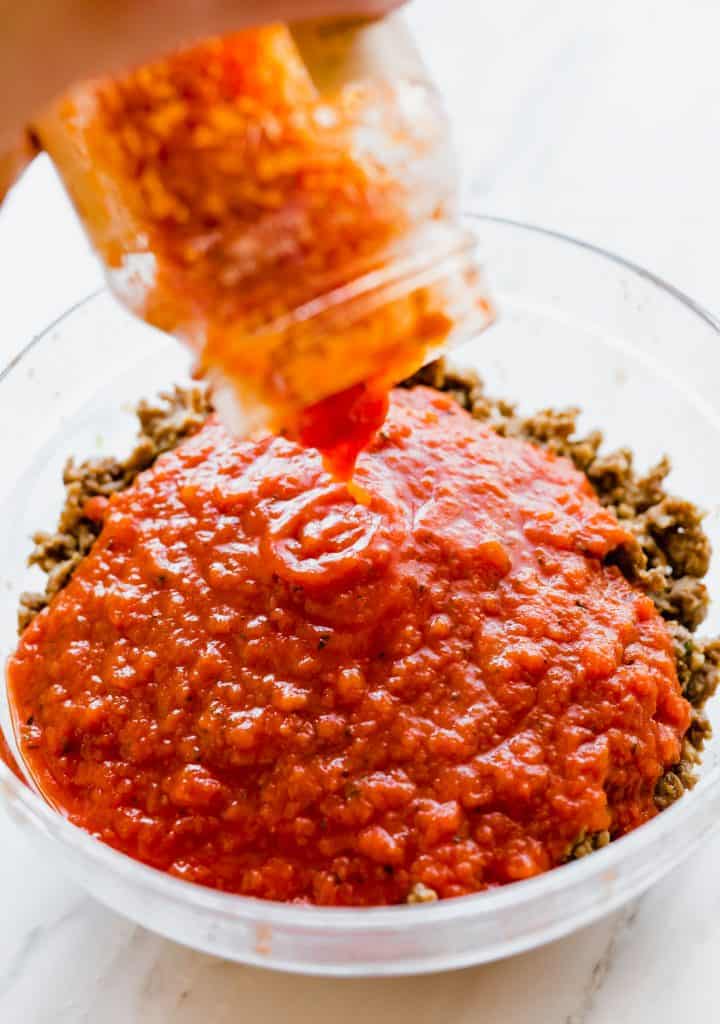 Crock Pot Lasagna Ingredients
Italian Sausage. While you could use plain ground beef or ground turkey, Italian sausage is the best way to get a traditional flavor out of Italian recipes without added effort. It comes preseasoned and just tastes incredible!
Garlic Cloves. Fresh garlic finds it's way into every recipe these days, or it sure does feel like it. Packed with so much flavor in every clove, make sure you mince them well so you can get that goodness well distributed.
Marinara Sauce and Water. The sauce and added water are what's going to help cook the noodles in the slow cooker. But don't worry, as the noodles are cooked, the liquid will be absorbed so you're not left with a lasagna soup.
Cheeses. Using a mixture of ricotta cheese, mozzarella, parmesan, and romano you know you're going to have a delightfully cheesy dish on your plate!
Lasagna Noodles. You're going to need about 15 or 18 uncooked noodles, and the end amount really depends on the size and shape of your crock pot. On the plus side, there's no boiling needed, and you're allowed to break the noodles up to force them to fit!
Fresh Parsley. No this isn't a garnish, although you could use some for that reason, we'll actually be using this parsley in the ricotta mixture. It adds a nice freshness to the mix which really works well!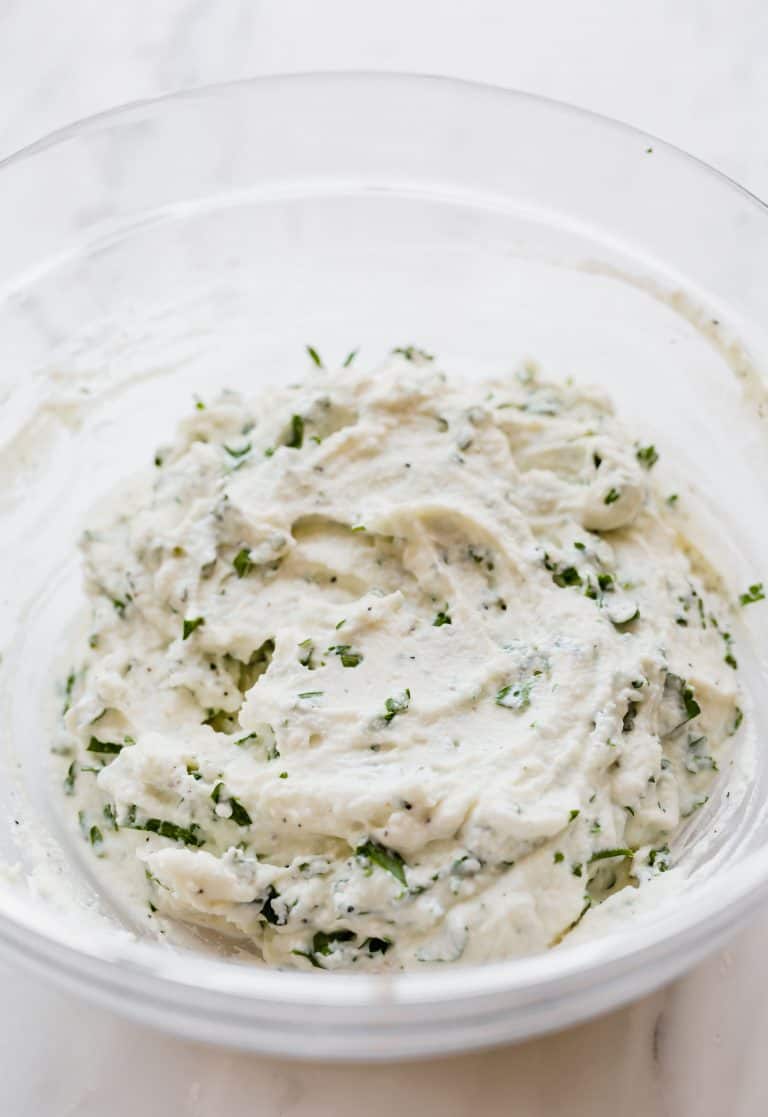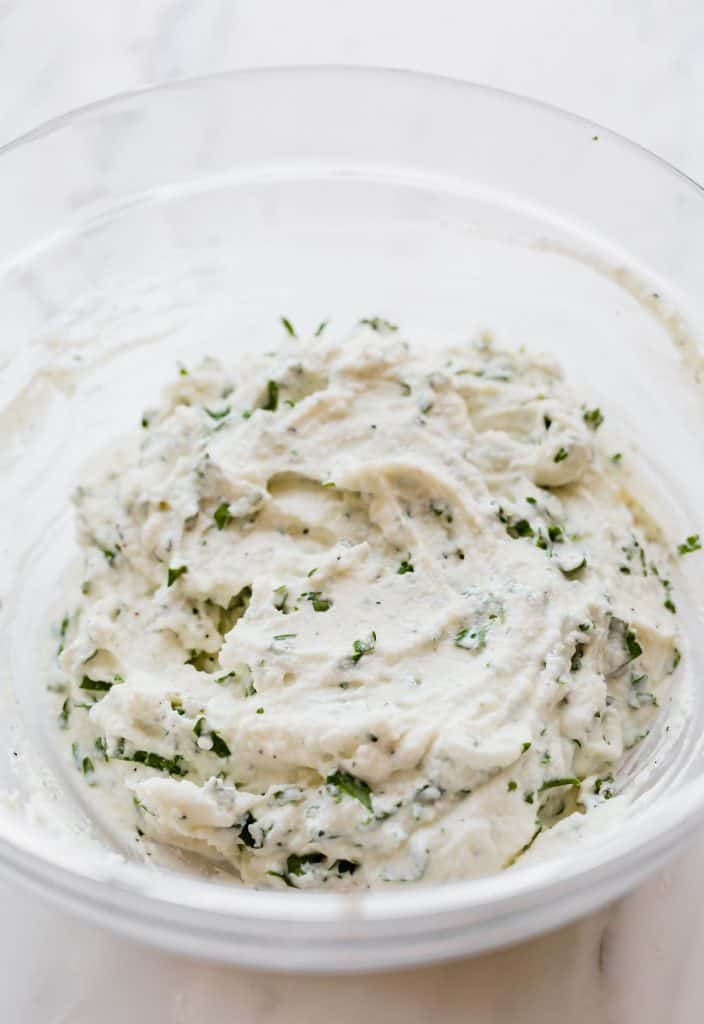 How to Make Slow Cooker Lasagna
In a large pot over medium heat, brown your Italian sausage. Drain any excess grease and add in the garlic and a bit of ground black pepper.
Once the meat is browned and excess grease has been drained, add it to a large bowl.
Add the marinara sauce and water to the bowl and set it aside.
In a small bowl, combine your ricotta cheese with fresh parsley and more ground pepper. Set it aside as well.
Shred the other cheese and mix them together in a bowl so that they're ready to go.
Spray the inside liner of your Crockpot with nonstick cooking spray.
Add enough sauce to cover the bottom of the crockpot.
Next, add a layer of uncooked noodles, feel free to break them to get them to fit right.
Layer the ricotta cheese on top of the noodles and generously sprinkle the shredded cheese on top. Repeat the layers until all of the ingredients have been used and your crockpot is full. Meat sauce, noodles, ricotta, shredded cheese, and repeat).
End with the shredded cheese at the top and cook on high for 4 hours.
Serve warm with a sprinkling of fresh parsley for garnish.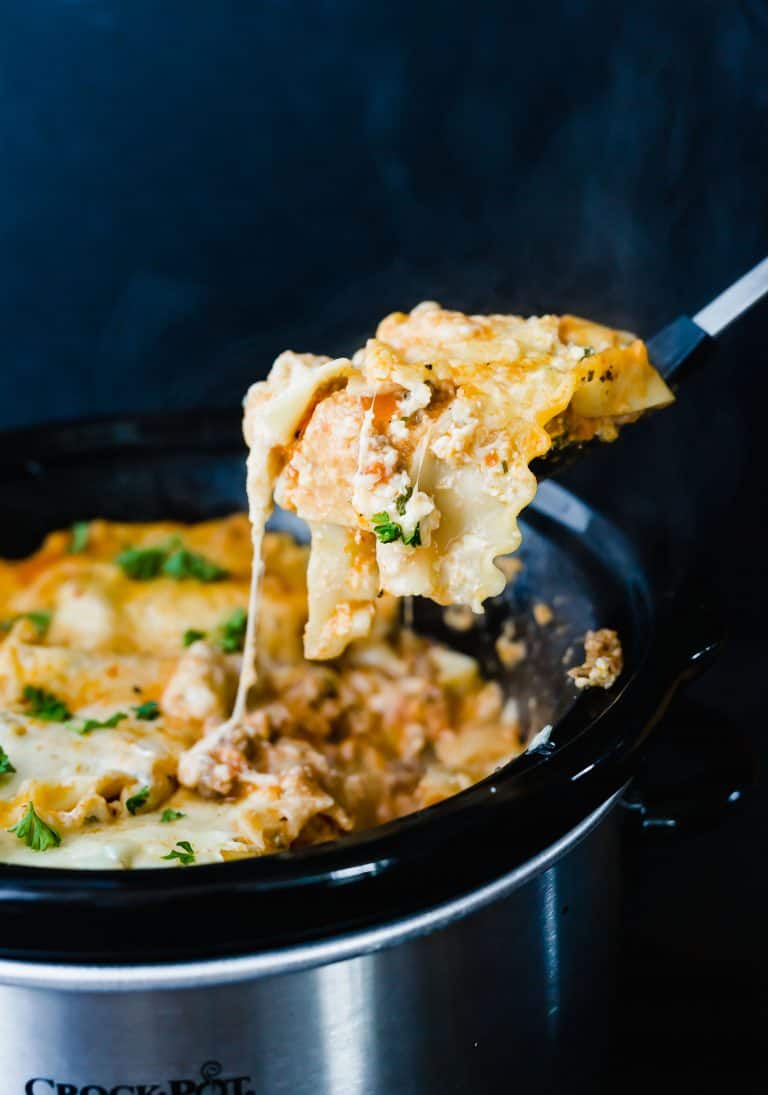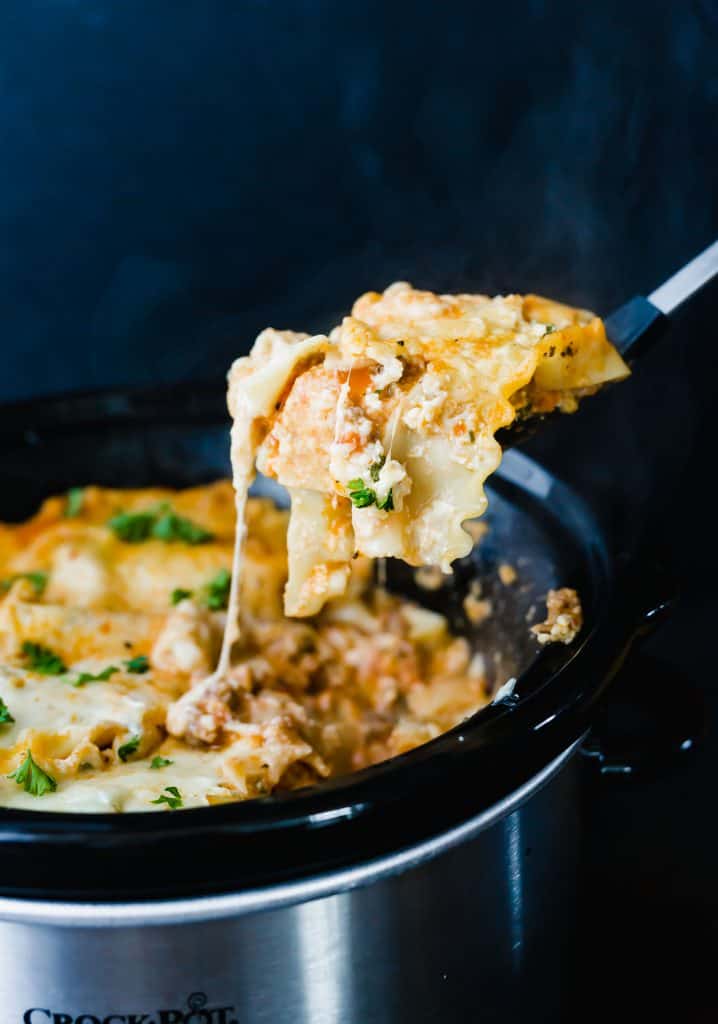 FAQ's and Recipe Tips
How Do I Keep the Bottom of My Lasagna From Burning?
Spray the bottom and sides of your slow cooker with nonstick cooking spray. In addition to doing this, we add about 2 cups of sauce on the bottom of the slow cooker before adding any layers of noodles. This will prevent sticking and burning. This sauce trick also works great in baking dishes with "normal" lasagna assembly as well! 😉
Can I Make Slow Cooker Lasagna With Cottage Cheese?
Yes, cottage cheese and ricotta cheese are pretty interchangeable in Italian dishes like this but there is a noticeable difference in the water content. Cottage cheese is wetter than ricotta, so if you do plan to make this switch I recommend trying to drain any extra liquid from the cottage cheese just in case.
What Marinara Sauce Should I Use?
I highly recommend picking one you already know and love because it means that you're that much more likely to enjoy this dish when it's done.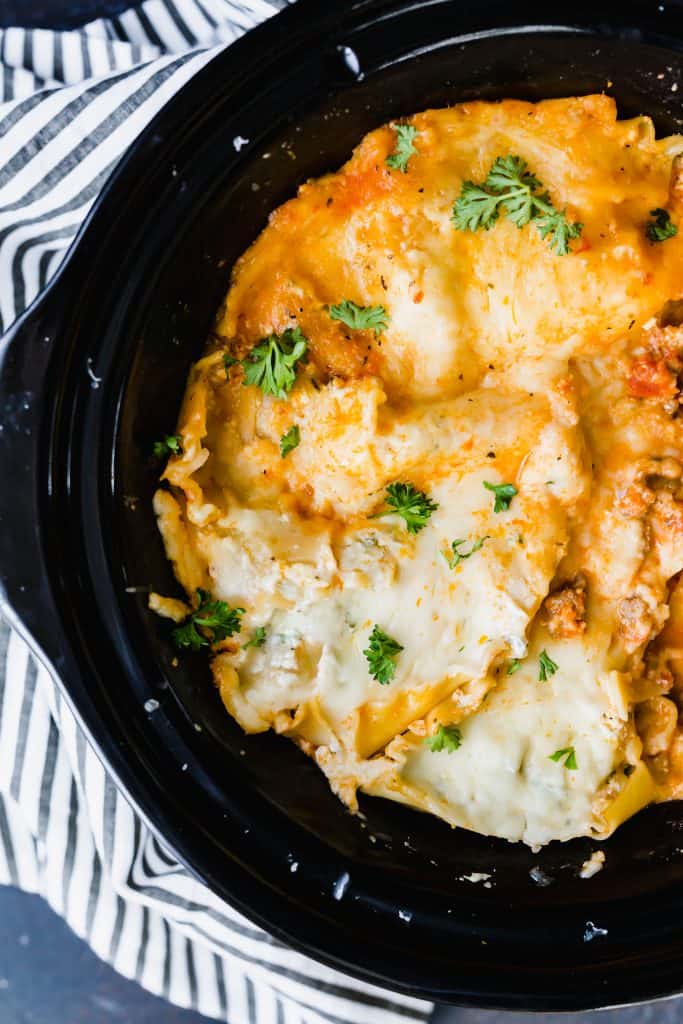 Slow Cooker Lasagna
This slow cooker lasagna is so delicious! You don't even have to cook the noodles before you place them in the crockpot!
Ingredients
2

lbs

Italian sausage

3

garlic cloves, minced

1/4

teaspoon

ground pepper

2-24

oz

marinara sauce jars

2

cups

water
16

oz

ricotta

1/3

cup

fresh parsley, chopped

1/4

teaspoon

ground pepper
18

oz

mozzarella, shredded

4

oz

parmesan, shredded (about 1 1/2 cups)

2

oz

romano cheese, shredded
15-18

lasagna noodles, UNCOOKED

-

if you have a circular crock pot like me, you will probably only use 15 noodles. If yours is oval/rectangular you'll use 18)
Instructions
In a pot over medium heat, cook the sausage until brown, breaking it into small crumbly pieces as it's cooking. Towards the last minute or two of browning add the minced garlic and pepper. Remove from heat. Drain the sausage of any liquid or grease that may have accumulated. Transfer the sausage to a large bowl.

Add the 2 jars of marinara and the 2 cups of water to the sausage bowl. This will be referred to as "the sauce." Set aside.

In a small bowl combine the ricotta, parsley, and ground pepper. Set aside.

Coat the inside and the sides of a large crock pot with nonstick cooking spray. In your large crock pot**, begin layering starting with the sauce. Being sure to add about 2 cups of the sauce to the bottom of the crockpot. Then top the sauce with noodles. Breaking the noodles if they don't fit, so that it covers the surface area of the crock pot. 

Layer the ricotta atop the lasagna noodles. Generously sprinkle the shredded cheeses overtop the ricotta. Repeat these layers until all ingredients are used and it fills your crock pot. (Sauce, noodles, ricotta, cheeses, sauce noodles, ricotta, cheeses etc.) Ending with the shredded cheeses at the top.

Cook on high for 4 hours. Serve warm with a sprinkling of fresh parsley.
Notes
**Use a large crockpot. Mine is circular. It's easier to make in an oval/rectangular type crockpot. I've made it in my moms oval crockpot and it works great! Also works well in circular. 
Did you make this recipe?
snap a photo and tag @saltandbaker in your posts and stories so I can see what you're making!