Crockpot Lasagna with Ricotta Cheese
This post may include affiliate links. As an Amazon Associate I earn from qualifying purchases.
Crockpot Lasagna with Ricotta Cheese is a deliciously easy and stress-free dinner recipe! Made with an Italian sausage marinara sauce, herbed ricotta, and shredded cheese, this crockpot lasagna recipe is a winner in taste and time saving!
if you prefer to make it in the oven, I have an amazing Cast Iron Lasagna for you to try! Or you can even have it in soup form with my Lasagna Soup Recipe. My Shredded Beef Ragu Recipe is another pasta favorite you'll want to try!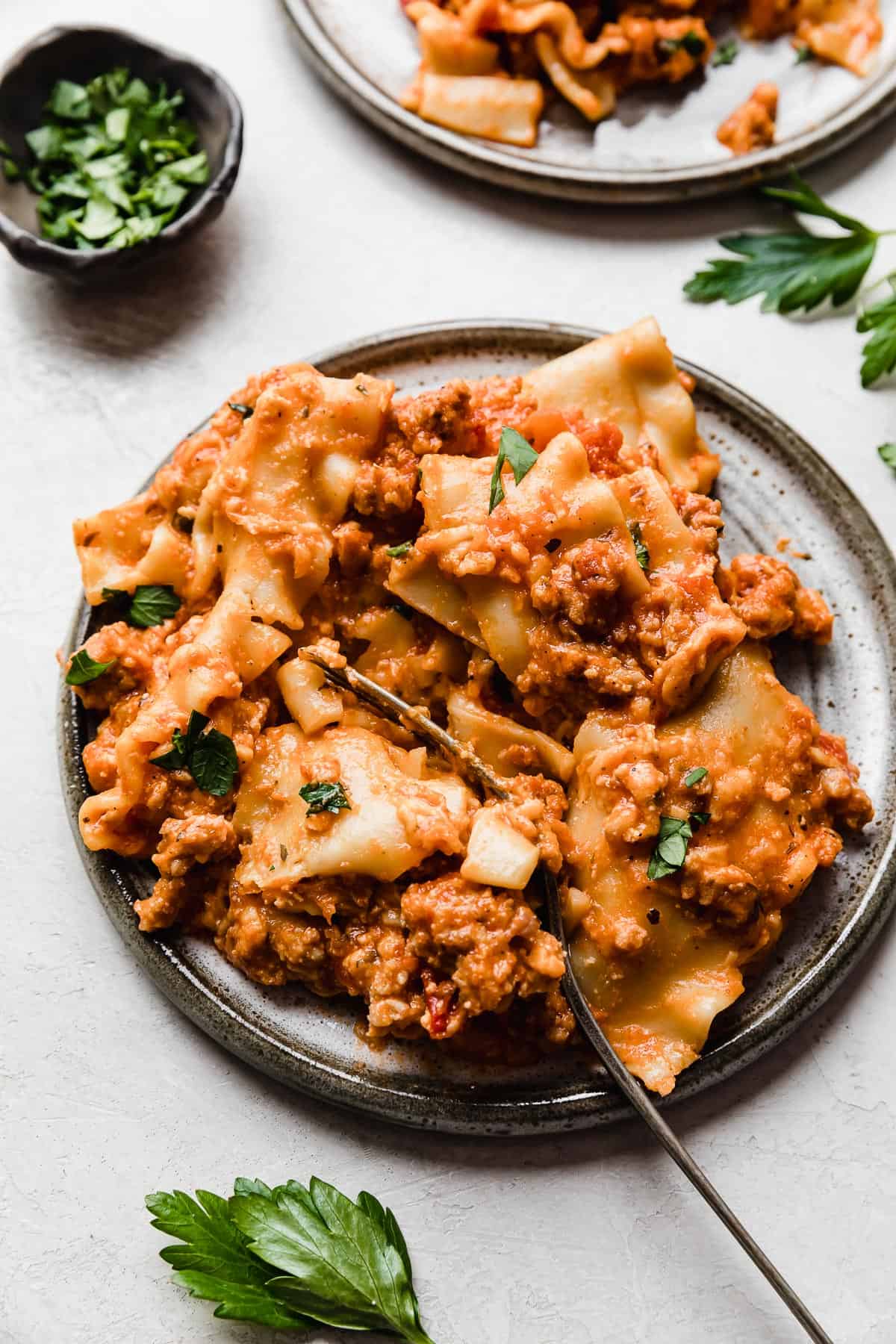 Why This Recipe Works
Better than frozen lasagna. Now don't get me wrong, I've had my fair share of frozen lasagnas and they are yummy and easy! However, once you make this crockpot lasagna with ricotta cheese recipe, I bet you eat fewer frozen lasagnas! That's because it is such an easy homemade lasagna recipe that you just layer in the slow cooker and let it do the magic.
Amazing flavor! While I'm sure everyone will say their lasagna recipe is the best, the beauty of this recipe (and why I think it is the best of the best!) is because the sauces, meat, herbed ricotta, and noodles are all simmering and cooking together for 4 hours! When it comes to developing flavor in Italian cuisine, it is all about the low and slow. It's all about simmering the sauces until they are bursting with flavor. That's what we get with this easy crockpot lasagna recipe!
Ingredient Notes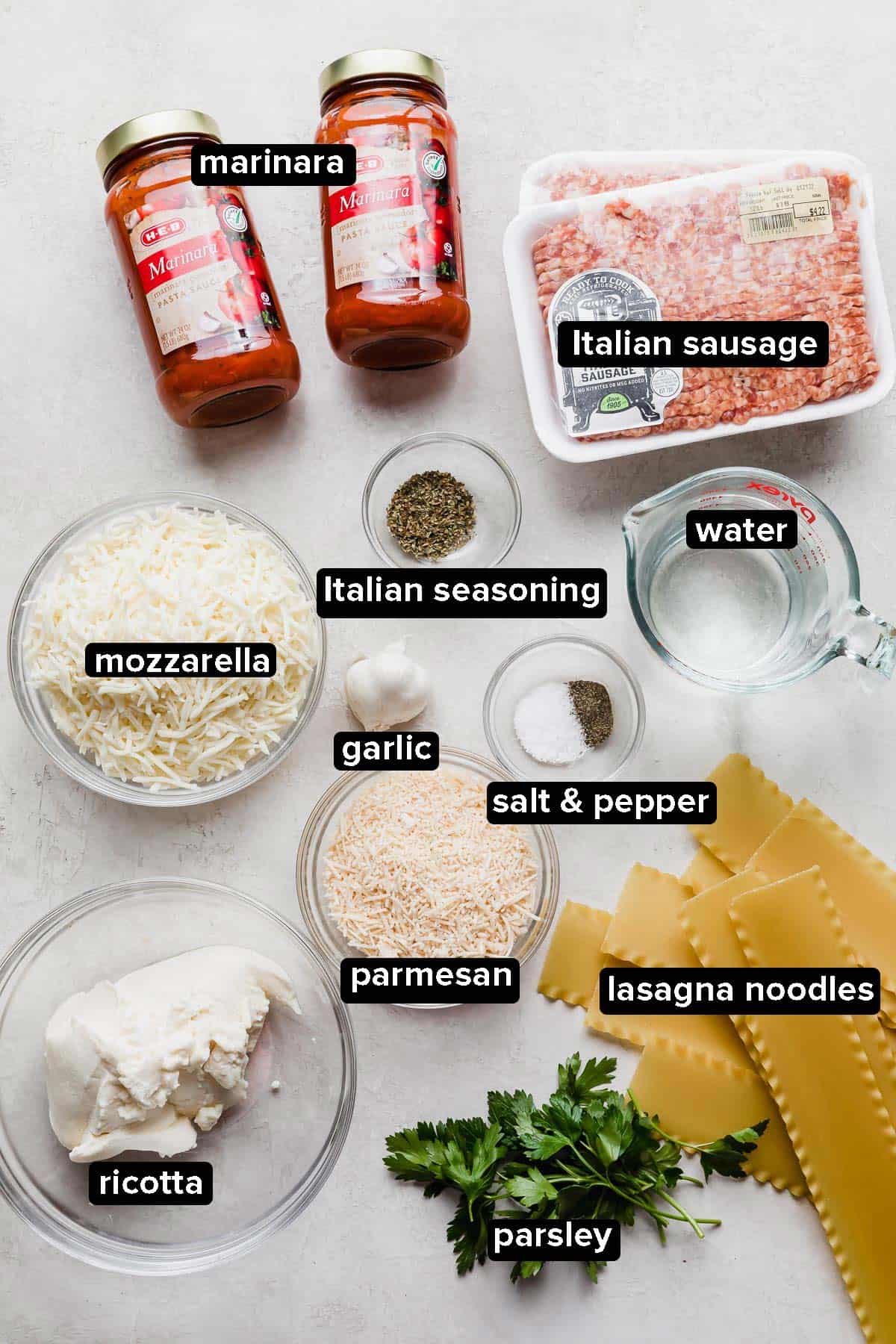 Italian Sausage: While you could use plain ground beef or ground turkey, Italian sausage is the best way to get more flavor out of Italian recipes without added effort. It comes pre-seasoned and just tastes incredible!
Garlic Cloves: Fresh garlic finds it's way into every recipe these days, or it sure does feel like it. Packed with so much flavor in every clove, make sure you mince them well so you can get that goodness well distributed.
Marinara Sauce and Water: The sauce and added water are what's going to help cook the noodles in the slow cooker. But don't worry, as the noodles are cooked, the liquid will be absorbed so you're not left with a lasagna soup. (Which is delicious! See for yourself with my Lasagna Soup recipe!)
Cheeses: Using a mixture of ricotta cheese, mozzarella, parmesan, and Romano will give a delightfully cheesy texture and flavor!
Noodles: You're going to need about 15 or 18 uncooked lasagna noodles, and the end amount really depends on the size and shape of your crock pot. On the plus side, there's no boiling needed! Note that you'll want to break the noodles up to help them fit and get a solid noodle layer.
Fresh Parsley: No this isn't a garnish, although you could use some for that reason, we'll actually be using this parsley in the ricotta mixture. It adds a nice freshness and color to the herbed ricotta.
Step-by-Step Instructions
Make the herbed ricotta. Add the ricotta, parsley and Italian seasoning in a small bowl and mix until combined.
Brown the sausage. Cook the sausage in a pot over medium heat, breaking it into pieces as you go. Add the garlic and cook for another minute. Remove from the heat and drain any excess grease.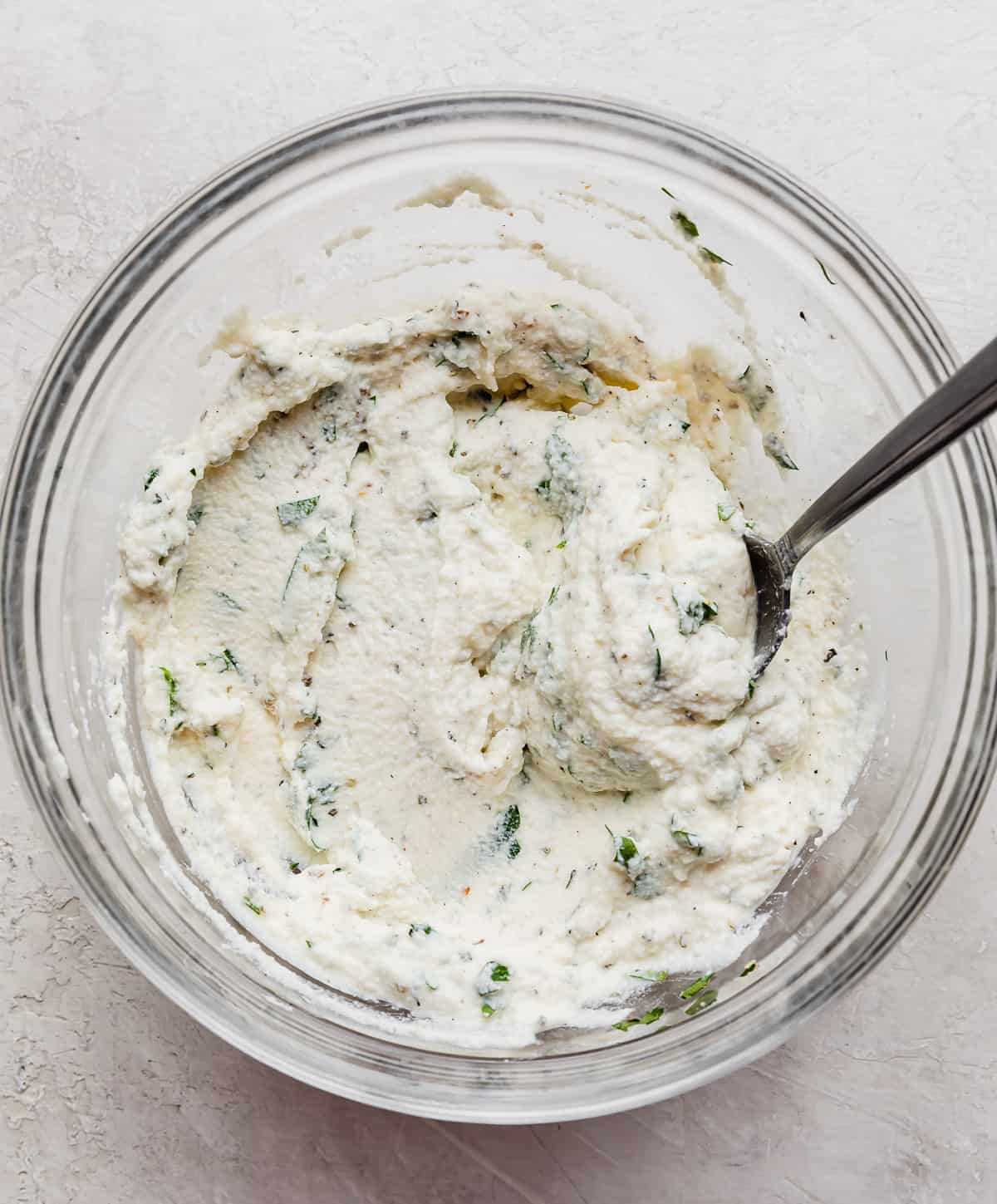 Add the marinara. Add the marinara sauce and 1 cup water. Stir in the Italian seasoning. Season with salt and pepper to taste.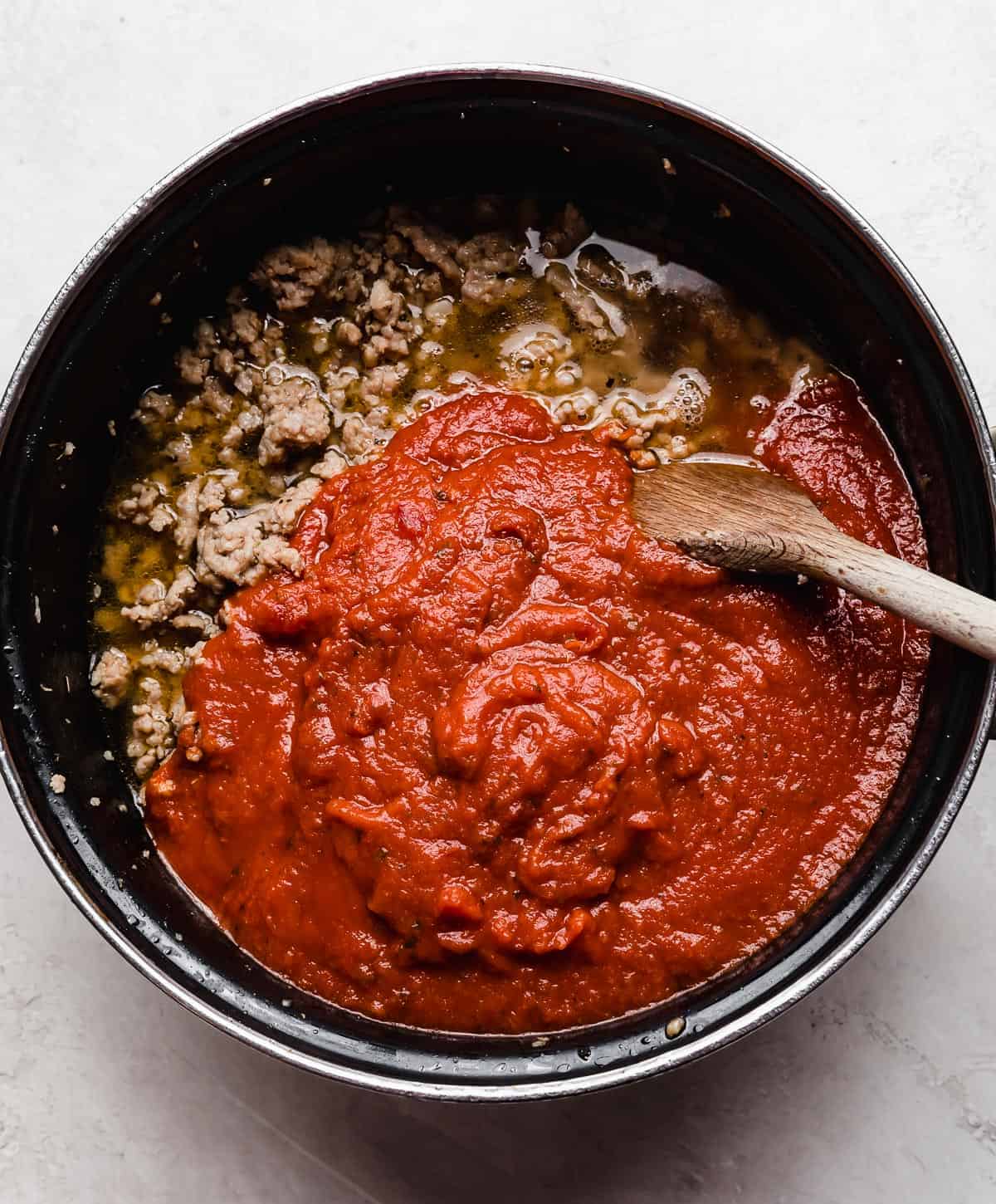 Assemble the crockpot lasagna. Generously spray the crockpot pan with nonstick cooking spray. Add 2 cups of the meat sauce to the bottom of the crockpot. Layer on the noodles, breaking them to fit. Add a thin layer of the herbed ricotta and sprinkle with the shredded cheeses. Repeat until all the elements are used up, finishing with shredded cheeses on top.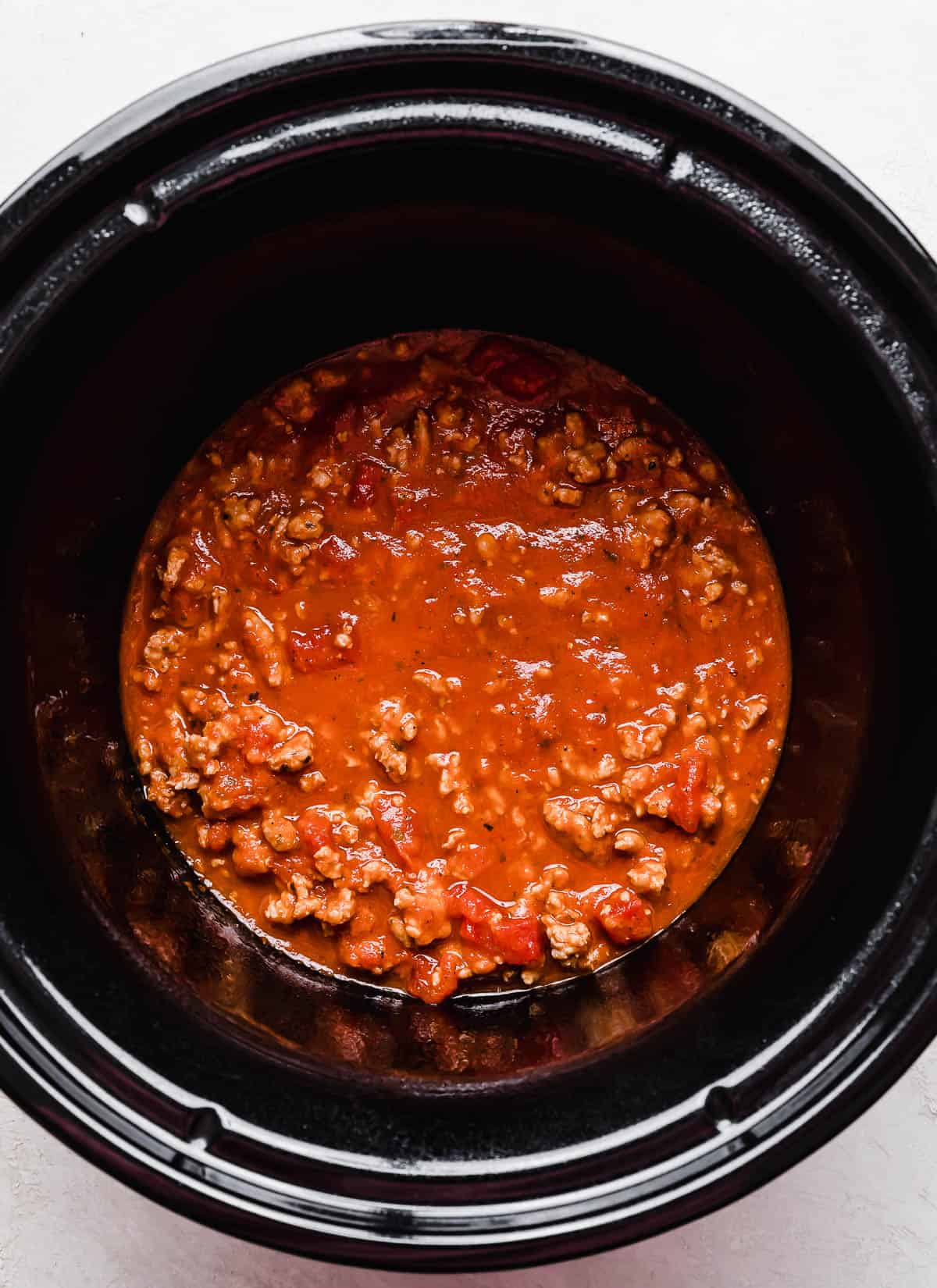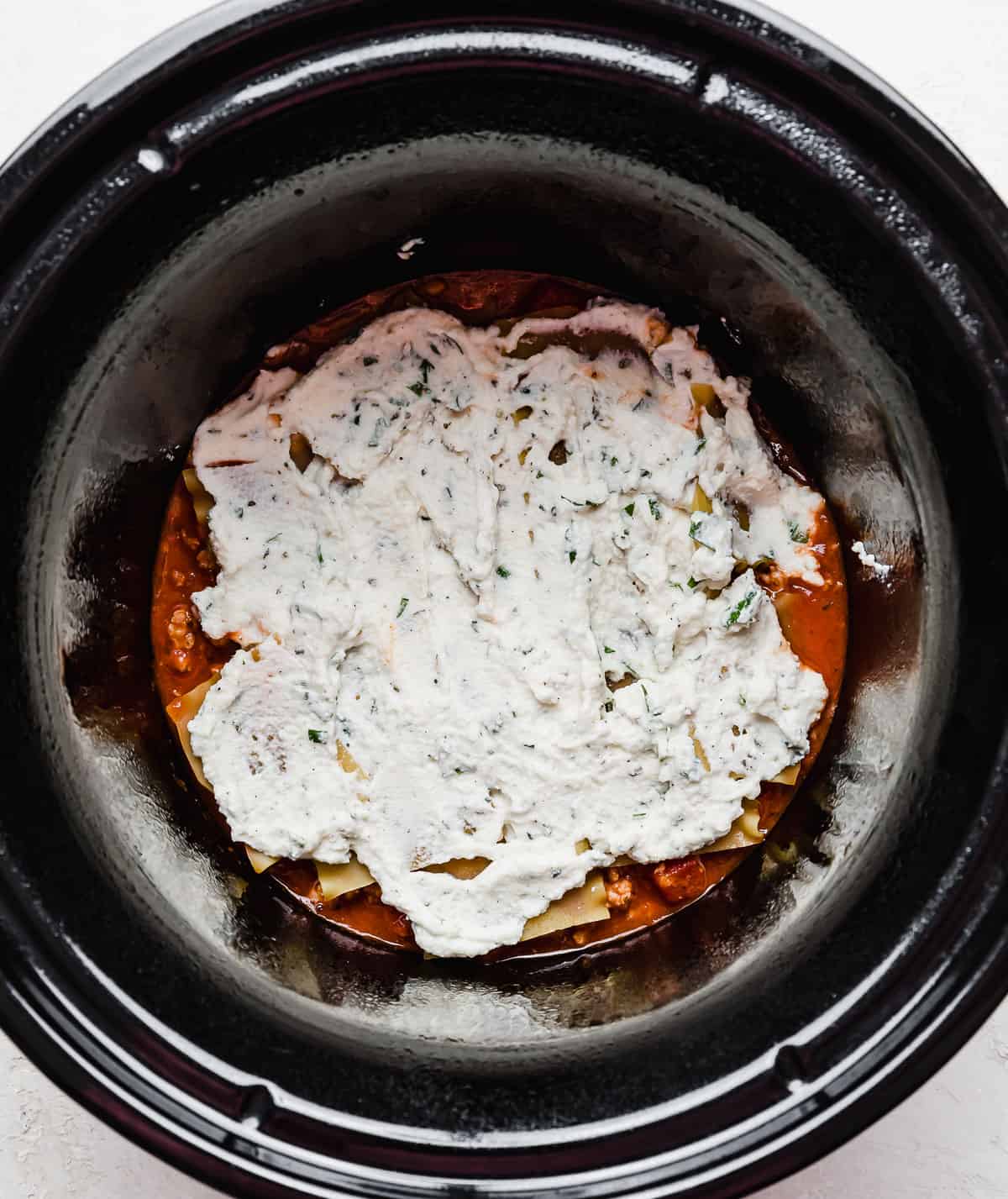 Cook. Cook the crockpot lasagna with ricotta cheese on high for 4 hours. Serve with fresh parsley and garlic bread.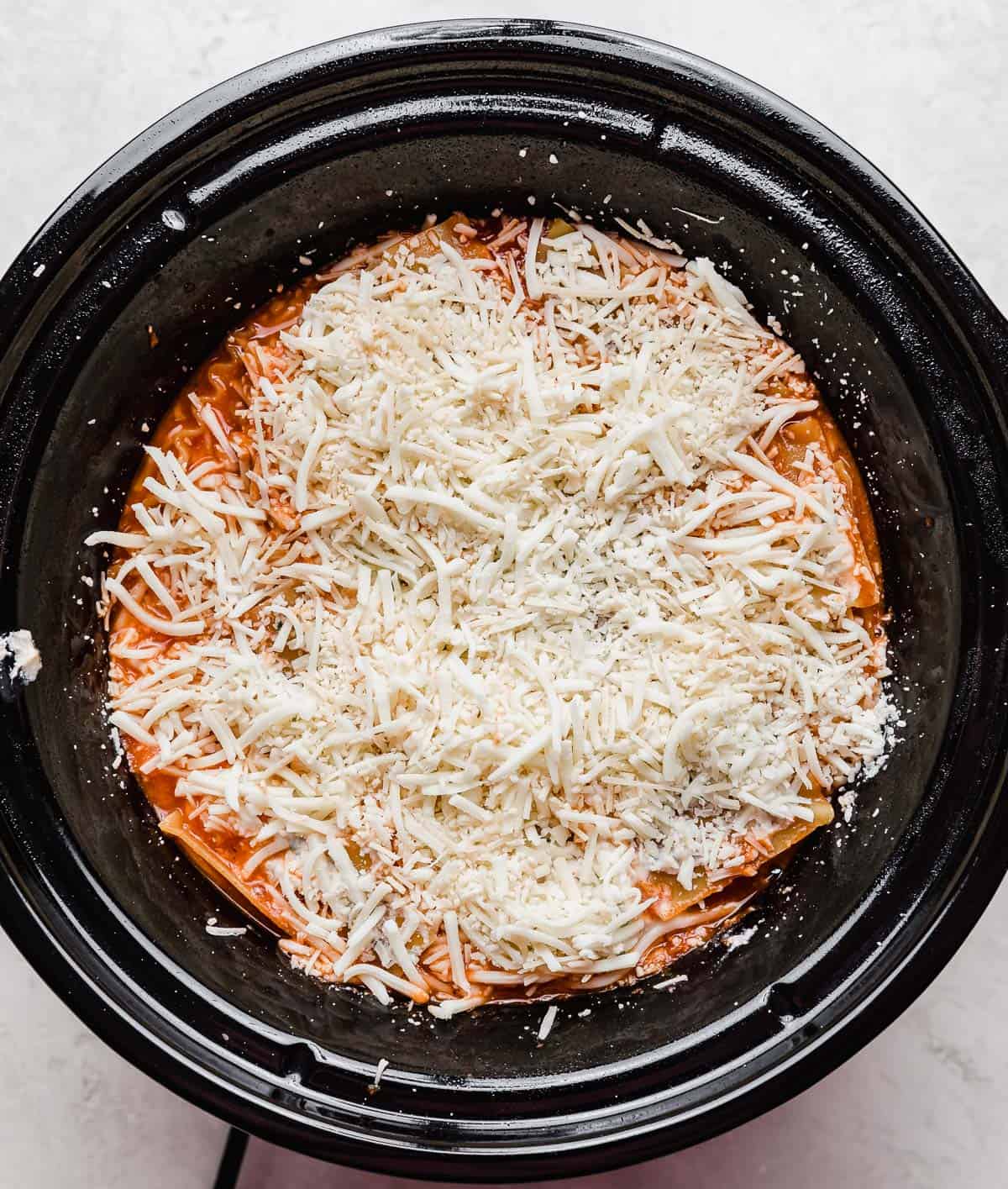 Recipe Tips
You'll want to use a large crockpot. Circular or oval is fine. Mine is circular. It's a bit easier in an oval crockpot, but both work great!
I usually do about 5 noodle layers.
The water added to the sauce is important because it will help provide liquid to cook the noodles in the crockpot.
You can use homemade ricotta or store-bought ricotta.
Feel free to use whatever marinara sauce that is your favorite or whatever you have on hand!
Make Ahead, Storing, and Freezing
Since this is a lasagna in the crockpot, you will need to make it ahead of time. It will cook for 4 hours on high.
To store, scoop out the lasagna from the slow cooker and transfer it to an airtight container. Store in the fridge for 3-4 days. Reheat in the microwave until warm.
You can freeze this recipe by transporting the lasagna to an airtight container and storing it in the freezer for 1-2 months. Remove and let thaw in the fridge. Transfer to an oven safe dish and warm or warm in the microwave. Better yet, you can freeze it in an oven-safe dish or disposable aluminum dish and bake from frozen until warm.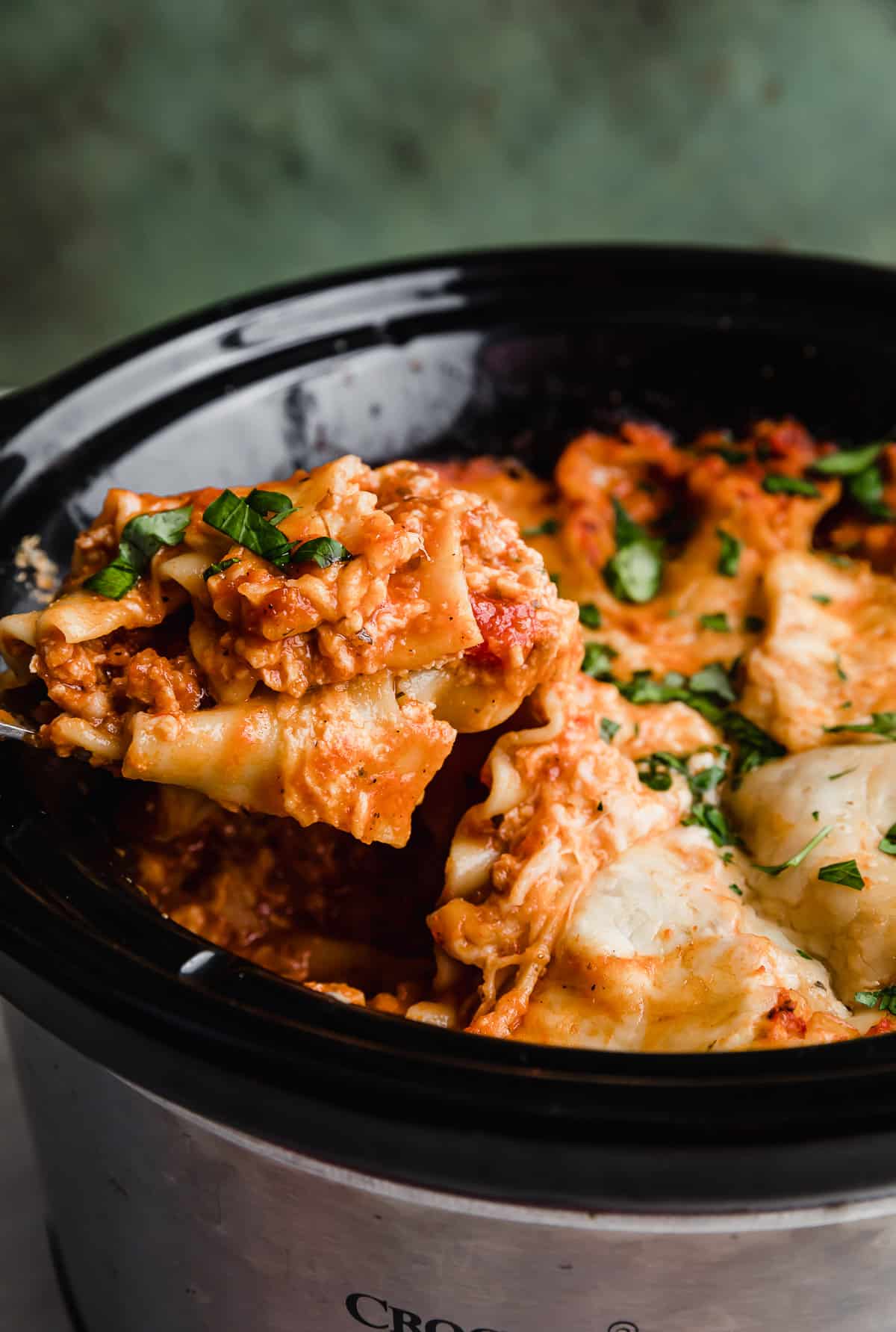 Recipe FAQs
How do I keep the bottom of my lasagna from burning? 
Spray the bottom and sides of your slow cooker with nonstick cooking spray. In addition to doing this, we add about 2 cups of sauce on the bottom of the slow cooker before adding any layers of noodles. This will prevent sticking and burning. This sauce trick also works if you were to use the oven instead of a crockpot.  
Can I make crockpot lasagna with cottage cheese instead of ricotta? 
Yes, cottage cheese and ricotta cheese are pretty interchangeable but there is a noticeable difference in the water content. Cottage cheese is wetter than ricotta, so if you do plan to make this switch, I recommend trying to drain any extra liquid from the cottage cheese just in case.
What marinara sauce should I use for lasagna? 
You can use whatever type you'd like! Either pick your favorite or use what you have in your pantry. 
Should I use oven ready lasagna noodles?
Since this is a slow cooker lasagna recipe, I use regular lasagna noodles. The oven ready version are at greater risk of becoming mushy since they are in the crockpot for 4 hours.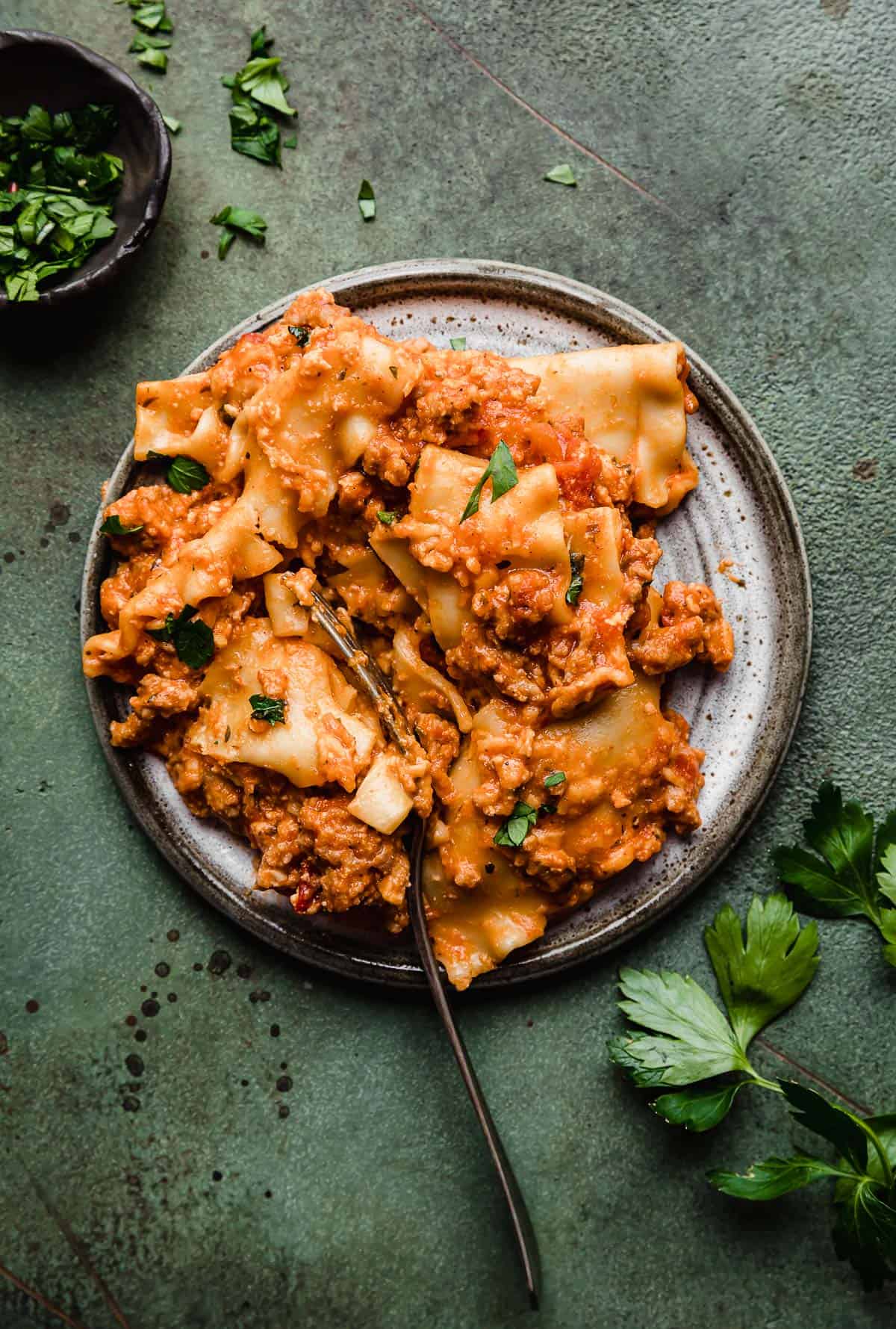 More Red Sauce Pasta Recipes
Crockpot Lasagna Recipe
This crockpot lasagna with ricotta cheese is so delicious! You don't even have to cook the noodles before you place them in the crockpot!
Ingredients
"The Sauce"
2

lbs

Italian sausage

4

garlic cloves, minced

2-24

oz

jars marinara sauce

1

cup

water

1

tablespoon

Italian seasoning

salt and pepper

-

to taste
Herb Ricotta
15

oz

ricotta

1/3

cup

fresh parsley

-

chopped

1

teaspoon

Italian seasoning
Cheeses
18

oz

mozzarella, shredded

4

oz

parmesan, shredded (about 1 1/2 cups)

2

oz

romano cheese, shredded

15-18

lasagna noodles, UNCOOKED

-

if you have a circular crock pot like me, you will probably only use 15 noodles. If yours is oval/rectangular you'll use 18)
Instructions
In a pot over medium heat, cook the sausage until brown, breaking it into small crumbly pieces as it's cooking. Towards the last minute or two of browning add the minced garlic. Remove from heat. Drain the sausage of any liquid or grease that may have accumulated.

Add the 2 jars of marinara and the 1 cup of water to the sausage bowl. Stir in the 1 tablespoon Italian seasoning. Taste, and season with salt and pepper. This will be referred to as "the sauce." Set aside. 

In a small bowl combine the ricotta, parsley, and Italian seasoning. Set aside.

Coat the inside and the sides of a large crock pot with nonstick cooking spray. Begin layering starting with the sauce. Being sure to add about 2 cups of the sauce to the bottom of the crockpot. Then top the sauce with noodles. Breaking the noodles if they don't fit, so that it covers all of the sauce.

Add a thin layer of ricotta atop the lasagna noodles. Generously sprinkle the shredded cheeses overtop the ricotta. Repeat these layers until all ingredients are used and it fills your crock pot. (Sauce, noodles, ricotta, cheeses, sauce noodles, ricotta, cheeses etc.) Ending with the shredded cheeses at the top. 

Cook on high for 4 hours. Serve warm with a sprinkling of fresh parsley.
Notes
**Use a large crockpot. Mine is circular. It's easier to make in an oval/rectangular type crockpot. I've made it in my moms oval crockpot and it works great! Also works well in circular. 
I usually do about 5 lasagna noodle layers. 
Did you make this recipe?
Leave a star rating and review on the blog post letting me know how you liked this recipe! Take a picture and tag @saltandbaker on Instagram and Facebook so I can see what you're making!