Deconstructed Pizza
This post may include affiliate links. As an Amazon Associate I earn from qualifying purchases.
Deconstructed Pizza is the perfect way to jazz up your pizza night! This pizza casserole is loaded with pepperoni, olives, sausage, and fresh mozzarella cheese for an easy cheesy pasta bake the entire family will love!
There are so many fun ways to add variety to your pizzas! Add fresh berries like in my Blackberry Pizza recipe! Use fresh ingredients like fresh avocados and tomatoes that top my CPK Club Pizza or try your hand at the world's best pizza toppings ever in my Pesto Arugula Pizza (we're talking ricotta, nectarines, chicken, corn, pesto, and arugula — I mean!)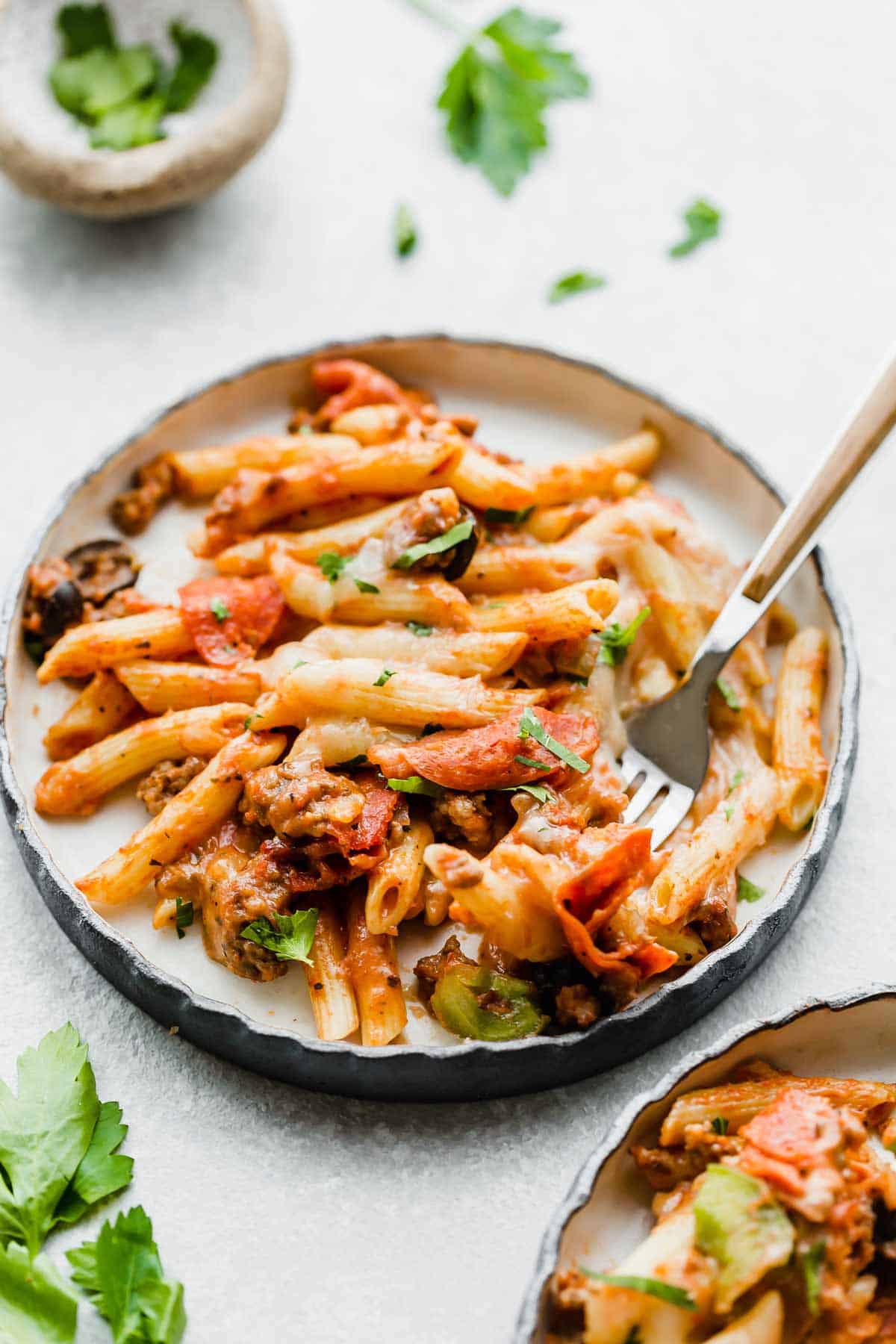 Why This Recipe Works
Easy pizza casserole recipe. Not only is this recipe a family favorite, but it is really easy to make as well — perfect for those busy weeknights! One reader, Kate, said, "This pizza casserole was so so good! Husband loved it, kids loved it! Super easy to put together too."
Deconstructed pizza. You really are getting all the flavors and toppings from pizza all in this delicious pizza noodle bake! 
Perfect pizza night recipe. Mix up your pizza night with this pizza pasta bake instead of a traditional pizza! Plus, you can have your kiddos pick their favorite pizza toppings to use. It's a huge hit! 
Easy dinner recipe. It's 4:30pm, your stomach is growling and you're craving pizza hard core. Do you spend $12 on a mediocre pizza, or make an easy (and affordable/budget friendly) pizza casserole at home? I think we both know the right answer! 
Ingredient Notes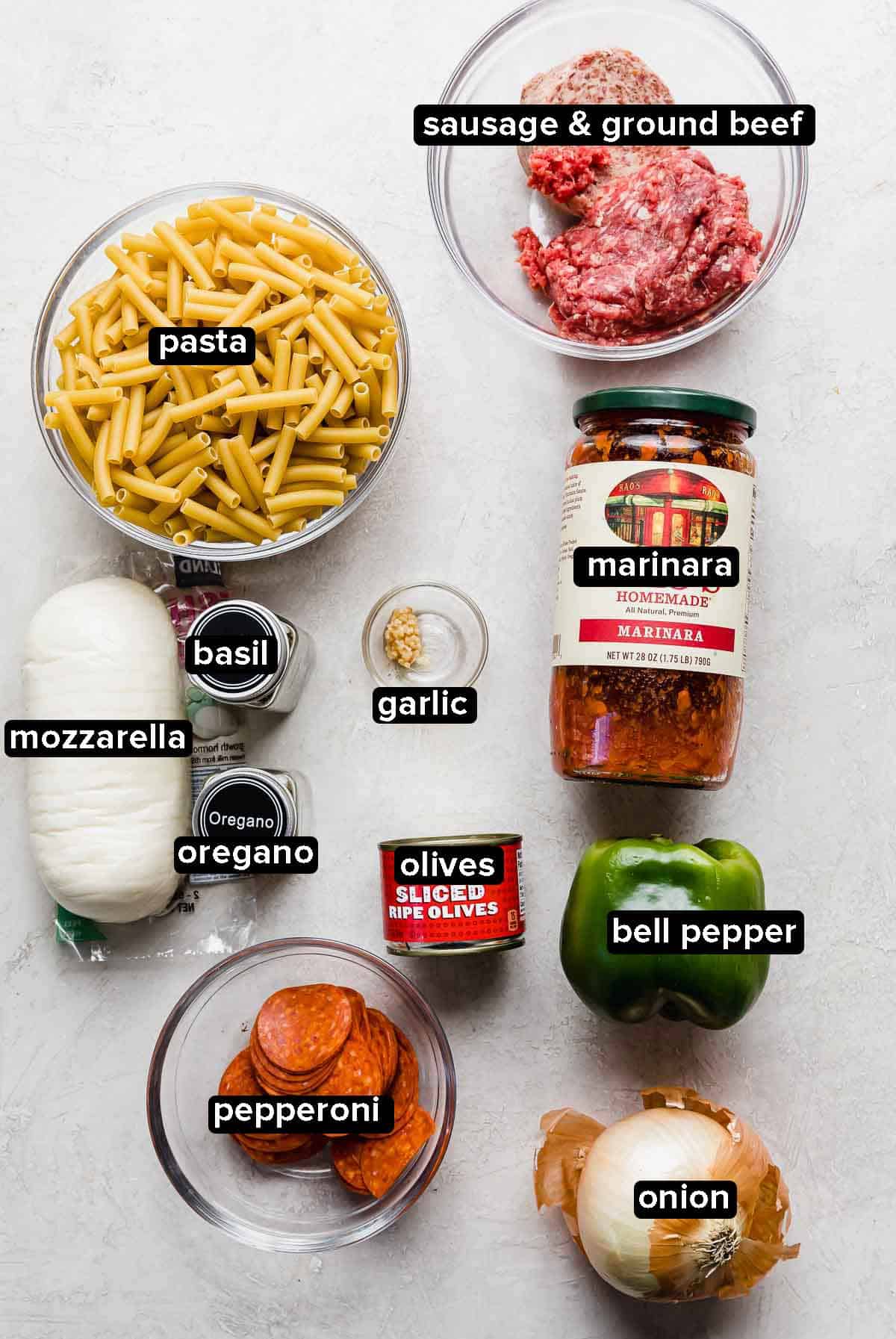 Pasta: Use whatever pasta you love the best.
Ground Beef & Ground Sausage: I love using a combination of ground beef and Italian sausage, but if you only use one, I would highly, highly recommend using the sausage! I use mild sausage since my kids don't love spicy foods. 
Onion: Cooking the onion with the meat is a great way to help flavors combine.
Pizza Toppings: I used a combination of pepperoni slices, green bell pepper, and sliced black olives. You can also add mushrooms or switch things up and do Canadian bacon and pineapple chunks for a fun Hawaiian pizza pasta. 
Marinara Sauce: If you want the pepperoni pizza pasta to taste even more like pizza, I would recommend using pizza sauce, which tastes way more like pizza than regular marinara. But you can still use marinara! Or you can make my homemade Pizza Sauce with Tomato Paste!
Spices: Using a combination of oregano and basil gets a delicious Italian flavor to this deconstructed pizza. 
Mozzarella Cheese: I love using fresh mozzarella because you got those pockets of soft and melty cheese! 
Step-by-Step Instructions
Cook pasta. Boil water and cook the pasta according to the package directions, cooking 1-2 minutes under al dente. Drain. 
Cook the sausage and ground beef. While the pasta is cooking, add 1/2 lb ground beef, 1/2 lb regular sausage and the diced yellow onion to a medium skillet. Once fully cooked, drain any excess grease. Add 1/2 tsp minced garlic and cook for 1 minutes. Transfer the meat mixture to a large bowl.
Add the pizza toppings! To the large bowl add 3-4 oz of pepperoni cut in half, the diced green peppers, 1/2 cup sliced olives, 24 oz marinara sauce, 2 tsp dried oregano, and 1 tsp dried basil. Add in the cooked pasta and stir to combine. 
Add the mozzarella cheese. Add 2 cups shredded mozzarella or use cubed fresh mozzarella and stir. 
Bake. Pour mixture into a buttered casserole dish. Add the remaining cheese to the top of the casserole and cover with foil. Bake at 375ºF for 15 minutes. Then remove the foil and bake for another 15 minutes or until the cheese is melted and bubbling. Remove and serve!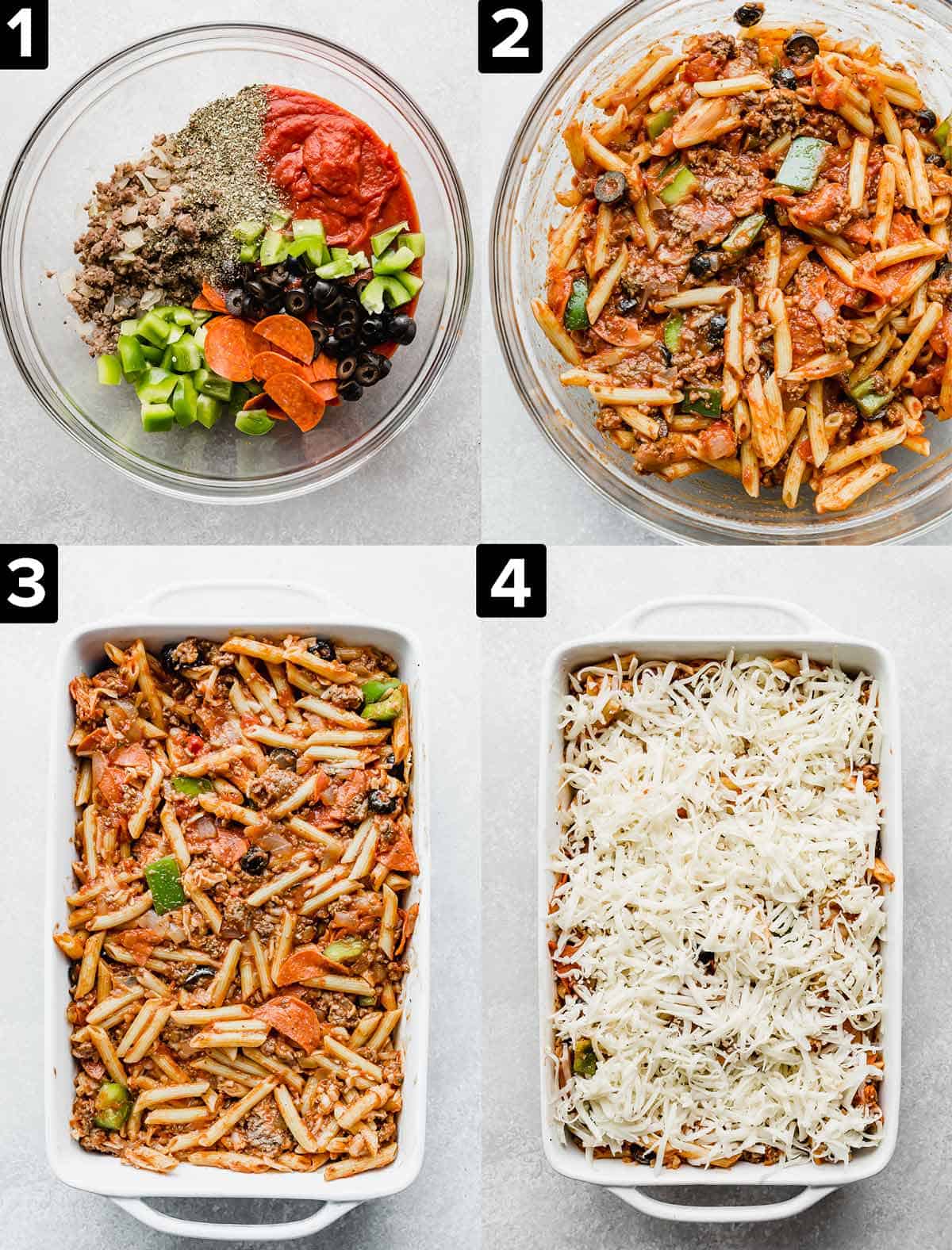 Recipe Tips
Cook the pasta 2 minutes under al dente. Before you throw away the pasta box/bag, look at the recommended boiling time. Choose the shortest time and boil for 2 minutes less. Here's an example: if it suggests you cook 11-12 minutes for al dente, only cook the pasta for 9 minutes.
This is due to the pasta cooking more in the oven. If you over cook your noodles in the water, then they'll just continue to over bake in the oven.
If the pasta is done cooking before you are ready to add them into the mixture, I would drain the pasta then add a drizzle of olive oil and stir. This will keep the pasta from clumping together as you finish preparing the other things.
If using cubed fresh mozzarella, add about 1 1/2 to 2 cups when combining all the ingredients. Then scatter additional fresh mozzarella overtop prior to baking. I actually prefer using the fresh mozzarella because I think it bakes up so nicely!
Make Ahead, Storing, and Freezing
This is a large pizza casserole that will feed up to 8 people. We have a small family and we were able to enjoy this for 2 days. P.S. the leftovers taste amazing!
To make this deconstructed pizza ahead of time, simply prepare the recipe up until baking it. Instead of baking, cover it and store it in the fridge. Then, when you are ready to bake, remove it from the fridge and bake! (You can let it sit in the fridge for 1-2 days prior to baking it, but then I would go ahead and bake it so you can enjoy it for a few days as well!)
Store any leftovers of the baked pizza casserole in an airtight container (or simply cover the baking dish with plastic wrap or a lid) and place in the fridge. The casserole will keep for 3-4 days. I would reheat in the oven for 10 minutes or until warm and add a splash more sauce to loosen things up.
To freeze, prepare up until baking. Instead of baking, cover tightly in a layer of plastic wrap and then a layer of aluminum foil. Store in the freezer for up to 2 months. Remove and thaw in the fridge overnight, then bake. If you plan to freeze the dish, I would add 1/2 cup more pasta sauce since the noodles will absorb some of the sauce.
Recipe FAQs
What is a pizza casserole?
So a pizza casserole is a pepperoni pizza pasta! It's essentially elements from pizza made in pasta form! So this recipe has pasta, sauce, cheese, and some of our favorite pizza toppings.  
Can a pizza casserole be left out overnight?
No. Store the deconstructed pizza casserole in the fridge. 
How do you reheat pizza casserole?
I would reheat it in the oven for best results! Add a splash of pizza sauce to loosen the mixture up again and keep things from drying out.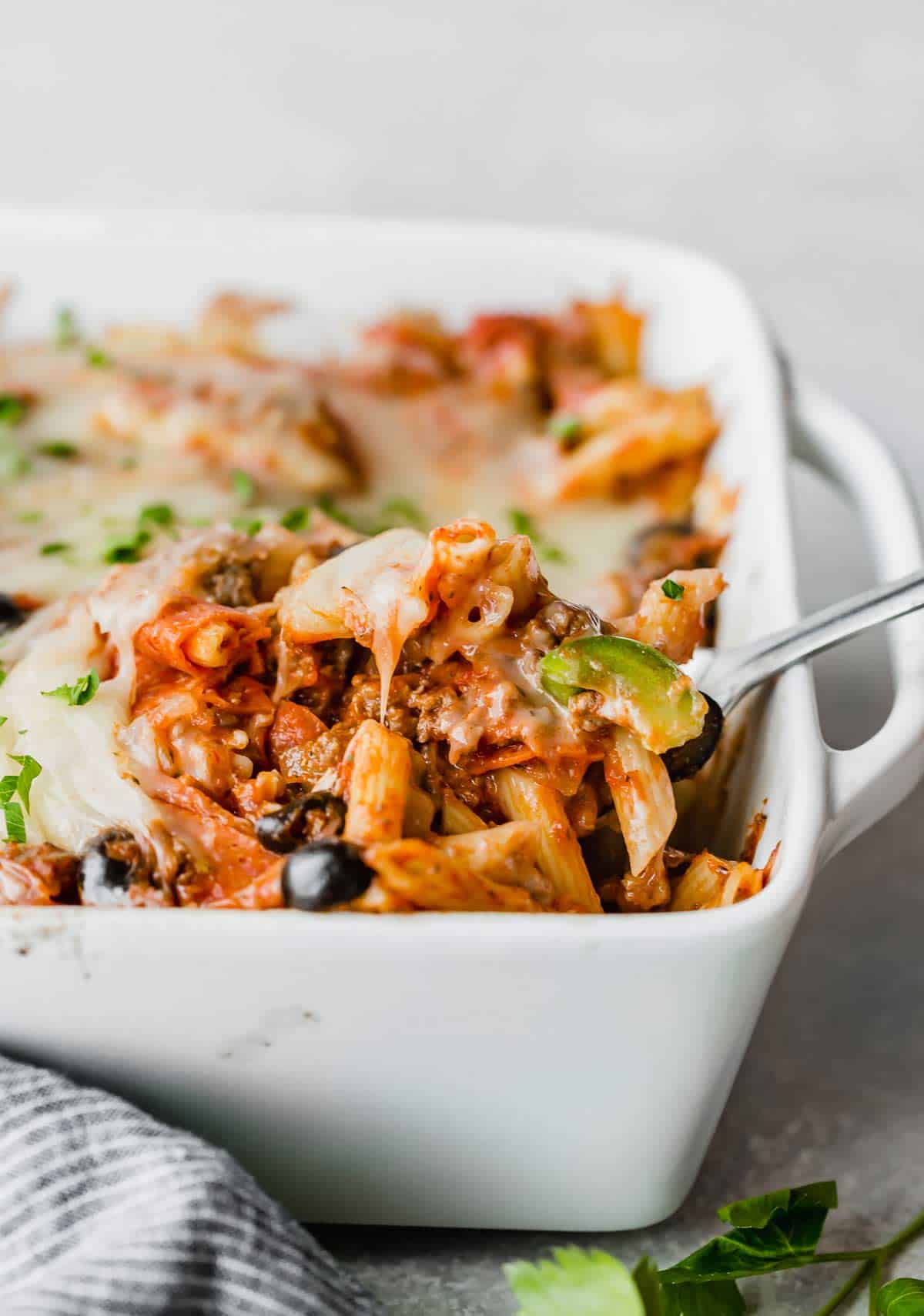 Deconstructed Pizza Casserole
This pizza casserole is loaded with pepperoni, olives, sausage, and cheese! It tastes just like a pizza… maybe even better!
Ingredients
16

oz

pasta

1/2

lb

ground beef

1/2

lb

regular sausage

1

small

yellow onion

-

diced

1/2

teaspoon

garlic

-

minced

3-4

oz

pepperoni

-

cut in half

1/2

green bell pepper

-

medium chopped

1/2

cup

sliced olives

24

oz

marinara sauce

-

or pizza sauce

2

teaspoon

dried oregano

1

teaspoon

dried basil

3 1/2

cups

mozzarella cheese

-

shredded, can also use cubed fresh mozzarella
Instructions
Preheat the oven to 375º F. Cook pasta according to package directions, cooking 1-2 minutes under al dente. Drain. 

In a skillet brown the ground beef, sausage, and onion. Drain grease. Add the minced garlic and cook 1 minute more.

Transfer the cooked meat mixture to a large bowl. Add the pepperoni, bell pepper, olives, marinara sauce, oregano, and basil. Add the cooked noodles and stir to combine.

Add 2 cups of shredded mozzarella and stir to combine. Season with salt and pepper.

Pour the mixture into a buttered 13×9 inch baking dish.

Sprinkle the remaining cheese overtop of the noodles. Cover with foil and bake for 15 minutes. Then remove foil and bake for 15 more minutes or until the cheese is bubbling.

Remove from oven and serve.
Notes
If using cubed fresh mozzarella, add about 1 1/2 to 2 cups to the rest of the ingredients. Then scatter additional fresh mozzarella overtop prior to baking. I actually prefer using the fresh mozzarella because I think it bakes up so nicely! 
Store leftovers covered in the fridge for 4-5 days. Reheat in the oven. Add a splash more sauce if needed to keep things moist. 
If freezing for a make-ahead meal, assemble and then don't bake and instead cover in plastic wrap and aluminum foil and freeze. Thaw in the fridge overnight and bake. 
Did you make this recipe?
Leave a star rating and review on the blog post letting me know how you liked this recipe! Take a picture and tag @saltandbaker on Instagram and Facebook so I can see what you're making!