Swiss Meringue Buttercream Recipe
This post may include affiliate links. As an Amazon Associate I earn from qualifying purchases.
Swiss Meringue Buttercream happens to be my favorite buttercream of all time! I love how smooth and creamy it is, but also it's sweet but not overly sweet. You can use it to frost cake or cupcake recipes as it pipes and holds its' shape beautifully.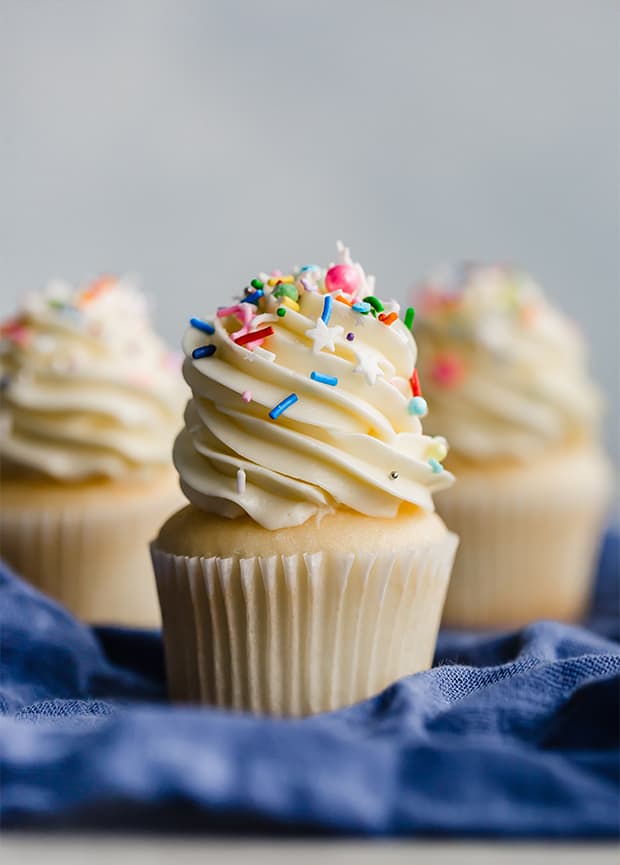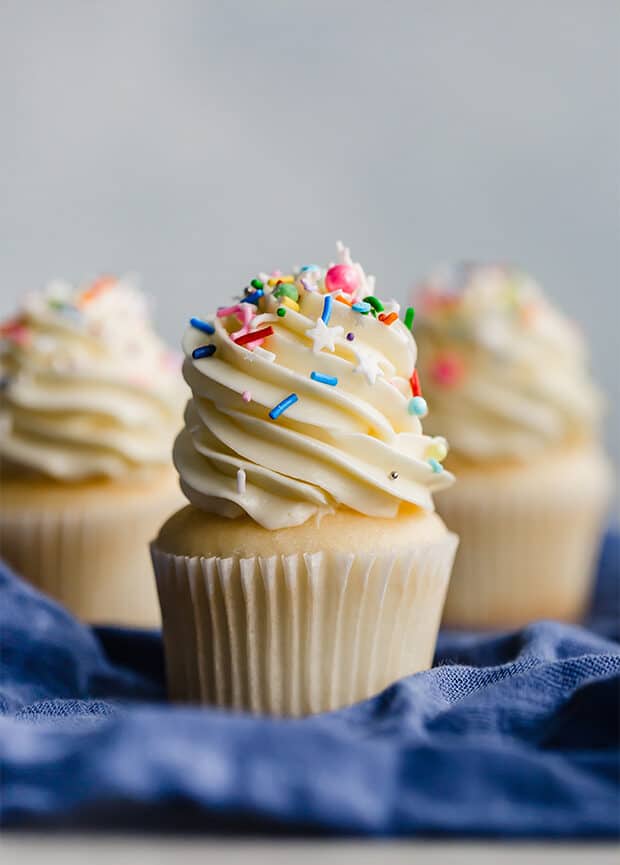 I actually made this recipe several weeks ago. It has been awhile since I've eaten Swiss Meringue Buttercream. Well, as soon as I finished this recipe I started casually swiping my finger into the frosting bowl to get a small taste. Well, 10 tastes later I decided I better hide the frosting before it all ended up in my stomach.
This stuff is good. Very very good.
I'm not a huge frosting lover but this recipe converted me 1000%.
What is Swiss Meringue Buttercream
Swiss meringue buttercream is a silky smooth, super creamy, and delicious frosting. It's made by whisking egg whites and sugar over a pot of boiling water.  It's then whipped until they the mixture reaches stiff peaks. If you were to stop here, you will have successfully made Swiss meringue! Yay!
But we continue by adding unsalted butter to the Swiss meringue, a tablespoon at a time, until the buttercream comes together.
You can add flavorings to the buttercream if you'd like. This is discussed towards the bottom of this post.
Why you'll love this Swiss Meringue Buttercream
Some people, including ME, prefer Swiss meringue buttercream over American buttercream because it isn't as sweet.
You can use this buttercream to frost cakes, cupcakes, and wedding cakes.
This frosting is very stable, holds together very well, and is great for piping.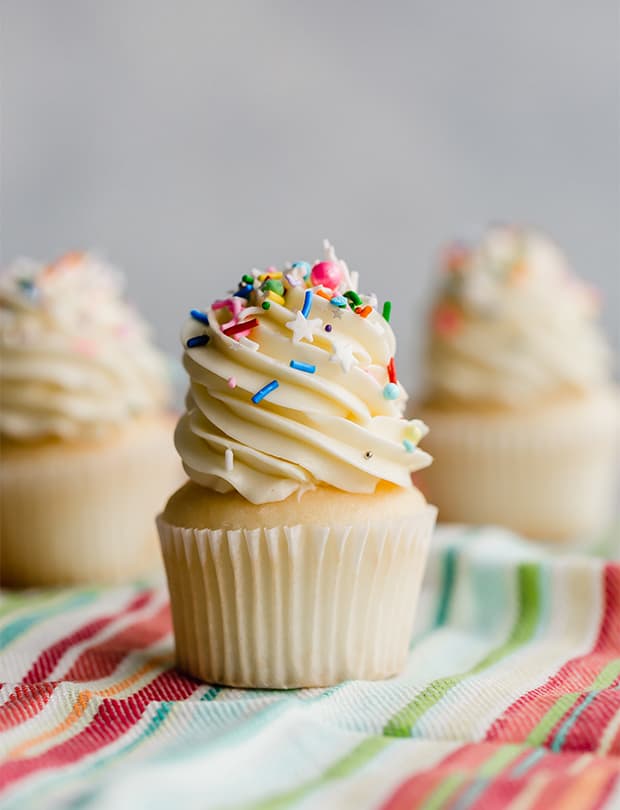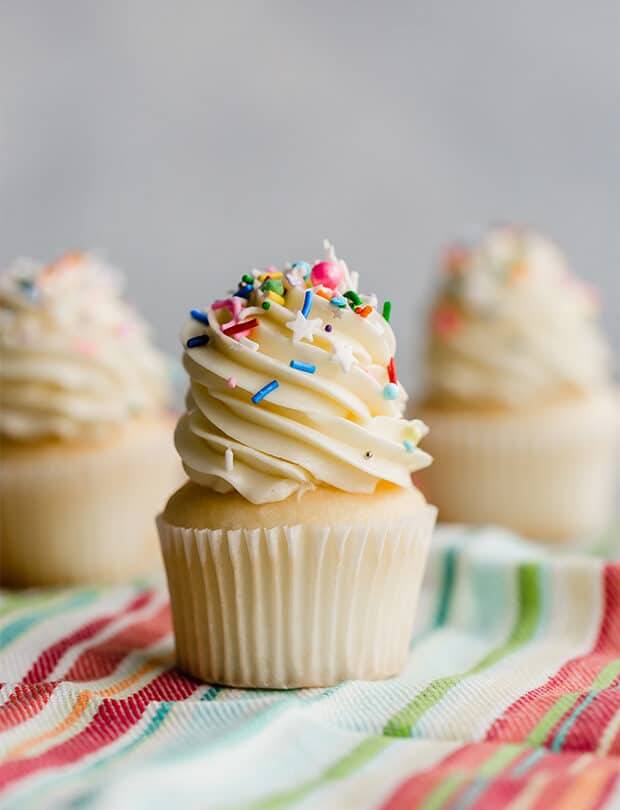 Ingredients
You need only 4 ingredients for this recipe. Some SMB call for salt, which I didn't use. If you want to add a pinch of salt, you can do so.
Egg whites
Granulated sugar – this will sweetened the frosting.
Unsalted butter – the temperature of the butter is VERY important. You want the butter to be at cold room temperature. What do I mean by that? It should be pliable but still cool to the touch. If your butter is too warm, you won't achieve the correct buttercream consistency.
Vanilla extract – for flavor. See "Swiss meringue buttercream variations" below for additional flavoring ideas.
How to make Swiss Meringue Buttercream
Whisk the egg whites and sugar until combined.
Place the egg white + sugar mixture over a pot filled with boiling water. Heat over a double boiler. Make sure the bowl does not touch the boiling water. At this point you should be whisking the mixture constantly until no longer grainy. To check if it's grainy, carefully dip your fingers into the meringue and rub your fingers together. You shouldn't be able to feel any sugar granules. 
Heat until the mixture reaches 160°F with an instant read thermometer. This portion of the recipe requires some patience because it takes anywhere from 15-25 minutes to reach this temperature. Granted, the size of your pan and the area it's covering on your stand mixer bowl will play a role. Once it reaches 160°F, remove the bowl from the heat and carefully wipe the steam/water from the bottom of the bowl.  The mixture will be very white (like pictured above).
Let cool slightly. After heating the meringue, I let the mixture sit for 5 minutes or so.
Whip (with the whisk attachment) on medium high speed until the meringue is smooth, glossy, and stiff. 
Make sure the meringue and the bowl of the stand mixer is no longer warm to the touch. You do NOT want to add the butter to a warm meringue because it will melt the butter.
Change to the paddle attachment and add the butter a tablespoon at a time, waiting until the previous butter has been mixed in before adding any more.
Once all the butter has been added, scrape down the sides of the bowl and mix on medium high speed for 2-4 minutes. The mixture will start to appear more like a frosting, rather than a glossy meringue. 
How to store Swiss Meringue Buttercream
Swiss meringue buttercream can be kept at room temperature in an airtight container for up to 2 days, or stored in the refrigerator for 2 weeks. When ready to use the refrigerated buttercream transfer the frosting to the bowl of your stand mixer fitted with the paddle attachment and beat on medium speed for 2-3 minutes until combined and smooth. If you run into issues, see my "troubleshooting" section below.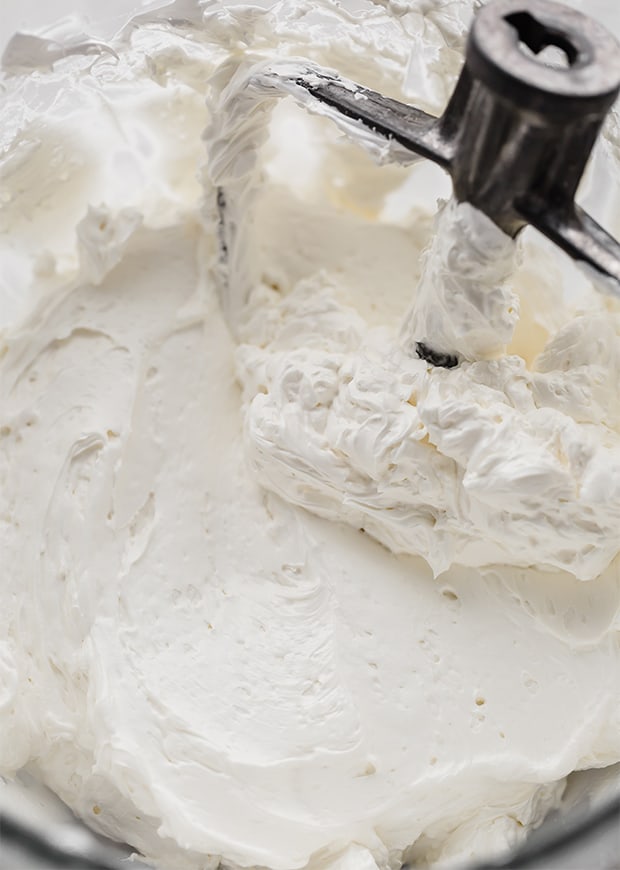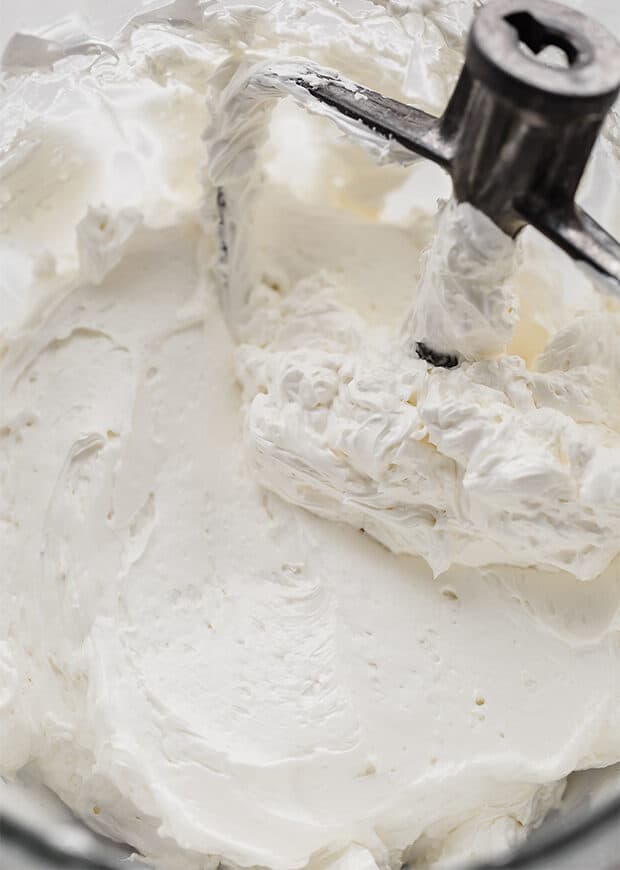 Equipment Needed
You only need a few kitchen appliances for this recipe.
Stand mixer. While yes, this recipe can be made using hand beaters, it will take more time (like 25-30 minutes of you using your hand mixer) compared to 15 minutes using a stand mixer. To save time and energy, I suggest using a stand mixer (I use a kitchen aid), you can find the one I use on Amazon.
A medium sized pot. This will be used for the double boiler.
Hand whisk for mixing the meringue over the double boiler.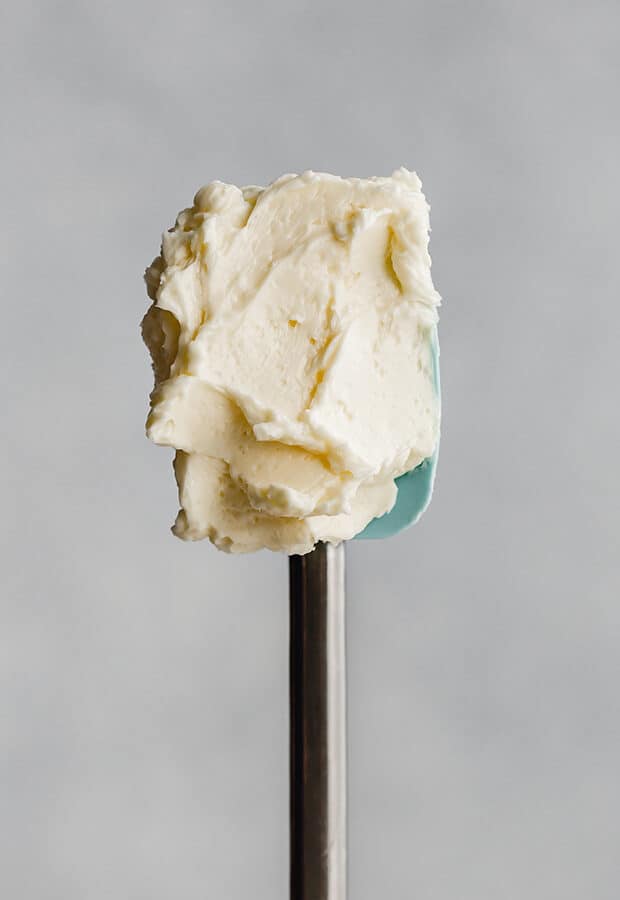 Trouble Shooting
I found this article to be very helpful in troubleshooting any and all Swiss meringue buttercream scenarios. Let's go over some of the most common ones.
Why is my buttercream a bit runny or soupy? It could be because you didn't cool the Swiss meringue mixture enough before you beat in the butter. To solve this problem, place the buttercream in the refrigerator for 10-20 minutes or until it begins to harden slightly around the edges. The center will still be runny, but it will and come together after a few minutes or whipping.
My buttercream is lumpy and curdled, what can I do to fix it? Place the buttercream in your stand mixer bowl and put it over a steaming water bath. Let sit for 1-2 minutes or until the edges are melty; the center will still solid and cold. Transfer the bowl to your stand mixer fitted with a whisk attachment. Beat for 4 minutes or until the mixture is homogenous. The buttercream will turn light and glossy as it reaches 72°F-74°F.

Swiss Meringue Buttercream variations and flavors
While Swiss meringue buttercream tastes 1000% AH-MAZING as is, you can add flavorings to the frosting and switch it up. Some popular ones to consider:
Lemon – add some lemon extract and fresh lemon zest to the frosting.
Chocolate – drizzle in melted chocolate (that has been cooled to room temperature).
White chocolate – add melted white chocolate to make white chocolate Swiss meringue buttercream.
Freeze dried fruit – place freeze dried fruit in a blender or food processor and grind to a fine powder. Add the fruit powder to the buttercream and beat until smooth. You can do this with any flavor of freeze dried fruit, the possibilities are endless… strawberries, raspberries, blueberries, mango etc.)
Recipes to use this Swiss Meringue buttercream on:
If you make a recipe from Salt & Baker, please come back to leave a rating and review. Thank you so much!!
Swiss Meringue Buttercream
My favorite buttercream frosting of all time! This frosting is sweet, but not too sweet; pillowy soft, fluffy, light, airy, creamy. It's everything you could want in a frosting.
Ingredients
6

large

egg whites

2

cups

granulated sugar

2

cups

unsalted butter

-

softened but still a tad firm. Cut into tablespoon increments.

1

teaspoon

vanilla extract
Instructions
In a medium sized pot, bring 1-2 inches of water to a simmer.

Thoroughly wash and dry your stand mixer bowl. We don't want ANY grease touching the egg whites! (Makes it harder for them to whip). 

In the bowl of a stand mixer whisk the egg whites and sugar until combined.

 Place the mixing bowl over the pot of simmering water. The bowl shouldn't be touching the water. Mix the mixture with a whisk, stirring constantly until no longer grainy (you shouldn't feel any sugar granules when you rub the mixture between your fingers), and the mixture reads 160 °F on an instant read thermometer. (This took me about 20 minutes). Once it reaches 160°F, remove from the heat and wipe the outside of the bowl with a paper towel to remove the water. 

Cover the bowl with plastic wrap and let the mixture cool for 10-15 minutes at room temperature.

Place the bowl on your stand mixer and (fitted with the whisk attachment) and whisk on medium high for 10-15 minutes or until the meringue is stiff and cooled. The bowl should no longer be warm to the touch. (You do not want the meringue to be warm! This will melt the butter). If the meringue is too warm, place it in the fridge for 4-5 minutes to cool down.

Change to the paddle attachment. Add the butter, a tablespoon at a time, waiting to add each tablespoon only after the previous butter has been mixed in. Once all the butter is in, scrape down the sides of the bowl with a spatula and whip on med-high speed for 2-4 minutes until the it's smooth and whipped. If it's lumpy or liquidy, keep beating. 

Add the vanilla extract and beat until combined.
Notes
Will make enough to frost a 3 layer 6 inch cake. Or a 2 layer 8"inch cake.
Swiss meringue will last for 2 days at room temperature or 2 weeks stored in the fridge in an airtight container. When ready to use again, remove from the fridge and bring to room temperature. Place the frosting in the bowl of your stand mixer fitted with the paddle attachment. Beat on medium speed until soft and fluffy. If you run into any problems, see blog post for troubleshooting tips. 
It's a bit more difficult to color than an American buttercream. You can use gel food coloring but the color may not take as well.
Note the serving size says "24 cupcakes." This recipe should frost about 24 cupcakes, give or take a few (depending on how much frosting you use). Nutritional information is based off 1 frosting serving. 
Did you make this recipe?
snap a photo and tag @saltandbaker in your posts and stories so I can see what you're making!