Arkansas Possum Pie
This post may include affiliate links. As an Amazon Associate I earn from qualifying purchases.
Savor the the rich flavors of a Southern dessert classic with our Arkansas Possum Pie recipe, featuring delicious layers of a crumbly shortbread pecan crust, a creamy cream cheese layer, a rich chocolate pudding layer, and a fluffy whipped cream topping. This delightful dessert is the perfect blend of sweet and creamy, making it an instant crowd-pleaser for any occasion.
If you're a fan of creamy chocolate pies, then you are in the right place! I have some favorite creamy pie recipes you'll want to add to your recipe box. A recent favorite is my Cookies and Cream Pie — smooth and creamy with crunchy chocolate cookies. Then there's my classic French Silk Pie that is richly chocolate whipped into a smooth and creamy texture.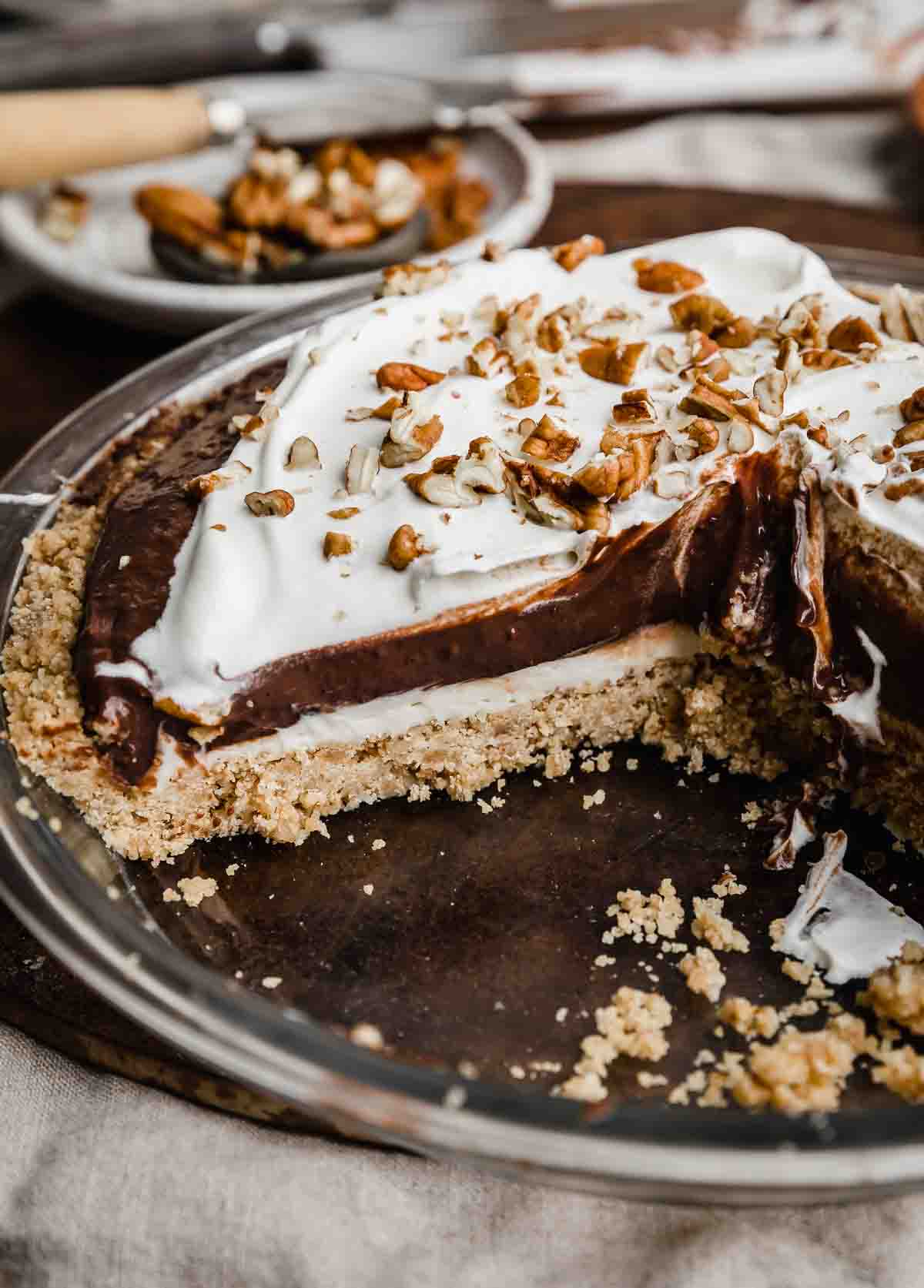 Why This Recipe Works
Possum pie Arkansas delight. This classic state of Arkansas dessert is the perfect layered pie, complete with velvety cream cheese, luscious chocolate, and fluffy whipped cream layers all in a delicious pecan shortbread crust.
Four-layer delight. The name possum pie refers to layers hidden under layers. This four layer pie has a sweet shortbread pecan crust, cream cheese layer, chocolate layer all topped with whipped cream.
Chilled pie. This is a great pie to make in advance and chill until ready to serve.
Ingredient Notes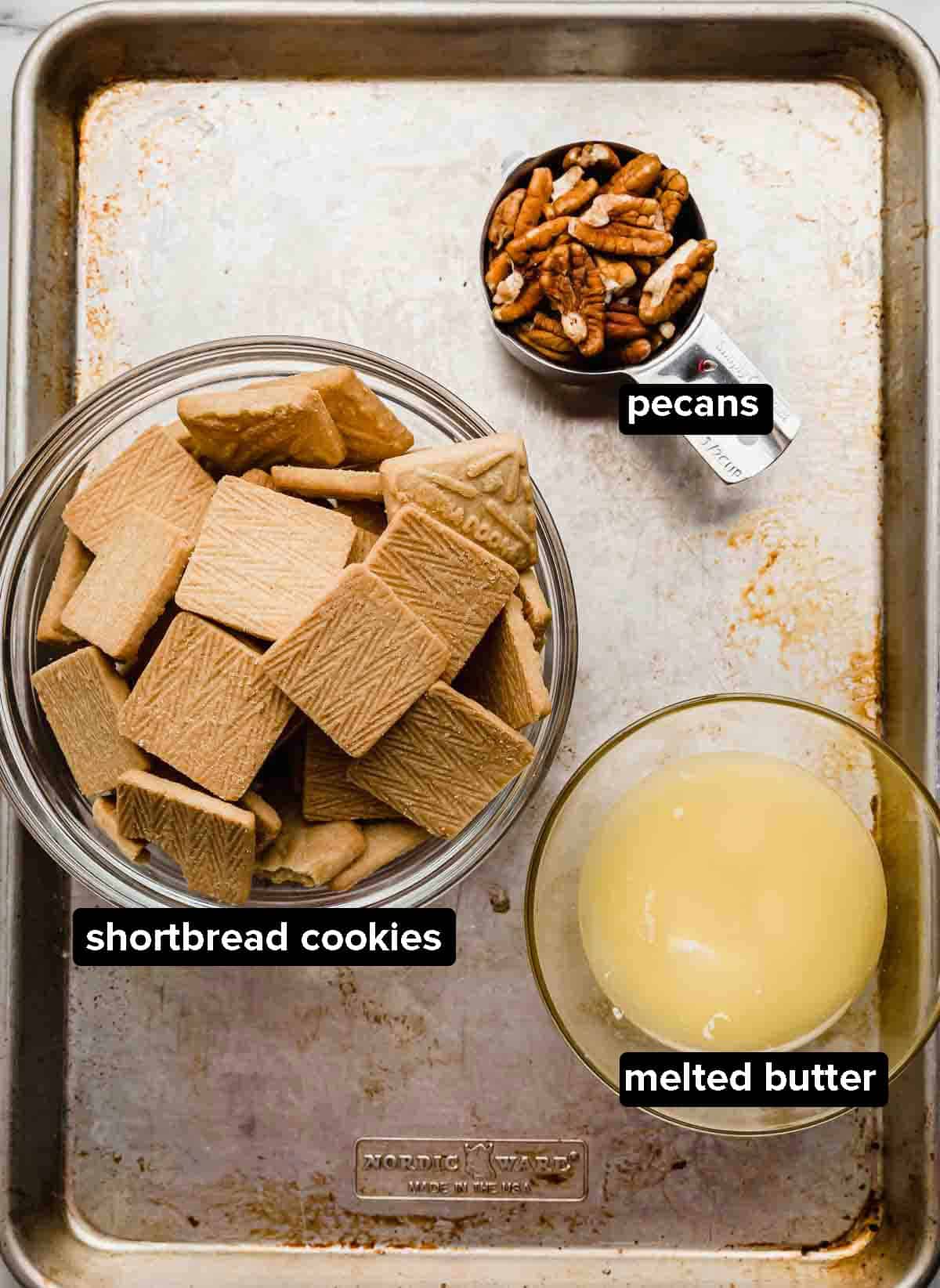 Shortbread Cookies: You'll need 10 oz shortbread cookies. Pulse in a food processor until fine crumbs form.
Pecans: You'll pulverize some of the pecans for the crust, but you'll also need chopped pecans to top the possum pie
Butter: There is melted butter in the shortbread cookie crust recipe. You'll also add some butter at the end of making the chocolate pudding to help provide a buttery flavor.
Cream Cheese: Make sure the cream cheese has properly come to room temperature to ensure a smooth texture when beaten.
Powdered Sugar: The powdered sugar will keep the cream cheesecake layer smooth and sweet.
Cornstarch: This will help thicken the homemade chocolate pudding.
Granulated Sugar: The granulated sugar will sweeten the chocolate mixture.
Unsweetened Cocoa Powder: You can use unsweetened or natural cocoa powder OR swap out for dutch process cocoa powder. 
Dark Chocolate: I used 60-70% chocolate. Finely chop it so it will melt quickly and evenly in the chocolate pudding.
Heavy Cream: Use cold whipped cream for best results. Beat up until stiff peaks form so the whipped cream will keep its form longer.
Step-by-Step Instructions
Make the shortbread pecan crust. Pulverize the shortbread cookies and chopped pecans in a food processor. Transfer to a medium bowl. Add 6 tablespoons melted butter and mix to combine. Spray a 9-inch pie plate with nonstick cooking spray. Place the shortbread crust mixture in the pie dish and press mixture into the bottom and sides of the pan. Bake at 350ºF and bake for 8 minutes. Remove and let cool completely.
Make the cream cheese layer. To the bowl of a stand mixer, beat the cream cheese until smooth. Add 3/4 cup powdered sugar, 1 tsp vanilla extract and 2 tablespoons heavy cream and beat until smooth, scraping down the sides of the bowl so everything is combined.
Spread cream cheese layer. Place the cream cheese mixture in the cooled pie crust and spread into an even layer on the bottom of the crust. Chill in the fridge.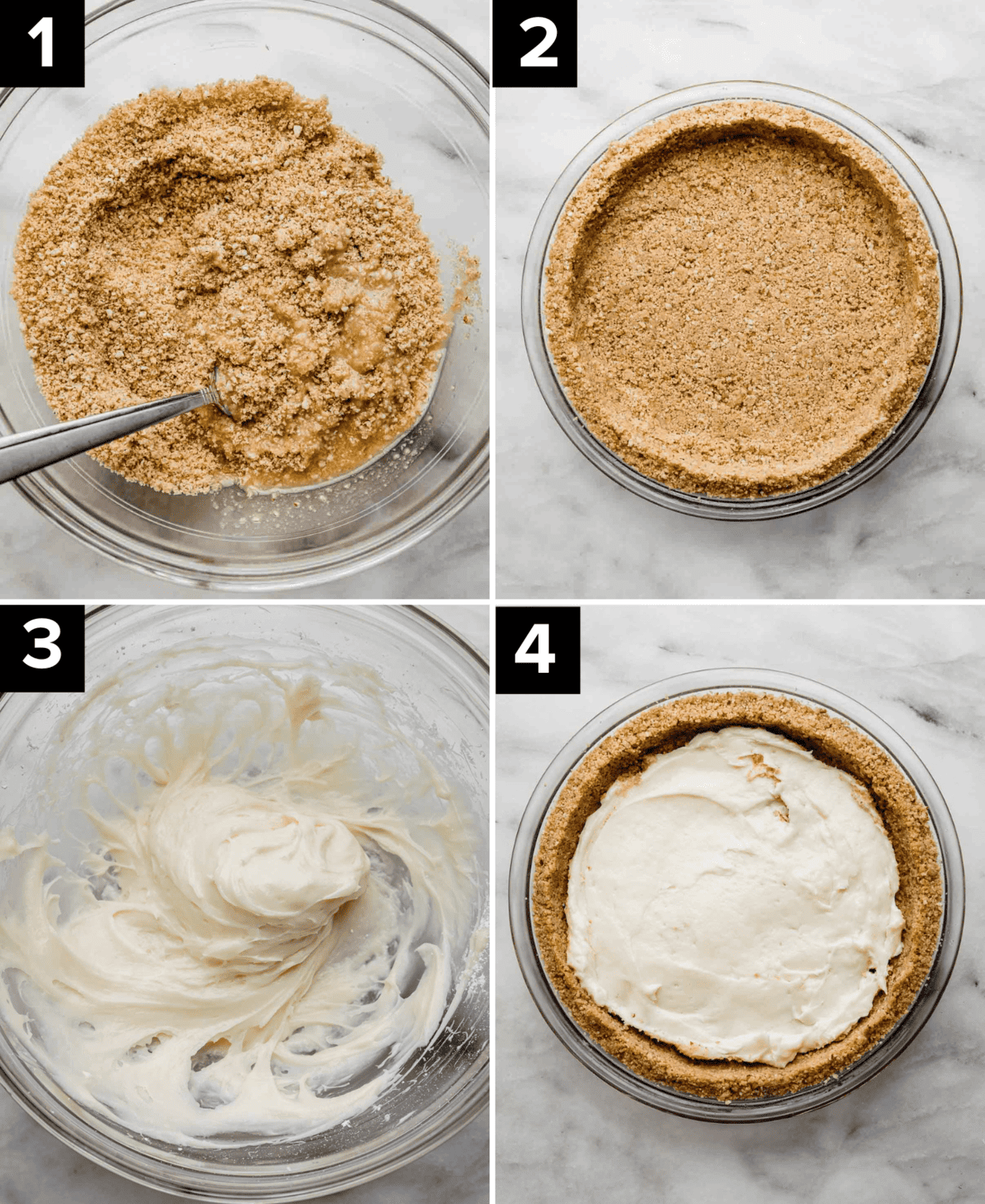 Make the chocolate pudding layer. To a medium saucepan, add 3 tablespoons cornstarch, 3/4 cup granulated sugar, 3 tablespoons unsweetened cocoa powder, and 1/4 tsp salt. Whisk to combine. Turn stove to medium heat and slowly whisk in 2 cups milk. Stir constantly and slowly bring mixture to a boil (it will take a while, don't turn heat up). Once boiling, continue whisking while the mixture boils for 2 minutes. Once finished, the mixture should be thick. Remove from heat and stir in 3 oz chopped chocolate, 1 tsp vanilla extract and 2 tablespoons butter. Transfer to a separate bowl and cover with plastic wrap, making sure the plastic wrap touches the surface of the pudding so a pudding skin doesn't form. Chill for 30 minutes in the fridge.
Pour pudding mixture on top of cream cheese mixture. Once the chocolate pudding is cooled, pour chocolate pudding on top of the cream cheese layer. Cover and chill in the fridge for 4 hours.
Make the whipped cream topping. Beat 3/4 cup heave cream, 1/4 cup powdered sugar, and 1 tsp vanilla extract until stiff peaks form. Spread on top of the chocolate pudding layer and add chopped pecans and or chocolate shavings to the top of the chilled pie. Chill this Arkansas specialty until ready to serve. Enjoy!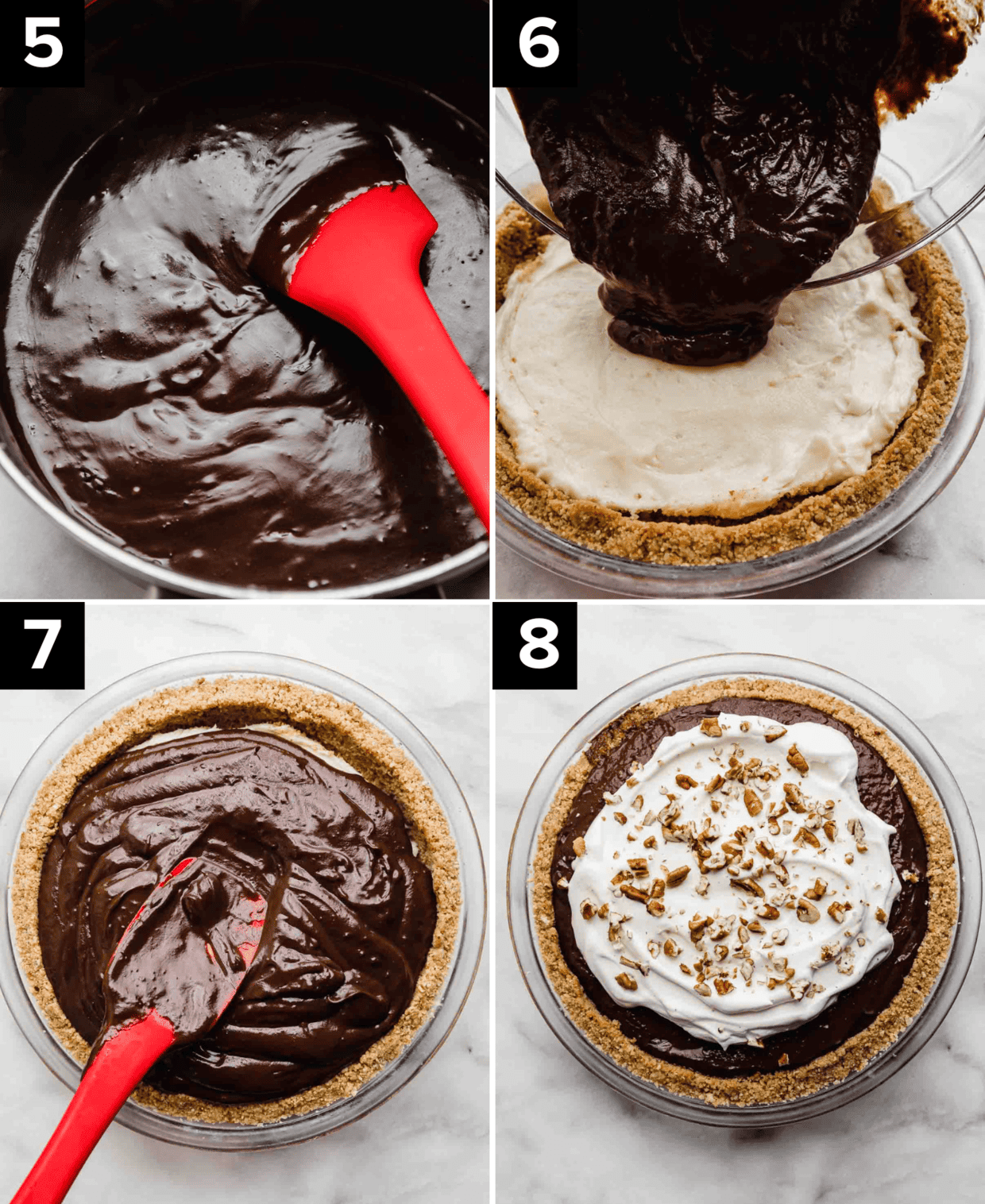 Recipe Tips
Ensure the shortbread crust is well-packed into the pie plate to create a sturdy base for the layers.
If you want a completely no bake possum pie, you can skip the baking step for the crust and simply chill it in the fridge or freezer for 30 minutes. It will need to chill for a while to set up in hopes of holding the filling better.
For a nut-free crust, you can omit the pecans.
Use room temperature cream cheese for a smoother cream cheese layer.
Be patient while bringing the chocolate pudding mixture to a boil; slow heating prevents lumps.
When chilling the pudding, ensure the plastic wrap touches the surface to prevent a skin from forming.
No stand mixer? No problem! Use a large bowl and an electric mixer.
Make Ahead, Storing, and Freezing
Make-Ahead Directions: You can prepare the entire chocolate layer pie in advance and refrigerate it for up to 24 hours before serving. This makes it a convenient dessert for special occasions and gatherings.
Storing Instructions: Leftover Arkansas Possum Pie can be stored in the refrigerator, covered with plastic wrap or aluminum foil, for up to 2-3 days. For longer storage, consider freezing portions.
Freezing Instructions: While the cream cheese layer may not freeze well, you can still freeze the possum pie. Wrap the pie tightly in plastic wrap and aluminum foil, and it can be stored in the freezer for up to 1-2 months. Thaw in the refrigerator before serving.
Recipe FAQs
What is possum pie made of?
Possum pie is a popular pie (with an unusual name) made with a shortbread pecan crust, a sweet cream cheese layer and a chocolate pudding layer, all topped with a whipped cream topping. So no, it doesn't have actual possum in it. 
Why is it called possum pie?
To play possum means to pretend to be asleep, so the name comes from this idea that the pie is pretending to be something else — this refers to the different layers of pie being covered by another layer. 
Can I use store-bought pie crust instead of making the shortbread pecan crust from scratch?
Yes, you can use a store-bought pie crust if you prefer a quicker option. I'm not familiar with shortbread cookie crusts you can buy at the grocery store, but if you find them, you can definitely use it! If not, you are welcome to use a graham cracker crust, with a slight alteration in texture and flavor. Also, remember that you won't have the pecan element in the crust. 
Can I substitute the type of chocolate in the pudding layer?
Absolutely, you can use your favorite chocolate, whether it's dark, semi-sweet, or milk chocolate, to customize the flavor.
How do I prevent the whipped cream from deflating?
Make sure the heavy cream is well-chilled, and beat it until stiff peaks form. This will help maintain the whipped cream's structure.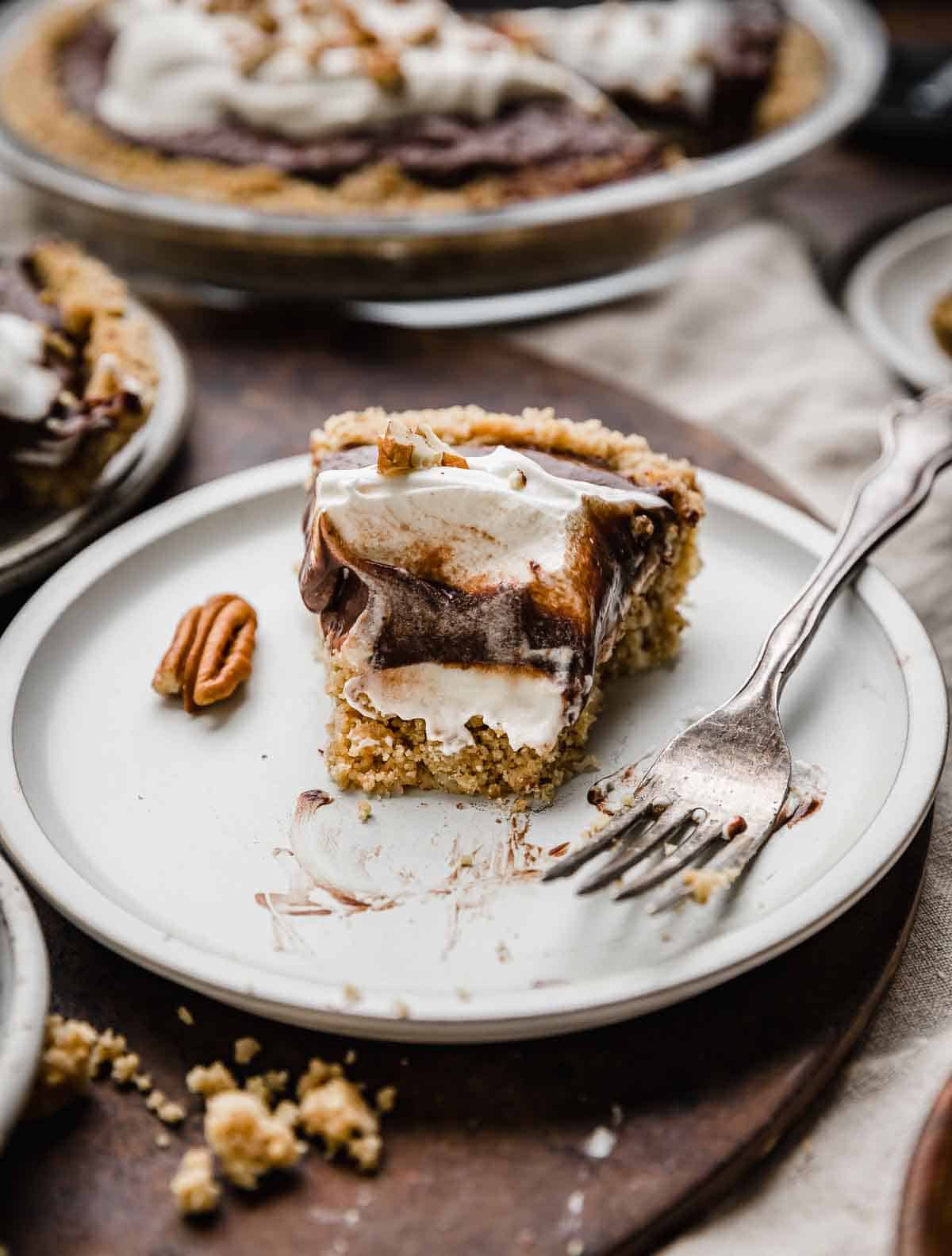 More Pie Recipes
Arkansas Possum Pie
A shortbread pecan crust is topped with a cream cheese layer, rich chocolate pudding layer, and light whipped cream. Some basic flavors come together beautifully to create this classic Possum pie recipe!
Ingredients
Instructions
Make the crust: Preheat the oven to 350°F. In a food processor (or my favorite kitchen gadget, a magic bullet) pulverize the shortbread cookies and chopped pecans into fine crumbs. Transfer to a medium bowl and add the melted butter. Mix to combine. Spray a 9 inch pie plate with nonstick cooking spray. Transfer the crust mixture to the pie plate. Press the crumb mixture along the bottom and up the sides of the pie pan. Bake for 8 minutes. Remove from the oven and let cool while you make the cream cheese layer.

Make cream cheese layer: In a medium bowl, or bowl of a stand mixer, beat the cream cheese until smooth and creamy. Add the powdered sugar, vanilla, and heavy cream and beat again until smooth. Scrape down the sides of the bowl as needed, in order to get everything evenly combined. Scoop the cream cheese layer into the cooled pie crust and using an offset spatula, spread it into an even layer (just along the bottom of the pie crust, not up the sides). Transfer to the fridge to chill while you prepare the chocolate layer.

Make the chocolate pudding layer: In a medium saucepan whisk the cornstarch, sugar, cocoa powder, and salt until evenly combined. Turn the heat to medium, and slowly whisk in the milk, stirring constantly. (Don't turn the heat up too high. It will take a while for the mixture to boil). Bring the mixture to a boil and continue to whisk as it boils for 2 minutes. The mixture should be thickening by now. 

Remove from the heat and stir in 3 oz of the chopped chocolate, vanilla and butter until melted and combined. Transfer the pudding to a different bowl. Cover the pudding with plastic wrap- making sure it touches the pudding to avoid developing a pudding skin). Refrigerate for 30 minutes to help the pudding cool down. 

Once the pudding has cooled down, remove the plastic wrap, stir, then spread over the cream cheese layer. Cover the pie with plastic wrap then refrigerate for 4 hours until set. 

Make the whipped cream topping: Beat the heavy cream, powdered sugar, and vanilla (if using a stand mixer use a whisk attachment) until stiff peaks. Spread the whipped cream over the chocolate pudding layer. Top the pie with chopped pecans. Store in the fridge until ready to serve. 
Notes
The pie will keep in the fridge for 2-3 days. 
Did you make this recipe?
Leave a star rating and review on the blog post letting me know how you liked this recipe! Take a picture and tag @saltandbaker on Instagram and Facebook so I can see what you're making!