Fruit Salad Cocktail
This post may include affiliate links. As an Amazon Associate I earn from qualifying purchases.
Fruit Cocktail is a delicious and easy fruit salad made with a honey lime dressing and a combination of fruits — I've used fresh pineapple, strawberries, blueberries, grapes, kiwi and bananas. You'll find this fruit salad cocktail is as easy to make as it is delicious to eat! 
This fruit salad cocktail is a family favorite for dinner, summer potlucks, summer barbecues or other special occasion. Acini di Pepe Salad, Cookie Salad and Tuna Avocado Macaroni Salad are also favorite recipes to serve at summer potlucks and parties.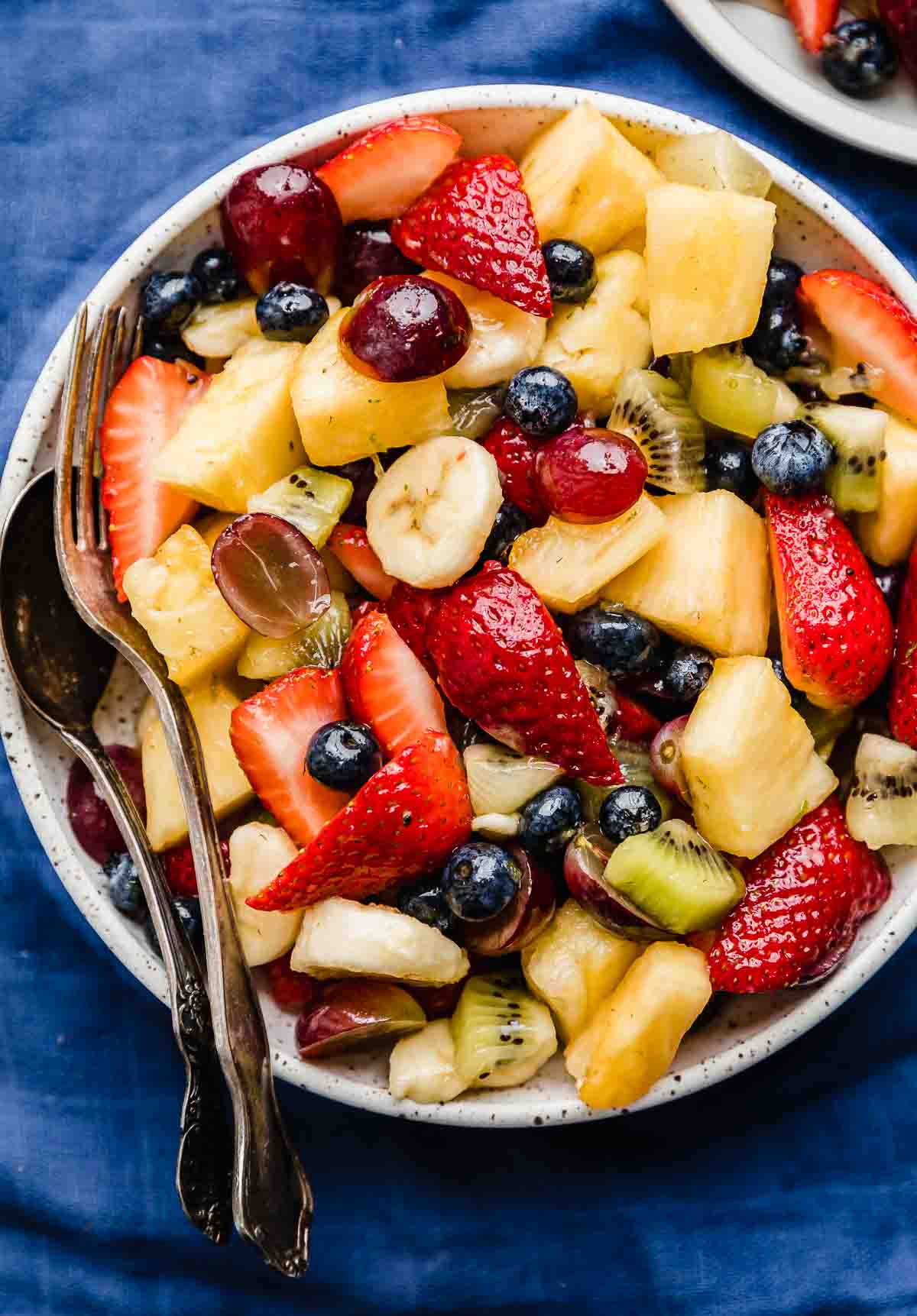 Why This Recipe Works
Fruit salad with dressing. This is the best fruit salad recipe is delicious because there is a sweet and zesty dressing that coats the fruit and helps bring out the natural fruit juices from the fruit.
Lots of fresh fruit. This easy fruit salad recipe is amazing because we use ALL fresh fruit! It's an easy way to use up any fruit in your fridge, too.
Simple fruit salad recipe. If you are looking for an easy recipe that uses simple ingredients to add some fruit to your dinner menu or to your summer party, this fresh fruit salad is the perfect side dish!
Ingredient Notes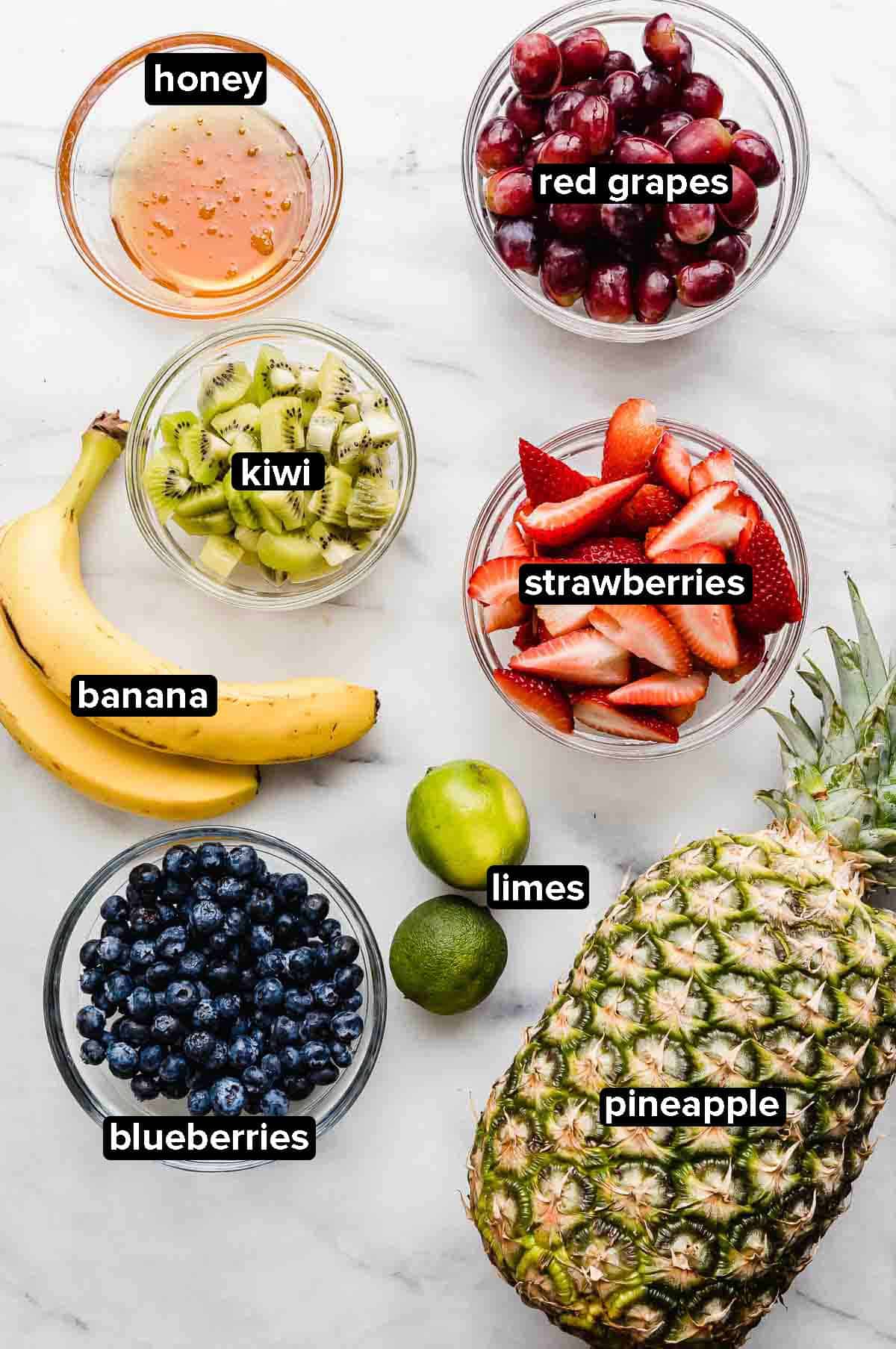 Variety of Fresh Fruits: My favorite fruits to use are fresh pineapple, fresh strawberries, fresh blueberries, red grapes, fresh kiwis and fresh bananas. Feel free to add any variety of fruits based on your liking.
Honey: The little honey creates a sweetness in the colorful fruit salad which helps to bring out the natural sweetness and flavors of the fruit.
Fresh Limes: Use fresh limes! You need them for the zest, so you may as well juice them for the sauce too.
Step-by-Step Instructions
Make the bright honey lime dressing. Add 1/4 cup honey, 1 1/2 tablespoons fresh lime juice and 2 teaspoons lime zest to a small bowl. Mix to combine.
Combine all the fruit. Add the pineapple chunks, chopped strawberries, halved red grapes and chopped kiwis to a large bowl. Add in the blueberries whole and freshly cut bananas.
Add the dressing to the fruit. Pour the fruit cocktail dressing to the bowl of fruit mixture and toss to coat. Serve!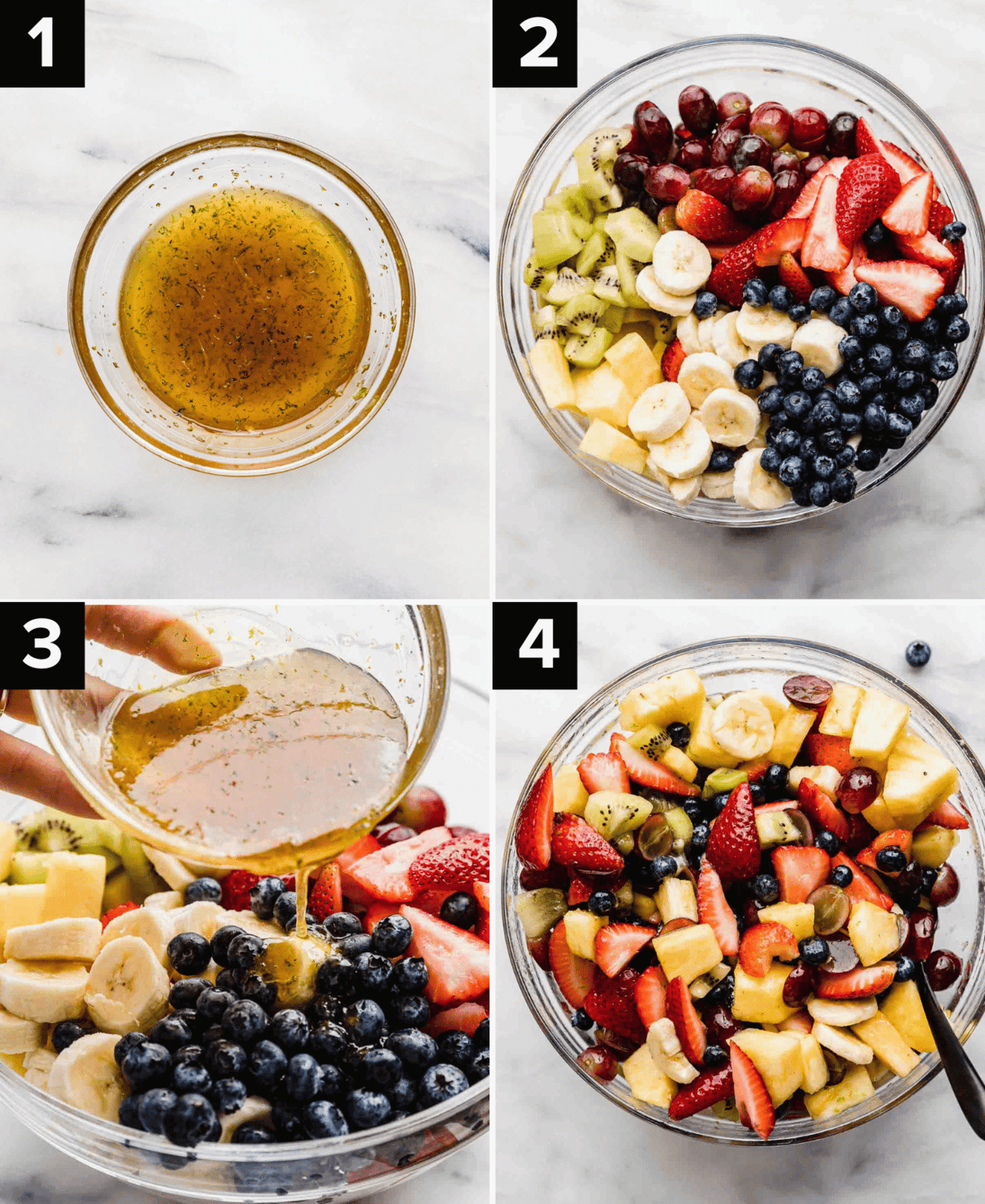 Recipe Tips
Feel free to change up the combination of fruit in this homemade fruit salad. Each of these fruits would be a great addition:
Apple slices
Pears
Blackberries
Raspberries
Mangoes
Peaches
Apricots
Green Grapes
Mandarin Oranges (can used canned or fresh cuties peeled and separated into orange segments)
Maraschino Cherries
I like to make this classic fruit salad in the summer months because it is perfect for summer outings and hot days, but you can make it whenever! Just use any seasonal fruit available at your grocery stores or farmers market.
The lime zest makes a big difference so I don't recommend skipping that! Plus if you are buying fresh limes for the zest, then the fresh lime juice will be perfect. If you don't have limes you can use fresh lemon zest and lemon juice.
Make Ahead, Storing, and Freezing
To make ahead of time, wash and cut the fruit in advance. Store them in the fridge in an airtight container then add the prepared fruit to the bowl and toss with the fruit salad dressing. Do not cut the bananas ahead of time. You want to cut the bananas right before assembling the salad.
Make the dressing ahead of time and store in the fridge in an airtight container.
Store any leftover fruit salad in an airtight container in the fridge for 3-4 days. You can also freeze this delicious fruit salad and use to make smoothies if you'd like! Freeze the fruit with or without the dressing. Just note that if you thaw the fruit salad cocktail it will go mushy.
You can leave the fruit salad cocktail out at room temperature for a few hours while serving it, but then I would return it to the fridge.
Recipe FAQs
Can fruit cocktail be frozen?
Yes it can freeze this easy fruit cocktail salad! You just won't get that fresh fruit vibe from it once you thaw it. But you can freeze it and then use the frozen fruit in smoothies if you'd like! 
What goes in fruit cocktail?
This is up to you, really! That's the best thing about fruit salad cocktail. You can add in different fruits or swap out fruits for new fruits. 
Is fruit cocktail good for you?
It really depends on the simple dressing that is used for the fruit salad. Typically canned fruit cocktail will use refined sugar. This is a healthy fruit cocktail recipe because we use honey in our simple syrup! Honey is a natural sweetener so it's the best option when it comes to sweetening the fruit salad.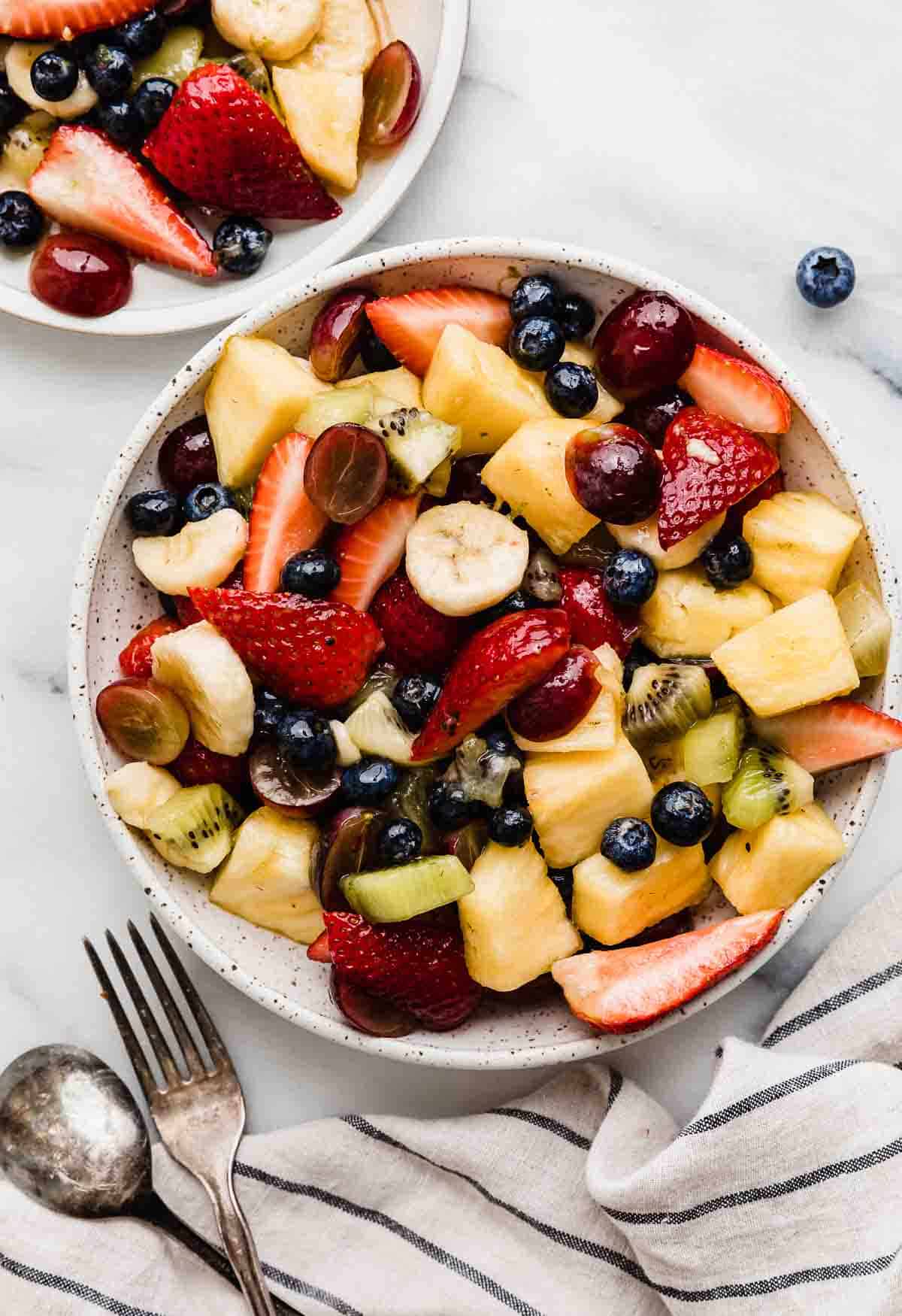 Fruity Recipes
Fruit Salad Cocktail
An array of fruits are tossed in a honey lime dressing to make this delicious fruit cocktail (fruit salad recipe). My favorite fruits to use are strawberries, blueberries, grapes, pineapple, kiwi, and bananas.
Ingredients
1

lb

fresh pineapple

-

chopped

1

lb

strawberries

-

hulled and chopped

12

oz

fresh blueberries

12

oz

red grapes

-

sliced in half

6

kiwis

-

peeled and chopped

2

medium

bananas

-

chopped
Honey Lime Dressing
1/4

cup

honey

1 1/2

tablespoons

fresh lime juice

2

teaspoons

lime zest
Instructions
Add all of the fresh fruit to a large bowl. 

Make the dressing by whisking the honey, zest, and lime juice in a small bowl. 

Drizzle the dressing over the fruit and gently toss to coat. Serve immediately. 
Notes
Can chop the fruit a day in advance. Don't chop the banana until you're assembling the salad as it will turn brown.
Can make the dressing a day in advance too. Just store in an airtight container in the fridge.
Makes enough for roughly 12 side servings.
Did you make this recipe?
Leave a star rating and review on the blog post letting me know how you liked this recipe! Take a picture and tag @saltandbaker on Instagram and Facebook so I can see what you're making!