Honey Lime Chicken Enchiladas
This post may include affiliate links. As an Amazon Associate I earn from qualifying purchases.
These Honey Lime Chicken Enchiladas are the best enchiladas you'll ever have! The shredded chicken is marinated in a delicious honey lime sauce, then its rolled in a tortilla with shredded Monterey Jack cheese and topped with a creamy salsa verde enchilada sauce and baked to perfection! I'm drooling just thinking about this amazing flavor combination!
Whenever I'm meal planning, these honey lime enchiladas are always the meal my husband requests! We serve them with my Pico de Gallo Recipe and our absolute favorite, Sweet Bell Pepper Rice! It's a blend of sweet bell peppers, onion, cilantro and white rice. And if you're looking for a delicious chili recipe that has a lot of these flavors, try my Crock Pot Cream Cheese Chicken Chili.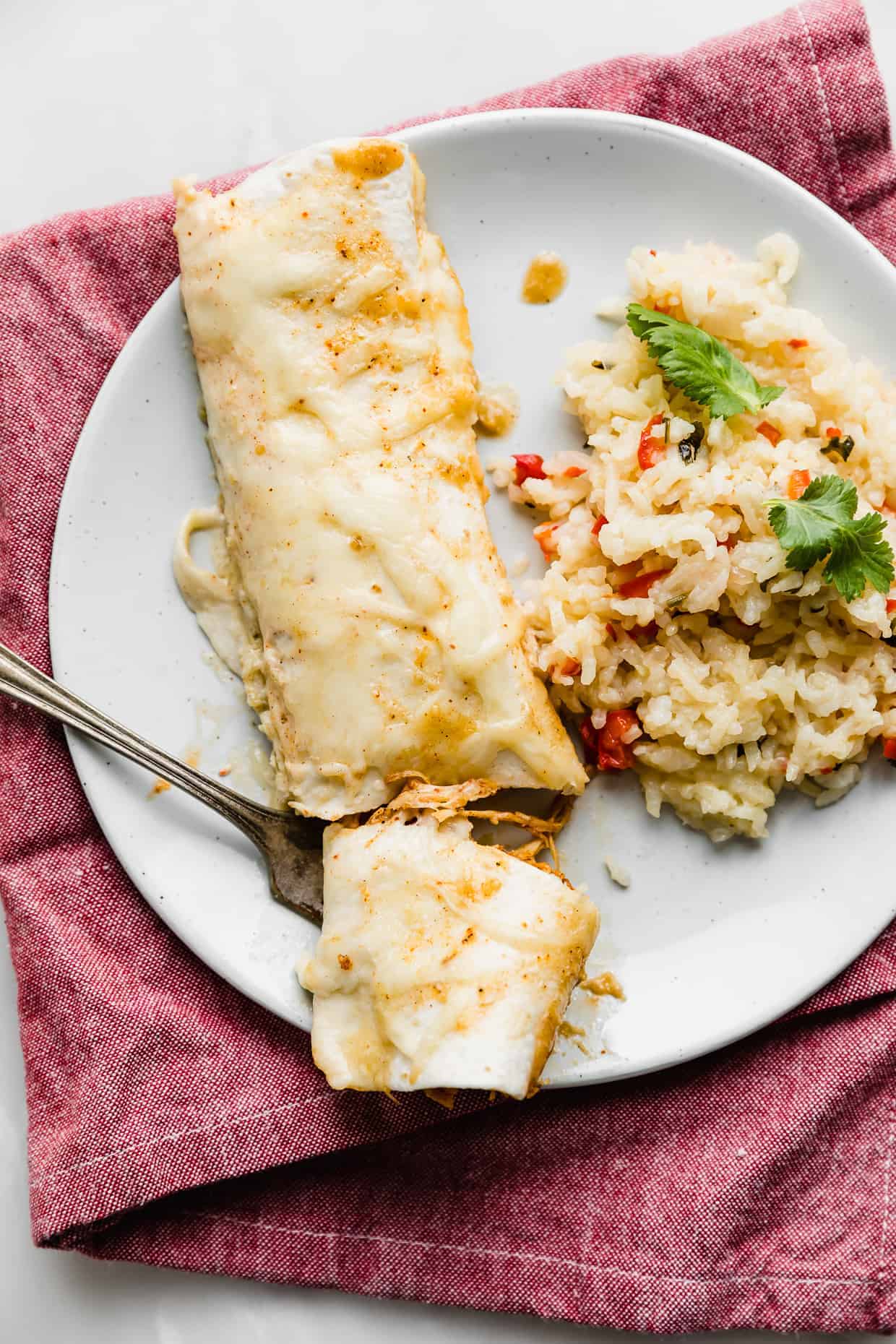 Why This Recipe Works
Incredibly flavorful chicken enchiladas. Let's be honest, enchiladas can be bland. But not in this recipe! The combination of the honey, lime, and chili powder just works! This combo brings the sweet flavor with a punch of tart lime and chili to the enchiladas.
Use leftover chicken or rotisserie chicken. Using precooked, shredded chicken ensures this recipe comes together quickly. You can use any leftover chicken from yesterday's meal, grab a rotisserie chicken from the store, or I even use the Kirkland canned chicken from Costco when I'm in a pinch.
Make ahead or freezer meal. These are great make ahead enchiladas since the chicken marinates. Take it to potlucks give to a friend! Make the chicken marinade and store that in the freezer so all you have to do is roll the enchiladas and top with cheese and sauce!
Favorite family recipe. This recipe was given to me by my mother-in-law, and my family loves them so much I just had to put them on the blog to share with you all! Everything from the honey lime chicken marinade to the sauce on top is packed with flavor so every bite is as delicious as the last. It's an easy Mexican dinner that is perfect for picky kids!
Ingredient Notes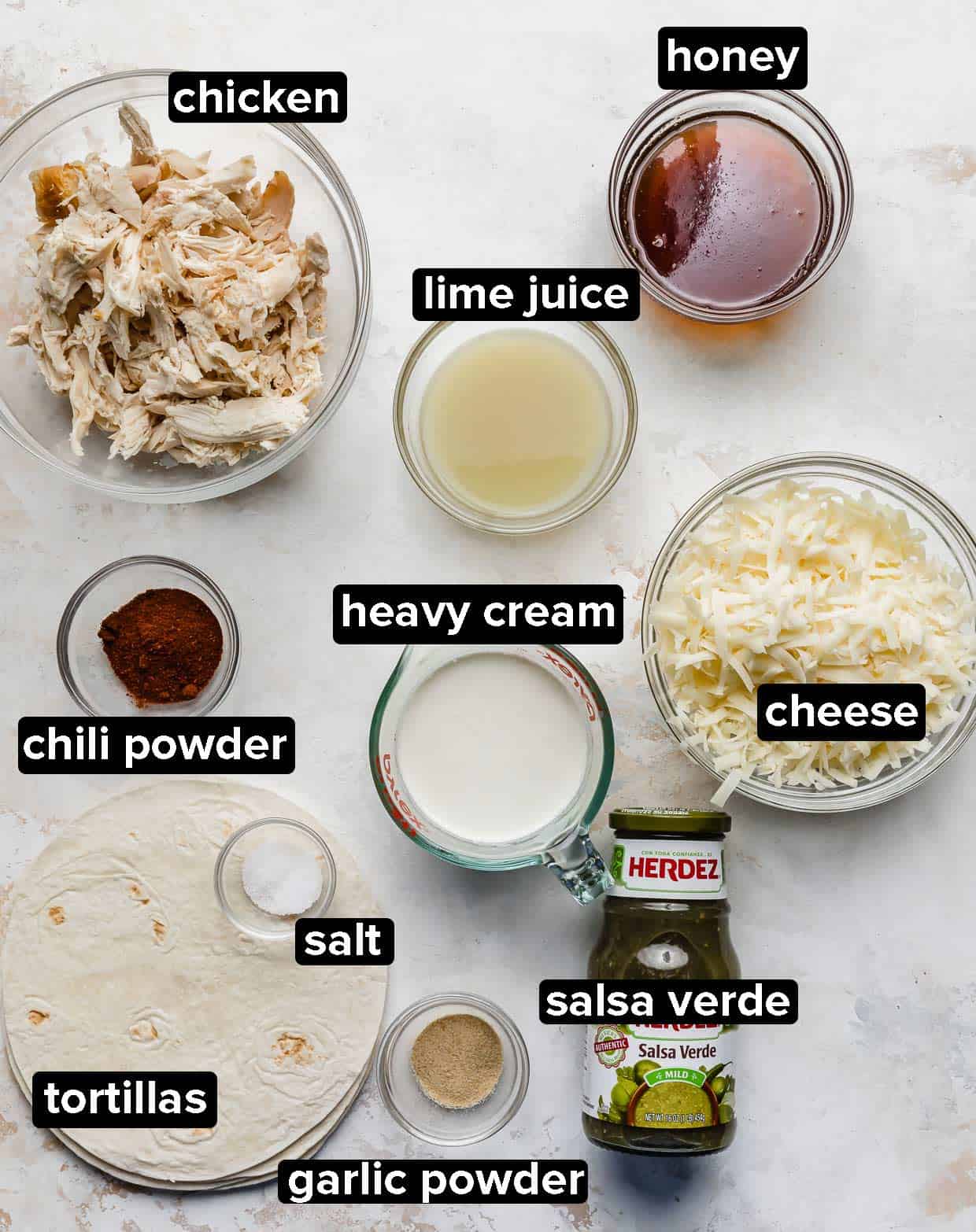 Chicken: We need some cooked and shredded chicken for the filling of our enchiladas so use what you have on hand (like leftovers or rotisserie chicken) or cook up a few chicken breasts in advance.
Salsa Verde: By using a jar of pre-made salsa verde, we can create the base of our enchilada sauce with very little effort, perfect for an easy dinner for those busy weeknights.
Flour Tortillas: Using flour tortillas will give us a nice soft texture and the flavor works great with the sauce as well.
Honey: The honey adds a nice sweetness to the lime chicken enchilada marinade.
Chili Powder: Chili powder is more of a sweet, smokey flavor than spicy. If you want spice, add some red pepper flakes or jalepeños to the mixture.
Heavy Cream: The heavy cream will create a nice creamy texture in the enchilada sauce. It's so much better than a red enchilada sauce!
Monterey Jack Cheese: Trust me when I say you're going to want Monterey Jack cheese instead of cheddar cheese. It's got a much more complementary flavor that will taste much better with the honey lime enchiladas.
Step-By-Step Instructions
Make the chicken marinade. Combine honey, lime juice, chili powder, garlic powder, and salt in a large bowl and mix. Stir in the cooked, shredded chicken and let rest for 10 minutes.
Prepare the pan. To reduce sticking, pour 2/3 of the jar of salsa verde into the bottom of a 9×13 casserole dish. You want just enough to cover the bottom of the pan, reserving the rest of the salsa for the top of the enchiladas.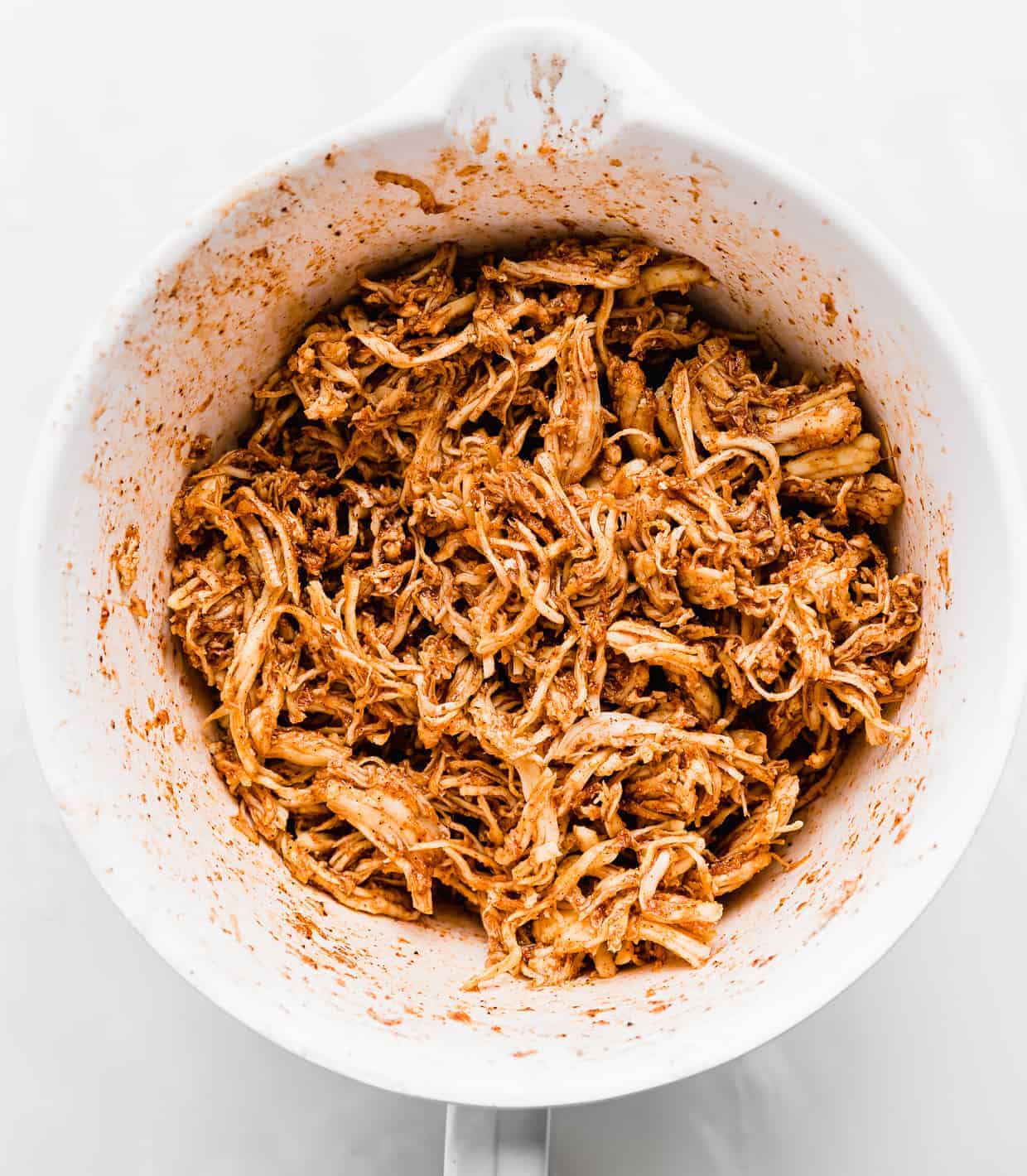 Roll the enchiladas. Add a few tablespoons of the marinaded chicken and add 2 tablespoons or so of cheese in the middle of each tortilla. Roll the tortillas and place seam-side down in the salsa verde baking dish. Repeat until all tortillas have been filled, rolled, and placed.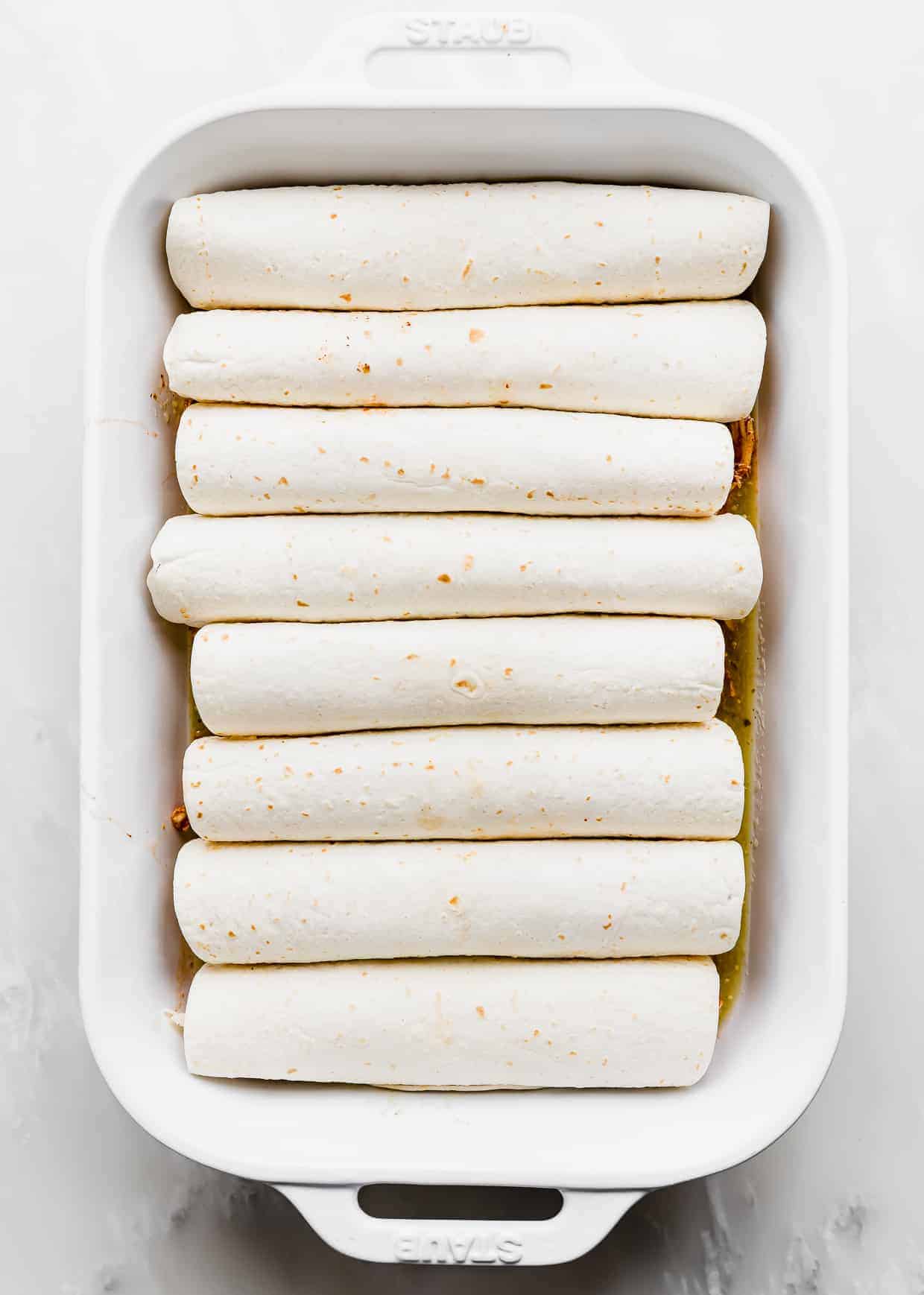 Make the enchilada sauce. Add the rest of the salsa verde and the heavy cream to the leftover marinade from the chicken. Mix until combined. Pour this creamy enchilada sauce over the top of the enchiladas and then cover with any remaining cheese. (Use all the sauce! You don't want any remaining enchilada sauce.)
Bake the honey lime chicken enchiladas. Bake at 350ºF for 30-40 minutes or until the cheese is golden and bubbly. Remove and serve with Sweet Pepper Rice!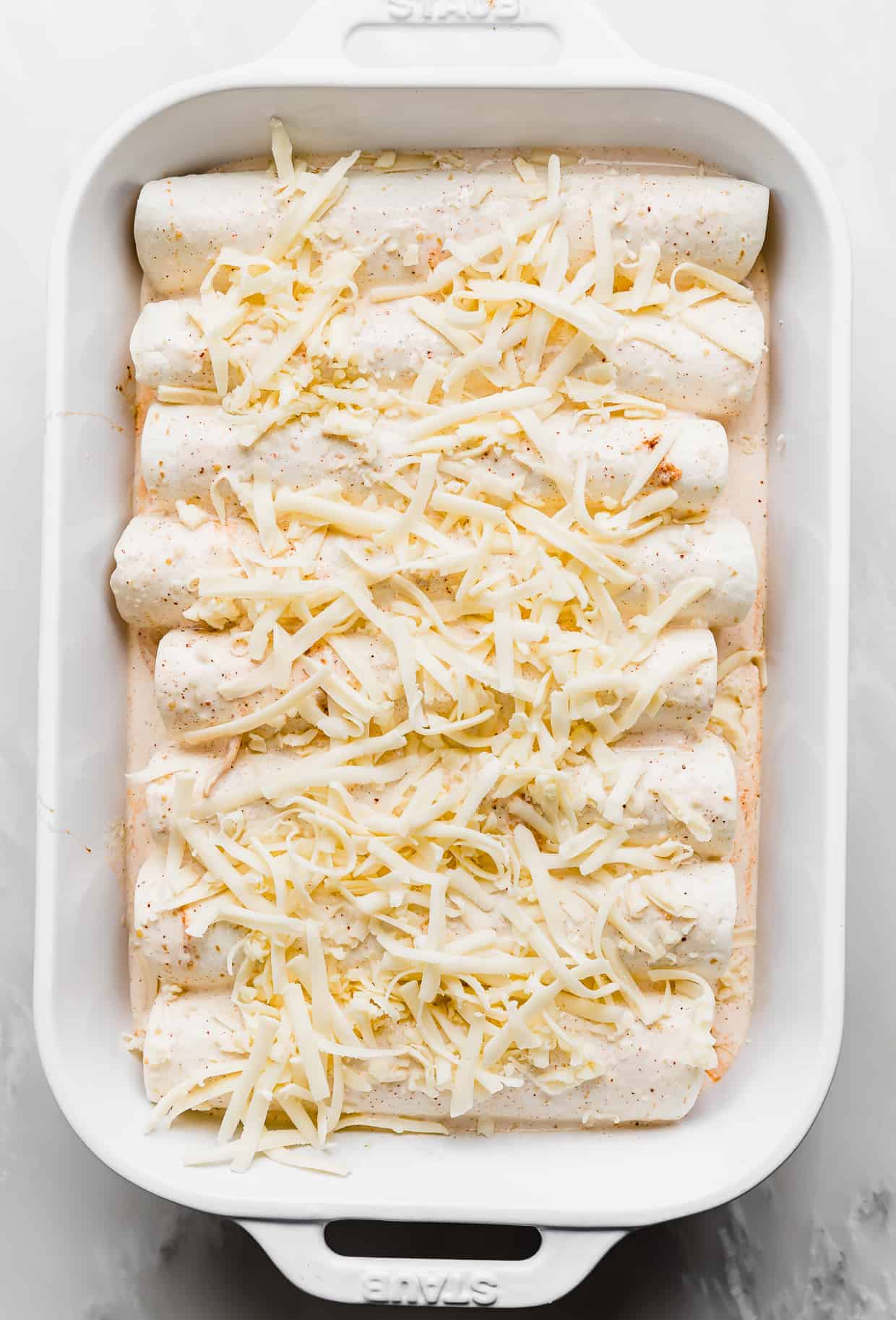 Recipe Tips
You can use leftover chicken, shredded rotisserie chicken, or freshly cooked chicken breast that is shredded.
Easily shred chicken in the bowl of a stand mixer with the paddle attachment. Mix on low. This produces perfectly shredded chicken in seconds as opposed to the minutes it would take to shred by hand with two forks.
Only use the marinade with cooked chicken. Do not use on raw chicken.
To reduce calories use half and half rather than heavy cream in the sauce.
Other variations include
Adding red pepper flakes or jalepeños to the enchilada chicken mixture for heat.
Sautéing red and green bell peppers + onions and adding that to the chicken filling.
Adding 1 can of corn (drained) to the enchilada mixture.
Adding your choice of beans (pinto beans, black beans, etc.) to each tortilla.
I highly recommend serving this easy chicken enchilada recipe alongside my Sweet Pepper Rice Recipe! The sweetness of the honey from the enchiladas pairs so nicely with the sweet pepper rice. You can have these two dishes cook side by side on the rack and serve them up together! Other options include Rice Cooker Cilantro Lime Rice, Mexican street corn casserole and refried beans. Add a dessert by making my Mexican Rice Pudding (Arroz con Leche)! 
You can warm your tortillas in the microwave in just a few seconds (about 30 seconds for a stack of 8). This would help to soften the tortillas so they are easier to roll without cracking. If your tortillas are fresher, you may not need this tip.
Make Ahead, Storing, and Freezing
To make ahead of time, you can let the shredded chicken marinate overnight. You can also make the shredded chicken enchilada mixture and freeze it in a freezer safe bag for 1-2 months.
Store any leftover honey lime chicken enchiladas covered in the fridge for 2-3 days. Reheat in the oven or in the microwave.
If you want to use this recipe for a freezer meal, I recommend freezing the chicken marinade mixture in an airtight container or freezer safe Ziplock bag. The flour tortillas will go soggy once frozen and thaw, while the heavy cream (in the enchilada sauce) can go grainy when thawed.
One fix would be to use corn tortillas if you are freezing these easy honey lime chicken enchiladas since they won't get as soggy, then hold off on the enchilada sauce (with the heavy cream) and add that on top. No need to bake before freezing. Remove from the freezer and bake from frozen (removing any plastic covering if used). You'll want to add another 15 minutes or so to the bake time.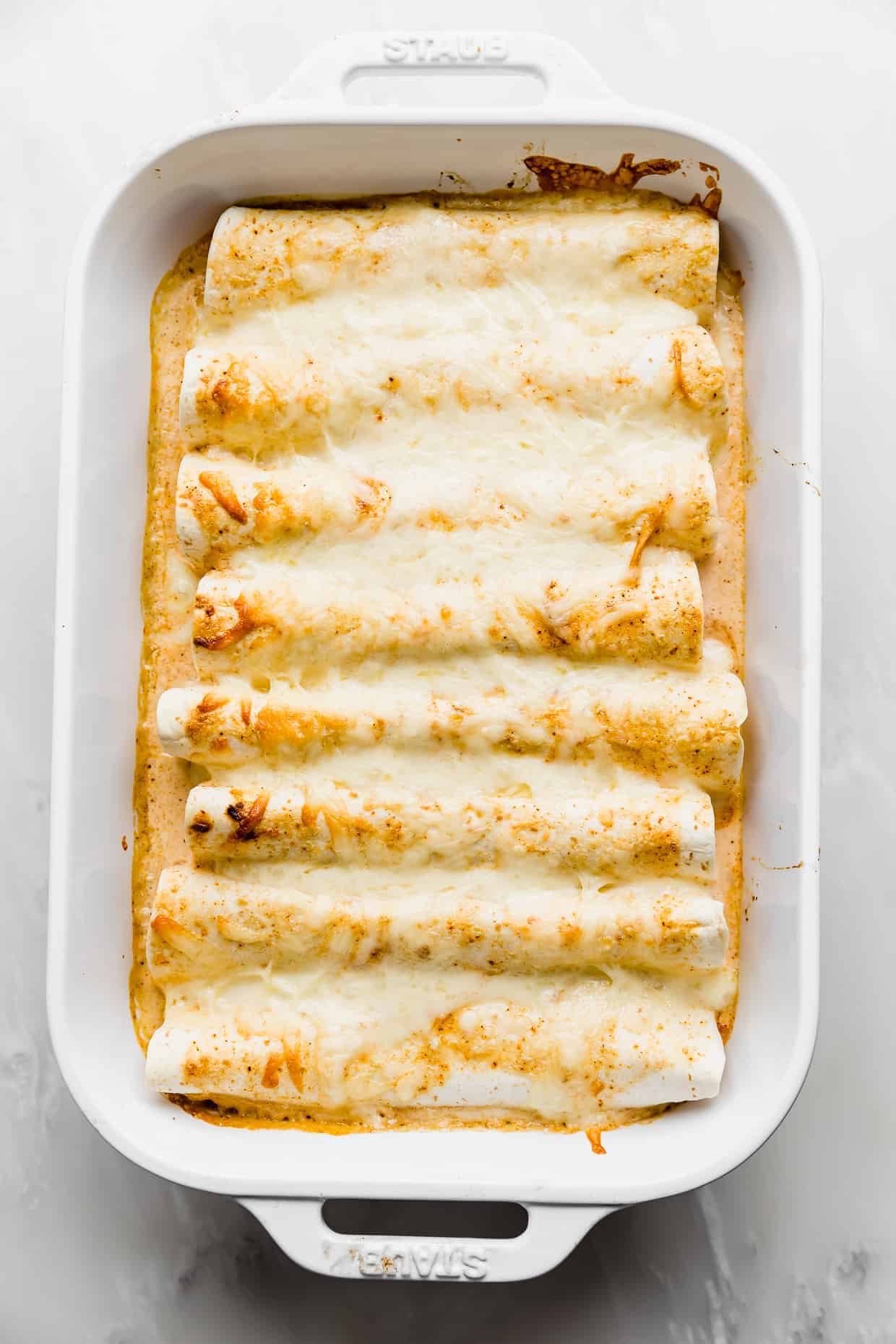 Recipe FAQs
Do you precook tortillas for enchiladas?
If you are using uncooked tortillas, you will want to cook them prior to rolling the enchiladas. 
How long do enchiladas last?
Assuming you have any leftovers, place them in an airtight container in the fridge (or cover your baking dish with plastic wrap well before storing them in the fridge) for up to 5 days. For best results, eat them within 3 days as the tortillas will continue to soak up juices as they rest.
What's the difference between green enchilada sauce and salsa verde?
Enchilada sauce is a cooked sauce, unlike salsa verde which is fresh. Green enchilada sauce is also much thinner, whereas salsa verde is a chunkier texture. 
Can I use green enchilada sauce instead?
I wouldn't! Green enchilada sauce is a different product than salsa verde. We aren't using a pre-made enchilada sauce in this recipe. Instead, we are combining heavy cream and salsa verde (along with the honey lime chili chicken marinade) to make our own, homemade enchilada sauce! It's so much better! Trust me.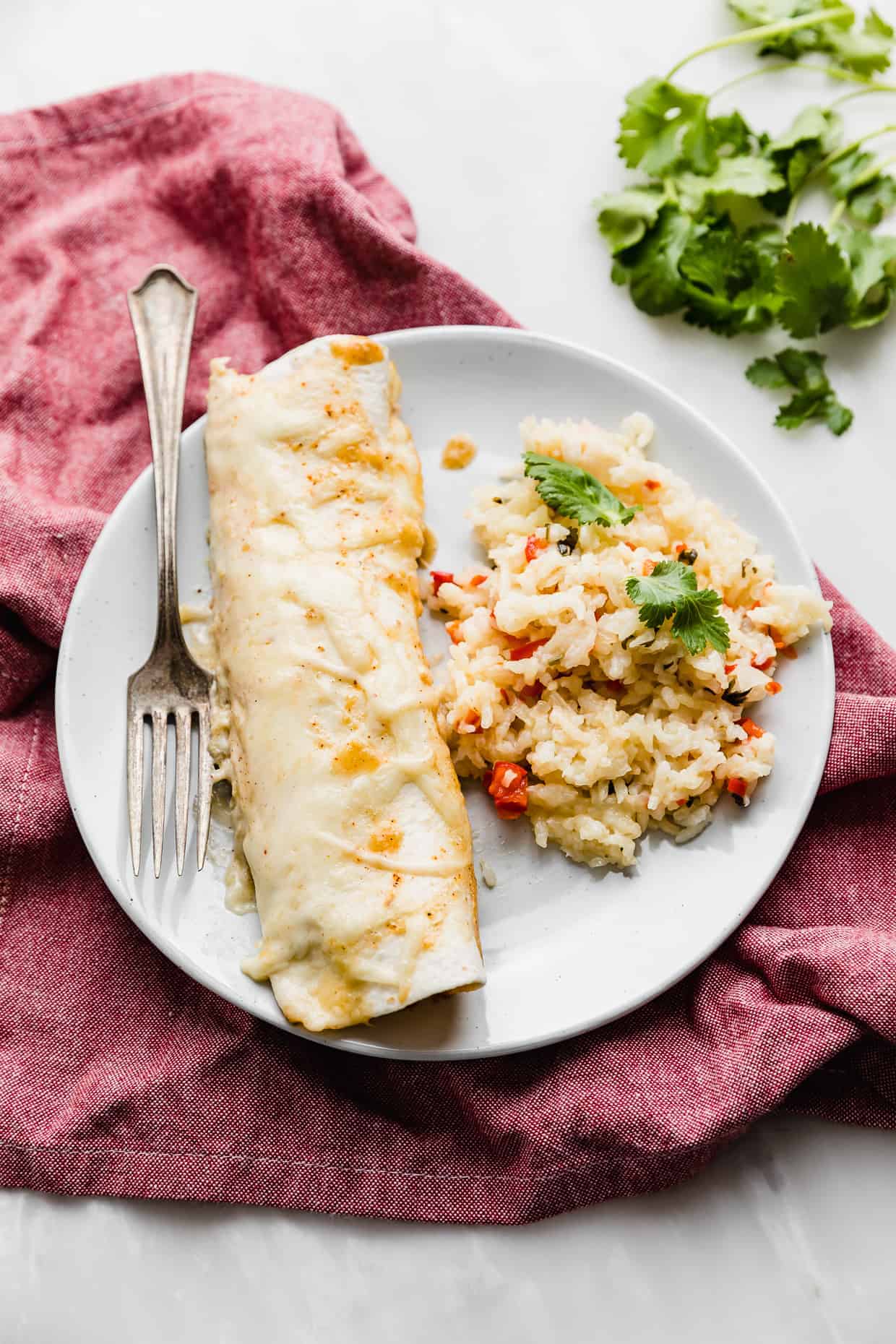 More Mexican Recipes
Honey Lime Chicken Enchiladas
One of my favorite meals ever! These enchiladas are so yummy. The chicken is marinated in a sweetened lime and chili powder mixture then topped with a creamy sauce and baked until the cheese turns golden brown. Serve these enchiladas alongside my sweet pepper rice.
Ingredients
2-3

cups

chicken

-

cooked and shredded

16

oz

jar salsa verde

1/3

cup

honey

1/4

cup

lime juice

1

tablespoon

chili powder

1

teaspoons

garlic powder

1/4

teaspoon

salt

1

cup

heavy cream

8-10

flour tortillas

4

cups

Monterey jack cheese

-

shredded
Instructions
In a large bowl whisk the honey, lime juice, chili powder, garlic powder, and salt. Stir in the shredded chicken and let sit for 10 minutes. 

In a 9×13 inch pan pour 2/3 of the salsa Verde, enough to cover the bottom of the pan. Reserve the remaining salsa. 

Take a flour tortilla and fill it with a few tablespoons of the chicken and 2 tablespoons or so of cheese. Roll up the tortilla and place seam side down in the salsa Verde. Repeat process until all tortillas are filled and the chicken has been used up. 

Once the chicken has been removed from the bowl there should be some lime sauce left over in the bowl. To that sauce add the heavy cream and the remaining salsa Verde. Pour this mixture over the enchiladas, then cover the enchiladas with the any remaining shredded cheese. 

Bake for 30-40 minutes or until cheese is golden and bubbly. Remove and serve with sweet pepper rice.
Notes
Use the chicken marinade on the cooked, shredded chicken. Do not use the marinade with raw chicken. 
Serve with my Sweet Pepper Rice. 
This recipe yields about 8-10 well filled enchiladas. 
Nutritional information is an estimate and may not be exact. 
Recipe from my mother-in-law. 
Did you make this recipe?
Leave a star rating and review on the blog post letting me know how you liked this recipe! Take a picture and tag @saltandbaker on Instagram and Facebook so I can see what you're making!