Gluten Free Scalloped Potatoes
This post may include affiliate links. As an Amazon Associate I earn from qualifying purchases.
This Gluten Free Scalloped Potatoes is an elegant side dish made with cream, butter, cheese, and delicious spices to complement the tender potato slices. This classic side dish recipe doesn't contain flour, making it completely gluten free!
If you want more crowd pleaser favorite potato side dishes as delicious and easy as this homemade scalloped potatoes recipe, then try my twice baked potatoes and funeral potatoes — they are some of our favorites!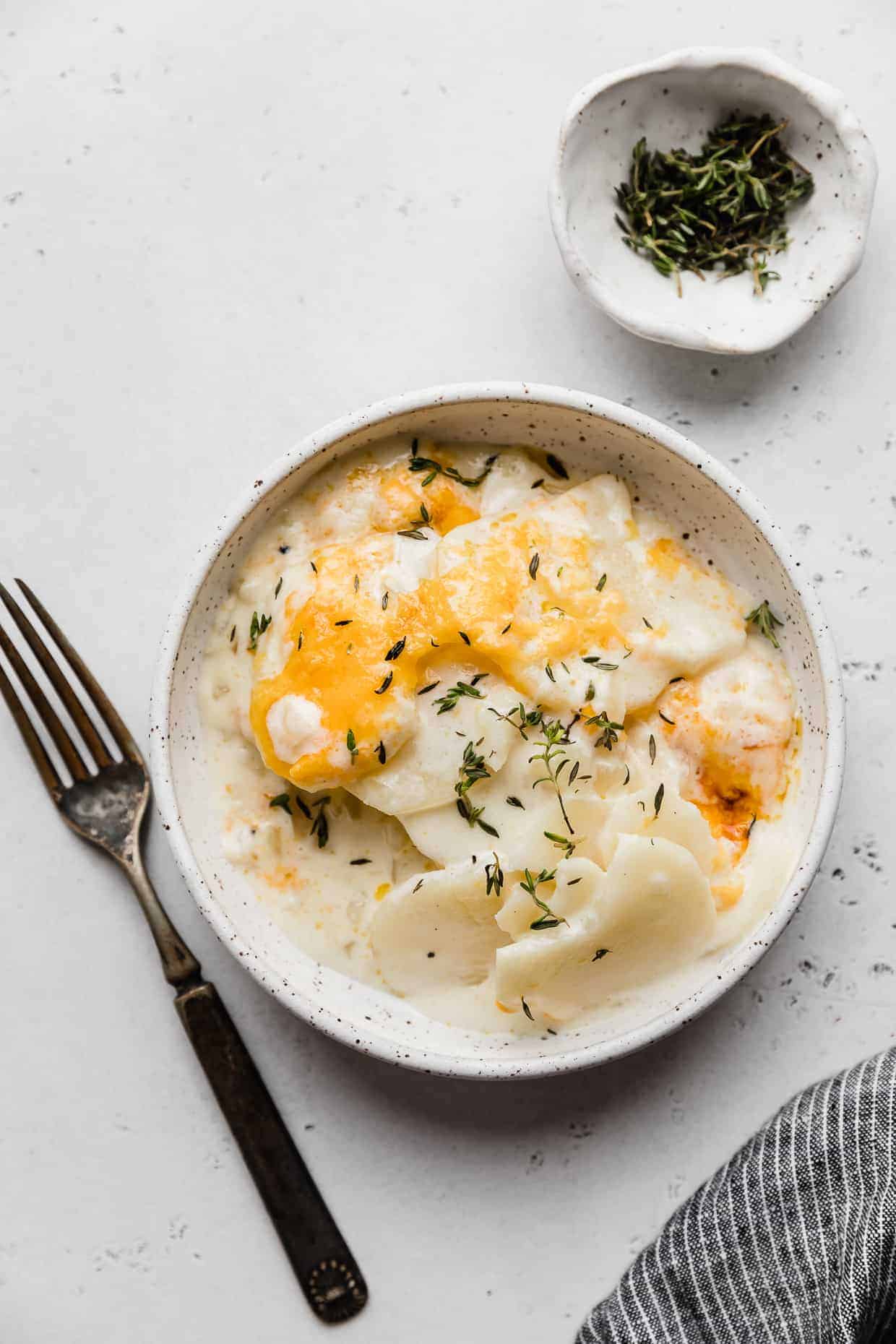 Why This Recipe Works
Parboiled potatoes. This scalloped potatoes recipe is easy because we parboil the potatoes on the stove in the delicious cream sauce so they only have to bake for about 15 minutes in the oven!
Delicious creamy scalloped potatoes. These gluten-free scalloped potatoes are cooked in a delicious creamy cheese sauce and are topped with cheese! It's the best scalloped potatoes!
Scalloped potatoes without flour. This scalloped potato recipe doesn't use any flour, meaning it is completely gluten free — but still oh so creamy and delicious!
Ingredient Notes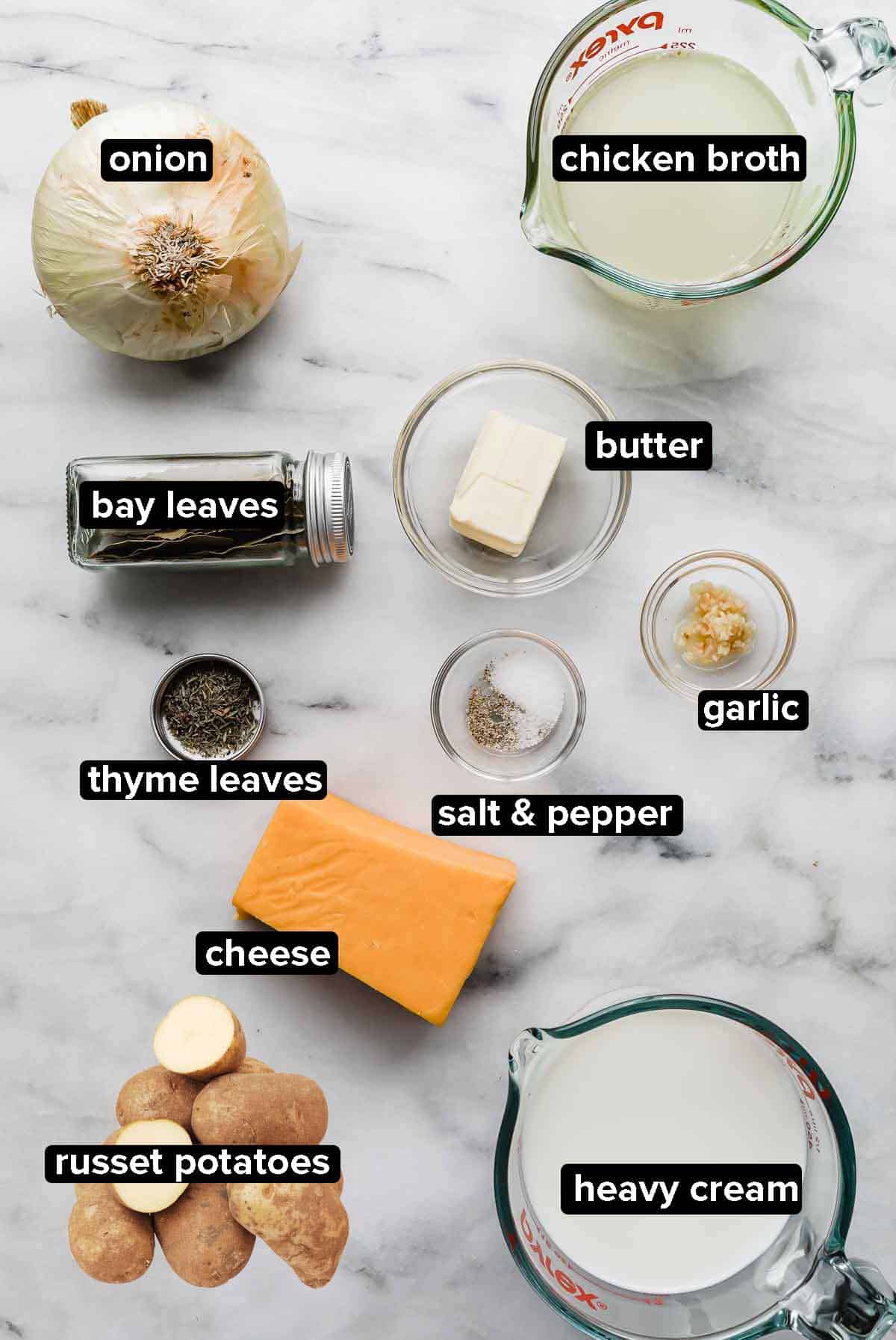 Unsalted Butter: If you use salted, you could cut back on the salt. You won't want the dish too salty. You can always add more salt when it's served.
Onion: I'd opt for a yellow or white onion.
Garlic Cloves: Minced garlic will give us a stronger garlic flavor than garlic powder would. But it isn't too in your face, don't worry.
Chicken Broth: You can use vegetable broth instead if you'd like.
Heavy Cream: If you want a lighter sauce (that also isn't as thick) use half and half instead.
Russet Potatoes: Peeled and sliced 1/8 inch thick (3mm thick) use a mandoline for uniform slices. You want the potatoes to be thin and uniform so they all cook evenly. I'd say the best potatoes for this would be russets or Yukon potatoes.
Bay Leaves: Keep these whole so they are easy to remove.
Fresh Thyme: Sprigs of thyme are different from ground thyme seasoning. The sprig will infuse into the cheesy scalloped potatoes while cooking and then you can remove it.
Cheddar Cheese: You can switch things up by choosing a different cheese if you'd like. See the recipe tips section for ideas.
Step-by-Step Instructions
Make the creamy sauce. Preheat the oven to 425ºF with the oven rack in the middle position. Grease a 9×13-inch baking dish or casserole dish with butter or cooking spray. Add 2 tablespoons butter to a large dutch oven and melt butter over medium high heat. Add the diced onion and cook for 5 minutes. Add the minced garlic and cook until fragrant (about a minute more).
Add remaining ingredients. Add 1 1/2 cups chicken broth, 2 1/2 cups heavy cream, 2 tsp salt, 1/4 tsp black pepper, the thinly sliced potatoes, 2 bay leaves, and the fresh thyme. Bring everything to a boil. Once boiling, reduce to medium-low heat, cover, and cook for 7-12 minutes or until the potatoes are almost tender.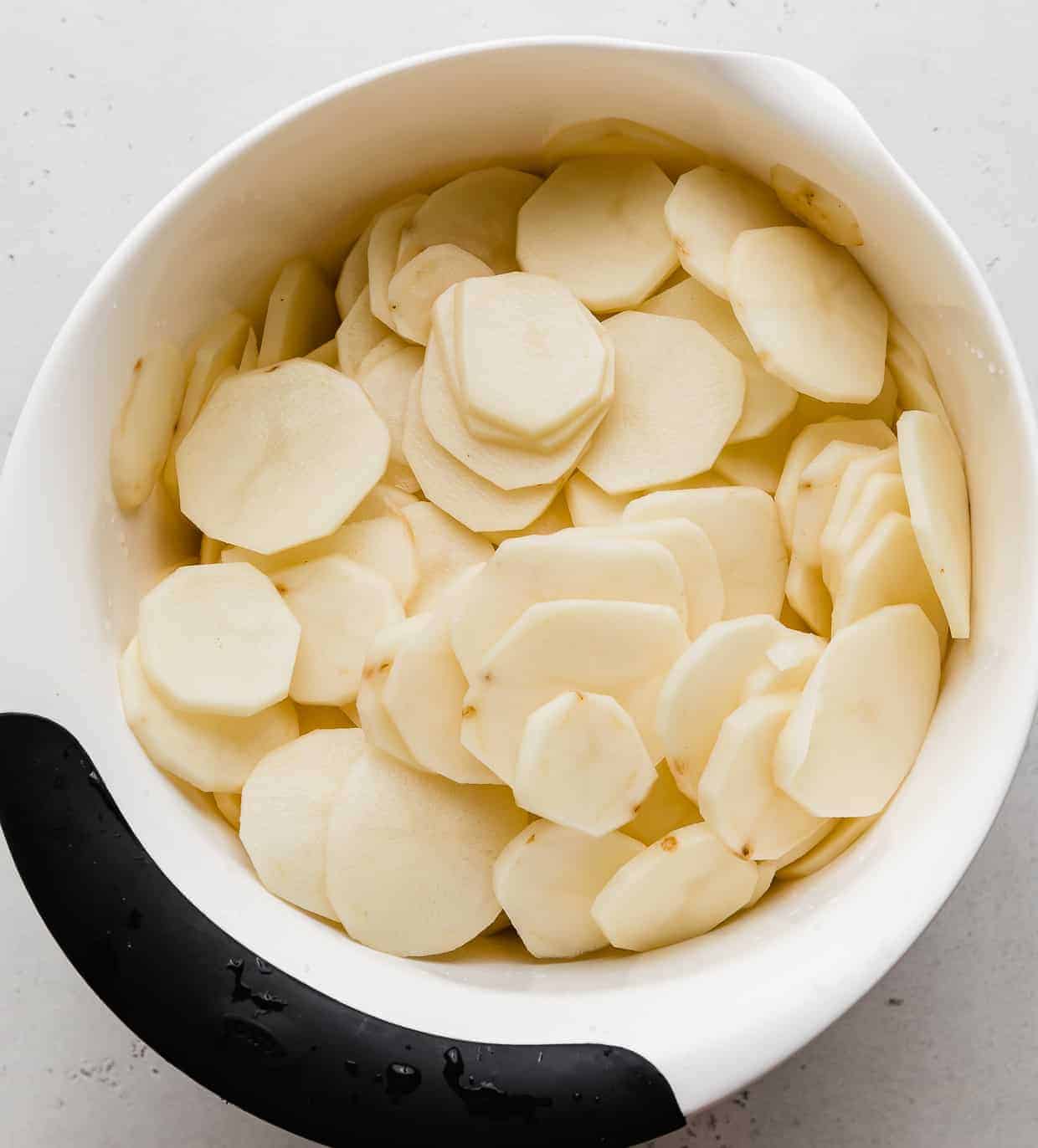 Transfer to the baking dish. Remove the fresh herbs and transfer the scalloped potatoes mixture to the prepared baking dish. Spread into an even layer as best as possible. Add the cheesy goodness by sprinkling with the 2 cups shredded cheddar cheese on top of the potatoes. Bake for 10-15 minutes or until the sage bubbles and the top is golden brown. 
Serve! Remove the pan from the oven and let it rest for 10 minutes before serving these creamy cheesy potatoes. Enjoy!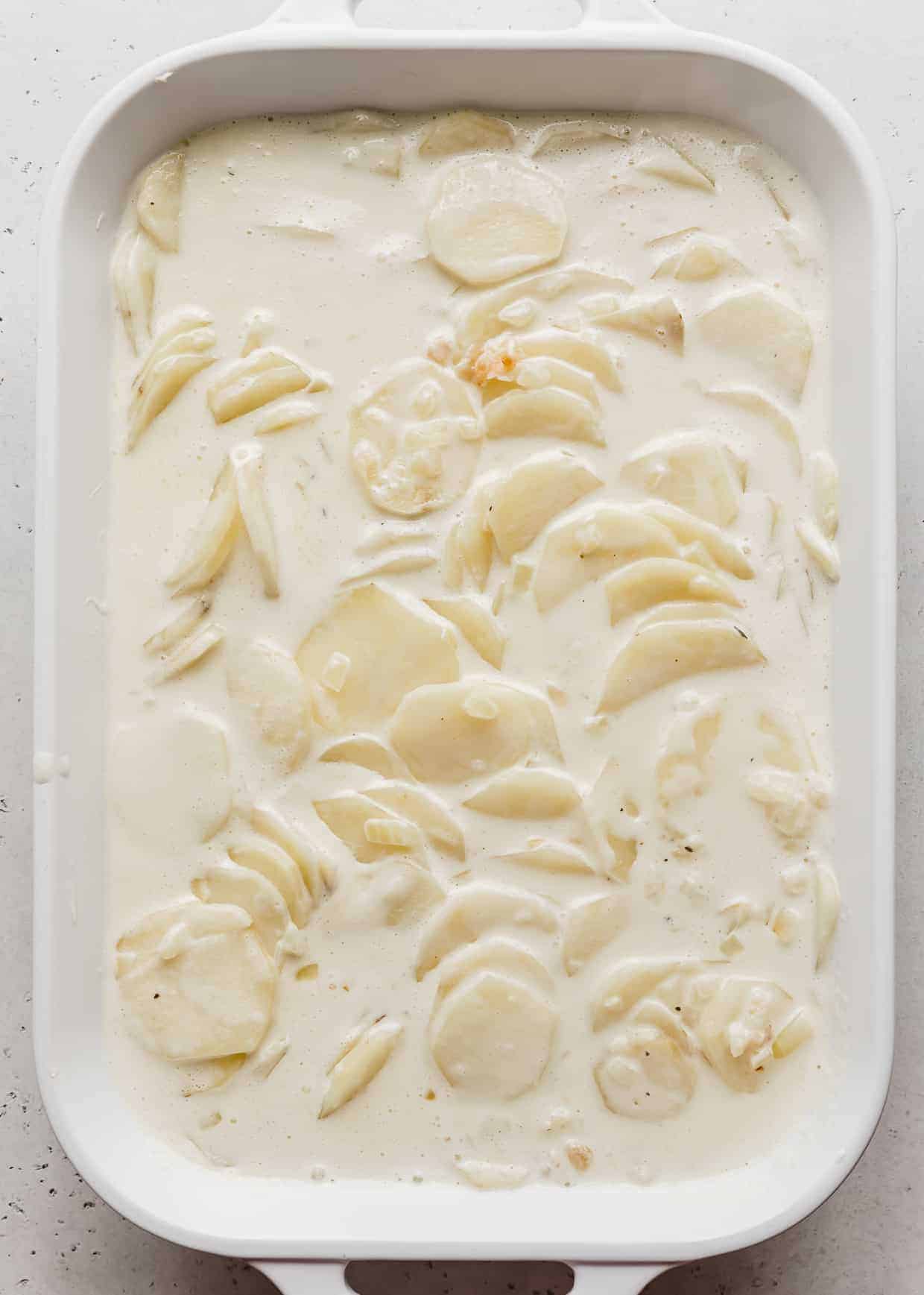 Recipe Tips
Using a Mandolin slicer is a HUGE time saver! The slices are the perfect thickness and you can cut a lot in a matter of minutes. Please take caution when using a mandoline slicer — they are sharp!
You want the potatoes thinly slices to that they don't need much time to cook. If they are too thick, then the potatoes will come out crunchy and undercooked.
When cooking the potatoes on the stove, the potatoes are ready when the tip of a pairing knife can be easily slipped into a slice with just a little resistance. (Don't overcook the potatoes otherwise your recipe will turn out mushy and way too soft).
This gluten free scalloped potatoes doesn't use flour to make a thickened cream sauce. But don't worry! The sauce is still delicious, and has a creamy texture thanks to using heavy cream. It's perfect if you are on a gluten-free diet.
This recipe is a perfect side dish for Easter, Thanksgiving, Christmas or other holiday meals. It's often a common Sunday meal side dish in my family, too.
If you're wondering what to serve with scalloped potatoes, you can pair it with my chicken dijon, Mississippi pot roast, or lemon honey glazed salmon recipes.
Variations
Swap the heavy cream out for half and half if you want a lighter sauce. Just know that the sauce won't be as thick.
Mix up the cheesy sauce by using a different cheese, such as white cheddar, gruyere cheese, Swiss cheese, or Monterey jack. If you want a little kick, go for a pepper jack.
You can make scalloped potatoes without cheese by simply omitting the cheese.
Make Ahead, Storing, and Freezing
To make scalloped potatoes ahead of time, make the recipe completely until just prior to baking it. Cover and store in the fridge and bake it the next day! You may need to add another minute to the bake time since the dish will be heating from a cold fridge temperature.
Store the scalloped potatoes covered or in an airtight container in the fridge for 4 days.
This is a difficult dish to freeze since the sauce is completely dairy based. Dairy doesn't freeze well. When thawed, it separates, affecting consistency, texture and flavor.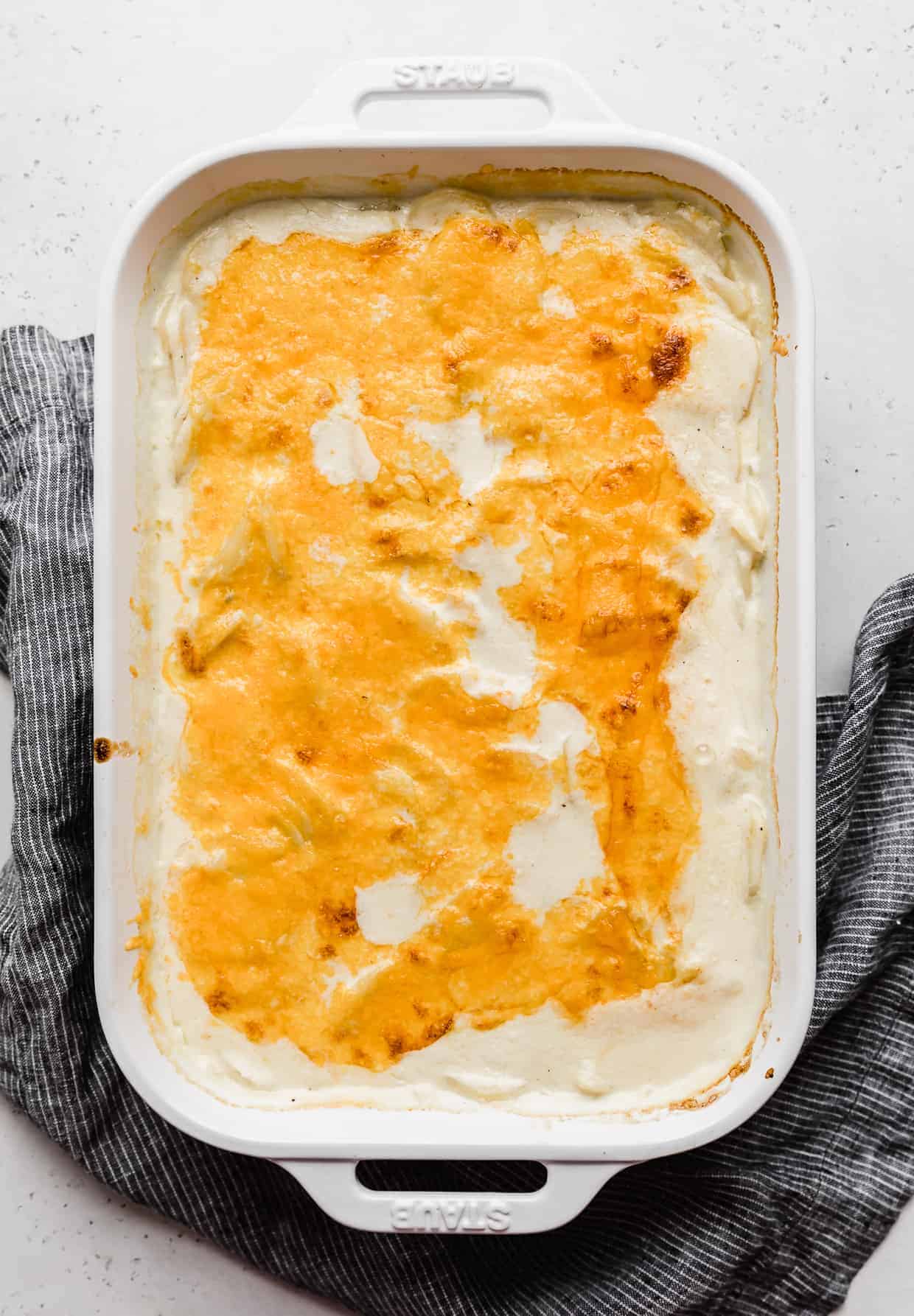 Recipe FAQs
What's the difference between scalloped potatoes and au gratin potatoes?
Scalloped potatoes are sliced potatoes that are baked in a cream- or milk-based sauce. The word "scalloped" is a reference to how the potatoes are cut: into slices. Au gratin potatoes are typically baked with layers of cheese in between the potatoes and topped with a cheesy layer — and sometimes bread crumbs — to form a type of crust. The term "gratin" is French for scraping or grating and "gratine" refers to a crust. The main difference is scalloped potatoes are baked in a cream sauce and au gratin potatoes having lots of cheese and a crusted top. Either way, both are delicious! 
What potatoes for scalloped potatoes?
You can use russet potatoes or Yukon gold potatoes. Either will work. 
Are scalloped potatoes gluten free?
Yes! 
Can you freeze scalloped potatoes?
I wouldn't freeze scalloped potatoes because the mixture is mainly dairy. 
How to reheat scalloped potatoes?
To reheat, place the baking dish back in the oven at 425ºF for 5-10 minutes. Or microwave individual servings of the scalloped potatoes for about 30 seconds to 1 minute, depending on the amount. 
Why are my scalloped potatoes still hard? 
They could be hard because you didn't cook them enough on the stove prior to baking in the oven. You want the potatoes to be just barely under cooked. A knife should slide through the potatoes with just a bit of resistance.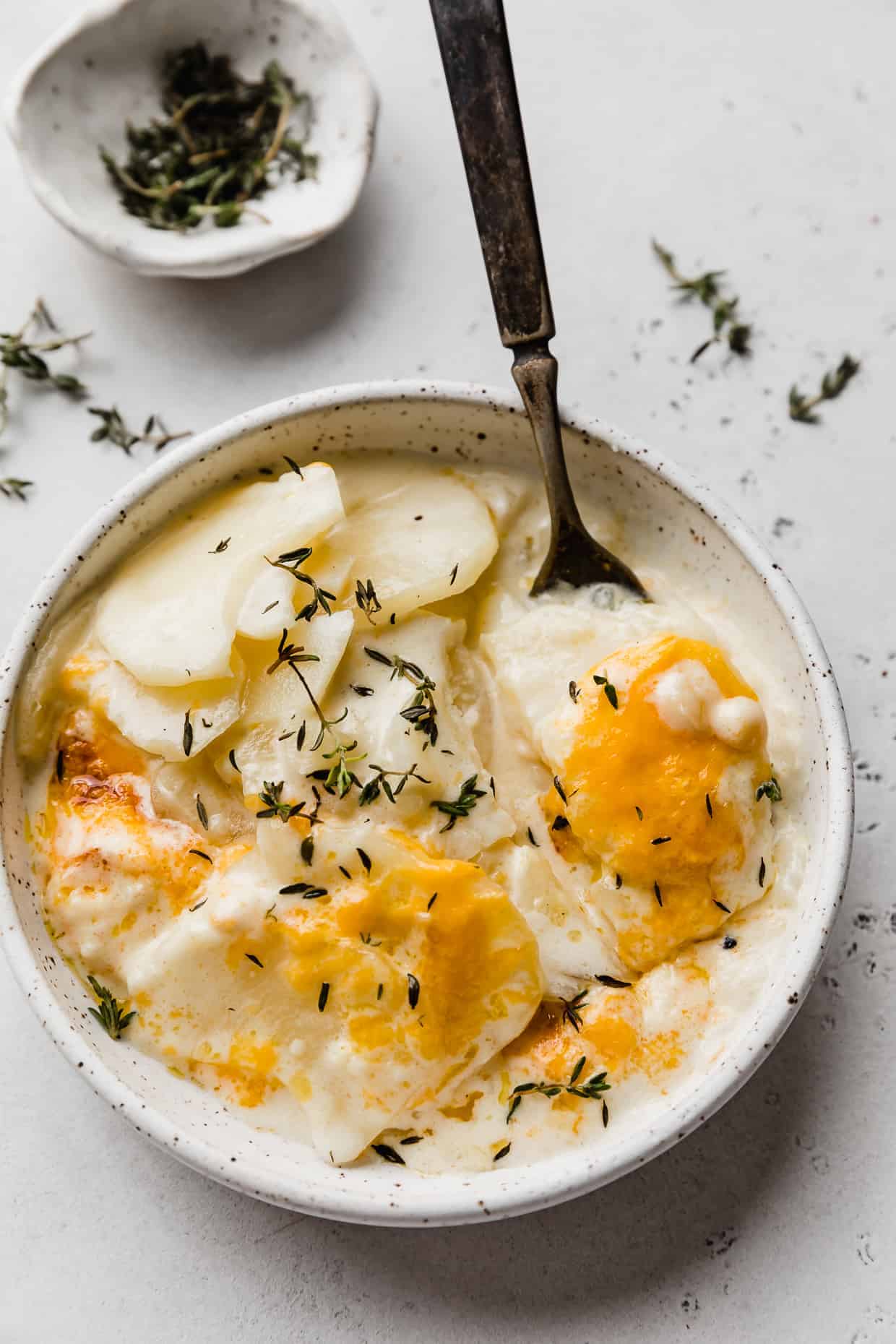 More Delicious Potato Recipes
Gluten Free Scalloped Potatoes Recipe
Thinly sliced potatoes are par boiled in a thyme and bay leaf infused sauce then topped with shredded cheese and baked for just 15 minutes! It's a fast and easy scalloped potato recipe that everyone will love.
Ingredients
2

tablespoons

butter

1

onion

-

finely chopped

2

garlic cloves

-

minced

1 1/2

cups

chicken broth

2 1/2

cups

heavy cream

2

teaspoons

salt

1/4

teaspoon

freshly ground black pepper

4

pounds

russet potatoes

-

peeled and sliced 1/8" inch thick (3mm thick). I use a mandolin for uniform slices

2

bay leaves

sprigs of fresh thyme

2

cups

cheddar cheese

-

shredded
Instructions
Preheat oven to 425°F. Adjust oven rack to middle position. Butter a 9"x13" inch baking dish.

In a large Dutch oven over medium high heat melt the butter. Add the onions and cook until softened about 5 minutes. Add the garlic and cook for 1 minute more. 

Stir in the chicken broth, heavy cream, salt, pepper, sliced potatoes, bay leaves, and thyme. Bring to a boil. Reduce to a simmer and reduce heat to medium low. Cover and simmer the potatoes until almost tender about 7-12 minutes. The potatoes are ready when the tip of a pairing knife can be easily slipped into a slice with just a little resistance. (Don't overcook the potatoes otherwise your recipe will turn out mushy and way too soft). 

Discard the bay leaves and thyme stems. 

Transfer the potato mixture to the prepared baking dish. Do your best to get the potato sliced into an even layer. 

Sprinkle the cheese overtop and bake for 10-15 minutes or until the sauce is bubbling and top is golden brown. 

Remove from oven and let sit for 10 minutes before serving. 
Notes
You can also use Yukon gold potatoes if you'd like. 
Recipe adapted from ATK. 
Did you make this recipe?
Leave a star rating and review on the blog post letting me know how you liked this recipe! Take a picture and tag @saltandbaker on Instagram and Facebook so I can see what you're making!