Belgian Liege Waffles
This post may include affiliate links. As an Amazon Associate I earn from qualifying purchases.
These Belgian Liege Waffles use a yeast dough and are studded with pearl sugar that caramelize into the cooked waffle. These liege waffles are warm, sweet, and will melt in your mouth!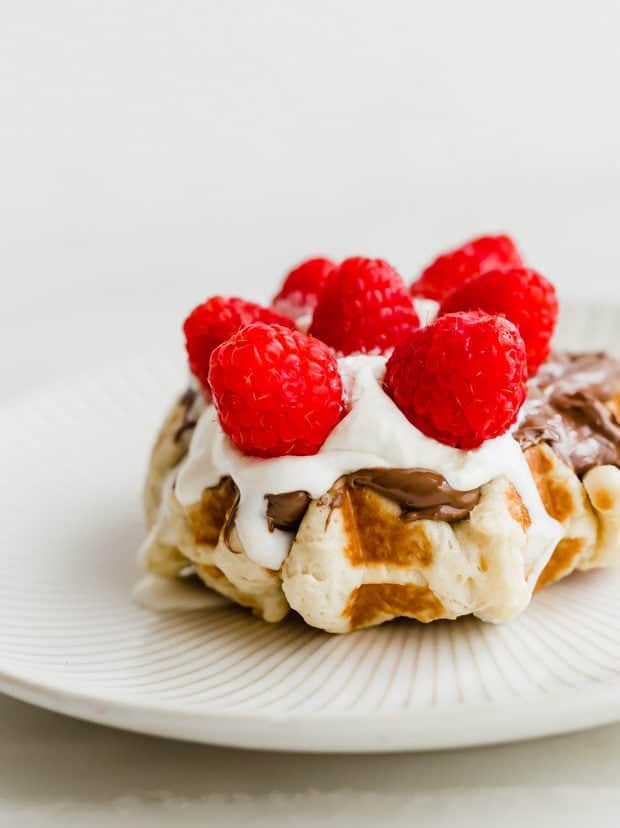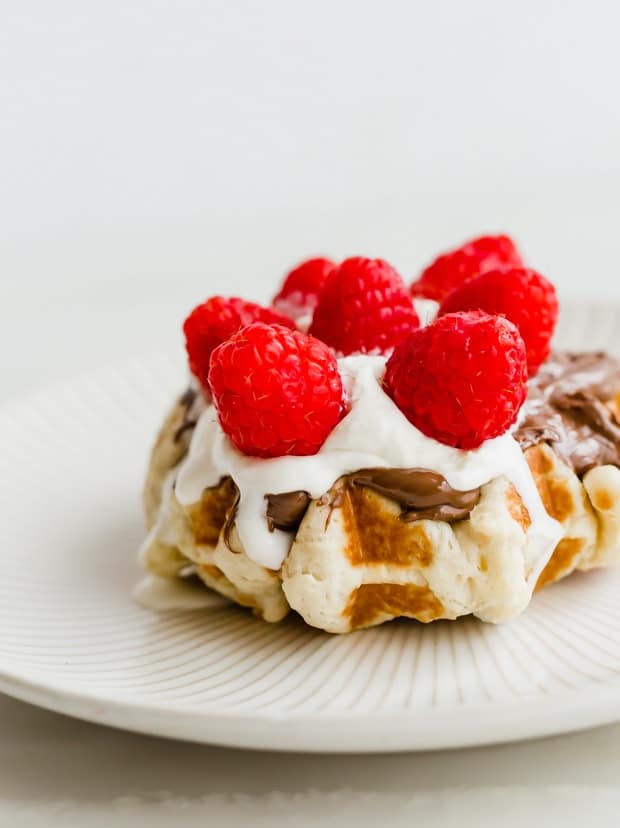 In Utah there's a famous waffle truck called Waffle Love. They serve liege waffles and top them with cookie butter, Nutella, lemon curd and all sorts of fruit.
The waffles are straight up addicting.
I knew I needed a Waffle Love copycat recipe so that I can make liege waffles when we move to Texas next year. So I did some research, went into the kitchen and came up with this delicious recipe.
Ever wondered how Waffle Love's whipped cream stays intact and doesn't melt all over their warm waffles? I have the secret! Keep reading to find out.
What are Liege Waffles
Belgian liege waffles use a yeast raised dough, whereas regular waffles use a batter.
Liege waffles are sweeter than a traditional Belgian waffle. You can serve liege waffles for breakfast or dessert! (But seriously, breakfast food is dessert in my book. Always).
How to make Liege Waffles
To make life simple, use a stand mixer for mixing this dough. Add the yeast, warm milk, and sugar to a large bowl.
Make sure the milk has been warmed to a temperature of 100°F-115°F. Yeast needs a warm environment to activate. I warmed my milk to 110°F.
The sugar acts as food for the yeast. As the yeast feeds on the sugar the yeast produces carbon dioxide which allows the dough to rise. Yay for food science!
Allow the mixture to sit for 10 minutes. Once you see the yeast bubbling and expanding you can continue on with the recipe.
However, if your mixture hasn't changed within those 10 minutes it's a sure sign your yeast is old and needs to be replaced.
Add the eggs and 2 cups flour to the yeast and milk mixture. Using the dough hook, mix until it's combined.
Then add the sugar, vanilla, salt, and remaining flour. Mix it all together. The dough will appear really dry at this stage.
While the mixer is on low, gradually add the softened butter, a tablespoon at a time.
Once the dough is all mixed together, cover the bowl and let the dough rise for 1-2 hours.
Deflate the dough by pressing down on it in the center. Wrap the dough in plastic wrap and refrigerate overnight.
Come morning time, unwrap the dough and add Belgian pearl sugar to it.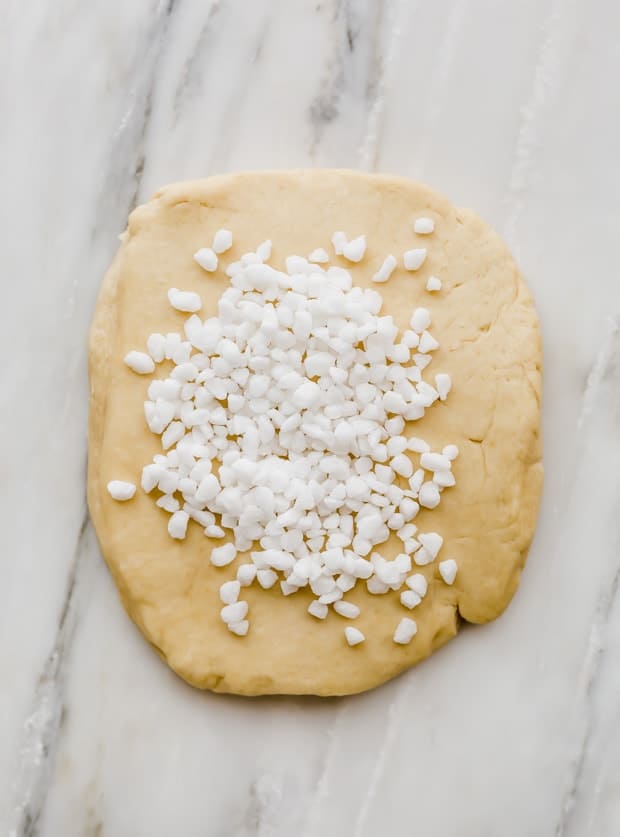 Knead the pearl sugar into the dough. <— This isn't an easy task. The pearl sugars don't stick to the dough easily, so it takes a little finagling to get them evenly dispersed.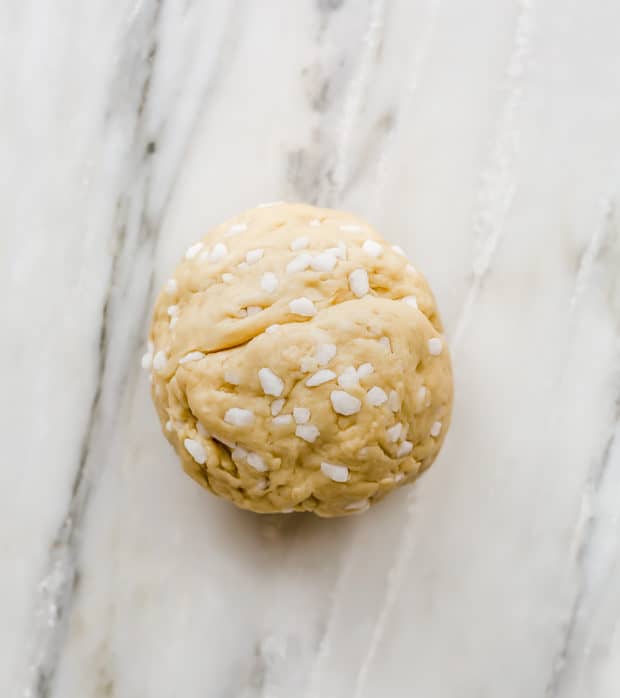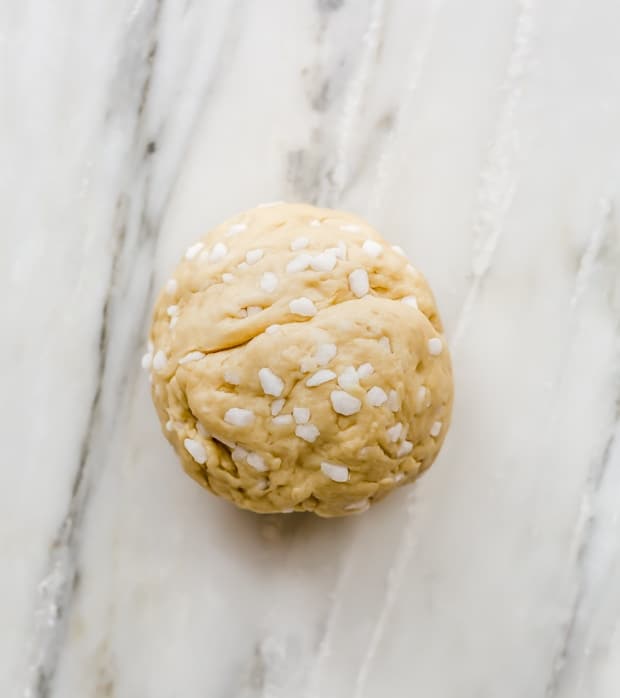 Lastly, divide the dough into 12 equal pieces. Let them sit for 10 minutes while you prep and turn on your waffle iron.
If you can control the heat of your waffle iron then great!! Heat your waffle iron around 320°F (the temperature at which sugar melts) to 340°F (the temperature at which sugar caramelizes).
Don't heat the waffle iron over 350°F because sugar begins to burn at this stage.
Not all waffle irons have temperature or heat control. If this describes your waffle iron you can heat the iron up, turn it off and let it cool slightly and then add the liege waffle dough to the waffle iron.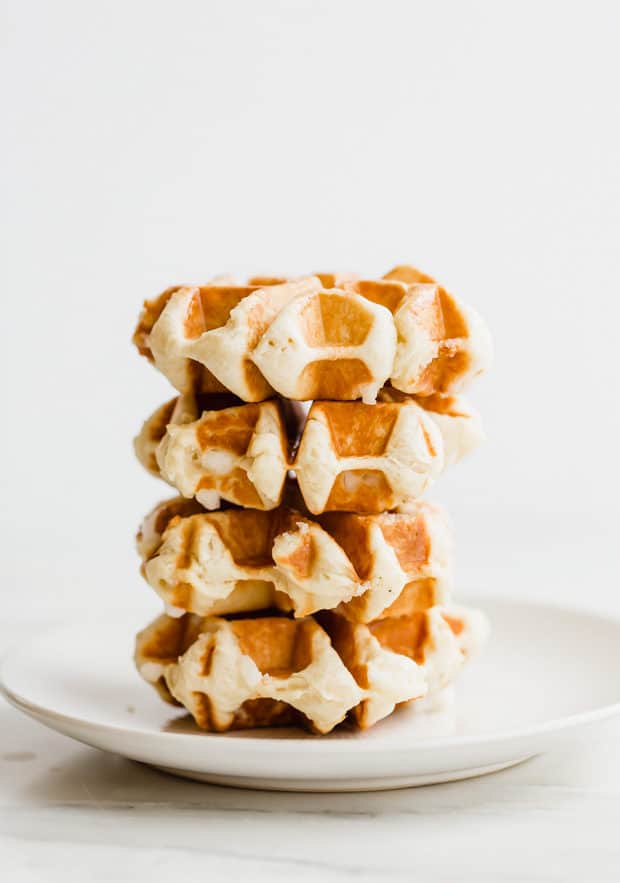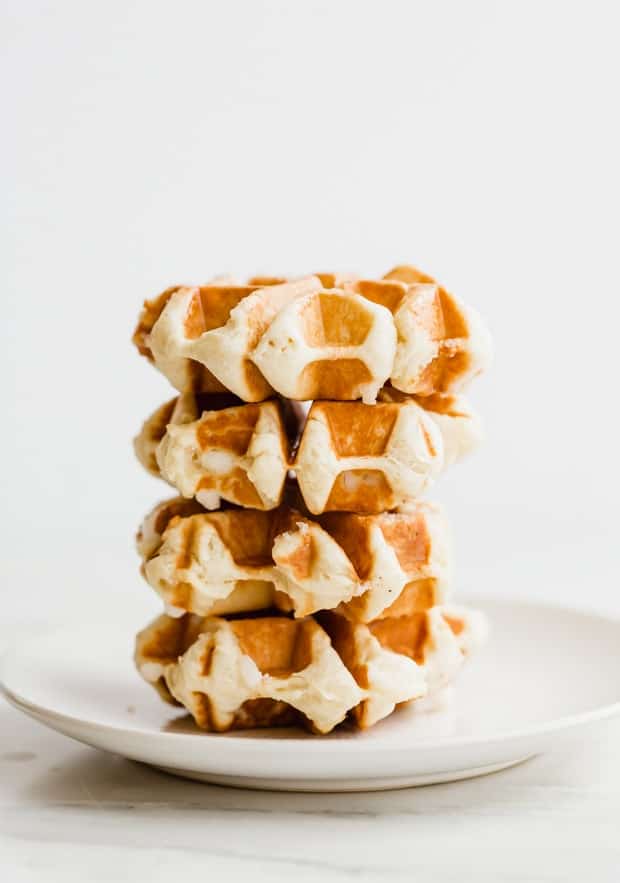 Cook the liege waffles for 2-3 minutes or until the sugar has melted and the waffles are golden in color. The first waffle tends to be a trial waffle as you're getting used to the waffle iron temperature.
Pro tip:
If you aren't serving the waffles right away you can keep the waffles warm in a 200°F oven.
To freeze the waffles, let them cool down or come to room temperature. Once cooled place them in a ziplock bag and put in the freezer for up to 1 month. To reheat the waffles, thaw them in the refrigerator and then place them on a baking sheet in a 250°F oven until warmed through.
The secret to Waffle Love's whipped cream?
Use mascarpone in the whipped cream! It helps the cream keep it's structure and not melt as soon as the cold cream touches the warm waffle.
Top the waffles with Nutella, cookie butter, lemon curd, or whipped cream! However you choose to eat them, I know you'll love 'em!
---
If you love Liege Waffles, try these breakfast recipes:
Craving more?  SUBSCRIBE TO SALT & BAKER to get new recipes delivered straight to your inbox! Simply enter your email address below.
Liege Waffles
Delicious Belgian liege waffles are a decadent breakfast meal or a perfect treat! This is a Waffle Love copycat version, a famous food truck in Utah.
Ingredients
3/4

cup

milk

2 1/2

teaspoons

active dry yeast

1/4

cup

granulated sugar

-

divided

2

large eggs

-

room temperature

1/2

teaspoon

salt

3

teaspoons

vanilla extract

4

cups

bread flour

1

cup

unsalted butter -

softened

1 1/4

cups

Belgian pearl sugar
Instructions
Heat the milk to lukewarm, about 110°F.

Add the warm milk to the bowl of a stand mixer fitted with the dough hook. Add 1 tsp of the granulated sugar. Add the yeast. Lightly mix. Let sit for 10 minutes so that the yeast can bubble.


Add the eggs and 2 cups of flour. Mix until smooth. Add the sugar, salt, vanilla and the remaining 2 cups of flour and mix until combined.


Gradually add the softened butter, a tablespoon at a time. Mix on low speed for 6 minutes. The dough will come away from the sides of the bowl. *


Cover the bowl with plastic wrap and let rise for 1-2 hours.


Deflate the dough by pressing down on it in the center.

Wrap the dough in plastic wrap. Refrigerate overnight. And then continue in the morning…..

Let the dough sit at room temperature for 20-30 minutes. Flatten the dough out on a clean work surface. Add the pearl sugar and knead it into the dough until evenly distributed.


Divide the dough into 12 pieces about 3.5 oz each.

Cover the dough balls and let them rest for 10 minutes. Heat your waffle iron.

Place dough balls in the center of your waffle iron. Cook for about 4 minutes or until they golden brown and the sugar has melted.

Serve warm. Top with Biscoff, Nutella, fresh whipped cream and berries.
Notes
*At first the dough is super dry, but it comes together... just give it time.
If you're not serving them right away, you can keep the waffles warm in a 200°F oven. 
Did you make this recipe?
Leave a star rating and review on the blog post letting me know how you liked this recipe! Take a picture and tag @saltandbaker on Instagram and Facebook so I can see what you're making!