5-Minute Cheesy Zucchetti Bowl
This post may include affiliate links. As an Amazon Associate I earn from qualifying purchases.
This 5-Minute Cheesy Zucchetti Bowl is one easy and tasty meal! This zucchini noodles recipe is mixed with a "cheesy" sauce and packed with nutritional yeast which is high in B vitamins and good for those on a vegetarian or vegan diet.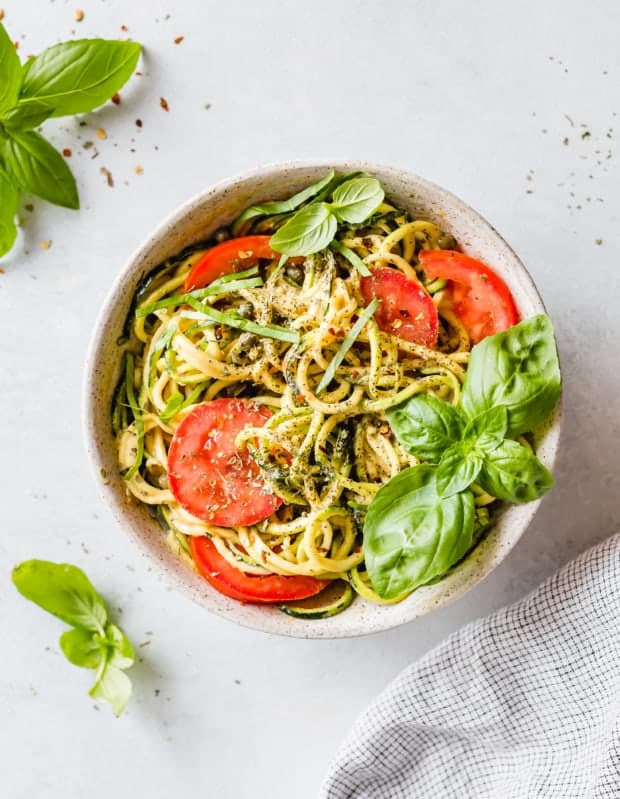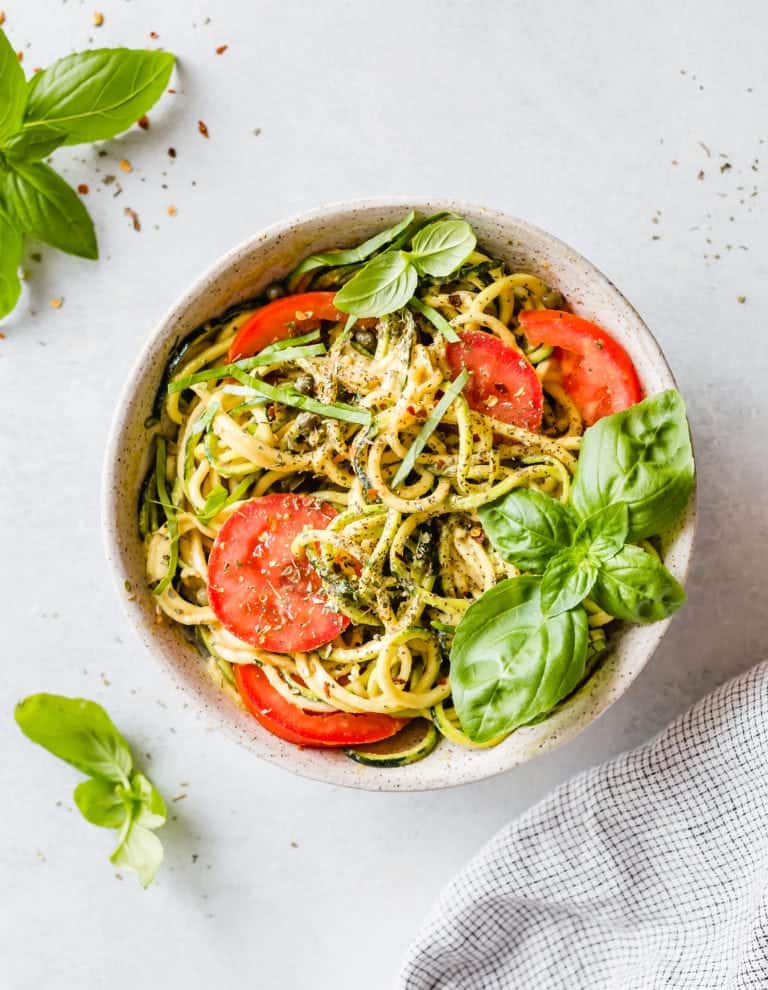 I have the most talented friends! No kidding. I'm in awe at all they do! Lindsay Cotter from Cotter Crunch is no exception! Her first cookbook Nourishing Superfood Bowls was just released this past March. It's amazing!
Not only are the photographs absolutely STUNNING, but the recipes are hands down incredible.
This cookbook features 75 healthy and delicious gluten-free and allergy-friendly recipes.
My favorite thing about her book is just how versatile this cookbook is. For example, she has family-style large bowls (feeding 3-5 people), small single serving type meals like this zucchini noodles recipe, and even breakfast bowls AND sweet tooth bowls! What more could you want?!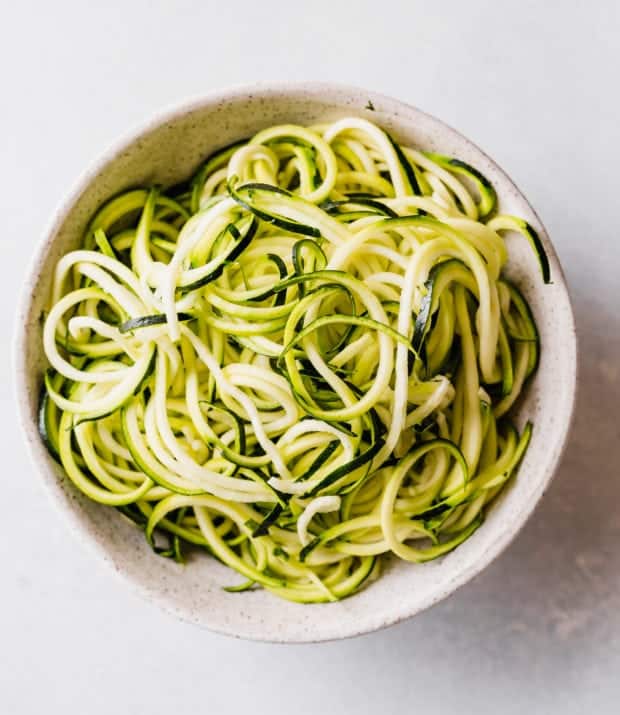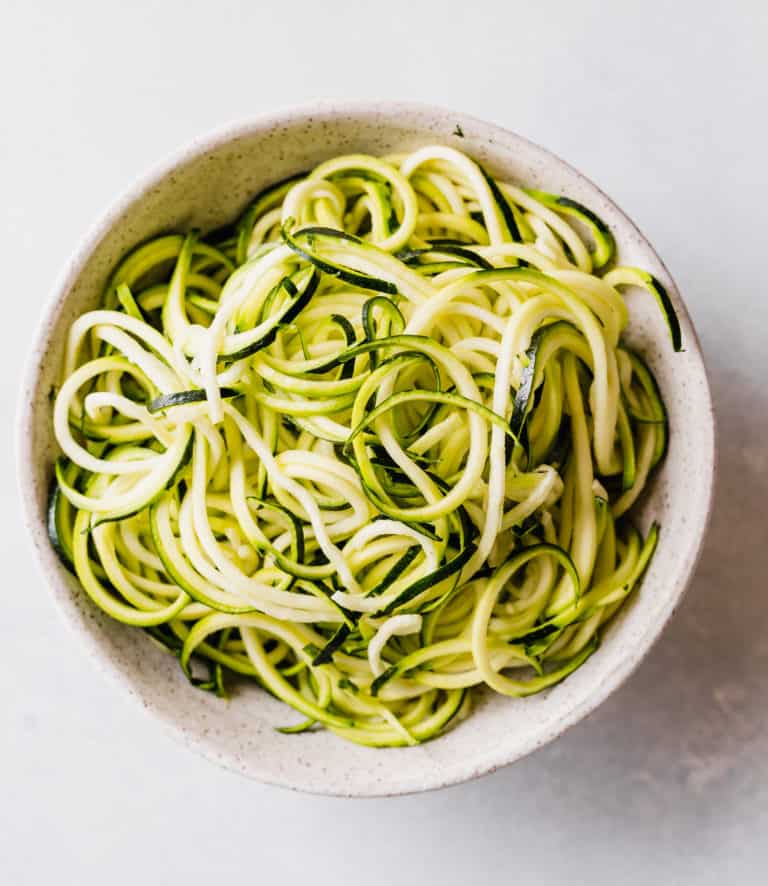 Alright lets talk about this 5-Minute Cheesy Zucchetti Bowl. Yes, you read that right. FIVE minutes! From start to finish. I was originally drawn to this recipe because:
5 Minutes. Duh. I have kids and not a lot of time to cook. So this recipe was calling my name.
The zucchini noodles. I'm always on the lookout for additional recipes that use zucchini noodles. I can always use more vegetables in my life, plus the texture is ??.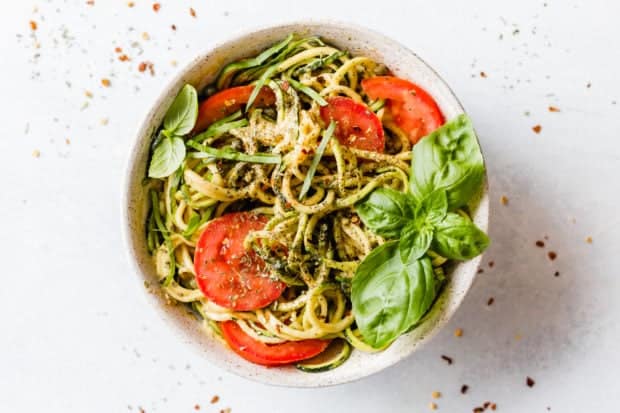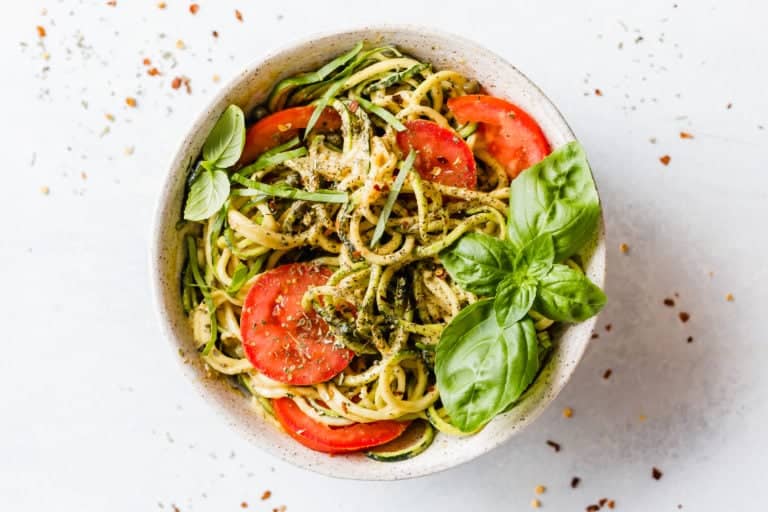 When you go to make this zucchini noodles recipe you might come across an ingredient you don't use every day, nutritional yeast.
This isn't something I've used before now. I am so glad I found it and I plan on incorporating it into my cooking more often! It's delicious. Truthfully, I didn't know much about it until I saw it in Lindsay's cookbook.
So I did some reading to get myself more familiar with this ingredient.
What is nutritional yeast?
Nutritional yeast is yellow in appearance and has a nutty cheesy flavor.
Nutritional yeast is a great source for B12 vitamins. If you're vegan you should add this to your food on a regular basis. Add it to garlic bread, popcorn, pasta sauces, or zucchini noodles recipe like this 5-Minute Cheesy Zucchetti Bowl!
Susan from Fat Free Vegan Kitchen explains it well; "Nutritional yeast is a food additive made from a single-celled organism, Saccharomyces Cerevisiae, which is grown on molasses and then harvested, washed, and dried with heat to kill or "deactivate" it. Because it's inactive, it doesn't froth or grow like baking yeast does so it has no leavening ability."
Health benefits of nutritional yeast
Nutritional yeast is a complete protein. This means that among the 18 amino acids it contains, nine are essential ones that your body cannot produce. Nutritional yeast is a plant based source of protein, making it the perfect staple in a vegan's kitchen.
Nutritional yeast is gluten-free and low in fat and sodium.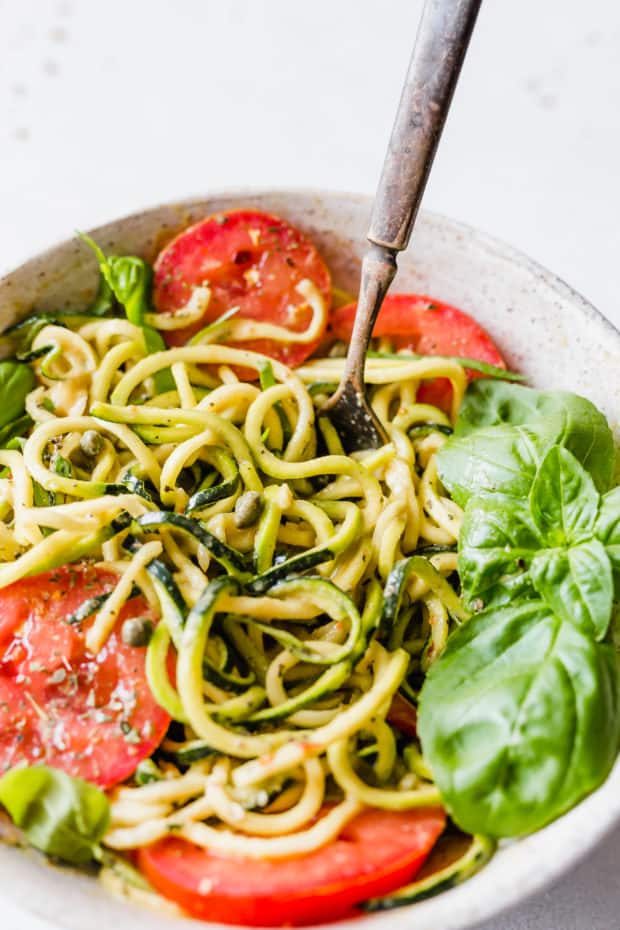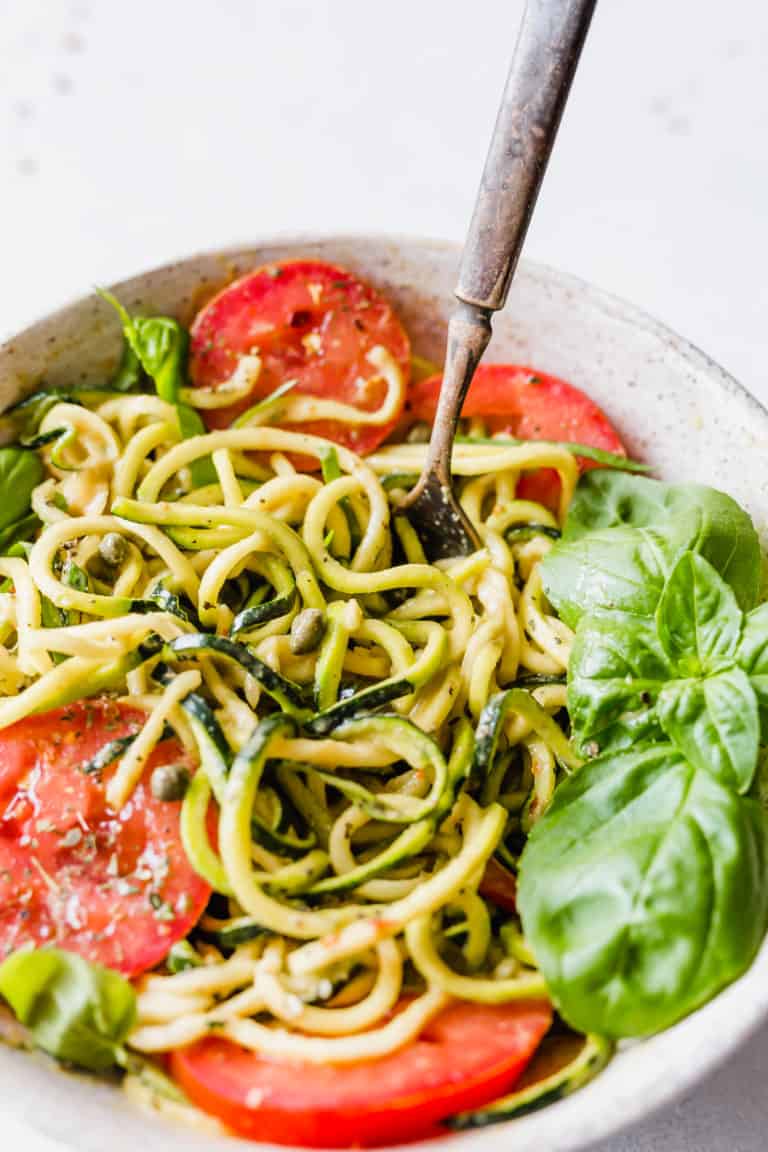 This Cheesy Zucchetti Bowl is healthy, delicious, and the perfect gluten-free meal!
It's easily adaptable as far as flavors are concerned. You can add as much or as little red pepper flakes as you'd like. I added a good dousing of red pepper flakes and that added a great ?punch? of flavor!
If you find you want an extra protein boost add chickpeas, chicken or even gluten-free sausage for a Paleo option!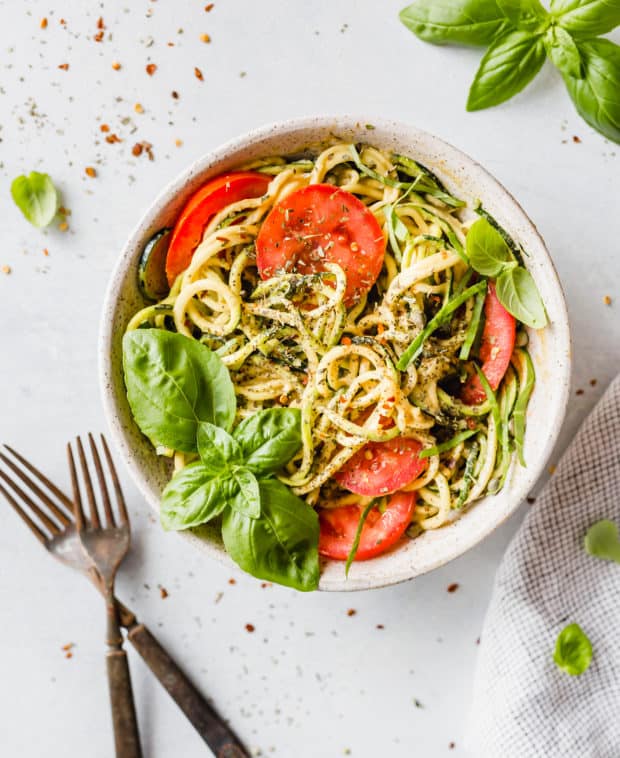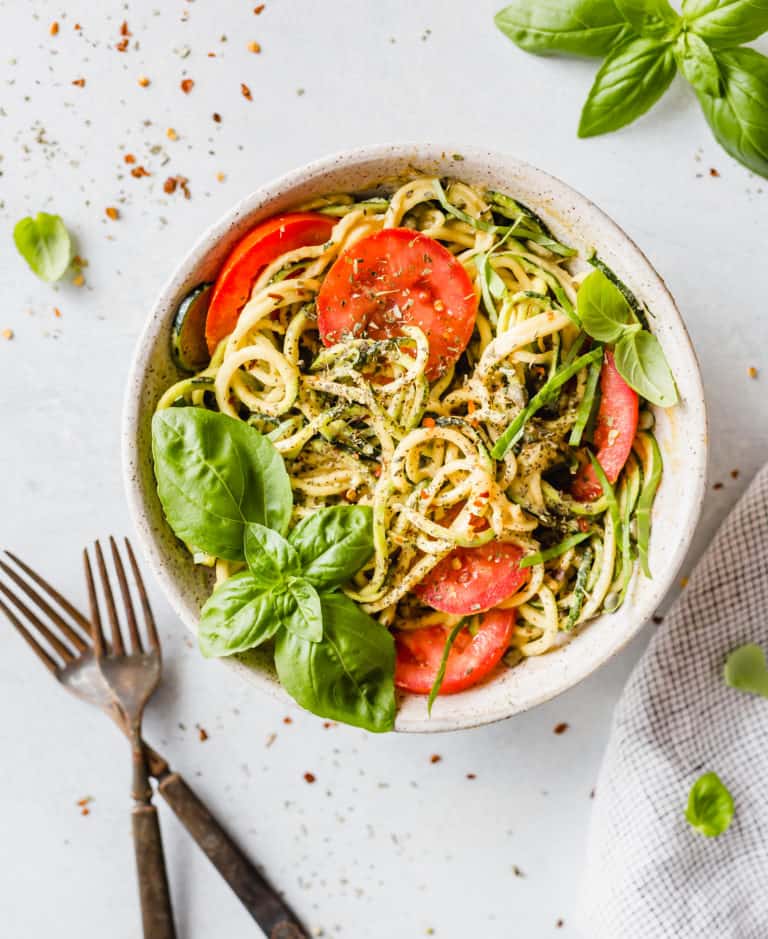 Do you love this 5-Minute lunch? Be sure to check out these additional recipes:
Asian Inspired Zoodle Flu Buster Soup (Paleo)
And stay in touch on Facebook, Pinterest and Instagram for all of the latest updates.
5-minute Cheesy Zucchetti Bowl
This "cheesy" zucchini noodle bowl only takes 5 minutes to make! It's low carb and packed full of B vitamins!
Ingredients
2

small zucchinis

1/3

cup

nutritional yeast

1/4

cup

almond milk

1-2

tablespoons

olive oil

1/4

teaspoon

garlic, minced

kosher salt, to taste

pepper, to taste

2

tablespoons

tomato sauce

1

plum tomato, thinly sliced

1

pinch

Italian seasoning

fresh basil (or parsley)

crushed red pepper flakes

1

tablespoon

capers
Instructions
Spiralize the zucchini. If the zucchini is extra moist, take a paper towel to the zucchini and dab it dry so that no excess water remains.

In a small microwave safe bowl, combine the nutritional yeast, almond milk, olive oil and garlic. Cook in the microwave for 30-60 seconds until warm.

Remove and whisk the mixture until well combined. Add the salt, pepper, and tomato sauce. Whisk again.

Toss the zucchini noodles with the almond milk mixture.

Add the sliced tomato, Italian seasoning, basil, red pepper flakes, and capers. Serve warm!
Did you make this recipe?
Leave a star rating and review on the blog post letting me know how you liked this recipe! Take a picture and tag @saltandbaker on Instagram and Facebook so I can see what you're making!
This post contains affiliate links. I am a participant in the Amazon Services LLC Associates Program, an affiliate advertising program designed to provide a means for us to earn fees by linking to Amazon.com and affiliated sites.