Zucchetti Pasta
This post may include affiliate links. As an Amazon Associate I earn from qualifying purchases.
This Zucchetti Pasta is a delicious meal of fresh zucchini noodles coated in a dairy-free sauce made with almond milk, nutritional yeast, tomato sauce, and Italian seasonings. Served with fresh tomatoes and capers, this tasty zucchetti pasta is gluten-free, dairy-free, low carb, vegan, AND vegetarian — and it only takes 5 minutes to make.
I do love a good healthy recipe! You can find a large selection of healthy recipes on my website. Some of my very favorites (other than this zucchetti pasta bowl of course!) are my Cauliflower and Chickpea Tacos and my Black Bean and Corn Quesadillas. They are both great vegetarian dinner recipes that are filling and delicious!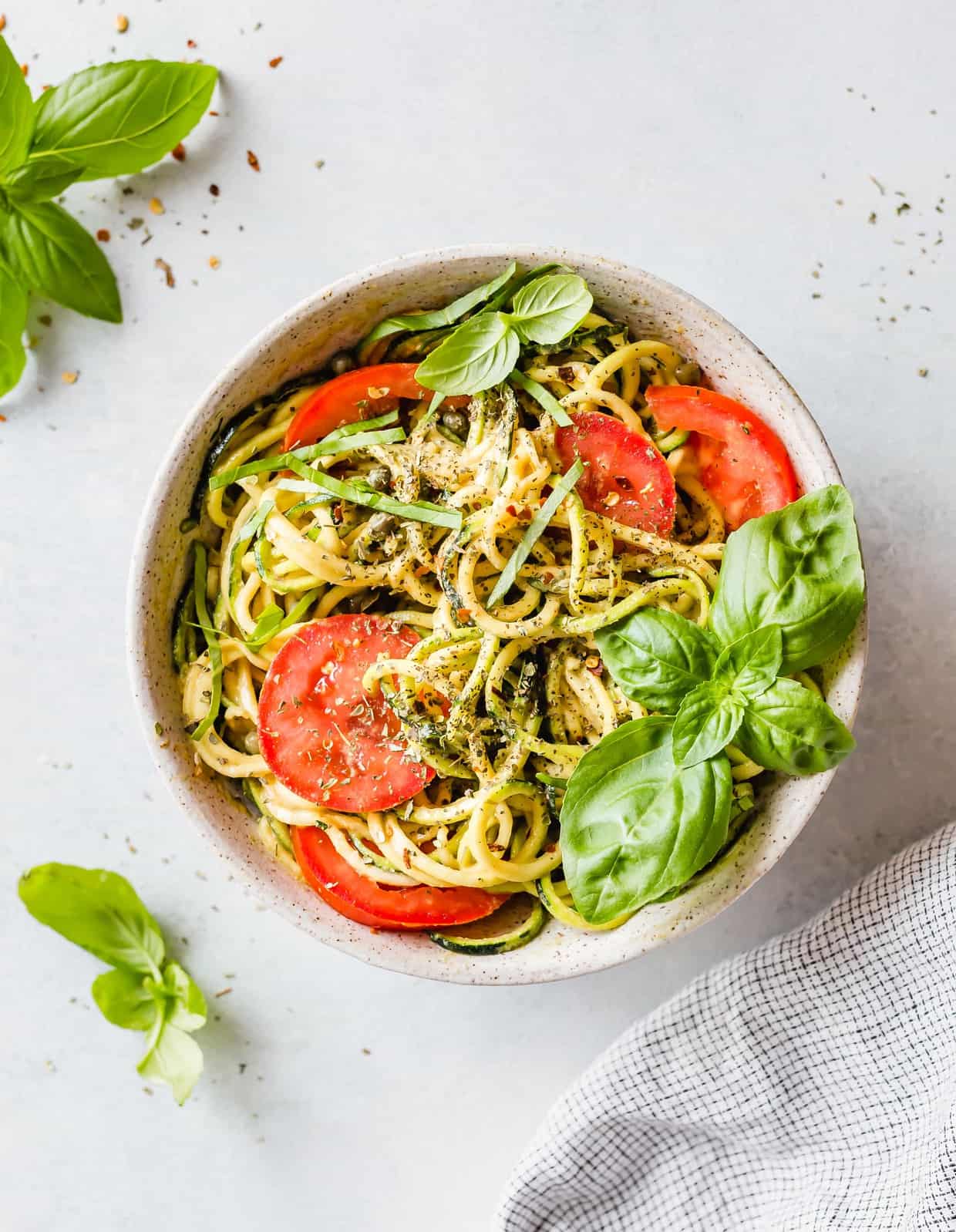 Why This Recipe Works
5-minute Zucchetti pasta. Duh. I have kids and not a lot of time to cook. So this recipe was calling my name thanks to coming together in little time at all!
Zucchini noodles. I'm always on the lookout for recipes that use zucchini noodles. I can always use more vegetables in my life, plus the texture is so good!
Recipe using nutritional yeast. This wasn't something I've used before now. I am so glad I found it and I plan on incorporating it into my cooking more often! It's delicious.
Gluten-free pasta dish. This cheesy zucchetti pasta is healthy, delicious, and is gluten-free, dairy-free, paleo, vegan, vegetarian, and low calorie diet friendly!
Ingredient Notes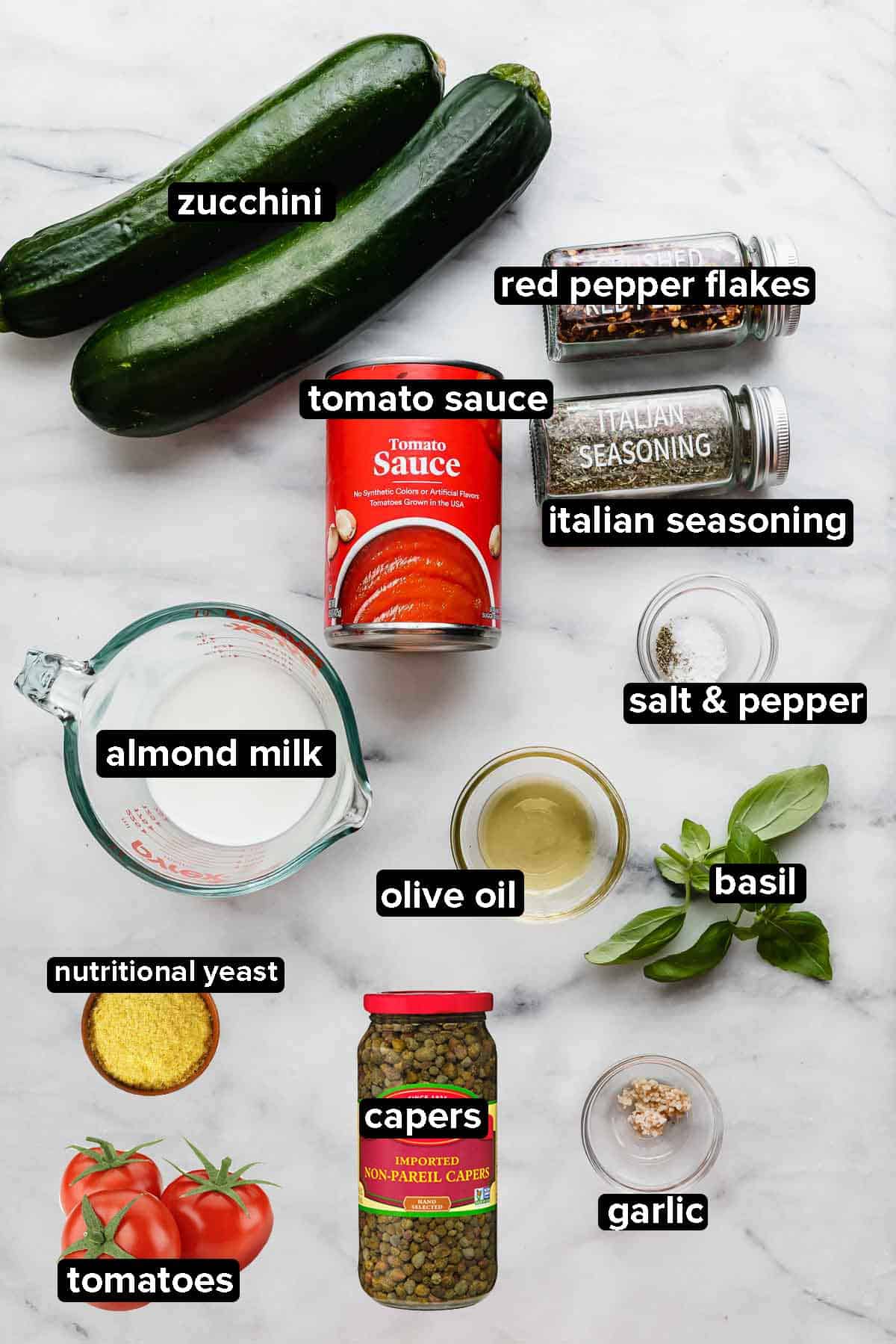 Zucchini: To get zucchetti noodles, we need to spiralize some raw zucchini! This is an electric spiralizer which makes things so much easier! 
Nutritional Yeast: This is a yellow-colored flake/powdered food item. It has a cheesy flavor and is a great substitute for cheese for dairy-free meals.
Almond Milk: The almond milk will help keep this zucchetti pasta recipe dairy free.
Tomato Sauce: The tomato sauce adds a delicious tomato flavor element to the nutritional yeast sauce.
Tomatoes: Adding fresh tomatoes is a great way to lighten the dish and add a texture complexity to the zucchetti pasta recipe.
Italian Seasoning: This adds a delicious Italian flavor to the pasta sauce!
Capers: I love capers in pasta recipes because it adds a nice salty element and texture complexity.
Step-by-Step Instructions
Spiralize the zucchini. Using the spaghetti blade of a vegetable spiralizer, turn the zucchini into zucchini noodles (aka Zucchetti!). Take a paper towel and dry the noodles to remove any excess water.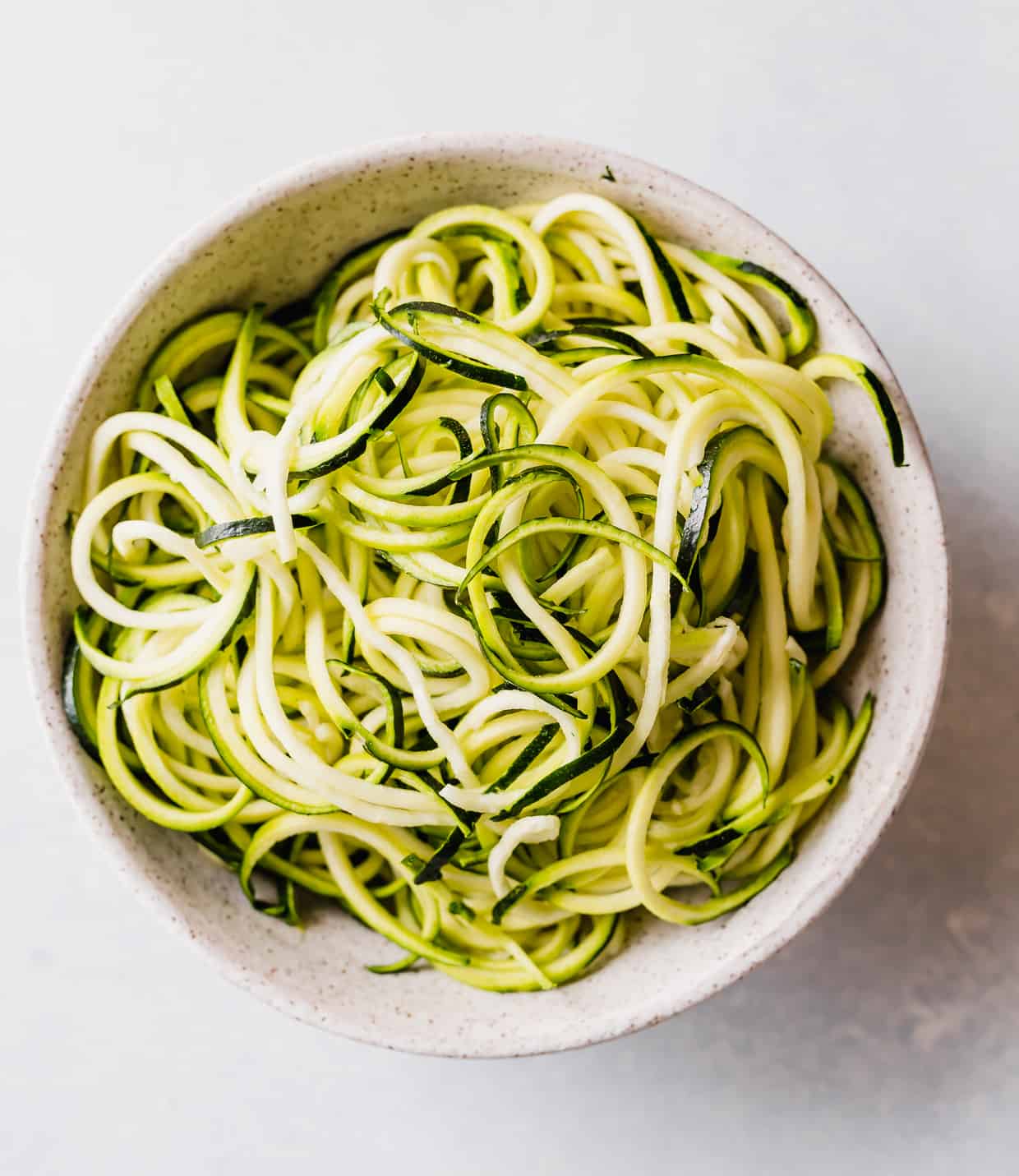 Make the cheesy nutritional yeast pasta sauce. To a small microwave-safe bowl, add 1/3 cup nutritional yeast, 1/4 cup almond milk, 1-2 tablespoons olive oil, and 1/4 tsp minced garlic. Mix and microwave in 30-second increments until warm. Remove and add kosher salt, black pepper, and 2 tablespoons of tomato sauce. Whisk to combine.
Combine zucchetti pasta and nutritional yeast sauce. Pour the nutritional yeast sauce on top of the zucchetti noodles. Toss to coat. Add slices of fresh tomatoes, some Italian seasoning, fresh basil, red pepper flakes and 1 tablespoon of capers. Enjoy!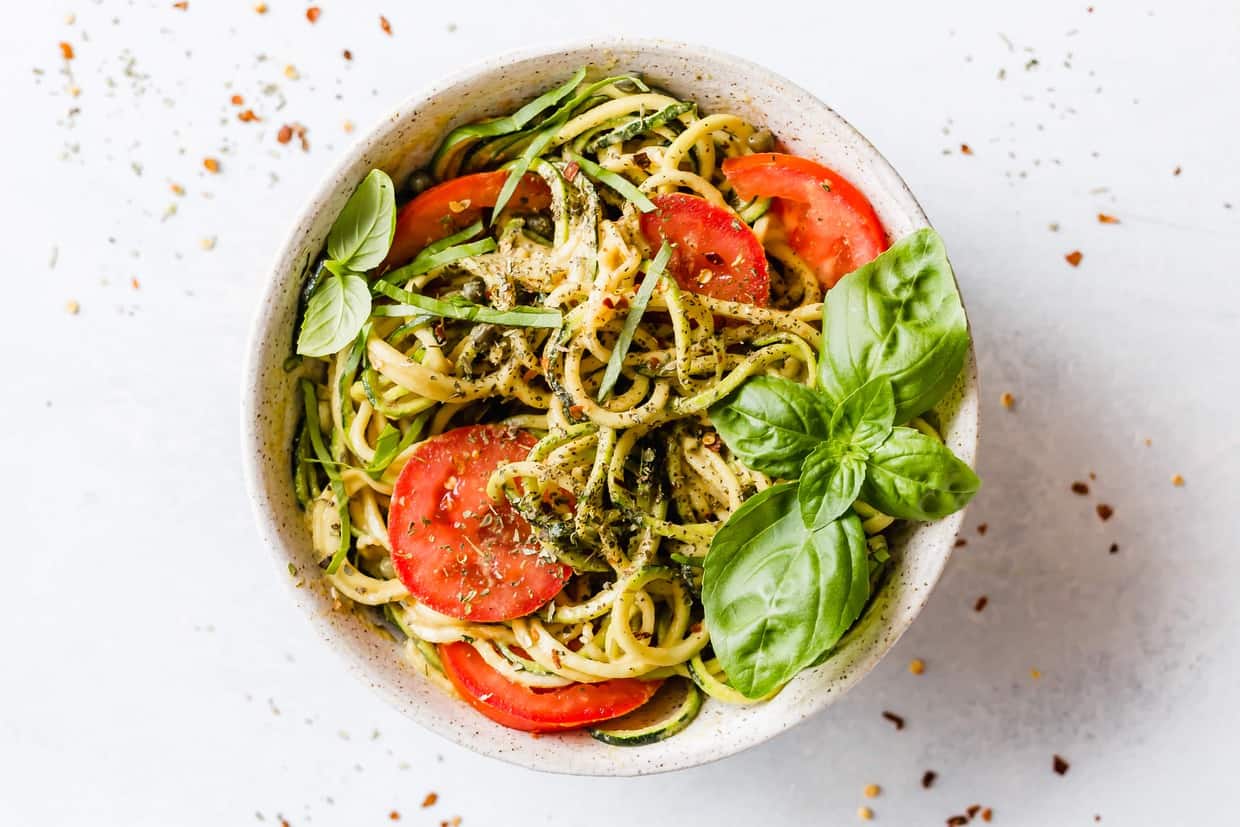 Recipe Tips
If you find you want an extra protein boost add chickpeas, chicken or even gluten-free sausage for a Paleo option!
You can add as much or as little red pepper flakes as you'd like depending on your spice tolerance.
Feel free to add more tomatoes, capers, or Italian seasoning to your liking. That's the great thing about this dish (shout out to my friend Lindsay Cotter from Cotter Crunch for the delicious recipe)! It's super easy to customize to your preferences.
You can also add mozzarella pearls or freshly grated parmesan cheese if you aren't dairy-free.
The zucchini isn't cooked. Take the raw zucchini and wash it, then put it through the spiralizer. You can keep the skin on.
Make Ahead, Storing, and Freezing
You can spiralize the zucchini ahead of time and store that in the fridge for up to 24 hours. I wouldn't let the zucchetti noodles sit in the fridge for much longer because we don't want them to go too soft or get too wet.
Store any leftover zucchetti pasta in an airtight container in the fridge for 2-3 days.
I haven't frozen this recipe before. Whenever I freeze grated zucchini to use for zucchini bread, it always has SO much water when I thaw it. So, if you do decide to freeze this dish, just be ready for it to be very wet!
I wouldn't freeze zucchetti pasta because it is just SO much better fresh!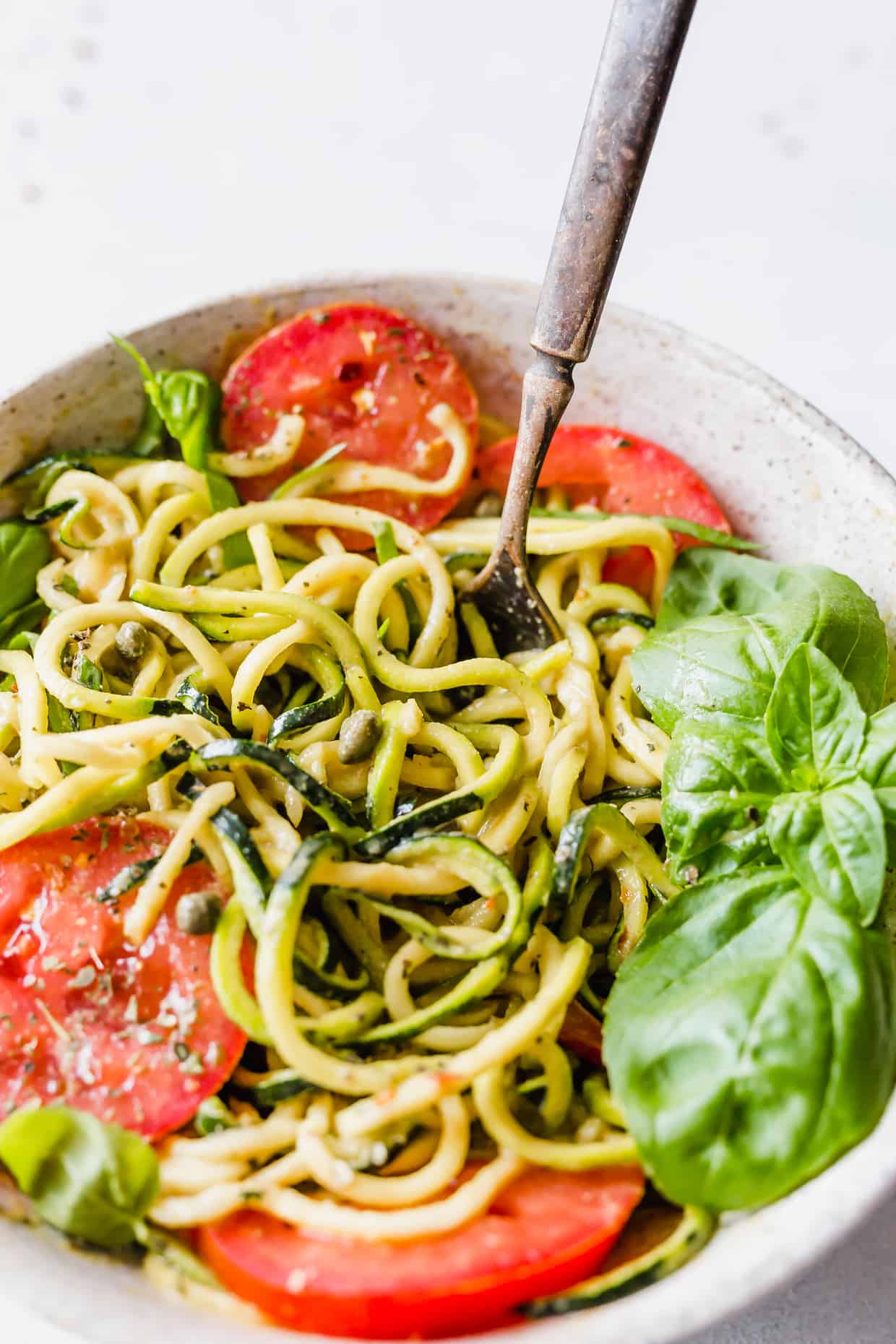 Recipe FAQs
What is nutritional yeast?
Nutritional yeast is yellow in appearance and has a nutty cheesy flavor. Susan from Fat Free Vegan Kitchen explains it well; "Nutritional yeast is a food additive made from a single-celled organism, Saccharomyces Cerevisiae, which is grown on molasses and then harvested, washed, and dried with heat to kill or "deactivate" it. Because it's inactive, it doesn't froth or grow like baking yeast does so it has no leavening ability." Add it to garlic bread, popcorn, pasta sauces, or zucchini noodles recipe like this 5-Minute Cheesy Zucchetti Bowl! 
Are nutritional yeast flakes good for you?
Nutritional yeast is a complete protein. This means that among the 18 amino acids it contains, nine are essential ones that your body cannot produce.  Nutritional yeast is a plant based source of protein, making it the perfect staple in a vegan's kitchen. Nutritional yeast is gluten-free and low in fat and sodium. Nutritional yeast is a great source for B12 vitamins. If you're vegan you should add this to your food on a regular basis. 
What is zucchetti pasta?
Zucchetti pasta is zucchini cut in a spiralizer to look like spaghetti noodles. Essentially instead of using spaghetti pasta you are using zucchini pasta!  
Are zucchini noodles healthier?
They are healthier than regular pasta in terms of being low carb. Obviously using a vegetable instead of pasta will be much healthier! And using zucchini spaghetti is a great gluten-free option. 
Do I need to peel the zucchini?
No you don't. You can spiralize the zucchini with the peel on. Just be sure to fully wash the vegetable. If you want to, you can, of course, peel it.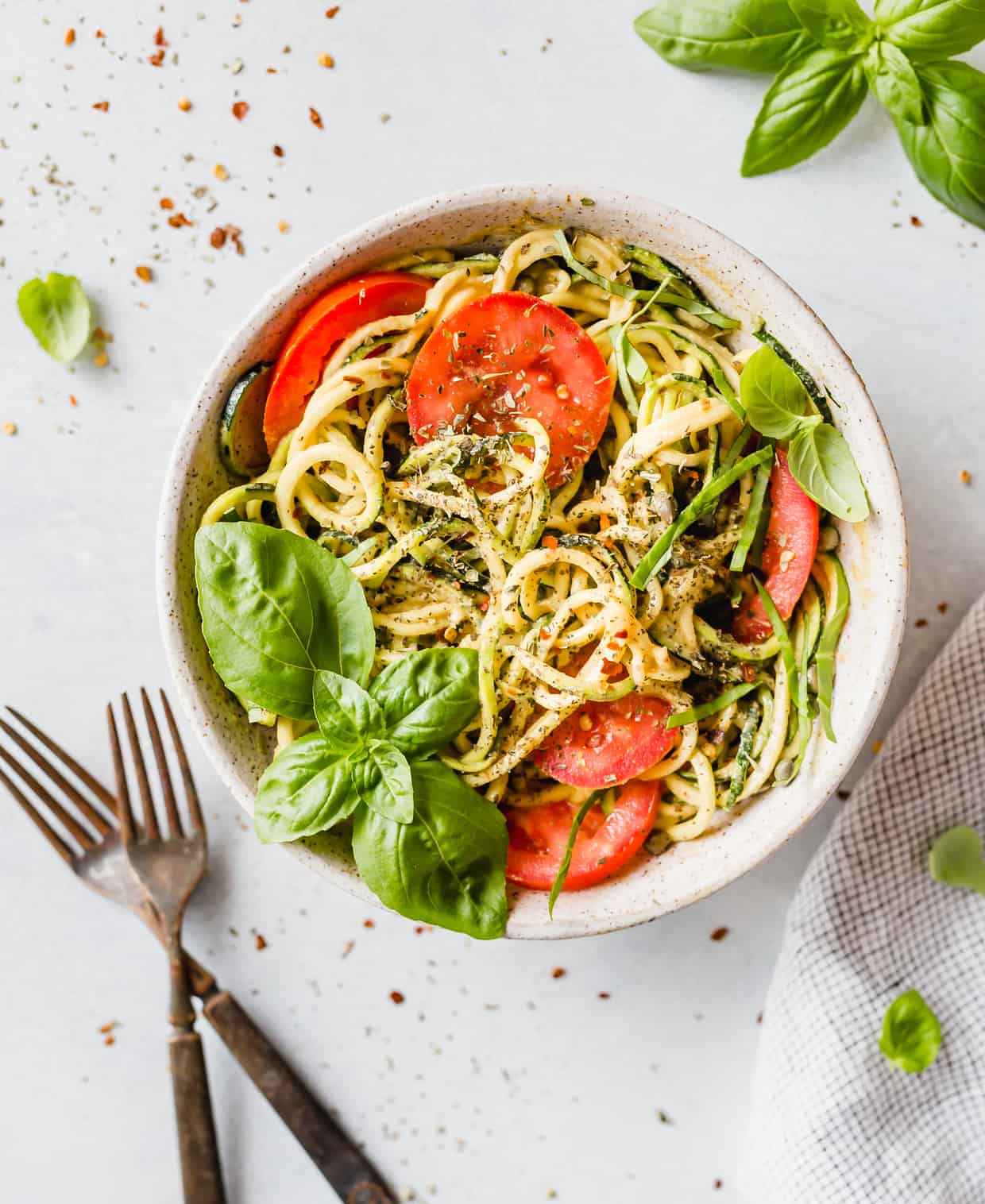 5-minute Zucchetti Pasta
This "cheesy" zucchini noodle bowl only takes 5 minutes to make! It's low carb and packed full of B vitamins!
Ingredients
2

small zucchinis

1/3

cup

nutritional yeast

1/4

cup

almond milk

1-2

tablespoons

olive oil

1/4

teaspoon

garlic, minced

kosher salt, to taste

pepper, to taste

2

tablespoons

tomato sauce

1

plum tomato, thinly sliced

1

pinch

Italian seasoning

fresh basil (or parsley)

crushed red pepper flakes

1

tablespoon

capers
Instructions
Spiralize the zucchini. If the zucchini is extra moist, take a paper towel to the zucchini and dab it dry so that no excess water remains.

In a small microwave safe bowl, combine the nutritional yeast, almond milk, olive oil and garlic. Cook in the microwave for 30-60 seconds until warm.

Remove and whisk the mixture until well combined. Add the salt, pepper, and tomato sauce. Whisk again.

Toss the zucchini noodles with the almond milk mixture.

Add the sliced tomato, Italian seasoning, basil, red pepper flakes, and capers. Serve warm!
Did you make this recipe?
Leave a star rating and review on the blog post letting me know how you liked this recipe! Take a picture and tag @saltandbaker on Instagram and Facebook so I can see what you're making!