Beef Stroganoff Sandwich
This post may include affiliate links. As an Amazon Associate I earn from qualifying purchases.
Beef Stroganoff Sandwich is my favorite easy meal on busy weeknights taking less than 30 minutes to put together! A delicious beef stroganoff mixture tops toasted hoagie buns, which is then topped off with fresh tomatoes, bell peppers, and melty cheese. It's easy, filling, fresh, and delicious!
I love a good sandwich! And don't get me wrong, I make my fair share of PBJ and Ham and Cheese Sandwiches, but there are so many EASY ways to level up your sandwich game and serve it for dinner! Chicken Caprese Sandwich is a good one if you love Italian anything! Or try my Chicken Salad Sandwich Recipe if you are looking for something cold and light, but tasty and filling!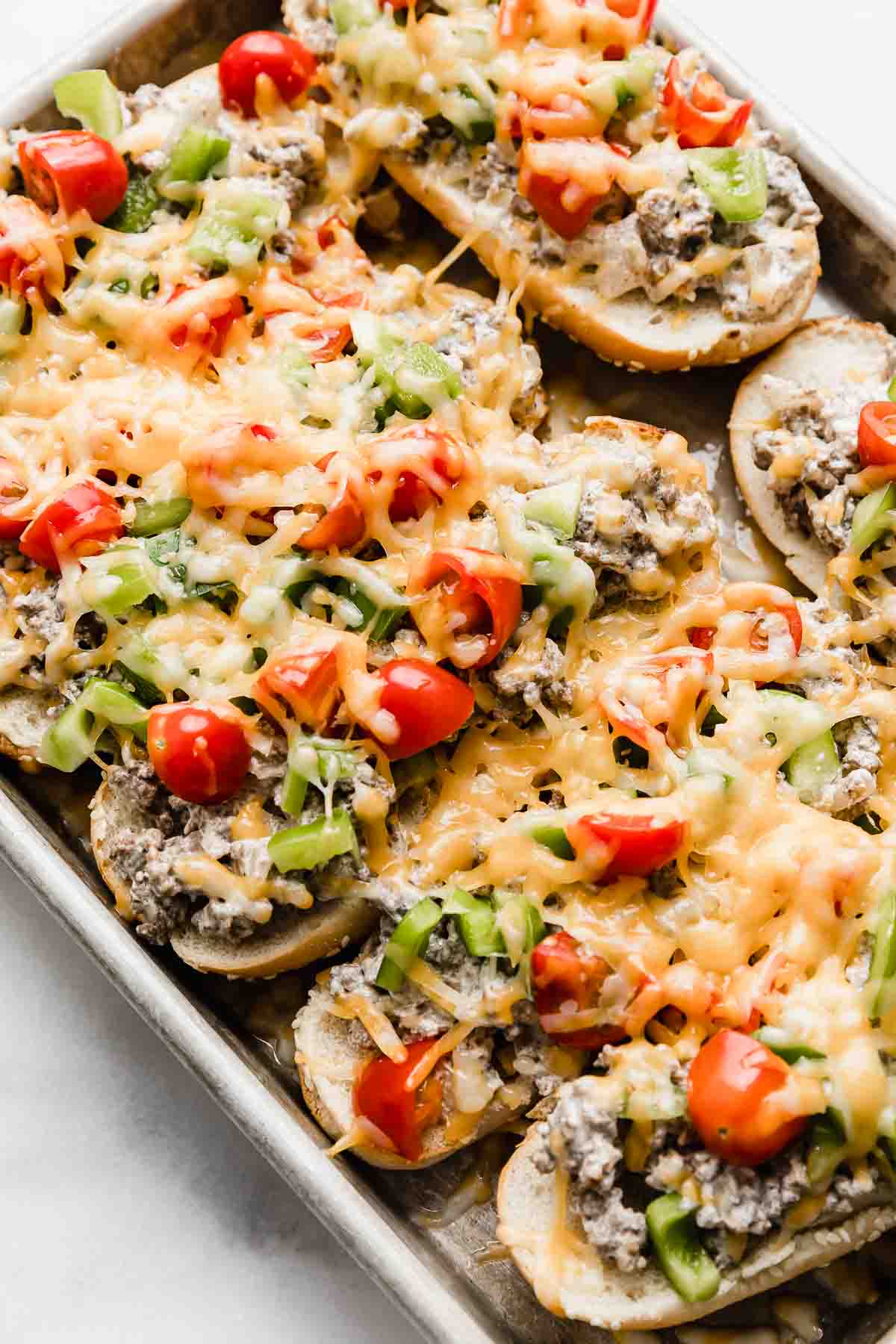 Why This Recipe Works
Easy dinner recipe. You don't need to be an expert in the kitchen to successfully make these beef stroganoff sandwiches.
30-minute meal. Beef stroganoff sandwiches is the perfect recipe for busy, on-the-go individuals because the prep and cooking times are minimal. Plus the end results are delicious! One reader, Kevin, said, "We've made this a couple times now. It's quickly becoming a family favorite." I know it will become YOUR new family favorite, too!
Easy to make small or scale up. This is a great recipe to make when you are cooking for yourself, for your family, or a large crowd. It's easy to scale up or make in small batches.
Ingredient Notes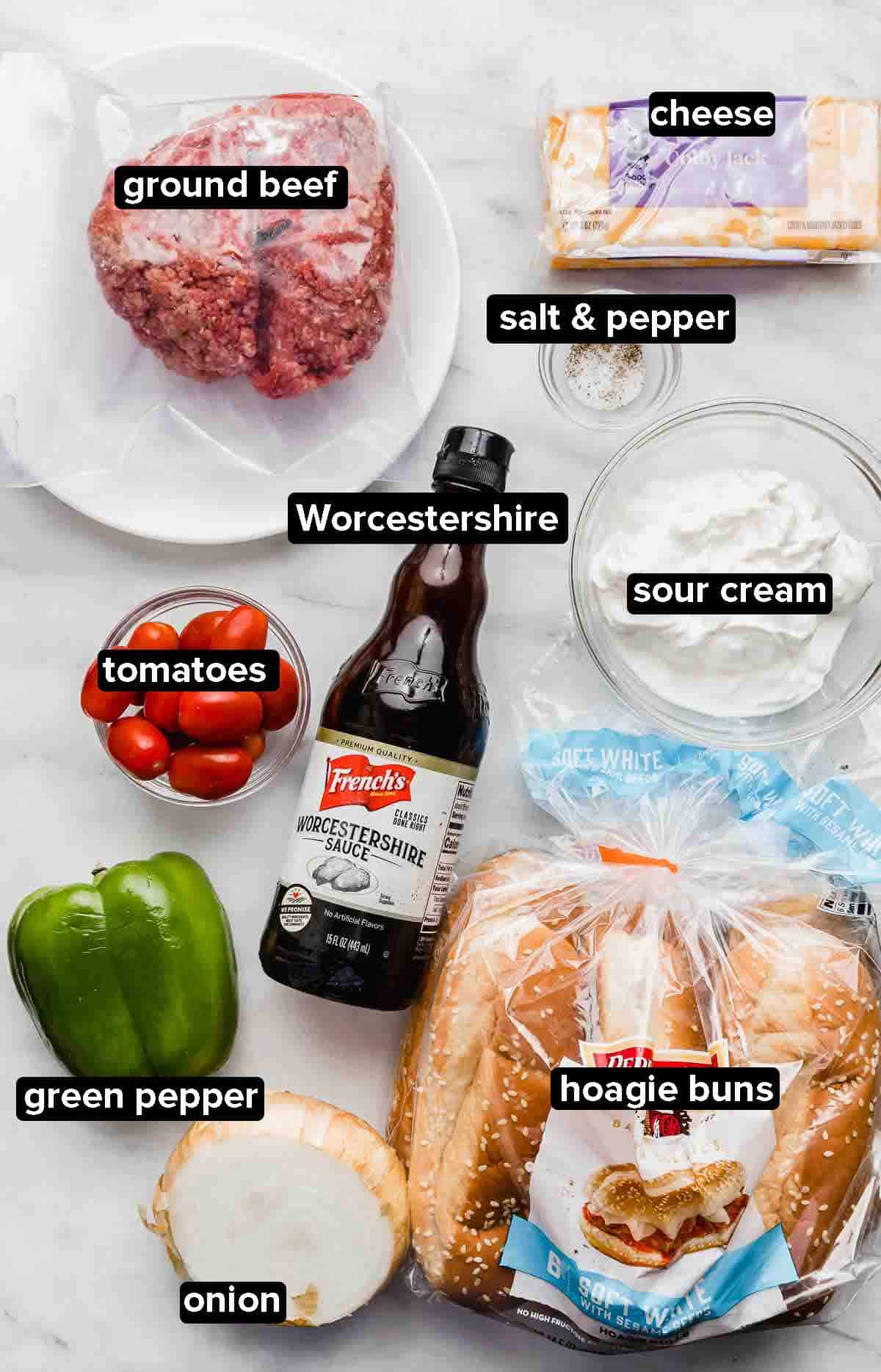 Hoagie Buns: I like using hoagie buns because then each person has their own little beef stroganoff sandwich. However, you can make this in a larger sandwich by making it on French bread. Then just slice into servings.
Ground Beef: Break up the ground beef as you are cooking it.
Sour Cream: You can use full fat sour cream or light sour cream. Up to you!
Worcestershire Sauce: This is the secret ingredient to making the beef stroganoff super delicious!
Bell Peppers: I like to use a large green pepper since I'm already using red tomatoes. This makes the color of the bell peppers pop more!
Tomatoes: Feel free to use whatever tomatoes you have! Yo can half or quarter cherry tomatoes or grape tomatoes if you'd like. Or use diced Roma tomatoes, heirloom tomatoes, etc.
Shredded Cheese: Feel free to use your favorite cheese. You can use Cheddar cheese, Swiss cheese, Monterey Jack cheese, or Colby jack cheese — whatever you prefer.
Step-by-Step Instructions
Toast the hoagie buns. Preheat the oven to 350ºF. Separate the hoagie buns and place them open side up on a baking sheet. Toast for 6-8 minutes or until lightly golden. Remove and set aside.
Make the beef stroganoff mixture. Add the ground beef and onion to a large skillet over medium heat. Cook beef and onion until the meat is fully browned, breaking it apart as you go. Drain excess liquid/fat. Add 1 tablespoon Worcestershire sauce, 1 cup sour cream, and 1/4 tsp salt. Stir until combined.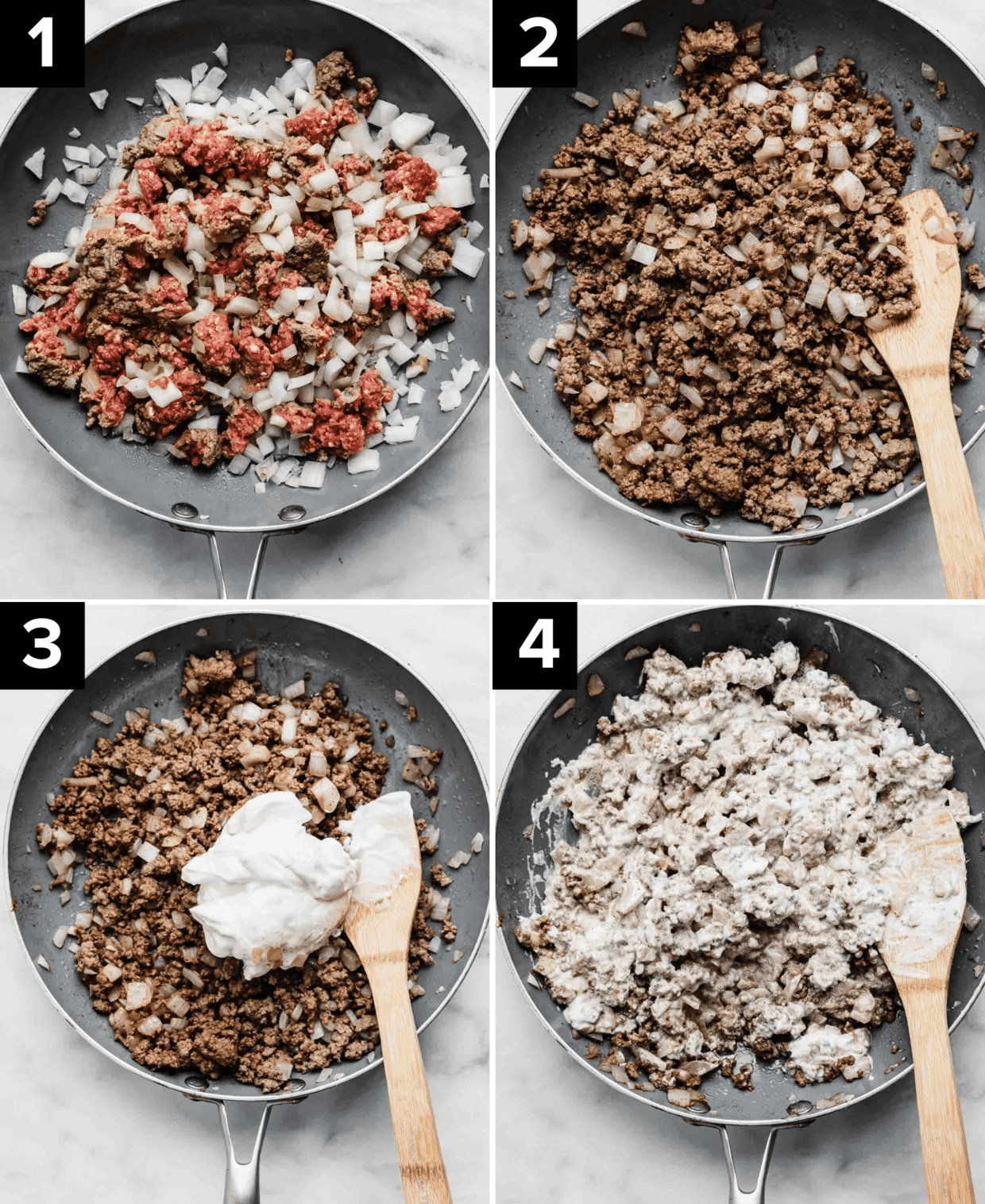 Top buns with beef stroganoff. Spoon the meat mixture on top of the toasted buns. Even out the meat mixture on each hoagie. Top with diced bell pepper, diced tomatoes, and shredded cheese.
Bake the beef stroganoff sandwiches. Place the pan in the oven and cook for 5-7 minutes or until the cheese melts. Remove and enjoy!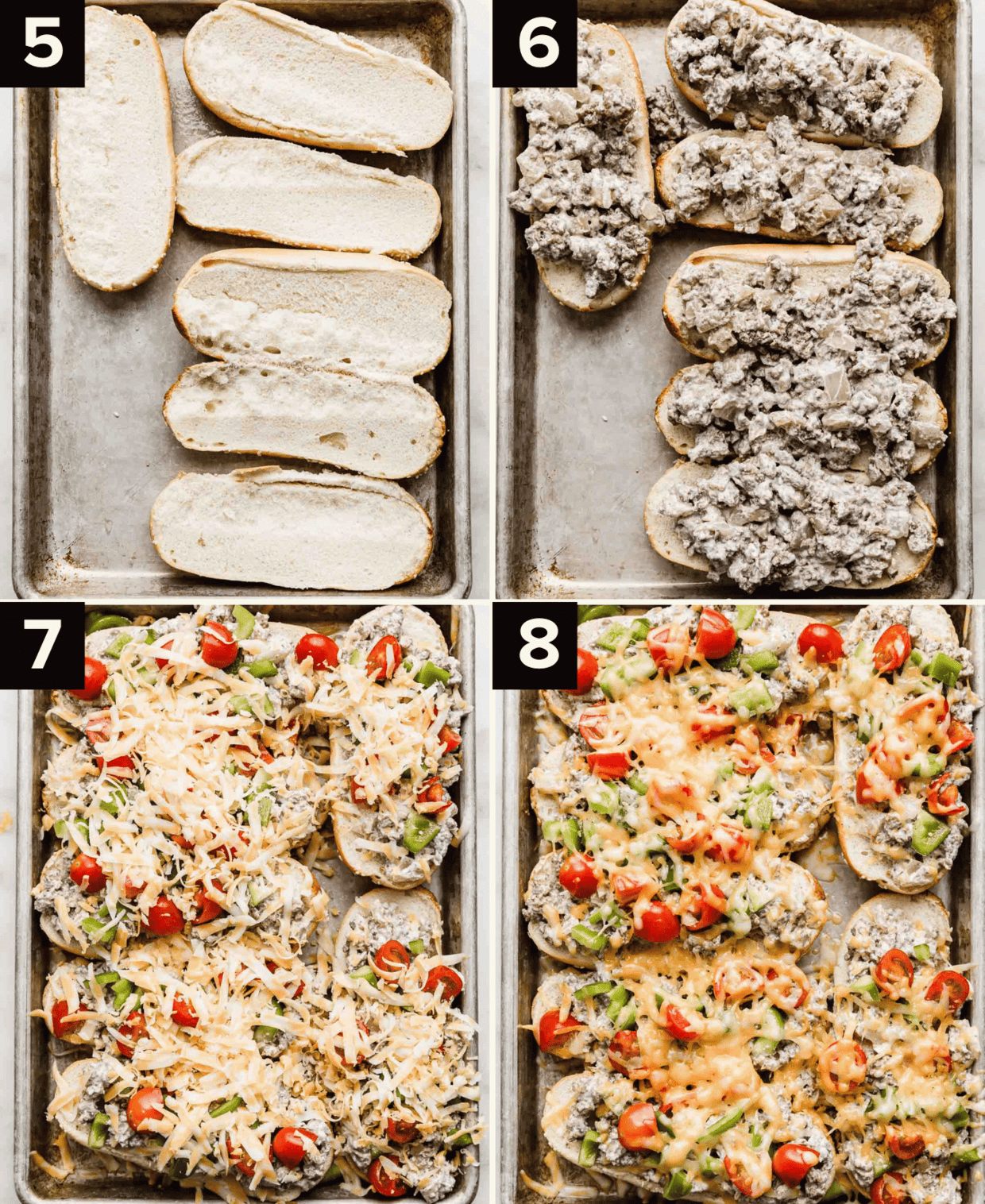 Recipe Tips
If you're not using a nonstick skillet, heat a few teaspoons of cooking oil over medium heat and then add the beef once the oil is hot. This will help the ground beef from sticking to the pan so readily.
When placing the hoagie buns in the oven, you want them on the baking sheet with the top and bottom bun portion separated.
You want to toast the buns in the oven prior to adding the meat mixture so you have crispier bread. Without toasting it, the bread will just be a bit soggy with the brown beef mixture sitting on top.
Despite the fact that this recipe requires turning on the oven, I particularly love making these "sandwiches" in the summer. I find the fresh tomatoes and green bell peppers to be so refreshing a top the beef stroganoff!
Make Ahead, Storing, and Freezing
For make ahead, I would just prepare the shredded cheese, the diced tomatoes, and the diced green bell pepper.
I don't like making the stroganoff mixture ahead of time, because then the beef stroganoff sandwich tray would have to be in the oven for longer. Since we make the beef stroganoff and then immediately add it to the buns, you're really just needing to melt the cheese in the oven and not having to heat up the meat mixture.
Store any leftover beef stroganoff sandwich in a ziplock bag or airtight container in the fridge for 2-3 days. Reheat in the oven for best results.
I probably wouldn't freeze the entire beef stroganoff sandwiches because the hoagie will go soft with the meat mixture sitting on it for so long.
You can, however, freeze the beef stroganoff mixture by itself if you want. Store in a freezer safe container and freeze for up to 2 months.
Recipe FAQs
Can I use French bread?
Yes! I use hoagie buns because then they are more individually sized. If you'd like, you can make this beef stroganoff sandwich recipe on a large French bread. Cut it in half lengthwise and then toast as instructed. Then instead of making individual hoagies, you'll just add everything to the French bread. Then you can cut it into strips to serve. 
Can I use ground turkey for beef stroganoff?
Yes. It will have a different taste and texture, but it will be similar enough to work. 
What can I use instead of sour cream?
You can try substituting Plain Greek Yogurt, but I really just like beef stroganoff with sour cream!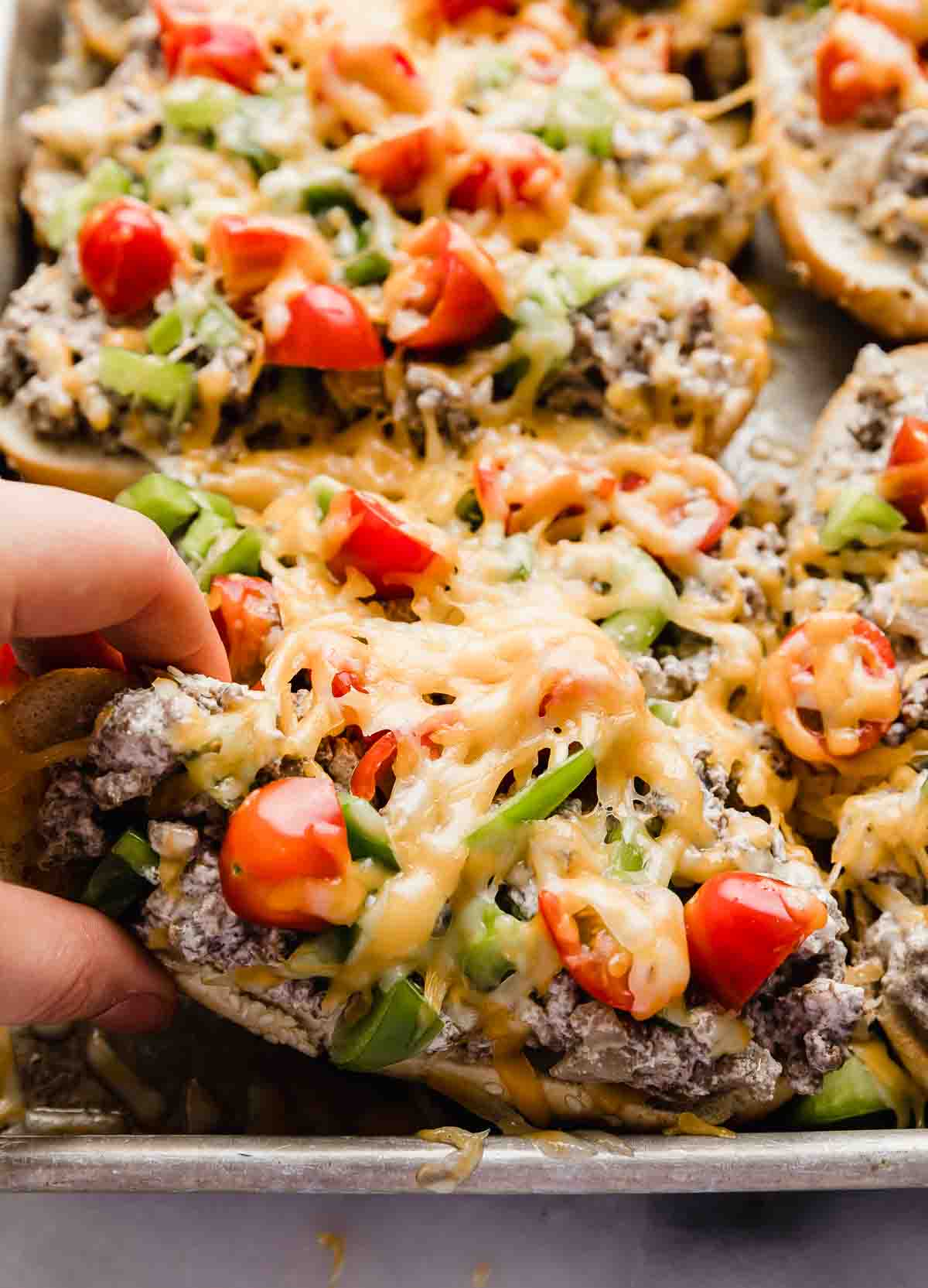 More Ground Beef Recipes
Beef Stroganoff Sandwich
An easy weeknight meal that is on the table in just 20 minutes! Toasted buns are topped with a beef stroganoff mixture, fresh tomatoes, peppers, and shredded cheese. It's simple, but packs a punch with flavor!
Ingredients
6

hoagie buns

1

lb

ground beef

1

small onion, diced

1

cup

sour cream, heaping

1

tablespoon

Worcestershire sauce

1/4

teaspoon

salt

1

bell pepper

-

diced

1-2

tomatoes

-

chopped, can use Roma tomatoes, grape or cherry, whatever you have on hand.

1-2

cups

grated cheddar cheese
Instructions
Preheat the oven to 350°F.

Separate the hoagie buns and then place on a baking sheet and toast the buns for 6-8 minutes or until lightly crisp. Remove from the oven and set aside.

In a skillet over medium heat brown the ground beef with the onion. Once the meat has been browned, drain any excess liquid or fat. Add the Worcestershire sauce, sour cream, and salt. Stir to combine.

Spoon the meat mixture over the toasted hoagie buns so that it's evenly dispersed. Top with the diced bell pepper, diced tomatoes, and then shredded cheddar cheese. Place in the oven and bake until the cheese is melted, about 5-7 minutes.

Remove and serve immediately.
Notes
**Note: When placing the hoagie buns in the oven, you want them on the baking sheet with the top and bottom bun portion separated.
Did you make this recipe?
Leave a star rating and review on the blog post letting me know how you liked this recipe! Take a picture and tag @saltandbaker on Instagram and Facebook so I can see what you're making!