Oreo Cake Pops
This post may include affiliate links. As an Amazon Associate I earn from qualifying purchases.
These Oreo Cake Pops are a super easy no-bake dessert! Deliciously chocolatey these effortless treats are made with only 3 ingredients which makes them the perfect quick dessert for any party of event! Pulverized Oreos are mixed with tangy cream cheese, coated in melted chocolate, and drizzled with semi-sweet chocolate. These little pops are oh-so-elegant, taste just like a chocolate covered Oreo cheesecake, and is a treat that everyone is sure to love!
If you love Oreo based desserts, be sure to try my classic Oreo Truffle Brownies, or my easy Oreo Dessert, homemade Oreo donuts and Oreo Milkshake.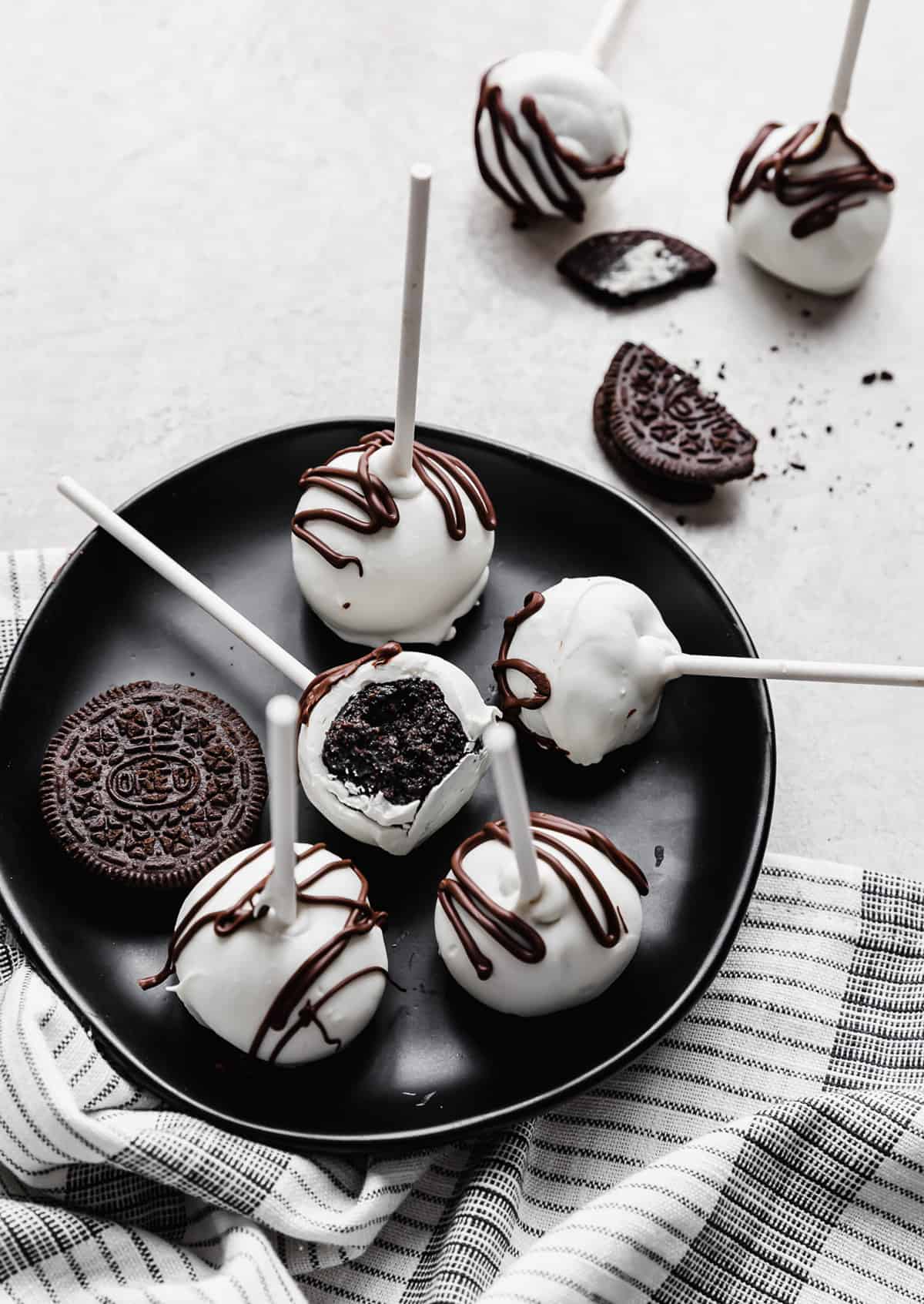 Why This Recipe Works
Traditional cake pops require a little bit of work. Made by baking a cake and whipping up homemade frosting; while delicious, this can be a time consuming process. Which is why I love this 3 ingredient Oreo recipe!
These Oreo cake pops are so simple and easy to make! Plus, they're no-bake and come together so fast. Which means they are the perfect quick dessert to make for any party, potluck, or for when you have an Oreo pop craving!
One bite of these deliciously chocolaty pops and you'll never want to buy one of these cute little desserts again! Trust me, homemade is so much better!
Customize this simple treat for any holiday by using colorful chocolate and meltables.
Ingredients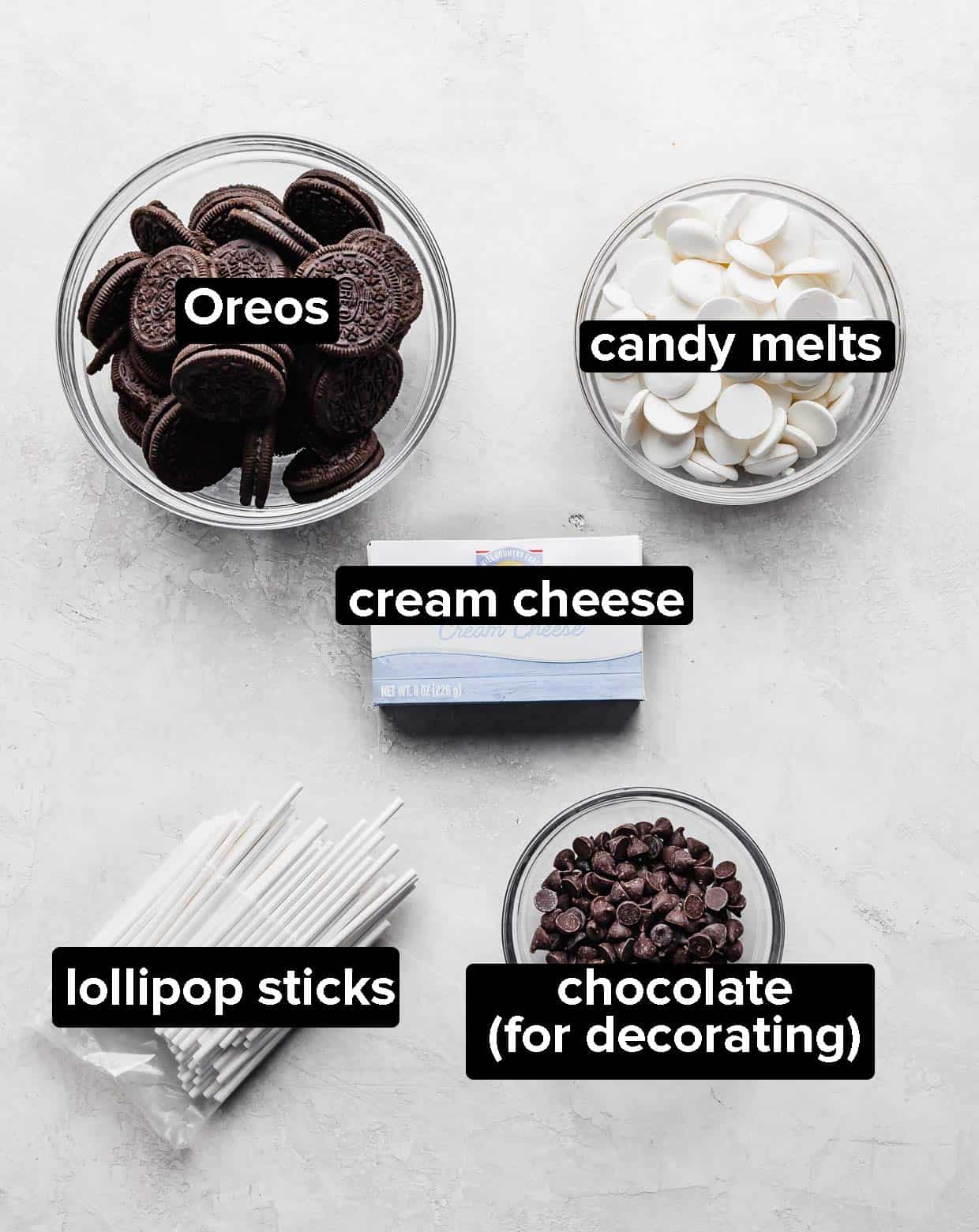 Oreo Cookies: I used regular but feel free to use double stuffed, mega stuffed, and even golden oreos!
Cream Cheese: Feel free to use full fat, reduced fat, or fat free version. Just bring it to room temperature for easier mixing.
Candy Melts: I used candy melts but baking chips or almond bark works just as well.
Chocolate: You can use semi-chocolate, dark chocolate, even white chocolate chips to drizzle over pops.
Lollipop Sticks: I like the white ones but you can find colored ones or even use the flat wood sticks too.
Step-by-Step Instructions
Add Oreo's to a food processor and pulse until the Oreo's are fine crumbs. If you do not have a food processor you can place them in a ziplock bag and crush them with a rolling pin or mallet. Add the cookie crumbs to a large bowl along with the cream cheese. Mix with a spatula until combined.
Shape into balls and place on a baking sheet lined with parchment paper. Freeze for 15 minutes.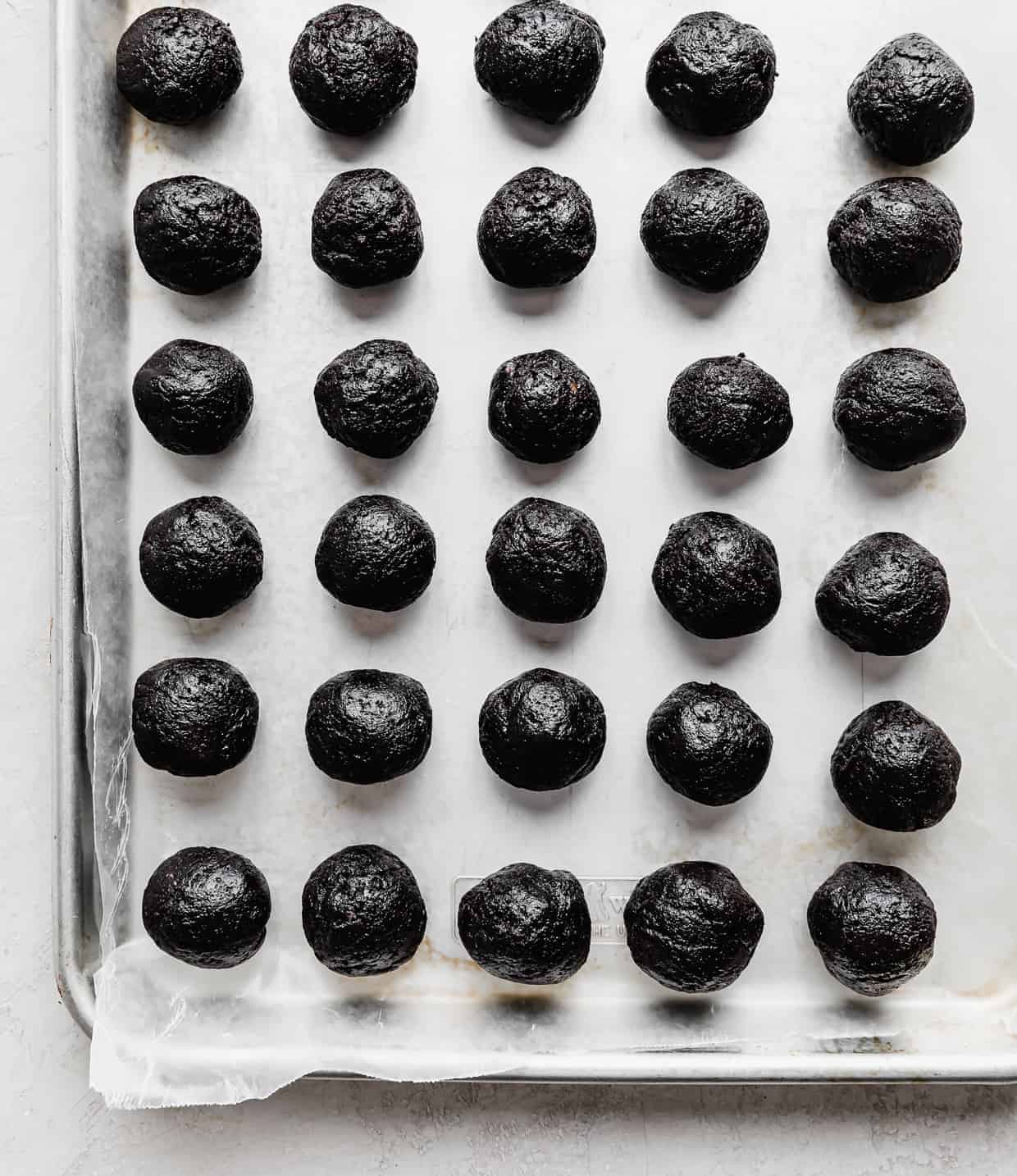 Dip the end of each lollipop stick in the melted candy melts and insert it into the chocolate cake pop. Then place the cake balls back into the freezer for 15 more minutes.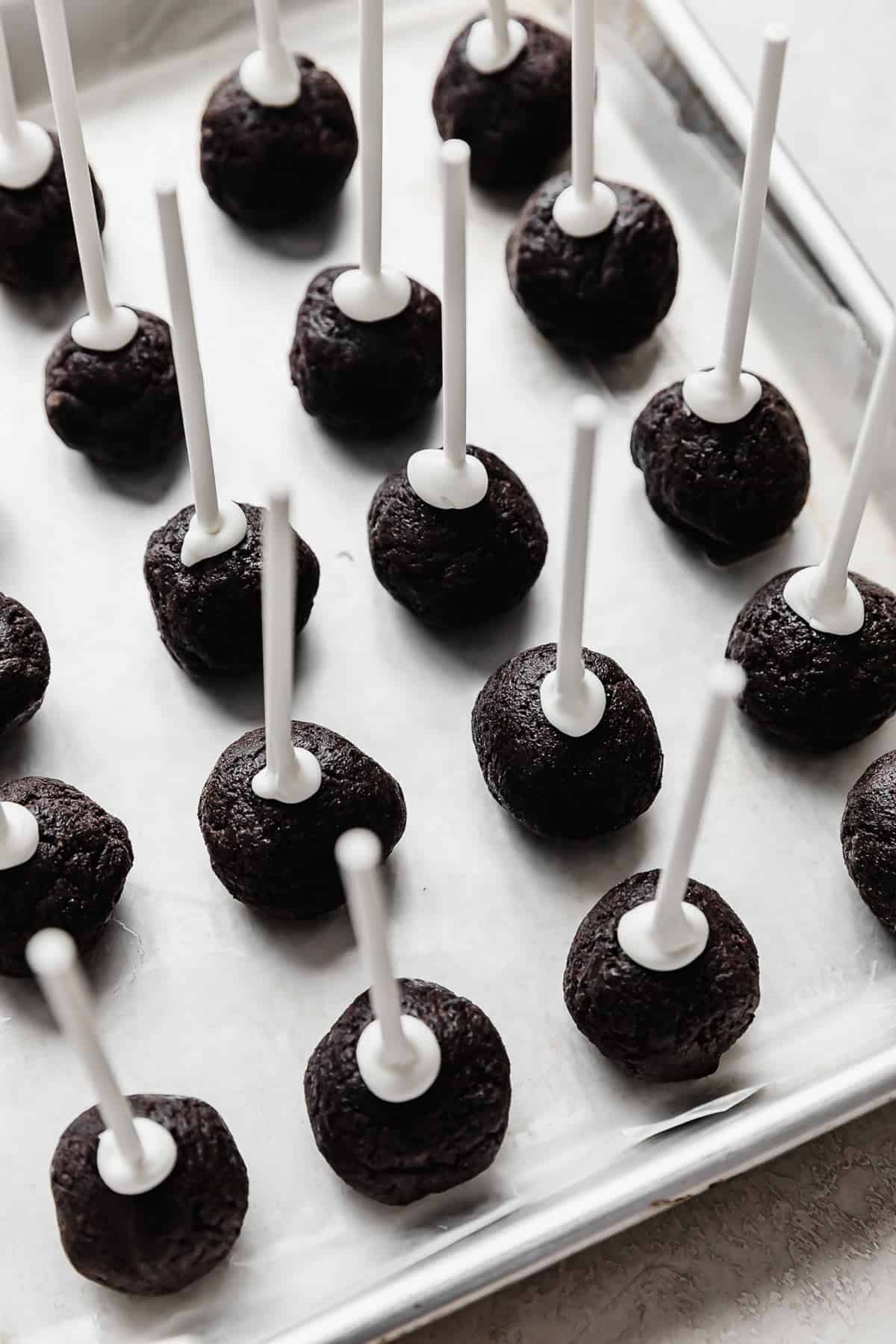 Remove frozen cake pops from freezer and submerge into melted chocolate. Drizzle with semi-sweet chocolate over-the-top or decorate with sprinkles.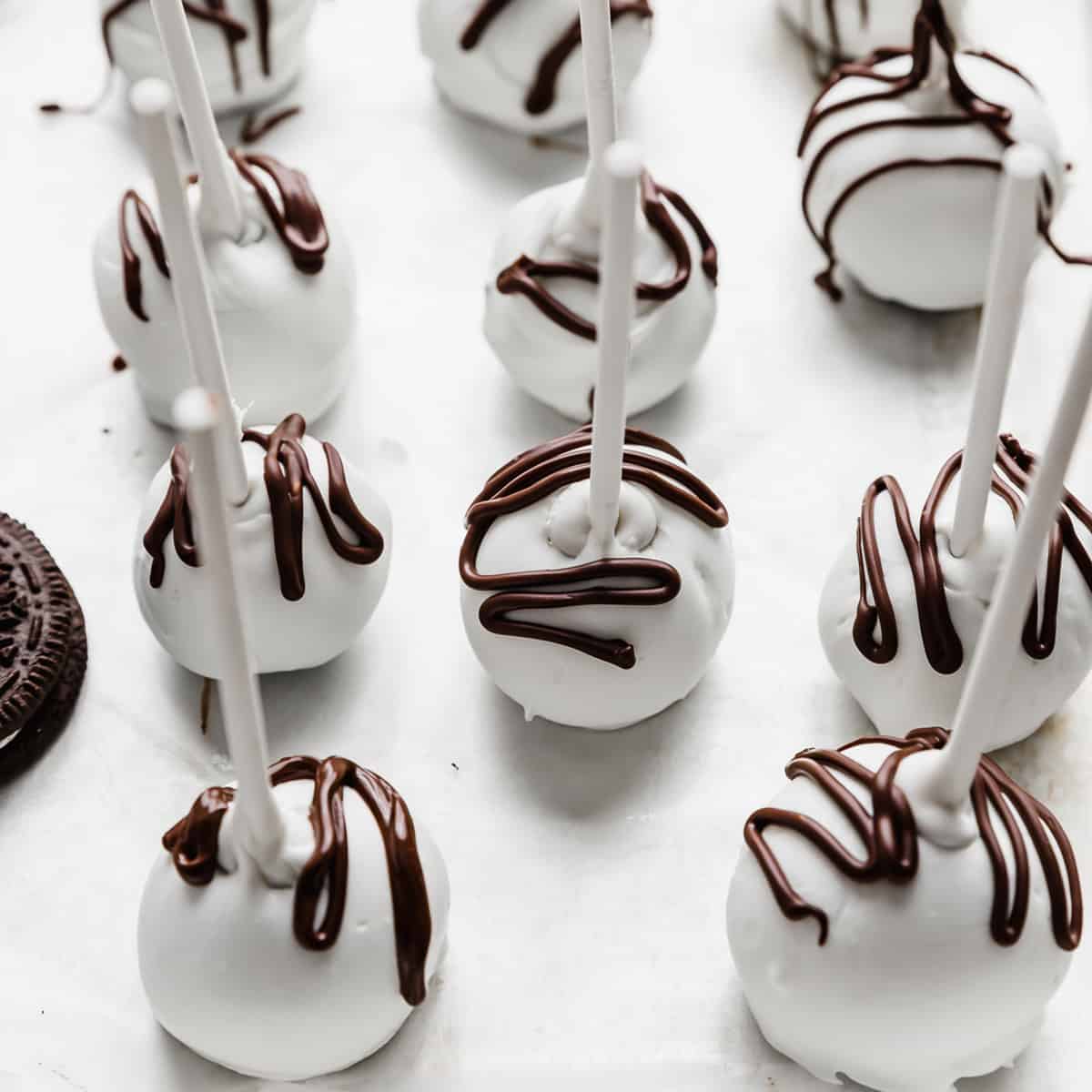 Recipe Tips
If you do not like the idea of microwaving the candy melts, you can always use a double broiler method.
If you can't find candy melts, feel free to use baking chips or almond bark.
Shake or tap off the excess then stick into a Styrofoam board or on parchment paper to set up.
If you want your chocolate coating to be a different color, you can add a gel or oil based food coloring to the white candy melts or simply purchase a different color to fit your party or holiday color scheme. I usually buy mine at Michaels but you can also purchase them on Amazon here. If using baking chips to coat, do not color with a water based coloring as it will cause the chocolate to seize up.
Storing and Freezing
Oreo cake pops must always be chilled and will stay fresh for up to 5 days in the refrigerator in an airtight container.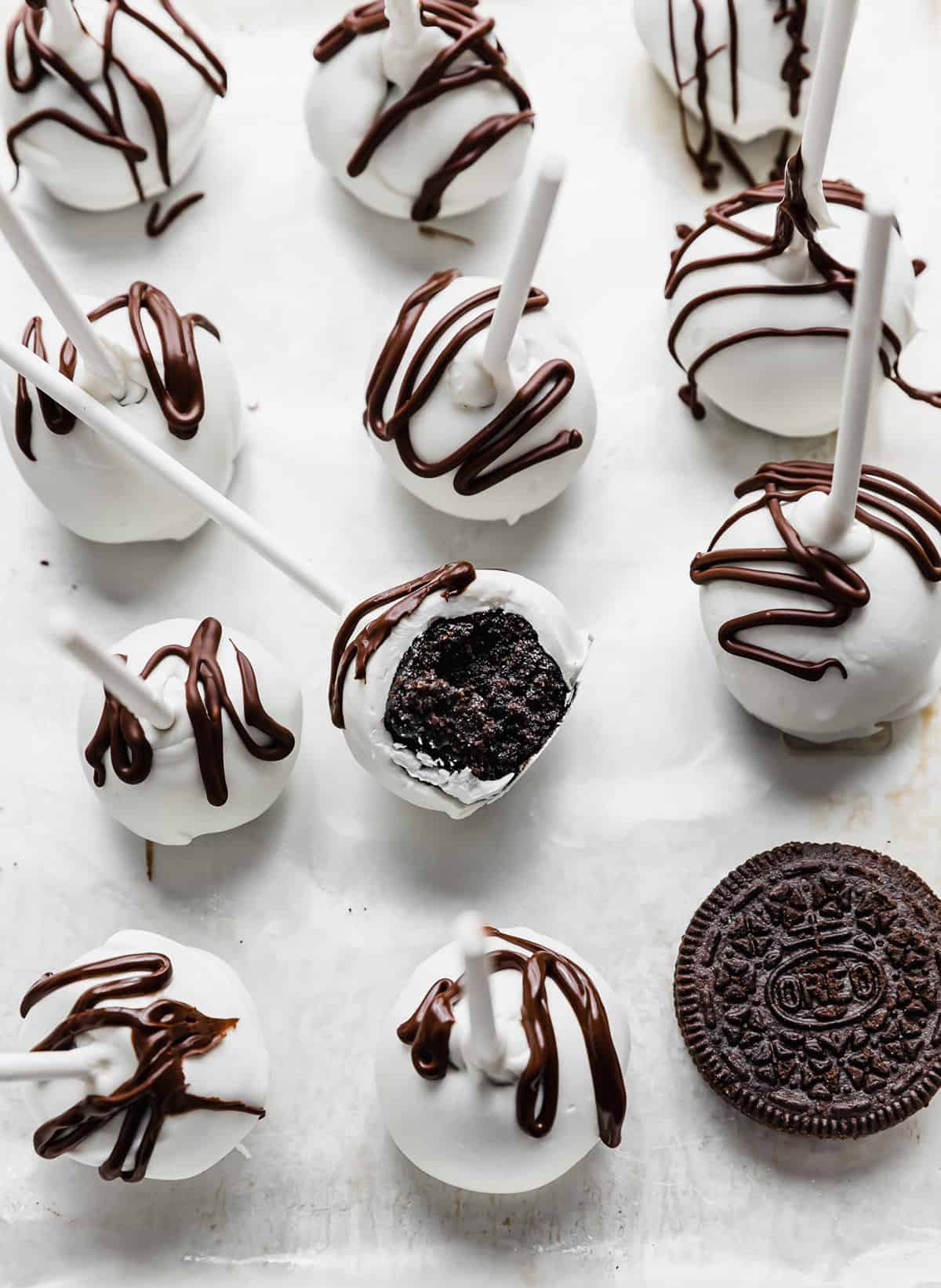 FAQs
Can Oreo cake pops be made ahead?
Yes; these can be made ahead and kept in the freezer for up to 2-3 months. Thaw in the refrigerator overnight before serving.
How do I thin out candy melts?
If you find your melted Candy Melts are too thick you can use Crisco shortening or coconut oil. However; the best way to thin is by using a dipping aid. Dipping aid is made of tiny chips that make the candy runnier and smoother, and results in a much easier dip.
Why is the shell on my Oreo cake pop cracking?
The most common reason the chocolate shell cracks is that the pop was too cold and the chocolate was too hot when dipped. When the two came into contact with each other, the drastic temperature differences caused a "shock" to the melted candy. This "shock" will eventually lead to cracking. To avoid this, allow melted chocolate to cool for a few minutes so the temperature differences isn't so great.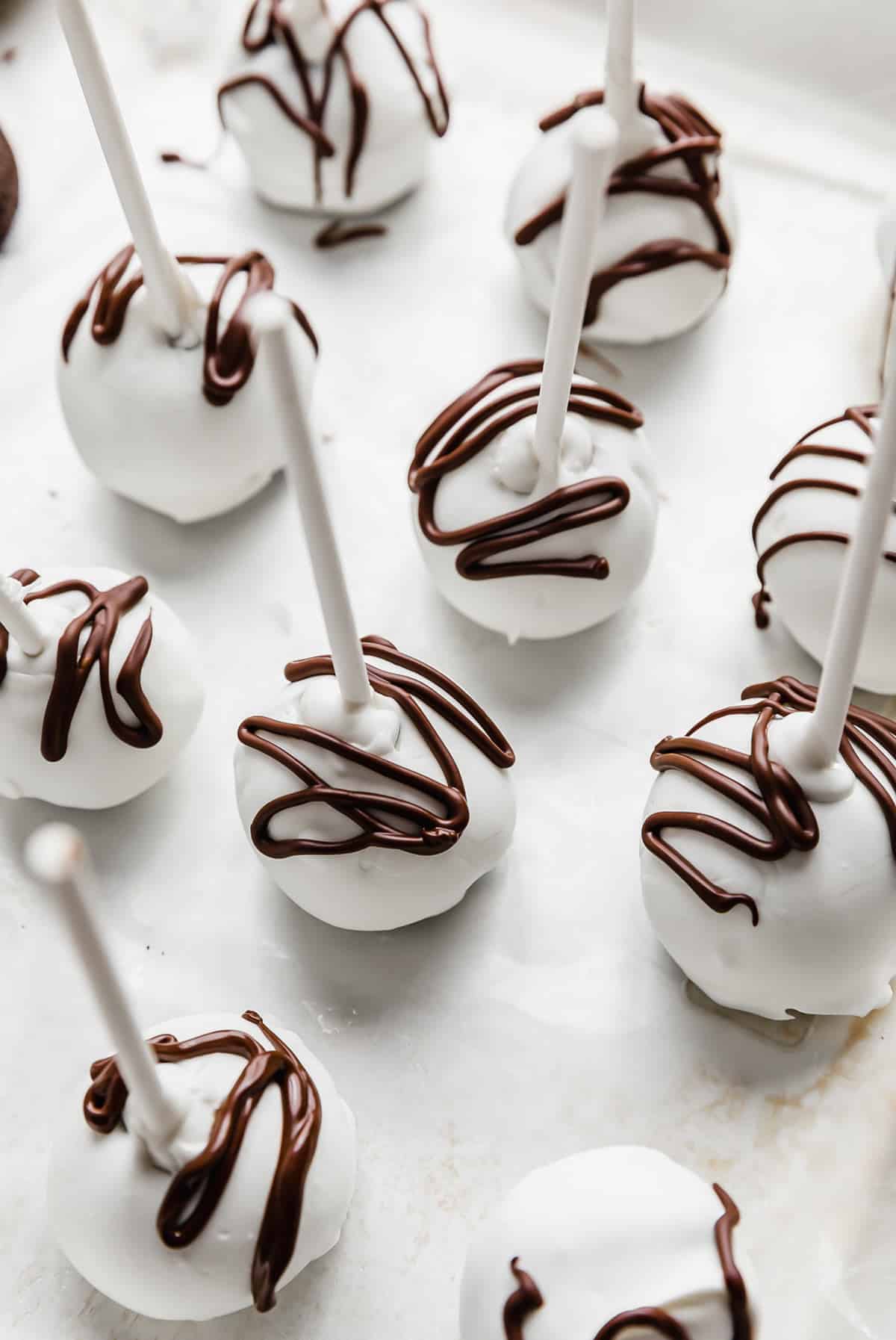 Related Recipes
Oreo Cake Pops
These 3 ingredient Oreo cake pops are easy to make and so delicious! You can use any color of candy melts to fit the occasion, think pink/blue for baby shower, red/white/blue for 4th of July, or orange and black for Halloween!
Ingredients
42

Oreos

-

I used regular Oreos, but can use double stuf

8

oz

cream cheese

-

softened to room temperature

3

cups

candy melts

-

about 18 oz, can use any color

1/2

cup

semi sweet chocolate chips -

melted for decorating, if desired (see notes)
Instructions
Add Oreos to a food processor and mix until they turn into fine crumbs. Add the cream cheese and mix until it comes together. Transfer the mixture to a bowl. 

Line a baking sheet with wax paper. Using a cookie scoop, portion the mixture into equal portions (however big or small you want) and roll them into balls. Place the round balls on the parchment paper and freeze for 15 minutes. 

In the meantime, melt the candy melts. Remove Oreo balls from the freezer. Dip 1 side of the lollipop stick in the melted chocolate then immediately press it halfway into an Oreo ball. Continue until all Oreo pops have a lollipop. Freeze again for 5-10 minutes. 

You may need to reheat the candy melts so that they are melty again. Remove the Oreo pops from the freezer and submerge the full Oreo pop into the candy melts, tap off the excess then stick into a Styrofoam board and let set. You can also place the cake pops (I did this with mine, you can see the photos in the blog post). Drizzle the semi-sweet chocolate overtop for decoration. Alternatively, you can sprinkle the tops with sprinkles immediately after dipping in the melted candy melts.
Notes
Mixing method: If you don't want to use a food processor or if you don't have one you can crush the Oreos until they are fine crumbs then mix in the cream cheese. If I do it this way I eventually resort to mixing with my hands as it will help the mixture come together faster. 
Oreos: I used regular Oreos, you can use double stuf, or even Golden Oreos if you'd like!
Decorating: I used melted semi-sweet chocolate chips to drizzle overtop of the Oreo Cake Pops. You can decorate with sprinkles or a different color of candy melts! The best part about these cake pops is you can make them look however you want. Be creative!
Candy Melts: I purchase mine at Michaels. Use any array of colors you'd like! I find this brand melts very well! Just follow the instructions on the package to melt them properly. 
Serving size: I used a fairly small cookie scoop, it was about 1.5 tablespoons (size 40 scoop) and I ended up with around 30-35 cake pops. 
Did you make this recipe?
Leave a star rating and review on the blog post letting me know how you liked this recipe! Take a picture and tag @saltandbaker on Instagram and Facebook so I can see what you're making!