A Sweeter Wednesday #28
This post may include affiliate links. As an Amazon Associate I earn from qualifying purchases.
Happy Wednesday!
My little family has a motto we repeat daily, "Kindness begins with me." It's a simple phrase that at times helps us keep the peace. I saw this article that reminded me of our little family motto. I love the simple yet impactful ways we can all seek to make our communities a better place for everyone. We are all created equal and I believe that with my whole heart.❤️
It's officially smokin' HOT in Texas, which means I'm ready for winter. 😂 But seriously, I've never been a summer person. To combat the heat I've made homemade strawberry, blackberry, and peach popsicles.
What did you do during lockdown? Probably not much compared to THIS! ❤️
Our Sunday dessert last week was my No-Bake Peanut Butter Pie. The pie is kept in the freezer and lasts a long time (depending on your level of self-control). I haven't told my kids about it… my husband and I will pull it out when they're in bed and cut a small slice for ourselves. Oh my gosh, we are mean smart parents. 🤣
Each night before bed I read 1 page from this parenting book, Peaceful Parents Happy Kids. I'd read more, but it puts me to sleep in minutes. All jokes aside, this is a really good book! The past few months I've been working extra hard on improving MYSELF as an individual rather than trying to force change in my children. If you think about it, kids emulate what they see and know. If you want kids to change, sometimes it means changing yourself. (Gah! My husband told me that and I was like, "You're right, dang it.") And granted, that's not always the case with some situations and families. I know there are additional struggles and roadblocks. However, I wanted to share this book because I've really enjoyed it and I find it helpful.
Do you cry when you watch movies? We watched The Help over the weekend and I couldn't help but shed tears. Such a beautiful movie.
I photographed a creamy tomato tortellini soup and a citrus summer salad this past week. Both recipes were a huge success! Can't wait to share them with you.
With warmer weather, we take our walks early in the morning. Will loves the strider bike.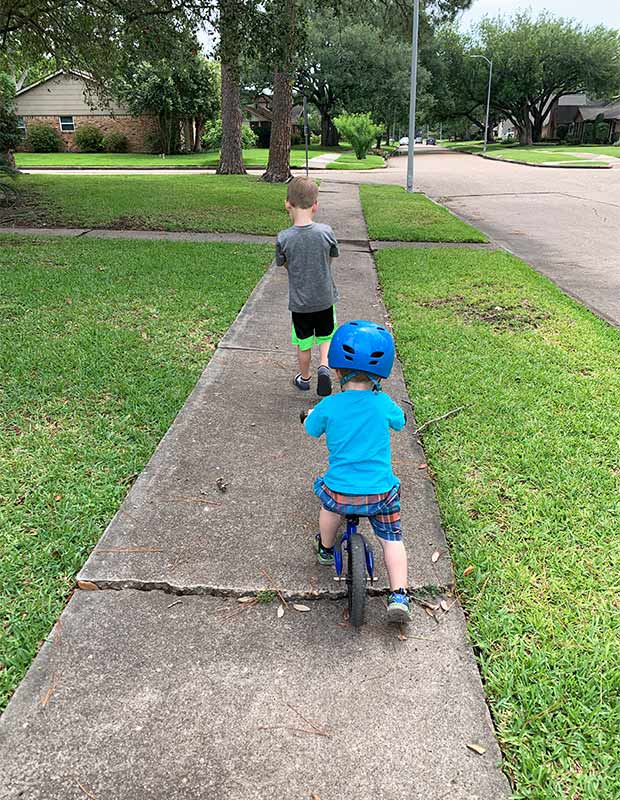 Recent Recipes
You can use this hot fudge sauce with the following recipes:
Favorite Finds
Tempted to make chocolate brownie waffles over the weekend, holy YUM!
Banana Foster Cheesecake looks amazing!
I'll take ✌🏼 of these cinnamon fudge layered brownies. 😍
52 Family Movie Night Ideas… make sure you have a side of movie theater popcorn. 🍿
Speaking of how I love the fall, I must make these Sweet Potato Cinnamon Rolls.
Honey Lime Steak Tacos, yes please.
So grateful for each of you, thanks for following along. Have a beautiful week!
xo Whitney