Steakhouse Burgers
This post may include affiliate links. As an Amazon Associate I earn from qualifying purchases.
These Steakhouse Hamburgers are the best American burgers you will ever have! They are juicy, packed with flavor, and perfect restaurant quality burger to grill up this summer.
Keep your grill fired up for more delicious burgers for the summer! My Bacon Burgers, Healthy Salmon Burgers, and Taco Turkey Burgers are some family grilling favorites. Then finish off your BBQ spread with my homemade Baby Potato Salad Recipe.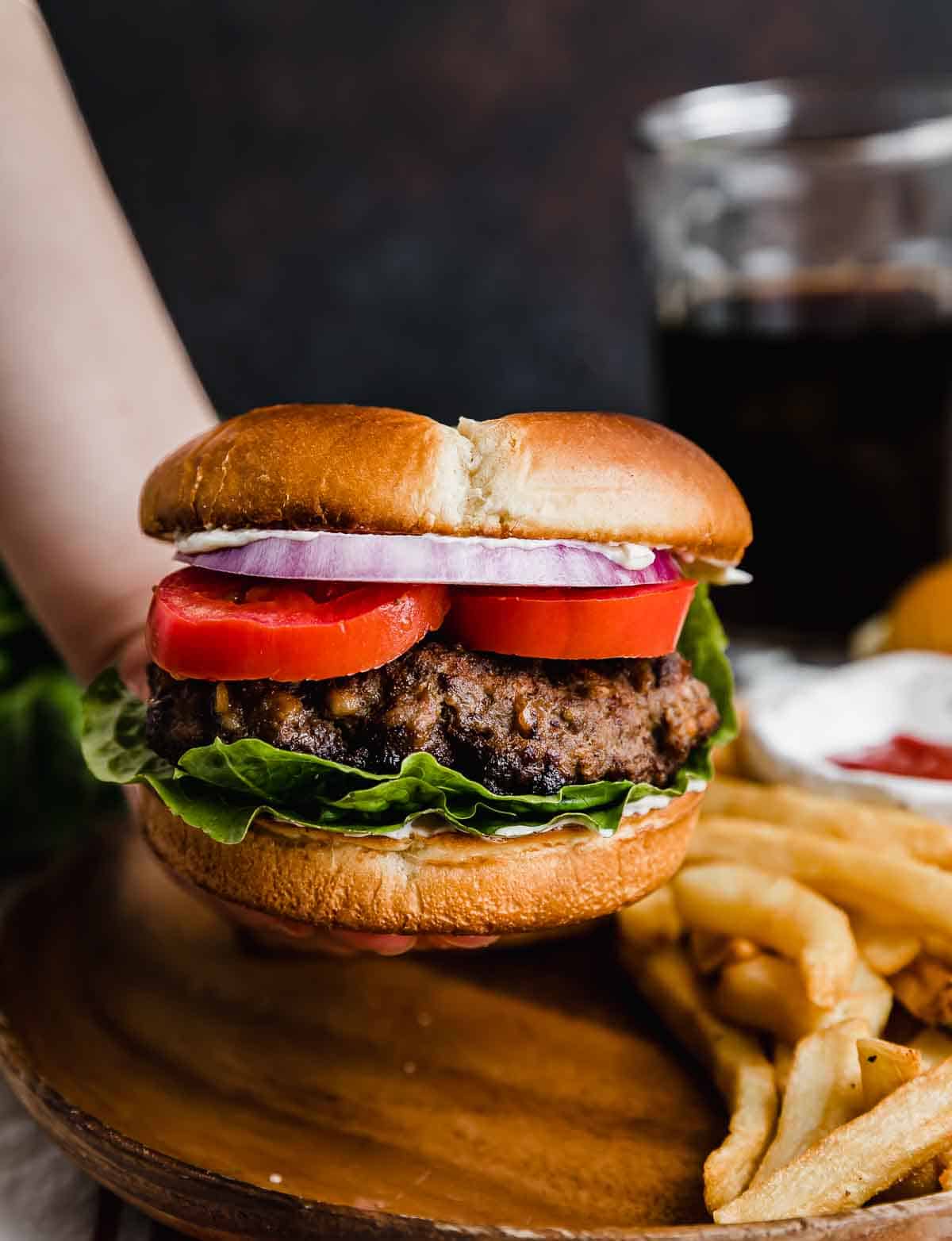 Why This Recipe Works
Best steakhouse burgers. These are the best American burgers! They are perfectly juicy, and I've added lots of good things to make sure they are very flavorful. You'll keep coming back to this ultimate steakhouse burger recipe again and again.
Easy hamburger patties. It's easy to make homemade hamburger patties! And these best burgers turn out great every time.
Ingredient Notes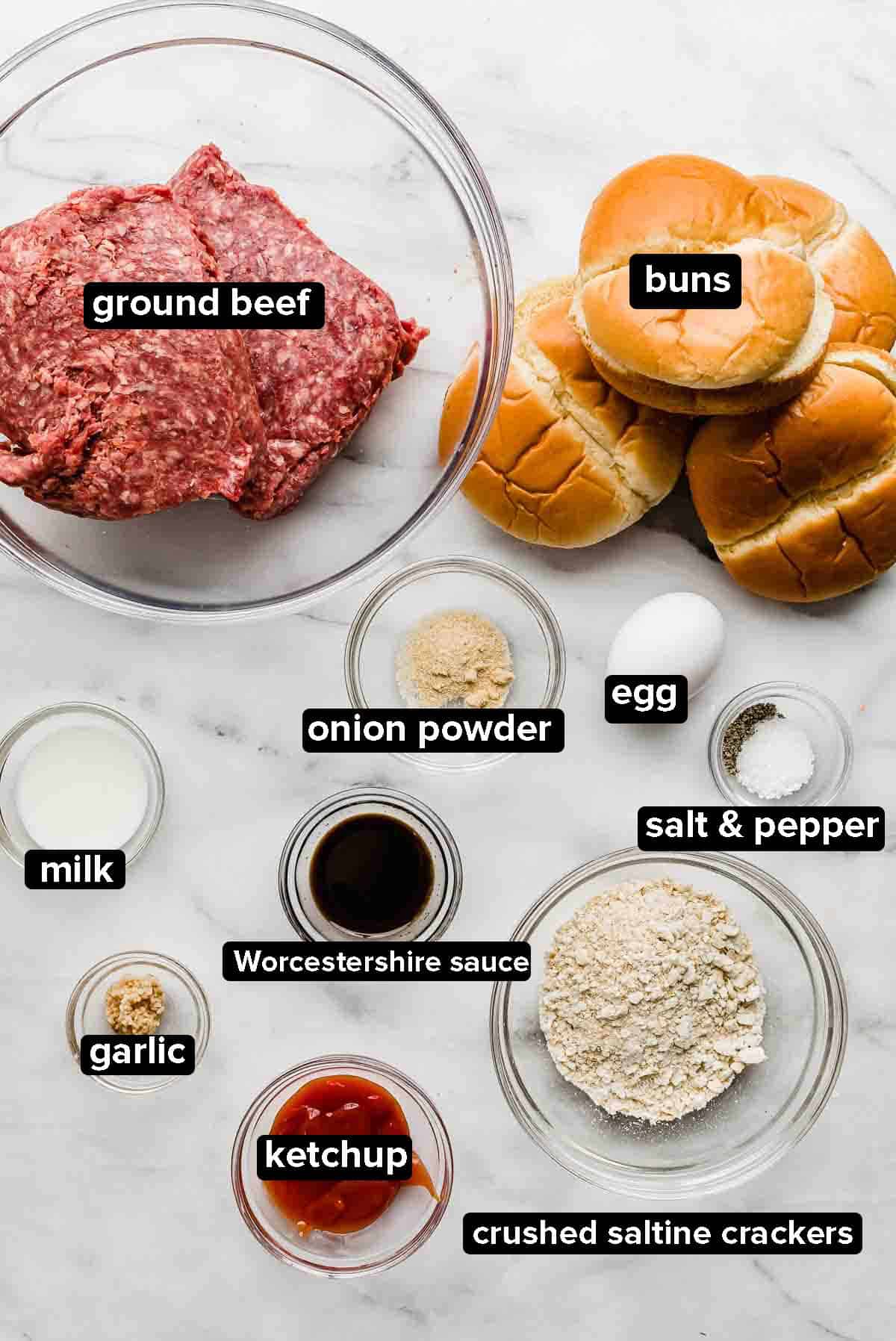 Ground Beef: You'll need 2 lbs ground beef. This juicy hamburgers recipe makes 6 thick patties or 8 thinner patties.
Saltine Crackers: You can use plain bread crumbs if you like or the crushed saltine crackers. I love the crushed saltine crackers because it adds a nice salty element.
Ketchup: Adding some ketchup to the patties mixture will provide a deliciously sweet tomato flavor that makes these juicy hamburgers win at every barbecue.
Worcestershire Sauce: This adds the perfect saltiness to the beef patties.
Onion Powder: Not only are we adding some onion powder, but minced garlic too. These will provide delicious flavor!
Egg: Adding the egg will help bind the patties and keep them from falling apart on the grill.
Hamburger Buns: I like to place the buns on the grill (on the cooler side) so they are slightly toasted. It's the perfect touch to the beef burger!
Hamburger Toppings: Grab your favorite hamburger toppings! Sliced tomatoes, pickles, lettuce, ketchup, mustard, barbecue sauce, grilled onions, the works!
Step-by-Step Instructions
Preheat the grill. Preheat your grill to medium-high heat (about 375ºF-400ºF). Or grab a cast iron skillet to use on the stove.
Prepare the hamburger patties. To a medium bowl add 2 lbs ground beef, 1/2 cup crushed saltine crackers, 1 tablespoon milk, 1 egg, 1 tsp kosher salt, 1 tsp ground black pepper, 1 tsp onion powder, 1 tsp minced garlic, 1 tablespoon Worcestershire sauce, and 2 tablespoons ketchup. Using your hands, mix everything until combined. Don't over mix.
Form into patties. Form equal portions of the meat mixture and pat into 6 thick patties (1 inch thick and 5 inch across) or 8 thin patties. Using your thumb, make a slight imprint in the middle of each patty. This will keep them from puffing up while cooking.
Grill patties. Place the hamburger patties on the hot grill and cover and cook for 3-4 minutes on the first side. Flip, then cook until your desired doneness. Add the buns to the grill to toast them if you'd like.
Stovetop instructions. If cooking the hamburger patties on the stovetop, place the cast iron skillet over medium heat. Add 1-2 tablespoons of oil to the skillet. Once the oil is shimmering, add the patties (work in batches if you need). Cover the skillet and cook for 4-5 minutes, flip, then cook for a few minutes more until they are cooked to your desire.
Serve! Serve up a juicy burger on a toasted bun with fresh tomatoes, fresh lettuce, pickles, ketchup, mustard, grilled red onion, or your favorite toppings you'd like!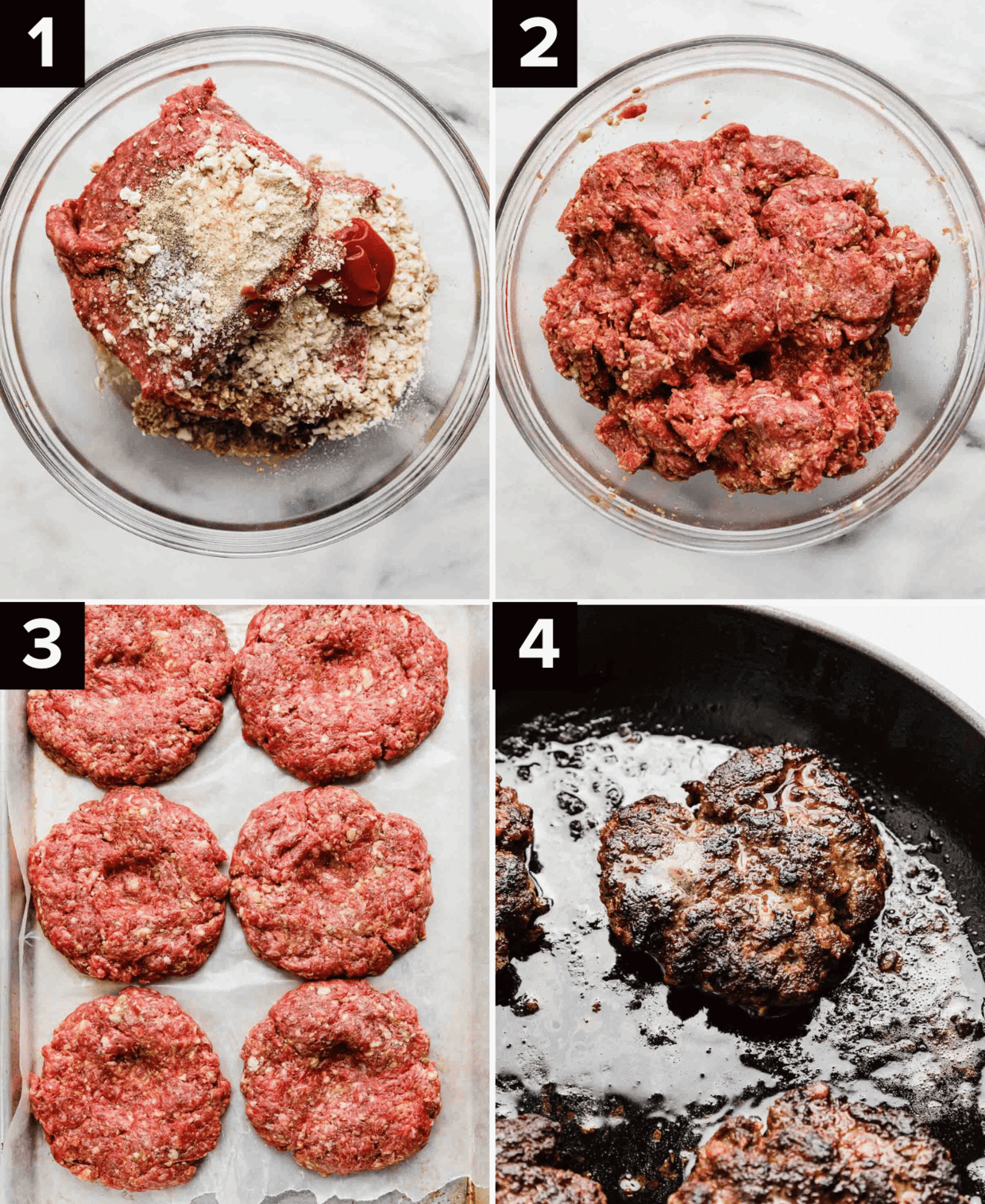 Recipe Tips
You want the burger patties to be slightly larger than your hamburgers buns because they will shrink when cooked.
Use the back of a spoon or your thumb to put a slight depression in the center of each patty before placing them on the grill. This will prevent the middles of the hamburgers from puffing up when cooked.
Take note that a thick burger will take longer to cook than a thin burger.
Place the hamburger buns on the cooler side of the grill to toast them.
Top the burgers with a slice of sharp cheddar cheese while cooking on the final side for a delicious steakhouse cheeseburger.
Best Sides to Serve with Hamburgers
We love serving up these steakhouse burgers with some fries, fruit salad, and a delicious sweet pasta salad. Here are my best recipes!
Make Ahead, Storing, and Freezing
You can make the hamburger patties ahead of time and store them in the fridge for 1 day or a few hours before cooking them.
Store the hamburger toppings separate. Store the juicy hamburger patties in an airtight container in the fridge for 3-4 days for best results.
You can freeze the raw hamburger patties if you'd like. Wrap in plastic wrap and store in a freezer safe bag. Freeze for up to 2 months. Remove and let thaw before grilling.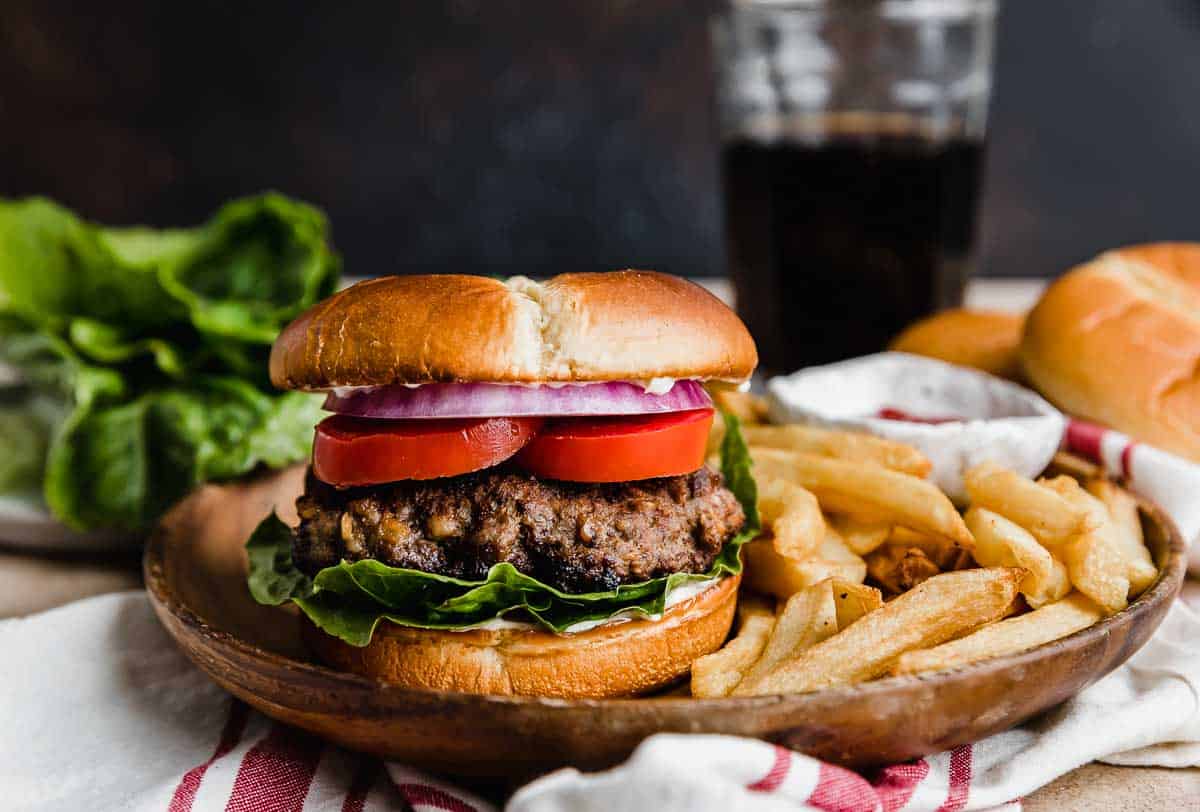 Recipe FAQs
Will burgers stick to grill?
They shouldn't. The grease in the meat should help. If you are worried, steer clear from lean meat which sticks more easily. 
Why do my burgers shrink?
That's just what happens when they get cooked. That's why I always recommend making the patties bigger than the buns, so when they shrink, they won't be too small. 
Why are my hamburger patties breaking?
You can keep your hamburger patties from breaking by using eggs and bread crumbs (or saltine cracker crumbs). The mixture of bread and egg will help bind them together. Also, be sure to fully press the hamburger meat together into a patty to keep things together more.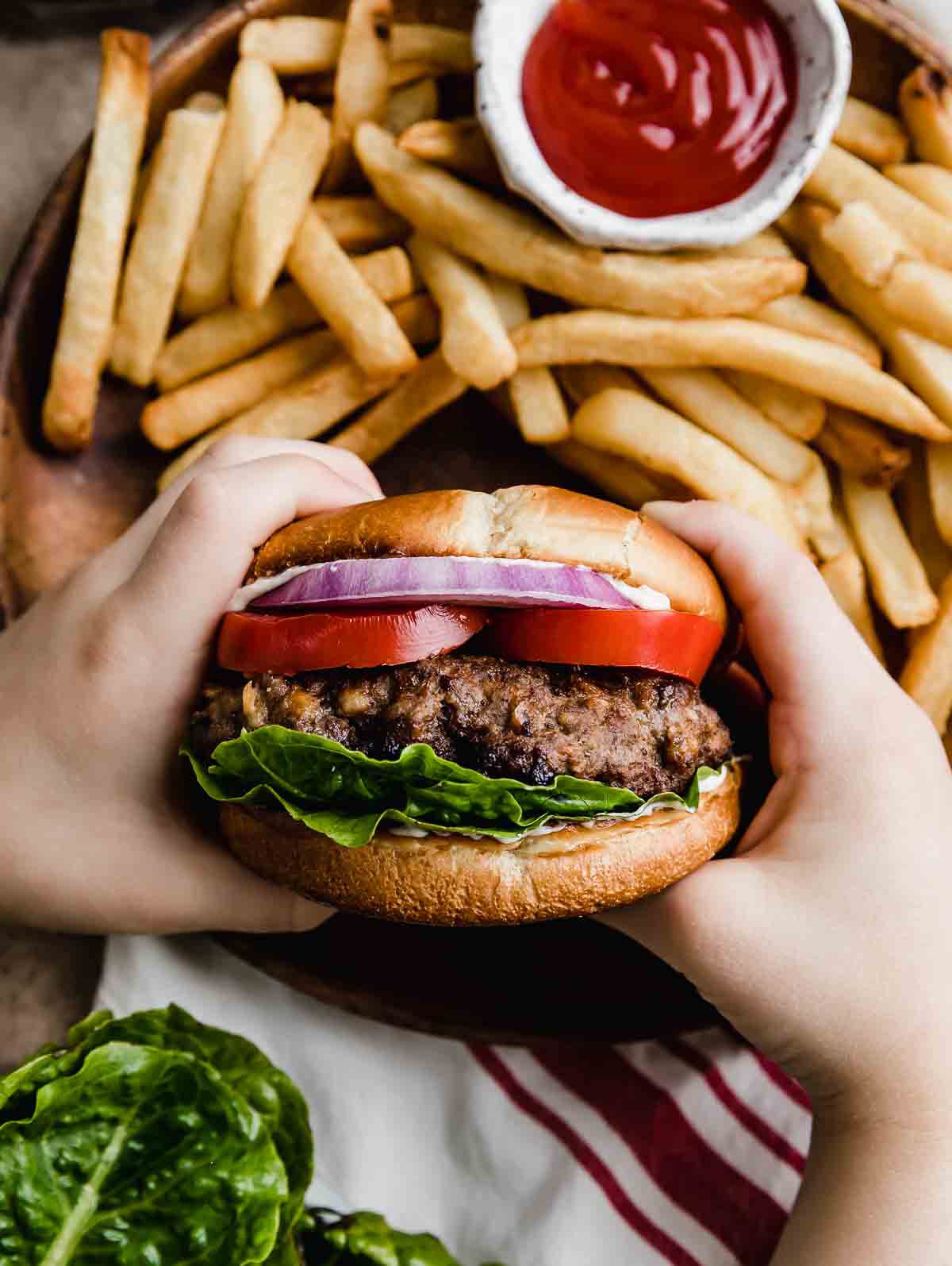 Related Recipes
Steakhouse Burgers
These steakhouse burgers are seasoned with various spices and cooked to perfection then served with toppings of your choice. These gourmet burgers are just as good, or better than what you can order at a steakhouse!
Ingredients
2

pounds

ground beef

-

can use 85%, 90%, or 93%

1/2

cup

saltine crackers

-

crushed (or panic bread crumbs)

2

tablespoons

ketchup

1

large

egg

1

tablespoon

Worcestershire Sauce

1

tablespoon

milk

1

teaspoon

kosher salt

1

teaspoon

ground black pepper

1

teaspoon

onion powder

1

teaspoon

garlic

-

minced

6

hamburger buns

-

for serving
Instructions
Preheat grill to medium-high heat (approximately 375°-400°F). Or if not using a grill, you can cook these on a cast iron skillet on the stove. 

In a medium bowl add the ground beef, saltine crackers, milk, egg, salt, pepper, onion powder, garlic, Worcestershire sauce, and ketchup. Using your hands, combine the meat mixture until smooth, but don't overmix as this can create a dense hamburger). 

(Note: This will make 6 thick patties, or you can make thinner hamburger patties and portion into 8 meat patties.) Portion the meat into 6 equal sized balls. Flatten the balls into roughly 1" inch thick and about 5" across (you want the patty to be slightly larger than your hamburger buns because the meat will shrink as it cooks. Use your thumb or the back of a spoon to press into the center of each meat patty, forming a slight depression. This prevents the patty from puffing up when cooking. 

Cook the burgers on the grill, covered, for 3-4 minutes, flip then continue cooking until they're cooked to your desired doneness. You can also toast the buns on the grill (doing so on the cooler side). 

To cook on the stove, place a cast iron skillet (or nonstick skillet) over medium heat. Add 1-2 tablespoons of vegetable oil to the skillet. Once oil is shimmering add the patties to the skillet (may need to work in batches because you don't want to overcrowd). Cover, and cook for 4-5 minutes, flip, and cook for a few more minutes or until your desired doneness is reached. 

Serve immediately on toasted hamburger buns topped with your favorite hamburger toppings. 
Did you make this recipe?
Leave a star rating and review on the blog post letting me know how you liked this recipe! Take a picture and tag @saltandbaker on Instagram and Facebook so I can see what you're making!